Fun Day Trip Ideas from 13 European Cities
While Europe's major cities are always fun and full of attractions, day trips can sometimes enhance travel experiences. We've taken it a step further many times and visited the neighboring country. The close proximities of countries in Europe makes it easy to visit multi-country visits in one day. Day trips are defined here as between 30 minutes to two hours from the city center by train, bus, car or boat. These are day trips we have actually taken with the kids and enjoyed. Of course, these city pairs can also be done in reverse. We hope these ideas will help with your day trip plans when visiting these cities.
Day trips from London, England
*Windsor Castle/Bath/Stonehenge
If you're short on time but really want to see three great attractions in one, we highly recommend doing a tour that combines visiting Windsor Castle, the Roman Baths and Stonehenge. It was a long day but so worth it. It gave us a wonderful preview of these sights. Windsor Castle was Queen Elizabeth II's private childhood home and where she still spends most weekends. We loved wandering through the castle and its ornate rooms. Visitors can also see St. George's Chapel where 10 British kings were buried including Henry VIII. My kids' favorite part was seeing the changing of the guards ceremony. This was less crowded and everyone could see the guards compared to Buckingham Palace.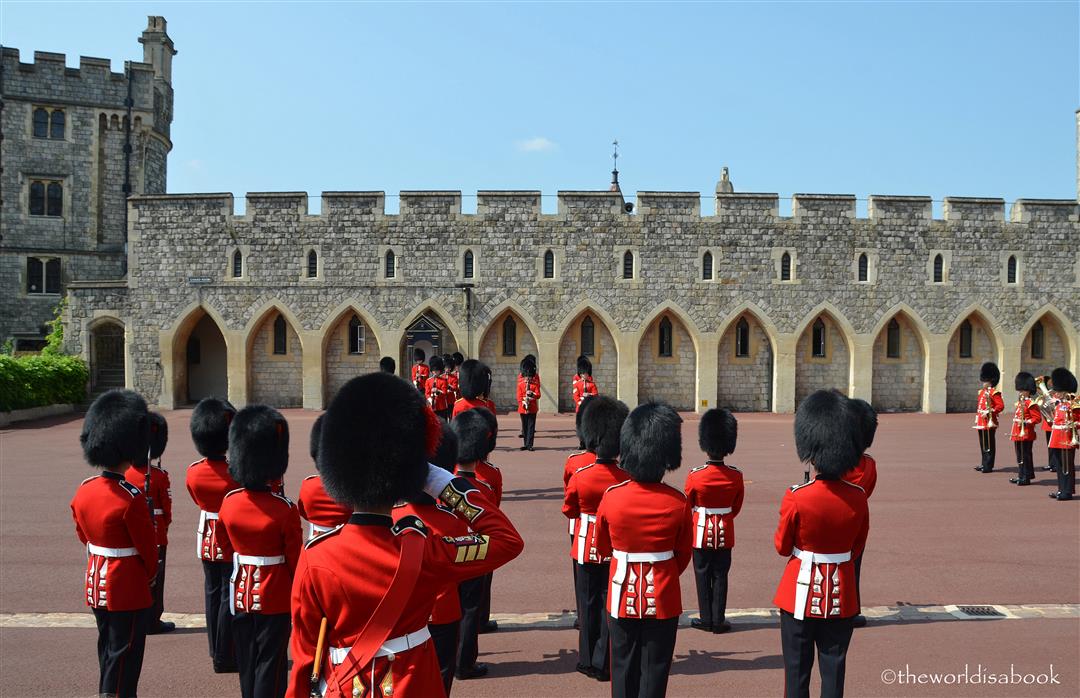 The Roman Baths complex, located in the UNESCO World Heritage Site of the town of Bath, gave us a glimpse of what an ancient temple and bath house looked liked in the only natural hot springs in England. We enjoyed our self-guide tour through their state of the art museum including a family fun trail activity. Costumed characters playing ancient civilians roamed around the baths to interact with guests.
Stonehenge is a travel bucket list attraction for some people. This world heritage site and prehistoric monument was believed to have been built about 5,000 years ago. There is a shroud of mystery surrounding these giant stones and how they ended up here. The visitor center has about 300 archaeological objects and a Stonehenge virtual stones experience. There is also a Neolithic Village for guest to experience how the ancient citizens here lived.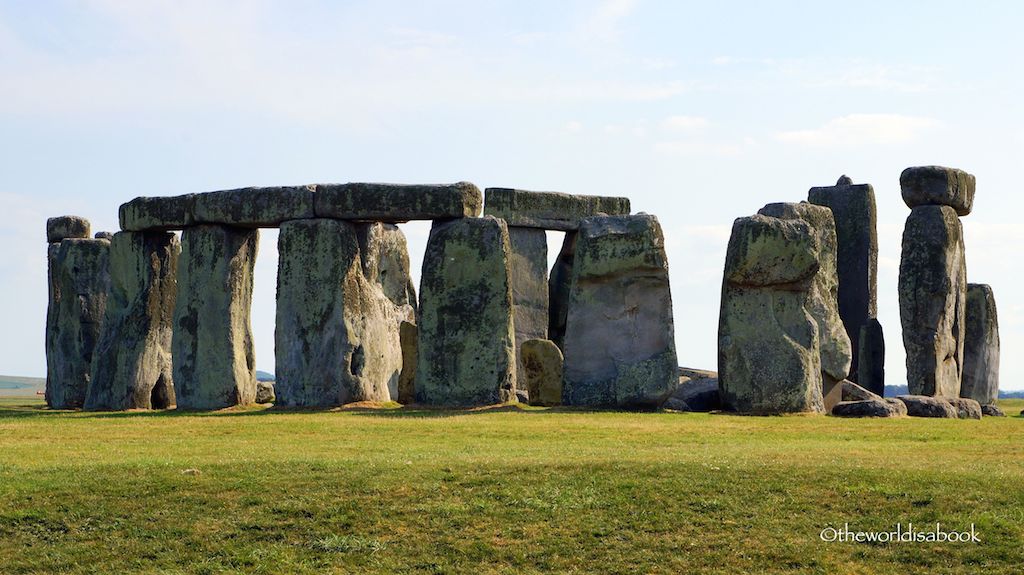 *Warner Brothers Studio Tours:The Making of Harry Potter
One of the main reasons my kids wanted to visit London was its Harry Potter connection. As big fans, a day trip to the studios was a must visit to see where all the Harry Potter movies were filmed. We loved seeing all the behind-the-scenes, authentic sets, costumes, props and insights used in all the movies. It was amazing to step into Hogwarts' Great Hall, Dumbledore's study, Privet Drive, Hagrid's hut and Diagon Alley. We also loved drinking butter beer here and the chance to ride in a broomstick.
Getting There: 30 minute train ride to Watford Junction from central London and then a free bus ride to the studios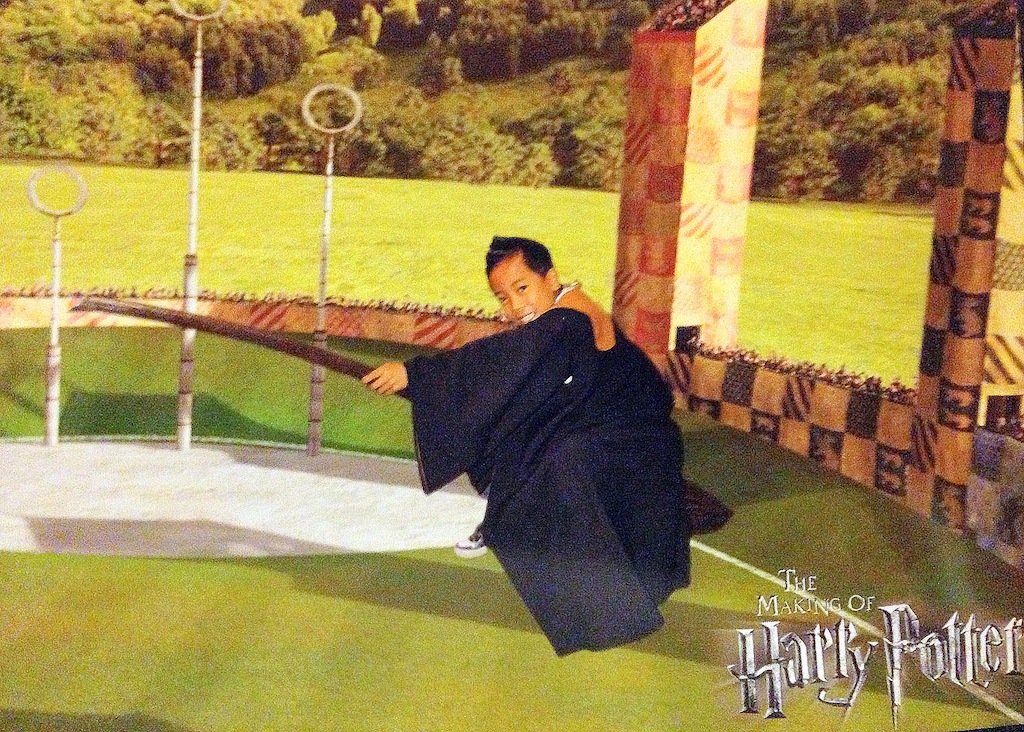 Day trip from Paris, France
*Brussels, Belgium
While there are several day trips more popular to take from Paris, we opted for a country hop to Belgium two hours away during our first visit. Brussels was such an interesting city filled with unforgettable attractions. We started our visit at the Grand Place which is considered a UNESCO World Heritage site and filled with ornate buildings. This is one of Europe's most beautiful squares. My kids' fondest memory is seeing Brussel's unlikely mascot – a 2 feet (.61m) statue of a boy urinating known as Mannekin Pis. He's usually dressed in something interesting and all his costumes are housed in a museum.
Did I mention there were plenty of chocolate shops that offered free Belgian chocolate samples? Don't forget to try some Belgian waffles too. Brussels is also known as the Comic Strip Capital of the World. Many of the buildings round the city were covered with some of the best cartoon murals and street art we've ever seen. Walking around the city to look for these murals was a great way to burn off those calories from the chocolates, waffles and frites.
Getting There: Train (about 1 hr 20 min) via Thalys from Gare du Nord train station
See where to stay in Brussels if you want to extend your day trip.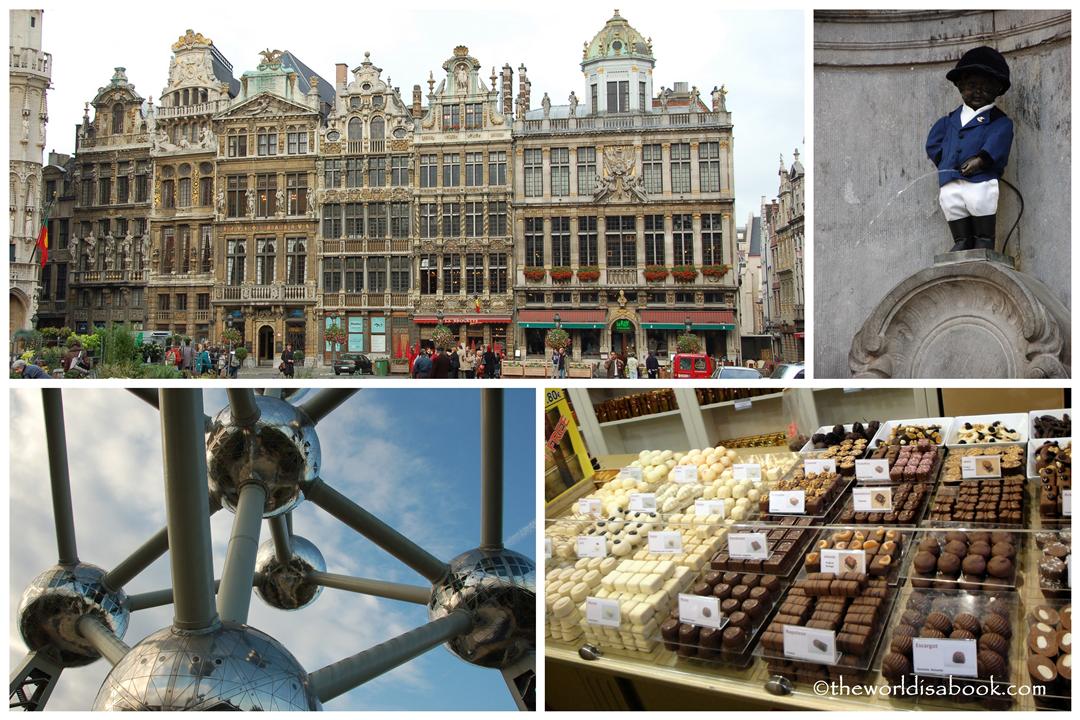 *Versailles
This extravagant palace and gardens is a popular day trip from Paris. We loved our visit there with Fat Tire Tours and went around the vast area via bikes. It's a fantastic way to see this royal home and the extensive property surrounding it. The palace interior is extraordinary especially the Hall of Mirrors. We highly recommend doing a bike tour to visit this place which included a picnic and shopping for food supplies.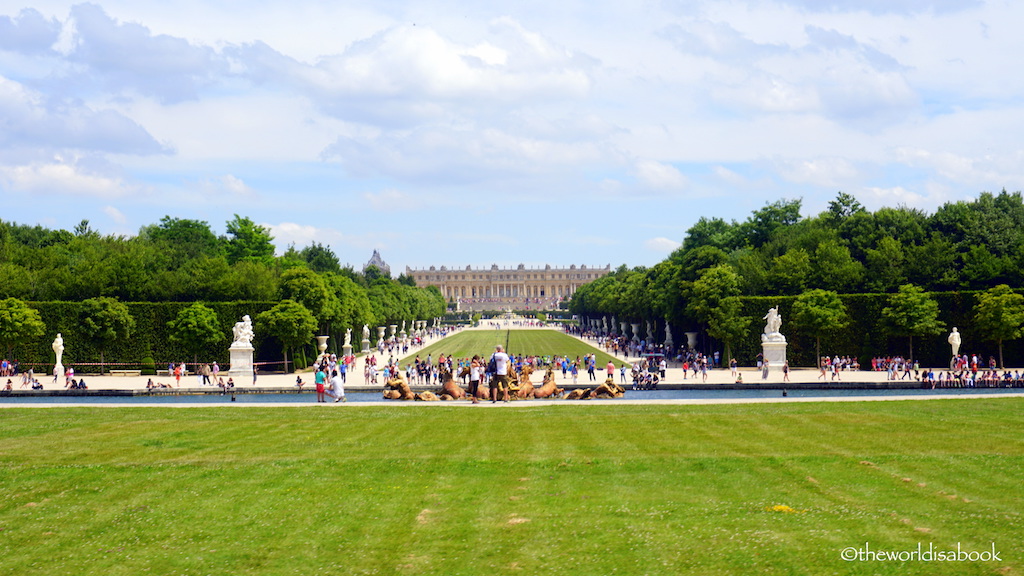 Getting There: RER trains from Paris to Versailles run daily regularly and takes about 45 minutes
See

where to stay in Versailles

 if you want to extend your day trip.
Day trip from Florence, Italy
*Pisa
There is such a fascination with visiting this famous tower that seems to defy gravity. The Leaning Tower of Pisa is a must visit attraction for many tourists. We loved climbing to the top of the tower for some beautiful panoramic views from the deck. It was definitely worth the 297 steps to the top. The climb wasn't easy with the narrow and spiral steps but definitely worth it. Reserve your time tickets early.
Take some time to walk around the Piazza del Miracolo or Miracle Square too. The cathedral complex also had several stunning buildings on a very well maintained, green lawn. This included the Pisa Cathedral (il Duomo), the Baptistery and the monumental Cemetery. The cathedral interior is amazing.
Getting There: Trains from Florence Centrale run daily regularly and takes about 50 minutes
See where to stay in Pisa if you want to extend your day trip.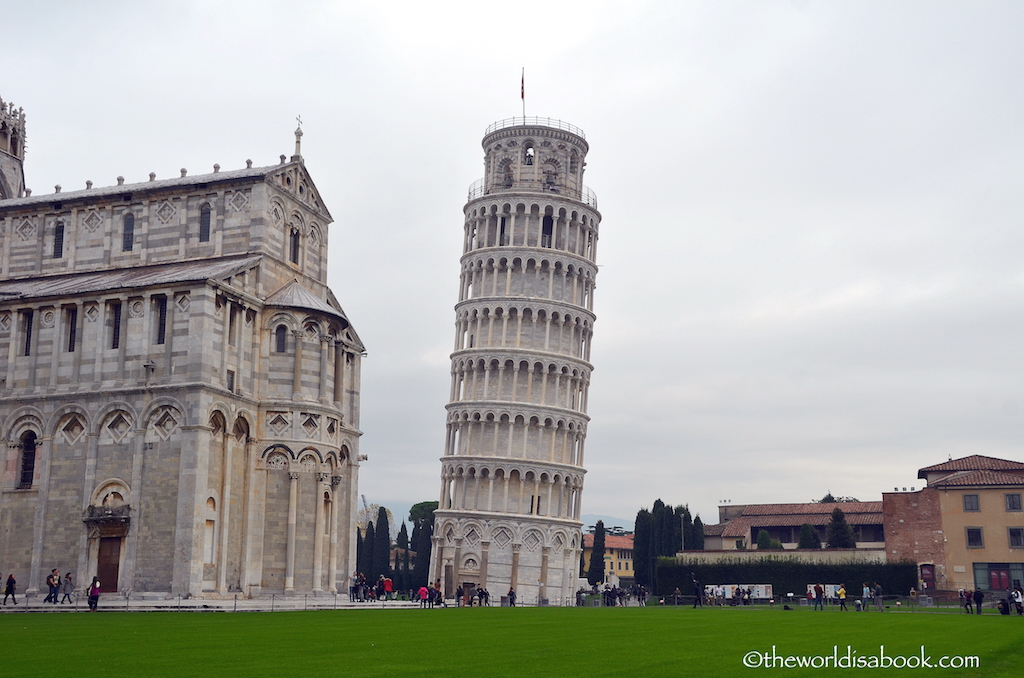 Day trip from Rome, Italy
*Vatican City
The world's smallest country is enclosed by a wall and surrounded by Rome. The magnificent St. Peter's Basilica, the center of Catholicism, is the crowning glory here. We found the interior just as awe inspiring as its exterior. Visitors can also climb to the top of the basilica's dome for panoramic views of Rome. We also recommend reserving tickets to see the pope if he's in town. It was an unforgettable experience. The Vatican Museums is worth spending a few hours for its impressive collection. Do not miss a visit to the Sistine Chapel to admire Michelangelo's masterpiece ceiling.
Getting There: Accessible from the metro with a stop at  Ottaviano-S. Pietro. There are also several buses that pass by or stop at the Vatican.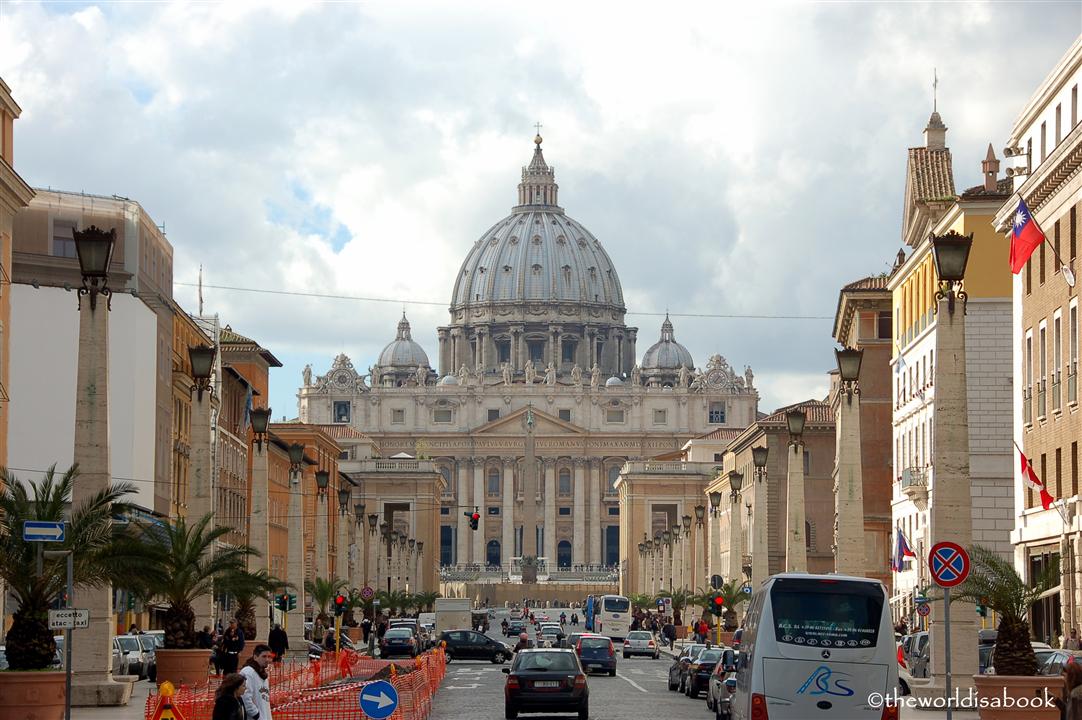 Day trip from Venice, Italy
*Burano, Murano, Torcello
We loved exploring these three islands off the Venetian lagoon's coast. It was like stepping back in time in Torcello. It was interesting to wander through deserted houses, see old churches here and even cross a Devil'd Bridge. Murano, the Glass Island, is almost synonymous with the art of glass blowing. Our tour stopped at one of the factories for a demonstration. It was so fascinating to watch them turn glass into a work of art. There are several glassmaking factories to visit where you can watch artisans work. There's also a glass museum, lighthouse and canals and colorful buildings that make this island a great place to visit or as a stopover.
If you only have time to do one island, we highly recommend Burano. We loved this island's many colorful buildings. This colorful isle is guaranteed to cheer you up even on a cloudy day. Wander the charming streets and you never know what you'll find around the corner. Burano is also known for its lace making. There are a few stores that still do this handmade process and you may get lucky and see a demo. There was also a leaning bell tower here which made for a great marker.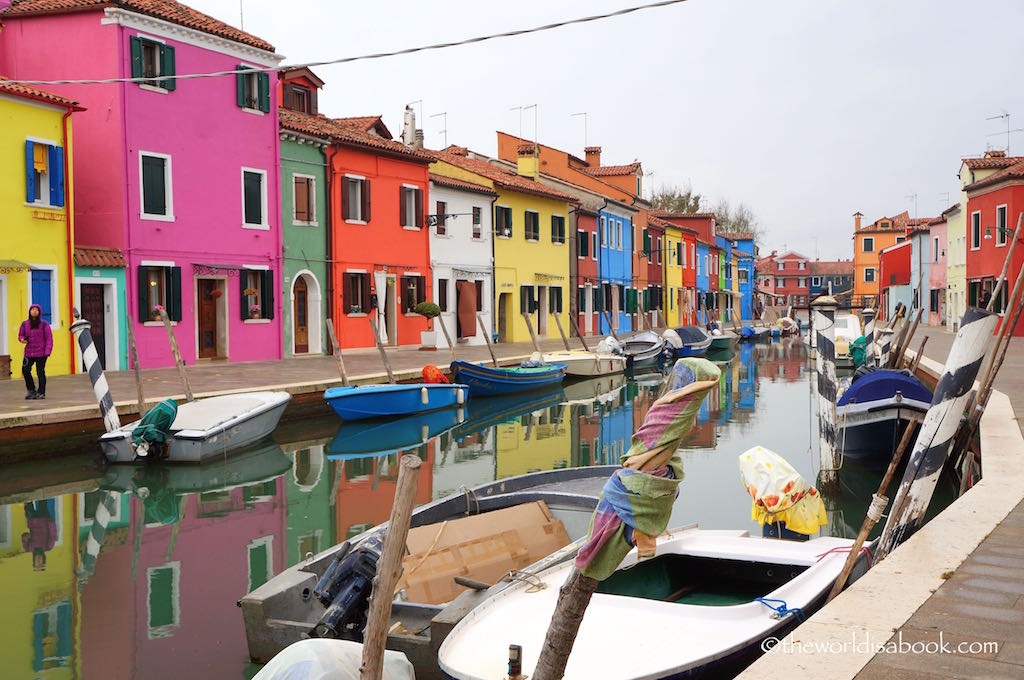 *Verona
This historic city also known as the City of Love was made famous by Shakespeare's Romeo and Juliet and now, visitors can even rub the statue of Juliet's breast for luck in love. There were other attractions here besides Juliet's house and statue that include the Arena and beautiful piazzas.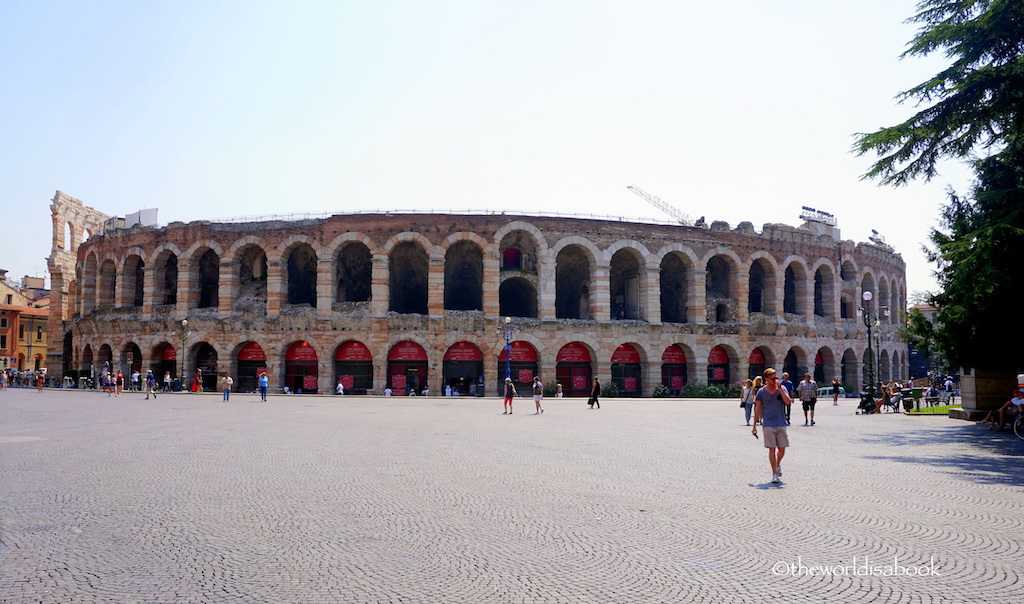 Getting There: 1 hr 10 minute fast train from Santa Lucia or Mestre stations to Verona
Day trip from Lisbon, Portugal
*Sintra
The most popular day trip from Lisbon is to the charming town and UNESCO World Heritage site of Sintra. The town's main attractions are the colorful 19th  century Pena Palace, the Moorish Castle and the National Palace. We loved visiting Pena Palace and its unique architecture. There are also some great views of the town and the surrounding area from the palace.
The quaint town is filled with cobblestoned streets, great shops, cafes, fancy homes and decorative buildings. Parque de Pena is filled with romantic gardens and lakes and a wonderful place for a stroll. It's easy to see why the Portuguese royals loved spending time in Sintra.
Getting There: Daily regular train service from Lisbon's Rossio station takes about 40 minutes.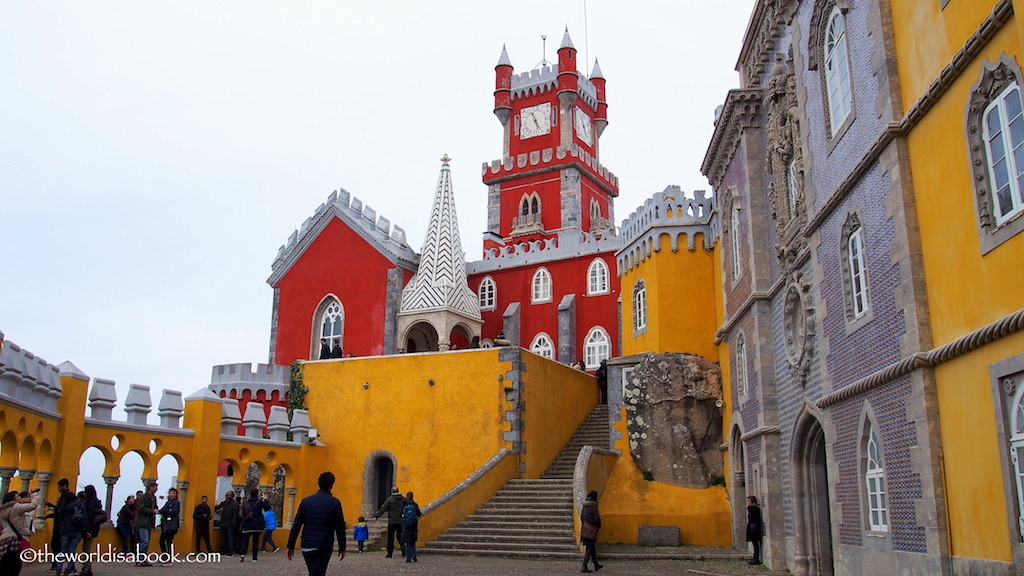 Day trips from Madrid, Spain
*Segovia
The idyllic, walled city and UNESCO World Heritage site of Segovia looked like a town frozen in time and out of the pages of a fairytale book. It welcomed visitors with the iconic Roman Aqueduct completed around the 2nd century. With 166 arches, 120 pillars and at 92 feet high, it was very impressive. Its narrow cobblestone streets were perfect for exploring the quaint buildings and stunning architecture of its churches. Our favorite attraction was exploring the Alcazar which was the beautiful castle perched on its hillside. It had the best elements of a castle from a drawbridge, turrets, spires and a tower. The views from up here were amazing. Don't miss the chance to eat Segovia's signature dish of roasted suckling pig (cochinillo asado).
Getting There: 30-minute train ride via Renfe high speed train from Madrid's Chamartin station
See where to stay in Segovia if you want to extend your day trip.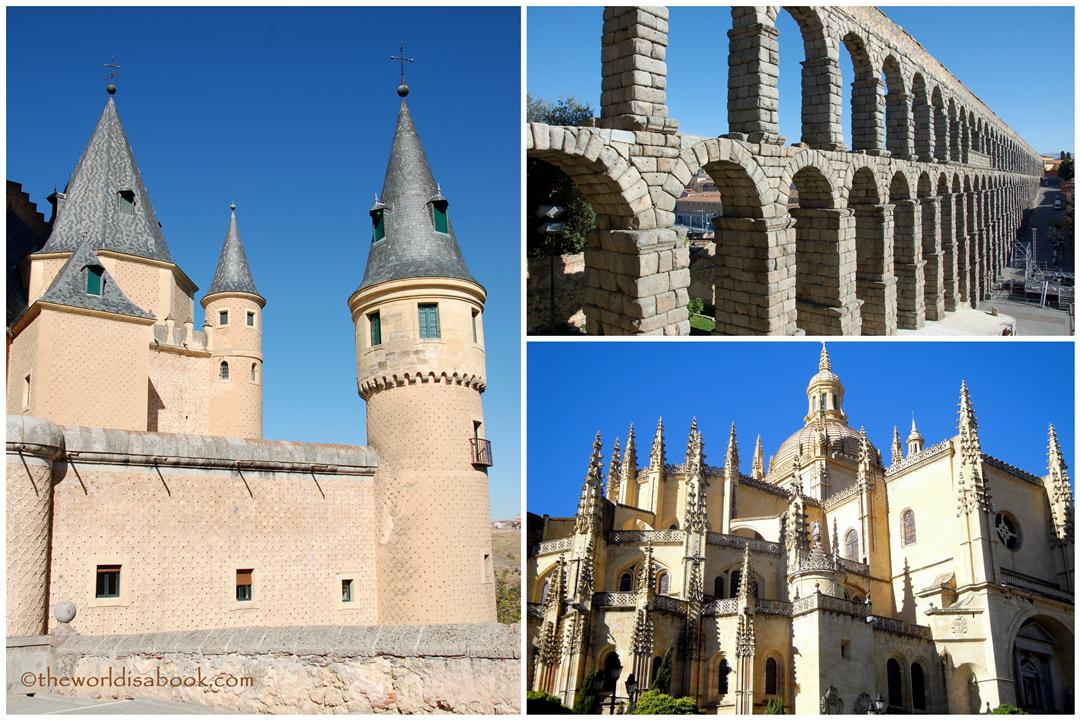 *Toledo
This UNESCO World Heritage site is known as a "city of three cultures" where Christians, Jews and Arabs have co-existed for centuries. This is one of Spain's largest historic centers with over 100 monuments including churches, synagogues, mosques and fortresses. The walled city was well-preserved, compact and easy to explore on foot. Don't miss the El Greco Museum which showcased some of the artist's works. The Toledo Cathedral is amazing inside with over 700 stained glass windows and several chapels. Be sure to grab some of the local marzipan as you wander the cobblestoned streets.
Getting There: 30-minute train ride via Renfe high speed train from Madrid's Atocha station.
See where to stay in Toledo if you want to extend your day trip.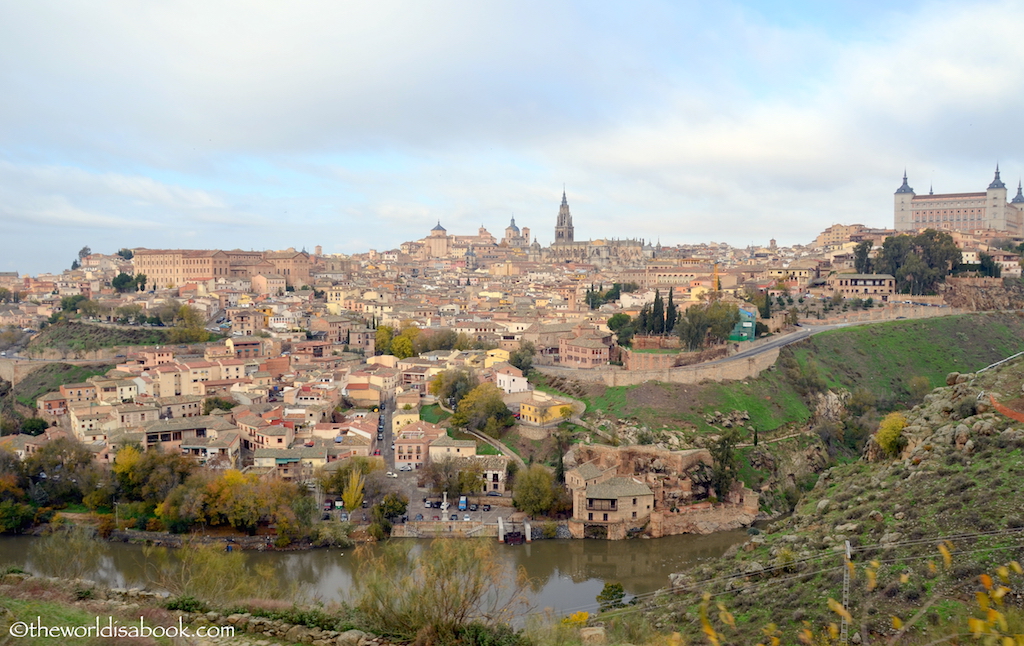 Day trips from Munich, Germany
*Salzburg, Austria
If you're a Mozart or a Sound of Music fan, Salzburg is the best place to visit. Visitors can take the Sound of Music bus tours (complete with sing alongs) to see the many sites and locations found in the Sound of Music movie. We decided to do a DIY approach and walked to most of the attractions and drove to some. We loved walking around Mirabell Gardens and through the Alstadt or Old Town area which is a UNESCO World Heritage site. Of course, we recreated some of the movie scenes here.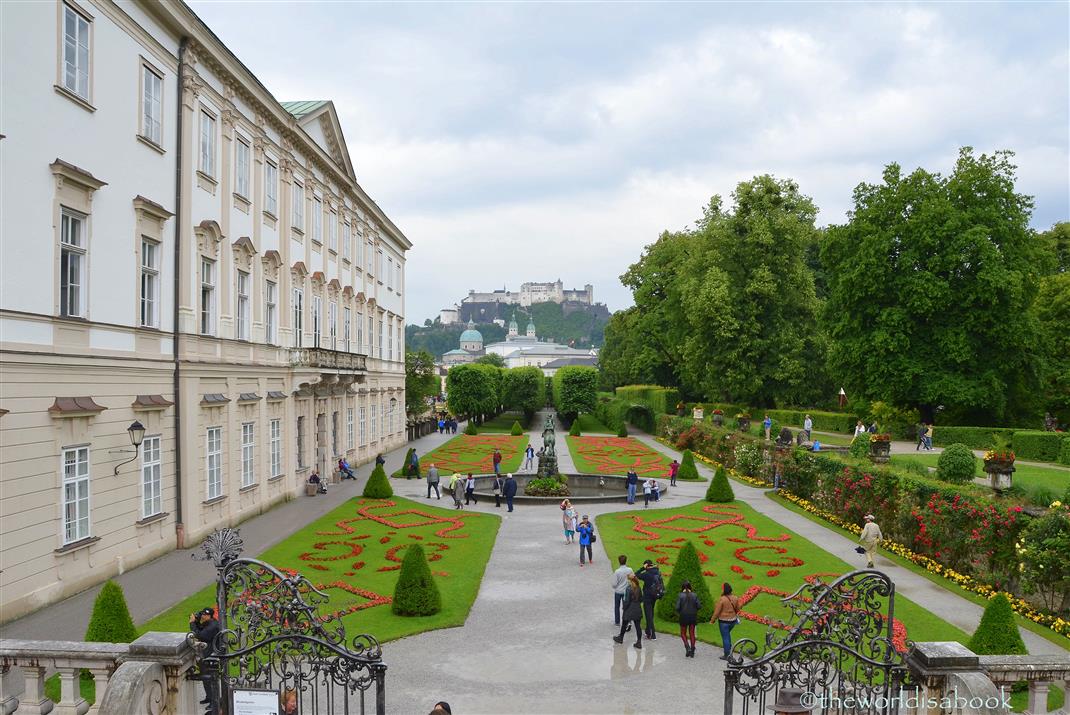 Wolfgang Amadeus Mozart, the famed composer, was born and spent part of his childhood here. Some of these buildings have been turned into museums. Be sure to try some Mozartkugel (Mozart chocolate balls) which are green pistachio marzipan ball, covered in nougat layer and coated with chocolate.
Don't miss a visit to the 900-year-old Hohensalzburg Fortress that looms over the city. We rode the funicular to the top. The fortress now houses a museum including military and weaponry exhibits. The fortress is also the best area to see panoramic views of the city, the countryside and the surrounding mountains.
Getting There: We had a rental car so we drove the 1.5 hour trip to Salzburg. There are also trains that run regularly between two cities.
See where to stay in Salzburg if you want to extend your day trip.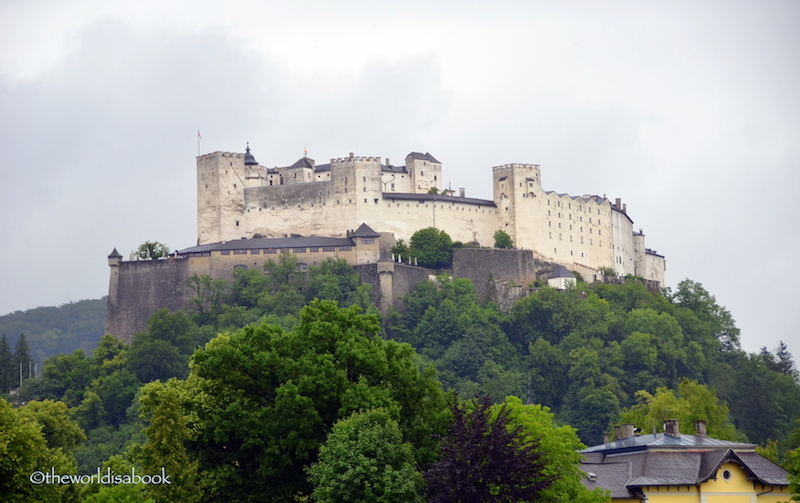 *Explore Ludwig's Castles
King Ludwig II of Bavaria became king when he was 18 years old. He built extravagant castles that served as his retreats and hideaways. He ruled Bavaria for over 20 years before he was declared insane and drowned mysteriously.
His three castles are also easily accessible from Munich and make for great day trips. The most famous of them is Neuschwanstein which may be the world's most photographed castle. It's overrun by tourists but still makes for a great visit and lives up to its fairytale setting. Don't miss the nearby Hohenschwangau Palace which was Ludwig's childhood home.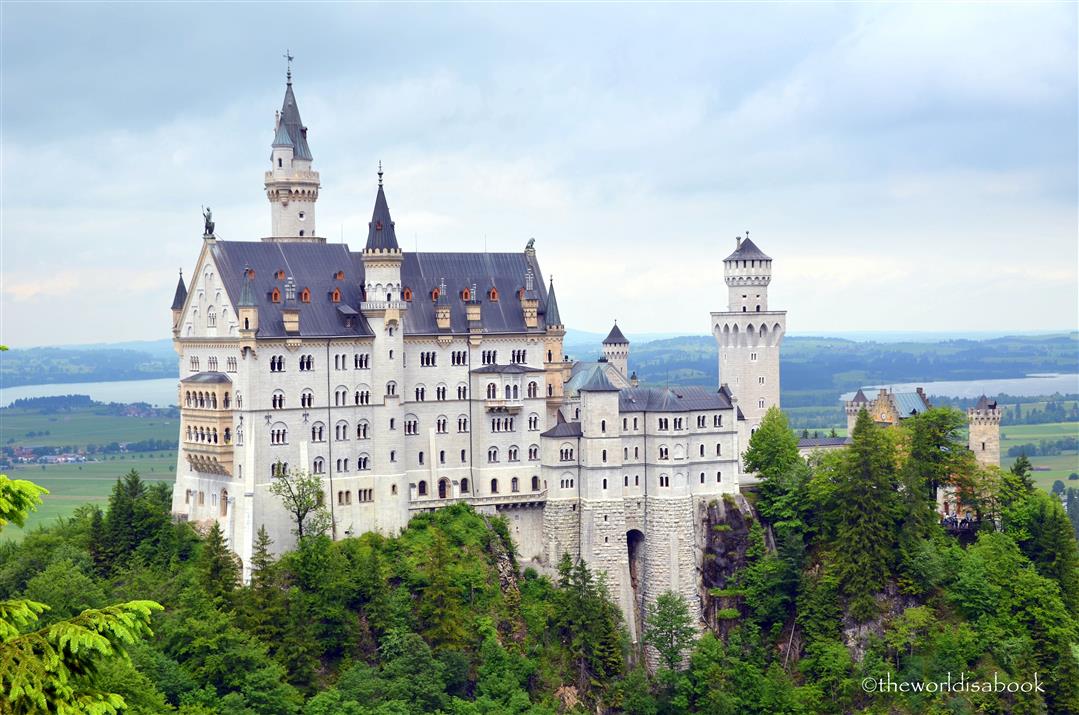 Linderhof Palace was about 45 minutes away. It is the smallest but the only one finished and where Ludwig stayed the most. We loved the three terraced gardens with a round temple here. It also has a grotto with a lake, waterfall and shell-shaped boat. Don't miss the nearby town of Oberammergau which is famous as the host of the Passion Play that occurs every ten years and its painted houses.
The Royal Palace of Herrenchiemsee was on an island in Lake Chiemsee. This could actually be its own day trip since it was an hour away. This was inspired by and modeled after Versailles Palace in France. Getting to the castle required a scenic boat ride on Bavaria's largest lake. The palace was opulence at its finest. King Ludwig didn't spare any expense and this was his most expensive castle.
Getting There: The best way to see these castles is through a day tour from Munich or to rent a car and drive around. We had a rental car and loved the flexibility to set our own schedules.
Day trip from Prague, Czech Republic
*Kutna Hora
The UNESCO Heritage site and town of of Kutná Hora was one of our favorites. The town was Bohemia's political and economic center between the 14th and 15th century. It's very charming and a wonderful place to walk around with its cobblestoned streets and great stores and cafes. St Barbara's Cathedral is its most visited attraction. This was one of the most beautiful churches we have ever visited.
Though, another main reason for our trip here was to visit the Bone Church at the Sedlec Ossuary. This was one of the most unique places we have visited with about 40,000 human skeletons and bones arranged in whimsical, creative or bizarre ways in a small area. There's even a chandelier of bones made from almost every bone in the human body. This is guaranteed to be a place you'll never forget.
Getting There: We took the train from Prague to Kutna Hora Hlavni Nadrazi (h.ln) train station which was an hour away. We then took a small local train to Sedlec to visit the ossuary and then a bus into town (15 minutes).
See where to stay in Kutna Hora if you want to extend your day trip.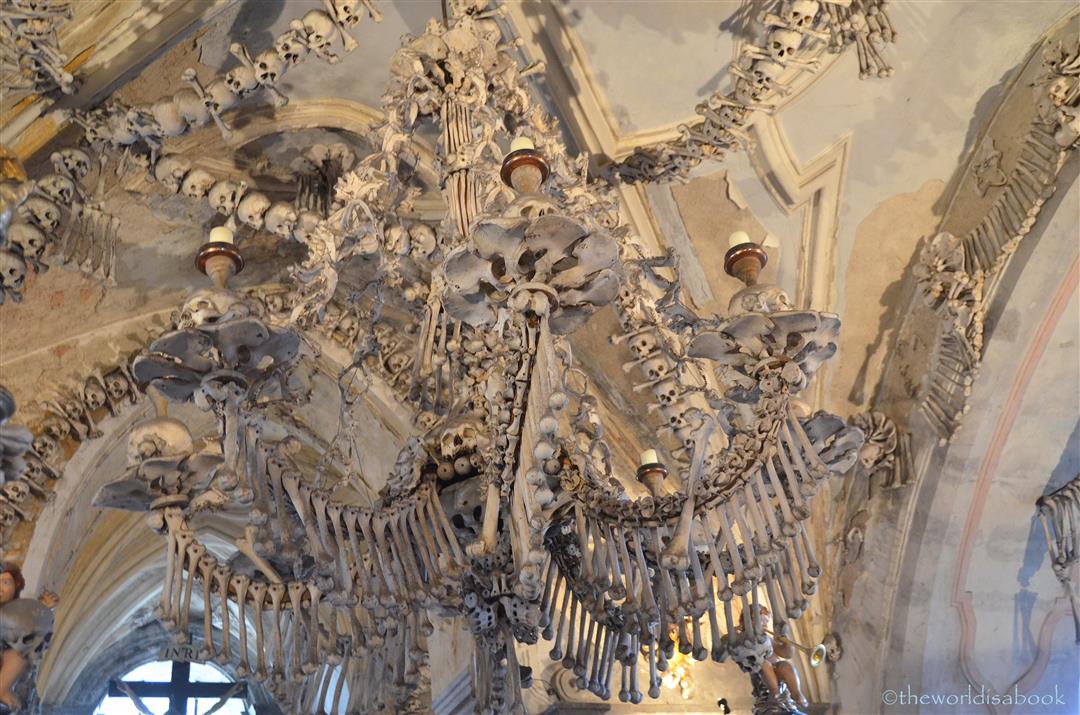 Day trip from Lucerne, Switzerland
*Mt. Titlis/Engelberg
Mt. Titlis/Engelberg is a year-round destination but also worth braving during winter which was when we visited. It was an adventure to the top of the summit at 10,000 ft (3,020m) that included the world's first revolving gondola rotating 360-degrees during the ride. The views from the top of the Swiss Alps were incredible.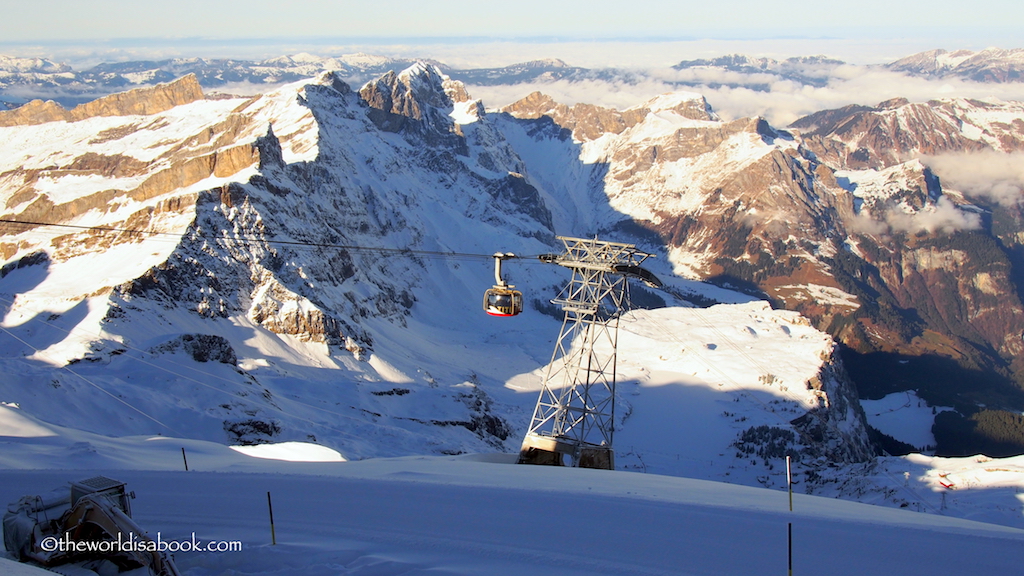 There are many activities here including the Cliff Walk which was Europes's highest hanging bridge suspended by steel cables. Glacier Park offers snow play, snowtubing and sledding even in summer. We loved walking through the 492 feet (150 m) Glacier Cave where it was a constant 29°F(-1.5°C) degrees. During winter, visitors can explore and even sleep in the igloo village.
Engelberg was a charming town at the base of the mountains. It's filled with unique shops and restaurants and of course, places to have fondue. There is a beautiful Benedictine monastery and a baroque church with Switzerland's largest pipe organ. The Cheese Factory offers some delicious Swiss cheese with samples and to watch the cheesemakers in action.
Getting There: It is about a 35-minute drive from Lucerne. The Luzern-Engelberg Express train runs a regular daily schedule for the 43-minute train ride and drops passengers in the middle of Engelberg. Free shuttle buses take visitors around the town.
See where to stay in Engelberg if you want to extend your day trip.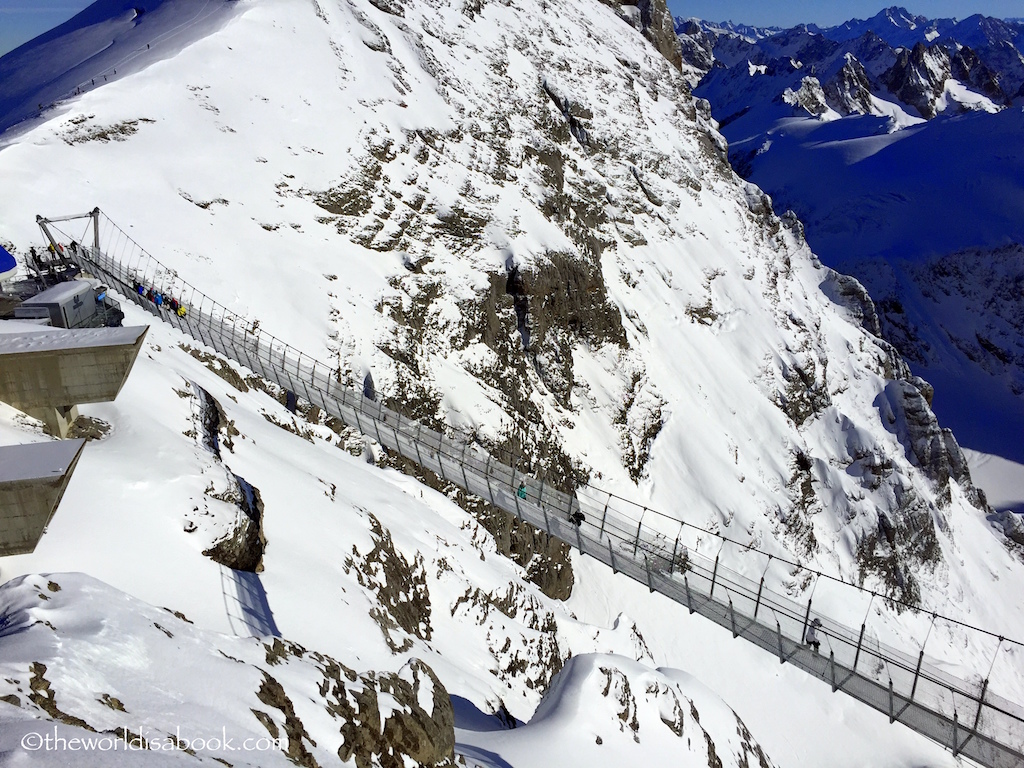 Day trips from Copenhagen, Denmark
*Malmo, Sweden
Located across from the Oresund Bridge, crossing to another country is easy here. Malmo is known as the "City of Parks" and we loved strolling through some of them. They were all so well-maintained. Be sure to do the guided open boat tours to have a fantastic orientation of the city. Malmo has a network of bridges and canals and this offered a great way to see what's by the water. Don't miss the HSB Turning Torso which was a unique building of nine cubes twisted through 90 degrees from its base to the top. Malmo offered a lot from its lively squares and streets, numerous parks, great shopping and interesting architecture.
Getting There: was across the Oresund Bridge and was a fast 35 minute train ride or about an hour by bus from Copenhagen.
See where to stay in Malmo if you want to extend your day trip.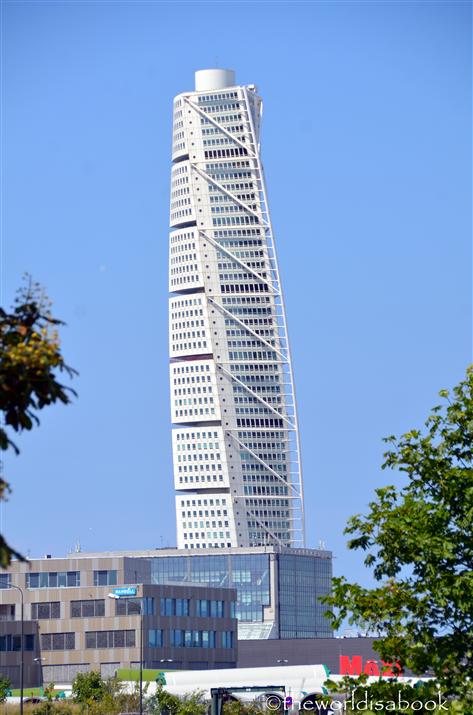 *Roskilde
Denmark's former medieval capital is a great place to learn about the Vikings, ship building and their life. The Viking Ship Museum is family friendly and wonderful to visit with kids. There were several interactive activities and workshops where kids can learn about wood carving, sail making and rope making. Kids can even dress up like Vikings. The city is also great place to walk around. Don't miss the UNESCO World Heritage cathedral which is the main burial place of Danish royalty. It may sound morbid but was actually very interesting to visit.
Getting There: 35 minutes from Copenhagen and easily accessible by train, car or bus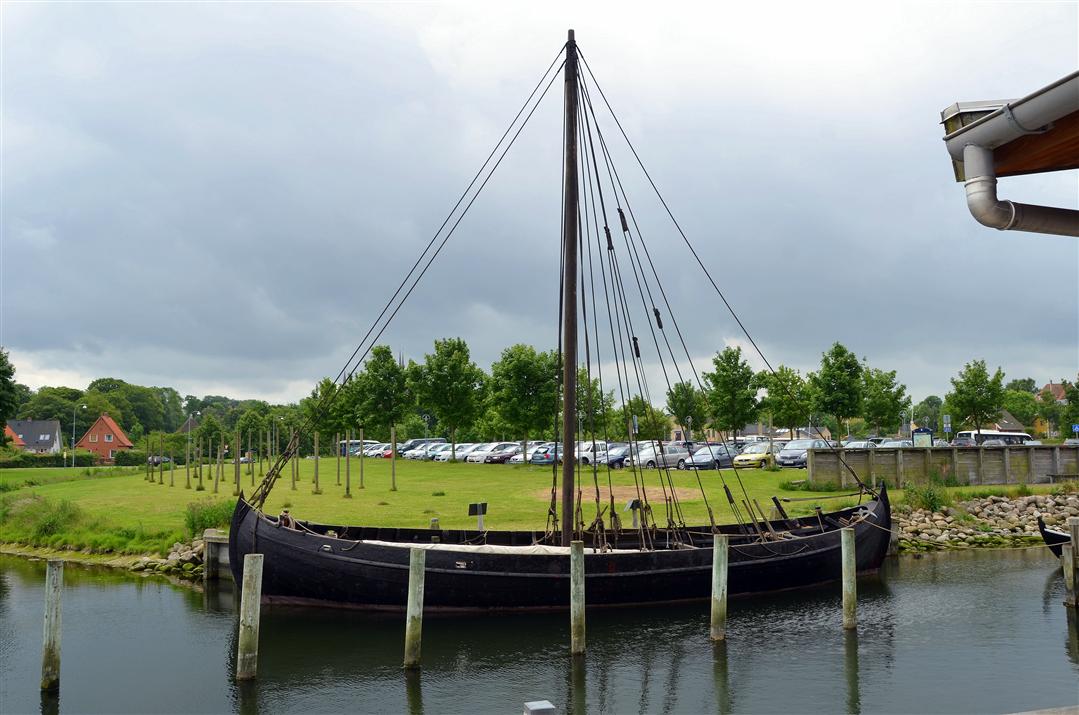 Day trip from Helsinki, Finland
*Tallinn, Estonia
Visiting Tallinn from Helsinki offers another opportunity for a two-nation vacation. Tallinn offers so much for visitors. As day trippers, we focused on the Old Town area. This medieval area was very well-preserved and some areas almost looked like a fairytale village. There were colorful, gabled houses, medieval buildings that lined the cobblestoned streets and guard towers along the enclosed city walls. Its surrounding wall had over 40 towers perfect for enjoying the scenery.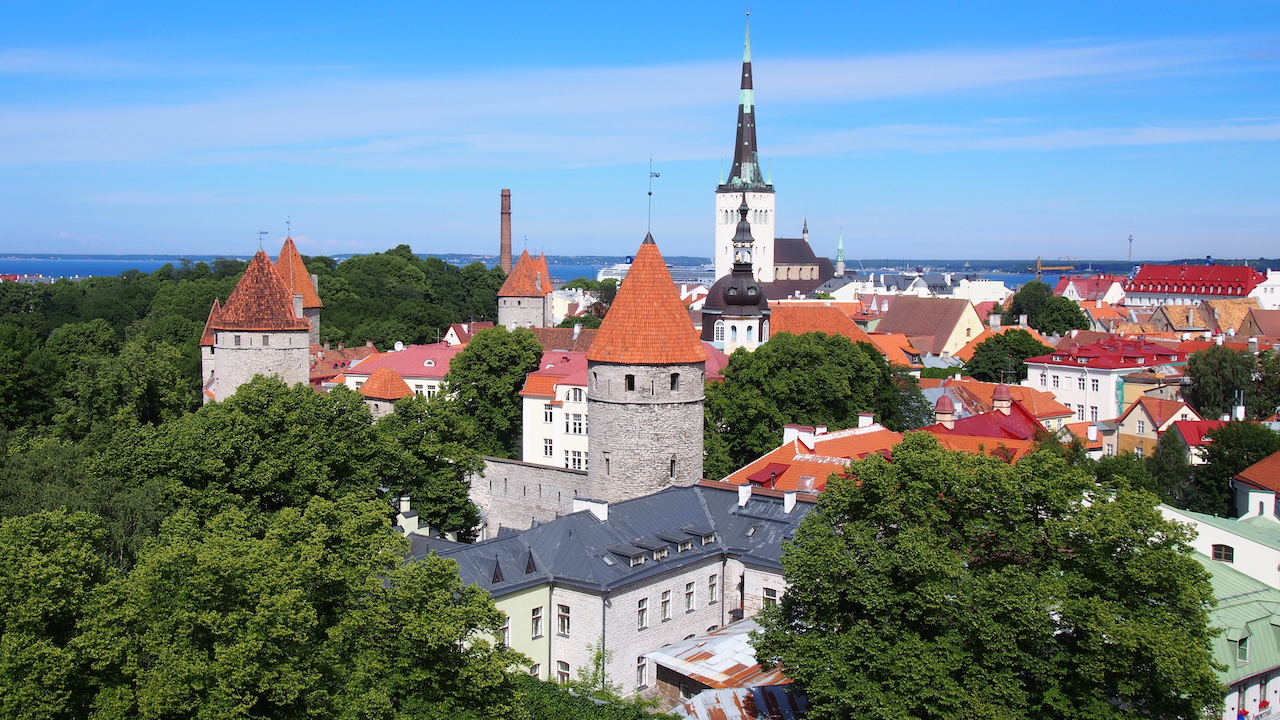 We loved seeing the beautiful churches especially St. Alexander Nevsky, a Russian Orthodox church. Don't miss the two viewing platforms at Toompea Hill or the opportunity to try some local cuisine. There are also several museums worth a stop to learn about Estonia's interesting culture and history. Our favorite activity was exploring the hidden tunnels or Bastion Passages underneath the city. It was a guide tour that took us back in time to the many uses of the tunnels from a bomb shelter to a punk rockers' haven.
Getting there: There are a few two-hour ferries from Helsinki daily. They're more like cruise ships with restaurants and stores.
See where to stay in Tallinn if you want to extend your day trip.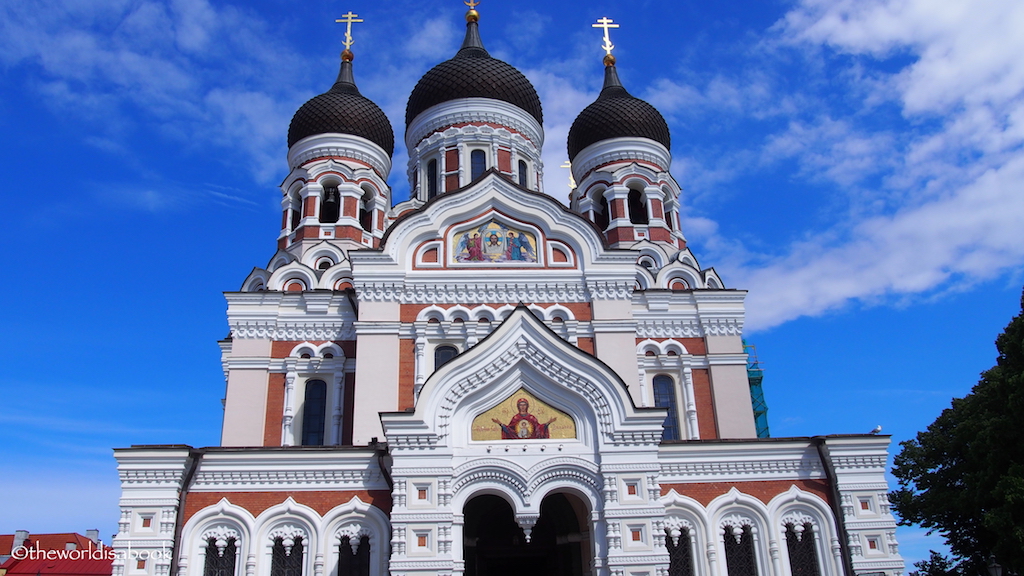 Day trip from Bergen, Norway
*Norway in A Nutshell tour
This tour is the best way to experience the treasures of Western Norway with limited time. This was actually a series of coordinated public transportation options that's fully customizable. Our trip from/to Bergen took 12 hours. During that timeframe, we saw some of the most incredible scenery and more waterfalls than we could remember.
We loved the scenic train rides that took us through verdant valleys. The steep Flam Railway is considered as one of the world's best train journeys. Be sure to stop in Flam for a few hours to enjoy this small village. Our favorite part was cruising through Aurlandsfjord and Naeroyfjord and stopping at some fjordside villages. This two hour cruise took us through mountains lining the fjords, waterfalls and breathtaking panoramas.
Getting There: Various routes are available including roundtrip from Bergen via train, bus, ferry or one way to Oslo.
See where to stay in Flam if you want to extend your day trip.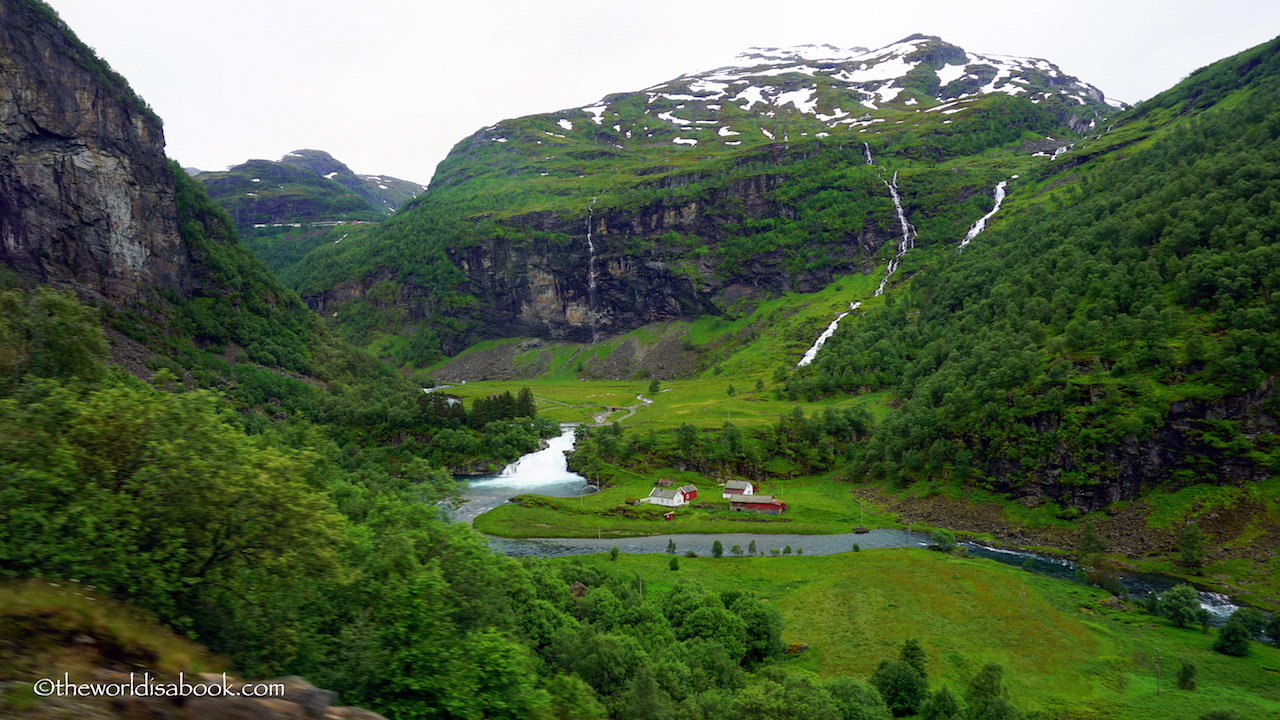 *Have you done any of those day trips?
Pin it for later!