Day Trip to North Seymour Island Galapagos
Only five islands of the 20 Galapagos Islands are inhabited. A major appeal when visiting the area is cruising through the other uninhabited islands and seeing the plants and animals that can only be found here. We didn't do a cruise that went around the islands but instead chose a land based trip in Santa Cruz and did a couple of day trips. One of our favorite day trips was to the uninhabited North Seymour Island and it was teeming with interesting wildlife.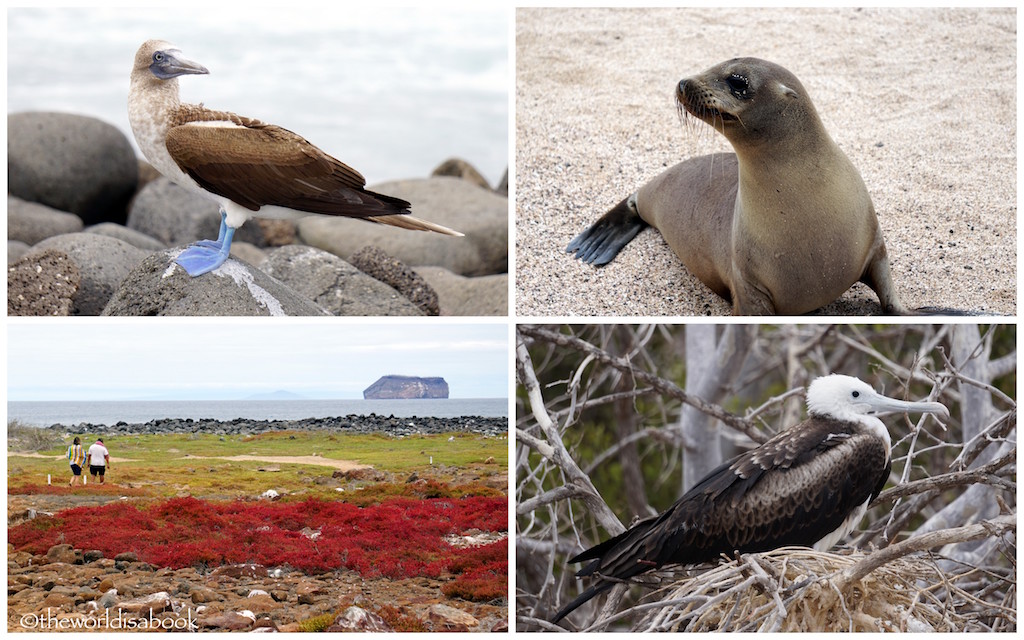 Visits to the uninhabited islands must be with a certified Galapagos naturalist guide. Our guide was a native Ecuadorian and he spoke great English. He also doubled as our bus driver who picked us up from our hotel in the Puerto Ayora area and drove us 45 minutes to the dock at the channel. North Seymour Island is located just north of Baltra Island or South Seymour Island (the small island where one of the Galapagos airports is located). It took us less than an hour to cruise to the island from the Ithabaca Channel. Its proximity to the main island was one of the major reasons we chose this day trip.
Our boat also had the captain, another helper and a cook. There were about 15 people in our group and enough seating areas to make our trips comfortable. My kids were the youngest along with a 5 year old boy. The waters weren't rough so it was a pretty easy cruise to the island.
The government controls the number of boats that can dock and visit its uninhabited islands on a given hour and day to monitor the human footprint left behind. This was great news to hear considering how the Galapagos is increasingly becoming a more popular destination. We spent a few minutes waiting for passengers of another boat to get off the island for our turn to dock. Then, it was a quick ride on a Zodiac boat to get to the island.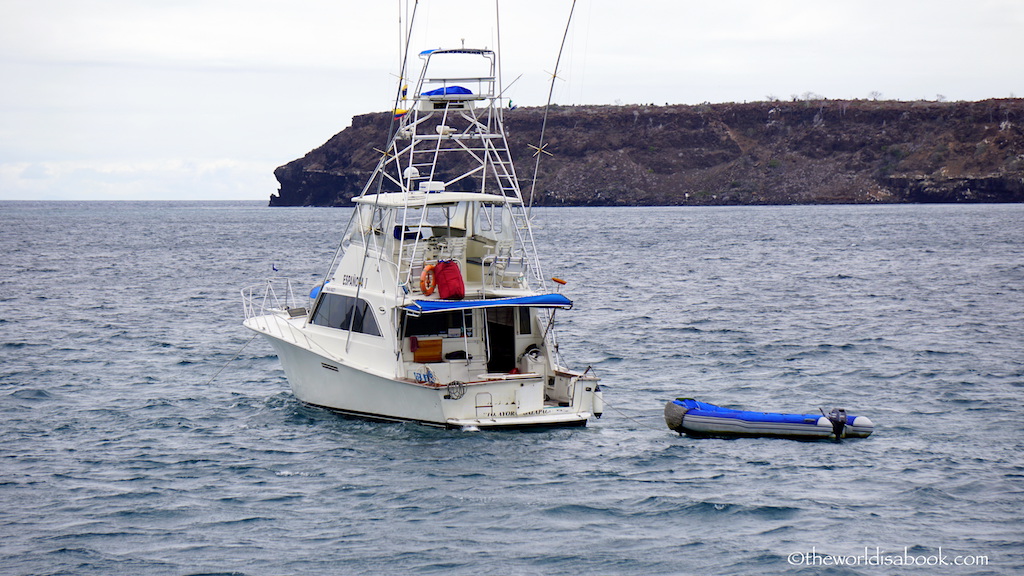 This flat, arid island was created when a piece of the ocean floor was raised due to a seismic lift when tectonic plates collided. It is tiny at only about .7 square miles (1.9 square km) and mostly rugged.
The first thing we saw when we got on the island was this pair of blue-footed boobies that seemed to welcome us. Seeing this unique animal was at the top of our Galapagos bucket list. It's hard not to be in awe at those webbed blue feet.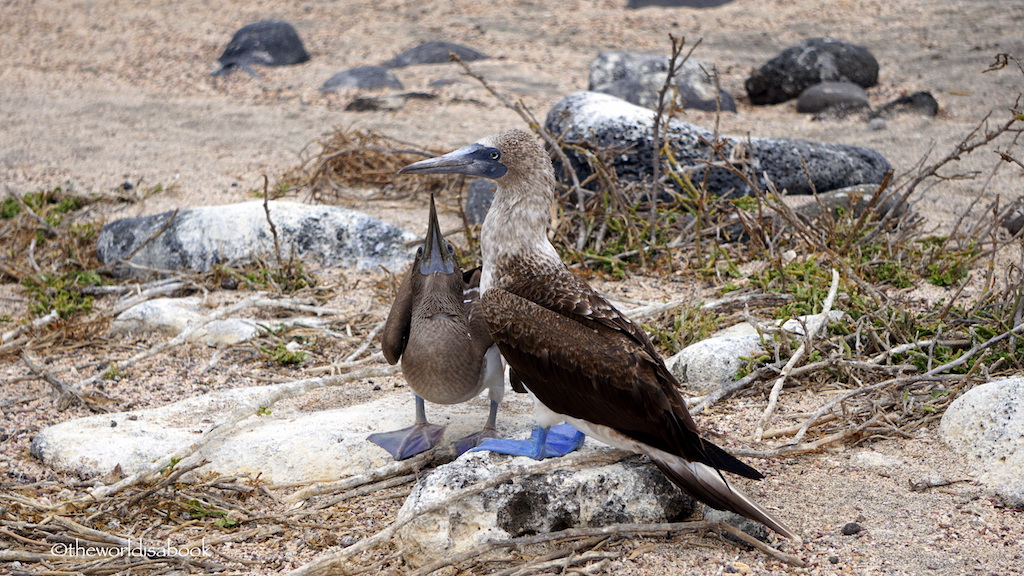 Our guide took us on an unpaved trail through leafless trees with a gray/white bark. Most of them were the Palo Santo trees. One species was endemic to the Galapagos Islands. We were here in late November so most of the trees were bare. Our guide told us this was a completely different landscape with so much greenery after all the rain in February.
We heard them first before seeing this colony of frigatebirds. This island has a large colony of these beautiful birds. They are known for the big red pouch on their breast. The males inflate them to attract their mates. We never got to see one of them up close with an inflated sac.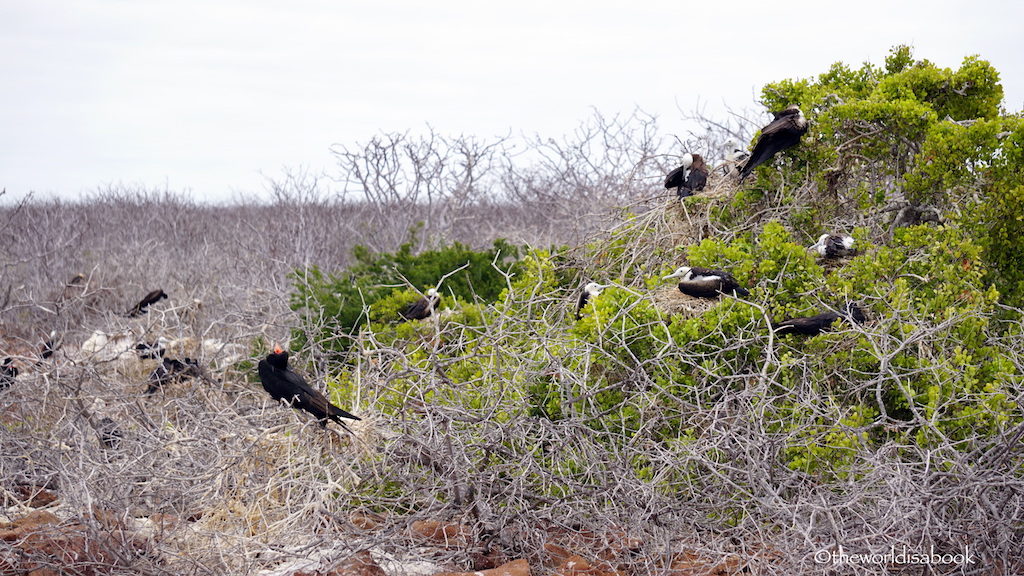 We saw this one from far away which was enough to satisfy our curiosity.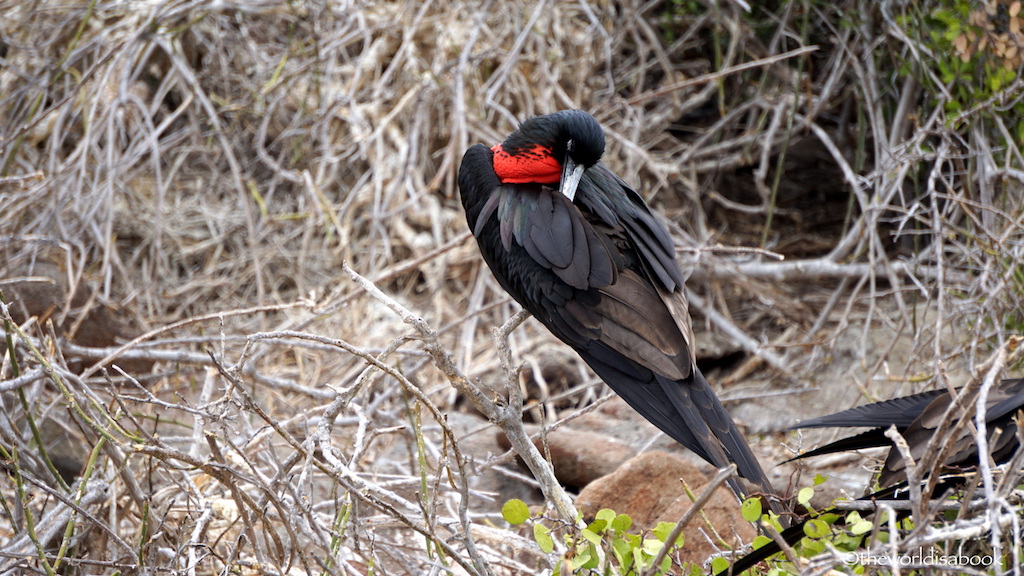 But, we were lucky enough to be here to see many nests. Some were actually pretty close to the trail. We saw plenty of these adorable frigatebird chicks.
We also saw these two eggs inside a cactus. Our guide was way ahead of us so we never found out whose eggs these were. It wasn't the blue-footed booby since they nest on the ground.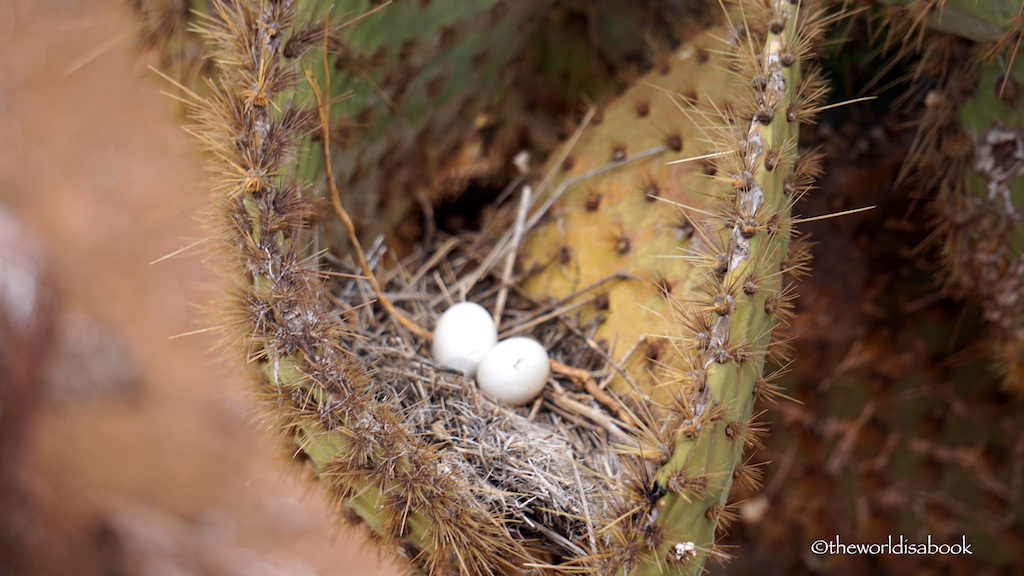 We found another group who had surrounded a blue-footed booby. This one posed for all of us. The blue-footed booby actually isn't very big and average about 32-34 inches long.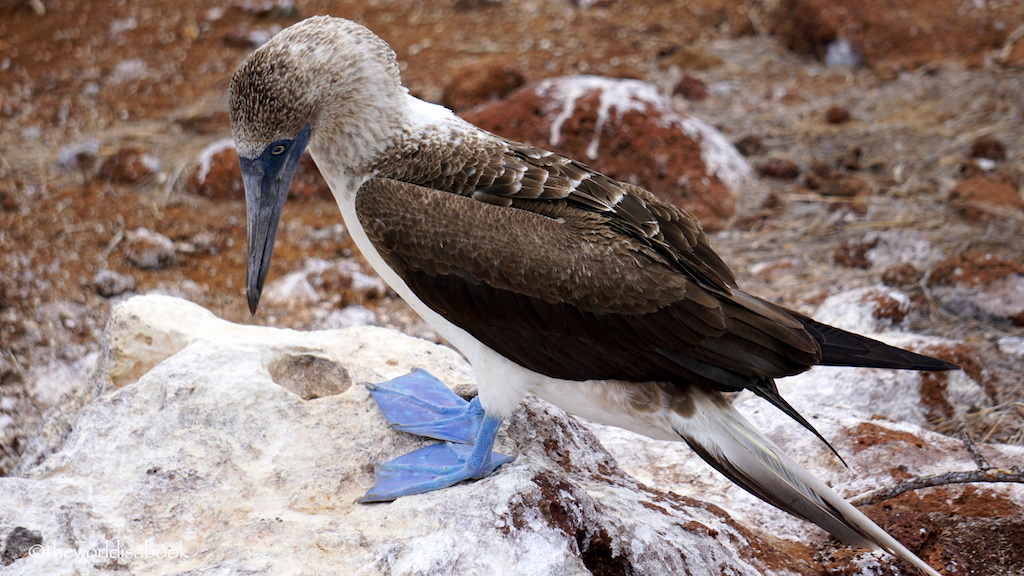 This was the one of a few land iguanas we spotted on the whole island. Compared to the marine iguanas indigenous to the Galapagos and who were mostly black and gray, these were more colorful and larger. We almost missed this one as it seemed to blend with the sand. As of the 2014 Galapagos National Park census, North Seymour had almost 2,500 land iguanas. This was a success story since about 70 land iguanas were moved here from Baltra Island for better survival conditions a few decades ago.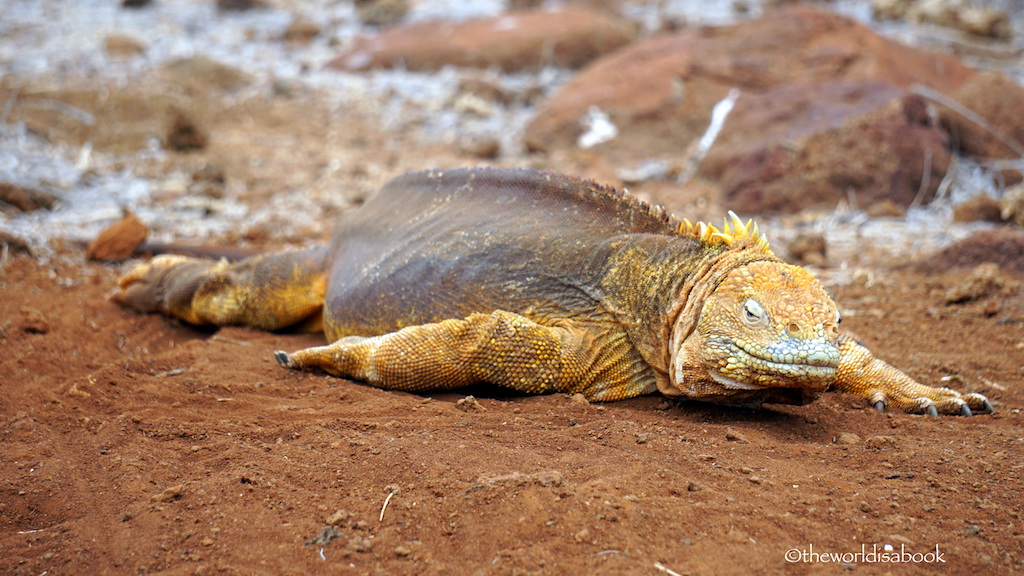 Our path led us to this clearing with all these red plants. I had to look this up but it looks like they're called sesuvium ground vegetation. The island was mostly flat and was easy to walk around.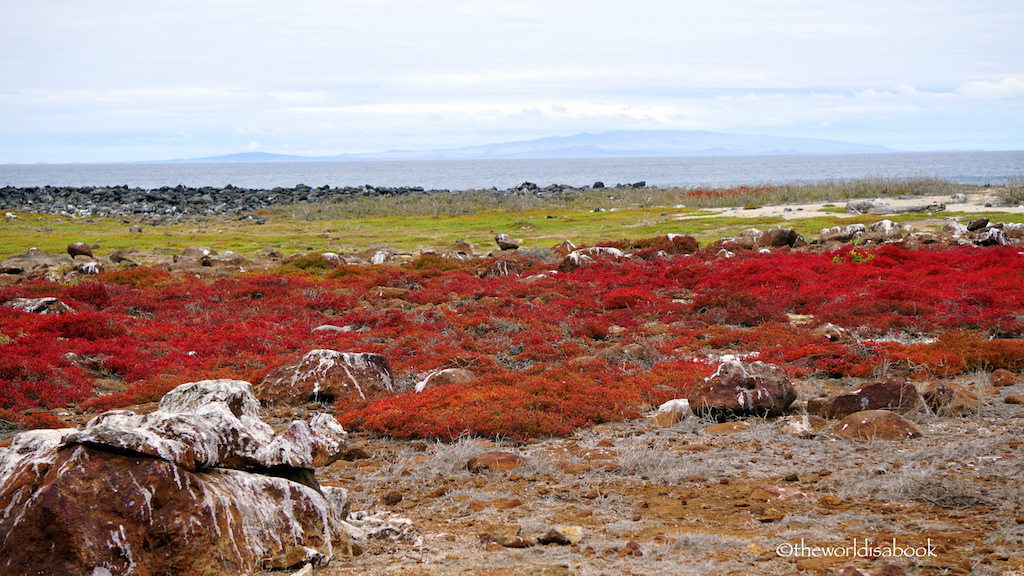 We saw a few more blue-footed boobies along the shore and spotted an area with several nests. Mating season was over but if you're lucky enough to be visiting during their busy mating season around May/June, the boobies have an interesting courtship ritual.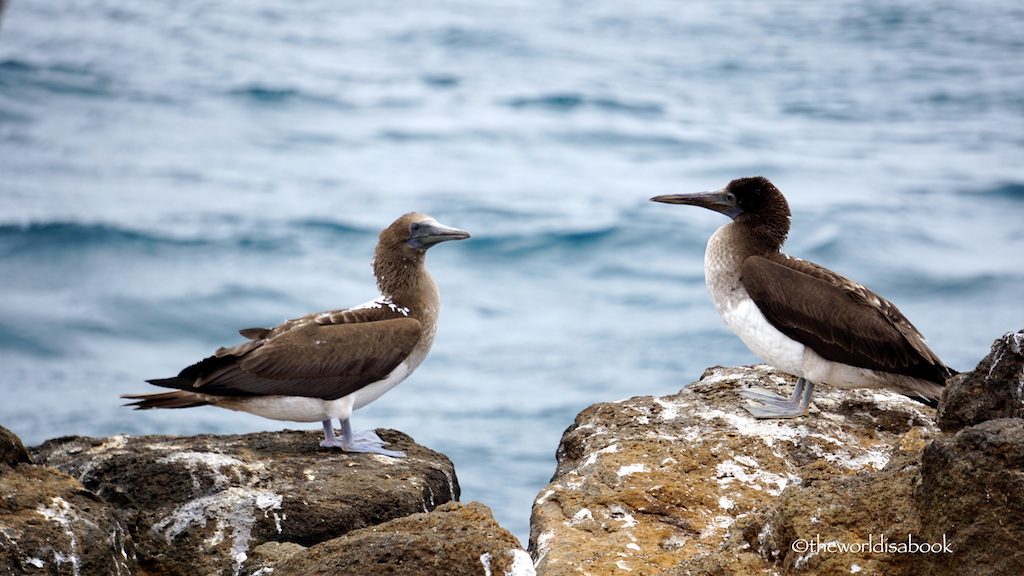 The male birds show off their feet to a potential mate in a sort of "high-stepping strut" involving some webbed blue feet stomping. The bluer their feet, the more attractive they are to a mate. We love how the male animals here have a colorful way to attract their mates.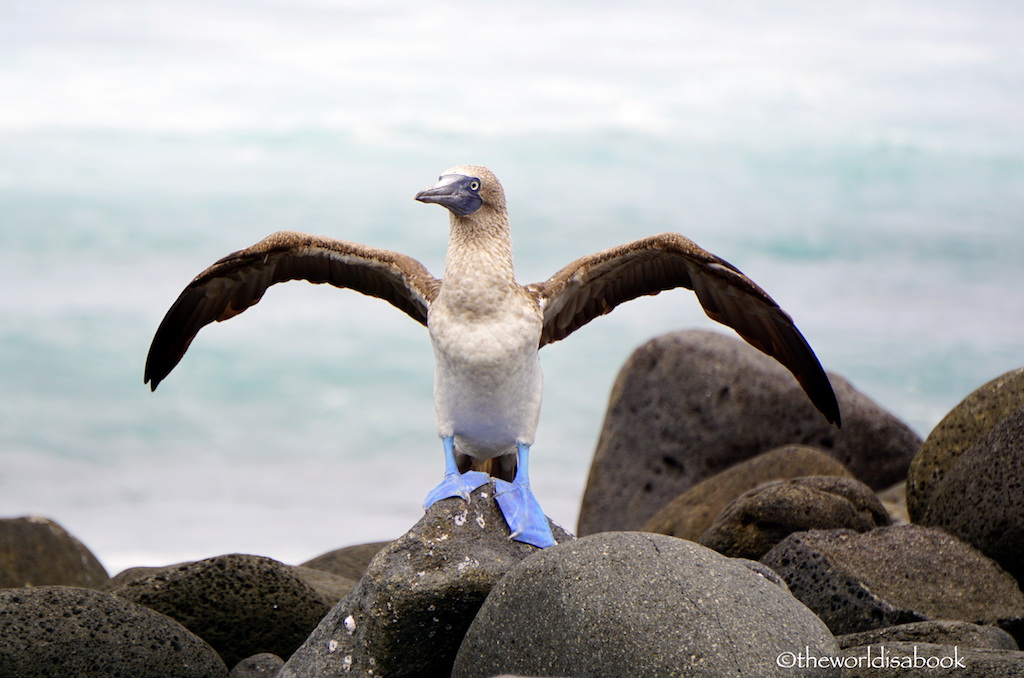 The Baby Boobies (what my kids called them) or chicks looked so soft and so adorable. It looked like it was made up of cotton balls. We just wanted to take this one home! We spent some time watching this cute chick navigate its little area until its mother came back. These birds also use their webbed feet to keep their babies warm.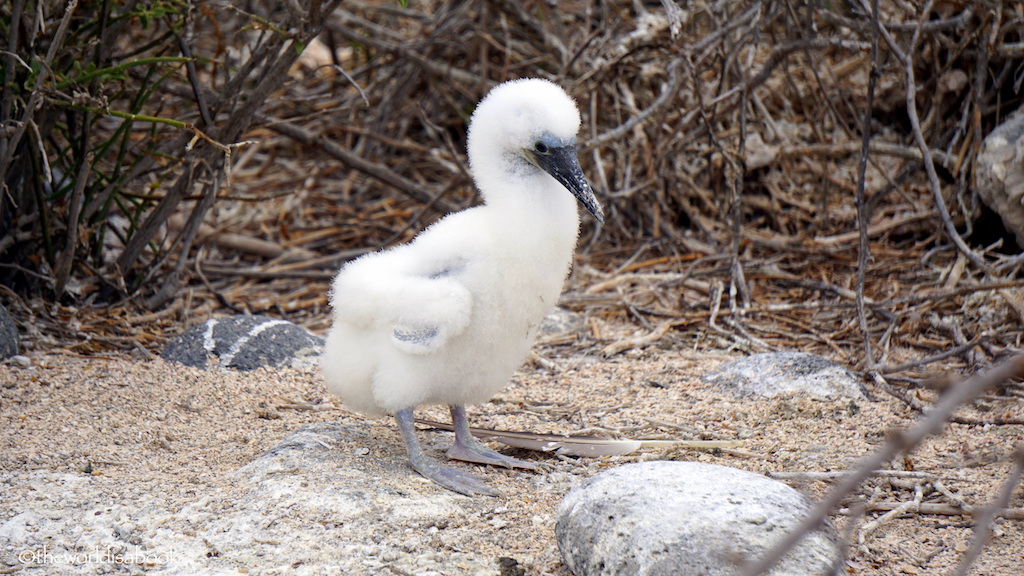 We ended up in the rocky coast on the other side of the island following the circular path. The water had varied shades of blue and the waves were pretty rough. It's amazing to think that marine iguanas and sea lions could swim in them.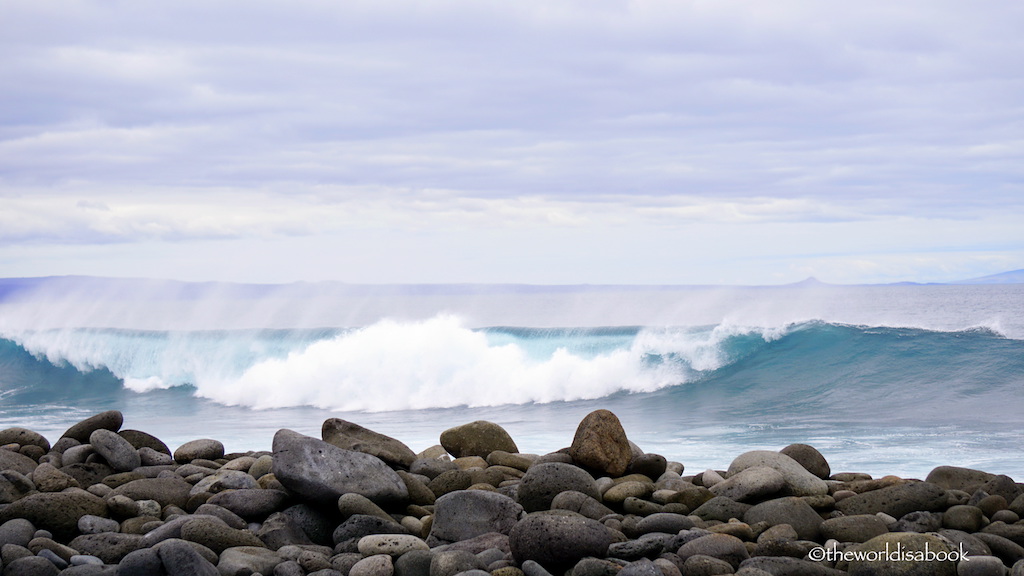 There were a lot of lava rocks here so there was no shoreline to walk on. But, the rocks were also a favorite place for the many sea lions lounging around here. It was a relaxing place to observe and admire them. We were instructed to stay at least 6 feet from them but often times, they came up pretty close to us.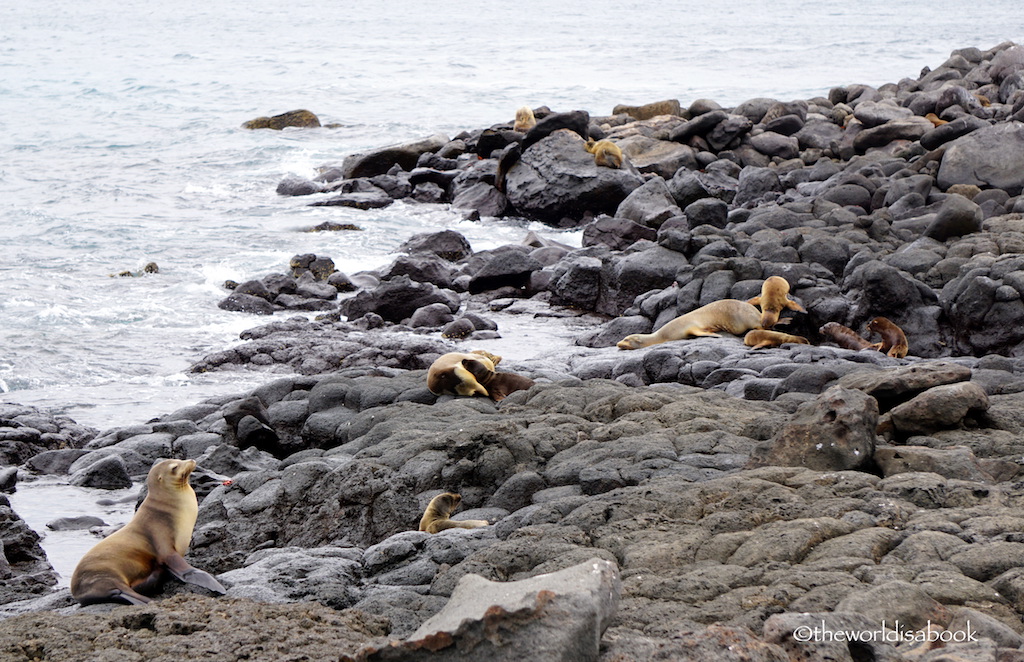 The lava rocks also made way for many Sally Lightfoot crabs or red rock crabs. These were the brightly colored crabs that we found in many lava rocks throughout the islands. The adults were more colorful and seemed to include all sorts of colors in the spectrum. They were thought to have been named after a Caribbean dancer since they moved fast and were very agile. They're usually used by fishermen for bait.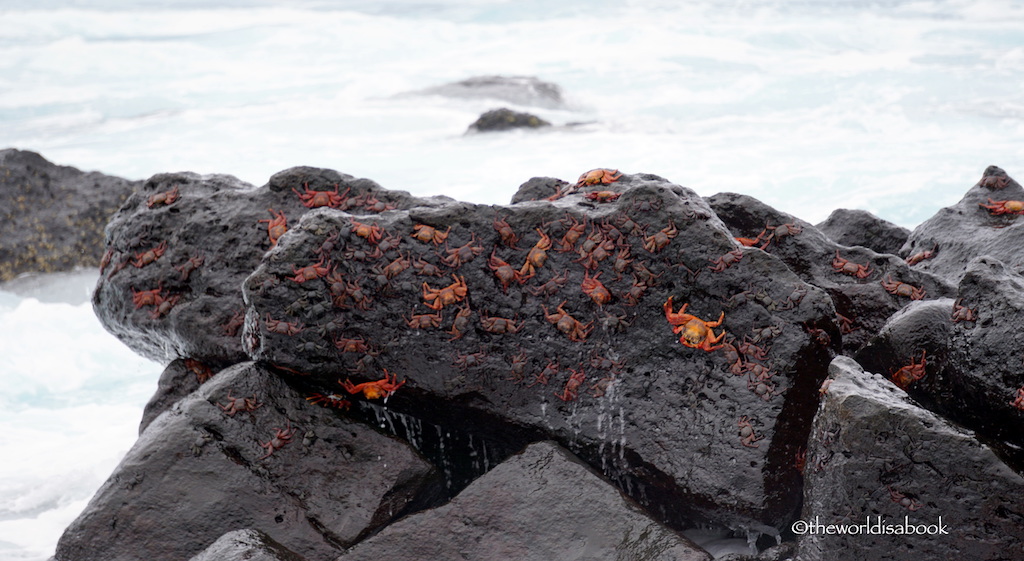 My daughter's favorite part (and mine too) was seeing all the baby sea lions.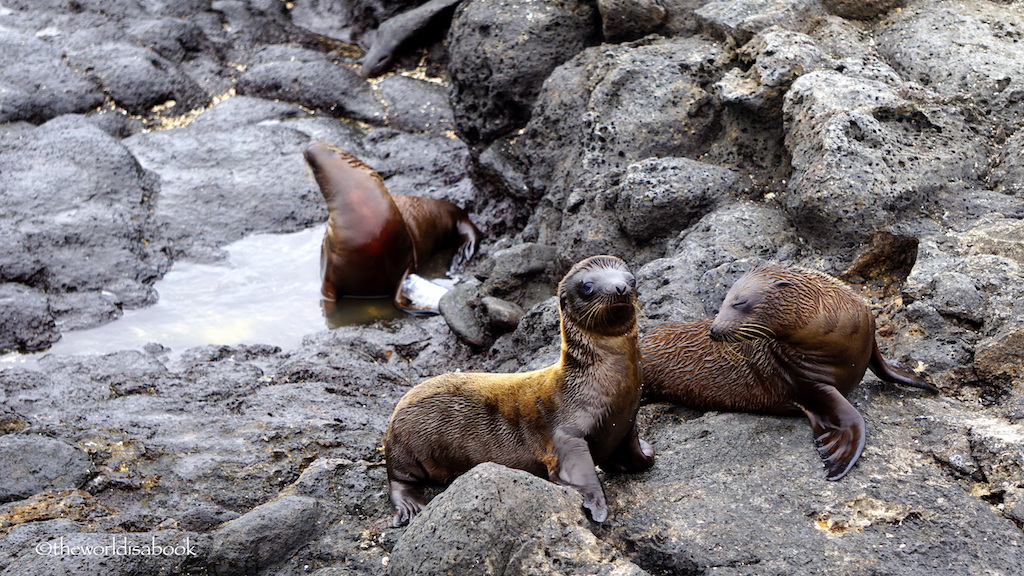 The pups were so adorable. We found many nursing or sleeping under the rocks.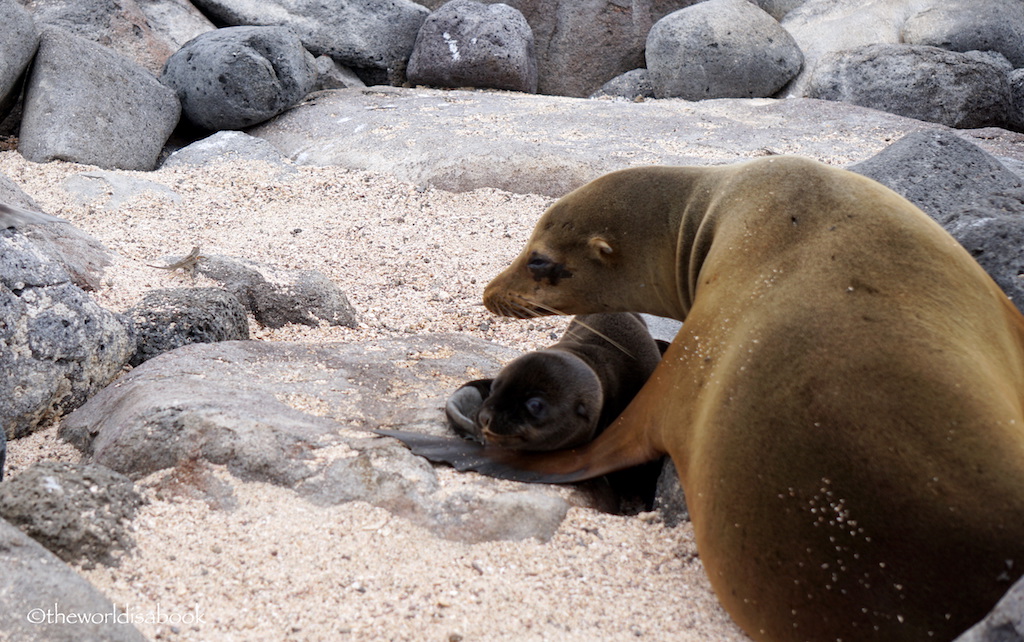 While we were sitting on the rocks admiring the ocean views, this little fellow came up to us. It was as curious about us as we were about it. You know those sounds of ohhhs and ahhs you make when you see a baby? Those came out of our mouths multiple times. Look at how cute this one is with its big eyes.
BONUS: Mosquera Island
A major bonus of this cruise was our stop at Mosquera Island nearby after our time at North Seymour. This islet, with hardly any vegetation and mostly of white sand beach. It had a large sea lion population. We saw many of them lounging around in the sand. It was only our boat that docked here so we were clearly outnumbered by these interesting creatures. They were everywhere!
Most of them didn't even bother looking up from their naps as we tried to walk around them. Don't you wish you can sometimes nap undisturbed by noise and commotion like that?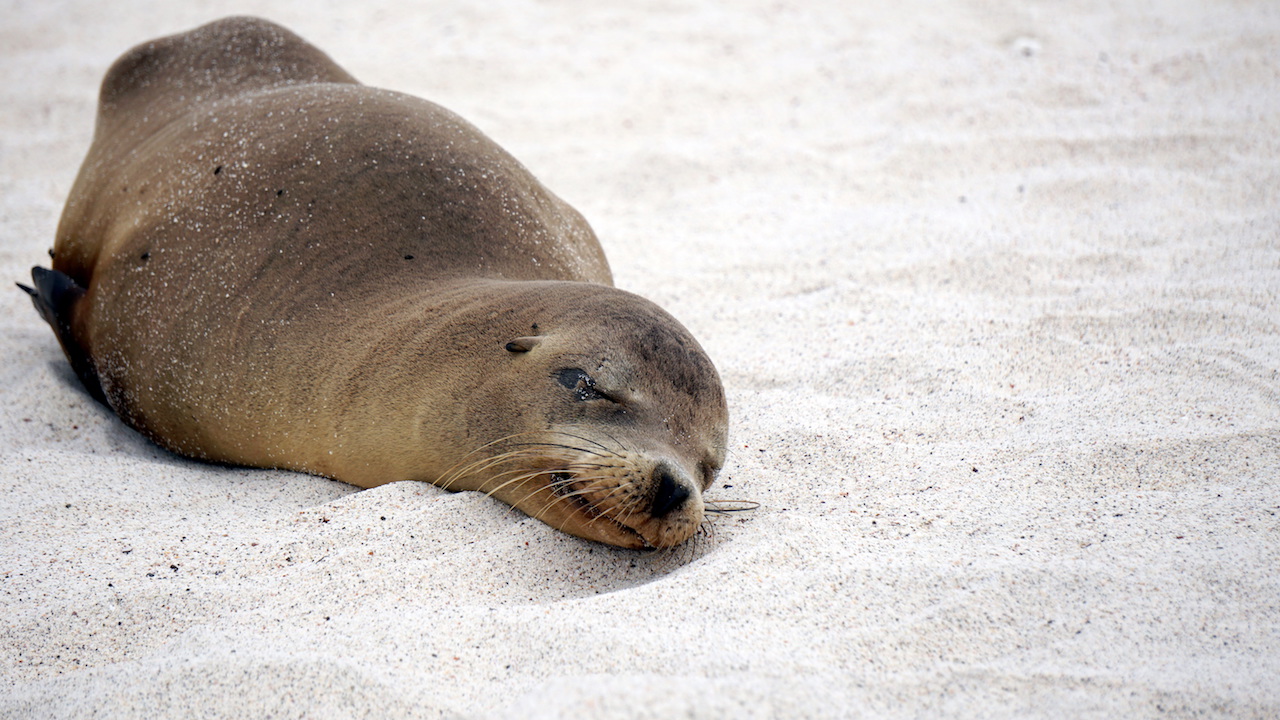 The water was a bit cold but that didn't stop my kids from snorkeling. It was an unbelievable experience to have the sea lions come up and got really close to them while snorkeling.
One of my son's most memorable experiences was when he came across this pup who kept following him around and eventually tried to chase him. They did this chasing game for a few minutes until the sea lion eventually found something else that seemed more interesting.
This day trip was a family favorite for obvious reasons. If your time is limited, North Seymour Island will check off many of the animals on a Galapagos Island wish list for seeing and who were unafraid of humans. This small island was rich with an assortment of wildlife sightings. It was a comfortable cruise and wasn't too far from Santa Cruz island and made for an easy day trip. We could have stayed there all day watching the interesting behaviors of all these animals. Don't miss this island when visiting the Galapagos.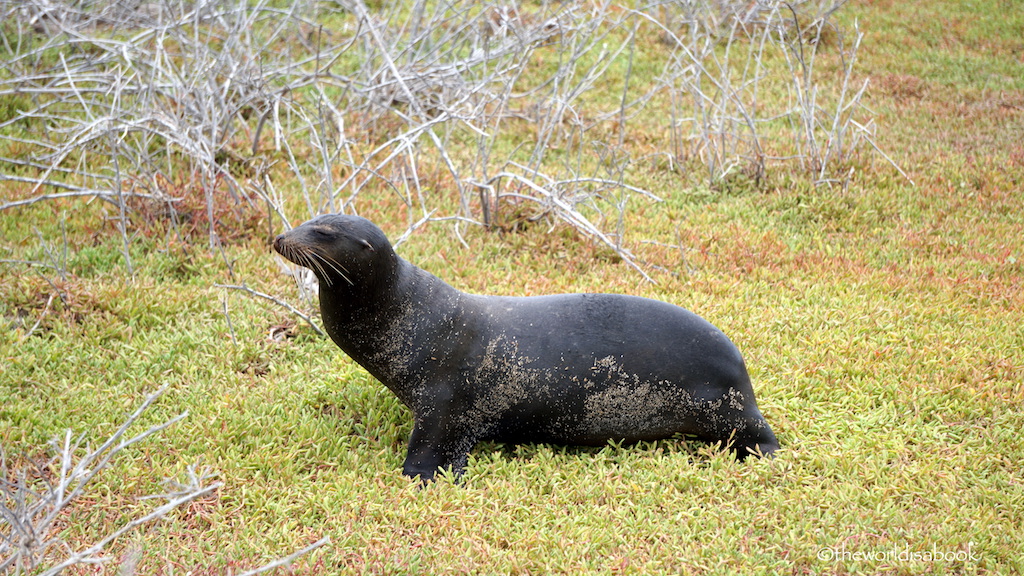 Tips for a day trip to North Seymour Island and Mosquera
You can prebook your day trip before getting there or go to one of the many tour operators in Puerto Ayora when you get there. Paying for cash will save some money since the tour companies charge an extra 10-15% for credit card transactions. Be sure to ask for children discounts and negotiate for a discount if you're booking more than one tour with a company.
Wear sunscreen, light clothing and hat. The Galapagos heat can be brutal.
Bring your own snorkeling gear. Some gear was available to borrow on board the boat. But, if you're traveling with kids, they may not always have their size.
If you're prone to sea sickness, bring some medicine or sea bands.
Lunch and drinks were provided on the boat. We watched them cook and prepare it in front of us. It consisted of fruit, salad, chicken, rice and dessert.
Bring snacks and water. While there may be food on board, snacks and water can tie the family over while food is getting prepped or if the food isn't to your (or the kids) liking.
Wear closed toe shoes. Some areas are rocky and uneven especially along the shore.
*Have you visited the Galapagos Islands or is it on your travel wish list?
Pin it for later!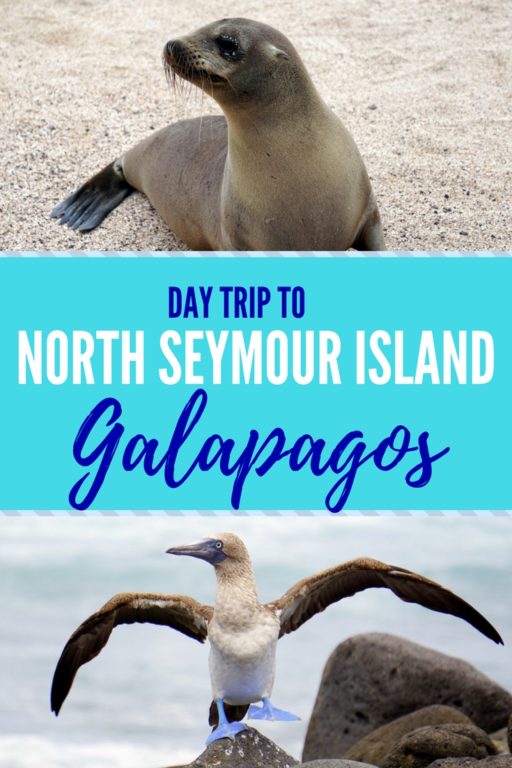 This post is part of Travel Photo Thursday at Budget Travelers Sandbox , Weekend Wanderlust at A Brit and A Southerner, Weekend Travel Inspiration at Reflections Enroute, The Weekly Postcard at Travel Notes and Beyond .  Do some armchair traveling and please visit the sites for other travelers' wonderful photos and posts.