5 Free Things to do in Helsinki, Finland with Kids
Helsinki, Finland isn't often in the top list of cities to visit while touring the Scandinavian region. But, this Finnish capital also known as The White City of the North quite surprised us during our visit last summer for its numerous green spaces, islands and vast number of attractions. This region isn't known for being a cheap place to travel but definitely worth it. Though, there were actually many attractions that were free and affordable. Here are some of our favorites and five free things to do in Helsinki with kids (or with adults too).
1. Explore the Markets
Visiting the markets of Helsinki were some of our best memories of this city. We loved their open-air markets and market halls. It's hard to miss all the activity and booths at Market Square by the harbor. This is a must visit area. There were numerous vendors selling local foods and treats with some of the freshest seafood plus arts, crafts and souvenirs. There were plenty of seats too to enjoy some people watching and sun soaking. Sit next to locals and you never know what tips you may get.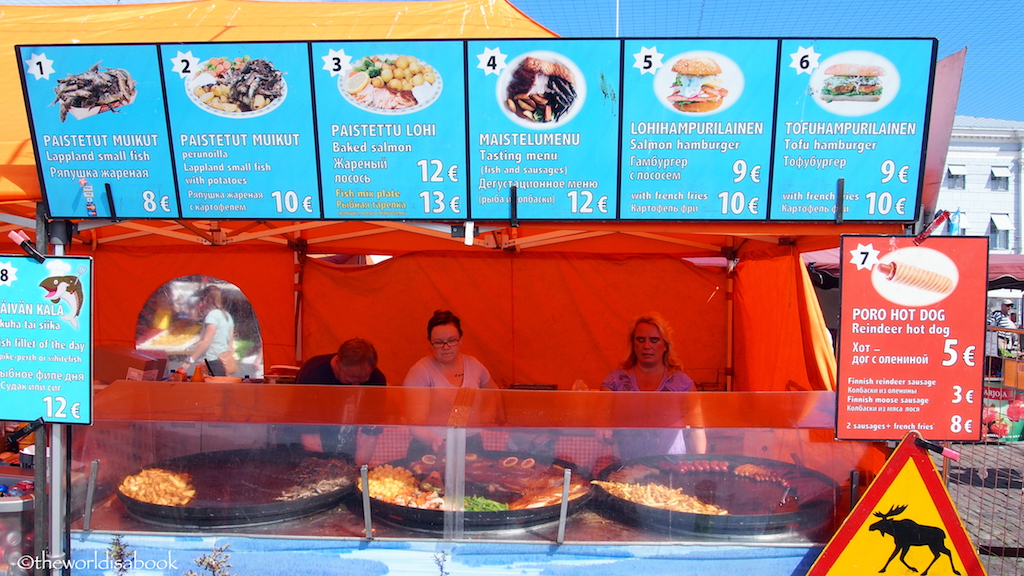 For some indoor market exploration, we loved the nearby Old Market Hall by the harbor. This has been around since 1889 and had such great selections of so many food items. My kids especially loved the desserts and candies here. Want to try being an adventurous meat eater? We found a couple of vendors selling canned bear meat and reindeer meat and also some dried jerky type. My husband and son enjoyed the reindeer meat jerky.
We also enjoyed Hakaniemi Market Hall which was near the Hilton Helsinki we were staying. This had about 70 shops scattered across two floors. Food items were on the first floor and souvenirs and crafts on the second including a great area for any Marimekko (those colorful design patterns) fans.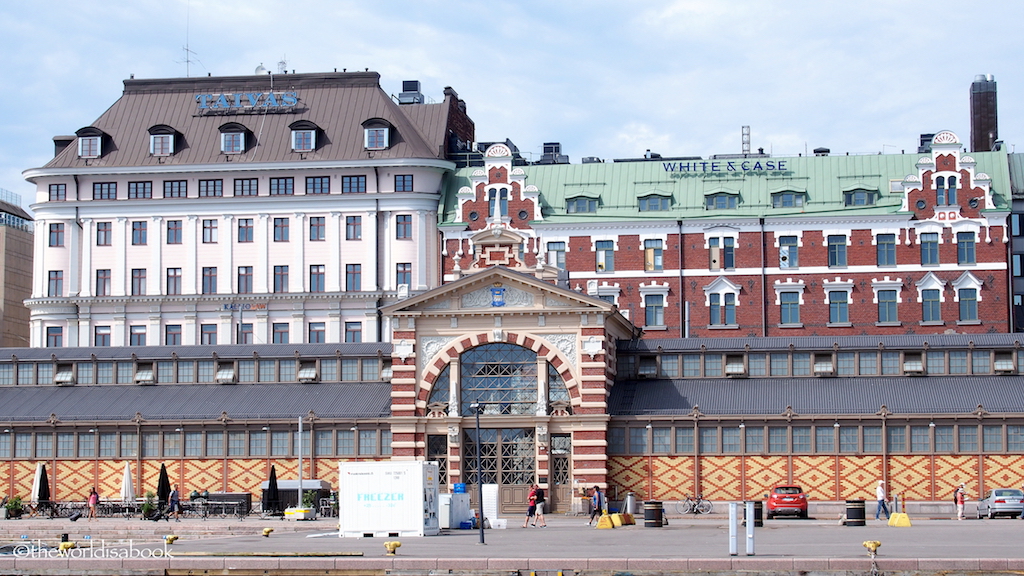 2. Visit Churches
I'm a big fan of European churches so my kids have learned to appreciate them as I led them through many over the years. They're great lessons in religion, culture and architecture and Helsinki has three very interesting churches worth visiting.
The Helsinki Cathedral is an iconic symbol of the city. Appropriately located in the city center on Senate Square, this white neoclassical church seems to loom over Helsinki. It's hard to miss it when seeing the cityscape from the water. The roof prominently displays the 12 apostles sculptures. The interior was quite plain as a Lutheran cathedral but worth seeing as an interesting contrast to the many other European cathedrals we've visited. Services and concerts are still held daily.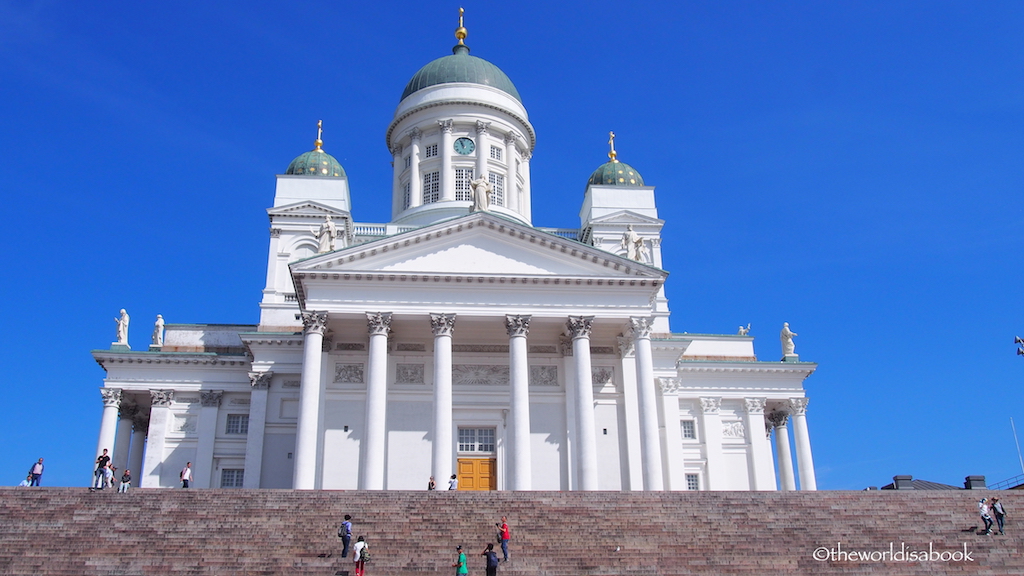 Not too far away from the Helsinki Cathedral was the red brick Uspenski Orthodox Cathedral and was quite more ornate. Based on a Russian 16th century church, this has 13 green and gold onion domes that represent Christ and the 12 apostles. This is also western Europe's largest Orthodox church. The interior is lavish with Russian religious paintings and icons plus several elaborate chandeliers. The church is closed on Mondays.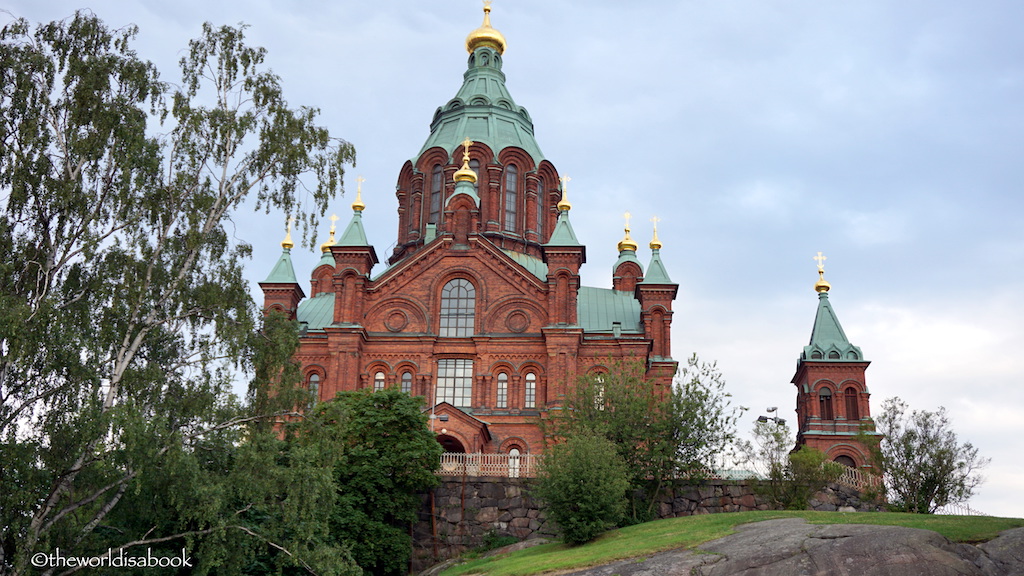 This last church we visited was the most unique. Temppeliaukio Church (Rock Church) is one of Helsinki's most visited attractions. It was built underground into a block of natural granite. With its bare rock walls, copper dome ceiling, concrete beams and 180 vertical window panes, it was quite an experience to visit this church. It has excellent acoustics due to its architecture. We were lucky enough to be visiting when a woman was playing the piano and it was amazing. I can only imagine what a concert in here sounds like. It's three euros to enter when nothing is going on but children are free and it's also free to enter during events and services.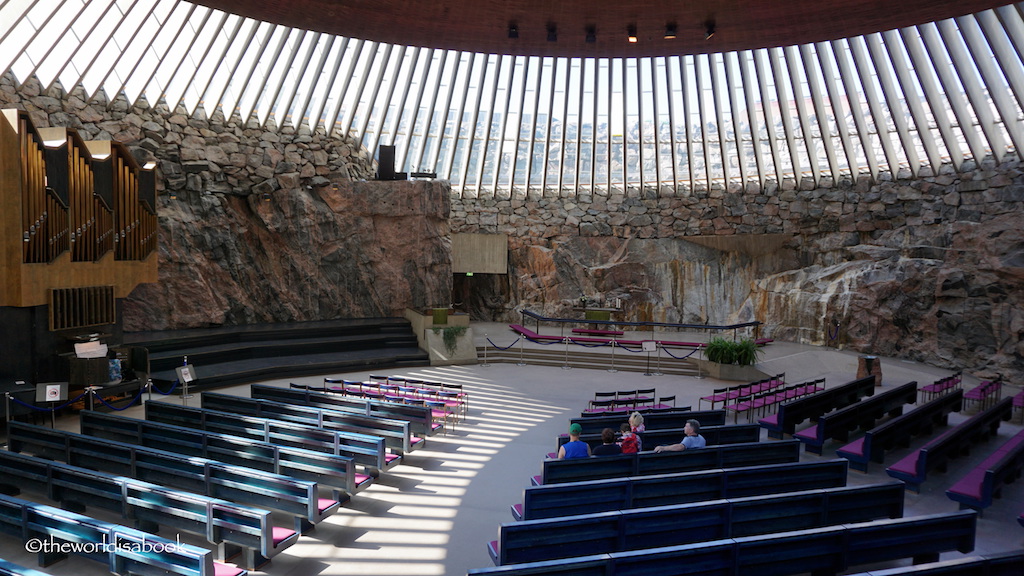 3. Enjoy Linnanmaki Amusement Park
It's almost unheard of for amusement parks to have free admission. But, Finland's oldest and most popular theme park is owned by a non-profit group that supports the Finnish child welfare work and anyone can go in here to enjoy the park. Though, tickets for most rides must be purchased separately or by buying an unlimited ride option and prices were quite reasonable. There were also several gardens to enjoy. My husband and I didn't go on any rides and still had a wonderful time strolling around here.
But, there were actually 10 free rides within the park mainly for children under seven years old and under 4.6 ft (140 cm). That's quite a number of rides for kids to enjoy. The Panorama sightseeing tower was also free for everyone to enjoy Helsinki's cityscape and surrounding areas. This was a wonderful park to explore for families especially with young kids. My kids loved our afternoon at Linnanmaki Amusement Park and this was a major highlight of our Scandinavia trip.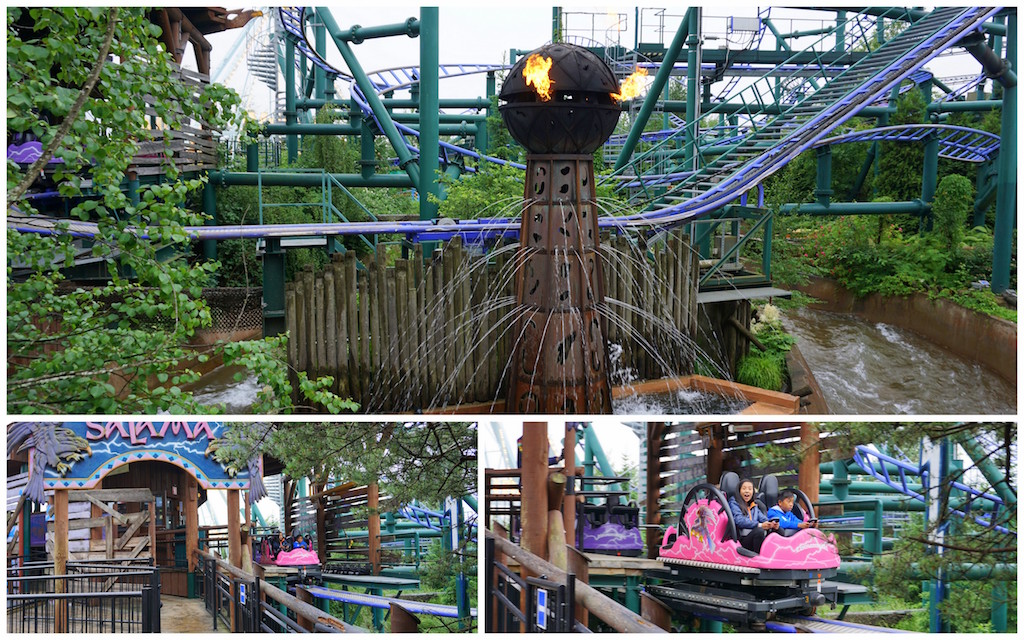 4. Learn at the Museums
We strive to incorporate educational tidbits for our kids into our trips. So, some sort of museum visit is usually part of the itinerary. It's always a major bonus to find free museums. The Helsinki Art Museum (HAM) always offers free exhibits and free admission to the gallery. Kids 18 and under are always free. This great museum's collection also includes over 250 sculptures around the city squares, parks and streets. We loved seeing these all over the city.
The Helsinki City Museum is a wonderful way to learn more about the local people and culture. It showcases the everyday life and experiences of the people of Helsinki through exhibits, photos and items.  Entrance is always free. One of the most popular areas and very family friendly is Children's Town. It offers various interactive exhibits and activities for parents and younger kids to learn more about particular time periods from toys to TV shows. Free DIY craft workshops are offered  during the summer.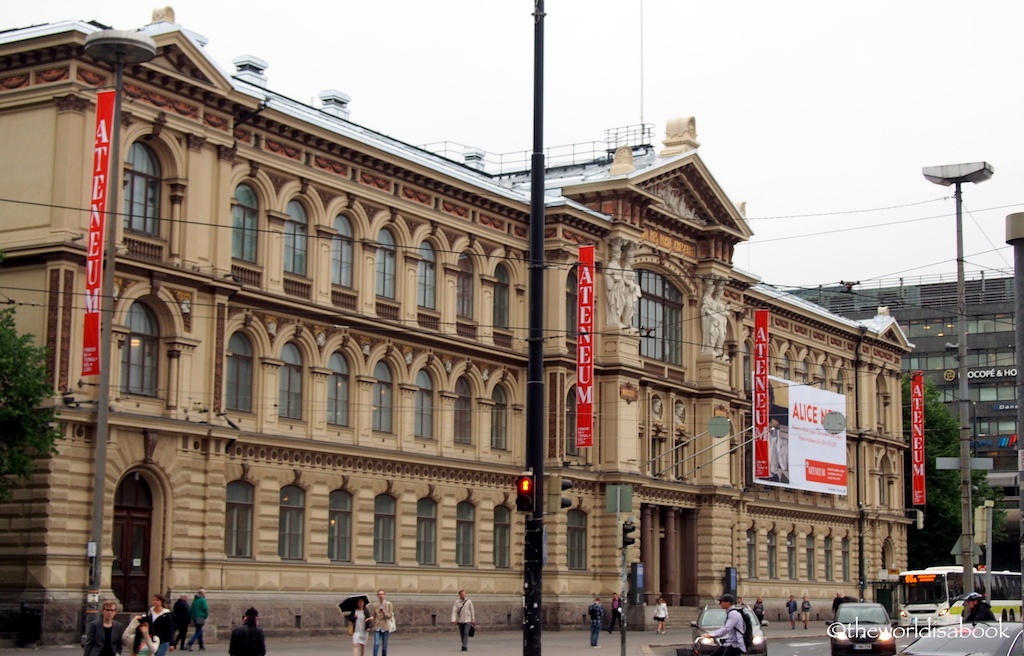 Here are a couple of other museums with free admissions at certain times
National Museum of Finland – This museum showcases the Finnish history from medieval times to the 19th century including interactive exhibitions. Free admission every Friday from 4 to 6 PM.
Museum of Cultures – Finland's history and culture was affected by several neighboring countries over the years. This museum houses about 40,000 objects from the National Museum's ethnographic collection. It also has several exhibits that show the lives of people across the world and in Finland. Free entry for children under 18 years old and free admission to the public every Friday from 4 to 6 PM.
5. Stroll the Green Spaces
Another surprising thing we found about Helsinki was its abundance of green spaces. A third of the city is covered with parks and there were 11 big parks within the city center. If you need someplace quiet to get away from the busy city streets, it was nice to know there was usually a nearby park within the city. It was wonderful to see everyone enjoying so many of these parks during our summer visit.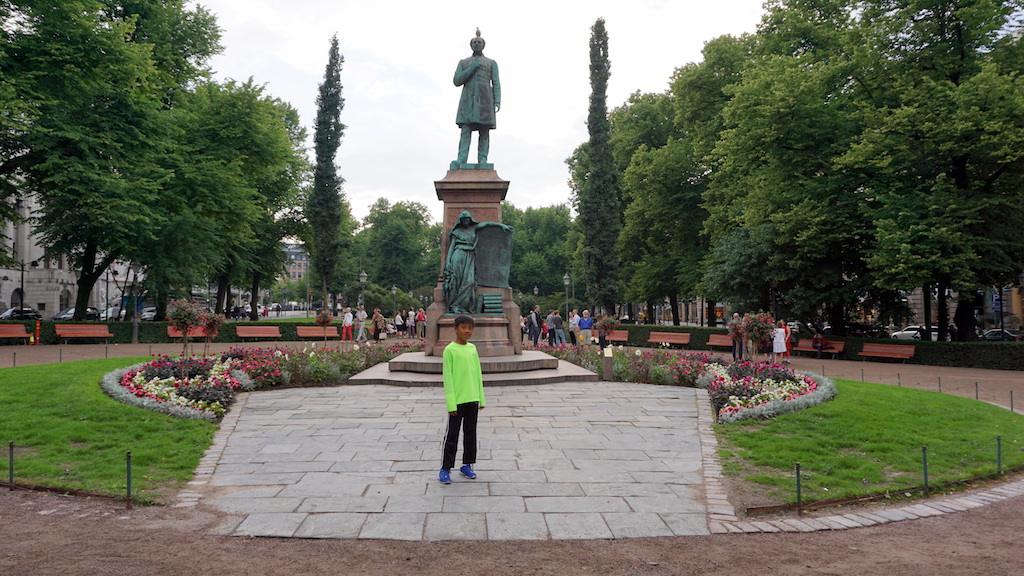 Esplanadi Park in the city center near Market Square was always a hub of many activities. We enjoyed watching some of the performances at the the bandstand. Don't miss the Kaisaniemi Botanic Garden which is free and available all year. We loved seeing all the gardens and ponds here flanked by the glasshouses (fees apply to enter these but are free during the first Friday of the month). Other parks worth visiting are Helsinki Central Park which has a protected forest and good for animal spotting and Sibelius Park which contains the popular Sibelius Monument that is made of welded steel with over 600 pipes and resembles organ pipes.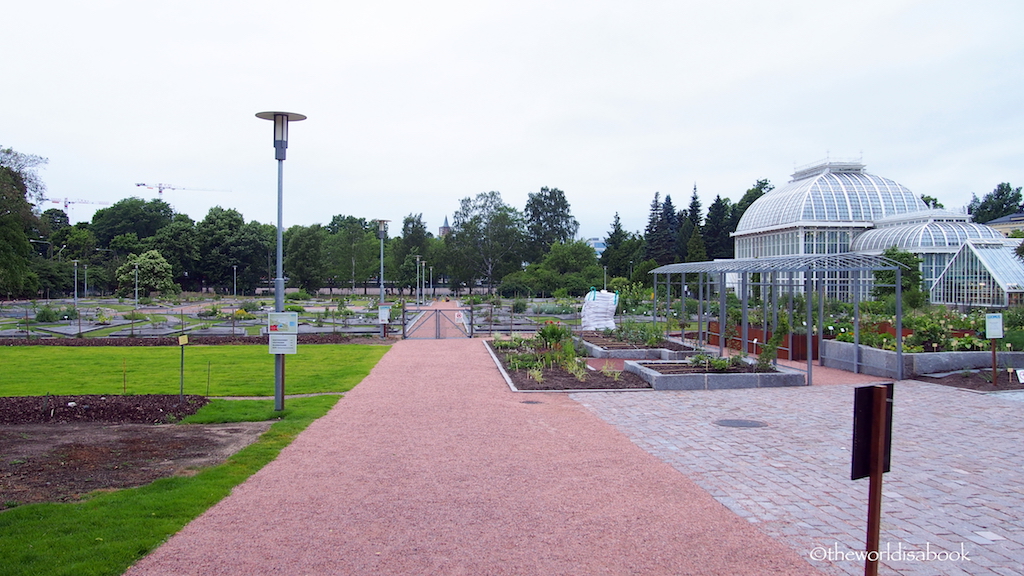 Tip: Look into purchasing the Helsinki Card for free entry to 28 attractions and museums plus a free hop-on-hop-off bus tour of the city and a canal route tour.
*Have you visited Helsinki or is it on your travel wish list?
Pin it for later!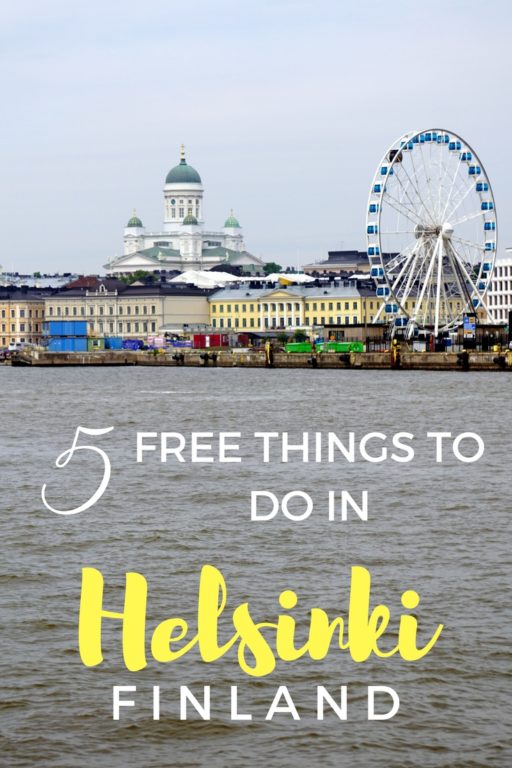 This is a part of a series called Five Free Family Friday which is a collective guide of free family-friendly attractions from places all over the world.  If you'd like to contribute with the free attractions in your home city, I would love your guest posts. Thanks!
Check out these related posts: