Seeing Paris with Fat Tire Bike Tours
What's the best way to stay awake to battle jet lag after a red eye flight that crosses across the Atlantic Ocean? Go on a bike ride, of course! As we rode the metro to our designated meeting place with Fat Tire Tours in Paris last month, I started to question my decision for scheduling this afternoon activity for my family.
This was the first leg of our three-week European adventure so stay tuned for a lot of new posts. Our family last visited Paris 7.5 years ago when the kids were too young to remember anything beyond the Eiffel Tower and seeing the Mona Lisa. My husband and I revisited during our anniversary six years ago. I've always liked the idea of seeing a city by bike. I thought this tour would be a great way to reintroduce Paris to us. See some of Paris' major attractions by bike.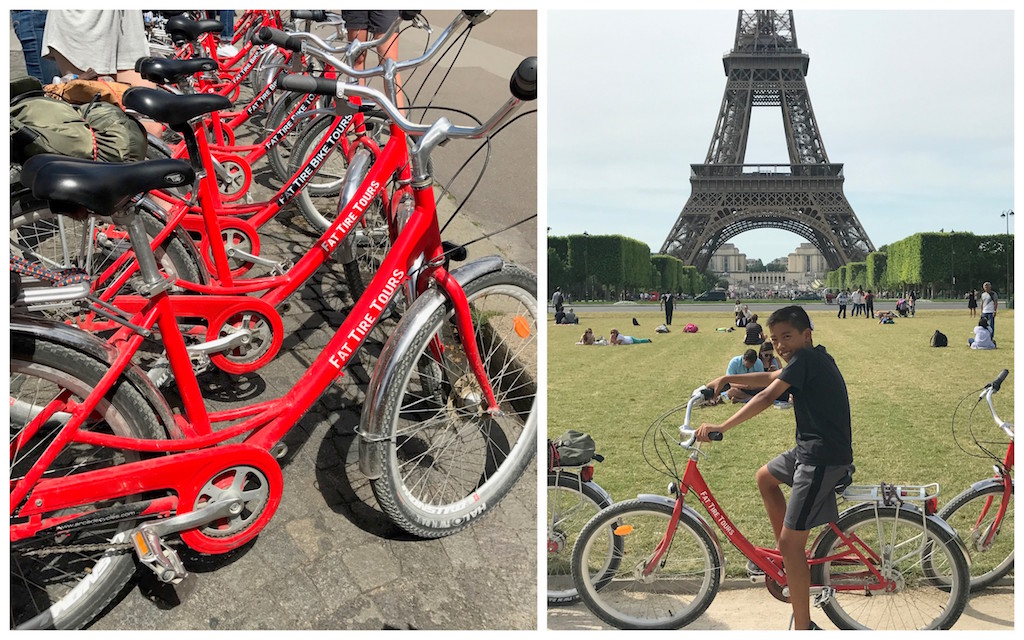 We met the staff of Fat Tire Tours near their office to check in. It was a short walk over to their office where we were broken up into groups with our guide. We adored Kat, our American expat guide, for her enthusiasm, humor, helpfulness and knowledge of the city.
We were assigned bikes and they do have bikes available for children. Carts are also available for really young children to attach to the bikes. Children under 12 must wear helmets. This was also the time to test out the bikes especially ensuring the brakes and gears were working properly. Kat went over safety rules particularly staying close to each other at the intersections and to follow her lead.
We quickly learned that DOMINATE meant owning the road and staying in a close pack in those intersections so the cars couldn't miss us and were forced to pay attention and stop. It was a bit nerve wracking in the beginning navigating those busy streets. I was quite anxious crossing the streets and making sure to have eye contact with the drivers and staying towards the back of the pack. My heart skipped a beat every time I watched my kids cross the streets.
These tree lined, pedestrian areas were my favorite part of the bike rides. It allowed me to relax and take in the scenery without worrying about traffic. We really loved this particular area that had this glimpse of the Eiffel Tower at the end.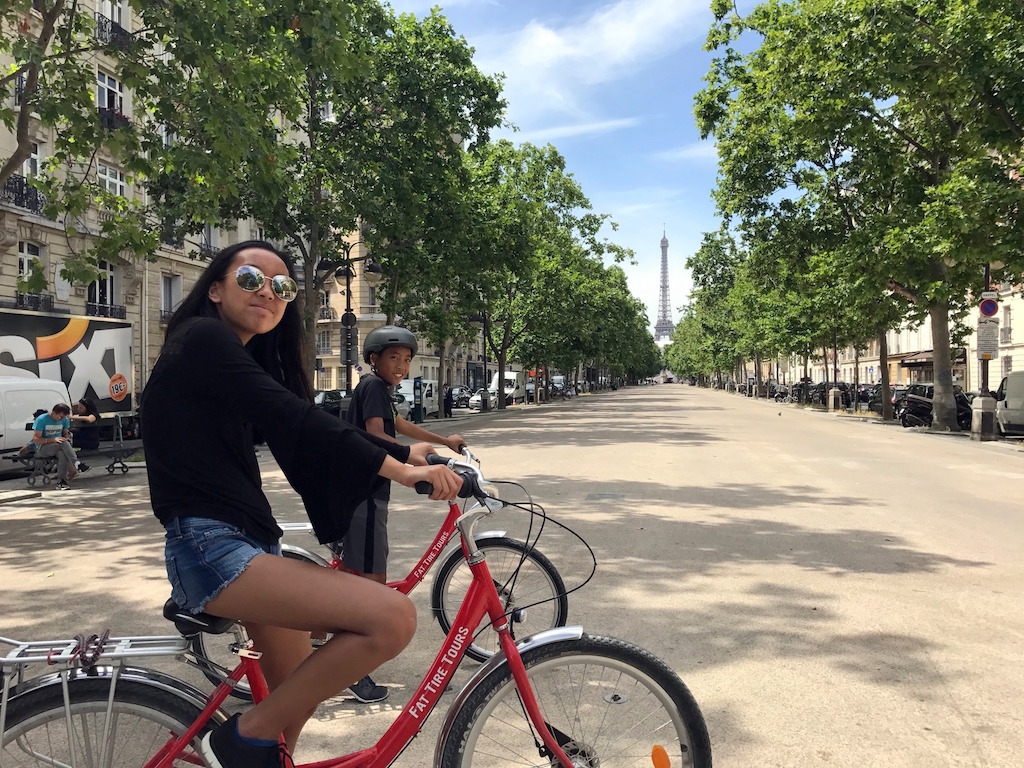 Our first major stop was in front of the Hôtel des Invalides. This was a 17th century complex founded by the Sun King (Louis XIV). It was built to accommodate up to 4,000 disabled and poor war veterans.
This prominent gold dome called Dome des Invalides can be seen from many Paris overlooks and was part of the royal chapel. The dome's height stands at 107 m (351 ft). Napoleon's remains along with other distinguished military leaders were buried in the royal chapel under the dome. We were told the dome was made of real gold – about 27.5 lbs of gold leaf.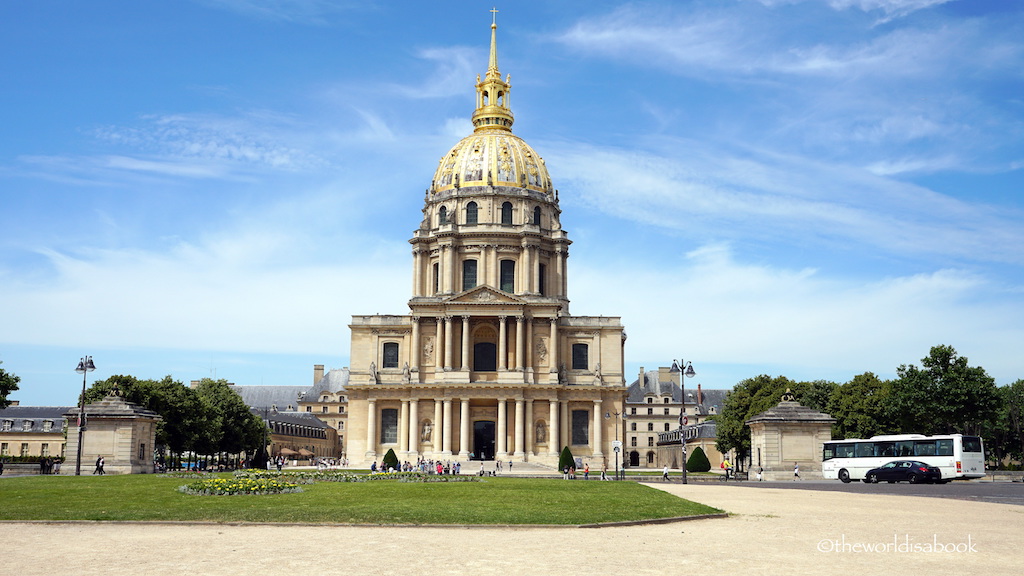 The Hôtel des Invalides complex now houses these particular museums:
Musée des Plans-Reliefs (Relief Maps Museum) – It has scale models of detailed scale models of French fortresses and fortified cities
The Musée de l'ordre de la Libération – It is dedicated to France's liberation in World War II.

Musée de l'Armée

 or Army Museum – It's a large military museum that holds weapons, uniforms, etc. plus a lot of military history from the Middle Ages to World War II. This building was impressive and particularly the gardens. I love the topiaries here and those original cannons were a hit with my son.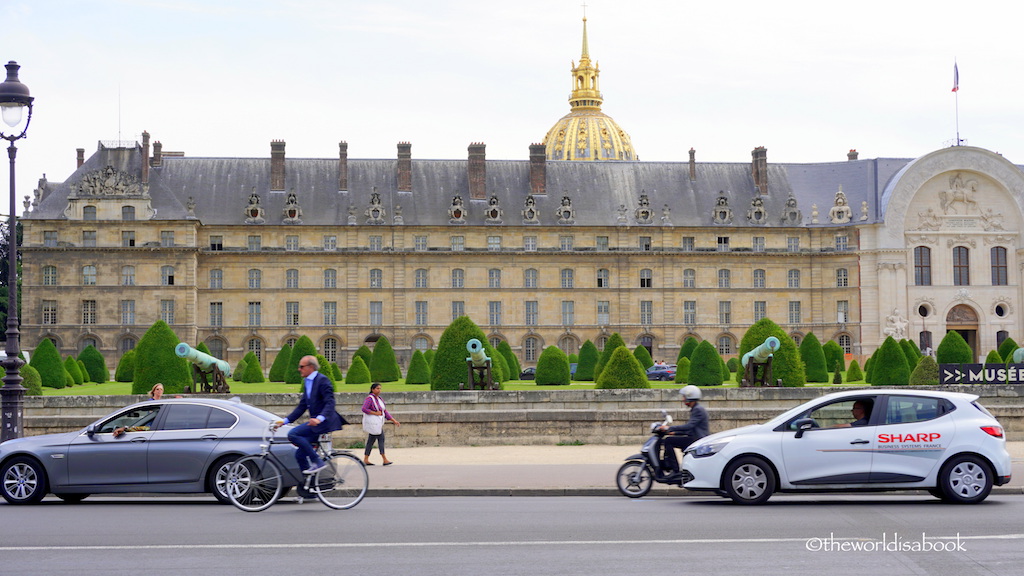 We crossed the 500 m long esplanade that separated the Invalides complex from the Seine River. I'm so glad there was a special lane here for bikes since there were many cars going the same way.
There were 15 of us in the group which I thought was a bit much for one person to lead especially on bikes. My kids were the youngest in this group at ages 11 and 14 but I can imagine it would be harder to keep the group together with much younger children and people biking at different speeds and levels. Luckily, one of the dads in the group was an experienced cyclist and had done this tour before so he served as an anchor and made sure no one got left behind. Kat did make sure to fully stop and wait for everyone before crossing any major intersections.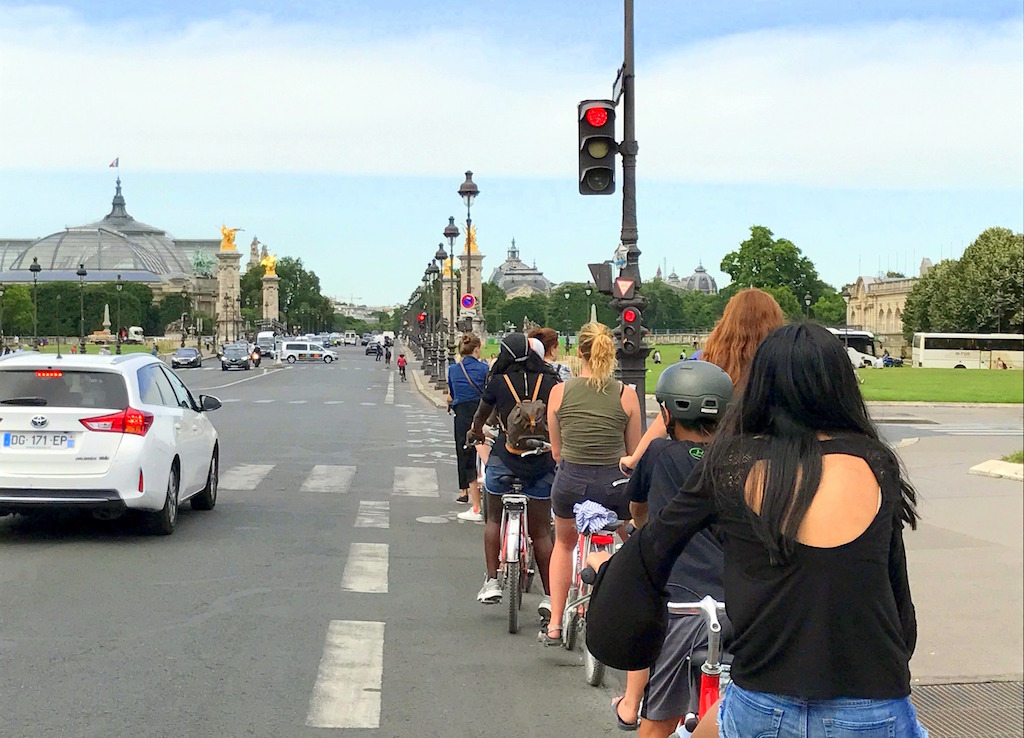 We stopped at the stunning Pont Alexander III bridge. This was quite possibly the most lavish bridge we've ever crossed. It was built in 1900 for the international world's fair Exposition Universelle.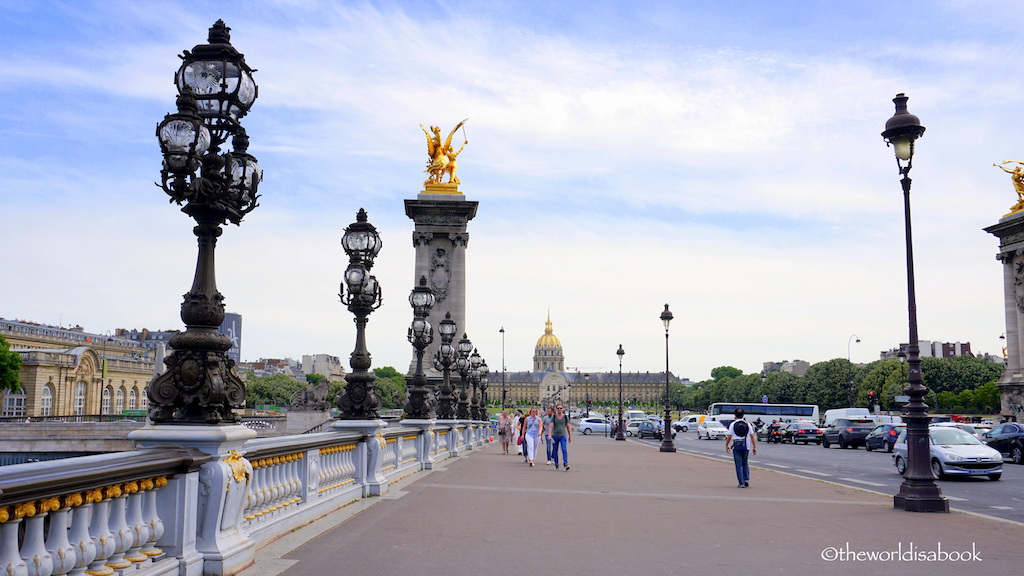 The bridge connects the Left Bank's Hotel Invalides complex to the Right Bank's Champs-Élysées. But, a stroll and a stop here is almost mandatory with the sweeping views of Invalides, the Eiffel Tower and the River Seine. But, the best parts were the various sculptures that ranged from mythical figures, marine creatures, maidens and cherubs. It's like an outdoor museum.
The ends were flanked with gilded statues on top of pillars and everything is lit with Art Noveau type lampposts. I wish we could have seen this bridge lit up at night.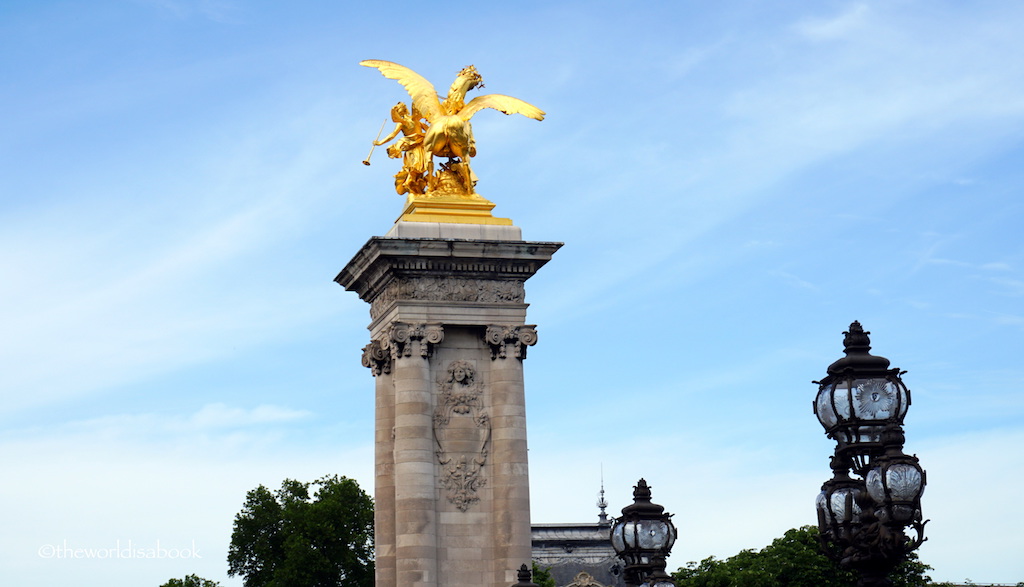 There was a tree lined bike path along the river which had these great views of the Eiffel Tower. One of my favorite routes was along the river especially since there was a light breeze during our hot ride.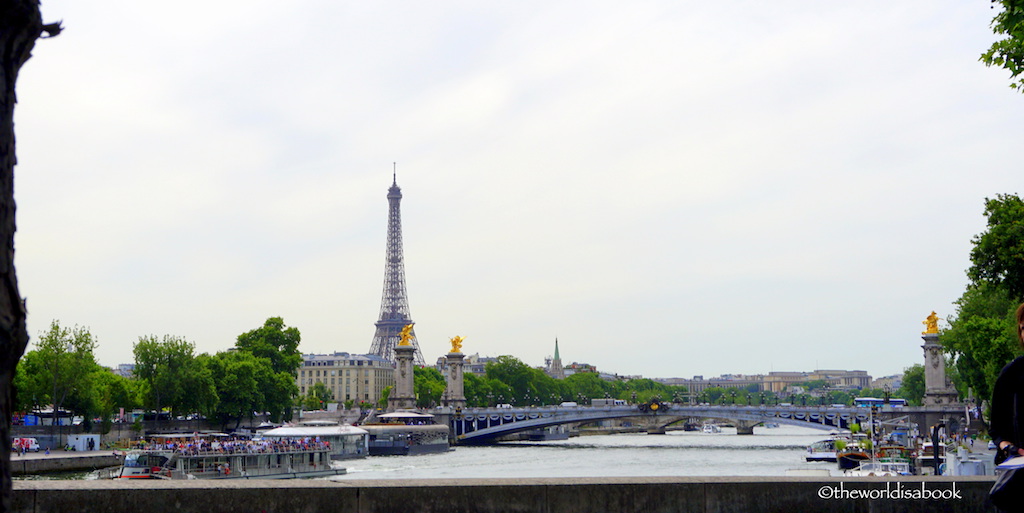 Our next stop was at the small area across the Musee du Louvre by the arch at the entrance of Tuileries Garden. This was considered the largest museum in the world with over 35,000 objects and 300 rooms. This former royal palace covers western art from the Middle Ages to 1848 with its most famous residents being the Mona Lisa and Venus de Milo.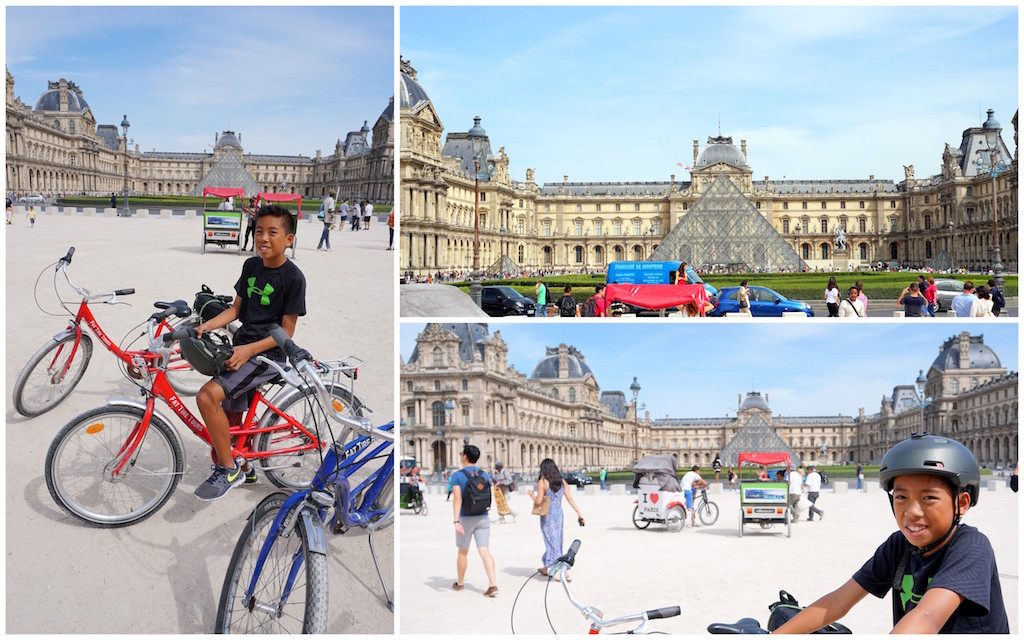 This whole complex has such amazing and grand architecture. There were so many people around the area and so much more than we've ever seen during our Autumn visits. Kat gave us some tips that included visiting after 6 PM on Wednesday and Friday when the museum is open until 9:45 PM and the crowds are a bit less. Remember that the Louvre is closed on Tuesdays.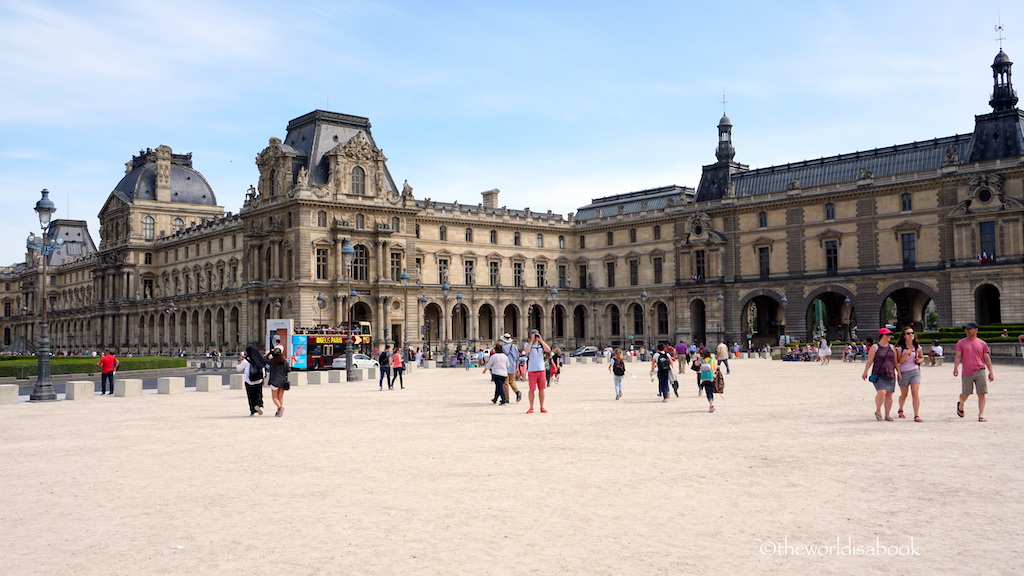 We briefly stopped at Place de la Concorde but this area should really be explored on foot at your leisure too. This famous, octagonal square located at the end of Champs-Elysées was infamous as an execution site during the French Revolution including the beheading of Louis XVI and Marie-Antoinette. Luckily, it was redesigned in the 19th century to this beautiful square we now see. The 3200 year old obelisk also known as 'L'aiguille de Cléopâtre' or Cleopatra's Needle is the focal point of the square. It stands at 75 ft (23 m) and was from Ramses II temple in Egypt given by Egypt's viceroy.
There were also two large bronze fountains here (Fontaine des Mers and Fontaine des Fleuves) which my kids enjoyed when they were younger. Each corner of the square has a statue that represents a French city. We loved exploring this area during our last visit. It's another sort of outdoor museum filled with elegant lamp posts and amazing sculptures.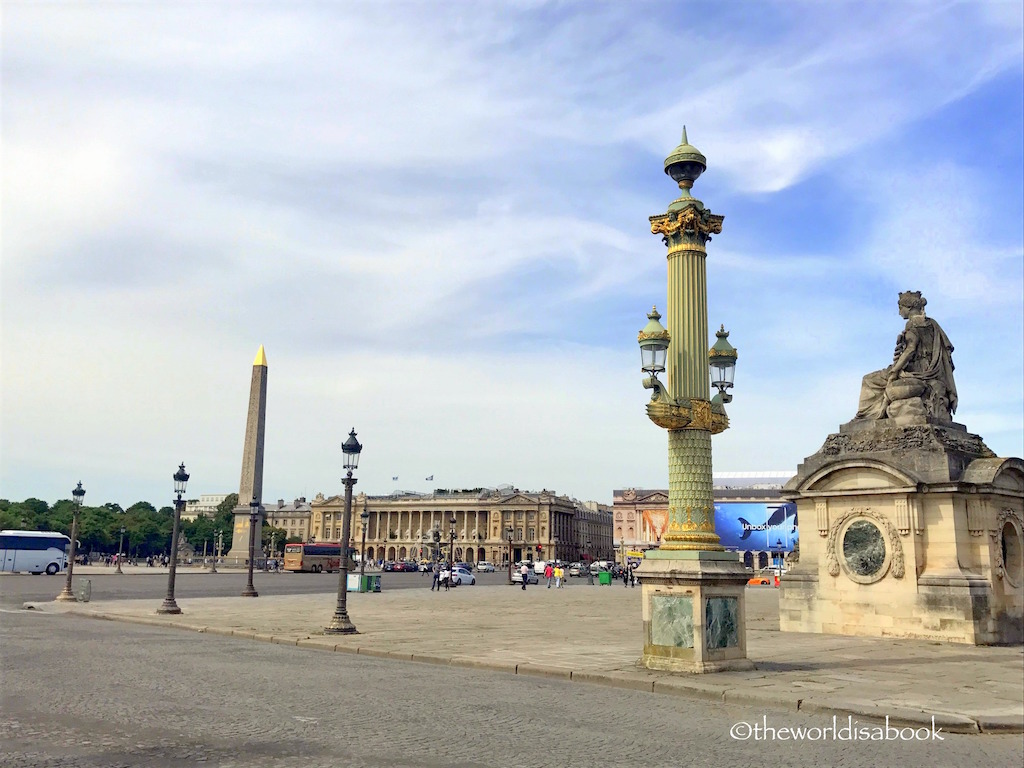 Our last stop was the most iconic and popular attraction in the city and the world's most visited paid tourist attraction. It's an amazing sight no matter how many times you see it. Built for the 1889 Exposition Universelle (World's Fair)for the centennial celebration of the French Revolution, this wrought iron lattice structure was at first met with disapproval and skepticism. It took about 26 months to complete this architectural wonder.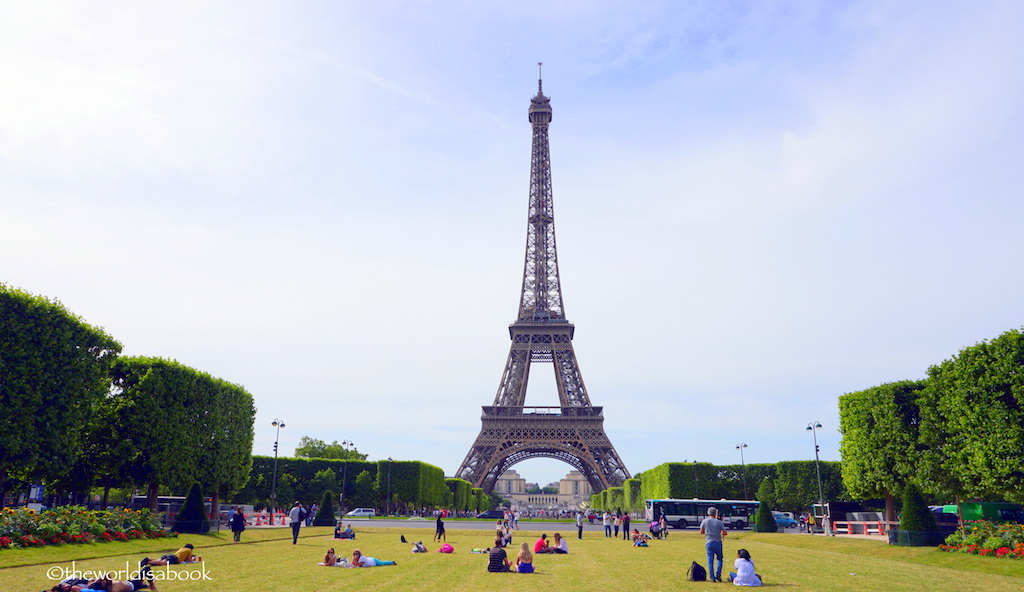 The Eiffel Tower stands at 1,063 feet (324 m) including the antennas still used for TV and radio broadcasts. After previous visits, I'm glad we finally got the chance to go up the Eiffel Tower during this visit. That was quite an experience too which I'll write about soon.
We spent a few minutes in the middle area of the Champ-de-Mars park in front of the tower. It was wonderful to see so many tourists and locals enjoying the sunny day and having picnics. This field was once used for military drills and also a site for festivals.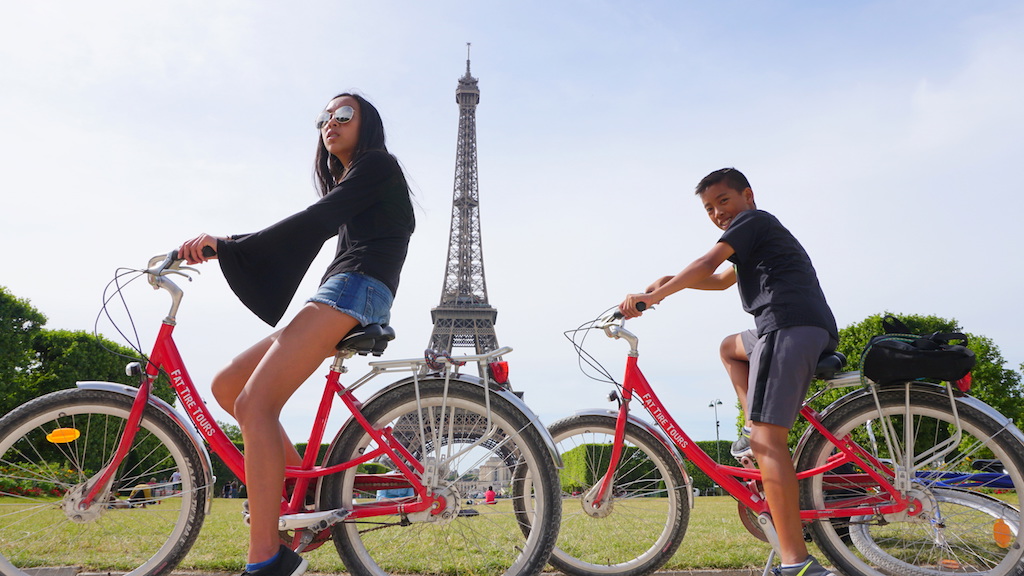 The bike tour served/can serve several different purposes:
It was a great orientation of the city since it covered quite a large area especially for first time visitors. It gives visitors an idea of which places or areas they would want to go back to and explore further. For returning visitors like us, it allowed us to see Paris from a different perspective and reintroduced this beautiful city to us.
It served as a mini-sightseeing tour. We covered many attractions minus the aching feet and with a guide who gave us some interesting French history lessons and Parisian local information.
It's a great way to burn off the calories after eating all the crepes, macarons and other French pastries.
We had a great time and a memorable experience with Fat Tire Tours Paris. While I felt so much more comfortable biking in the shaded promenades and pedestrianized areas, biking those Parisian streets was an adventure. My husband and kids loved our routes and didn't feel any anxiety navigating those streets.
We actually did another bike tour with Fat Tire Tours to Versailles (post coming soon) and it was a completely different experience. Know your tolerance and anxiety level, biking abilities and whether you're comfortable biking along city streets and crossing busy intersections if you plan to do this tour.
Despite my anxieties, this was a really wonderful way to see Paris especially for first time visitors. I recommend doing this bike tour along with a river Seine cruise for a great overall orientation of the city.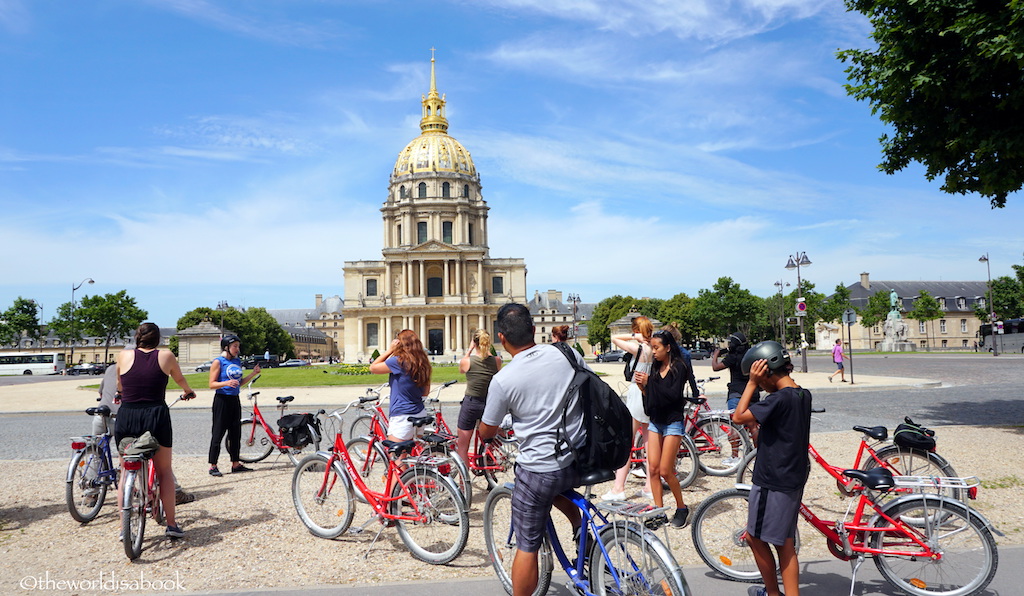 Tips for doing the Fat Tire Bike Tour Paris with Kids
Reserve online as early as possible. They offer several city bike tours including night ones. Our tour was called Paris Day Bike Tour. The morning tour departing at 10:30am also includes a break at a fabulous café nestled among the trees of the Tuileries Gardens (cost not included).
Please use the promo code THEWORLDISABOOK to receive 10% off a bike tour. Discount is valid for Paris Day or Night Bike Tour, Versailles Bike Tour, Monet's Garden Bike Tour and the Best of Paris Bike Tour.
Reserve your necessary equipment during the booking process. They also have baby seats, toddler trailers, kid's tandem and smaller bikes for children.
Tours last about 3 to 3.5 hours. I'm not exactly sure how many miles we covered.
Use the restroom at their office before going on the tour. There really are no opportunities to use it during the tour or if at the stops, you are stuck with the not so clean ones.
You can leave some things at their office but at your own risk. We brought our backpack and purse with us. They provided something to tie it at the back of the bike.
Bring water and snacks in case someone in the family gets hungry. I don't remember seeing any food vendors along the way but one could have probably gotten something edible at Tuileries Garden across the Louvre.
Disclosure: Fat Tire Tours Paris graciously provided our family with complimentary Paris Day Bike Tours. All opinions and photos are our own.
*Have you done any of these bike tours? If not, would you?
Pin it for later!