Visiting Musee d'Orsay with Kids and Context Travel
Art museums can be a hit or a miss with children but even more of a challenge when traveling with a teen or tween. My kids used to enjoy scavenger hunts and interactive activities at art museums when they were younger. But, my almost 12 and 15 year old kids would have none of that during our revisit to Paris last month.
We missed Musee d'Orsay last time and I have always wanted to visit this museum. I have seen fellow family travel bloggers rave about their tours all over Europe with Context Travel. Their Musee d'Orsay for Families Tour seemed like a perfect match.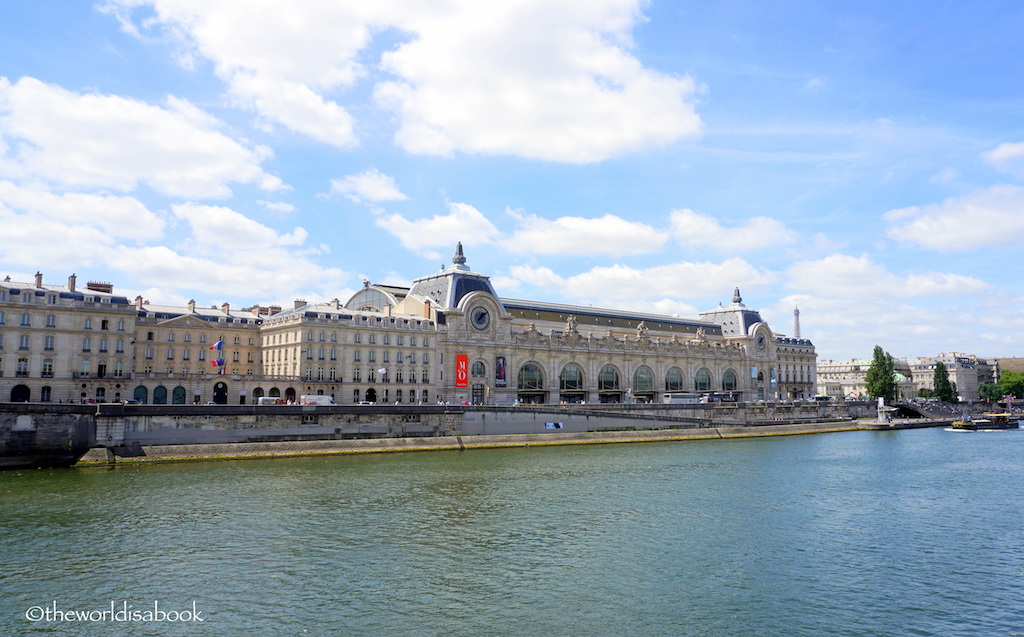 My kids were actually interested in going when I mentioned the chance to see Monet and Van Gogh paintings up close here. I guess those Impressionist books I gave them when they were younger had an impact. Maybe, they're learning more than I had hoped for in art classes at school.
We met our Context Travel guide, Caroline, who was great. She was originally from the UK but has lived in Paris for several years and also has a background in Art History and French. There was a max of six people for this tour which we really liked. Caroline tailored our tour based on what we wanted to see and our family's interests.
There were hardly any lines at the entrance or ticket booths when we got in when the museum opened. It also meant there were less people roaming around the museum. The museum first opened in 1986 with about 2300 paintings, 1500 sculptures and 1,000 objects from other museums. Its collection has increased over the years from gifts, donations and purchases.
The Building
A major appeal for visiting this museum is the building itself. The main complex was the former hotel and train station building by Gare d'Orsay railway, constructed for the 1900 World Fair. It had a prime location along the Seine River and opposite from the Louvre and Tuileries Garden.
Though, the station eventually closed in 1939 since platforms became too short for the longer and modern trains. It was used as a theater, film set, parking lot and mailing center for prisoners of war over the years and finally abandoned in 1961. Luckily, some of the French Presidents stepped in to save it from demolition and had the insight to build a museum. The Musee d'Orsay was officially opened to the public on December 1986.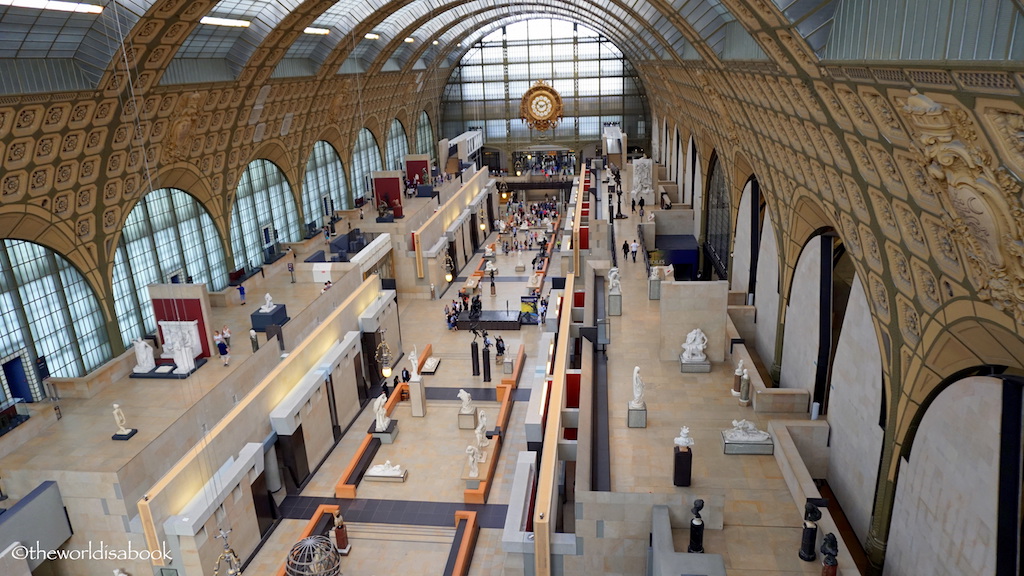 We loved walking in to the bright open hall filled with many sculptures including the Statue of Liberty. The hall measures 140 meter long, 40 meter wide and 32 meter high (459 x 132 x 105 ft). But, the best place to really see this magnificent Art Noveau architecture and the hall was from the third floor viewing area.
Can you imagine walking through here to wait for a train? The middle area or great hall was where the tracks used to be. Fun fact: there is more metal used for this building than what was used for the Eiffel Tower.
The Art Collection
This national museum houses the Western arts (paintings, sculptures, photos, decorative arts) from 1848 to 1914 with a vast collection of Impressionist, postimpressionist and art-nouveau. Though, its vast collection of Impressionist art is what draws many tourist and includes popular masters like Degas, Gauguin, Manet, Monet, Pissaro, Renoir, Rodin, Seurat and of course, van Gogh. Even if you're not an art aficionado, it's worth visiting this museum for a closer look at some very famous paintings.
The Musee d'Orsay has five floors so it's best to have some sort of plan. Lucky for us, Caroline led the way and gave us a brief orientation of what we'll cover during the tour. We started our tour with some art pieces from the mid 1800's on the first floor that showed royal portraits and idealistic paintings.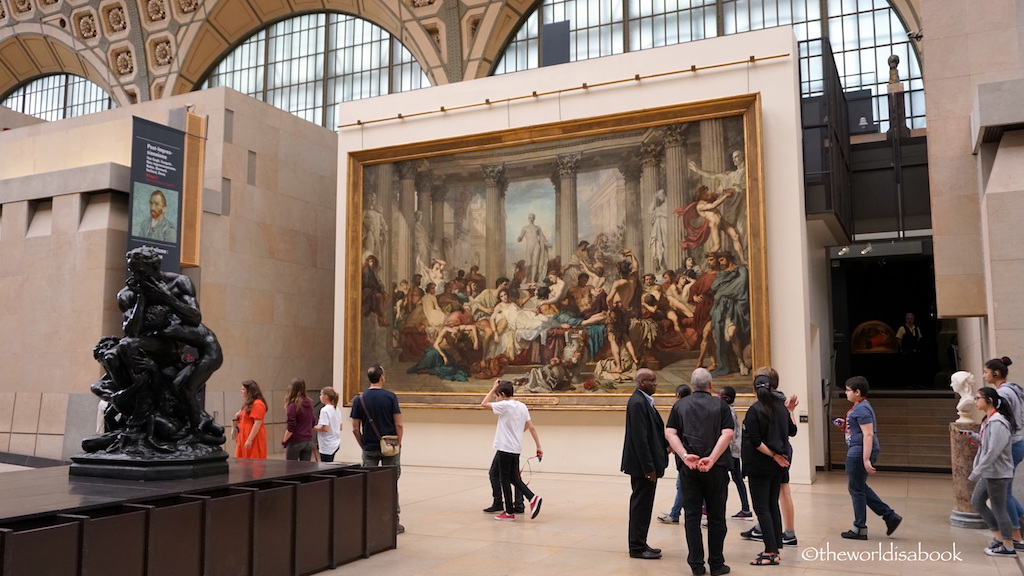 Some artists decided to shift from portraits and perfect lines into more realistic paintings and drawings. This area included early paintings from famous artists like Manet and Cezanne. It was interesting to see these two artists' early works compared to their more famous Impressionist pieces and how they evolved.
We loved this exhibit that showed some parts of Paris in miniature form in a glass beneath us. It was fun to see where our hotel was located and see some of the attractions.
We worked our way up to the top floor. This was the most popular area for the series of rooms showing the big names of the art world. The Impressionist Rooms were a hub of activity and were already crowded an hour after we got there. There were quite a few groups of Parisian kids here on a field trip. Most of them seemed to be playing some sort of scavenger hunt game.
It was a bit overwhelming to be in this series of rooms. It was like an Impressionist Hall of Fame with so many famous artists. We found Degas and his ballerinas including the sculpture of the little ballerina girl we had also seen in Copenhagen's Glyptotek Museum a few years ago.
My daughter has always been drawn to Monet's paintings for their colors and floral theme. She was so excited to see the waterlily samples of the Giverny gardens and some of his classic pieces. They weren't as large as I expected.
Caroline told us that the Impressionists used a small canvas so they could easily transport them when painting. We learned that one of the the Impressionist artists' goal was to capture a moment or a scene.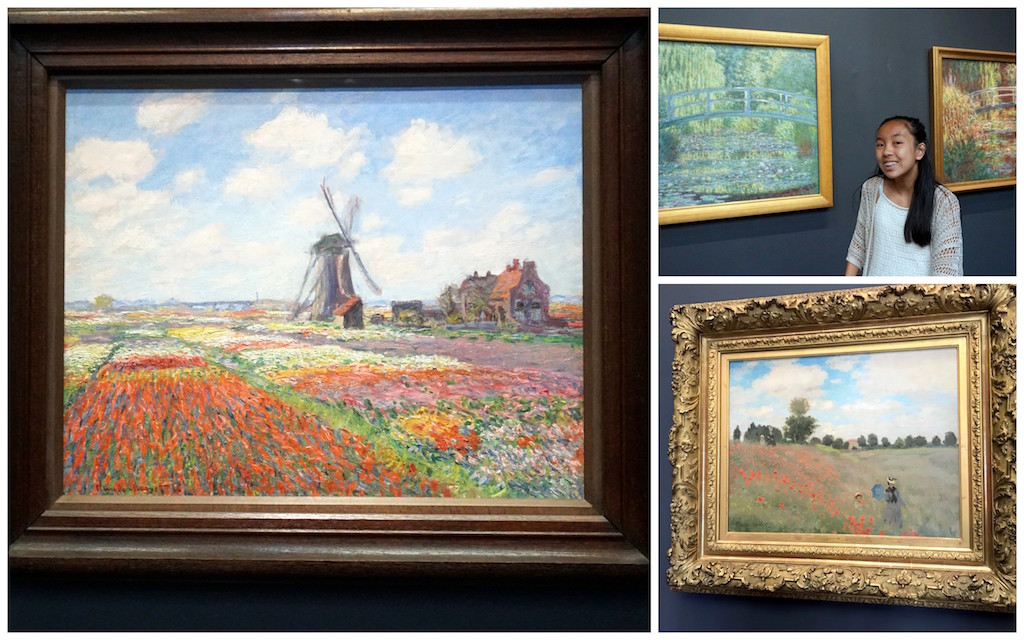 The artists moved from their studios and into outdoor places like the streets, rural landscape and the countryside. The artists focused on light, lighter color palettes and short and loose brushstrokes. Most of their work also depicted real and modern life at that time.
Here are a few classics that I'm sure some of you have seen around over the years from Degas, Renoir and Cezanne.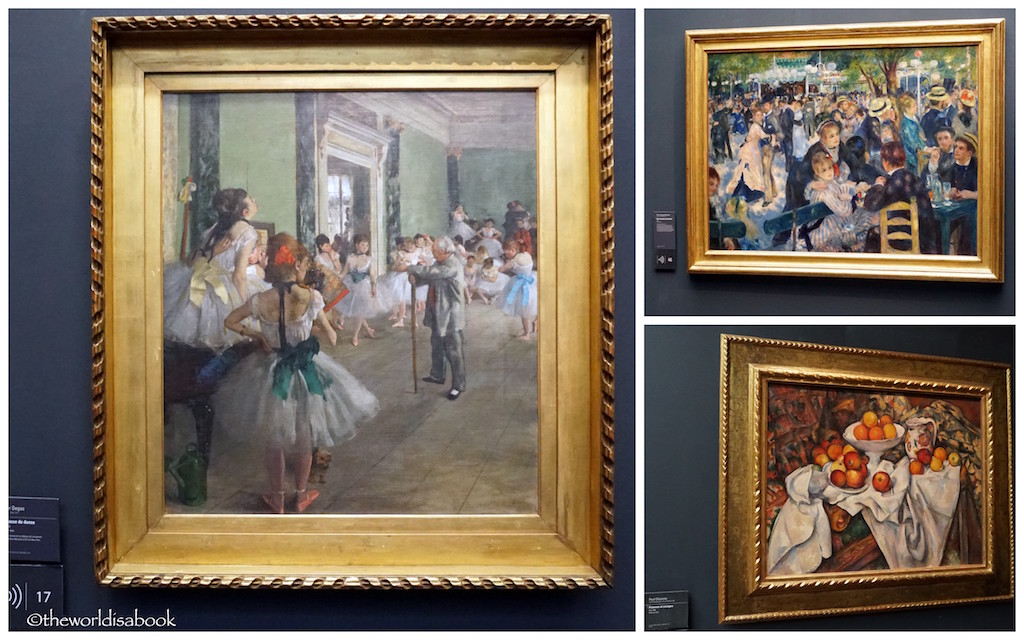 The Post-Impressionist galleries were on the second floor. This particular art movement was formed by artists who wanted to extend themselves and go beyond the limitations of Impressionism.
We loved seeing the Van Gogh collection including his famous self portrait. This was one of the 40 he made. Did you know that he suffered from manic depression?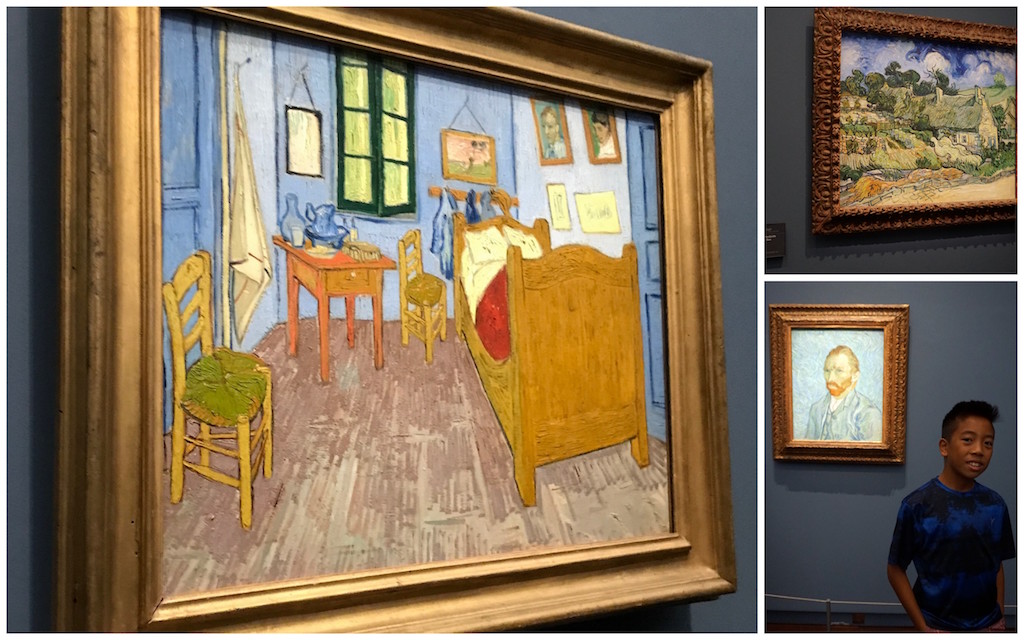 Seeing these famous paintings we've long admired in books and prints was an amazing experience. We really liked that these paintings weren't enclosed in glass and were fairly easy to access. It's not often one can get quite close and truly appreciate these masterpieces. I was still nervous letting my kids get that close to expensive art though even with a rope separating them a few feet away.
Caroline captivated my kids' attention as we browsed through the famous paintings. She engaged them with questions about the paintings and artists. We all looked at these paintings from a different perspective and learned quite a bit about the artists.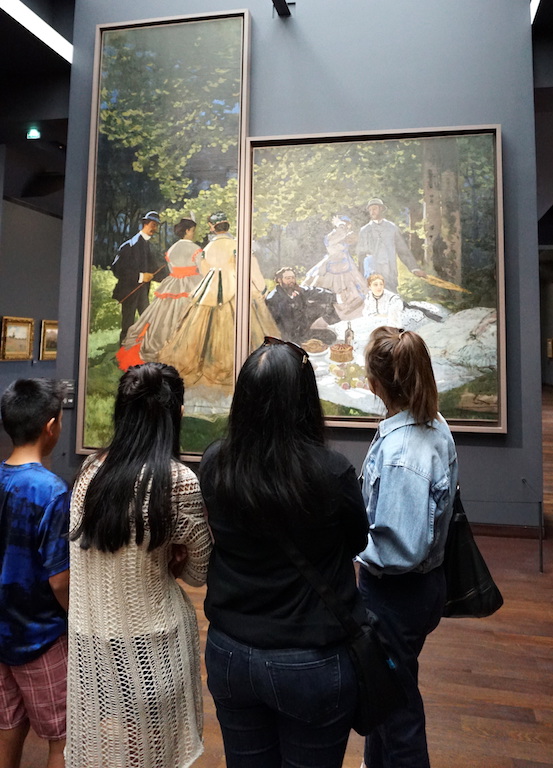 Architectural Gems
Musee d'Orsay may be known for its collection of masterpieces but there were also architectural gems inside this beautiful and historic building. Take some time to look beyond the sculptures and paintings.
The top level is home to some large railroad clocks that are the main features of the building and visible from the outside. The clocks also provided great panoramic views of Paris. If you need to rest those tired feet from sightseeing, there were some couches here to rest. There was also a terrace outside to see these views and enjoy some fresh air.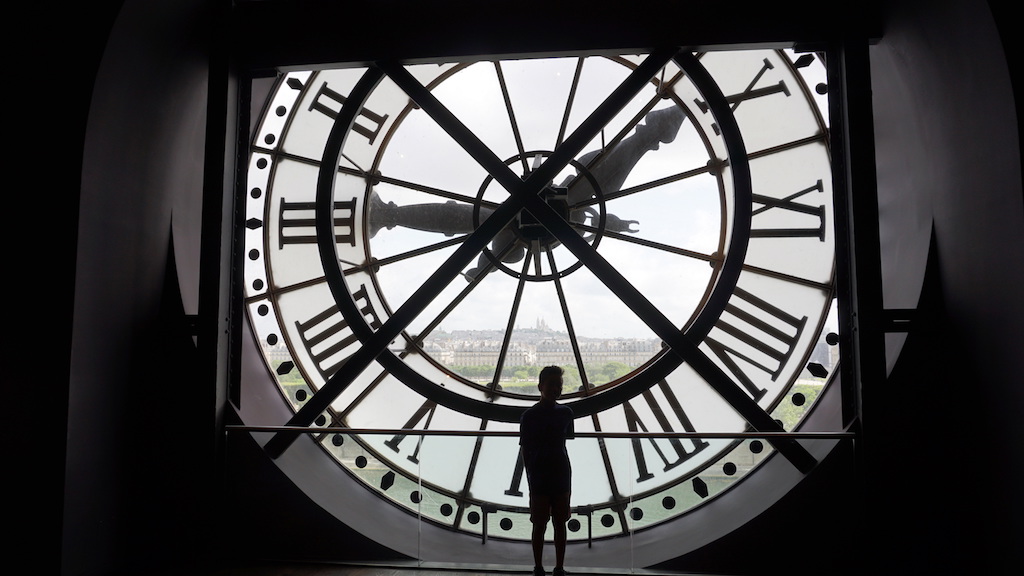 The 370-room Palais d'Orsay hotel also occupied this former train station. Even though the station closed in 1939, the hotel was operating until 1972. This was the former ballroom. It looked more like a castle ballroom with all the gold and frescoes here.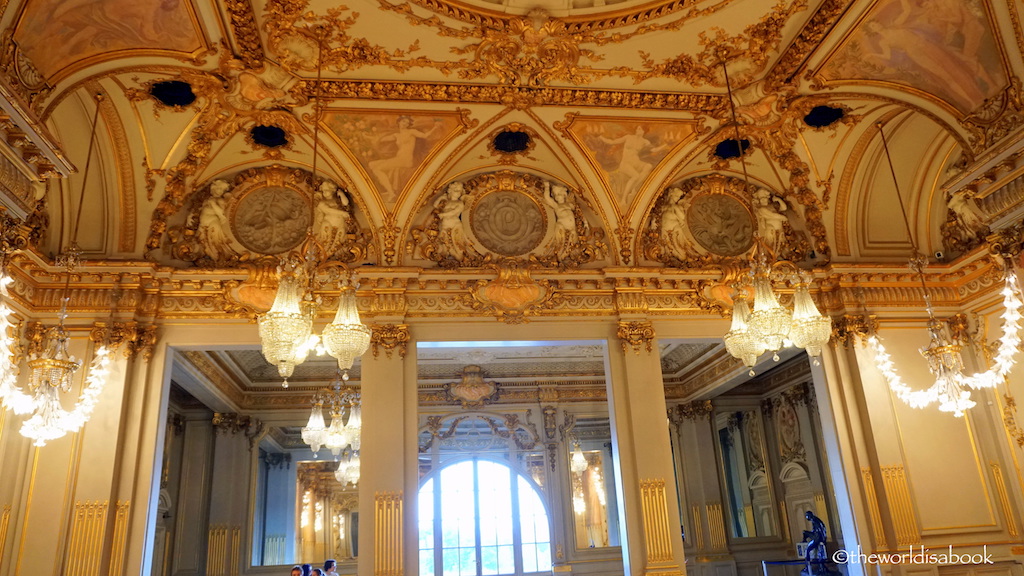 Even if you're not hungry as you roam around the museum, the cafes in here are worth a visit. Cafe Campana, on the 5th floor, occupied an area behind one of the large clock face that looked out into the river. I loved the sleek and modern look with many large, brass overhead lights hanging and the mosaic wall mirror. It's not self-serve but with a wait staff.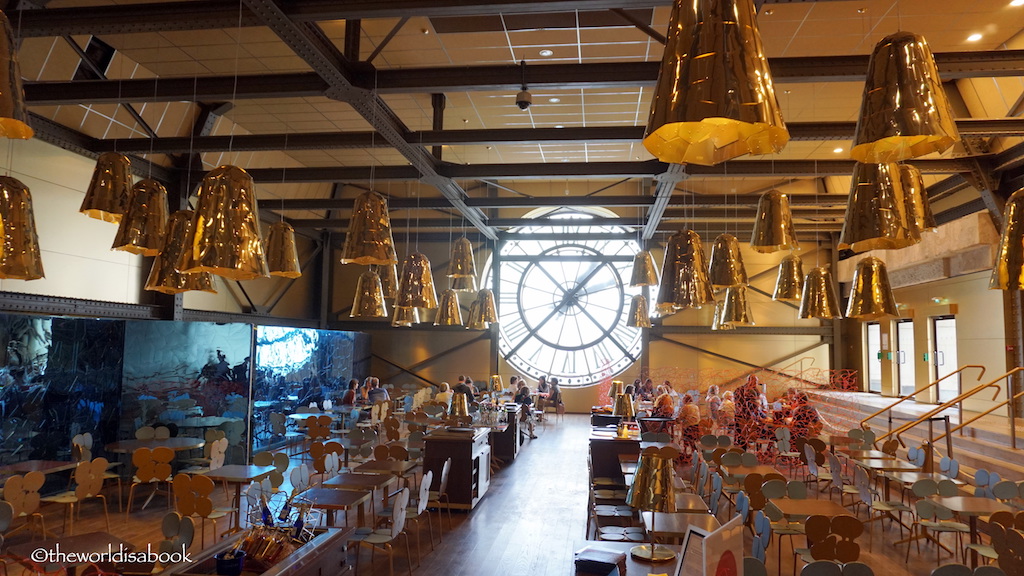 We also saw Le Restaurant du Musee d'Orsay on the second floor which was the hotel's former restaurant. It was still closed during our visit but what a spectacular place to eat. We loved the colorful chairs, ornate decorations, dazzling chandeliers and shimmering gilded ceiling.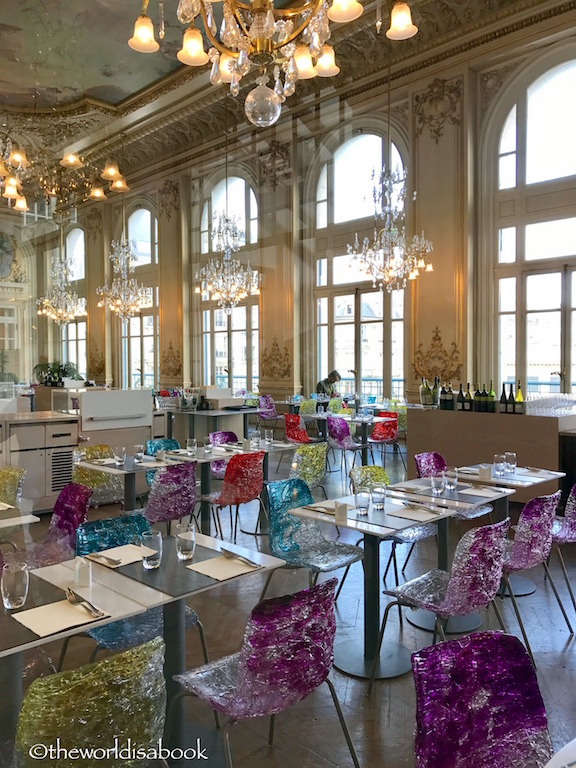 It's listed as a Historic monument and they have kept most of the features from when it opened in 1900. The restaurants offered a convenient stop for a bite to eat or for a break. Know that they were not cheap as expected being in Paris and in a museum.
We came away from this tour feeling such a sense of accomplishment. We were able to see so many masterpieces in a short span of time. It was also such an enlightening and educational experience to know more about the building's history, architecture and the masterpieces housed in here.
Caroline made our time here at the Musee d'Orsay go by quickly. She also brought some supplies in case the kids wanted to sit and sketch but my kids politely declined. They're too cool for that now.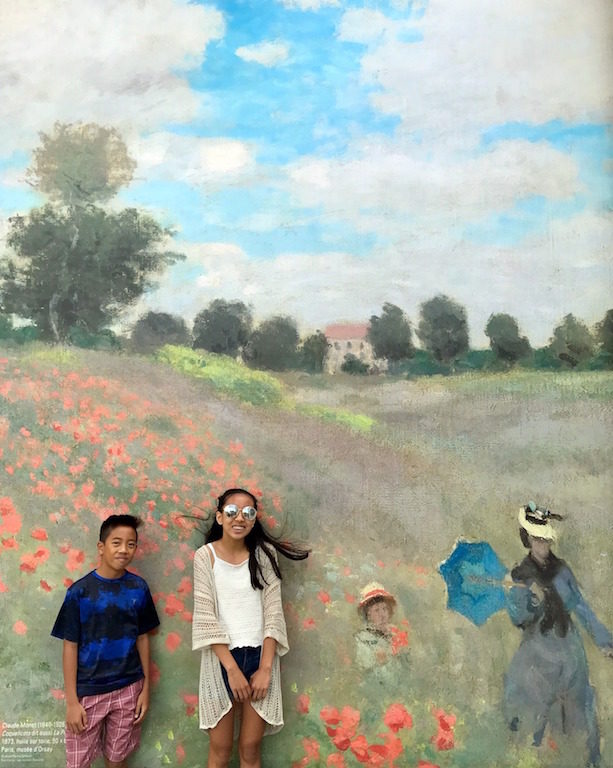 There were art pieces here we would have completely bypassed and never knew anything about. She introduced us to interesting artists like Toulouse-Lautrec, Signac and Bonnard and works of art. Who knew we were seeing Toulouse-Lautrec's work all over Parisian souvenirs all these years?
The Musee d'Orsay had an incredible collection of art work and masterpieces. It has become one of my family's favorite museums. It's not as overwhelming or as large as the Louvre which is great when touring with kids.
Doing this family tour really opened our eyes and really made us appreciate the artists and their work housed in this wonderful museum. Don't miss it when you go to Paris!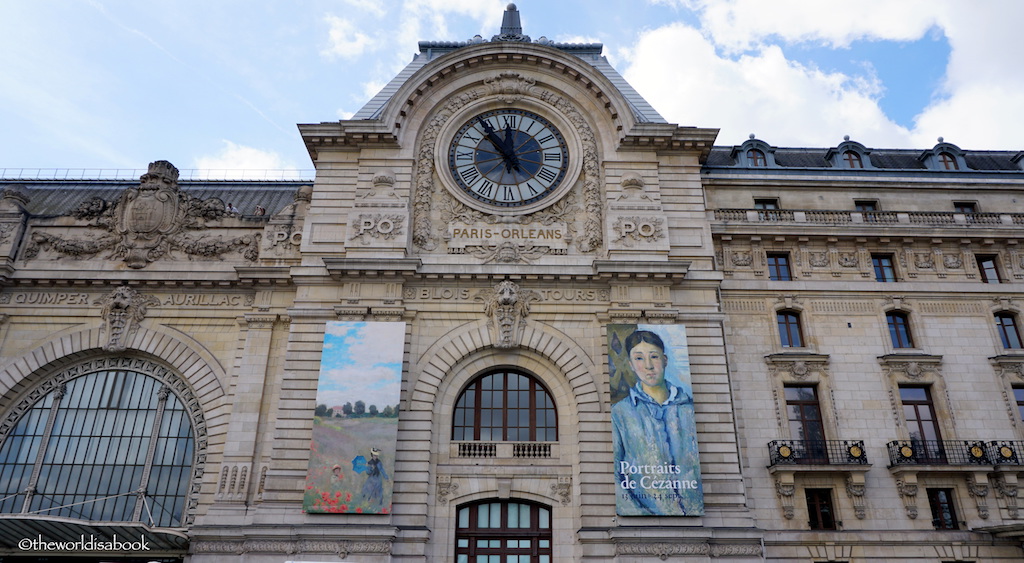 Tips for Visiting Musee d'Orsay with Kids
Book your Musee D'Orsay for Families Tour or other attractions in Paris and other cities around the world with Context Travel. They have many tours available whether you have kids or not. The Musee D'Orsay for Families Tour lasted 2.5 hours.
Children under 18 are free to enter the museum. Free admission during the first Sunday of the month. Museum tickets for adults are included with the tour. Prices are €12 for adults; €9 for ages 18-25 who are not citizens or long-term residents of EU countries.
Book ahead online or buy a Museum Pass to bypass ticket lines if you're not doing the tour. Go directly to entrance C if you already have tickets.
English audio guides and free color-coded museum maps are available if doing a DIY tour of the museum. Both are available past the ticket booths.
Go to the museum early preferably when they first open or near closing hours. This is one of the most visited attractions in Paris.
The Musée D'Orsay is closed on Mondays. Thursday evening the museum is open until 9:45 pm and less crowded.
If you're bringing kids to Musee d'Orsay, it would help to give them a bit of an orientation on the famous Impressionist artists if they're not familiar with them. Start off with Monet, van Gogh, Renoir and Degas.
Disclosure: Context Travel graciously provided our family with the complimentary Musee D'Orsay for Families Tour. All opinions and photos are our own.
*Have you done a museum tour or visited this museum?
Pin it for later!