Eguisheim & Riquewihr: Storybook Villages in Alsace, France
The Alsace (common pronunciation – Al zass) region in France is known for its wine, beautiful villages, food and castles. The Alsace Wine Route (Route des Vins d'Alsace) is a 105-mile (170 km) long route that winds through the many verdant vineyards of the Vosges mountain and quaint and colorful villages. Located near the borders of Germany and Switzerland, this stunning region was one of the most beautiful and scenic drives we've done.
While Strasbourg and Colmar (write-up coming soon) may be more well known in the area, we found that the nearby villages of Eguisheim and Riquewihr were just as charming, picturesque and worthy of a visit. It was a bonus to find it less crowded here and easier to explore.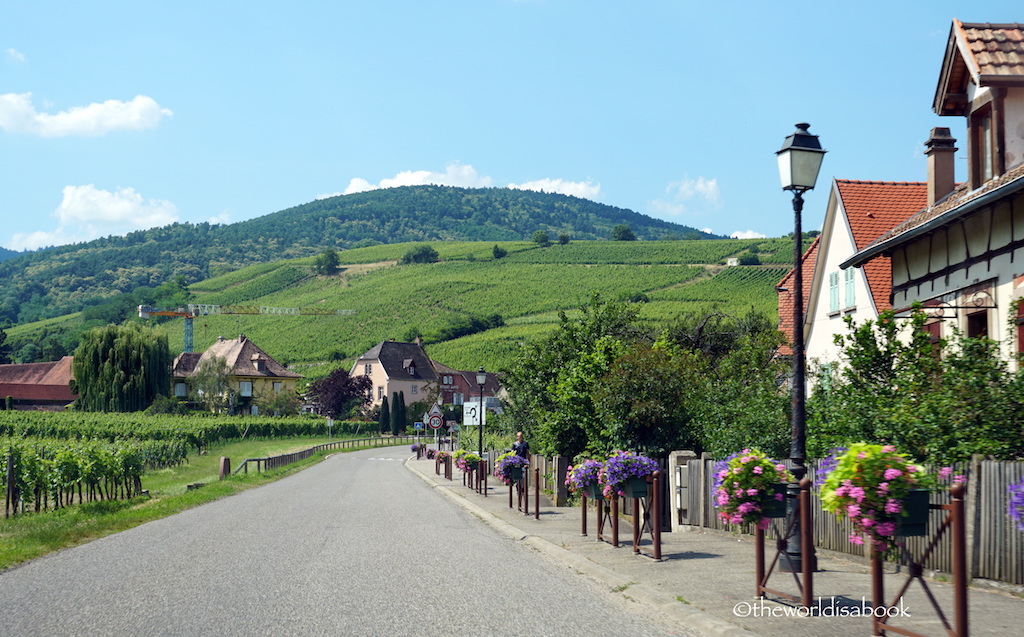 History
What an interesting history this region has! The Alsace region was part of the Holy Roman Empire until France took full control of it in the late 1600s. Though, the Alsatians enjoyed autonomy under the French rule.
France lost the Alsace and Lorraine regions in the Franco-Prussian War to the German Empire in the late 1800s. It was returned to France after World War I under the Treaty of Versailles.
Nazi Germany took Alsace back during World War II in 1940. It went back under French rule after the war in 1944/1945 and remains under France to this day. If you've lost count, that's at least four times, the Alsatians changed nationalities. Its tumultuous history of being caught between two countries can be seen today in its blend of French and German architecture, food, language and wine.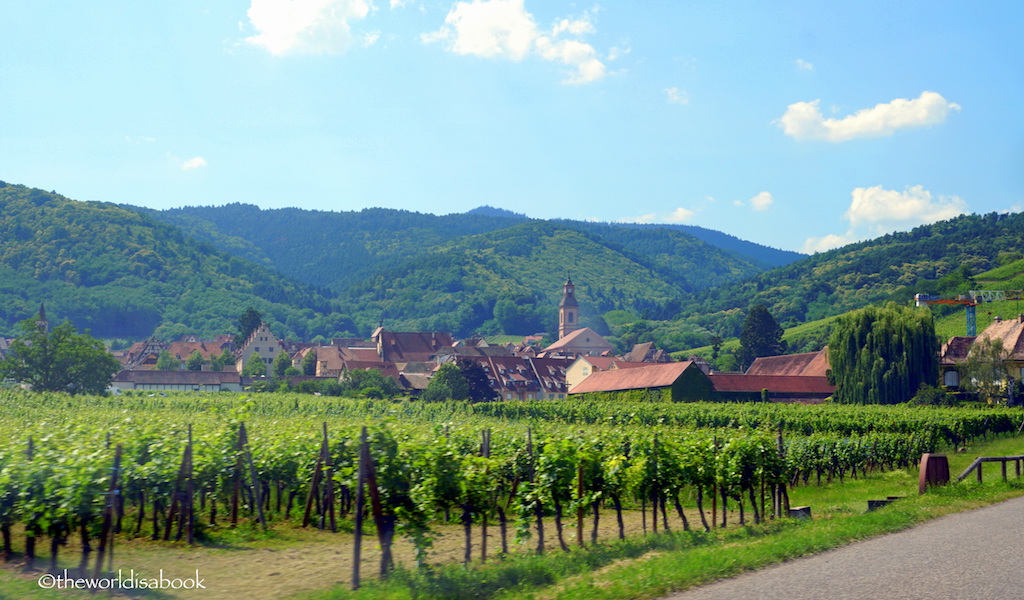 EGUISHEIM
We spent most of our morning and ate lunch in Colmar and decided to drive south 10 minutes away to the village of Eguisheim. I had seen photos of this fairytale looking village. So, we made sure we allocated time to explore it.
This village was declared a winner of the "Most Beautiful Village of Fance" in 2013. As we walked around, it was very easy to see why. Located in the base of the Vosges Mountain, it was surrounded by many hillside vineyards.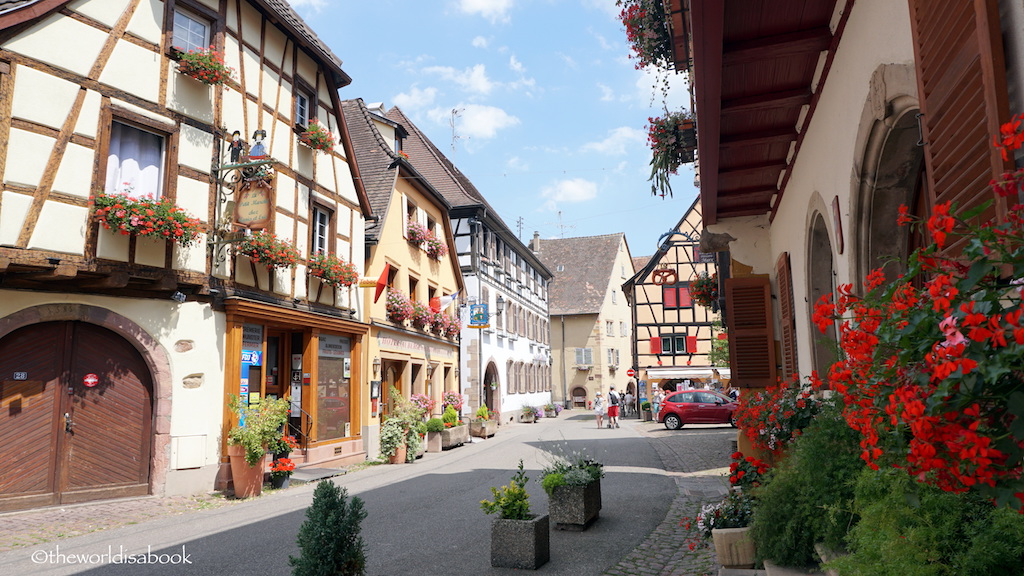 Known as the "cradle of Alsace Vineyards", Eguisheim was considered the birthplace of Alsace wine growing. Its microclimate and fertile soil were ideal conditions for growing the grapes. It was vineyards for miles and miles here. There were several wine cellars and wineries offering public wine tastings.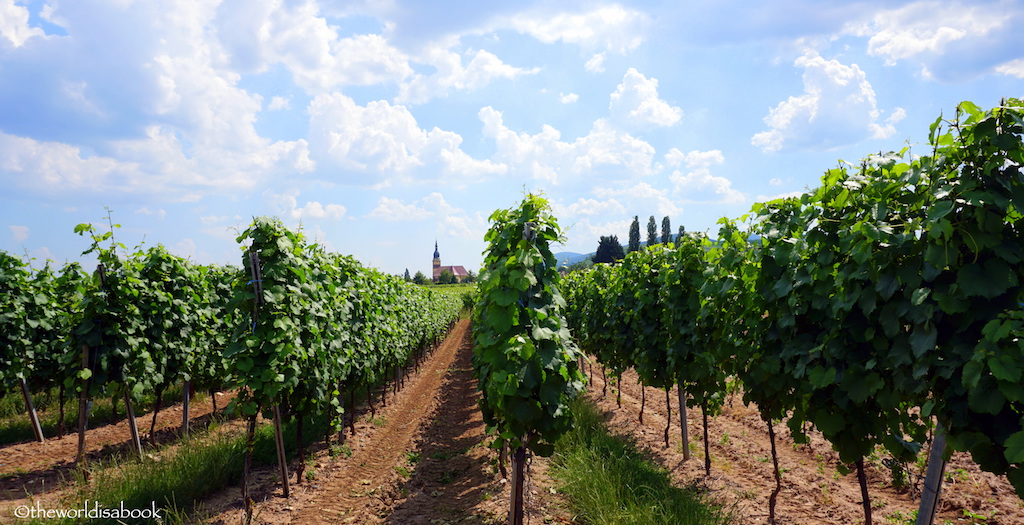 The area is also known for its unique Alsace cuisine, charming cafes and even Michelin type restaurants. The problem was choosing which place to eat during a short time span. Who can resist not checking out restaurants that look like this? Pair it with any of the local wines and this was wine tourism at its finest.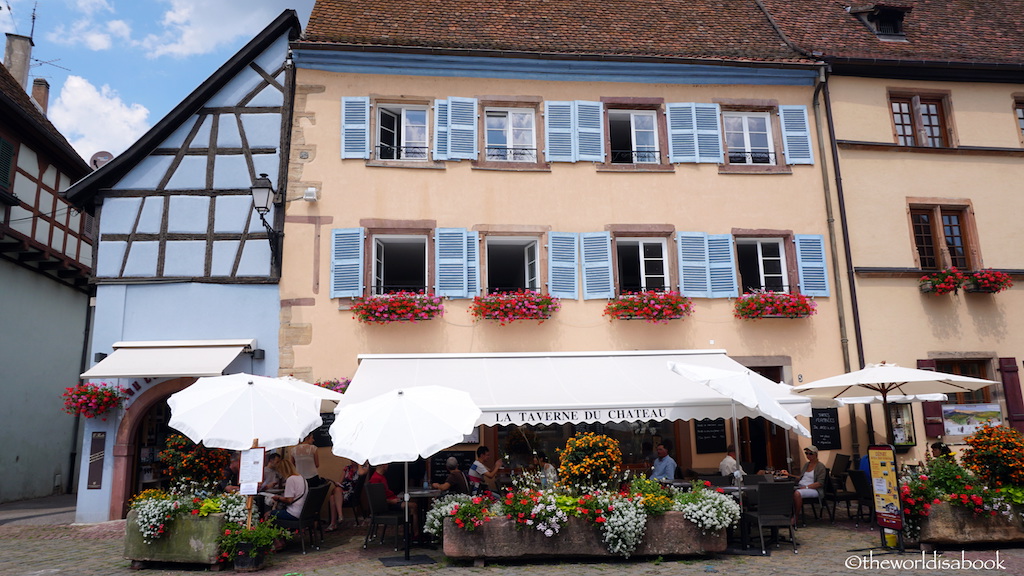 We felt like we were transported back in time to a land of fairy tale stories. There was something so enchanting about Eguisheim. This village was so well preserved. Some of the buildings ranged from the 12th to 17th century.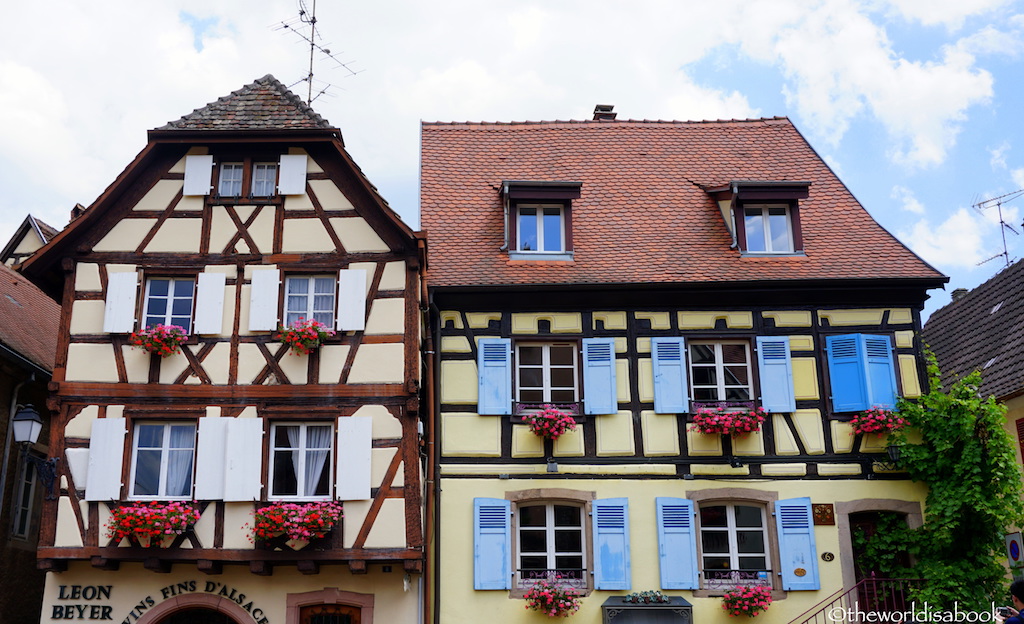 We loved wandering around the cobblestoned streets lined with steep roof, half-timbered houses. The buildings and houses were so colorful. Most of them had floral boxes overflowing with colors hanging from their windows.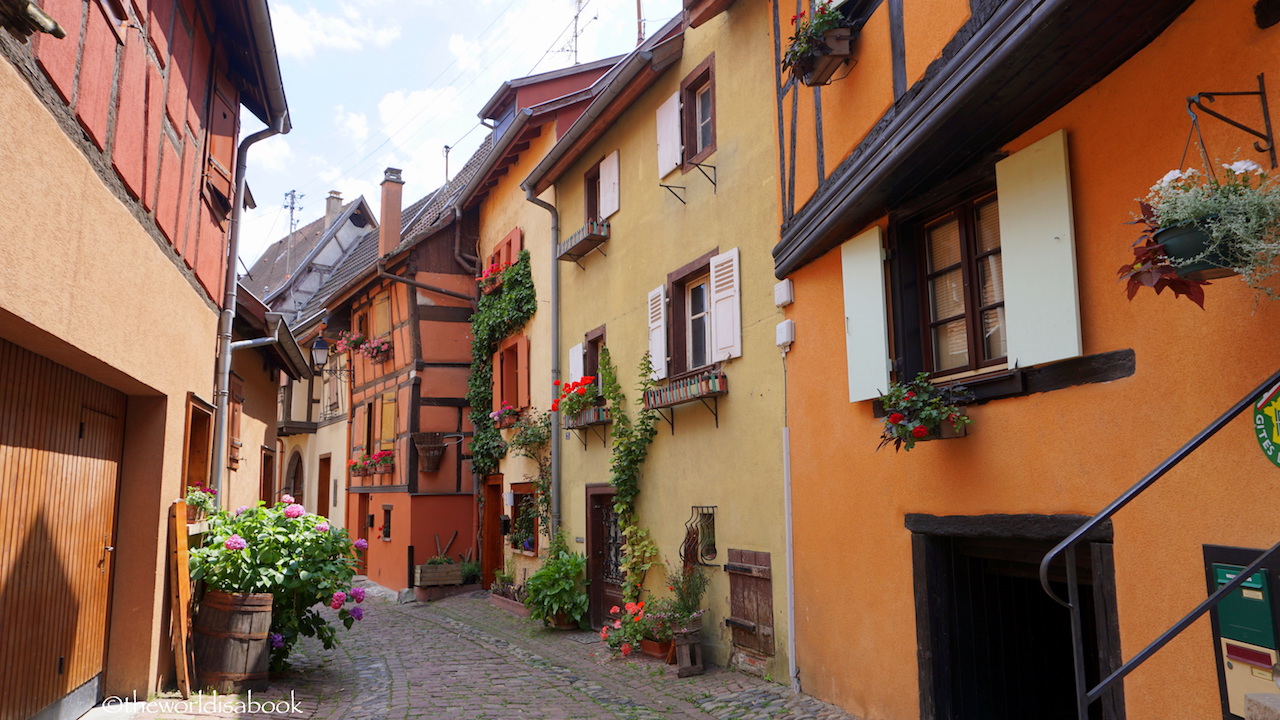 We purposely didn't seek out the tourism center or printed a map and instead chose to get lost along the cobblestoned streets. There were so many wonderful surprises that greeted us around each corner. Just when we thought we saw the prettiest and most colorful alley, we stumbled into another one.
It was a delight to see narrow streets like these filled with so much color. This was bound to cheer anyone up seeing all of these flowers. It made us wonder how these actually look during their winter months.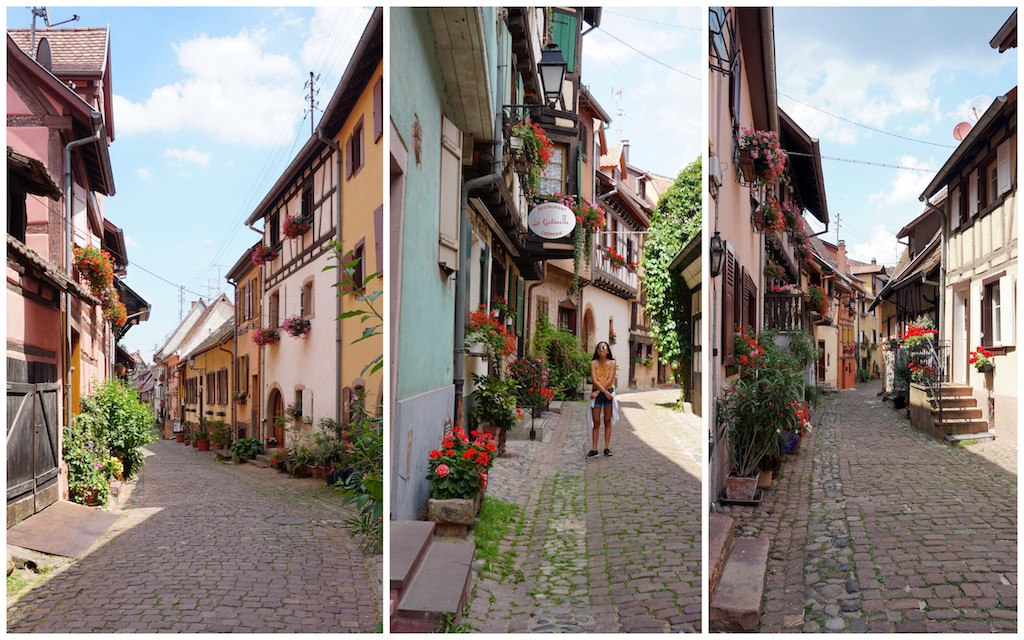 Even the fountains around the village were overflowing with flowers.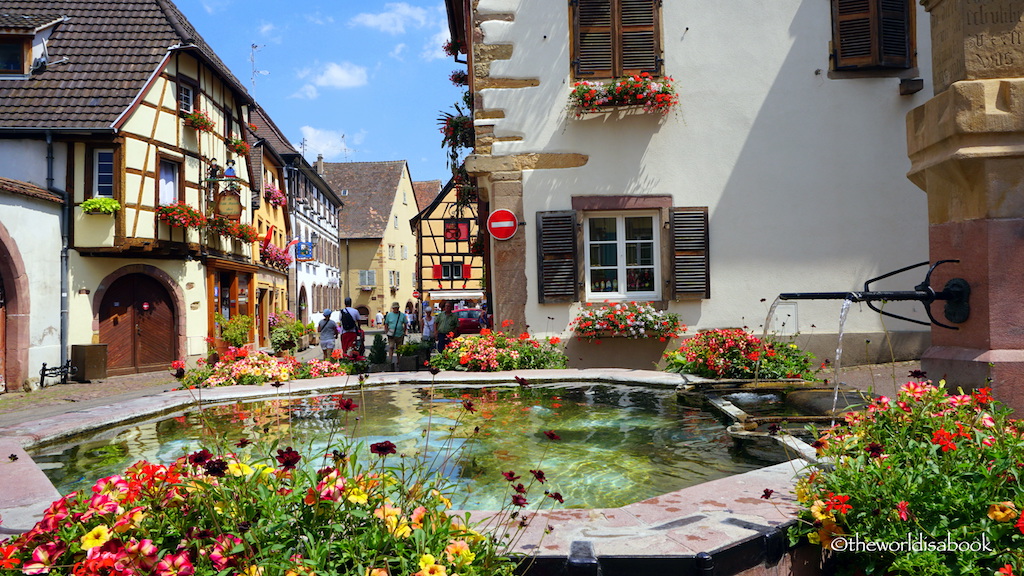 We found many souvenirs with storks in them around the Alsace region. Apparently, storks have been a part of Alsace legends and folklores for centuries. They were considered the symbols of fertility, good luck, faithfulness and happiness.
Storks usually came to Alsace during the summer after spending their winters in Africa. At one time, their population was threatened. So, France started programs to repopulate them which has been successful. We found several nests (and a stork or two) on the rooftops and chimneys around Eguisheim.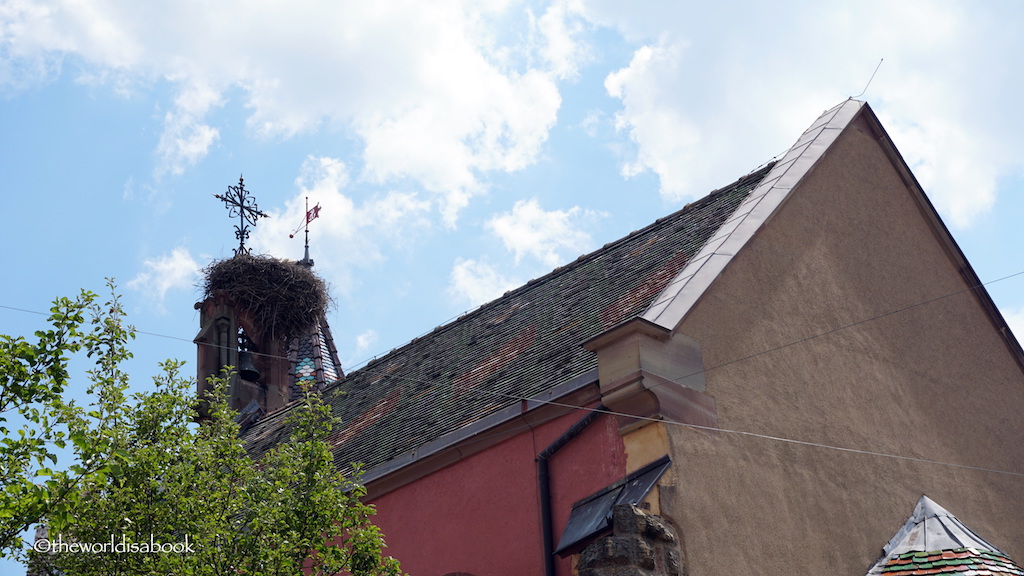 The center of the village had the 19th century Chapelle Saint-Leon. It was dedicated to Pope St. Leo IX who was born here. Some of his relics are supposed to be inside.
The lower castle is also here and only accessible through group tours from the tourist office. The bottom area here is Saint Leon Square with the saint's statue and a fountain. If you look closely, you'll also see some storks' nests on the rooftops.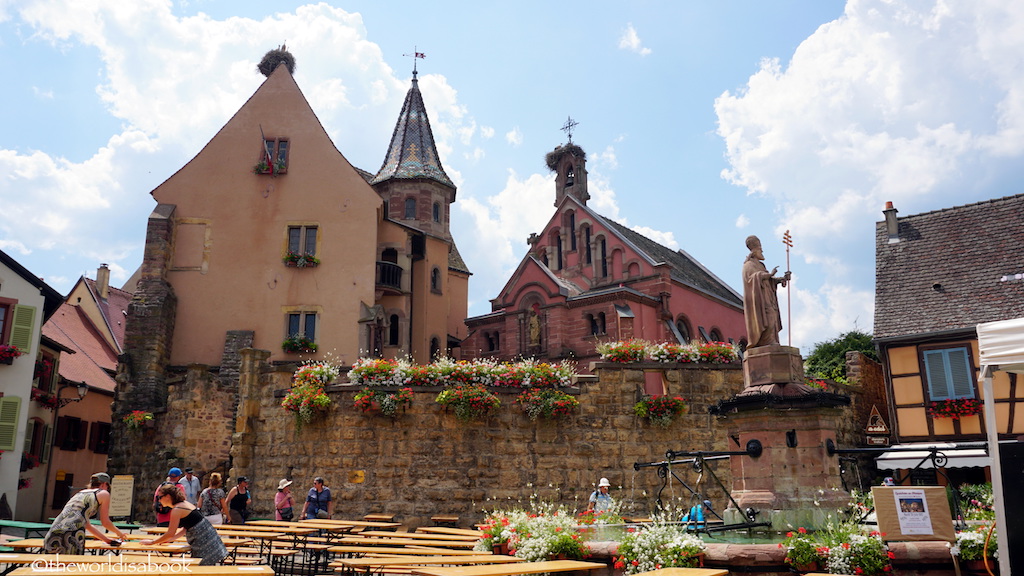 RIQUEWIHR
After a couple of hours in Eguisheim, our last stop was the medieval village of Riquewihr (pronounced Reek-weer or German/Alsatian version of Rike-veer) which was located 10.2 miles (16.5 K) north. It was also a "Most Beautiful Village in France" winner.
Medieval fortifications went up around the village in the 13th century. Some of these defensive walls can still be found here. A moat also once surrounded the village.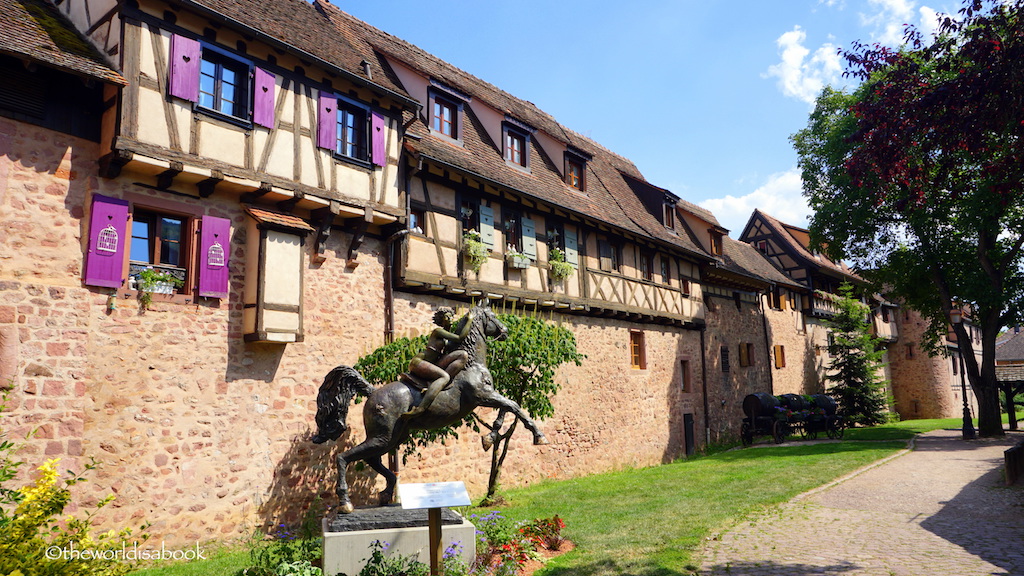 This looked a little bit more touristy than Eguisheim with more buses and people. I read somewhere that Riquewihr was one of the most heavily visited by tour buses along the wine route. We were here late in the afternoon on a Tuesday in late June so I think we missed most of the mad rush and crowds.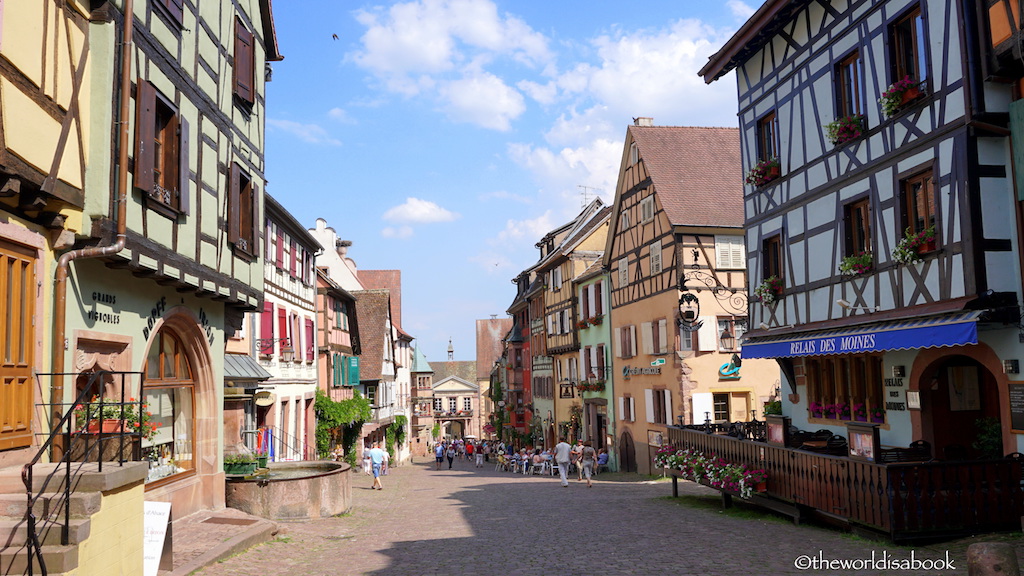 Riquewihr and the nearby town of Ribeauvillé were the inspiration for Belle's hometown from Disney's Beauty and the Beast. We knew there was something familiar about this village.
My daughter was beyond excited to set foot in what actually looked like a Disney fairy tale movie set. Adventures by Disney is actually including a stop and tours here in their Beaty and the Beast themed Rhine River cruise in 2018.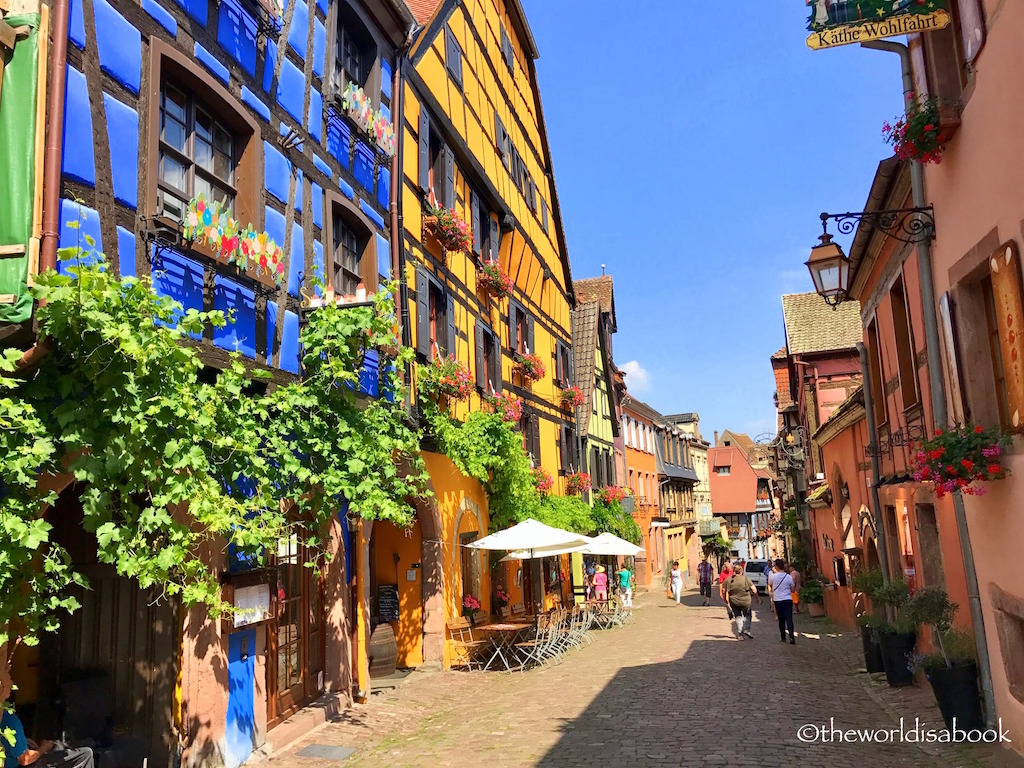 It was so hard to stop taking pictures here. Riquewihr seemed more colorful with more vibrant looking buildings than the other Alsace villages we visited. There was so much more flowers too. This just brightened our day and completed an already fantastic day exploring this area.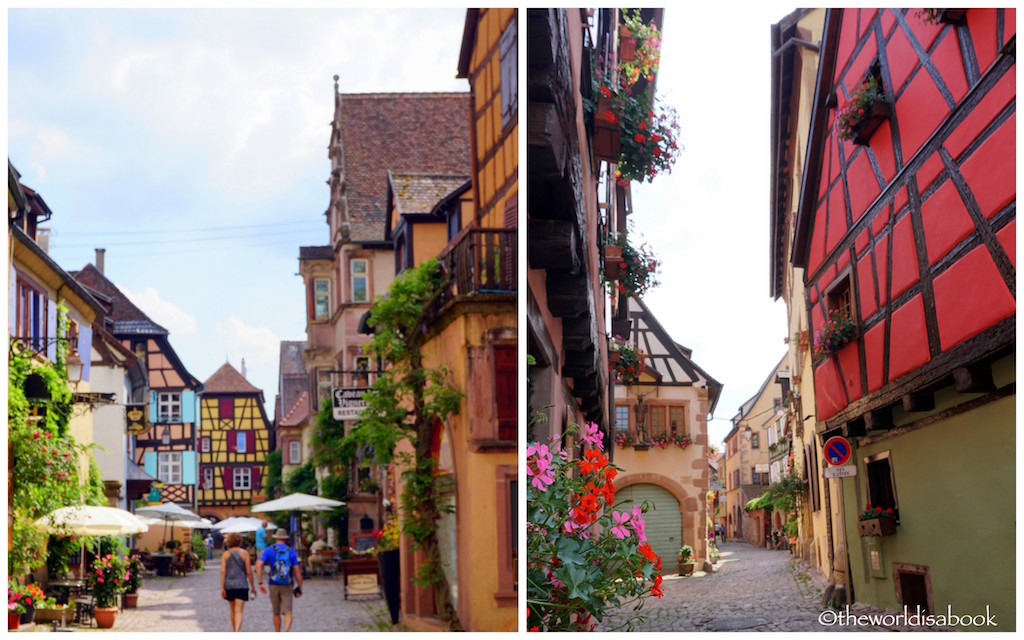 We loved looking up at the charming and colorful half-timbered houses lining the cobblestone streets. Many of these buildings were also well preserved and date back to the 15th century to 18th century.
The main street was wide but not fully pedestrianized. It was no surprise that Riquewihr was known as the "Gem of the Alsace Vineyards".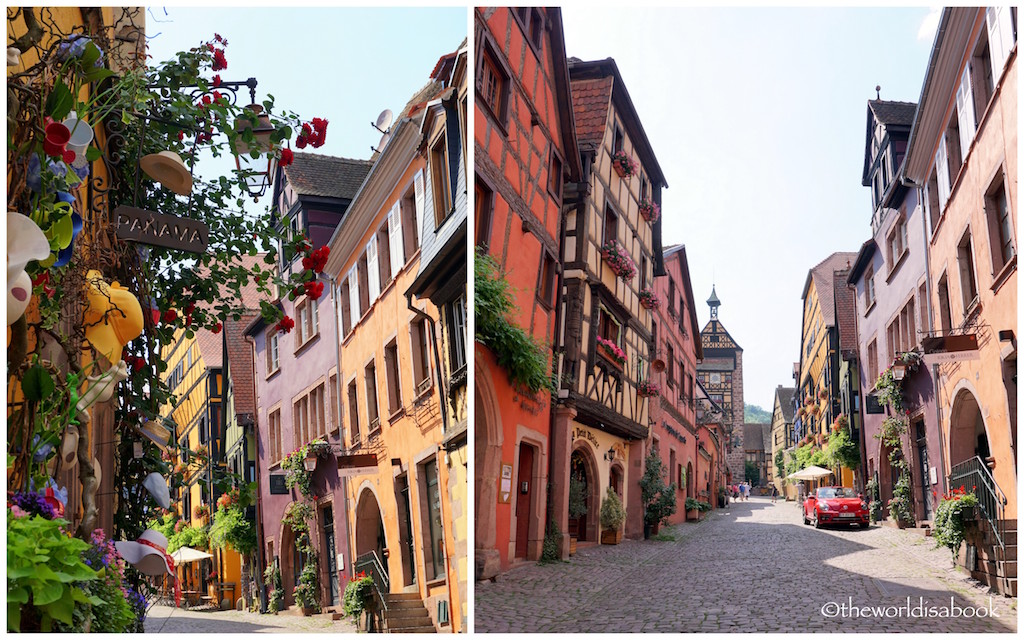 Walking on the main street of Rue du Général de Gaulle, it looked like every other storefront was a wine tasting room. There were so many signs of wine bottle packages to take with you. Most were so affordable at less than 10 euros per bottle. It made me wish we had an extra luggage or that this was our last stop during our European trip to take advantage of all the deals.
We stopped at one of the wine tasting rooms with stairs going to a basement like room. Most of the Alsace wines are white varieties and known for their Reislings, Sylvaners and Gewurtraminers.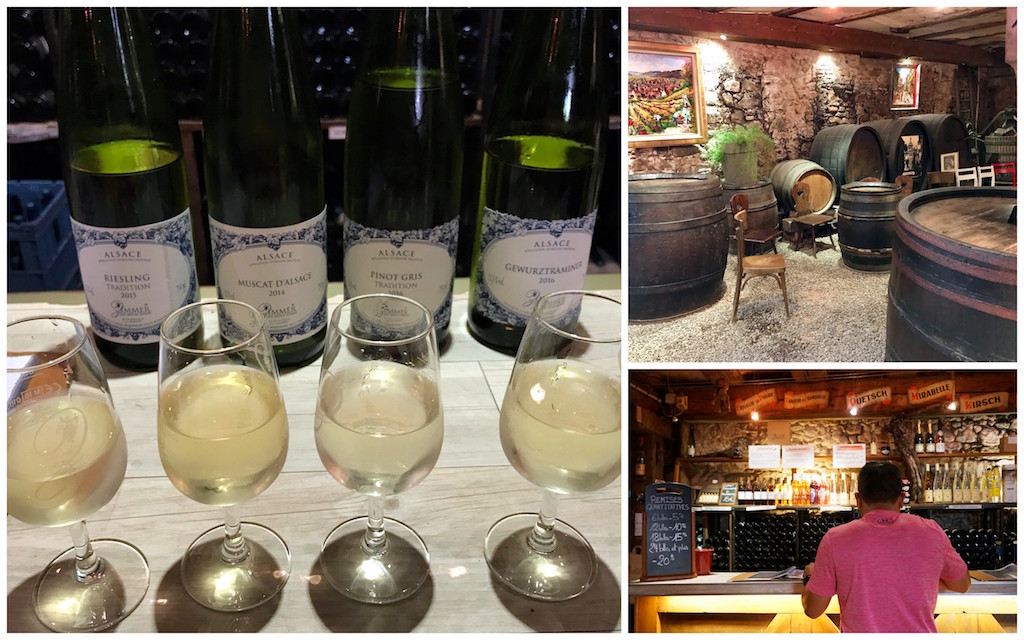 The village's highest point and structure that was hard to miss was the medieval 82 ft (25 m) Dolder Tower. It was used as a defensive watch gate and tower that protected the village for centuries and also doubled as a clock tower now. There was also a museum in the tower that housed exhibits on Riquewihr's history as a fortified town.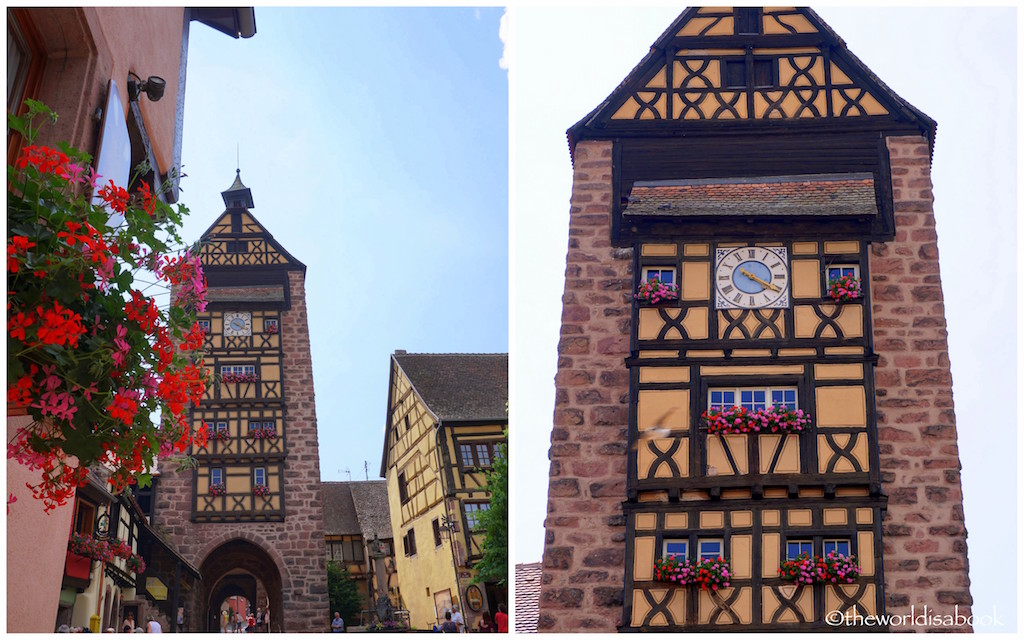 We would love to go back here and spend a few days driving the Alsace wine road and stopping in as many charming villages as we can. Eguisheim and Riquewihr are just two of the attractive villages along the route. We started with the most popular villages.
There are more similar villages that resemble storybook scenes with vineyards as backdrops along the route. There were also castles that dotted the hillside open for visits. As castle lovers, this just makes this future trip even more enticing. If you're in this part of France or nearby Germany, we highly recommend at least a day trip. Please have a glass for me too!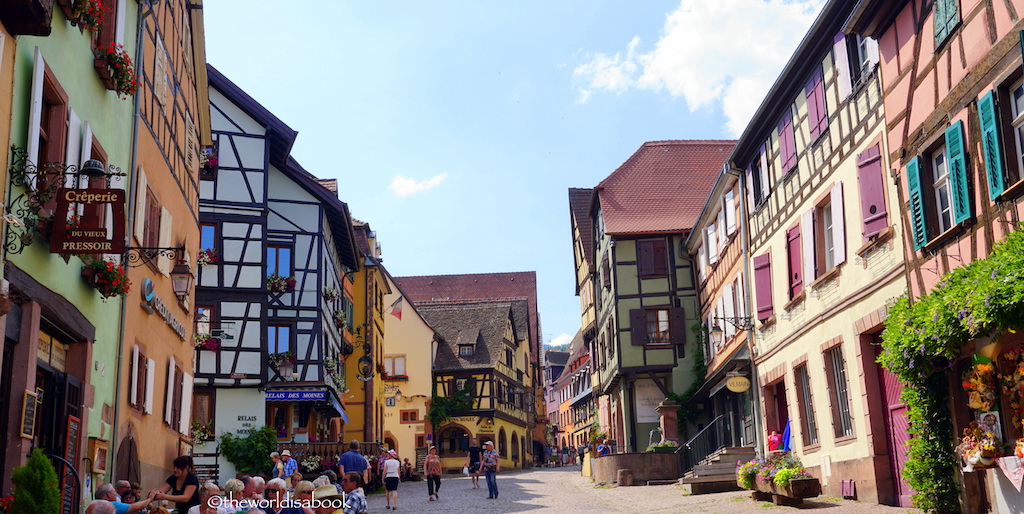 Tips for Visiting the Alsace Region
Several day trip tours depart from Strasbourg. For example, Viator has an Alsace Day Trip from Strasbourg as well as wine tasting tours. This is a better alternative especially if you'll be doing a lot of wine tasting.
Spend a few days in the area if you can using one of the villages as your base. Check TripAdvisor for the many hotels, apartments and Bed and Breakfast lodging options available at each village.
Getting Here:
The nearest major airport is Basel/Mulhouse/Freiburg near the Swiss border about an hour away. We drove to the area from Germany but have flown in and out of this airport last year. It's small and fairly easy to navigate. Strasbourg Airport is a little over an hour away.
Trains: Not all the villages have a nearby train stop. Colmar has a train station that goes directly from Strasbourg. Check other routes on

France's train system – SCNF

.
*Have you visited the Alsace Region? What was your favorite village?
Pin it for later!