Gibraltar of the North: A Day In Luxembourg City
One of the things we love about Europe is the opportunity to visit multiple countries during a short span of time. We were in Germany last June and Luxembourg was only 90 minutes away. We don't turn down two country day trips and we didn't really know that much about Luxembourg. Luxembourg City, its capital city, formerly known as the "Gibraltar of the North" seemed like the ideal place to explore for a few hours.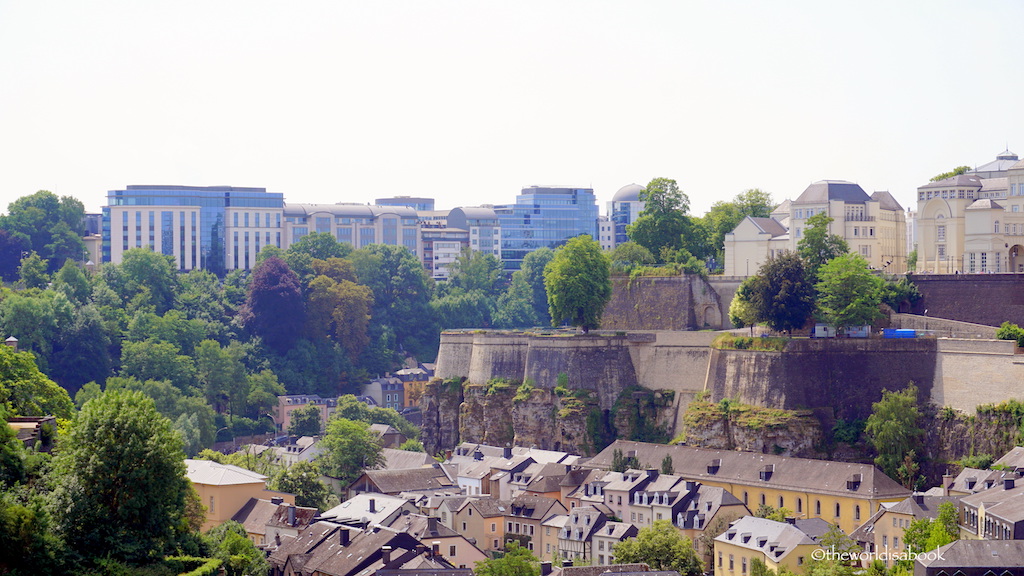 Luxembourg is a tiny country nestled between Germany, Belgium and France. It's usually ranked high in wealth and wine consumption. We saw evidence of the wealth part when we spotted two expensive Tesla cars used as cabs. It is also one of the three headquarters of the European Union along with Brussels, Belgium and Strasbourg, France. It has a very interesting history and been under the control of several countries over the years.
Our first hurdle was trying to find parking. We got there on Wednesday morning and during rush hour. There was also quite a bit of one way streets and construction. The parking lots within the city were already filled up and we ended up across a park.
The Place de Jeux Publique park was beautiful and very family friendly with great playground equipment for kids. The restrooms were clean too.
A third of Luxembourg City was supposed to be occupied by green spaces. We saw quite a few of them while driving around. Who can't admire cities incorporating parks within their cities.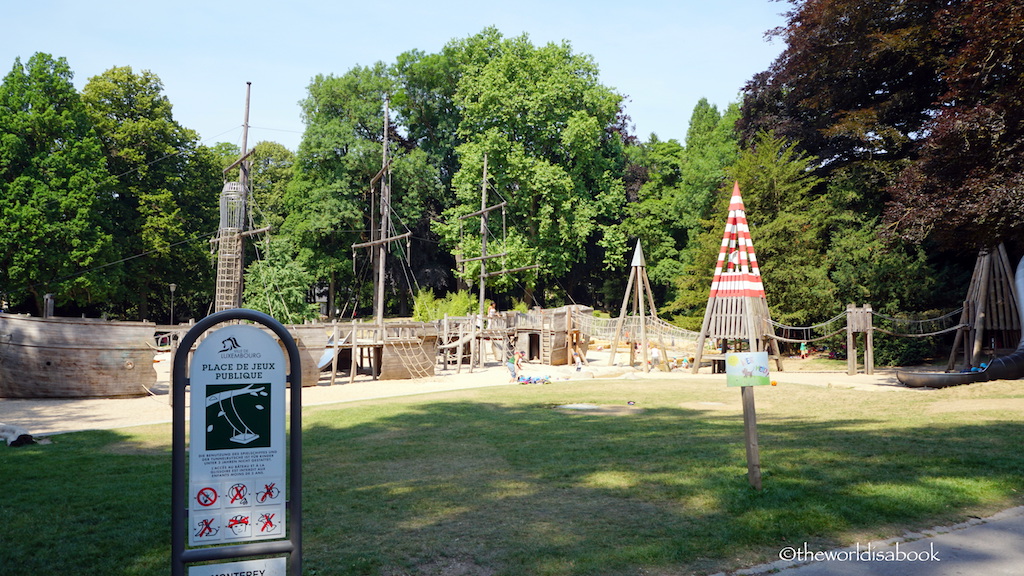 It was a few blocks to the city center flanked by tall buildings and many business people rushing to work. Many of the stores were still closed. This city was very clean and easy to navigate. I loved seeing all the Luxembourg flags and unique street art like this.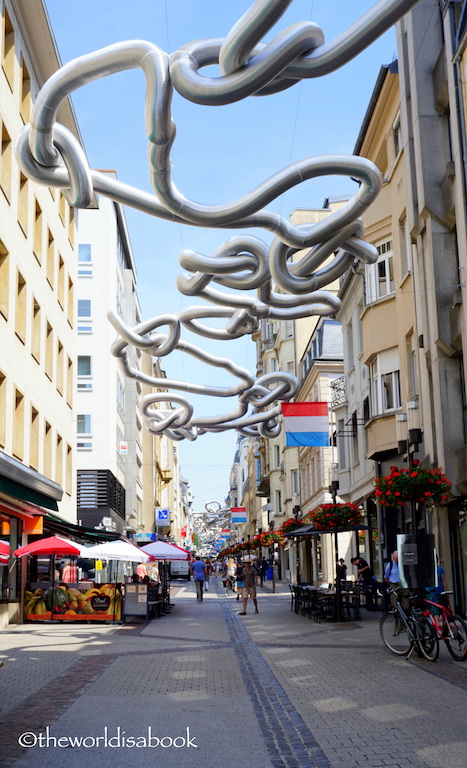 Grand Ducal Palace
We're big fans of European palaces so the Grand Ducal palace was our first destination. It wasn't surrounded by a large fence or looked as grandiose as other European palaces we've visited. It was quite unpretentious compared to Madrid's Royal Palace or London's Buckingham Palace. We actually had to double check to make sure we were looking at the palace.
This was the Grand Duke's town residence or the official seat of the head of state. He has become the symbol of this small country and the "constitutional sovereign of he Grand Duchy of Luxembourg".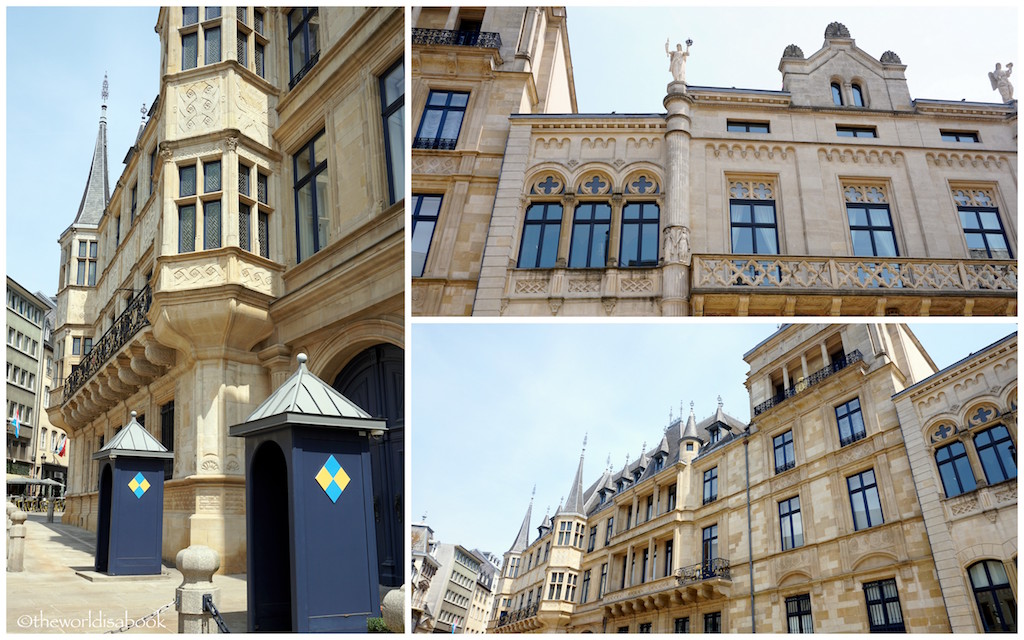 The building was in Flemish Renaissance style. It was originally built as a town hall in the 16th century Locals think of this as symbolizes the feeling of national independence after being dominated by foreign powers for years.
Guided tours of the interior are available during the summer. There is also a changing of the guard ceremony in front of the palace once a month. We found this lone guard watching his station and marching when we passed by.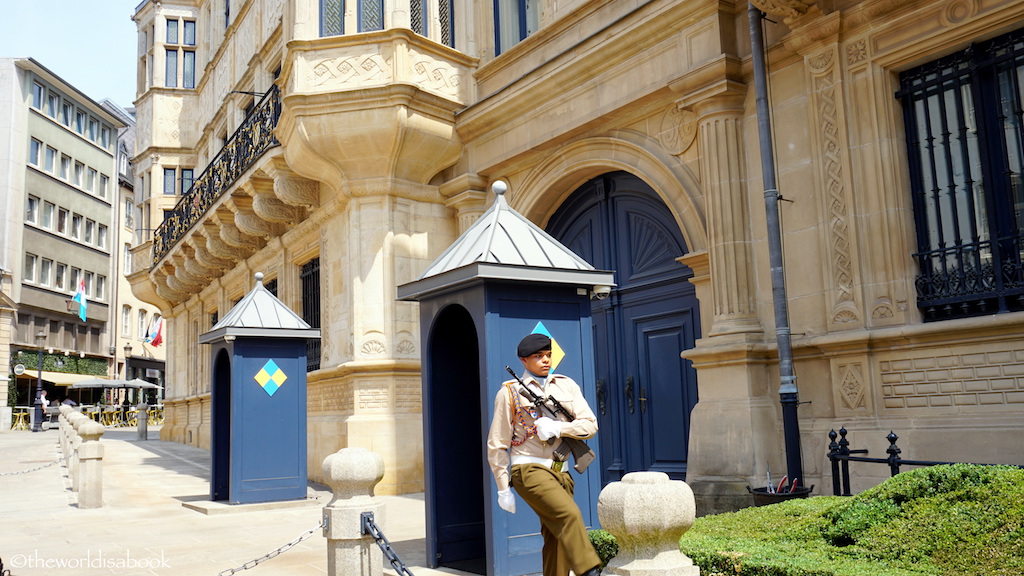 The Train Tour
Since our time was limited, we knew one of the best ways to see the city is through one of the tour buses. The city offers a tourist train or a Hop-on, Hop-off bus.
We found the green tourist train "Pétrusse Express" at Montée de Clausen near where this photo was taken. This was a beautiful lookout point of the river below and Neumunster Abbey. The building had served several purposes throughout the centuries since it was built in 1606. It was a monastery, orphanage, military hospital, prison but is now largely a cultural center.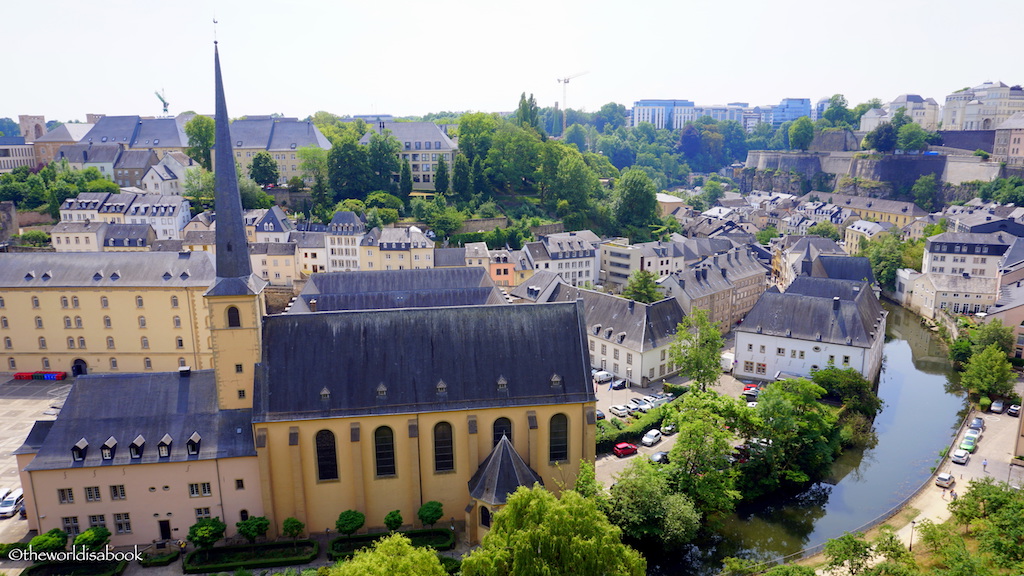 The tour took us around the historic area to the business center was for 50 minutes and available in 4 languages (English, German, French, Luxembourgish) via an audio guide. We recommend doing the train tour.
It was comfortable and took us to places we probably never would have found doing a walking tour by ourselves. The recorded audio guide was a conversation between a child and her grandfather which seemed to engage my kids more than someone reading attraction descriptions.
Our tour started in the Old City of Luxembourg. This area was founded in 963 and along with the fortress were listed as a UNESCO World Heritage site in 1994. The old city started around a fortified castle built on a rocky promontory on the River Alzette valley.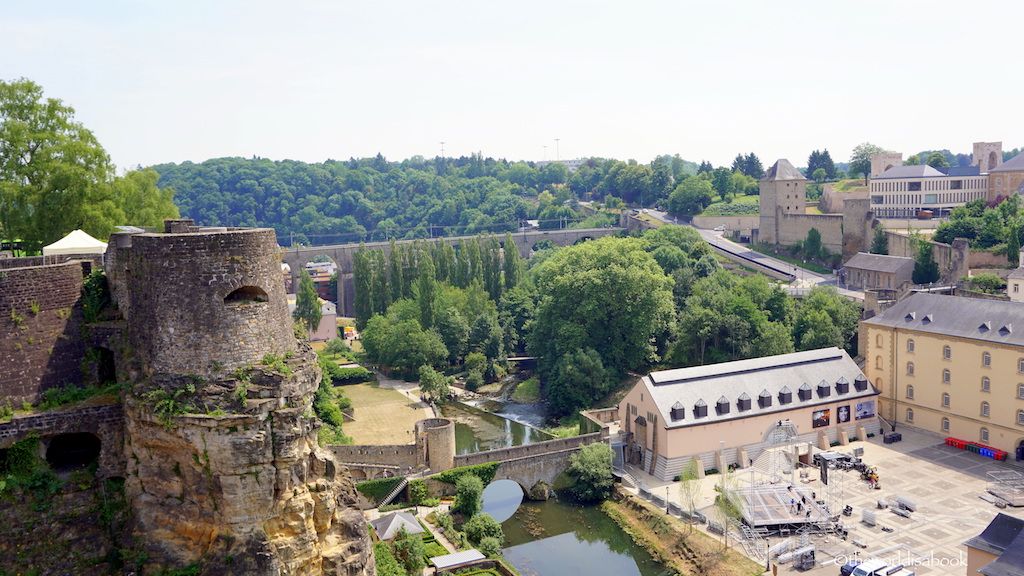 Over the centuries, walls, forts and other defensive structures were built around the city. Its strategic location as well as all the defense mechanisms earned its nickname as the "Gibraltar of the North".
This was a legendary fortress built over centuries by many of Europe's finest. These were Italian, Spanish, Belgian, French, Austrian, Dutch and Prussian engineers from countries who at one time controlled Luxembourg. It was constantly extended and improved and eventually became one of Europe's largest fortresses.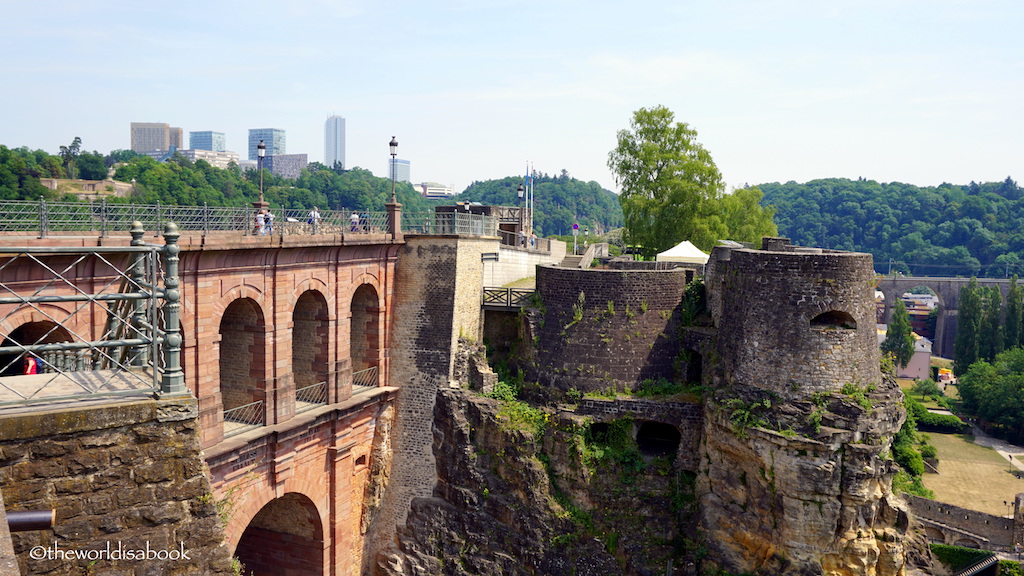 The Bock Casemates is one of the city's most popular attraction. This was a network of 14 miles (23 km) of underground fortifications that were carved on the rocks and 130 ft (40 m) below the fortress. They were used as shelters for soldiers and horses, workshops, kitchens and among many other purposes.
Luxembourg declared its neutrality and independence in 1867 and military forces left the fortress. Unfortunately, 90% of the defenses were demolished during the subsequent years. But, 17 km of the Bock's tunnels are still around since they couldn't destroy it without affecting the city. Other traces of the fortress can still be found in the old city.
Our tour took us through the old quarters including this commanding view of the city. It was easy to see why the fortress stood for centuries on that promontary.
We loved this view of the Petrusse Valley from the Grund. The Grund neighborhood was located in the lower part of the fortification along the Petrusse River. It still has a village like atmosphere with cobblestoned streets. It is now a district filled with pubs and restaurants and great for nightlife.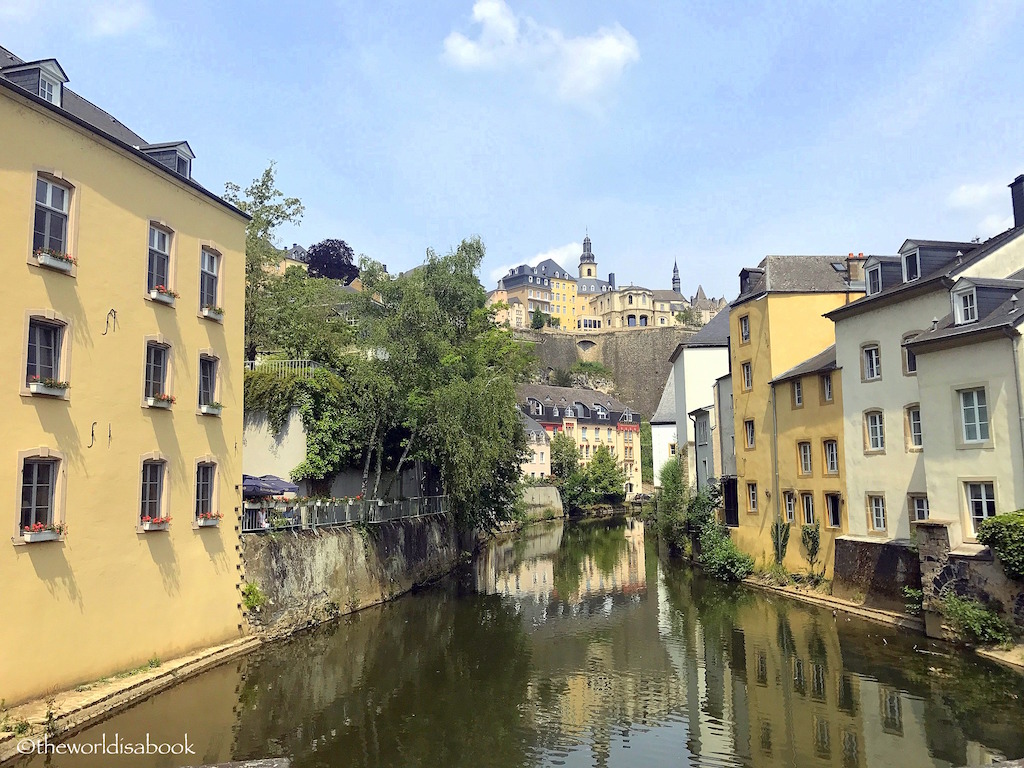 As we made our way outside of the old city, it was easy to see why Luxembourg city was also called a "City of Contrasts". The remnants of the old city, its historic sites and the modern buildings all seemed to stand side by side seamlessly. Much like its architecture coexisting, the city is a melting pot of many cultures and people – 170 various nationalities and counting.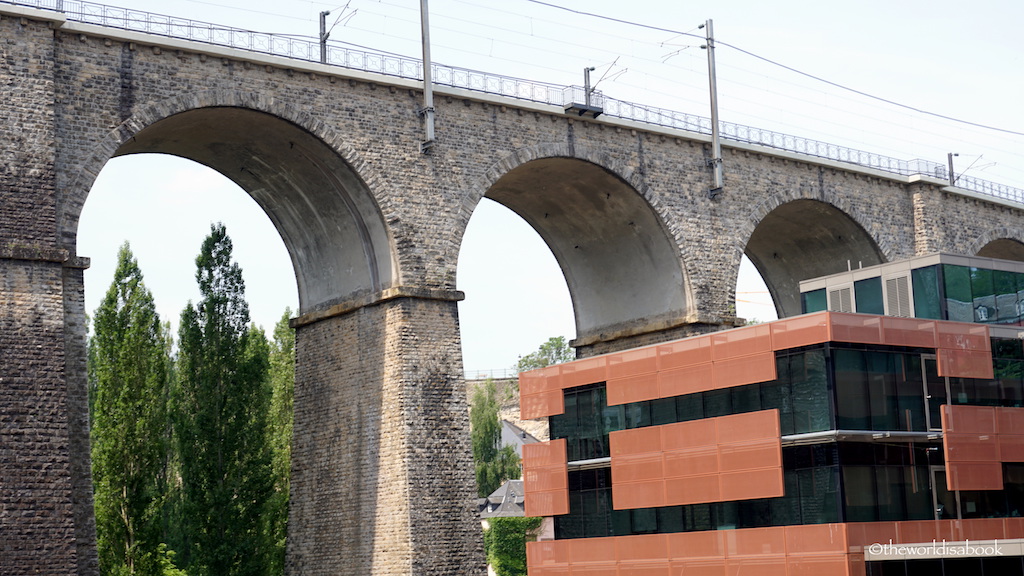 The Kirchberg is the modern part of the city. We lost count on the number of banks we passed by. It almost felt like we were in a Swiss city. There were also several European institutions and shops.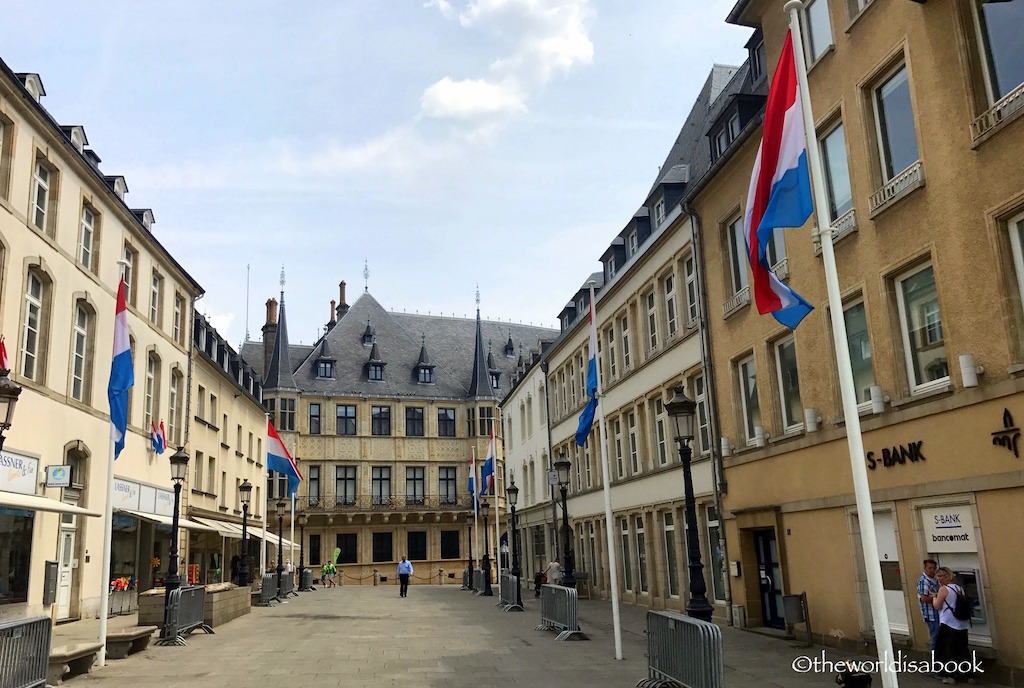 While my teen girl could have probably spent the rest of the afternoon shopping in Luxembourg City, there were other attractions worth noting. If you have a bit more time, look into these attractions.
The Golden Lady or Gelle Fra located on Constitution Square is a beautiful statue erected in 1923 to honor Luxembourg natives who died in World War I.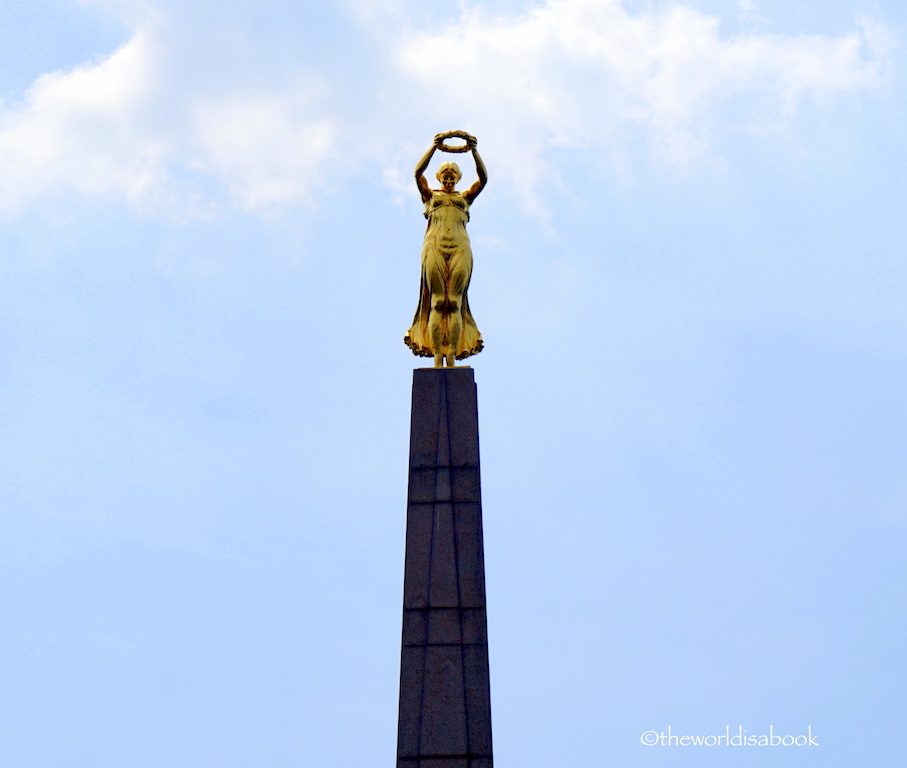 The Panoramic Elevator and Platform gives visitors a fantastic view of the Pfaffenthal district and the Kirchberg Plateau
The Bock Casemates is an interesting look at part of the city's fortification that remained intact. The cannon perches, rock galleries, tunnels and passages were a hit with the kids. At one time, there were 35,000 people in here when it was used as a shelter during the wars. It is operating regularly from April to September, October to November and February to March. Regular guided tours are available.
The Casemates of Petrusse was also used as a shelter and storage area. Guided tours are available which include climbing 450 steps down to the river gorge.
The city has many churches (e.g. Notre Dame Cathedral) and museums that will satisfy
Luxembourg City was a pleasant surprise with its cosmopolitan and modern feel alongside its historical remnants. It was quite easy to get around on foot and very clean. I'm glad we had the opportunity to visit this interesting capital city even for just a few hours. Country hop to Luxembourg the next time you're in the area.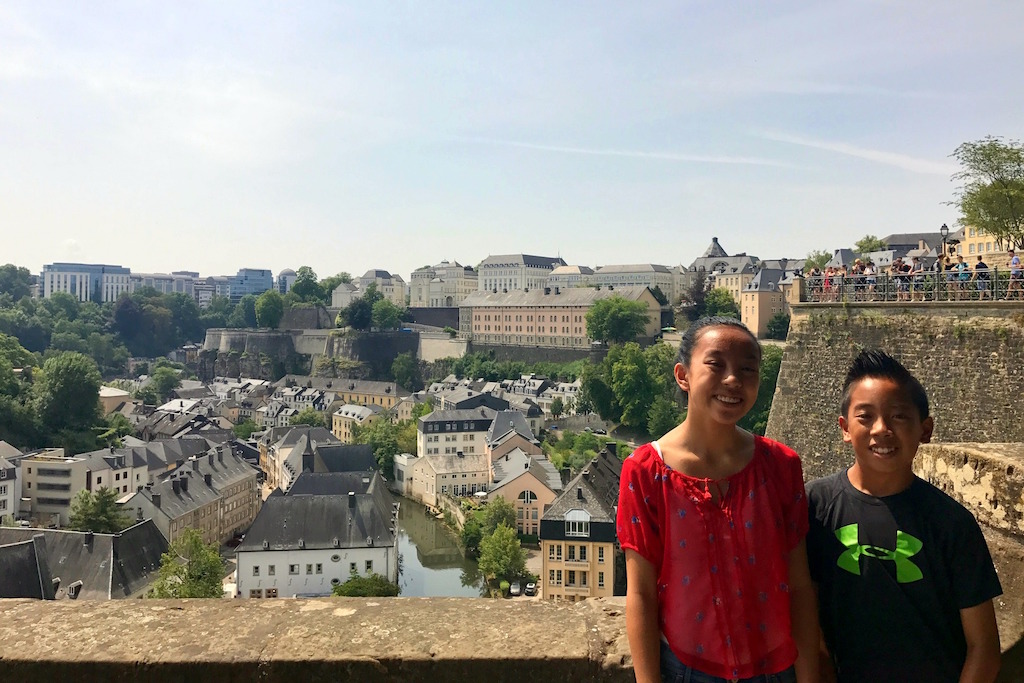 Tips for Visiting Luxembourg City
Take public transportation to get into the city or do one of the day tours from nearby cities. Parking and traffic during the weekday took up a bit of our time. Walking and biking around the city is highly recommended.
My kids were so happy to surf the Internet for free thanks to the outdoor wifi network
The Pétrusse Express tourist train we took runs daily from April to October. Departures from Montée de Clausen (near the Bock Casemates). Operating hours are from 10AM until 6 PM. Departures are every 30 minutes. Individual ticket price:: 10€; Children (4-15 years) 6 €. Families (2 adults & 2 or 3 children) 28 €.
Look into doing the Hop-On Hop-Off tours. These double decker buses was a popular way to see the city with an audio guide. They start at Constitution Square and departed every 20 minutes. Individual ticket price: 14€; Children (4-15 years) 7 €. Families (2 adults & 2 or 3 children) 30 €.
There were so many restaurants, including Michelin types if you're into that, around the city. We went to a small Italian place which had pizza and pasta take aways near the main shopping street. Don't forget to stop at the many pastry and gelato shops. (I really just wanted an excuse to put this mouth watering photo here.)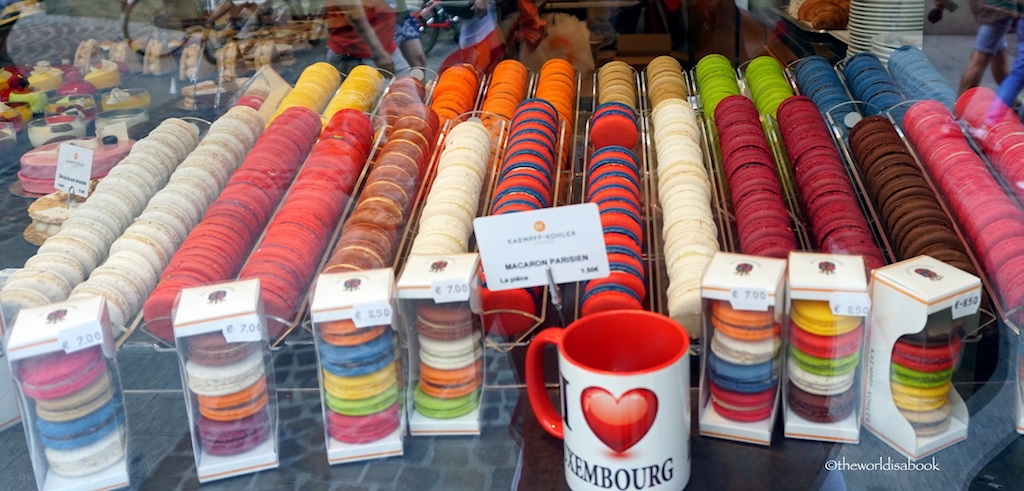 *Have you visited Luxembourg or is it on your travel wish list?
Pin it for later!
Check out these related posts: