5 Ways to Spend a Long Layover in Philadelphia
We welcomed a 12-hour layover at one of America's historic cities and considered the birthplace of our country, Philadelphia, Pennsylvania, last June on our way to Europe. We barely got any sleep due to our redeye flight from San Diego but we made it through a day of sightseeing in the "City of Brotherly Love". One can surprisingly see and do quite a few activities during long layovers in this gateway city. This was our itinerary and some ideas on how to spend a long layover in Philadelphia.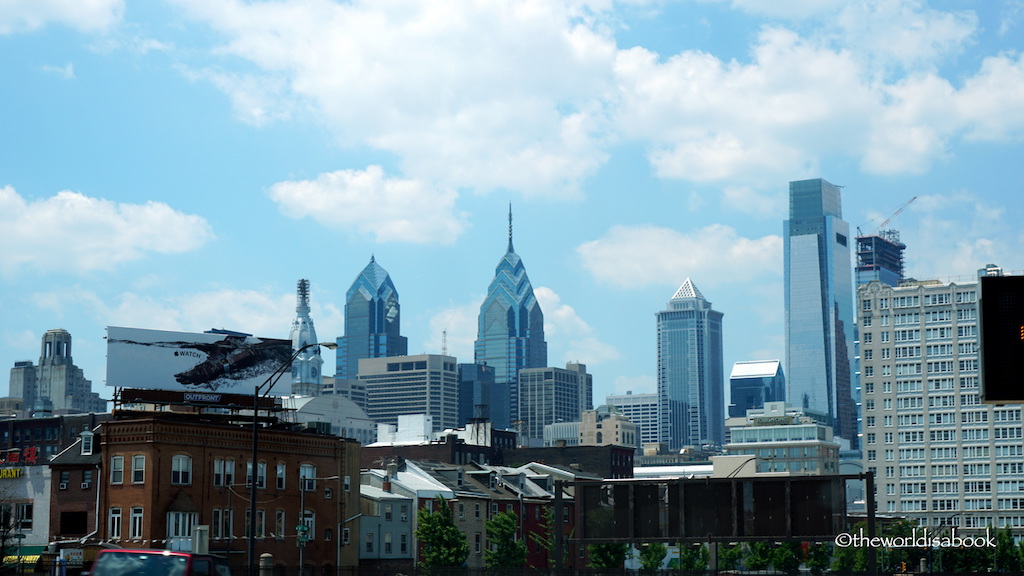 Eat some Philly Cheesesteak
We had a rental car and drove into the city and were there close to 7AM. Our first stop was to sample what Philadelphia is known for – Philly cheese steaks. These iconic sandwiches are made of sliced rib-eye steaks, drizzled with melted cheese and grilled onions on an Italian loaf bread. We decided to go to the two famous establishments.
Located on the corner of 9th Street and Passyunk Avenue, Pat's King of Steaks and Geno's Steaks have faced each other in both location and rivalry for decades. The Philly cheesesteak was originated by Pat's which was the city's first steak shop. While Geno's claimed to have perfected the cheesesteak.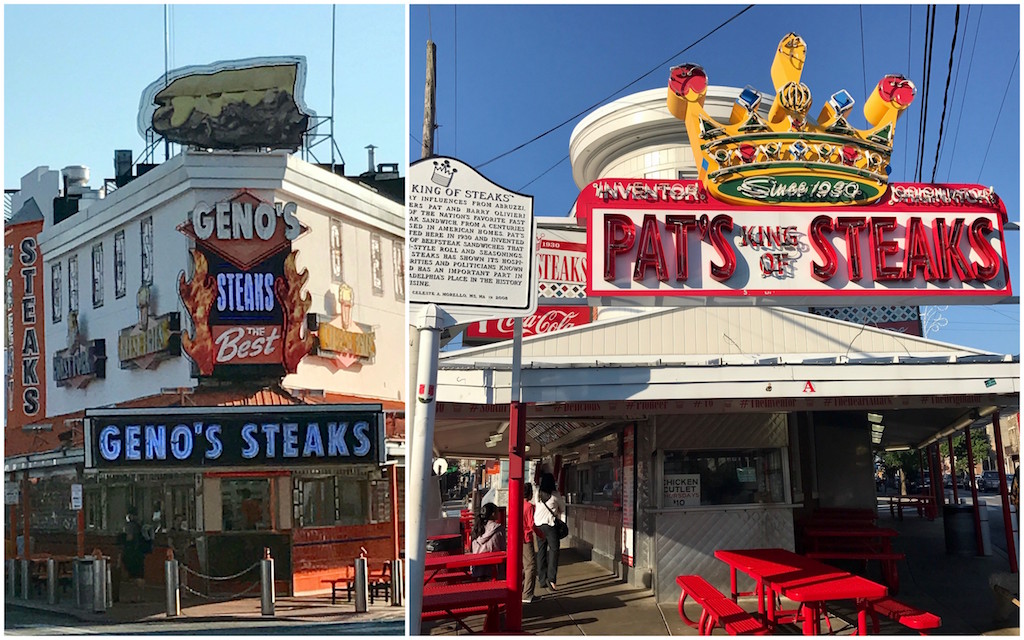 Of course, we ordered one from each sandwich shop to compare for a cheese steak challenge. Lucky for us, it was too early to have any lines or parking issues. Our family's consensus vote was that we all liked Geno's better. The meat seemed tastier and more cheese. The bread was also less soggy.
After I posted my mouth-watering photos on Facebook, some friends were quick to tell me on there were other sandwich shops that were better than these two or were "less touristy". I'm sure there are. But, we decided to go to the popular ones and glad we sampled both.
After all, they have to be famous for something. It may not be a standard breakfast but they were delicious! We'll venture out to other places during our next Philly visit. They're both open 24 hours, 7 days a week except for some holiday blackouts. Pay close attention to their instructions on how to order.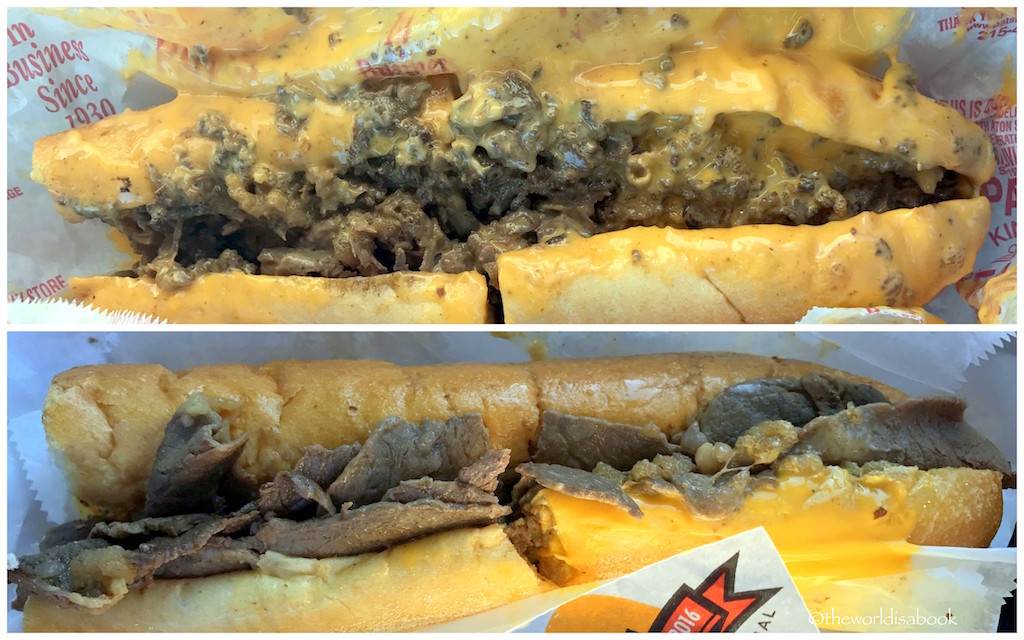 Explore Independence National Historical Park
With our full stomachs, we made our way to Independence National Historical Park. This is a group of sites operated by the National Park Service. It includes and the famous Independence Hall and other historic buildings.
From March to December, visitors must have timed entry tickets and admission is only through tours for Independence Hall. Tickets are free. Advance reservations can be made online with $1.50 handling fee per ticket. Reserve these early! They were all gone a few weeks before our visit.
But, you can also get these free, timed entry tickets on the day of your visit. Ticket distributions start at 8:30 AM at the Independence Visitor Center Ranger's Desk. The line wasn't very long when we got there and luckily managed to get the 9AM tour.
Tours start at the beautiful Independence Hall across the grassy field from the visitor's center. Once known as the Pennsylvania State House, this historic building is the United States' birthplace since this was where the Declaration of Independence and the US Constitution were both signed within its walls.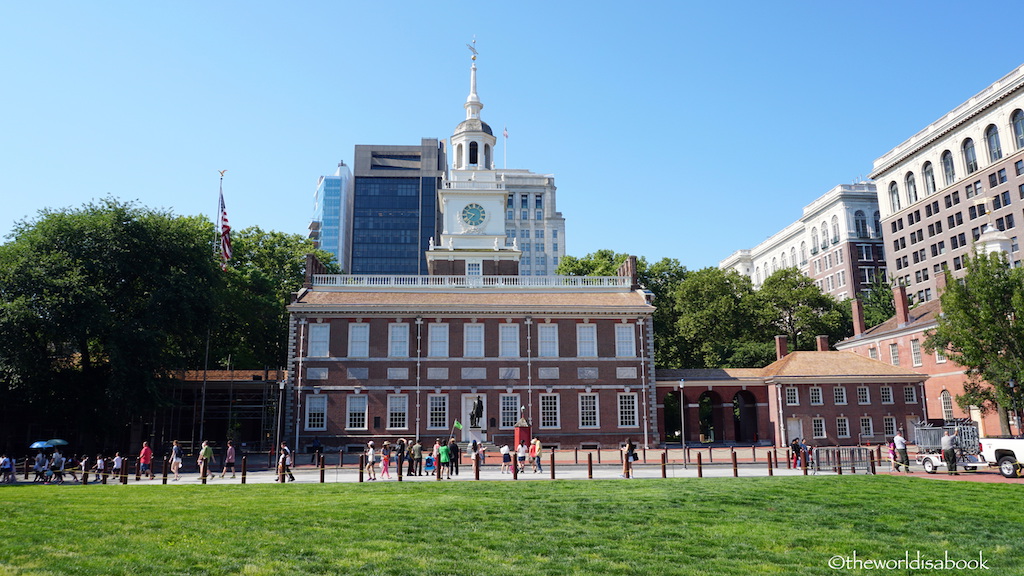 This was the small park behind Independence Hall where we waited for our park ranger/tour guide.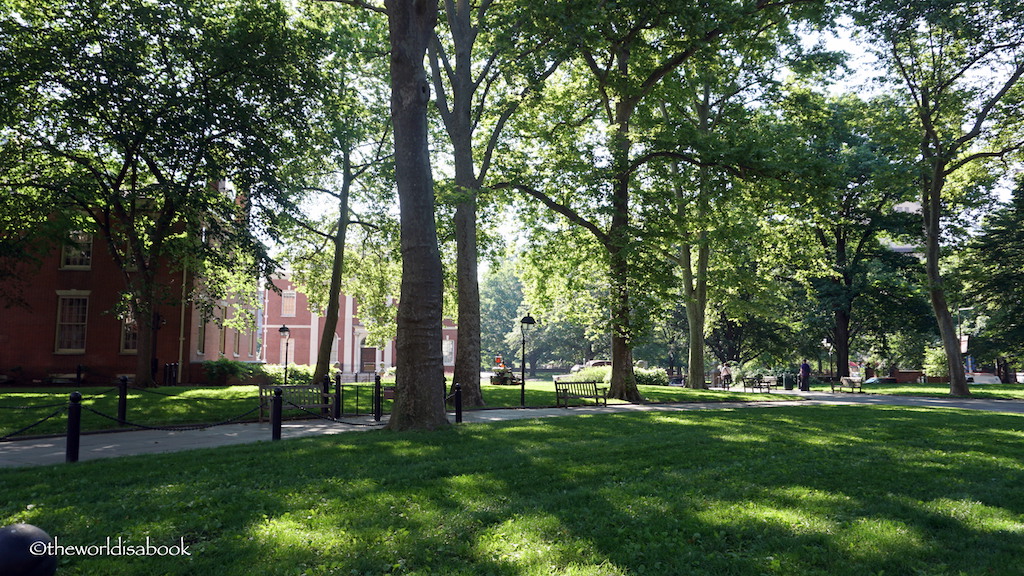 Our tour led us through the hall's first floor. The first room we saw was the Pennsylvania Supreme Court Chamber which held many trials.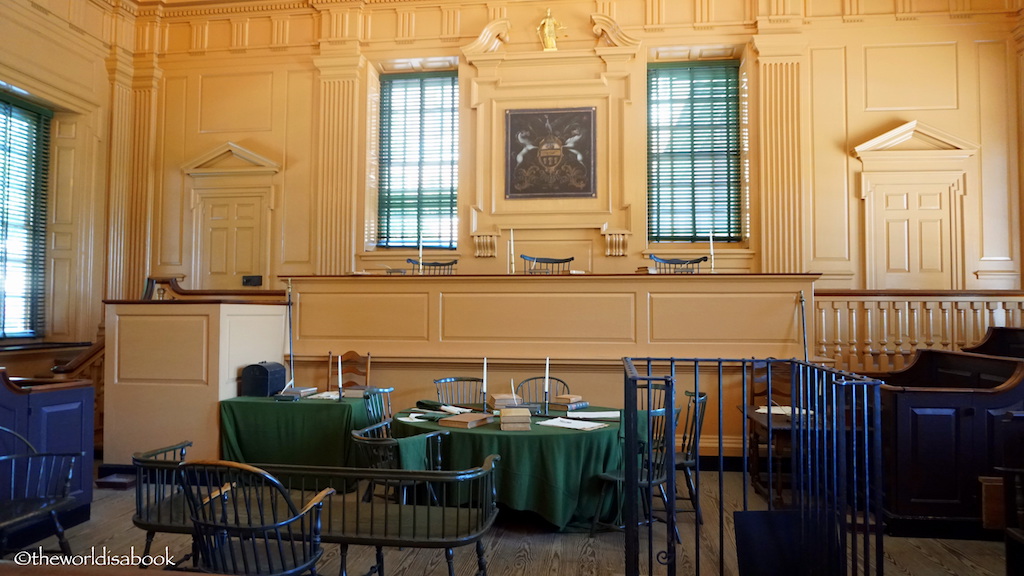 Across the chamber was the very important Assembly Room. Who would have thought that such a simple room could have such a lasting impact on a country? This was where great minds like Thomas Jefferson and Benjamin Franklin signed the Declaration of Independence. We learned that it was actually signed in Aug. 2 and not on July 4. If you have a US $2 bill, there is a picture of the room in the back.
The room was also where founding fathers, like George Washington, Alexander Hamilton and James Madison, debated, compromised and eventually signed the US Constitution in 1787. It was interesting to learn that the windows in this room were kept closed despite the summer heat and humidity so no one would overhear the discussions. Can you imagine the smell and atmosphere during that time?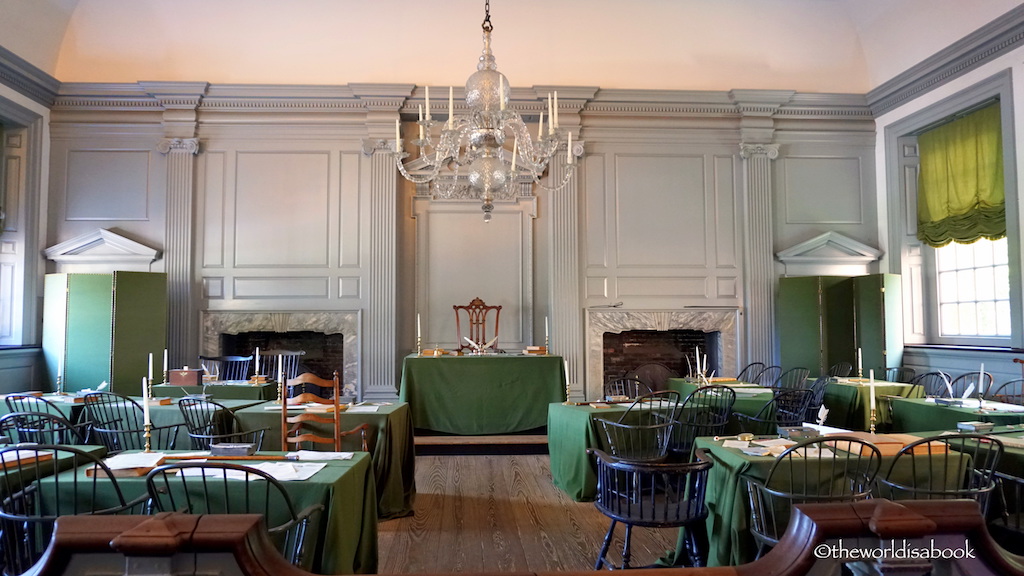 The ranger's presentation was very informative and educational about the individuals that assembled there and the important documents they debated and signed. He actually captured the kids' attentions there (including mine). It was their US history lessons come alive. It was humbling to be in one of our country's most important rooms.
After our tour ended, the park ranger highly recommended we see the Great Essentials Exhibit next door in the West Wing. The exhibits included original 18th century printed copies of the Declaration of Independence, Articles of Confederation and the US Constitution and the Syng inkstand which was believed to have been used to sign them. The originals are in the National Archives in Washington, DC.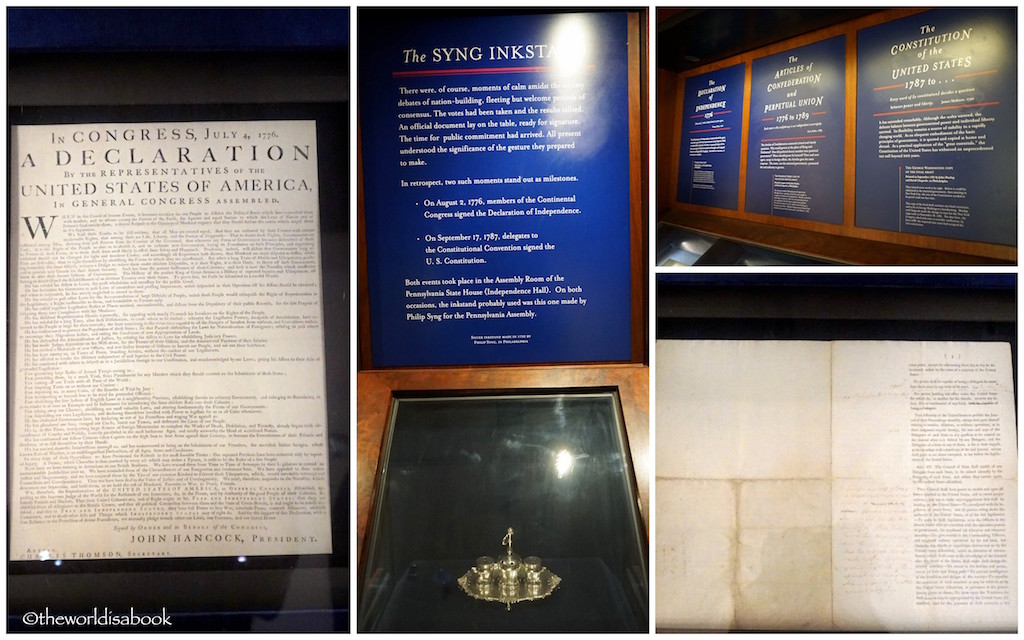 We learned some of their interesting preservation efforts. To prevent fading and falling apart of the old papers due to light and air, pages of documents are turned or removed every 6 months.
See the Liberty Bell
Our next stop was to the adjacent building that housed Philadelphia's other top attraction – the Liberty Bell with its hairline rack. It was originally called the State House Bell. The bell was cast around the 1750s in England to commemorate the 50th year anniversary of Pennsylvania's constitution.
The quote "Proclaim liberty throughout all the land unto all the inhabitants thereof" is inscribed at the top of the large bronze bell. It became a symbol for the abolitionists' cause of trying to end slavery around the 1830s.
Its message of liberty and freedom gave way to what eventually became known as "Liberty Bell". The bell was used to announce important events from Presidential elections, deaths to even, what some believe, the first public reading of the Declaration of Independence.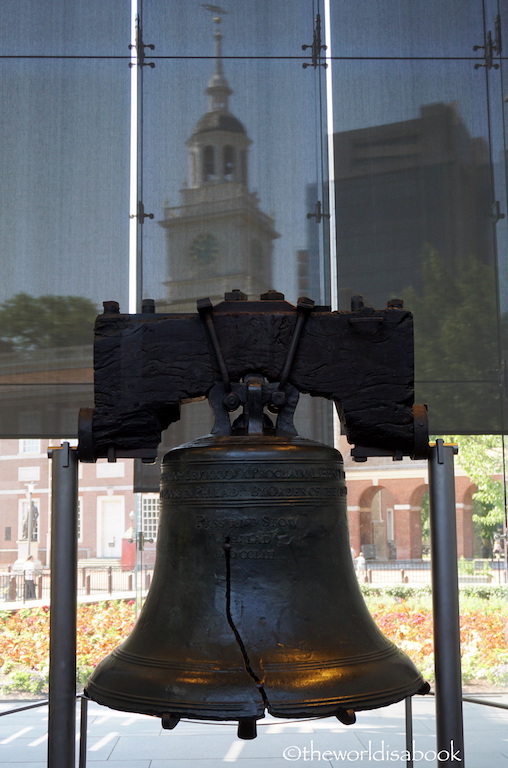 No one's really sure when the first crack appeared. But, the crack that deemed it beyond repair and made the bell inoperable again was during Washington's birthday in February 1846. The crack is 24.5 inches long by 1/2 inch wide.
The cracked bell is now housed inside the Liberty Bell Center which was next to Independence Hall. The bell can actually be seen from the street through the glass all day. There is no entrance fee or reservation to see it.
We got lucky with no lines at the entrance. But, it was a bit hard to get a picture of the bell without people around it. At times, it got very noisy around the bell with groups of local children on school fieldtrips.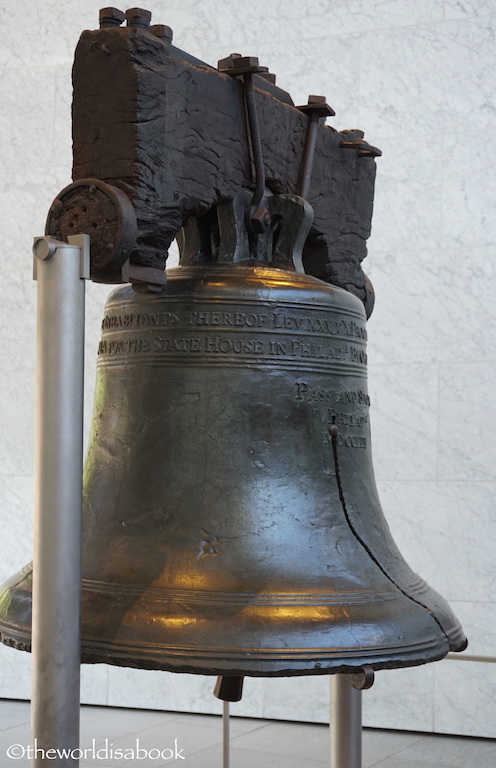 Eat at Reading Market Terminal
We love visiting public markets all over the world. Luckily, Philadelphia's historic public market, Reading Terminal Market, was within walking distance of the historic attractions. There are 75 vendors inside selling meat, seafood, flowers and cheese plus a diverse choice of restaurants.
This market first opened in 1892 and went through several renovations and its ups and downs. It is now run by a non-profit company and has become a go to place to eat and shop for locals and tourists.
There were so many lunch choices here that could satisfy everyone. Don't forget to get some ice cream from Bassett's (America's oldest ice cream company) and some delicious cookies at the Famous 4th Street Cookie Company.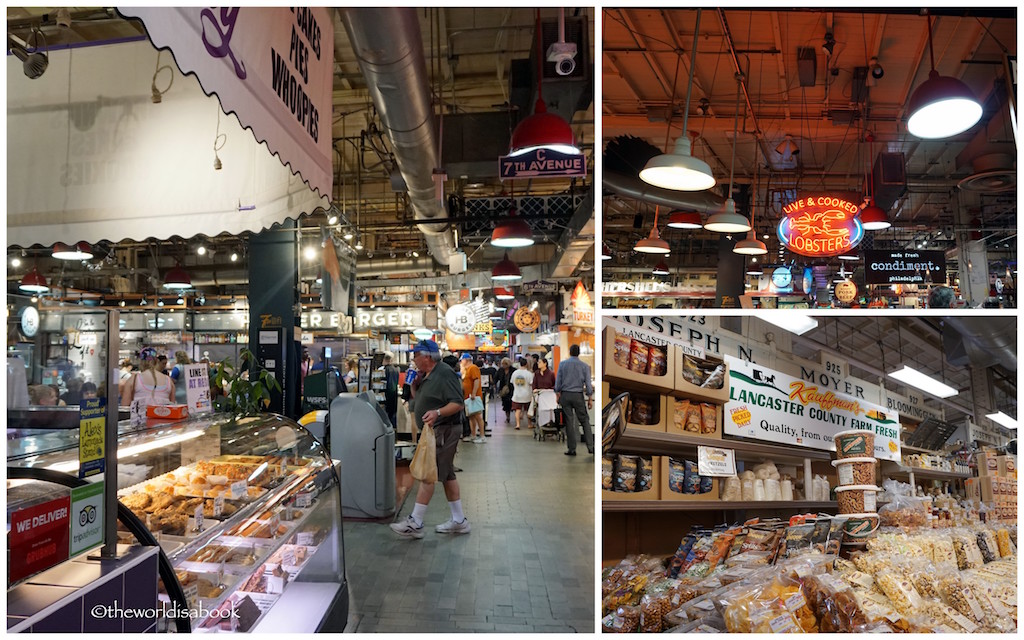 Run the Rocky Steps
My husband was a big fan of the Rocky boxing movies growing up. Unfortunately, my kids didn't know anything about this classic movie series or pop culture hero. After a quick YouTube introduction, my husband had convinced my son to recreate running up what's popularly known as the "Rocky Steps" much like the movies' title character had done.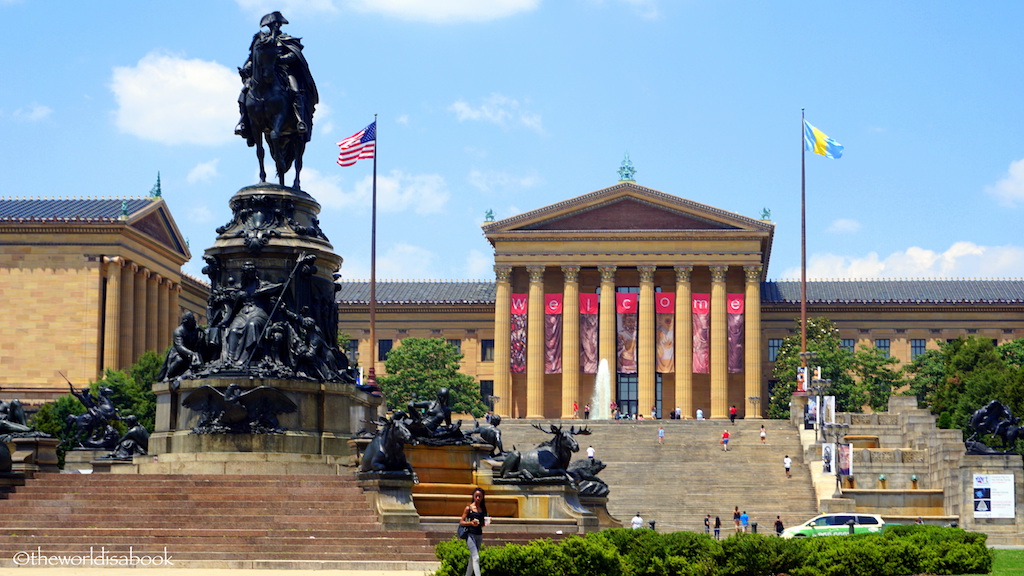 These 72 steps leading up to the east entrance of the Philadelphia Museum of Art is one of the city's top attractions. We saw many people running alongside my husband and son. Once you reach the top, you also must do Rocky's pose of triumph.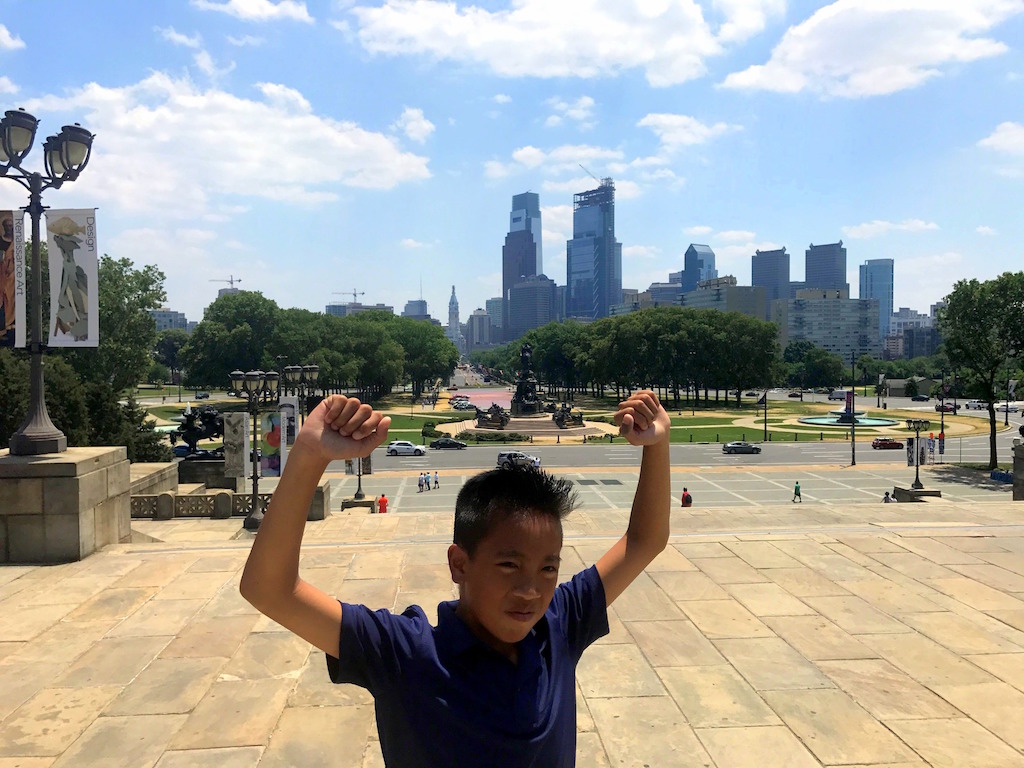 The views of the city skyline was beautiful once you reach the top though. This is also America's third largest art museum. Unfortunately, many tourists (including us), don't have the time or go beyond the "Rocky Steps". If you're here on the first Sunday of the month and every Wednesday after 5 PM, visitors can name their own entry fee price. What a great way to save!
At the bottom of the steps, we found the famous bronze Rocky statue. Sylvester Stallone, the Rocky portrayer, commissioned and donated the statue to the city in 1980. Unfortunately, the statue was closed off to visitors due to some repairs around it. This was as close as we got since we couldn't get next to it.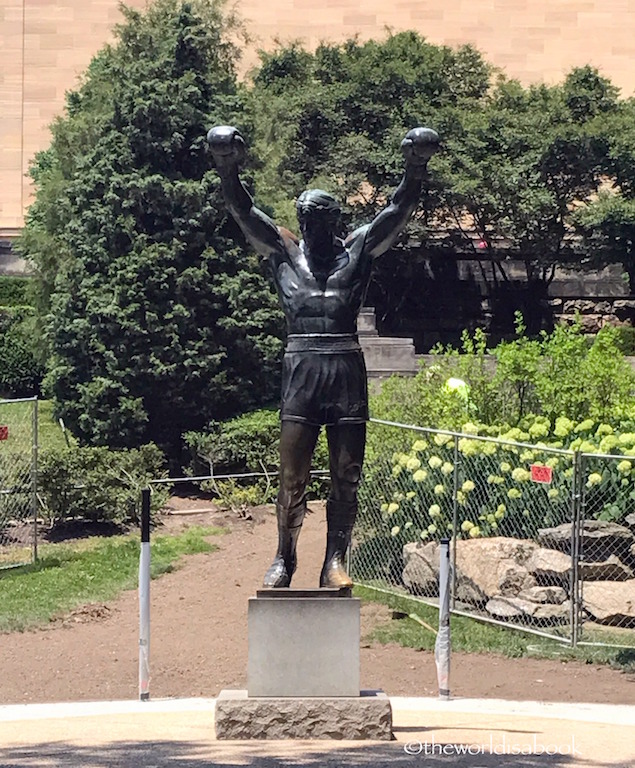 Don't look at city layovers as hindrances but more as opportunities to explore new cities. We welcomed this long layover in Philadelphia and the city didn't disappoint. It helped that many of the attractions and historic sites were fairly close to each other.
Tips for spending a long layover in Philadelphia
Rent a car for flexibility. It was a little pricey for a few hours but definitely worth it to us especially with our sightseeing itinerary. We parked our car at the lower level of the Independence Visitor Center.
It's also possible to catch a cab, use Uber/Lyft or t

ake the rail from the airport to the city center

but we had our carry-on luggage with us. It's mind boggling that a large airport like PHL didn't have luggage storage.
If you need someplace to rest and lay down while waiting for your flight in the airport, look into the Minute Suites. This saved us by giving us an opportunity for an hour power nap comfortably.
Remember to reserve your free, timed entry tickets to Independence Hall early. If you can't be sure to show up at the visitor center around 8:30 AM to get some on the day of your visit.
If you are traveling here with kids ages 5 and up, get the Junior Ranger booklet at the visitor center. Kids can complete the activities while learning and earn a badge.
*Have you visited Philadelphia? What's your favorite layover city?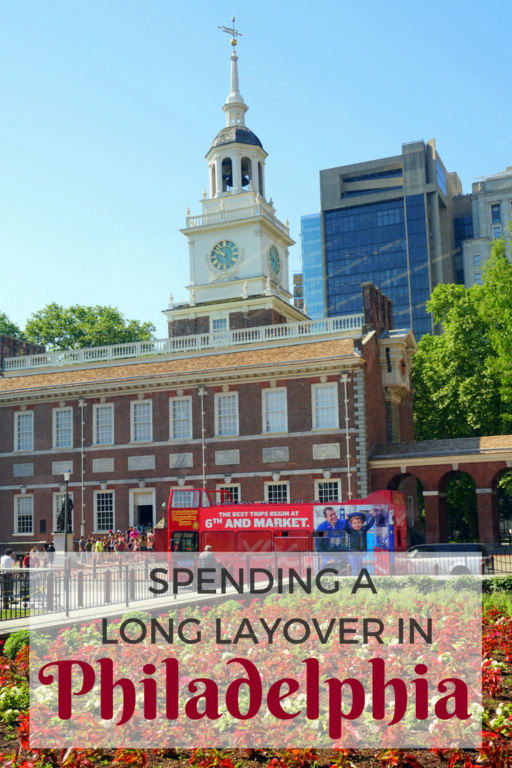 Check out these related posts: