Exploring Colorful Colmar, France
Sometimes, you come across travel photos and instantly put it on your travel wish list. Colmar, France was one of those fascinating places that instantly captured my attention. We were in Germany this past summer and couldn't pass up the two-hour drive to the Alsace region where Colmar was. Located near the border of Germany and Switzerland, this region is known for its wine, colorful villages and unique foods.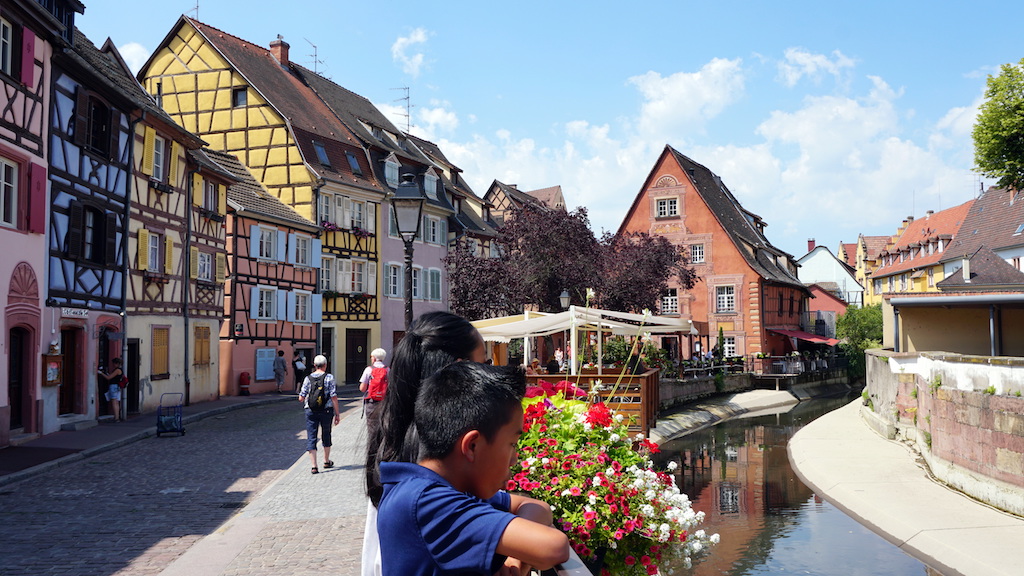 The Alsace (commonly pronounced as Al-zass) region has withstood a 1000 years of European history. France and Germany have switched control of the area at least four times. Being ruled by these two country powerhouses over the years is evident in the area's architecture, culture, language and food.
We found parking in front of the indoor market. It was hard to pass up going in here for a stroll. It wasn't very big but you can never go wrong with these types of markets. Marche Couvert de Colmar or the covered market was a great place to shop for picnic items from wines, cheese, fruits and vegetables meats and pastries.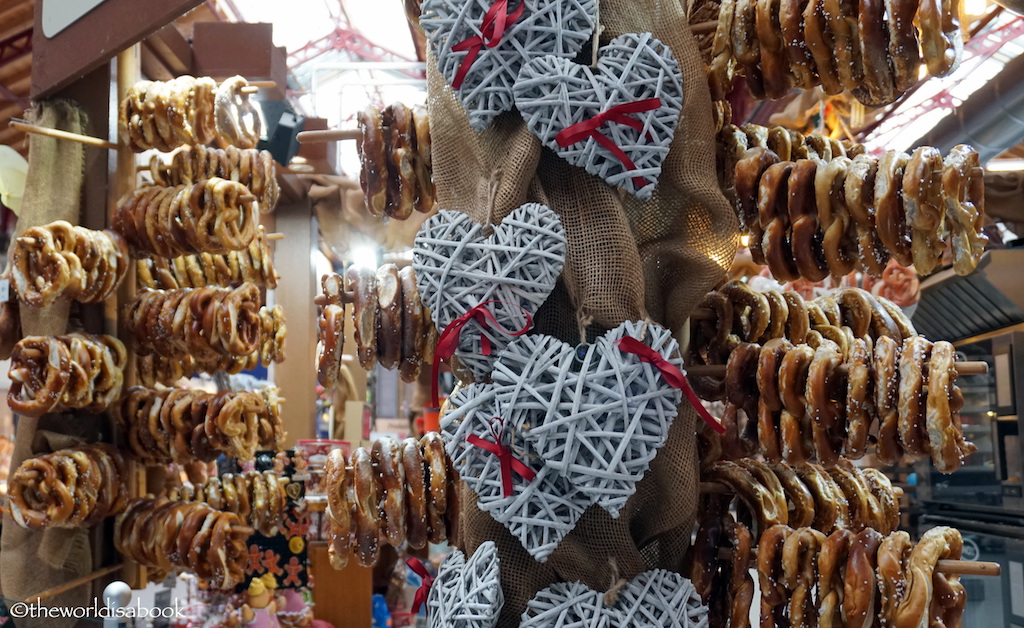 Our biggest recommendation for exploring Colmar is to walk and get lost. I don't even remember looking at street names while we were walking. It was so fun to find hidden alleys and narrow streets. It's not very big so you can't really get lost.
The city was so well-preserved. We loved seeing all the colorful, half-timbered buildings, cobblestone streets and canals. This was one of the most colorful places we've visited right alongside Burano, Italy and its neighboring Alsatian villages of Eguisheim and Riquewihr. It was like a larger storybook village.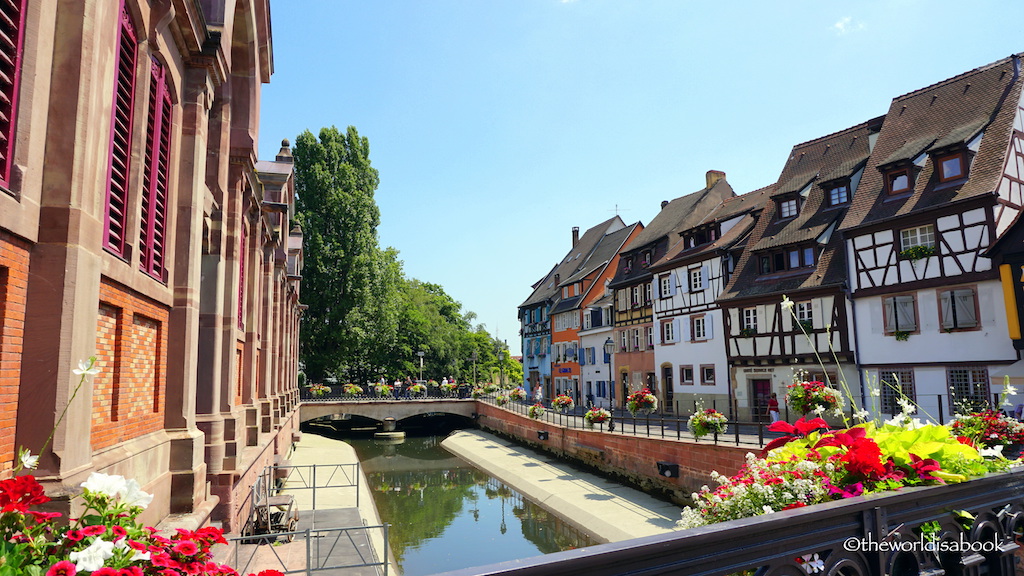 One of Colmar's most popular attractions is the picturesque district called Little Venice or La Petitie Venice. The Lauch River flows through the town and neatly lined with the half-timbered buildings. Many of the buildings are now restaurants great for canal side dining.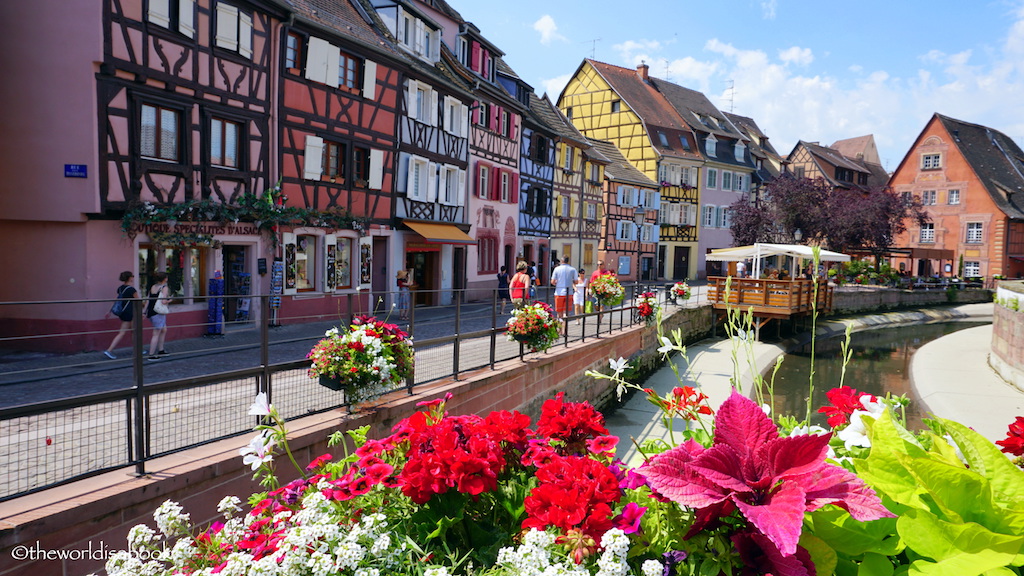 The canals were once used by market gardeners and fishmongers. Nowadays, they're used for small canal boat tours which is one of the must do activities here.
Unfortunately, we were here in late June and the water levels on the canal were quite low. The small boats weren't operating so we never got to enjoy the scenic boat ride. We were really disappointed but now found another reason to return to Colmar during another season.
We loved all the floral displays hanging on windows, pedestrian bridges and walkways everywhere we walked. It was such a great way to cheer up locals and visitors.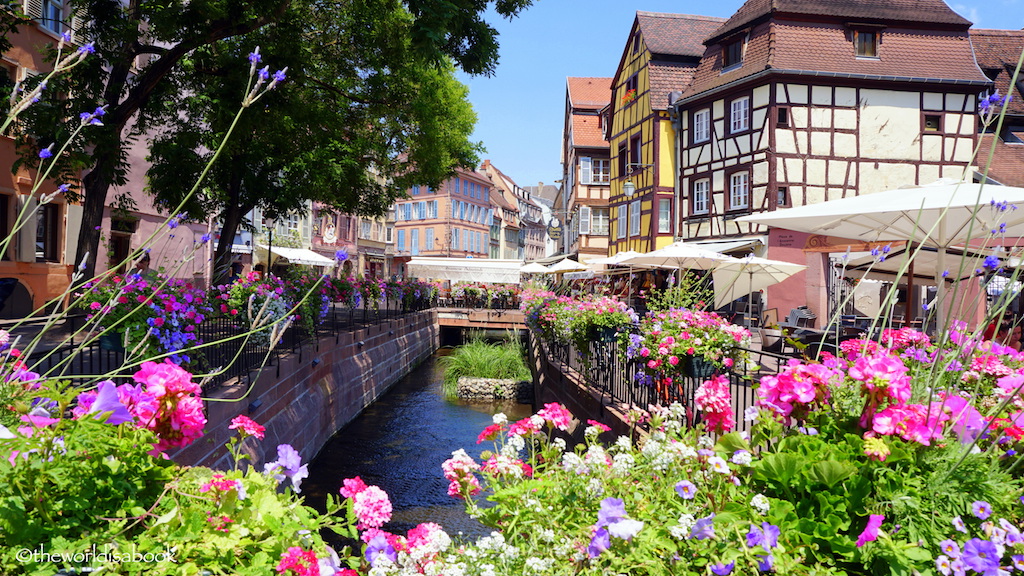 This view of the Little Venice district from Saint-Pierre Bridge is one of the most photographed. I'm sure it looks even more scenic with the water level higher and with flat bottom boat gliding on it.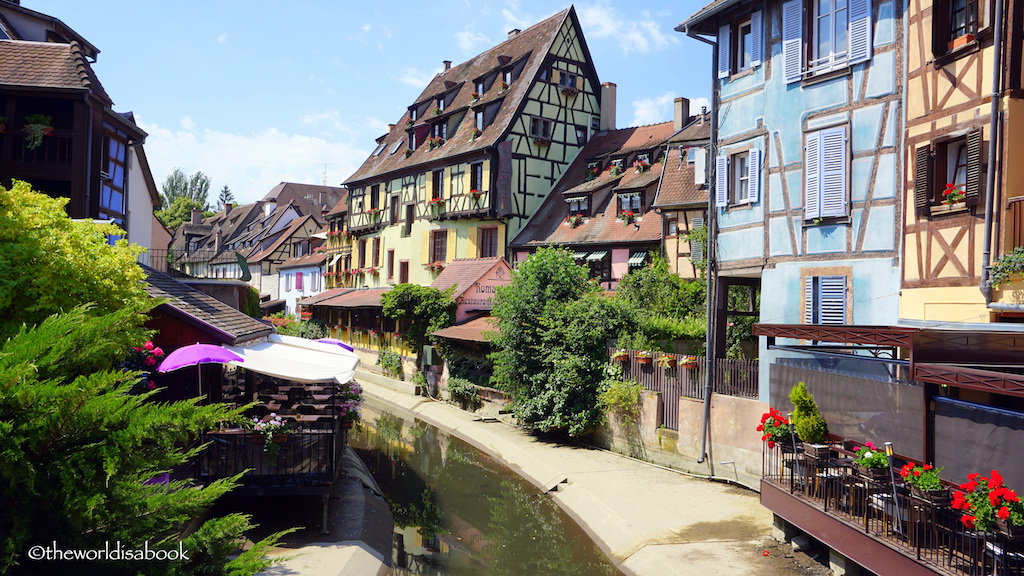 One of Colmar's most famous residents was the Statue of Liberty sculptor, Frederic Auguste Bartholdi, who was born here. To commemorate his 100th death anniversary, a 39 feet (12 m) tall Statue of Liberty replica made of copper-green resin was built at a busy roundabout. It's about a quarter of the size of the original Statue of Liberty in New York. His family home was also turned into a museum.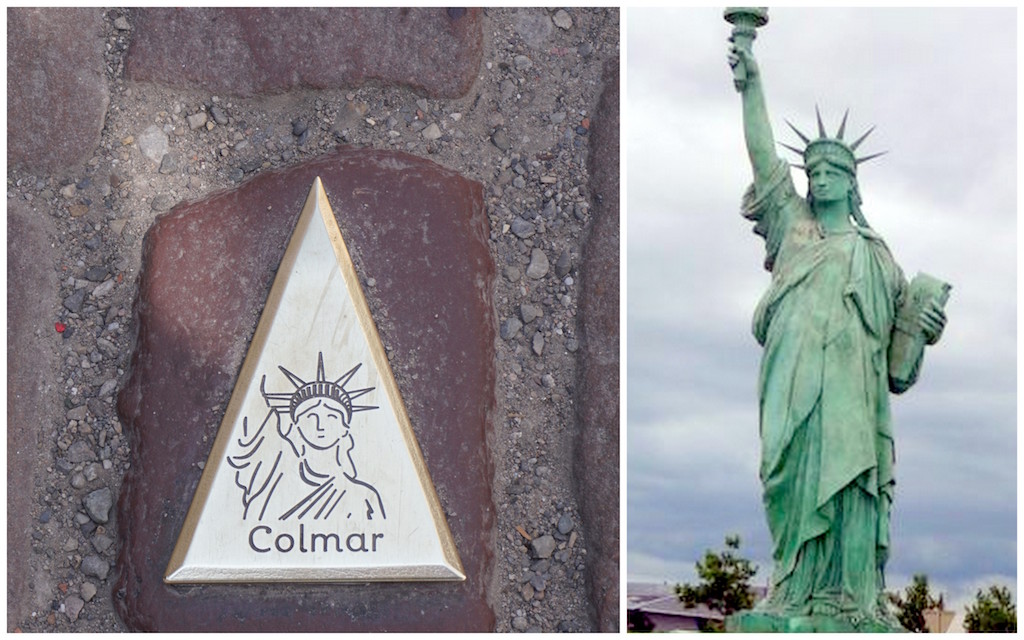 Check out this building with all the hearts and decorations on its facade. It made you just want to go in and see what's inside. The building was actually the Brasserie des Tanneurs restaurant and it was too bad we saw it after we had already eaten.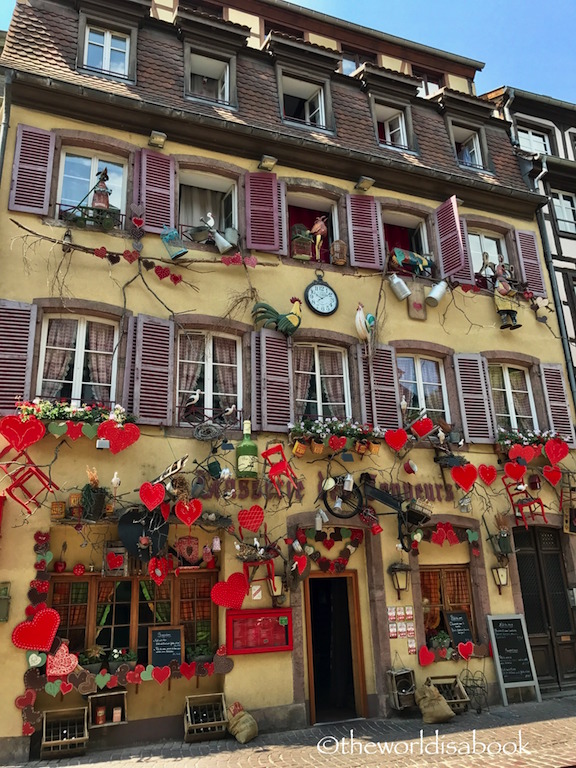 Where and What to Eat
There was no shortage of restaurants, including some Michelin rated ones, around Colmar. We were here around lunchtime but didn't really look into which places to eat but more of what to eat. It was so hot that an indoor dining area with air conditioning and with free wi-fi seemed more important at that time.
We ended up at Au Koifhus Winstub restaurant which was located across from the Koifhus, a small square and a fountain. The Koifhus was the former custom's house used for meetings and once the town's economic and political center.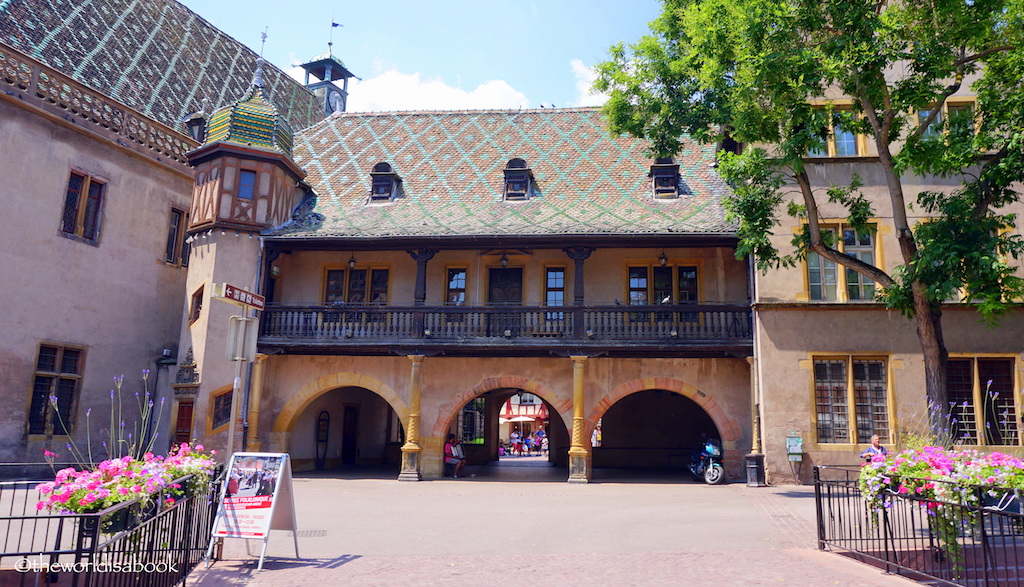 The restaurant had indoor and outdoor seating areas.The indoor portion was cosy and comfortable. Their varied menu, including many local dishes, was reasonably priced. Alsatian cuisine is a combination of French and German with some variations. We had the local favorite of tarte flambée or known as flammekueche in Alsatian and flammkuchen in German.
Think of it as an Alsatian pizza. It's made of flatbread/bread dough, topped with a layer of tart-flavor fromage blanc, thinly sliced onions and bacon. It was certainly different with the sour cream type cheese. I loved that it was thinly sliced but it was also very filling.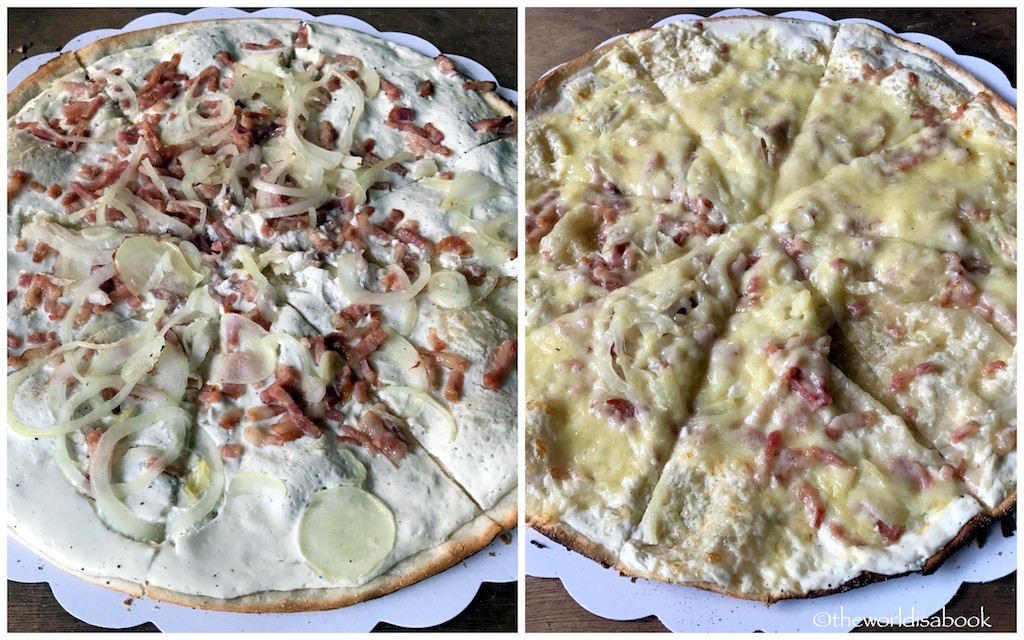 We like that they had a good kids menu too. My son enjoyed his steak hache frite with fries and ice cream. My husband loved his Baekeoffe or Alsatian Meat Stew. Overall, it was a satisfying lunch with delicious food and great service.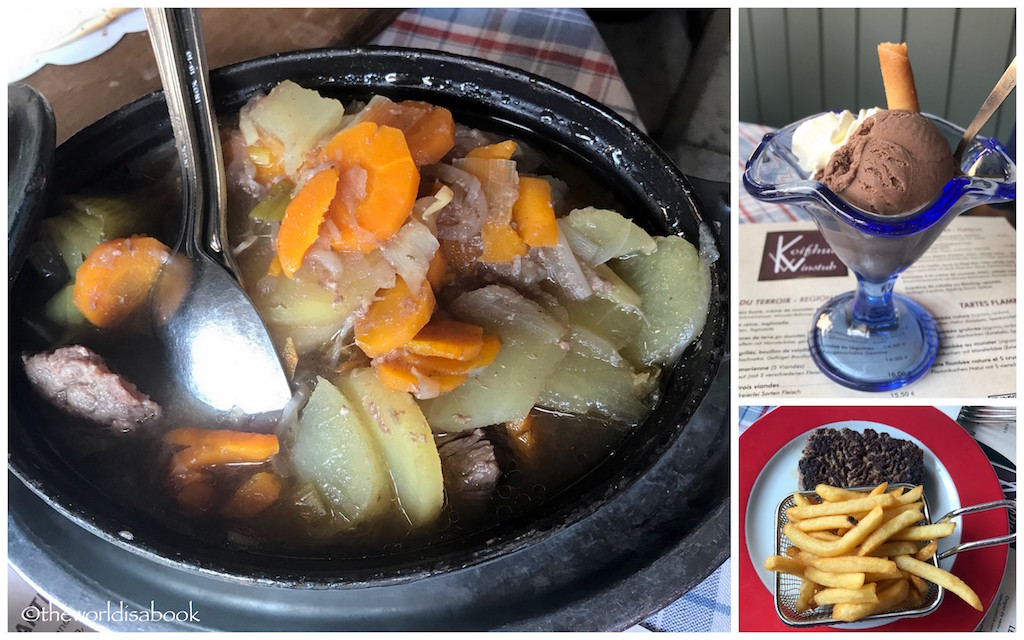 The Old Town
Walking through the Koifhus, we ended up at the medieval Old Town area. This was every bit as lovely, charming and colorful. The historic area gave us a glimpse of Colmar centuries ago.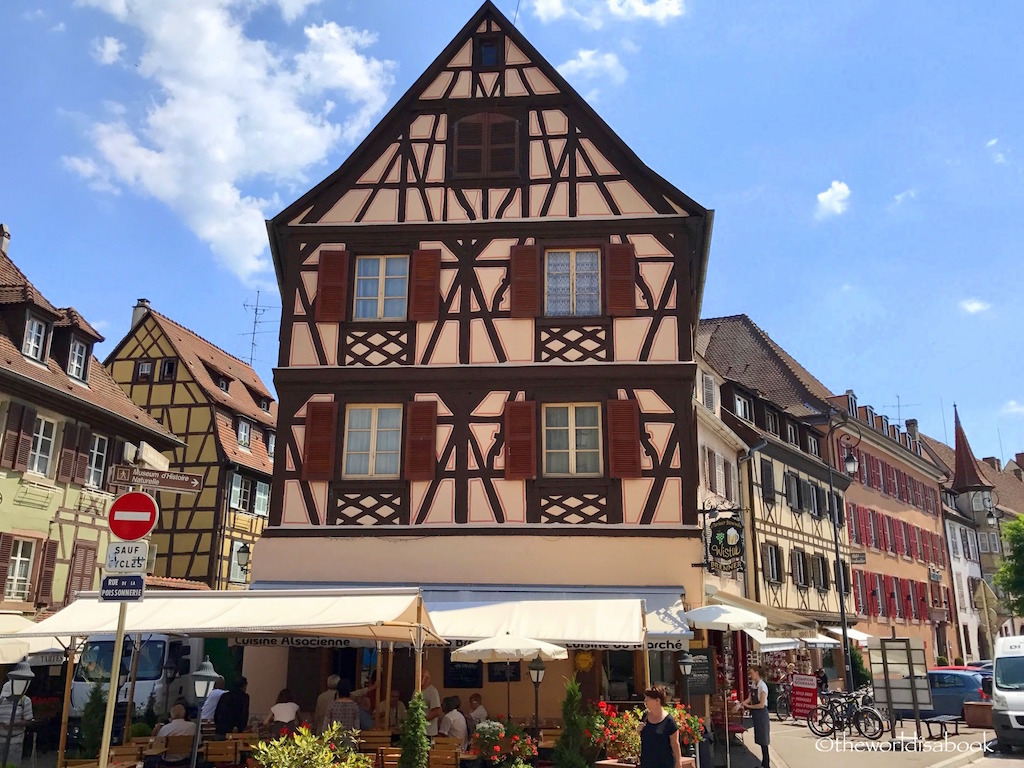 Like many charming European towns, there is a beautiful church or two somewhere in the center. Colmar had the 14th century, Gothic St. Martin's Church or Collégiale Saint-Martin. It is mainly Gothic style with a 16th century Renaissance crown on top of the bell tower.
Most of the church is made up of red, pink and yellow sandstones with colorful tile roofs. The green tiled roof almost looked like it had plants growing on it from a distance. There were several Medieval sculptures outside. The interior had impressive 13th century stained glass windows showing some important stories from the bible.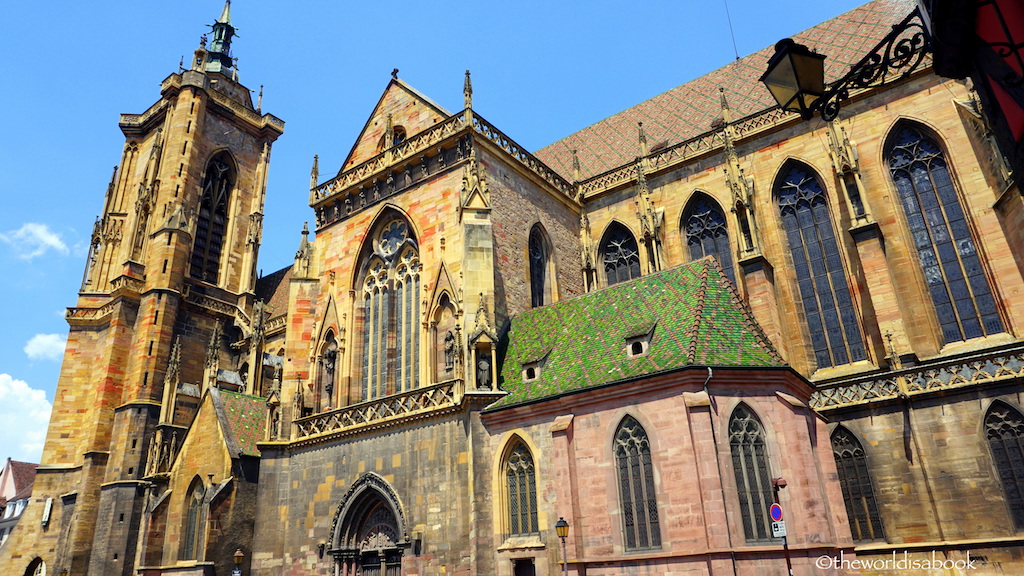 Another notable building was the 16th century Maison Pfister with the ornate balcony. It was a blend of medieval and Renaissance style and considered one of Colmar's beautiful houses. It really stood out to us amidst the old town buildings.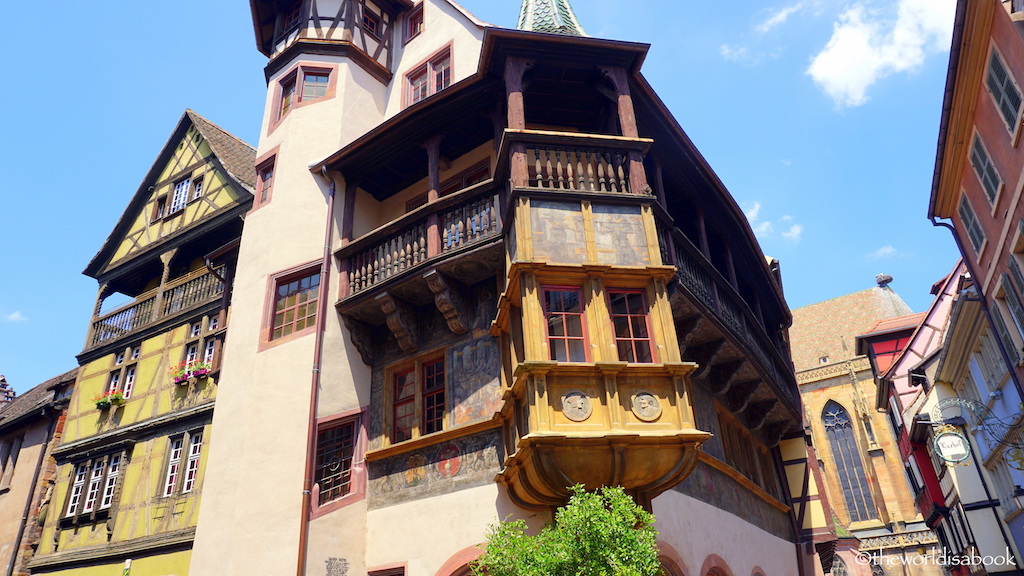 We loved the pedestrianized areas lined with unique shops, souvenir stores and restaurants.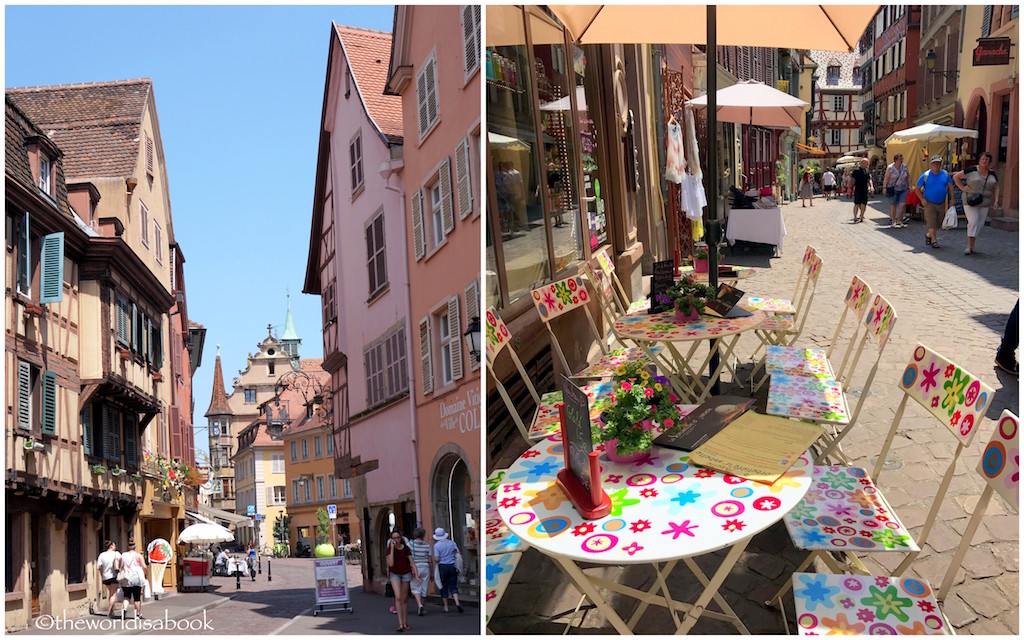 This is one of the main streets in the Old Town area with more steep roof, half-timbered buildings.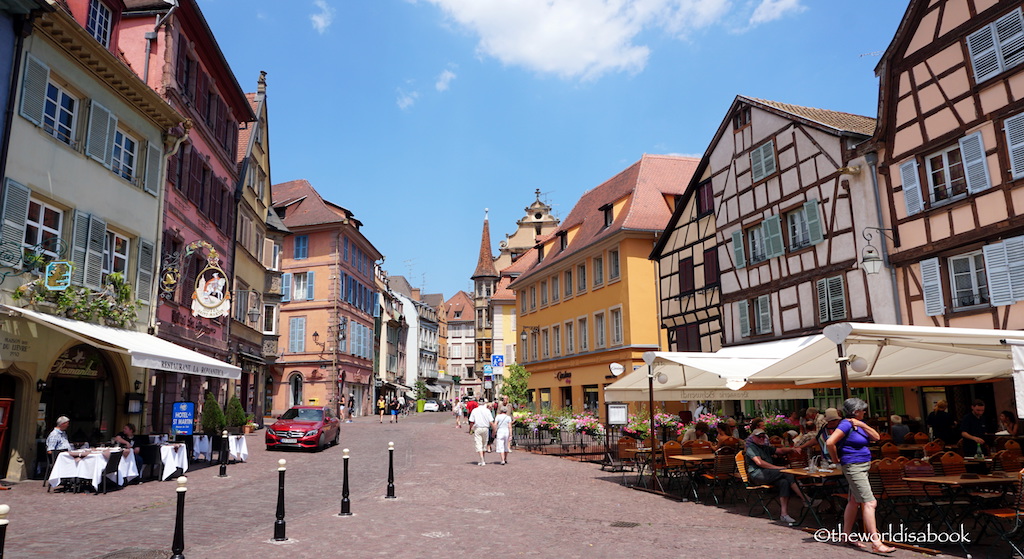 Colmar was such a charming town. No wonder it has become a popular destination in the Alsace region. This medieval city's well-preserved areas made it look and feel like we were walking around a fairytale village. Don't miss Colmar when you're in the area and hopefully, you get lucky and actually get the chance to go on the canal boat tour.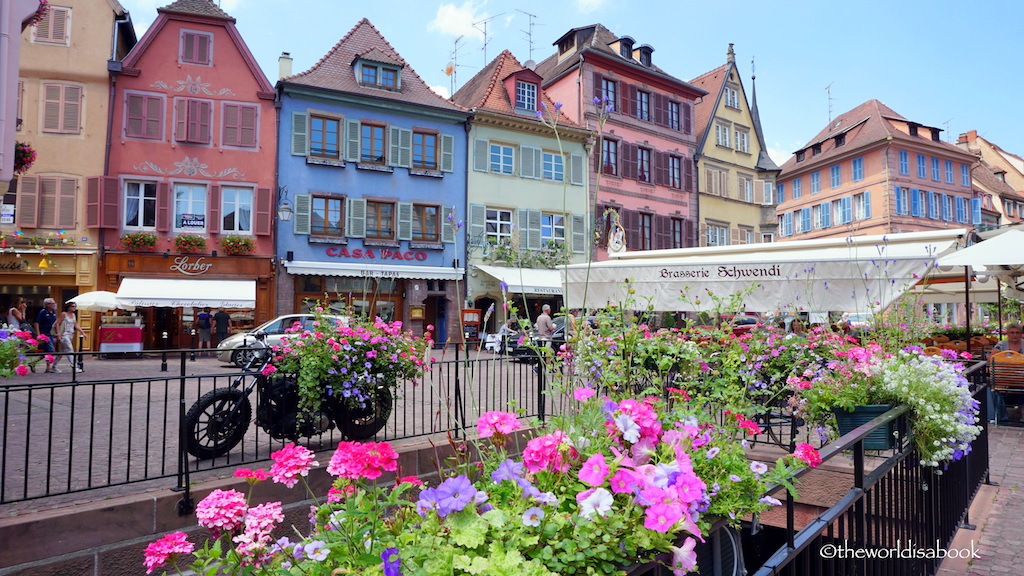 Tips for Visiting Colmar
Getting There: Colmar is easily accessible from the nearby countries of Germany and Switzerland by car. The nearest major international airport is Strasbourg (44 miles away) and Basel/Mulhouse/Freiburg airport also 44 miles away.
Getting there by train: It is a 50-minute train ride from Strasbourg, France. There are daily TGV trains from Paris to Colmar that take almost three hours. The train station is a 10-minute walk to the center.
Boat Tour: Departures are at the Saint Pierre bridge next to Restaurant Le Caveaur Saint-Pierre. Tours are for 30 minutes and cost about 6 euros.
There is also a Little White Train and the Tourist train that takes visitors around Colmar. Tickets can be purchased online.
Visit during the holidays. Colmar is one of the region's best and most colorful Christmas markets.
Drive along the Alsace Wine Route and explore the nearby colorful villages.
*Have you visited Colmar or the Alsace region or is it on your travel wish list?
Pin it for later!