One Week Peru Itinerary: Cusco, Sacred Valley & Machu Picchu
Like many travelers, Machu Picchu has been on my travel wish list for a very long time. An opportunity and good timing for Thanksgiving break two weeks ago finally made this wish come true. My teen daughter and I joined three of my girlfriends and two of their daughters for a girls getaway. Seven ladies including three girls ages 10, 14 and 16. My husband and son stayed home due to a soccer tournament commitment.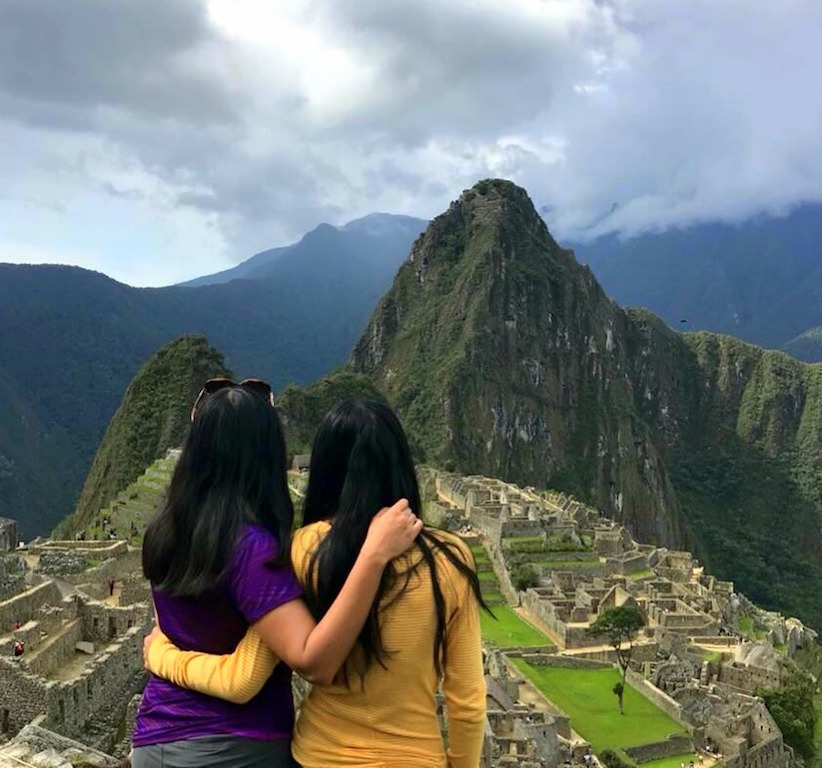 There was no Inca Trail hiking or multi-day hiking for us. Contrary to what many believe and what we've been asked several times, there's an easier way to get to Machu Picchu that doesn't involve 10+ hours of hiking per day and camping. This was our DIY approach and not being part of a tour group.
We all had an incredible experience and such a wonderful time during our week of adventures. We loved Peru! I hope our one week itinerary can help with your travel plans to this part of Peru and on your way to Machu Picchu. More detailed posts of the towns and Machu Picchu along with tips will follow soon.
Day 1- PISAC
We landed in Cusco around 6:30 AM after a long flight from Los Angeles to Lima, a three hour layover and a little over an hour flight from Lima to Cusco. Our Ollantaytambo hotel in the Sacred Valley arranged for a van to transport us from the airport to their hotel with stops in between. The driver stayed in the car with our luggage while we did our sightseeing and shopping.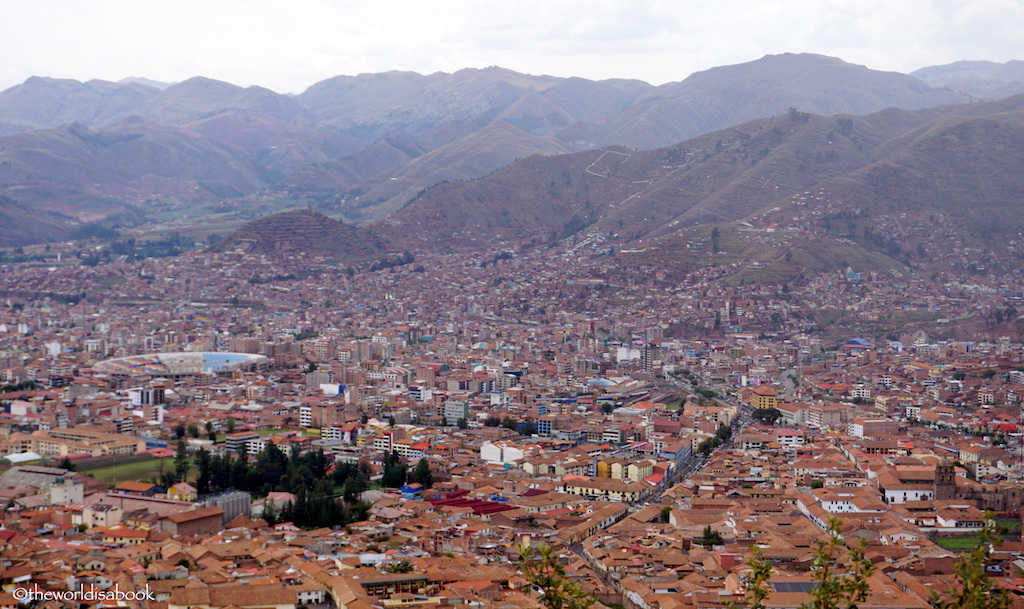 Since all of us lived at or near sea level in Southern California, one of our biggest worries during this trip was altitude sickness. Cusco was at 11,154 ft (3,400 m). We decided to head down to the Sacred Valley first which was around 9,514 ft (2,900 m) to better acclimate with the altitude and make our way back to Cusco later.
Our group had an arsenal of headache, anti-nausea and prescription medicine (Diamox) for altitude sickness. Our first bout with altitude sickness was walking up a small hill in Awanacancha which was our first stop.
Some of us felt lightheaded, had shortness of breath and rapid heart palpitations. Now, we know why many say to take it easy on your first day. It also didn't help that we were all sleep deprived from the plane rides.
But, we pulled through on this first stop because who can turn down seeing and feeding llamas and alpacas? The Awanacancha weaving center was also home to four members of the cameloid family which were llamas, alpacas, vicunas and guanacos.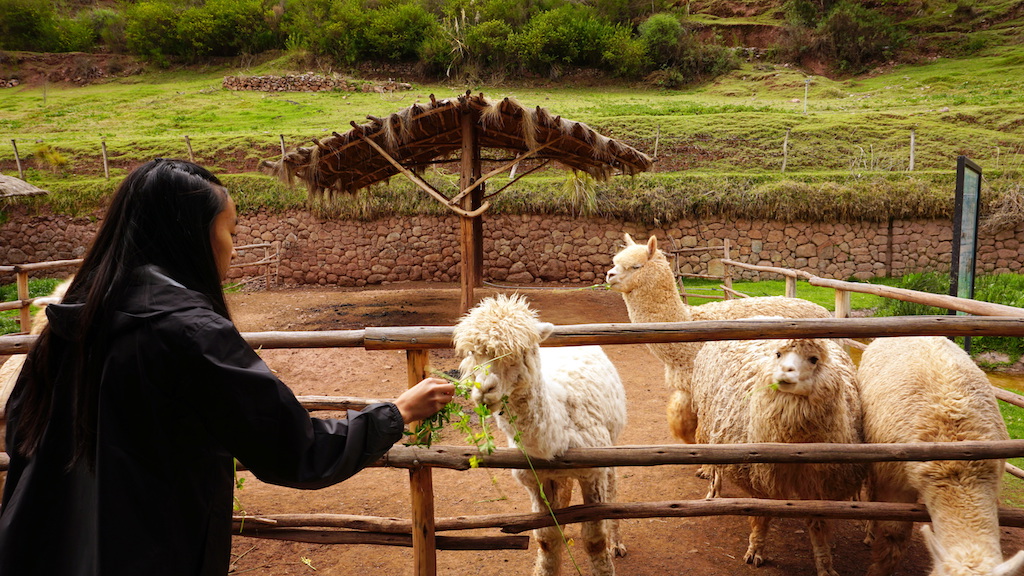 We were all so excited to pet and feed the animals. There were plenty of free alfalfa stalks to feed them. Can you tell how excited my daughter is in this photo? One of her checklist items was to pet and feed these animals.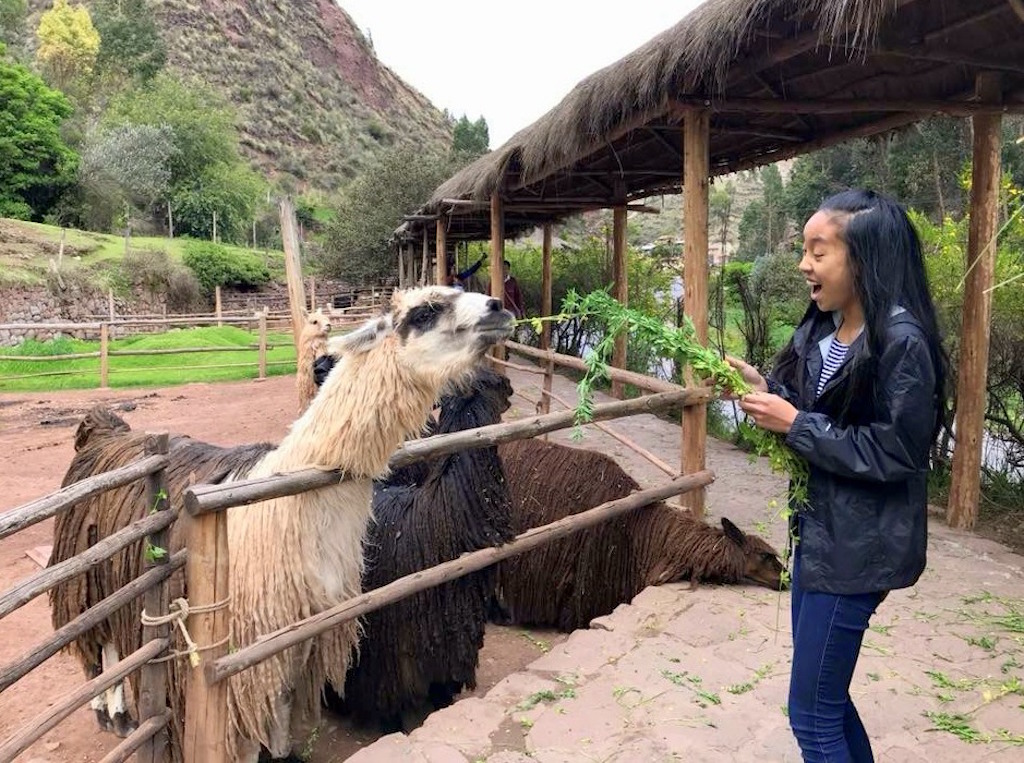 There were several natives here showing visitors how they harvest the wool, dye it and make them into beautiful, unique knit and woven pieces. There was a shop here that sold these products. The handmade ones were of course, quite expensive. But, it was easy to see the difference between the manufactured ones and the products that took months to produce.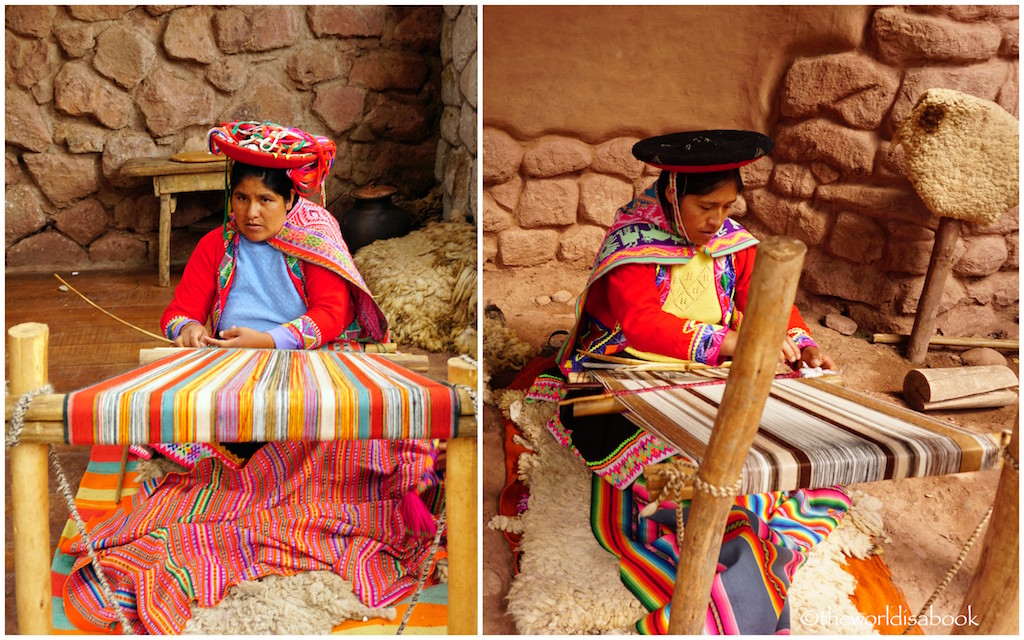 The drive to Pisac was beautiful with mountains and verdant valleys. This was a lookout point into the Sacred Valley.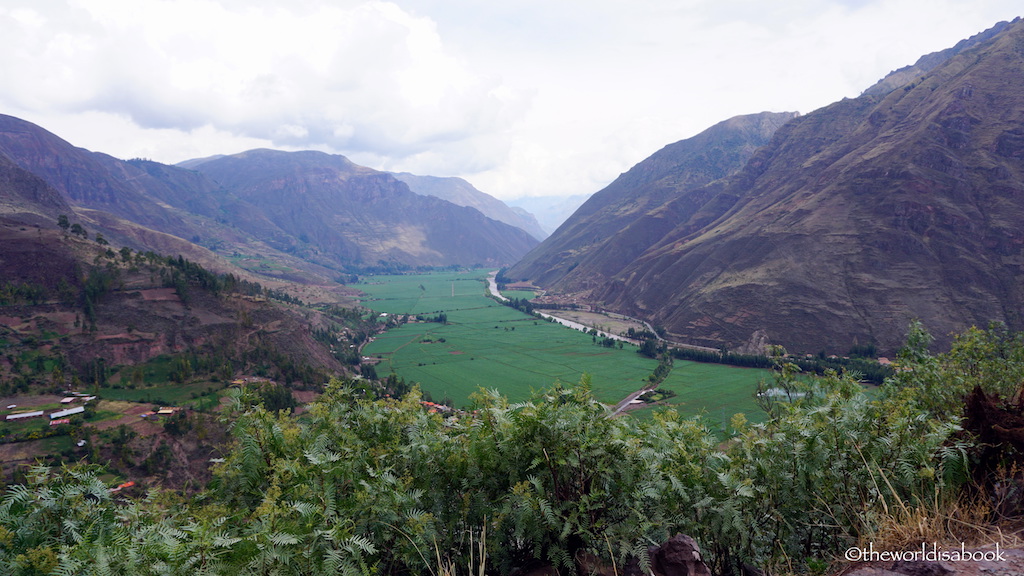 Pisac Ruins
Our next stop was the Pisac Inca Ruins. We saw glimpses of it as we made our way to the top of the mountain. The patterned terraces on the hillside used for agriculture were quite a sight to see. Visitors can also make their way to the ruins at the top for even more panoramic views. There was a Sun Temple up there and some ancient burial sites.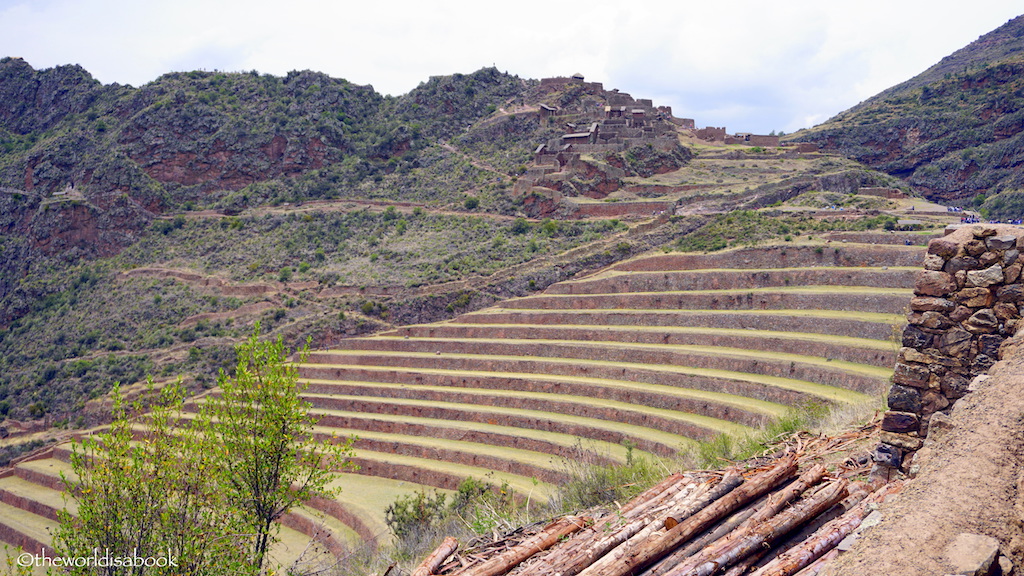 Pisac Market
When you're on a girls' trip, markets were necessary stops. We stopped and shopped at plenty of Peruvian markets. The Pisac market was the biggest one we visited. The alleys seemed to go on for awhile. Most stalls sold similar items with plenty of sweaters with llama designs, colorful blankets, scarves, tablecloths and many llama themed souvenirs you can think of.
There was also an outdoor section where the natives sold fruits and vegetables. Who knew Peru had over 2,000 varieties of potatoes and such colorful corn?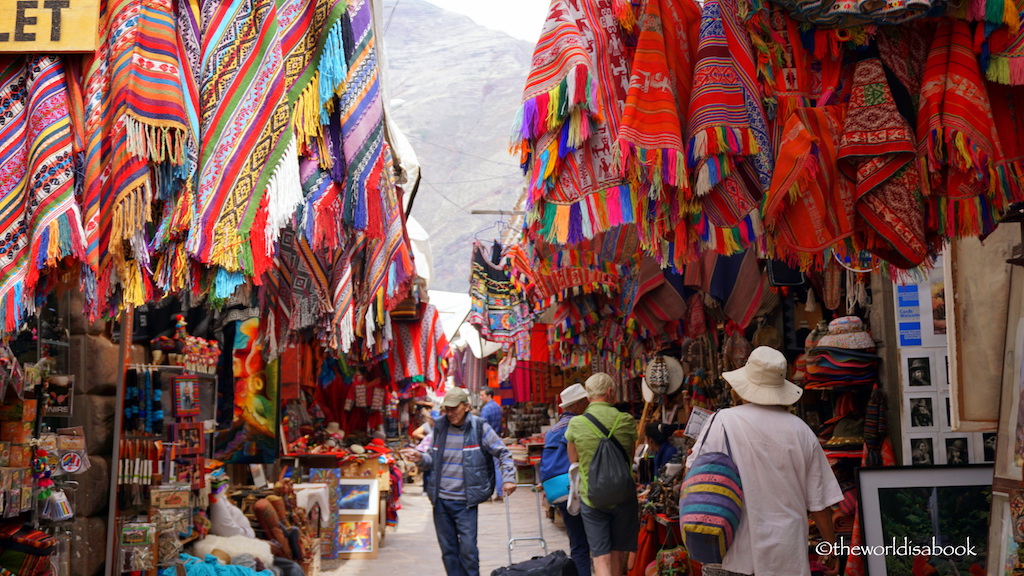 Day 2 – Ollantaytambo Fortress and Town
We spent three nights in the charming town of Ollantaytambo in the heart of Sacred Valley. Many visitors bypass this area since it's mainly used for the train to Machu Picchu. The town was mainly made up of narrow cobblestoned streets and original Inca canals where water still flows.
There was a small plaza surrounded by stores and quaint restaurants. Getting around the town was fun by riding the many available tuk tuks for less than 40 cents US.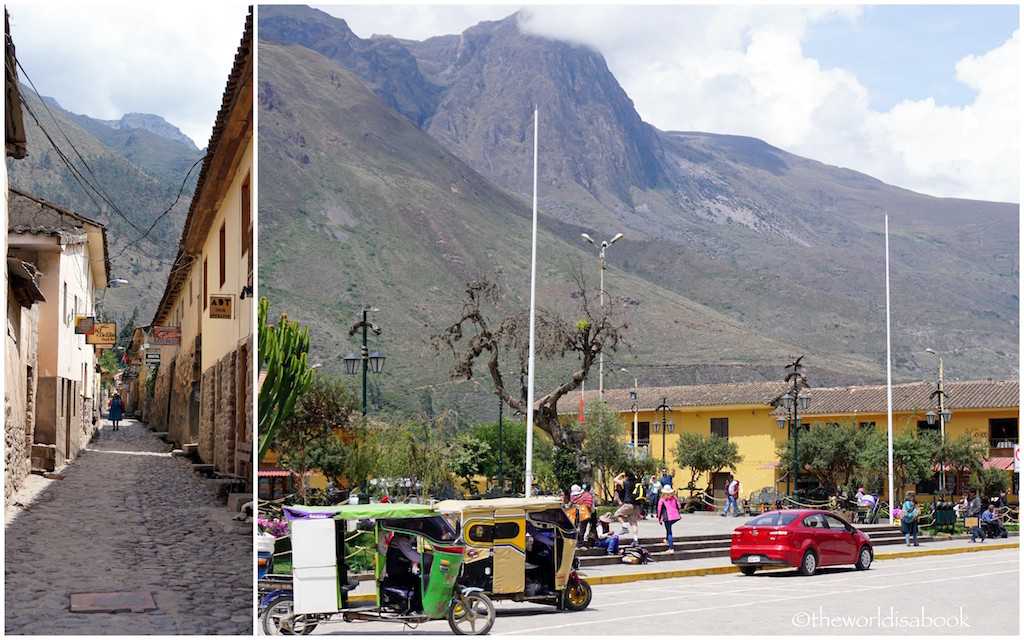 Old store house ruins sit high above the town. But, the main attraction that seems to watch over the town is the large Ollantaytambo Fortress. There were large agricultural terraces. Some are still used today for corn, quinoa and potatoes.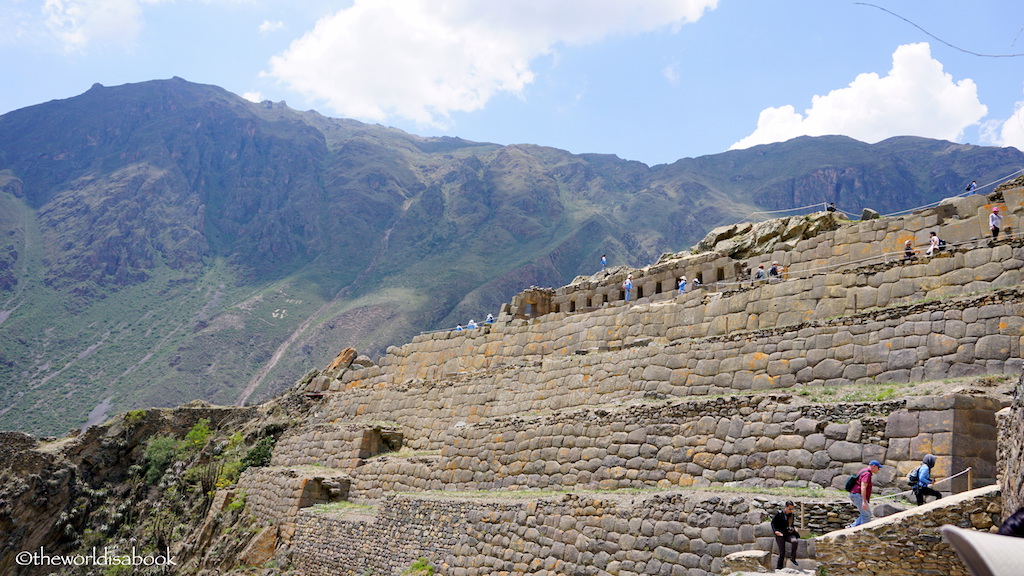 The area was also used for military purposes and for the important Temple of the Sun. The views from the top were amazing. Tour guides are available for about $6 US for about two hours. We highly recommend getting one to learn more about the impressive ruins and their interesting history.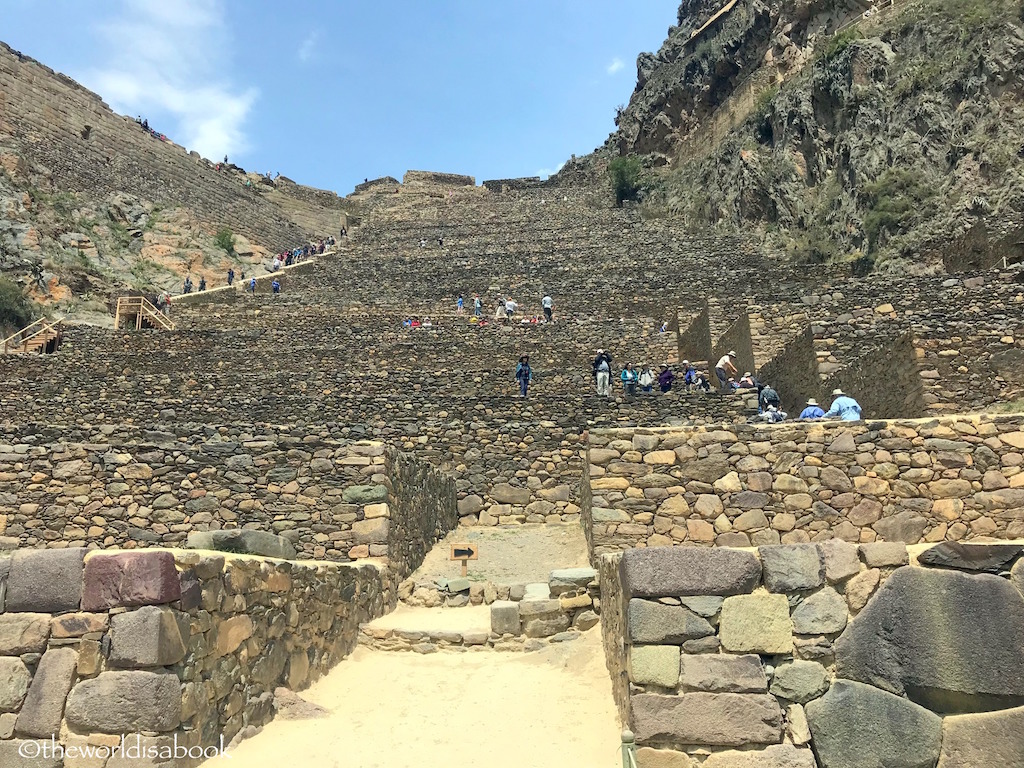 Day 3 – Day trip to Machu Picchu
THE DAY WAS HERE! Starting July 2017, the Peruvian government enacted new entrance rules that limited visitors to two time slots instead of previously being able to stay for the whole day. The shifts are 6 AM – Noon and Noon – 5:30 PM. We chose the afternoon shift. We've read that the crowds thin out a bit in the afternoon and weather seems to be better.
We took the 8AM train ride from Ollantaytambo to Aguas Calientes which is the town below Machu Picchu. The shining blue Peru Rail was waiting for us and you could almost feel everyone's excitement. We opted for the Vista Dome going there which came highly recommended from friends and other travel bloggers.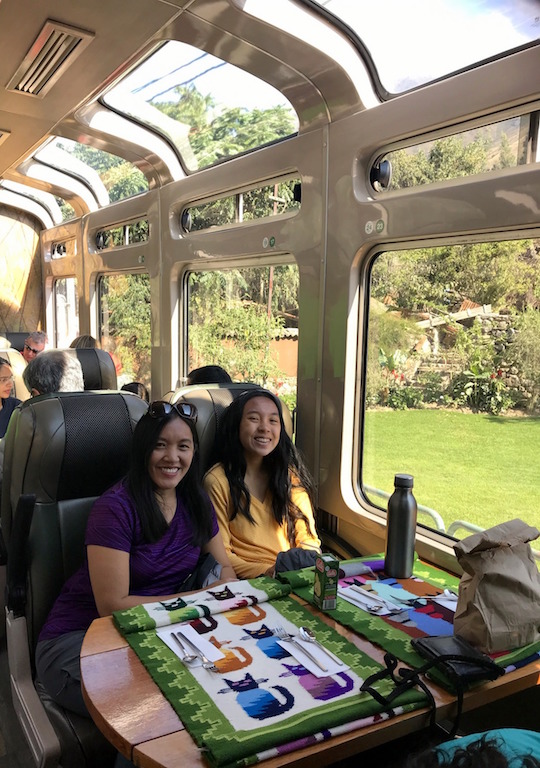 The large windows were ideal for panoramic vistas. We passed along a river as it snaked its way into the valley and some ruins. Once in awhile we caught glimpses of some snow-capped mountains. The landscape eventually changed from villages and farms to rainforest.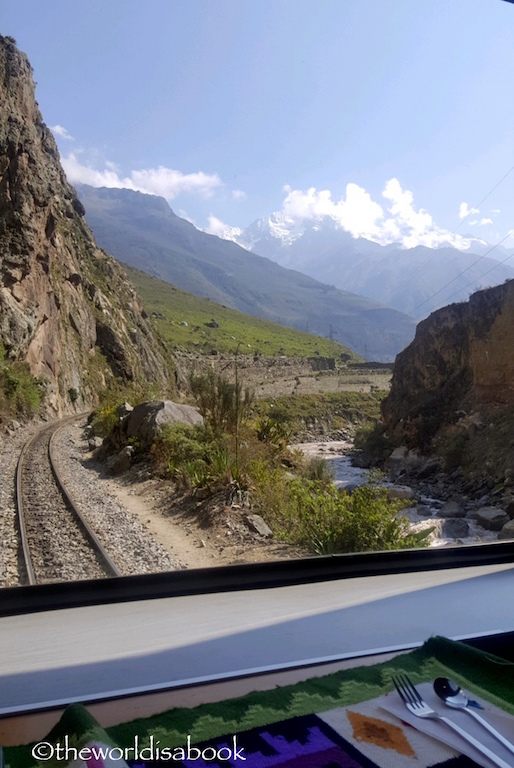 The service was great. The seats were clean and comfortable that faced each other with a table in between. They offered us drinks, carrot cake and on the way home Inka Corn (think supersize corn nuts) and cookies. I loved the local drawings on the train car we rode. We've ridden our fair share of trains all over the world and this was better than most.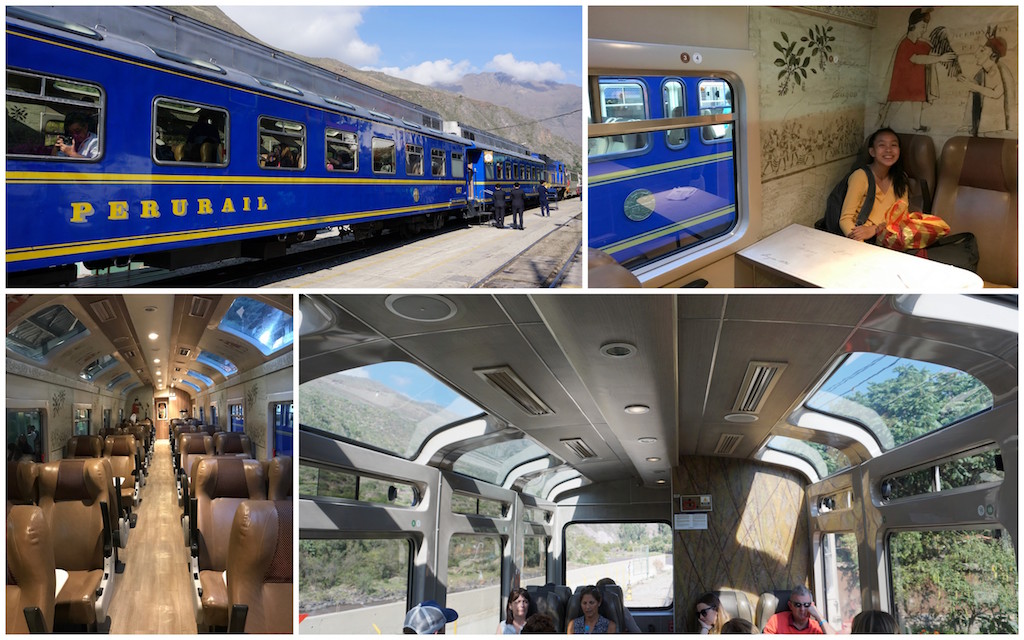 Aguas Calientes
The charming town that sits below the mountain areas and Machu Picchu looks very much like it caters to tourists. We loved the bustling and large market right outside of the train station. There were plenty of restaurants and souvenir stores and a beautiful river alongside it.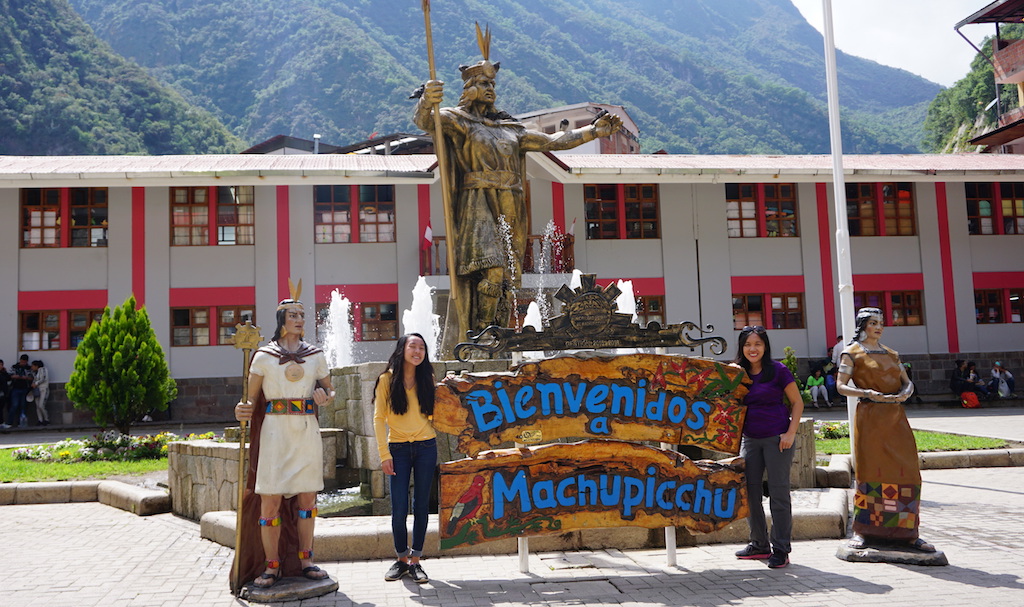 We caught the bus with our tour guide (who we met by the bus ticket line) up the winding road to Machu Picchu. Visitors must also enter the site with an official tour guide now. Though, these weren't heavily enforced. Sit by the window and be amazed at the views but this isn't for anyone who gets motion sickness right away or fearful of heights.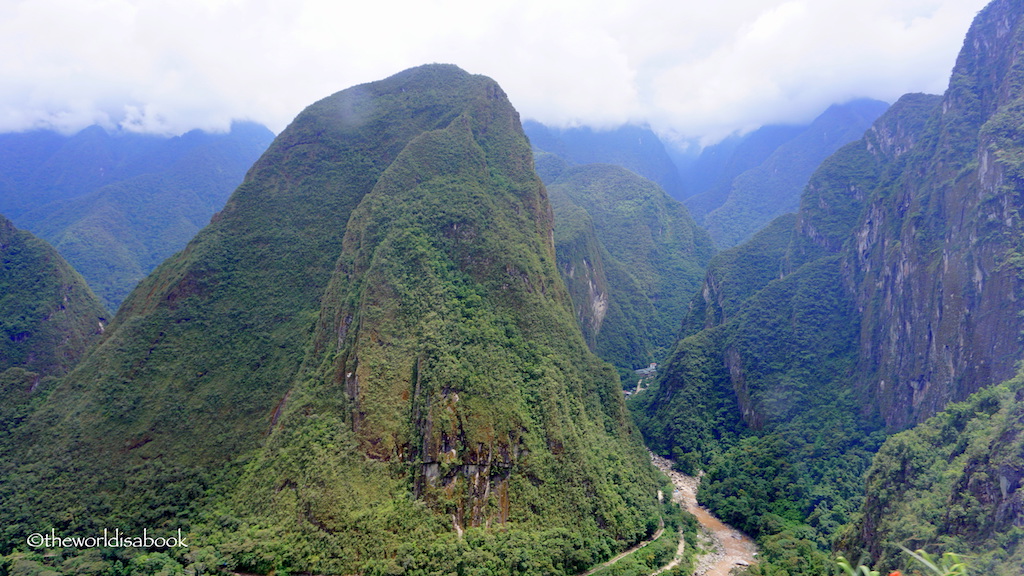 Machu Picchu!
I have so much more to share about this incredible place. But, for now, this is my daughter's favorite photo from our entire Peru trip. She followed the llamas moving to higher ground to try and take a selfie with them and ended up with this memorable shot.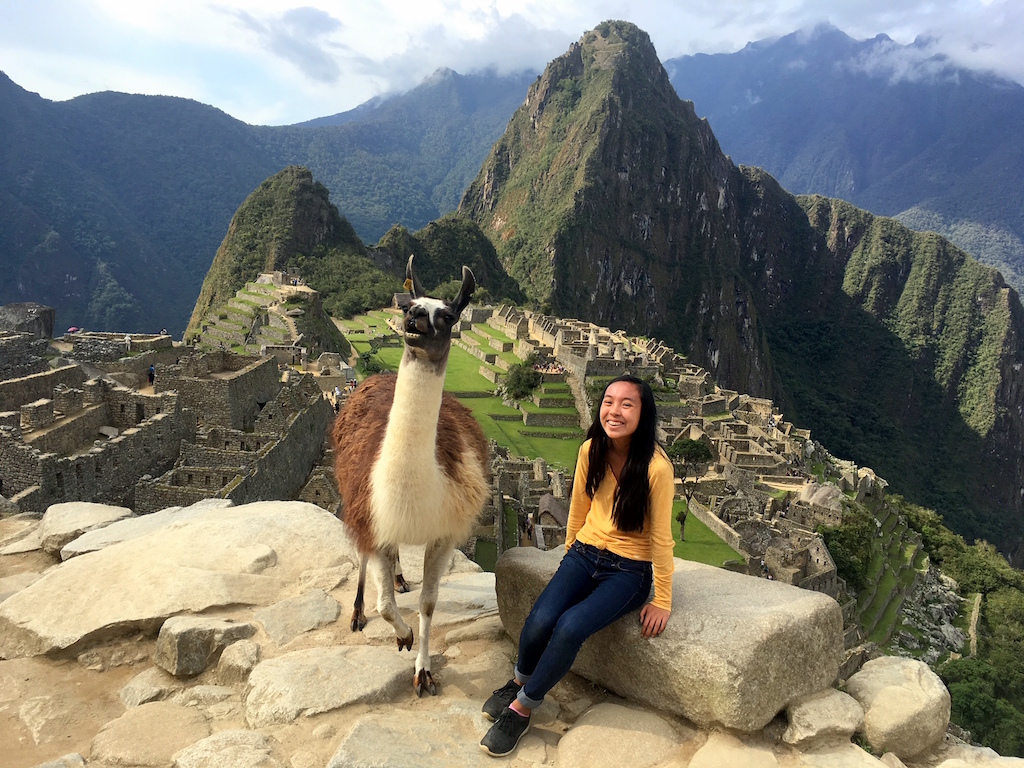 Our guide really made Machu Picchu come alive for us and made us appreciate this never completed complex. It was a surreal feeling to finally be standing in front of this postcard view after many years of dreaming about it.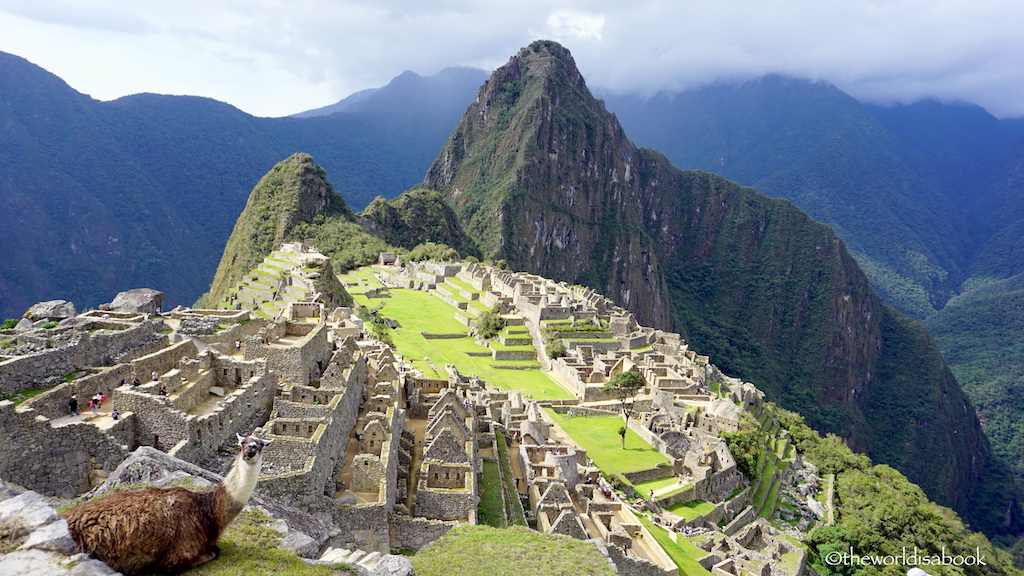 Go! It is so much more incredible in person. We stayed for about four hours in the complex including lunch and bathroom breaks.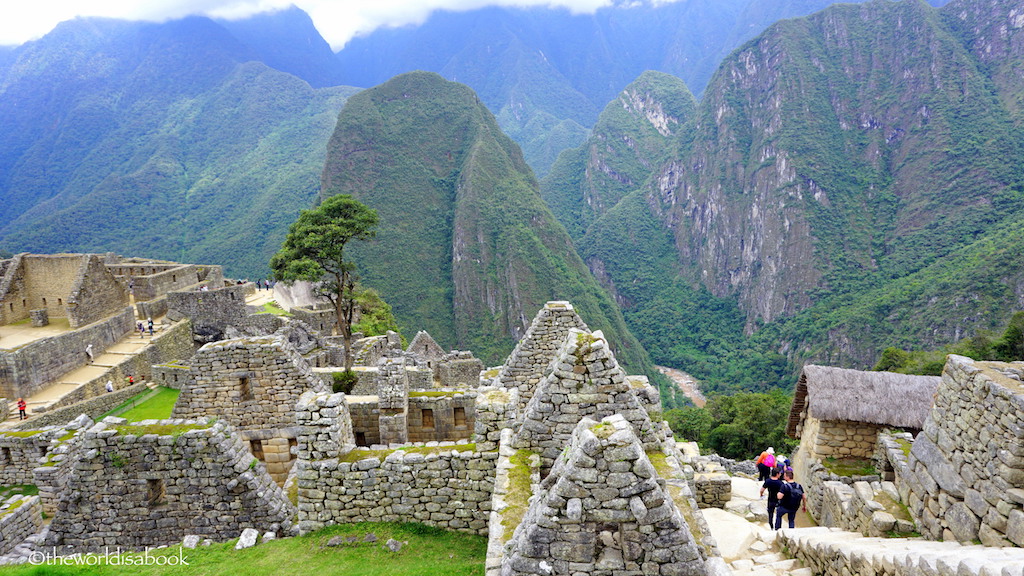 Day 4 – Maras, Moray, Chinchero and Cusco
We made our way back to Cusco with several sightseeing stops along the way after an unforgettable day in Machu Picchu. Our first stop was the very unique Maras Salt Mines or Salineras de Maras.
Geometric, terraced shallow pools of water were arranged on a hillside near the town of Maras. These have been around for 500 years. There were about 5,000 pools owned and mined by local families.
The salt comes from a Sacred Valley spring. Water is directed towards the pans through various channels and eventually evaporates leaving behind salt. It was so interesting to watch the locals using simple tools to harvest the salt. Of course, we came home with several bags of salt.
Moray
Our next stop was the Moray Agricultural Ruins. These ruins looked like a bowl of circular terrace fields resembling a Roman ampitheater. Many believed that the Incas used this as an "agricultural laboratory" to experiment with crop growth using various altitude, light and temperature. There is about a 59 F (15 C) degree difference between the top and bottom areas. The bottom part of the terrace/crater descends to 492 ft (150 m).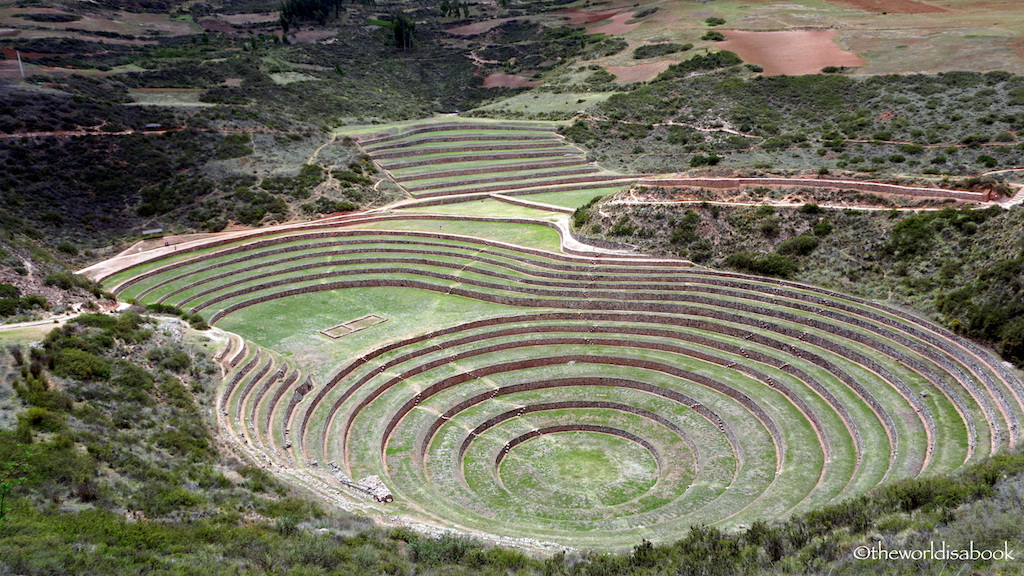 Chinchero
Our driver gave us the option of seeing the Chinchero Ruins or stopping at the textile area and see some local women weave. The town is known for its weaving centers.
We opted for the latter and learned more about the weaving process. It was so interesting to watch the women turn items like flowers, corn and cactus parasite into vibrant yarn colors. It was even more amazing to watch them weave the yarn into beautiful, exquisite textiles.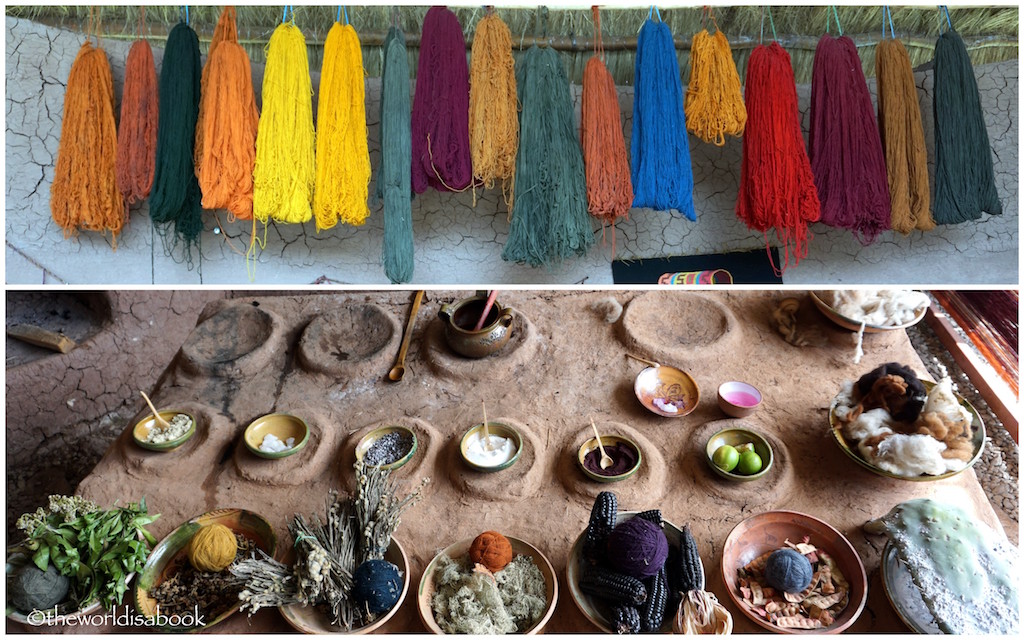 We arrived in Cusco in time for the sunset and dinner. This beautiful colonial city was once the capital of the Inca Empire. This was our view of Plaza de Armas (the main square). The plate on the right is grilled alpaca which was delicious and tasted just like steak.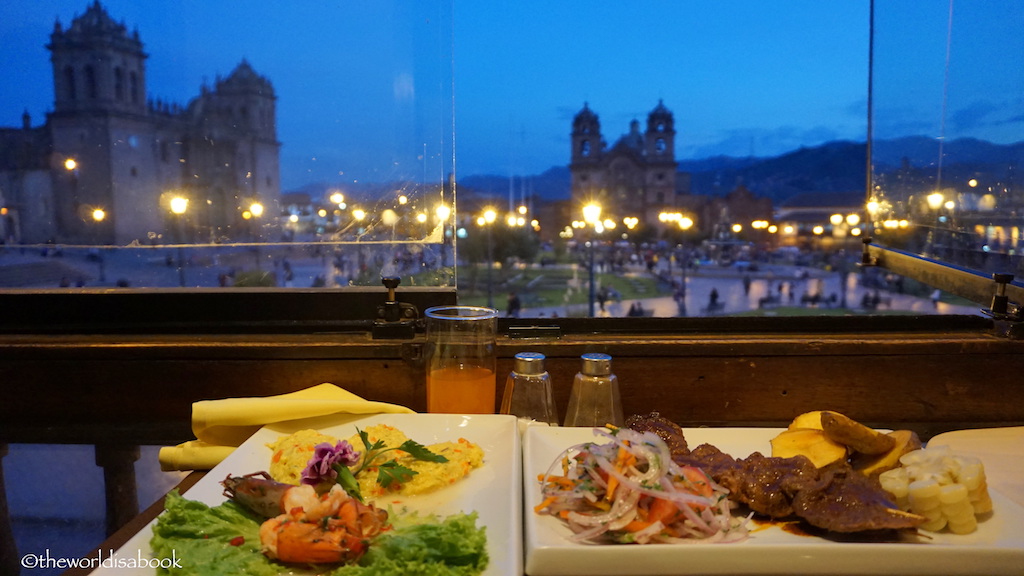 Day 5 – Cusco and Sacsayhuaman/Saqsaywaman Tour
Our first full day in Cusco was spent on a four-hour tour of the ruins surrounding the city and the archaeological gems within the city. The biggest ruin was Saqsaywaman (pronounce it like sexy woman). This large archaeological complex was mainly used for religious purposes and had over 200 sites.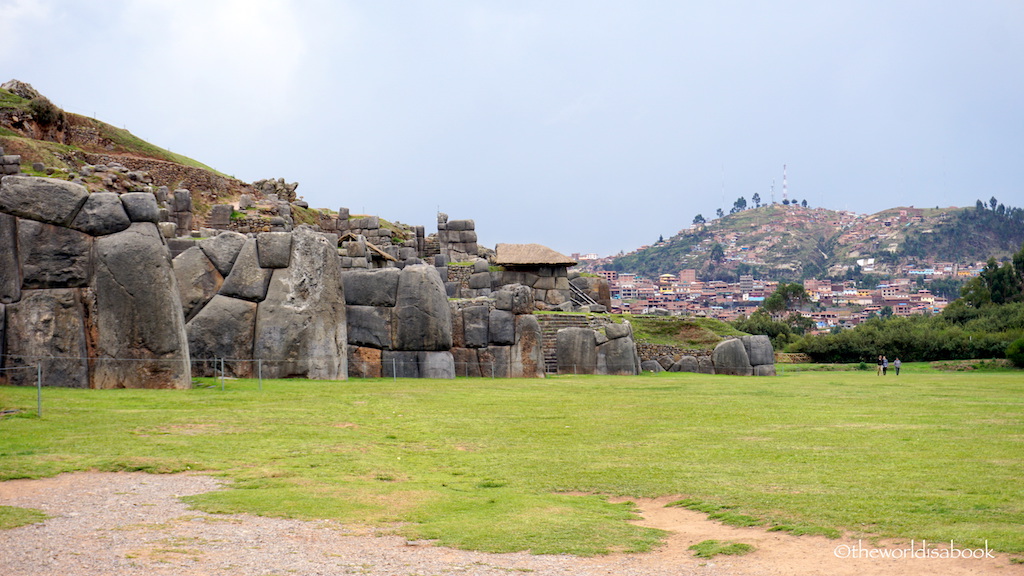 Its name means "Labyrinth" in the Quechua (Andean indigenous people) while the Incas called it the Temple of the Sun. The complex's walls were mainly made up of large limestone rocks put together without the use of mortar.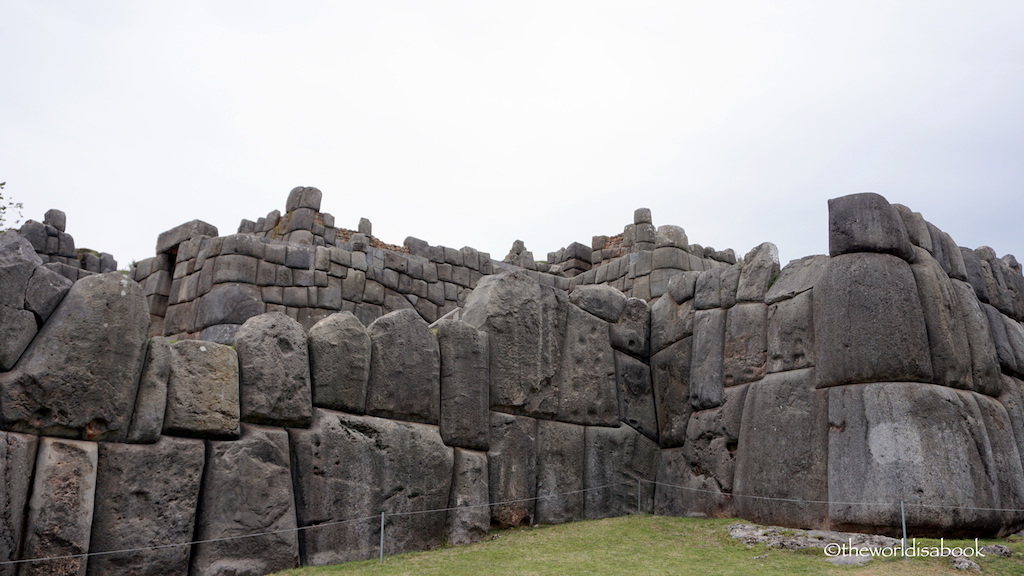 After the ruins tour, we made our back into the city. The Cusco Cathedral is one of two beautiful churches that dominate Plaza Armas. It is the oldest cathedral in South America. We did a tour through this incredible cathedral and its chapels.
It reminded us a lot of the Spanish cathedrals we've visited in Madrid and Toledo. I guess that's to be expected considering the Spaniards conquered and colonized the Incas for over 300 years. Unfortunately, we couldn't take photos while inside.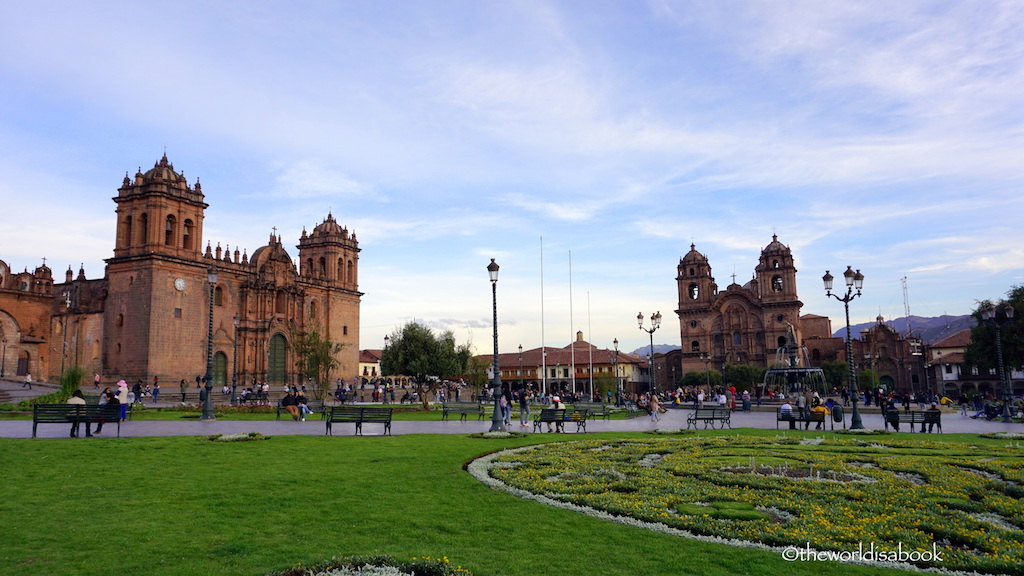 Our last site was the very important Inca empire religious site, the Temple of the Sun or Coricancha/Qorikancha. This once opulent religious site was dedicated to the Creator and Sun Gods and Cusco's religious center. The walls of the temple were believed to be once plated with 700 gold sheets.
Unfortunately, gold was used to pay for the ransom of one of the Incas captured by the Spaniards. The temple was also torn apart and materials were used to build the Santo Domingo church during the Spanish conquest. These are the beautiful cloisters of the St. Dominic Priory. Part of the Inca wall structures and its amazing construction of no mortar use could be seen within these buildings.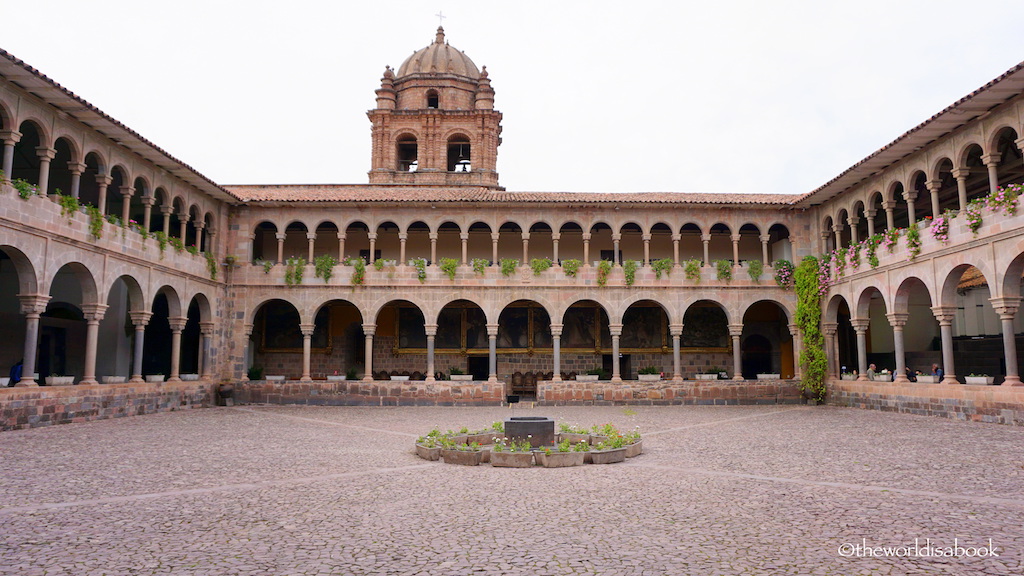 Day 6 – Cusco
Cusco is also a UNESCO World Heritage site and it offers so many attractions and museums. The narrow cobblestoned streets still have remnants of the Inca walls and where the Spaniards built on top of them. We spent our last full day walking around Cusco and the surrounding squares around Plaza de Armas. If your muscles are aching, many vendors offered full body massages for 20 soles ($6 US).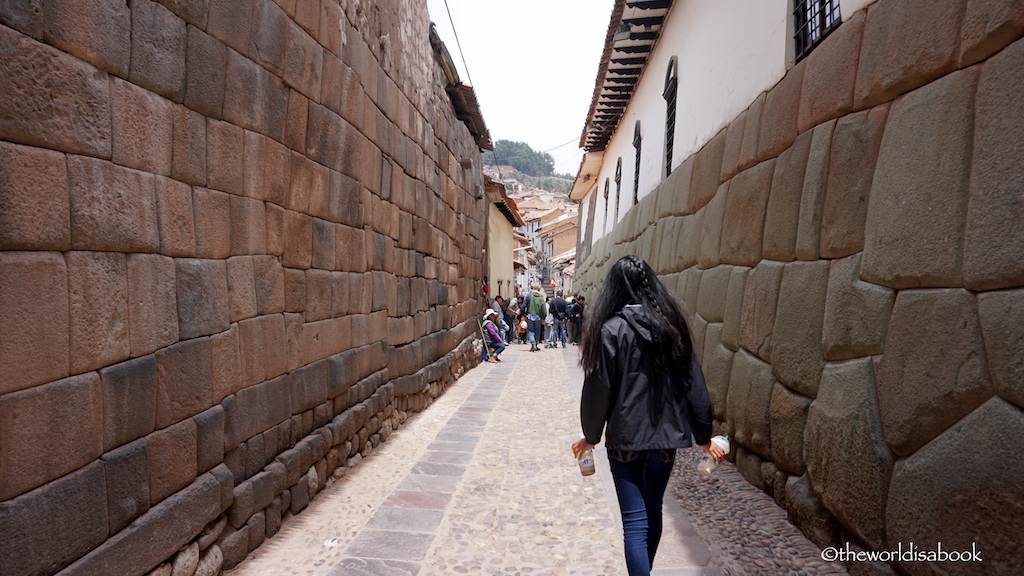 But, the highlight of our day was visiting San Pedro Market. This indoor market was a local hangout and a tourist favorite. It was sensory overload as we walked past many juice stands, vendors and food stalls.
We loved seeing all the local food, cheese, fruits and vegetables. This was one of the best places to buy cheaper food souvenirs like chocolates, Inka corn and fried plantains. It was quite an experience walking through here.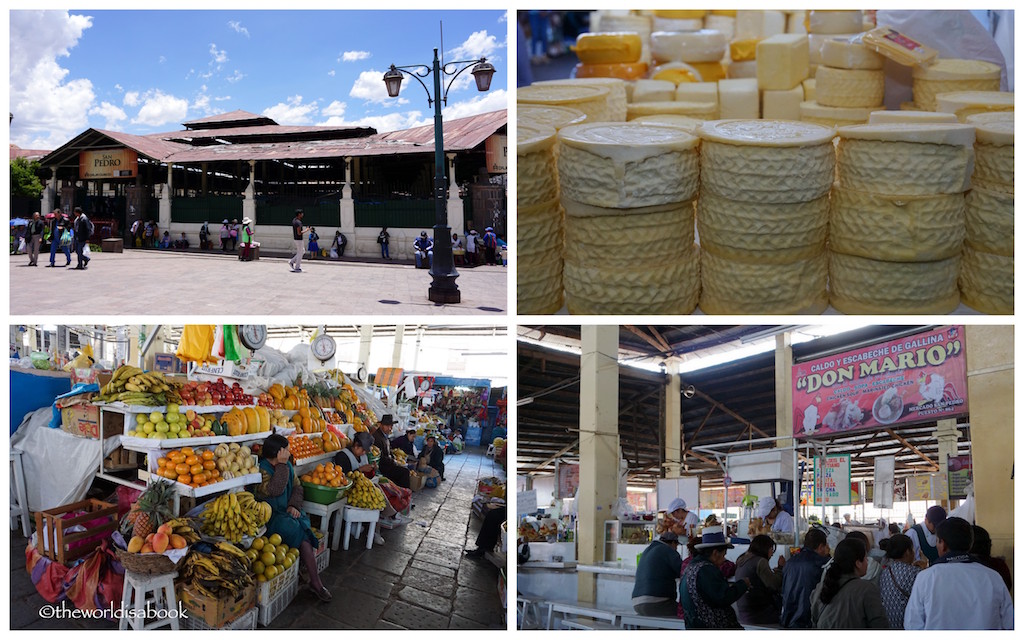 Choco Museo
If you need some energy booster and some great food souvenirs, the Choco Museo (two locations in Cusco) is the place to go. It's free to go into the interactive museum. The chocolate and gift shop also offers various samples and a cacao husk tea.
Some of our group, including two of the kids, did the 45-minute workshop. This included learning more about the chocolate history and its beginnings as a cacao. Though, the best part was making your own chocolates with various flavors and toppings.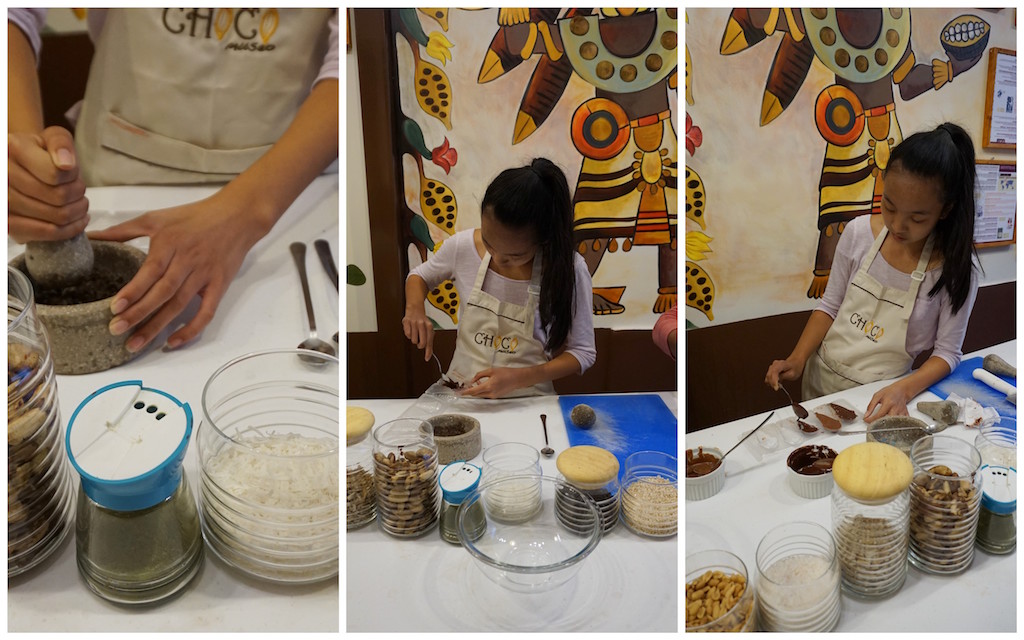 We absolutely loved our time in Peru and can't wait to return. I promised my 12-year-old son I'd take him back within the next two years. He's quite jealous of his sister's adventures without him. Our time was brief but the beautiful country and its friendly people have left a lasting impact. We hope our itinerary helps with your planning or at least inspire you to visit Peru.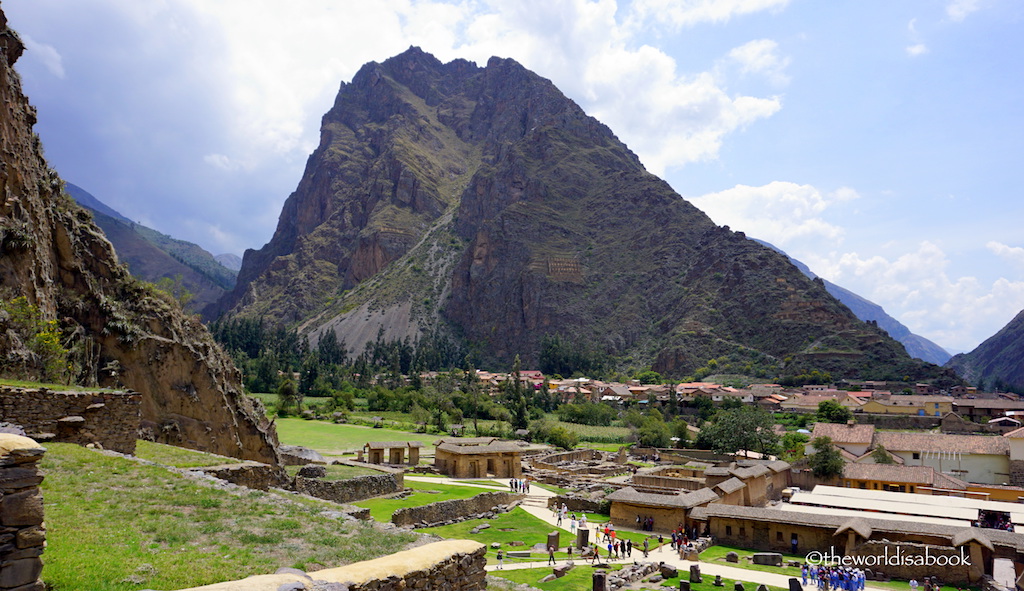 Some tips for visiting Sacred Valley, Machu Picchu and Cusco:
If you're visiting during high season (June-Aug), be sure to reserve your tickets as soon as possible.  This is the official site from Ministerio de Cultura. There are many other online agencies that charge a bit more to book tickets.
Check this site for availability of tickets. We checked it daily to make sure there were still a lot of spaces so decided to buy it on the day of our Machu Picchu trip at Aguas Calientes.
Reserve your Peru Rail tickets early too for the best discounts. Remember to get the Vista Dome for the best views. Our route was from Ollantaytambo to Machu Picchu.
Get the Cusco Tourist Ticket that allows entry to 16 attractions found in Cusco and the Sacred Valley.
*Have you visited Machu Picchu or is it on your travel wish list?
Pin it for later!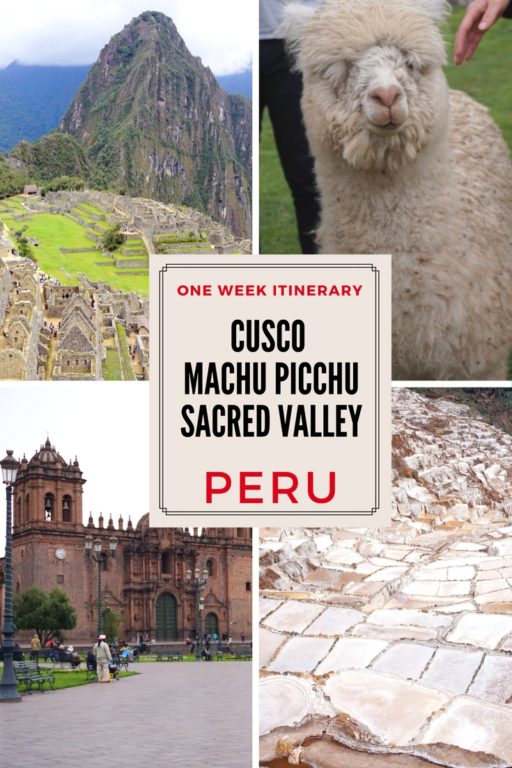 This post is part of Travel Photo Thursday at Budget Travelers Sandbox , Weekend Wanderlust Travel Blog Party, The Weekly Postcard at Travel Notes and Beyond .  Do some armchair traveling and please visit the sites for other travelers' wonderful photos and posts.