5 Free Things to do in Kyoto with Kids
When people envision Kyoto, Japan, images of temples, geishas and orange torii gates come to mind. As the former imperial capital, the city is old world Japan at its best filled with beauty, history, culture and interesting architecture. While it exudes a more calming and spiritual vibe compared to Tokyo and Osaka, it can be just as expensive. For many of us traveling on a budget, here are some free things to do in Kyoto (with or without kids).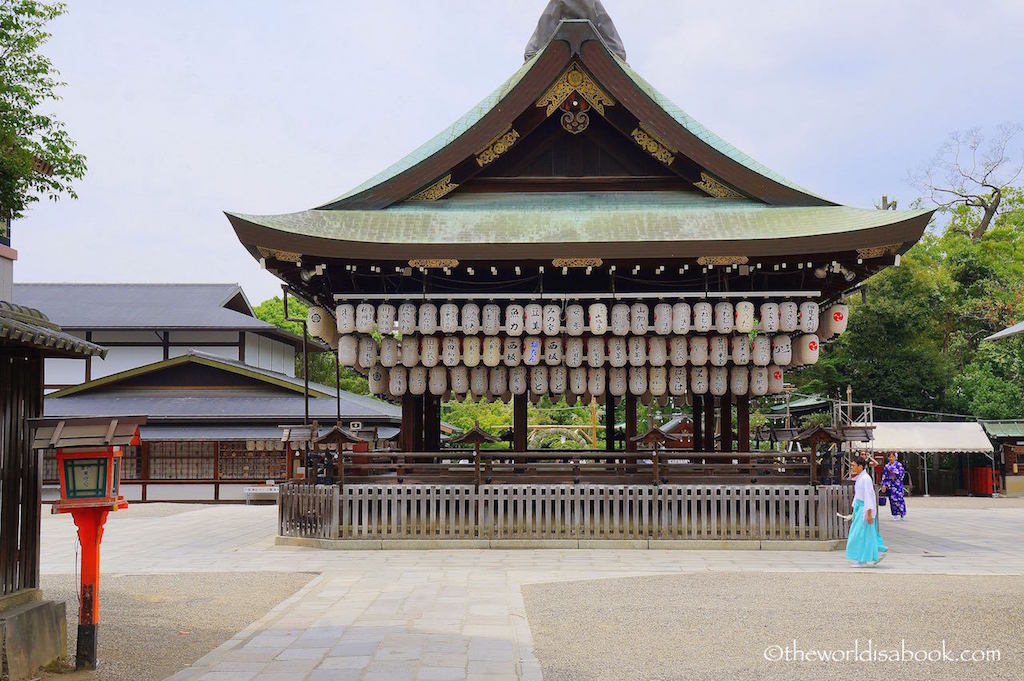 1. Visit Temples
There are over 1,600 temples around Kyoto. Many of them are free to visit and the hard part is choosing which ones to explore. Some are even listed as UNESCO World Heritage sites. Temple hopping is a popular activity. Unfortunately, popular ones like the Golden Pavilion and Kiyomezu-dera have admission prices. But, there are some other free ones worth visiting and are also less crowded. Many temples' grounds and gardens are also usually free to wander around.
The temples vary in sizes from small ones we stumbled across while walking the streets to more well-known ones like Honen-In, Mibu-Dera, Myoshinji, Kurodani and Nishi-Hongan-ji. Temples are a wonderful way to see the amazing architecture, learn about the Buddhist religion and admire the beauty of the gardens surrounding them. It is best to visit the temples early and preferably on weekdays to avoid large crowds.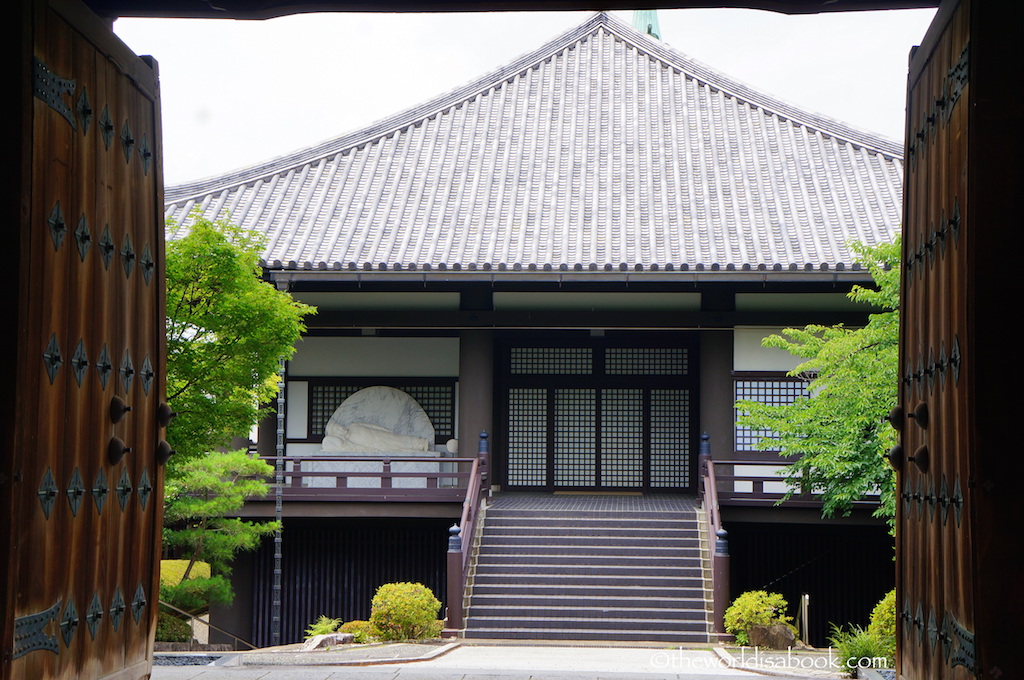 2. Stroll Fushimi Inari Shrine
Chances are you've probably seen this popular area around Instagram as one of Kyoto's most photographed areas. This Shinto shrine, founded in 700 AD, was dedicated to Inari who was the Shinto god of sake (rice wine), rice and prosperity. The two-story Romon Gate dominates the entrance and was surrounded by many structures housing shops and worship halls.
But, the shrine's main iconic attractions were the over 10,000 red/orange torii or Japanese gates. They towered over trail that eventually led to the top of the sacred Mount Inari. Each torii was donated by local and national businesses and organizations who were grateful for their good fortune and hope for more prosperity. See our adventure at Fushimi Inari Shrine here.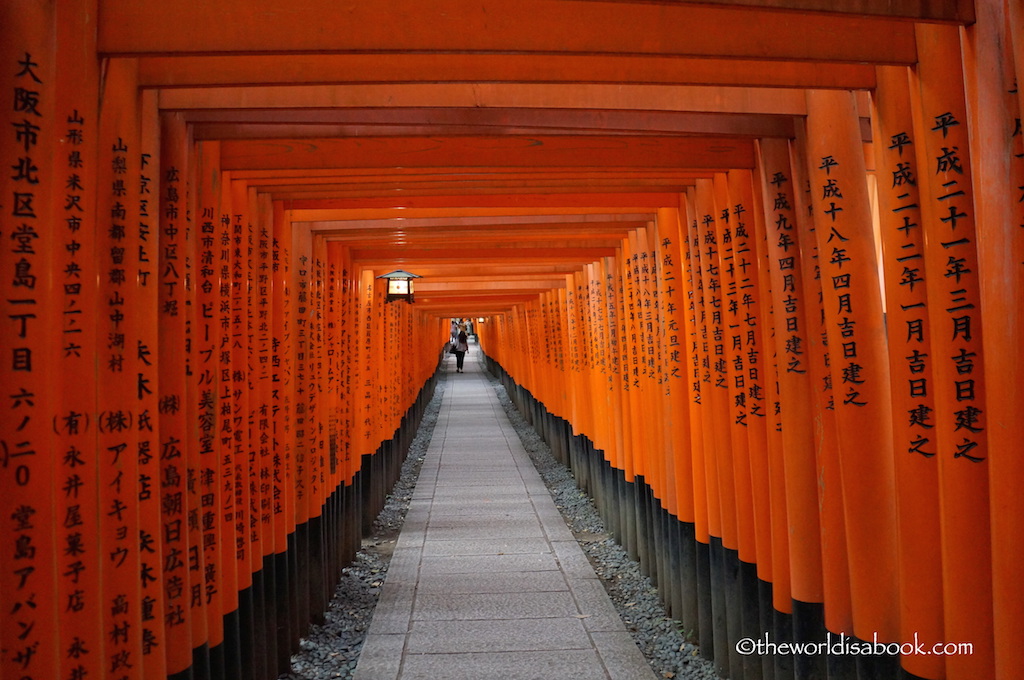 3. Explore Historic Districts
Kyoto is filled with so much history. It is one of the best places to walk to experience the streets and culture. Here are some areas worth exploring:
We loved walking through the 1.2 mile (2 km) path along one of Kyoto's best-preserved areas. Narrow stone-paved paths were lined with old wooden, traditional buildings that are now home to shops and restaurants. Walking around here was like stepping back in time.
There were many hidden alleys and structures to explore in the area. Don't miss the pedestrianized historic streets (Ninen-zaka and Sannen-Zaka). This can get very crowded during cherry blossom season. My kids enjoyed looking for the many Buddhist statues with signs that told us who they were and how to touch them for good fortune.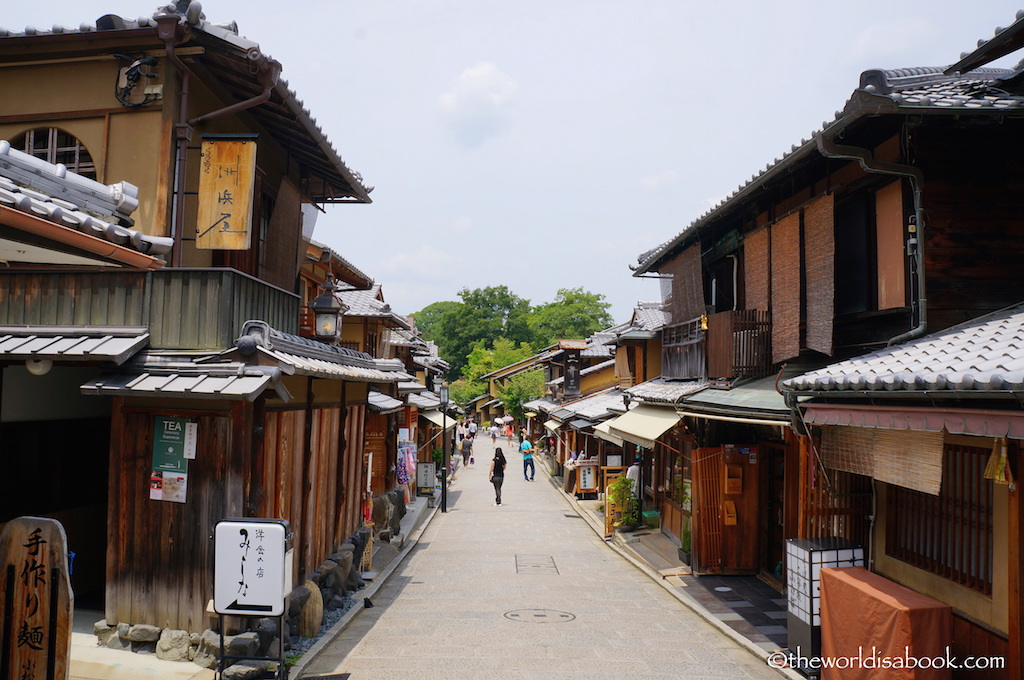 The historic Gion District is Kyoto's popular entertainment and traditional arts area. It is known for its traditional wooden machiya houses occupied by teahouses, restaurants, shops and the best place to spot geishas and their apprentices. Don 't miss the charming Shirakawa Area lined with willow trees and along a canal.
4. Go on Nature Walks
Kyoto is filled with many green spaces from gardens surrounding temples and shrines to beautiful parks. These are very popular areas particularly during cherry blossom season and for viewing colorful autumn colors. Here are a few options for enjoying some beautiful areas, breathe in some fresh air and be in tune with nature.
Maruyama Park is Kyoto's oldest park and a popular spot for viewing cherry blossoms in Spring. The park's centerpiece is a large weeping cherry tree (shidarezakura) that is lit up at night. The park is filled with garden, duck pond, and food and beverage stalls. It's a beautiful place for strolling, picnics or to let the kids rest after hours of sightseeing.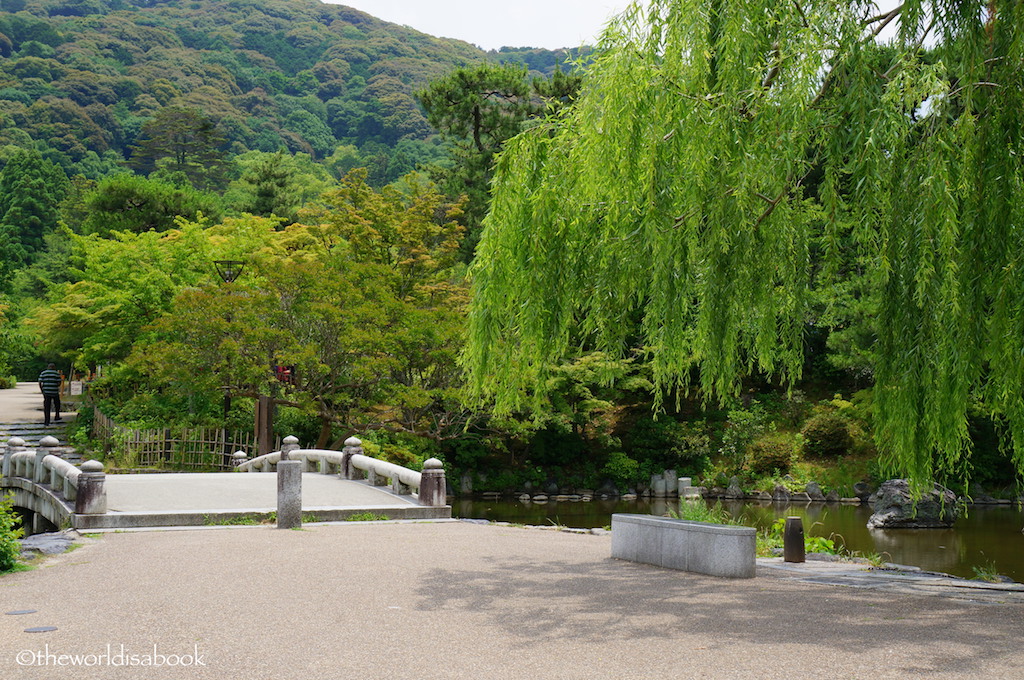 Walk along the banks of the Kamo-gawa River or sit in a spot to enjoy the river flowing to get away from the crowds. There are walking paths on both sides of the river to walk, bike or jog along with wide green spaces for picnics or to bask in the sun. Some parts have play areas for kids. The area around Gion has restaurants with terraces for river viewing and people watching.
The Sagana Bamboo Grove in Arashiyama, located in the outskirts of Kyoto, is also one of the city's most photographed areas. There are walking paths through dense and packed bamboo stalks and groves. Light filtering through the bamboo stalks make for very picturesque scenes.
For a very zen walk, try visiting the Philosopher's Path. It's about a mile (2 km) long through part of the Higashiyama district along shops and cafes. The route is along a canal lined by many cherry trees which makes this a very popular area during cherry blossom season.
5. Sample Japanese Treats
We love visiting Japanese department stores' food halls which are usually at the basement area for cheap meals and free food samples. Having the kids around also means a more generous sampling portion. There is so much variety of food from prepared, raw to all sorts of sweets. It's so much eye candy especially with amazing presentations. It's quite possible you may forego a meal after eating all the samples here. Check out Daimaru Basement Food Hall or Isetan at the Kyoto Station.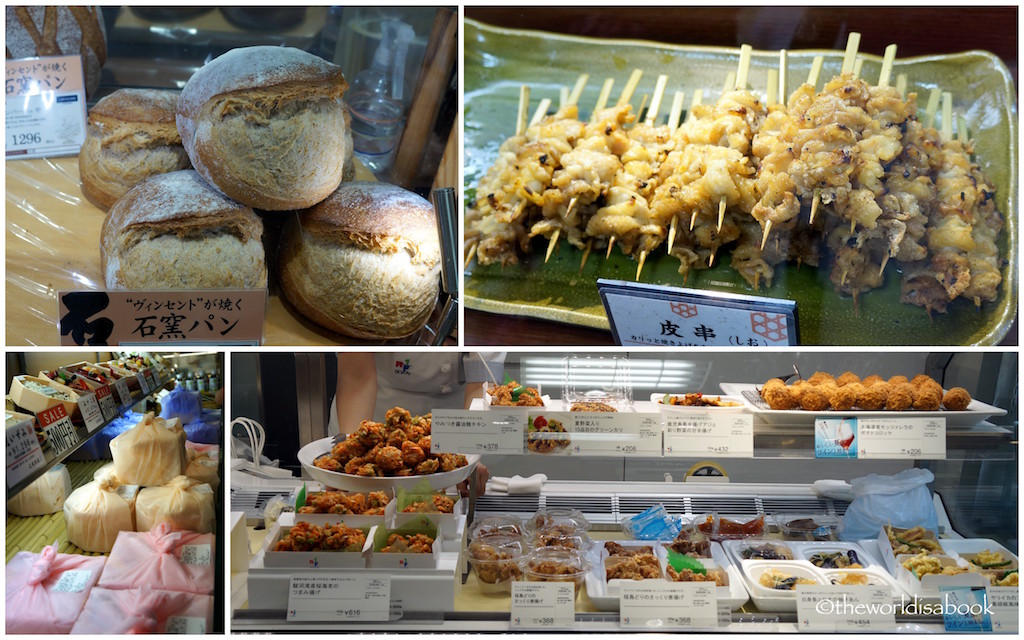 Another area that filled us up with samples was the souvenir shops on the way to Kiyomizu-dera temple. Many of the samples were cinnamon cookies plus Kyoto's special and unique treat called "yatsuhashi". These were sweet treats made of rice flour, sugar and cinnamon filled with various flavors. We love the strawberry and chocolate. They also made for great food souvenirs.
Honorable Mentions
Visitors can sign up for free guided walking tours (around two hours) with an English speaking guide. It's a wonderful way to learn more about the Japanese culture, religion and history that includes visits to temples and shrines and walking through the historic districts. Go to their Schedule page to sign up for a planned tour.
Go to the top of the Kyoto Station for a panoramic view of the city.
*Have you visited Kyoto? Any other free things to add?
This is a part of a series called Five Free Family Friday which is a collective guide of free family-friendly attractions from places all over the world.  If you'd like to contribute with the free attractions in your home city, I would love your guest posts. Thanks!
Pin it for later!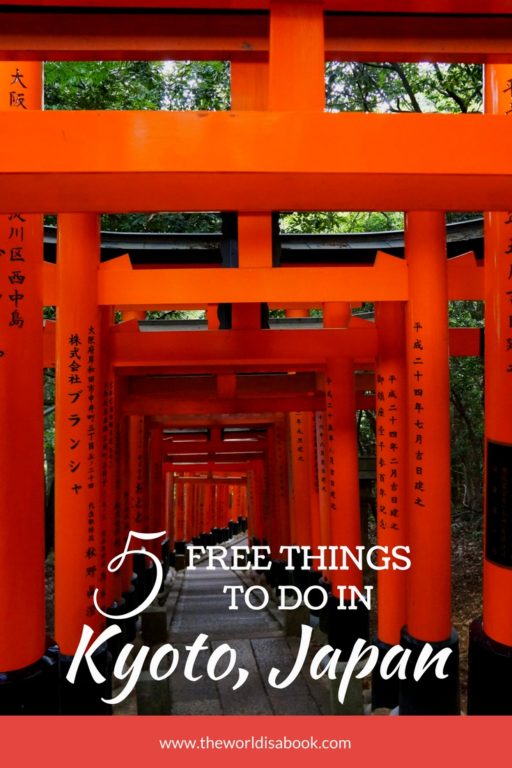 Check out these related posts: