Mountain Tubing with Kauai Backcountry Adventures
We're always on the lookout for unique activities specific to a region. When we booked our trip to Kauai a few months ago, it was a pleasant surprise to find mountain tubing as one of the top activities. We made it to the Garden Isle last week for a long weekend getaway and a much needed break after the holiday chaos. Our tubing adventure along an old sugar plantation's irrigation canals with Kauai Backcountry Adventures was one of the most memorable experiences we've had. Come along for the ride!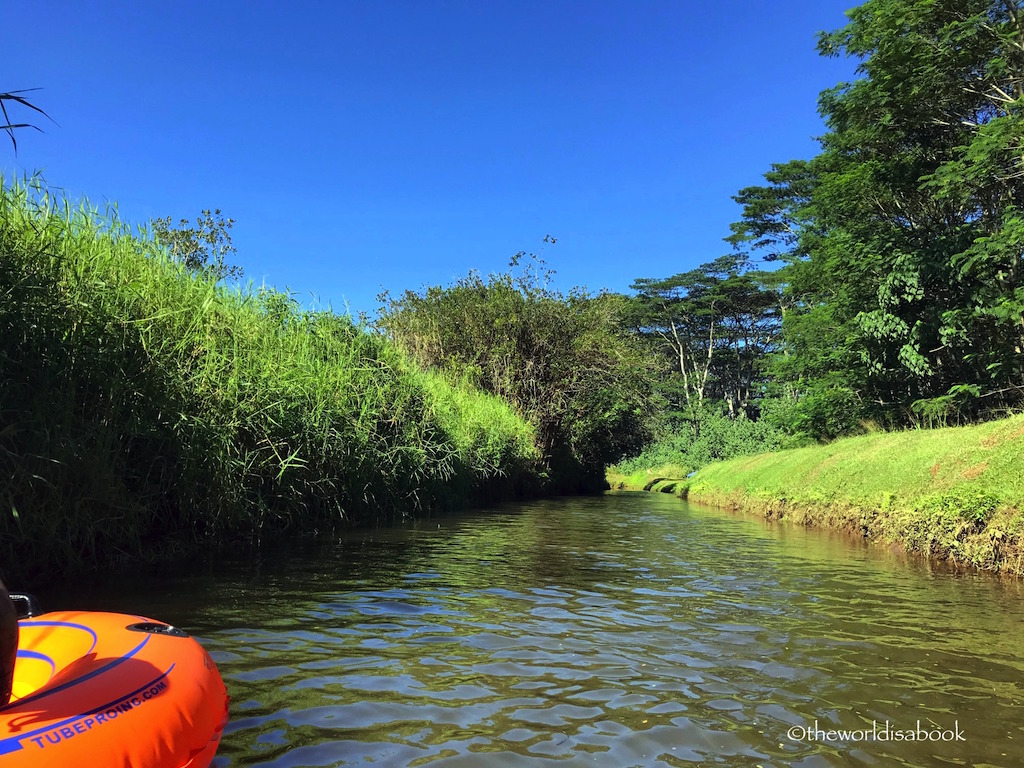 We started our day by going to Kauai Backcountry Adventures' office for our Sunday 9 AM tour. Preliminary "camps" included signing paperwork, getting fitted for gloves, helmets and headlamps. You must also wear water friendly shoes that tie around your ankles. No worries if you don't have them since they had Crocs that you can rent.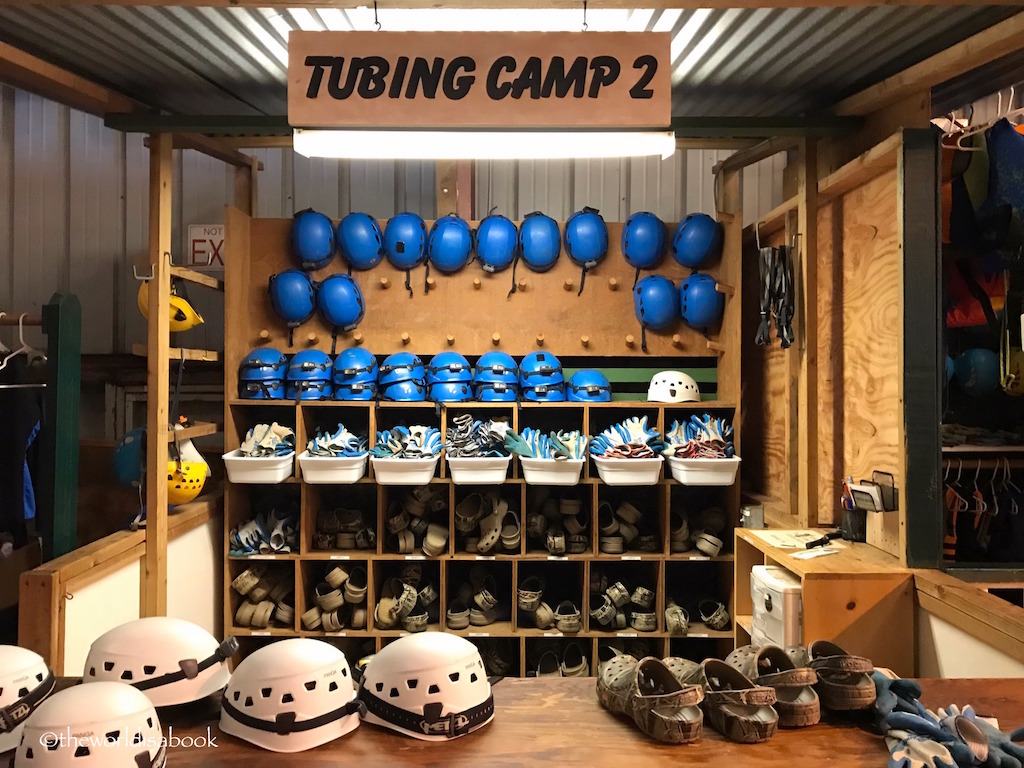 They also continuously showed photos on the TV screens of all their previous trips. You can see all the excitement and see a bit of what to expect. We were riveted and were anxious and excited to get started. My kids don't hesitate to do photo ops. Luckily, they had a prepared backdrop and a tube to sit on to see how it feels before you even leave their office.
The Drive
There were about 20 of us in the group. Many were couples and my kids were the youngest. It was a bumpy 30-minute drive into Kauai's lush green interior. Other than sightseeing along the way, Michael, the guide with us on the van, passed the time by letting us all get to know each other. It was so interesting to meet such a diverse group of people including a Canadian couple who had been married for over 50 years.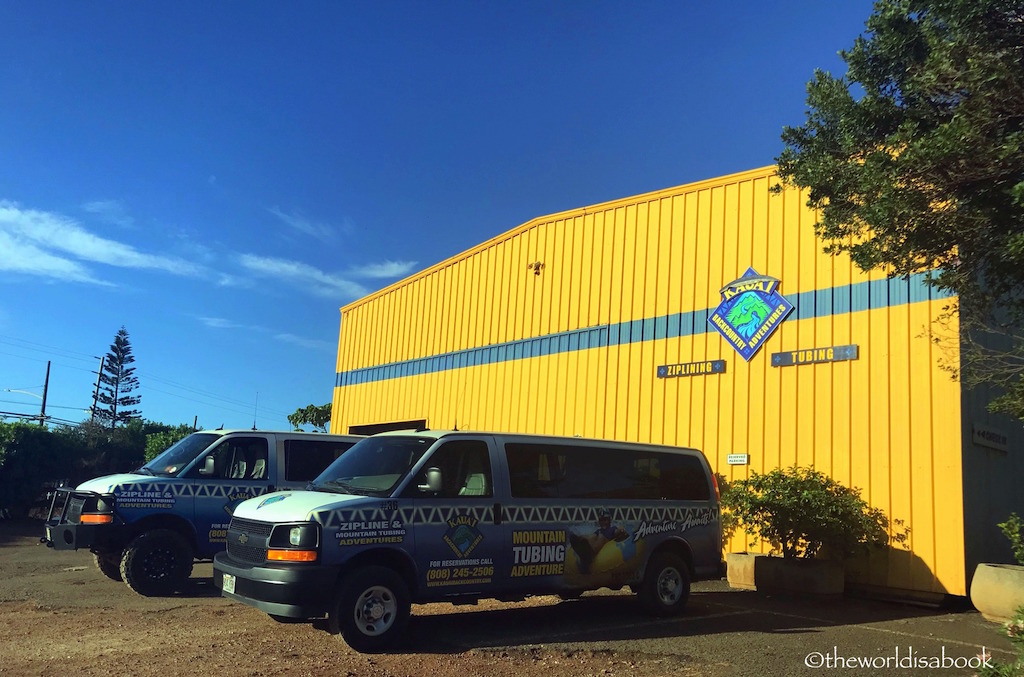 We learned a little about the history of the area we were traveling to. Kauai was a major sugar producer for years with many sugar cane plantations. One of those was Lihue Plantation Company where we were going tubing.
Did you know that it takes about 500 gallons of water to produce a pound of sugar? For years, the plantation used an irrigation system that took water from the mountains and channeled it to the sugar cane fields via a system of ditches and tunnels that stretched for about 51 miles.
Lihue Plantation Company closed in 2000. Luckily for us, Kauai Backcountry Adventures exclusively started using a part of their irrigation system for their mountain tubing tours in 2003. What a great way to make use of it.
The Scenic Overlook
We stopped for about 15 minutes at a lookout over the Mount Waialeale Crater. Apparently, we were really lucky to be here when it wasn't covered with fog or rain clouds.
Mount Wai'ale'ale means "rippling or overflowing water" in Hawaiian. Located in the middle of the island, this mountain averages over 426 inches (10,800mm) of rain annually. The summit was considered one of the world's rainiest and wettest areas.
We could see some outline of waterfalls around the summit crater. It was a beautiful and clear day and we spotted many helicopters going into the crater. Many people we spoke to highly recommend a helicopter ride to really see the hidden beauty of Kauai. It's on the travel bucket list now for our return trip.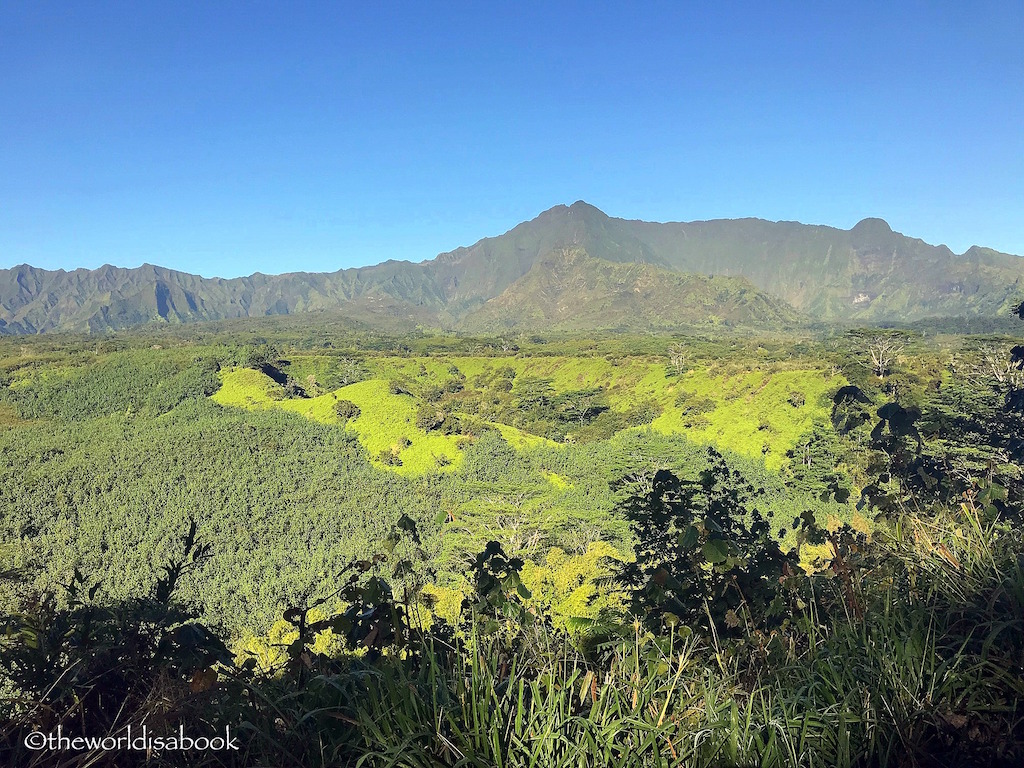 The Ride
We had three guides with us – Michael, VJ and Rudy. One was in the front to lead, one in the middle of the pack and one in the back as the anchor. Like many adventure tours, we spent some time for safety briefing. It was in a beautiful area by a bamboo grove.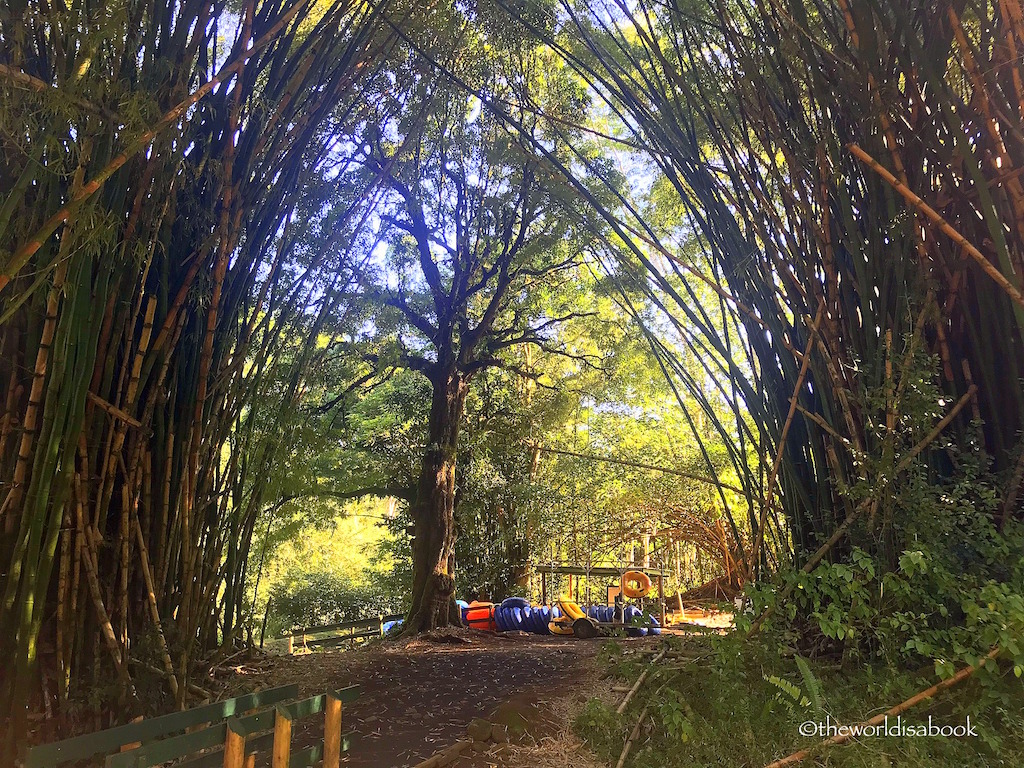 The most important part was making sure we heard the guides say "bottoms up" in particularly shallow areas or our behinds would hit some hard surfaces. No life jackets were needed since the water was only about three to four feet deep.
We descended into the Hanama'ulu Ditch System to get into our large tubes. This was constructed in 1870 as part of the overall irrigation system. The water here is mostly from streams and the Wailua River and now provides water for farmers and cattle ranchers.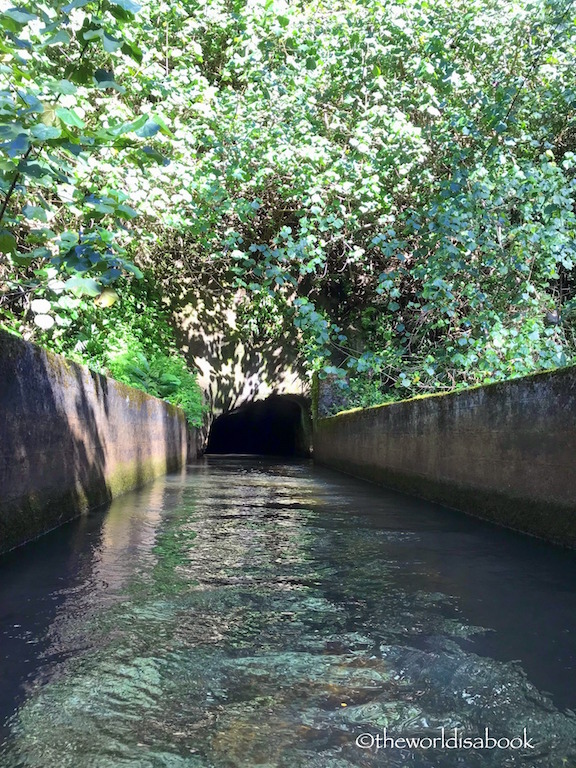 The ditch is about four miles long. Mostly Chinese laborers built it, all by hand and no machinery, for as little as 49 cents per day. It made you really appreciate the hard labor that went into building this irrigation system.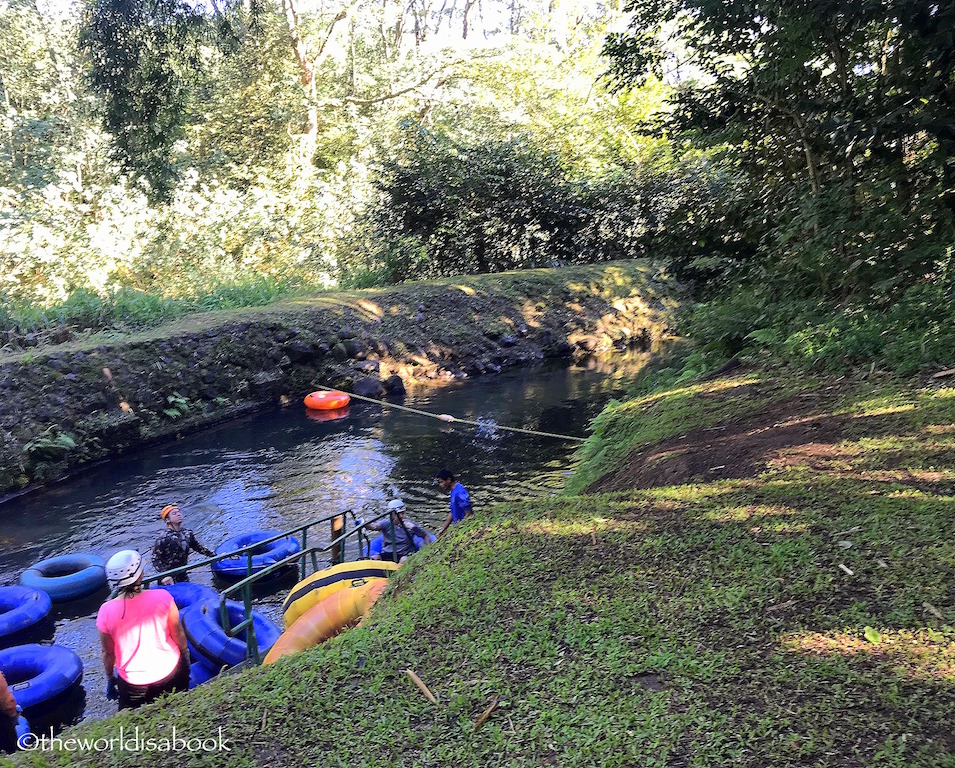 We put on our gloves, helmets and made sure our headlamps were working and we were off. We've done before when cave tubing in Belize but that was down a river and through caves. These tubes were very similar to the ones we had in Belize. But, we didn't have to hook the tubes together with our feet. This was also so much calmer.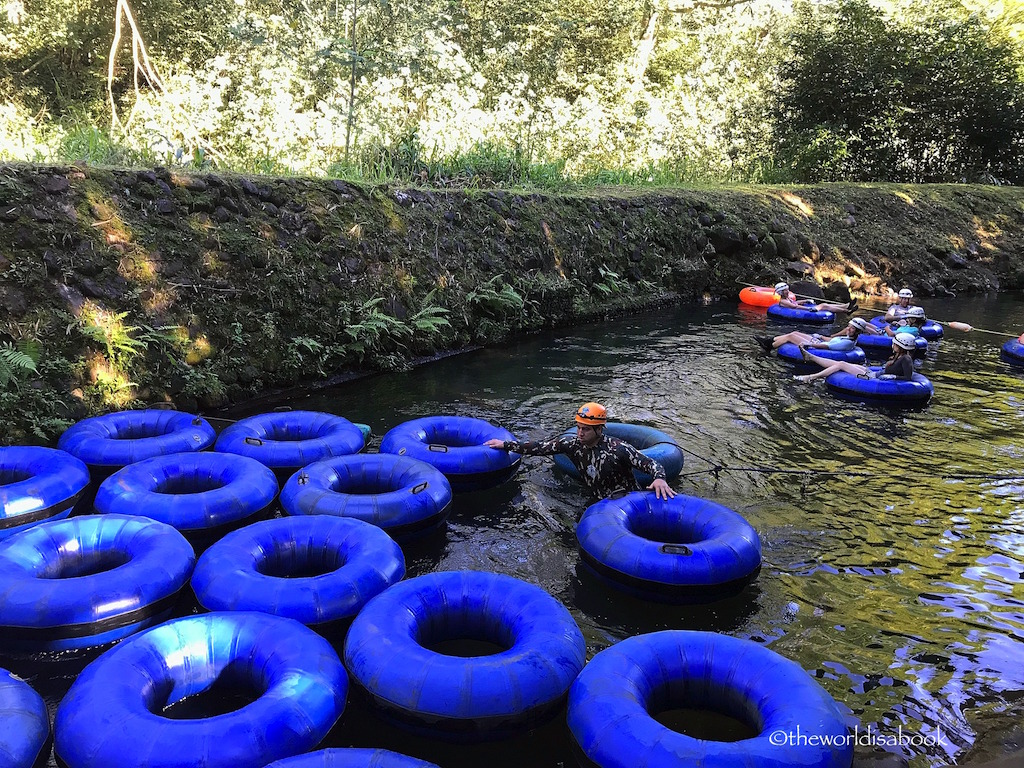 We started floating down the canal and it was fantastic. Sounds of birds chirping and water flowing made it such a relaxing ride. The water was a little cold, at first, but after we eventually got used to it. There was even a little dip in one area that was quite fun.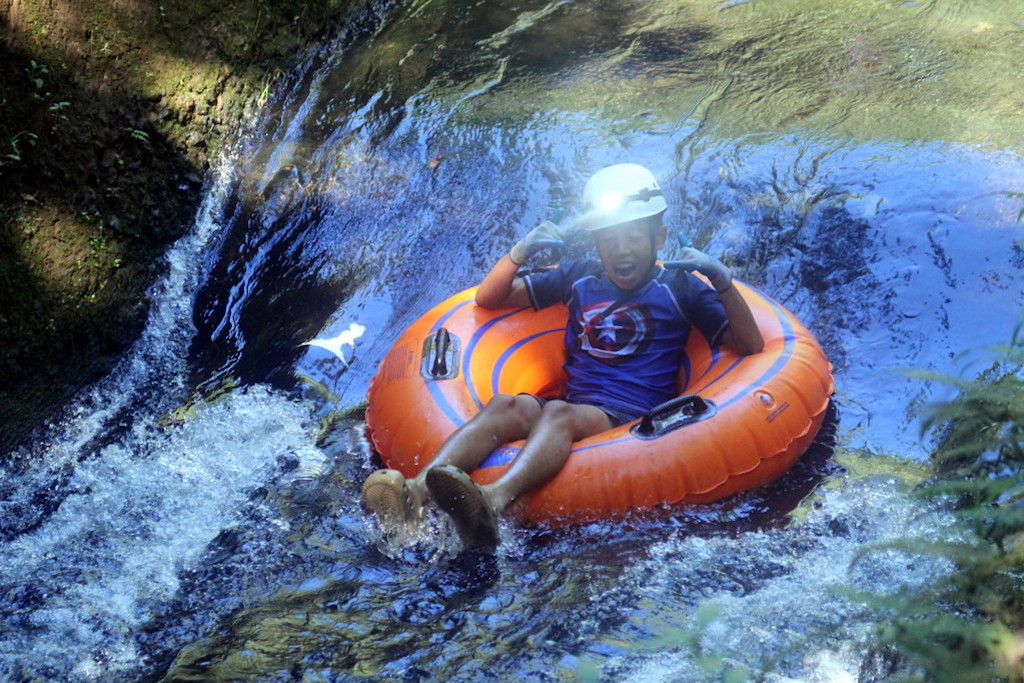 It got a bit crowded in some areas with over 20 people all going down a canal that at most fits three tubes at its widest. It was hard not to bump into each other or even accidentally hit each other.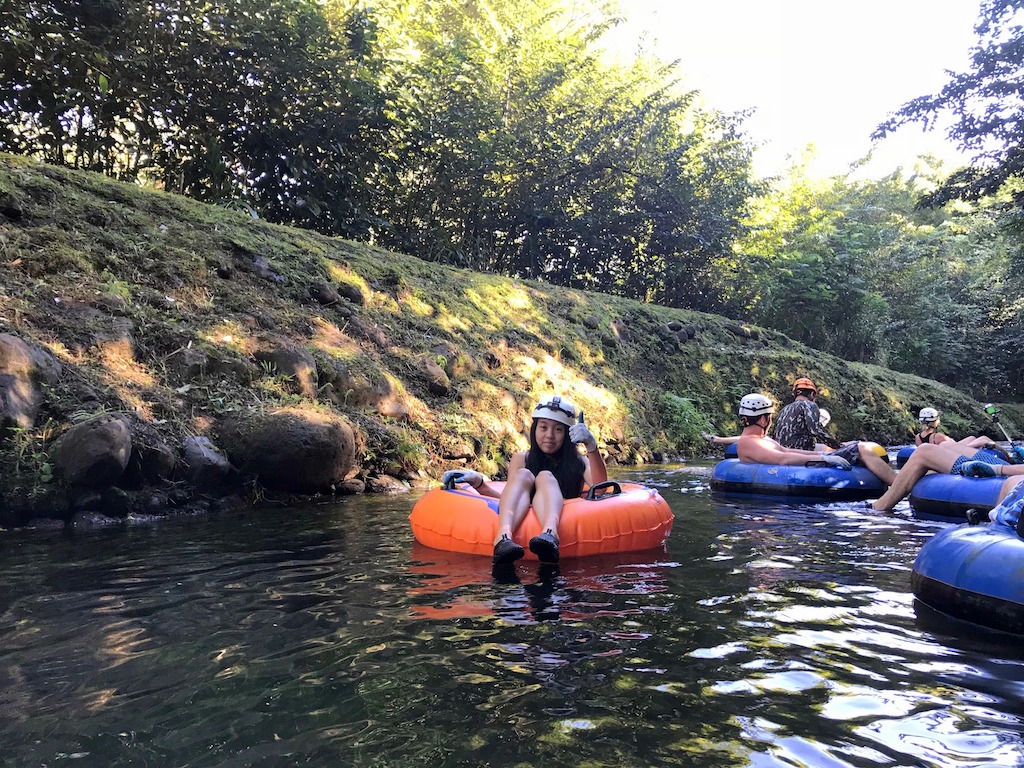 We liked that one of our guides told us to get the "Excuse me" and "Sorry" out of the way by saying it together as a group. We were there to have fun and understand that we'll run into each other so it's okay.
The guides ensured that couples who were separated got together again by dragging one to the other. It made for better pictures and an overall experience. One of them asked if I wanted to be with my husband and kids who were near the front. As much as I love my family, being in the back alone and away for a few minutes in silence was bliss.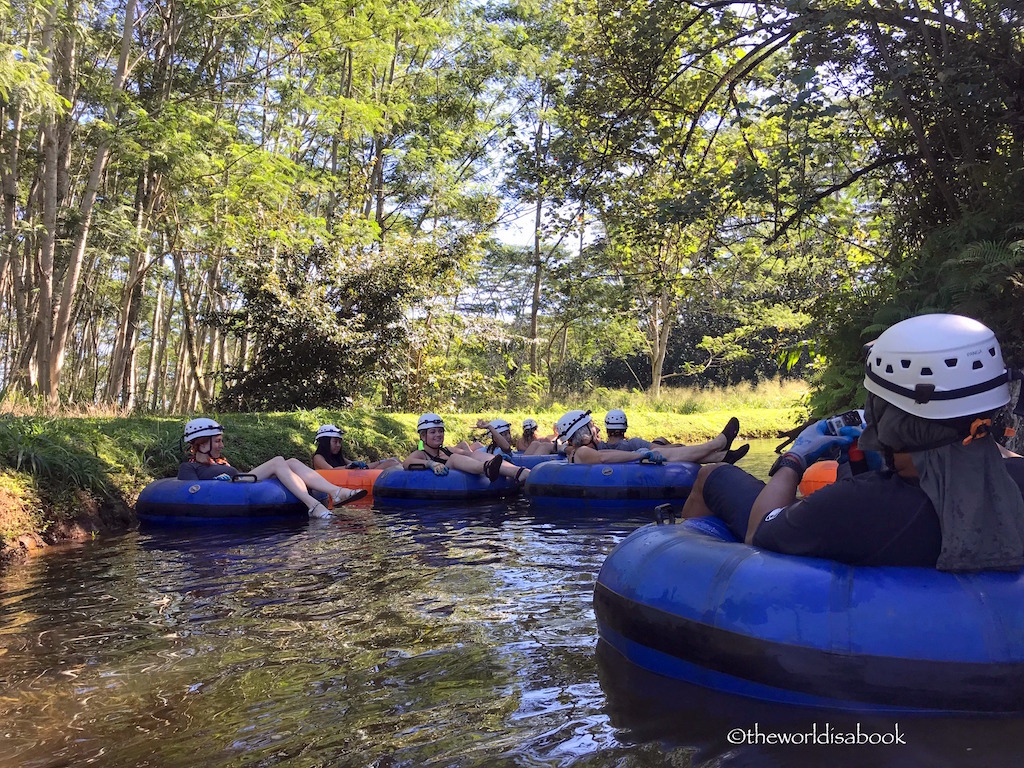 The Tunnels
We passed through five different tunnels during our tour. Two of them we went through really fast due to the water flow. The others were between 5-10 minutes. We went through the last tunnel in complete darkness.
It was pretty dark and I'm so glad we had those helmets and headlamps on so we didn't bump against the rocks. Some areas were also quite tight and we had to push against the rocks. I would think twice about bringing someone who is claustrophobic or younger kids who are afraid of the dark here.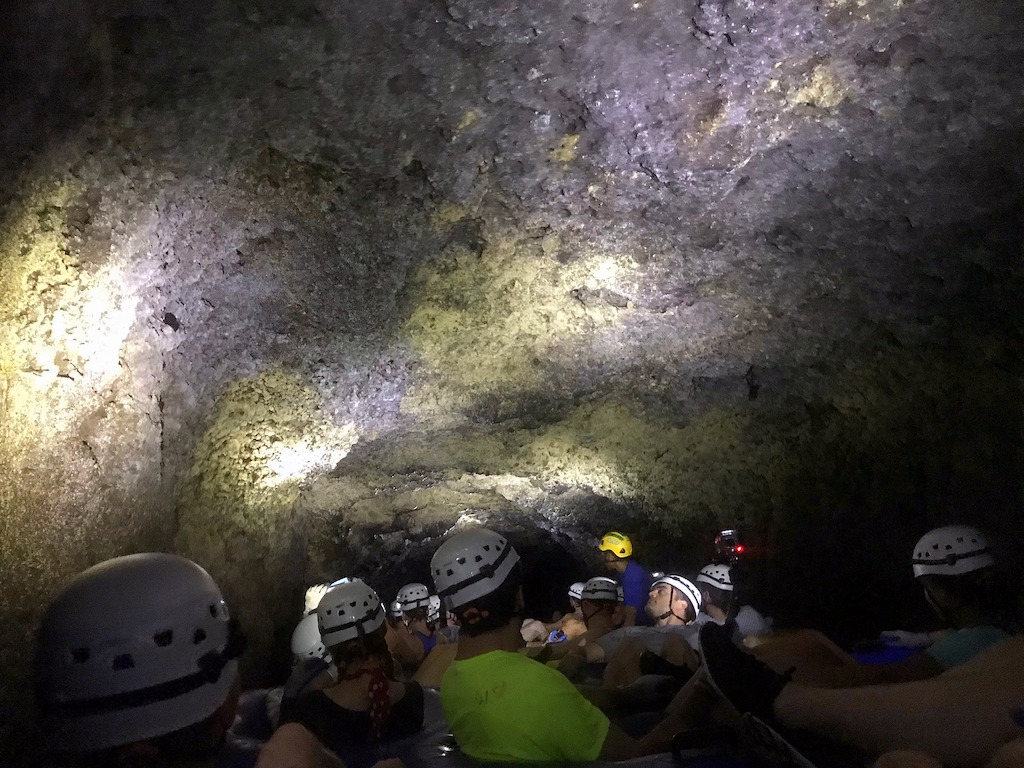 It was remarkable to think these tunnels were over a century old and were built by hand. Can you imagine how long it took and labor intensive it must have been to hand cut these rocks?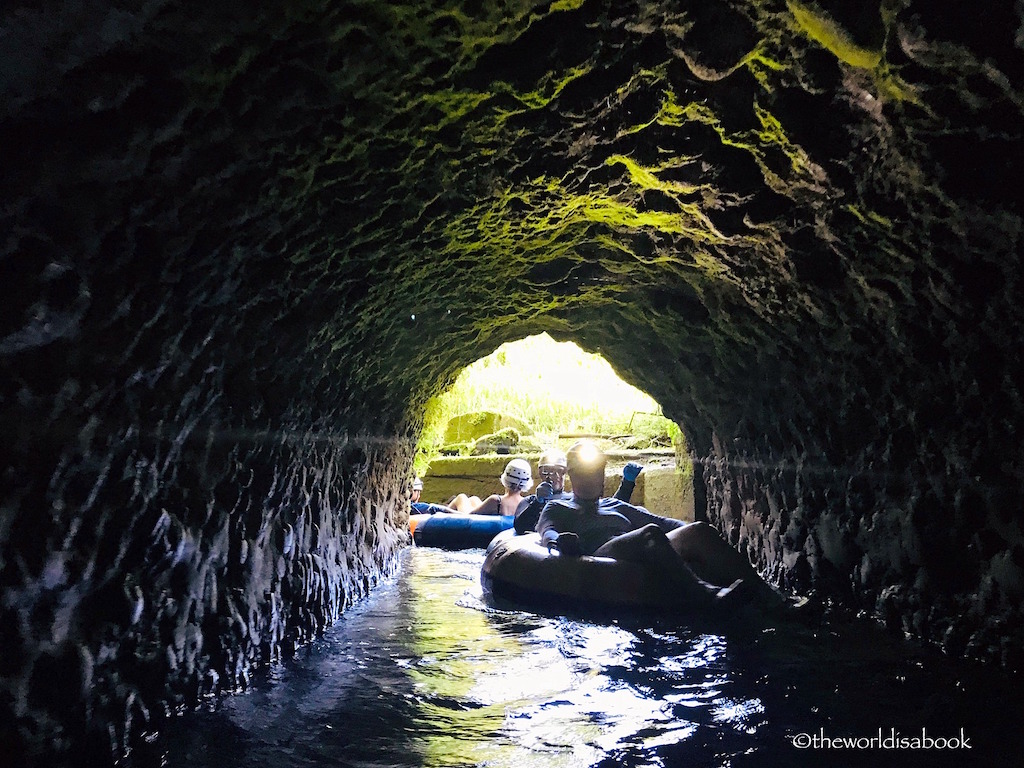 After we got out of the last tunnel, we stopped and enjoyed one area for a few minutes. Many got out of the tube, played around and posed for photos. My kids decided to turn each other over into the water. There was even a tiny waterfall for a wonderful backdrop.
We were all a little disappointed that the tubing portion ended after floating for an hour covering 2.5 miles. We weren't ready to leave! My kids enjoyed this so much they made sure they were the last ones to get out of the water.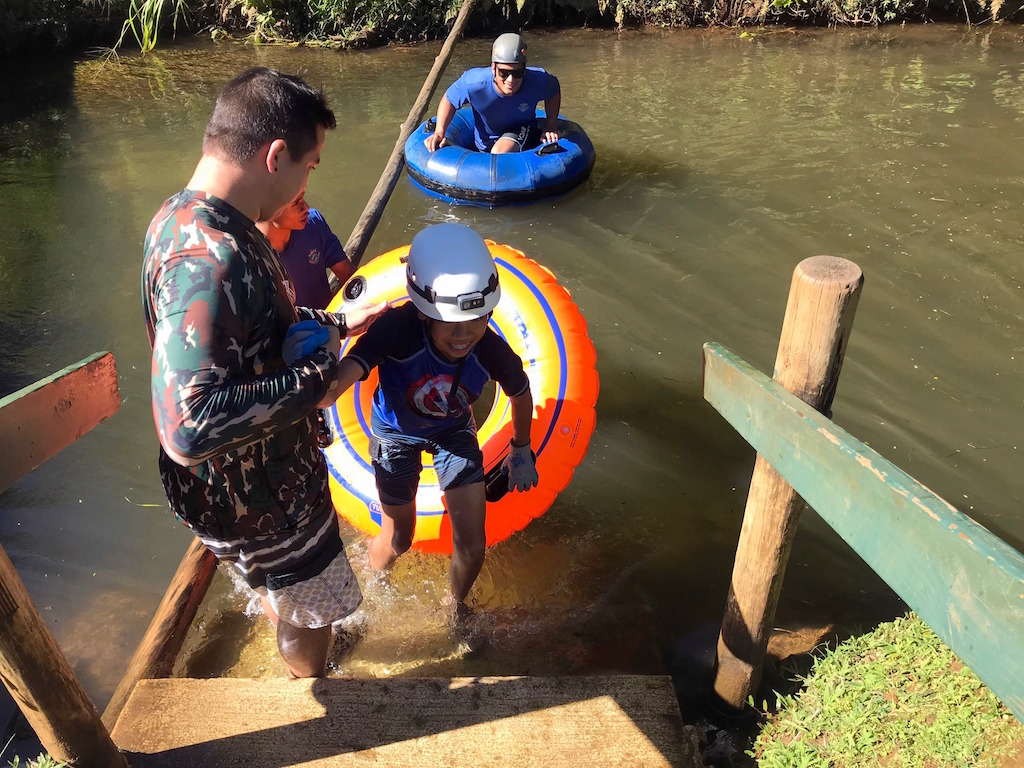 We were then driven to a nearby picnic area for snacks/lunch. Food consisted of deli sandwiches, chips, fresh vegetables, cookies and water.  We were hoping for some local Hawaiian dishes but I guess they have to appeal to the masses.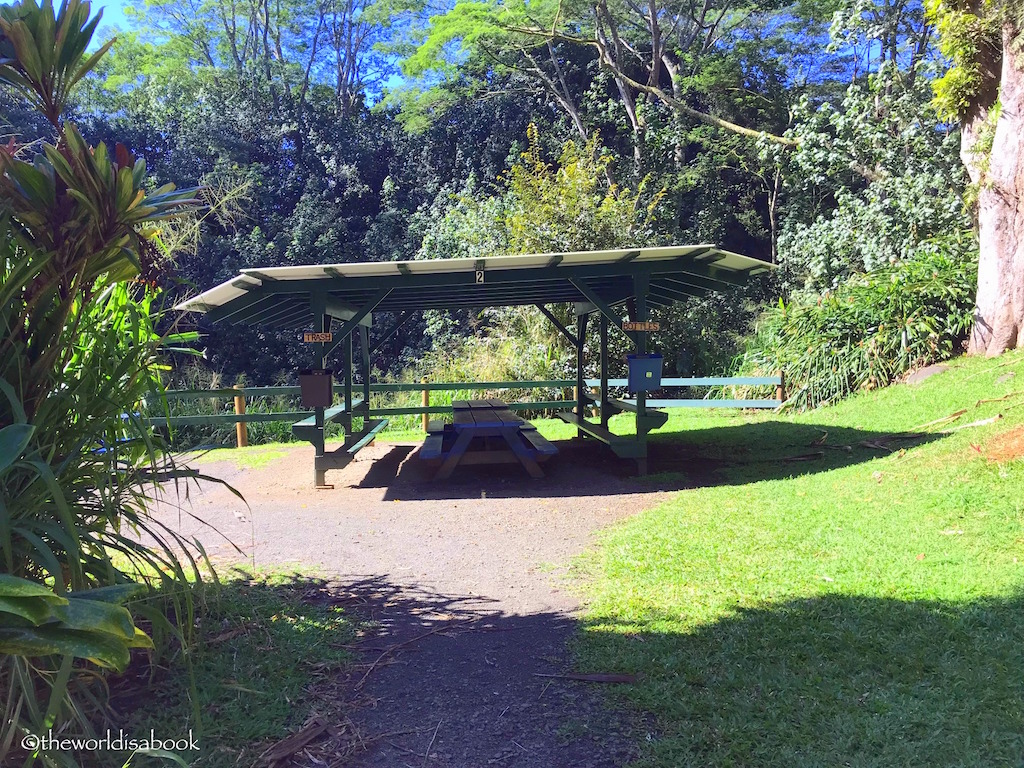 There were three portable restrooms (porta potties) at the picnic spot. If you need to cool off, there was also a natural swimming hole nearby. Chickens are ubiquitous in Kauai so there were many hens and their chicks here to entertain everyone.
If you want do something unique and memorable in Kauai beyond the beaches (go there too), we highly recommend this tubing tour. The guides were so helpful, entertaining, informative and showed us some aloha spirit. Most of all, they made us feel safe while enjoying the experience.
The tour was well organized and well run. We couldn't believe three hours went by so quickly. It was a mix of fun, adventure, beautiful scenery, relaxation and sightseeing the inner areas of the Garden Isle. It's a great overall activity for groups, couples and families.
Tips for Tubing in Kauai
Reserve your time slot

early online. They book up fast. Price: $110 per person. No children discount.
Wear water friendly shoes. They require ones that wrap around the ankle. No flip-flops/slippers but they had various sizes of Crocs to borrow.
Wear swimsuits or clothing that can get wet (preferably not cotton) Cotton gets cold and heavy. The water was cold so I was glad that I was also wearing a rash guard (something my teen daughter wished too)
Bring towels and dry clothing afterwards to change into. The drivers stayed in the van so it was safe to leave our belongings.
Apply sunscreen and insect repellant. We were in the sun for some portions when not in the tunnels or in areas covered by trees.
Bring Go Pro or waterproof camera or smartphone with waterproof case. They had photographers who will capture everyone in the group and all the action. The photos we got from them were wonderful. Some of them are featured on this post. The package price of $30 for over 200 photos was so reasonable. Photos can be purchased even after you get home.
Bring some cash to tip your guides for all their hard work.
Overall time for the tour including tubing, lunch and driving was about three hours.
Restrictions:  Age: Children must be 5 years old and older;  Weight limit: 300 lbs (136 kg); Height: Minimum of 43 inches (1.09 m) tall
*Have you heard of or gone tubing before?
A little video of our mountain tubing adventure:

Pin it for later!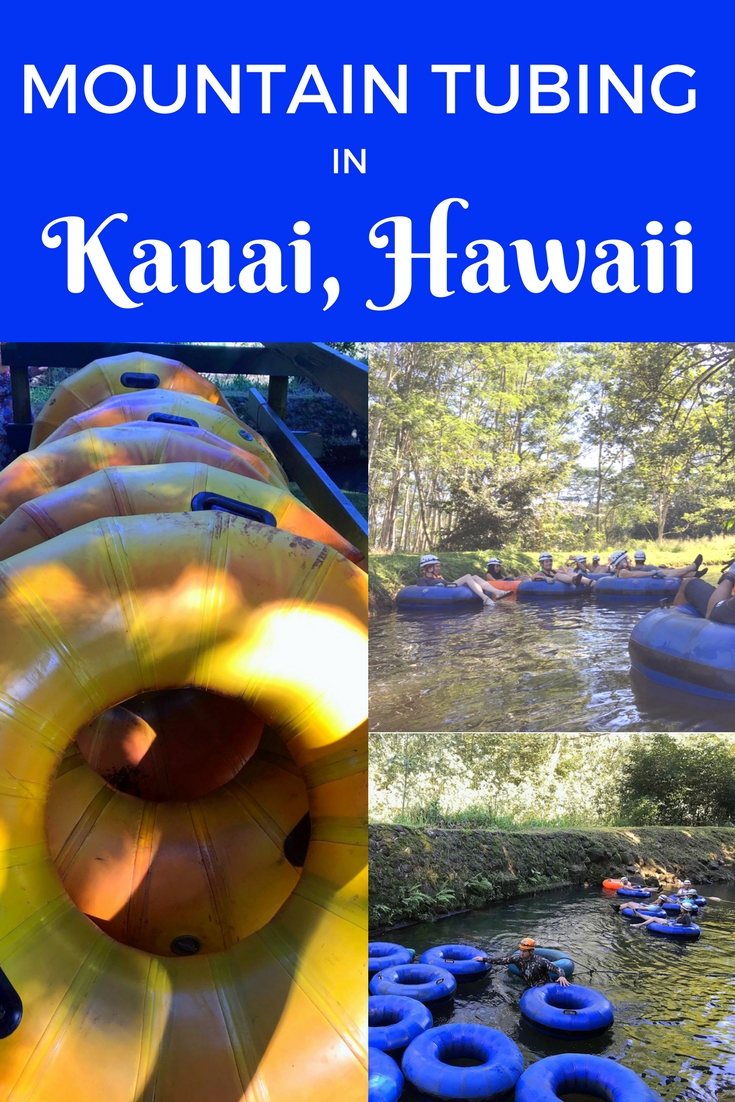 Disclosure: Kauai Backcountry Adventures generously provided our family with complimentary tickets to enjoy the tubing experience. All opinions and fun are our own.