Zipline Adventures in Kauai Hawaii
There are some moments in life that will affect you and be forever embedded in your memories. This zipline tour was one of those moments for us. By now, you most likely have heard about the false missile threat alarm that was sent out in the Hawaiian Islands a couple of weeks ago. Well, we got it at the start of this zipline adventure.
Please bear with me as I recount the events that was a huge part of our zipline experience.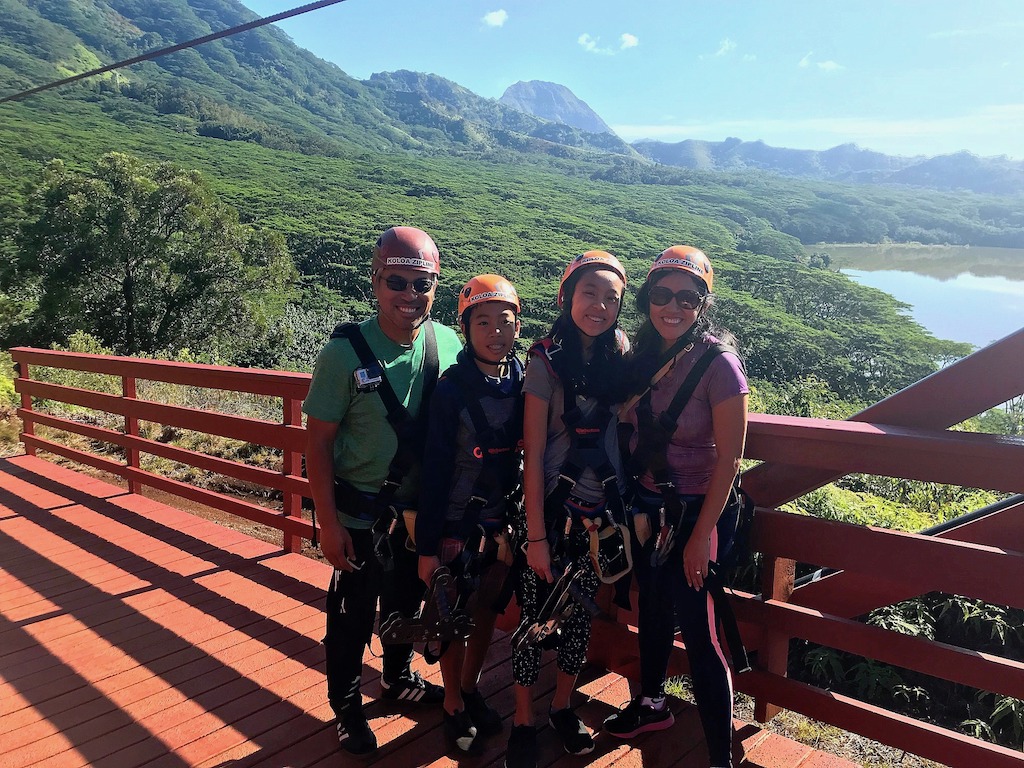 We were at the zipline meeting point around 8 AM on a Saturday morning. We had just met one of our guides, Miles. My husband and I and another couple on our tour suddenly all got the below alert on our cell phones.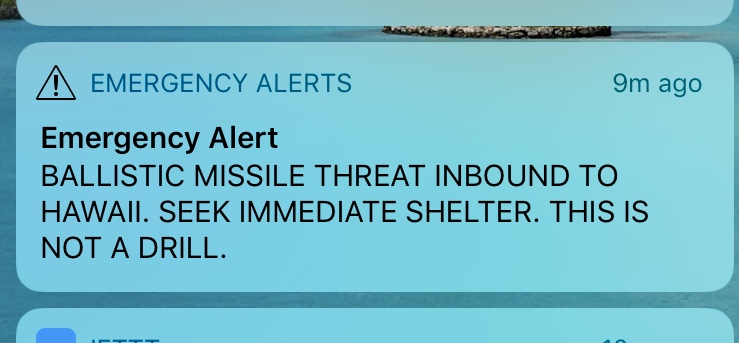 We all looked at each other not really knowing what to do just yet. Miles thought it might be a mistake since the island's sirens hadn't sounded yet. A few seconds later one of the guides followed by visitors and other guides told us to get in our cars and follow them right away. Some of them looked nervous and worried which made us very nervous.
We followed the three cars already ahead of us and a few more behind us. They were driving very fast. The radio had those emergency sounds followed by an announcement telling everyone to take cover inside immediately and stay away from the windows. There was no mention of a missile heading our way on a couple of major news channels we checked online.
Our phone signals started to get spotty. We didn't know where they were taking us as we headed into the jungle and were a bit confused why we didn't go into the nearby town. There was really nothing to do at this point but to pray. Feeling helpless was agonizing. If a missile was heading our way, there was no escaping it. And I was content since I was there with the three people I loved most in this world.
We ended up at a lava tunnel (about a mile long) in the middle of the jungle. The guides were calm, reassuring and made sure tourists, like us, were okay and not having a nervous breakdown. They were constantly on their phones trying to get the latest information. Despite everything, it was a relief to be with locals who at least knew what to do and were a calming presence. I can't imagine what we would have done if we were driving or at the beach.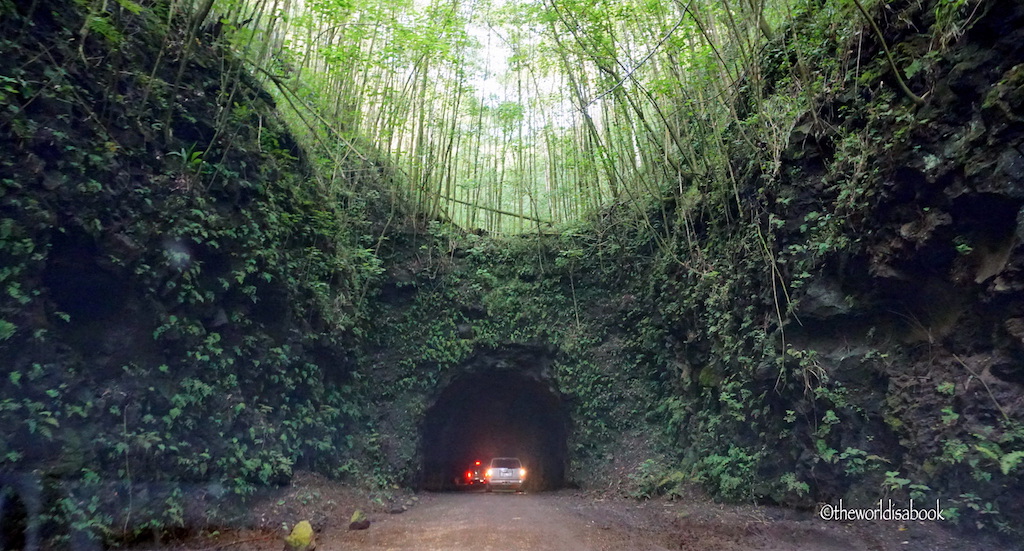 It took about 30 minutes to get verification that it was a false alarm. The longest and most harrowing wait we've had in awhile. But, it put many things into perspective.
So, that was how our Kauai zipline adventure started. If anyone was afraid to zipline or do daring moves on the course, everything seemed so much easier compared to that scare. At least, we knew our guides would never forget their "missile crew".
Zipline in Kauai
We went back to their facilities to get fitted for our helmets and harnesses. We really liked that they had this area for the safety brief also known as their ground school. There was a sign showing correct and incorrect positions and a practice area to show first timers how to zipline.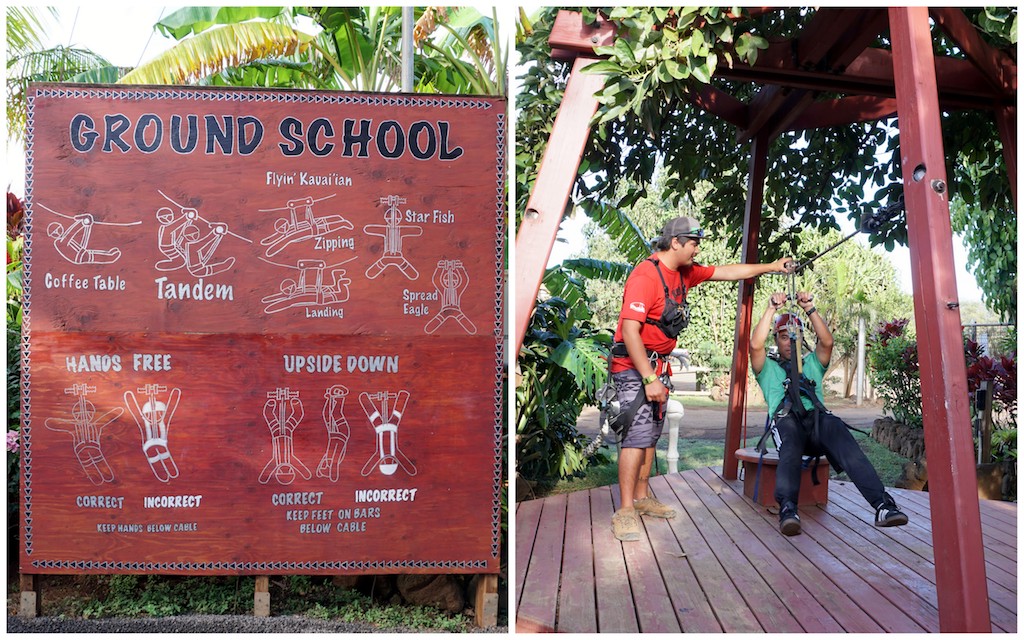 Their equipment included unique handlebar pulleys. It was easier to carry from one station to the next compared to some zipline equipment we've had to carry on other tours.
We rode one of these trucks to the base of our first zip line. It was the same road we had raced through earlier to seek shelter at the lava cave. But, this time we got a scenic and slower overview. We also learned a bit about the island and the surrounding plant life.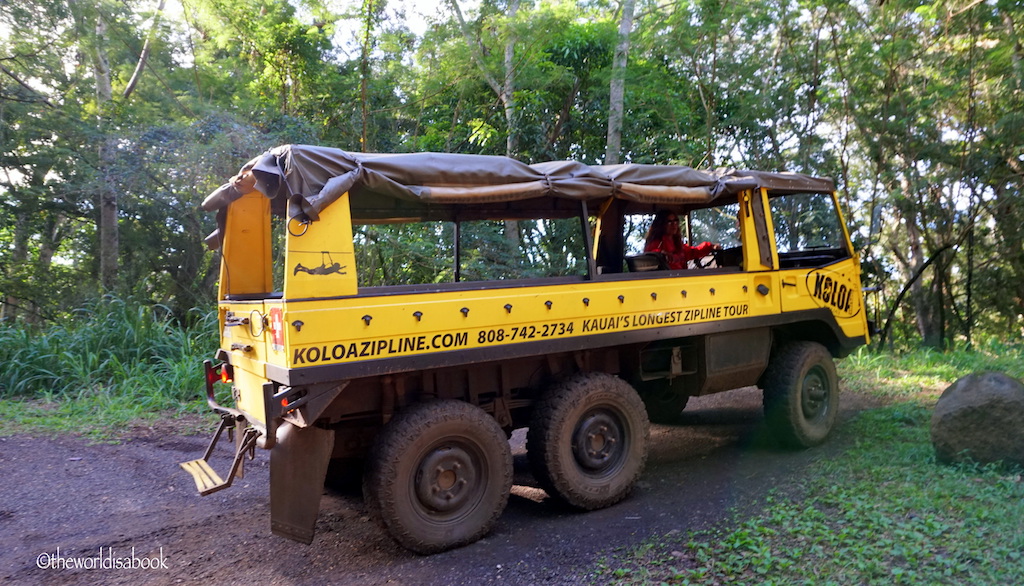 This zipline tour consisted of eight lines and was 3.5 hours long. It is Kauai's longest zip line course and is really great value for the money. There were 12 of us in the group with two guides. My kids were the only minors there and they enjoyed the attention.
Our first line was a short one over the tree canopies. It was a baby one to get the first timers adjusted and for the experienced ones to get acclimated with the equipment.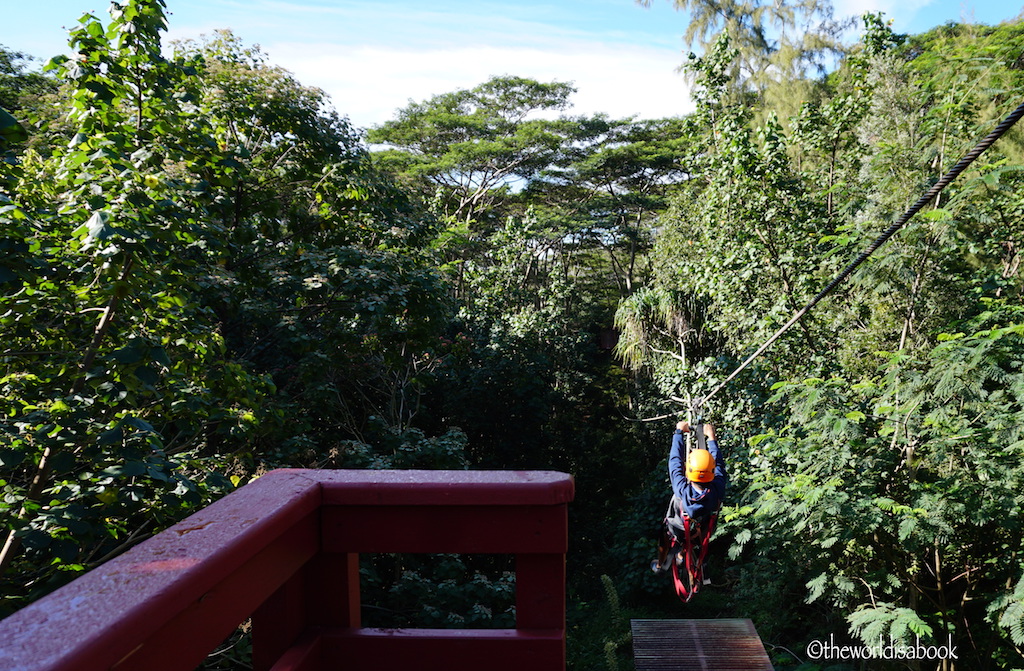 Koloa Zipline also used what they called the Flyin' Kaua'ian Harness. This gave visitors the chance to zipline in various positions. We saw some of them on their ground school board. Who knew there was such a thing as "zipline Aerobatics"? Of course, ziplining the traditional seated position to see the scenery is always a good option.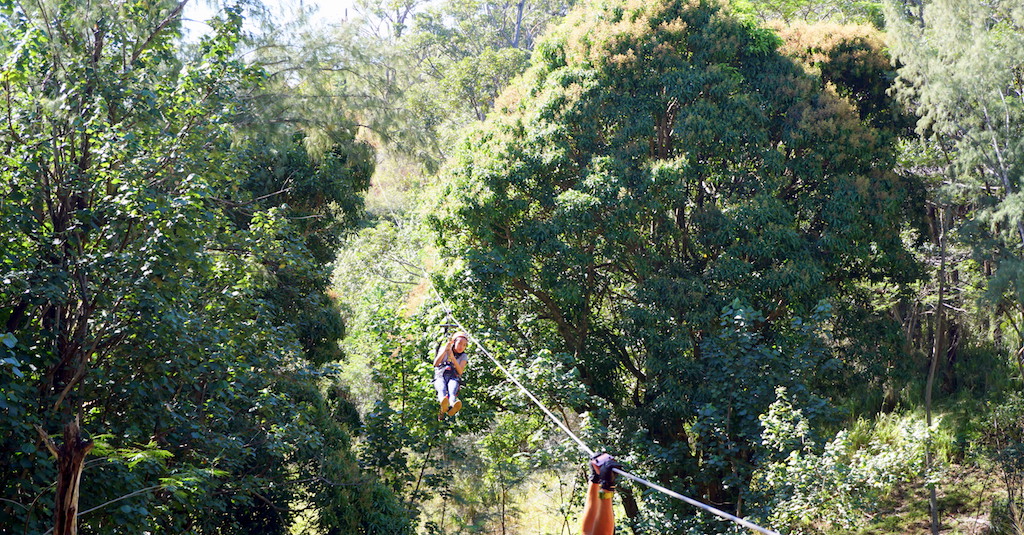 Undoubtedly, my kids' favorite pose was going upside down on a couple of the lines.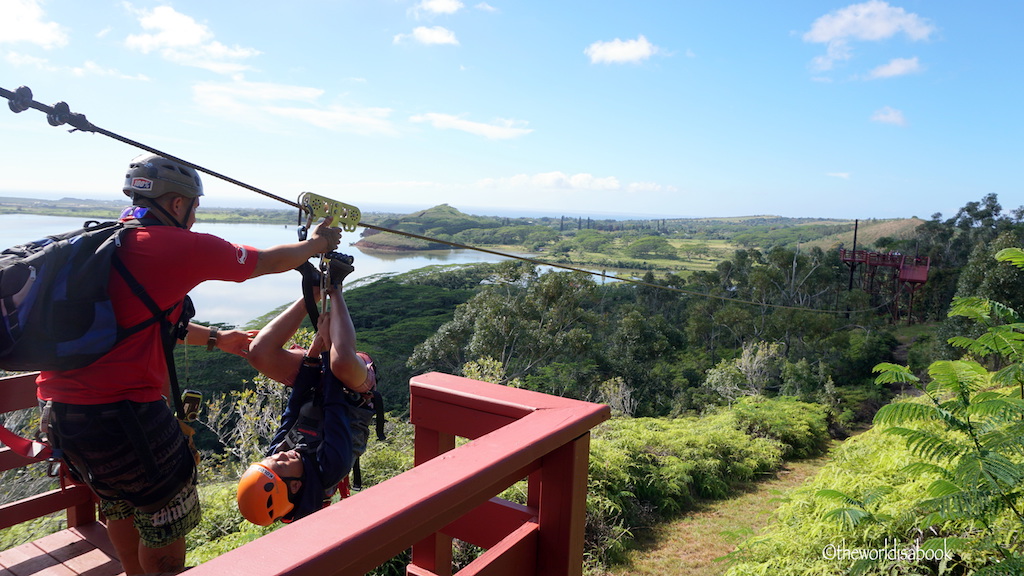 Did you ever wish to fly over the trees like superheroes? Well, they'll totally grant your wish. You can be daring and do the hands free, head first also known as Superman style. My husband and kids loved this too. I didn't like feeling like I was about to fall so I opted out.
There was also an opportunity for adventurers to go tandem on the lines. We've always liked zipline companies more who gave kids the opportunity to zipline when not meeting some weight requirements yet were old enough. They require that tandem weight limit cannot be over 280 lbs.
My kids' individual weights were too light on one short line so they were asked to pair up. They preferred to go with each of us instead. It was actually a comfortable set up with my daughter behind me. Now, if only her screams of joy were minimized a bit.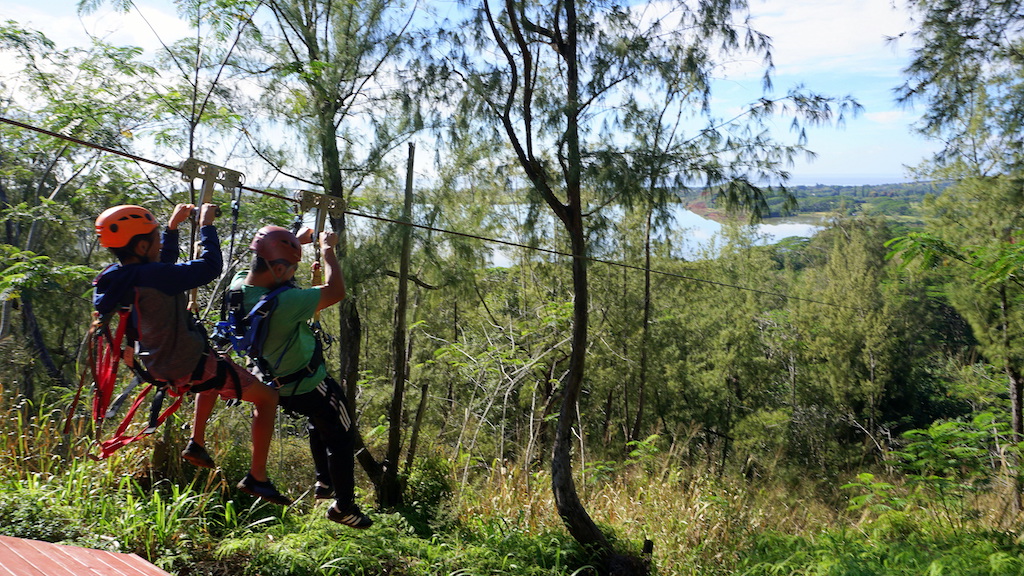 The guides made sure they knew all our names. They ensured safety was a top priority. They communicated well with each other letting the other one know who's coming and whether they were coming in as a superhero, upside down, etc. style.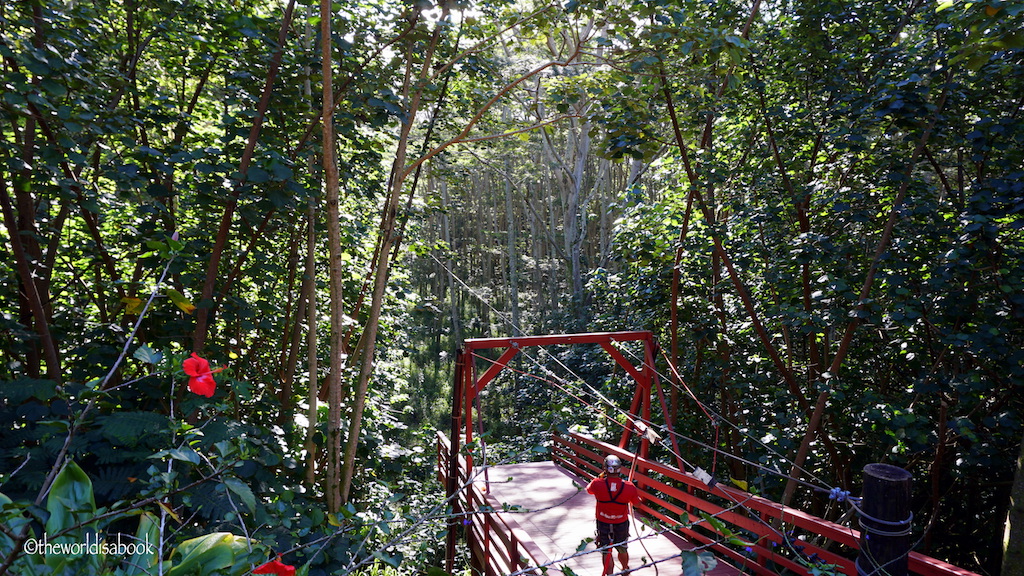 Some lines required a short hike in between stations. There was one with a long climb up a steep hill at a 45-degree angle. The guides made sure we took our time though and had cold water waiting for us at the end.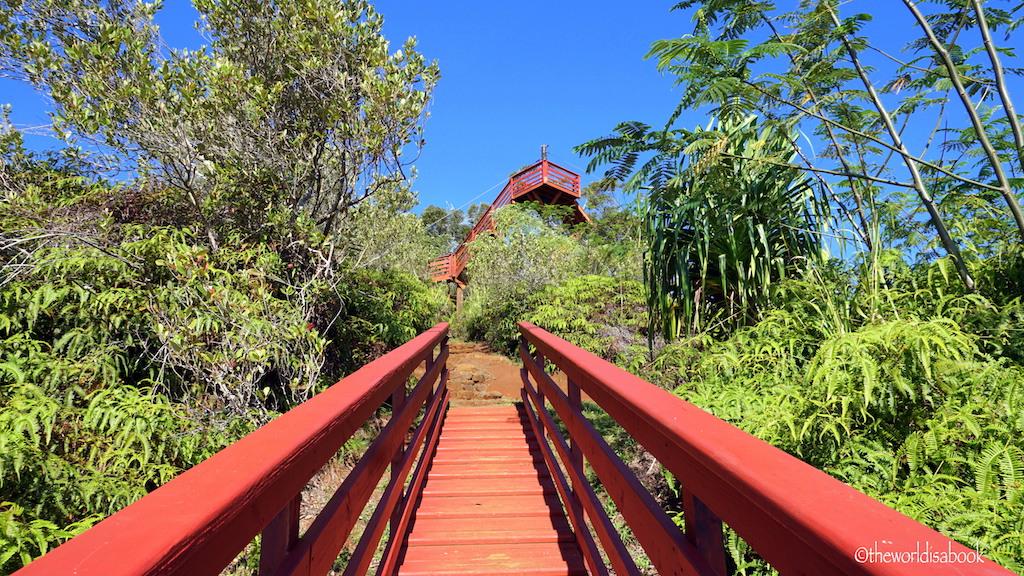 Halfway through the course, the stations and lines were all built overlooking a beautiful panorama with the large Waita Reservoir as the centerpiece. It is also known as the Hauiki or Koloa Reservoir.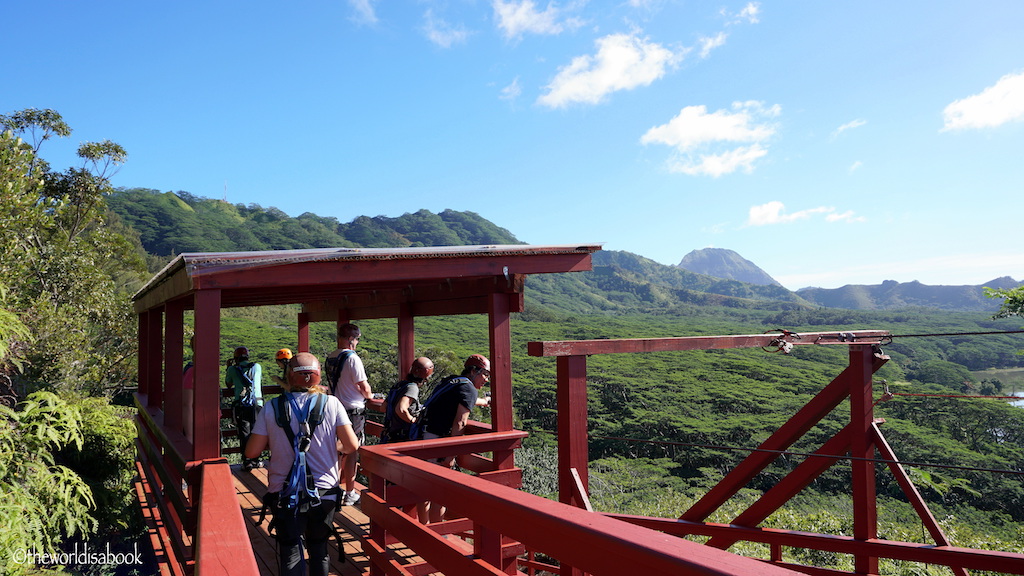 This reservoir is the state of Hawaii's "largest inland body of fresh water." It is on private property so it is not easily accessible to the general masses. Some boat tours go here for catch and release fishing. It was once a major water source for sugar cane plantations but now provides irrigation to some nearby farm lands.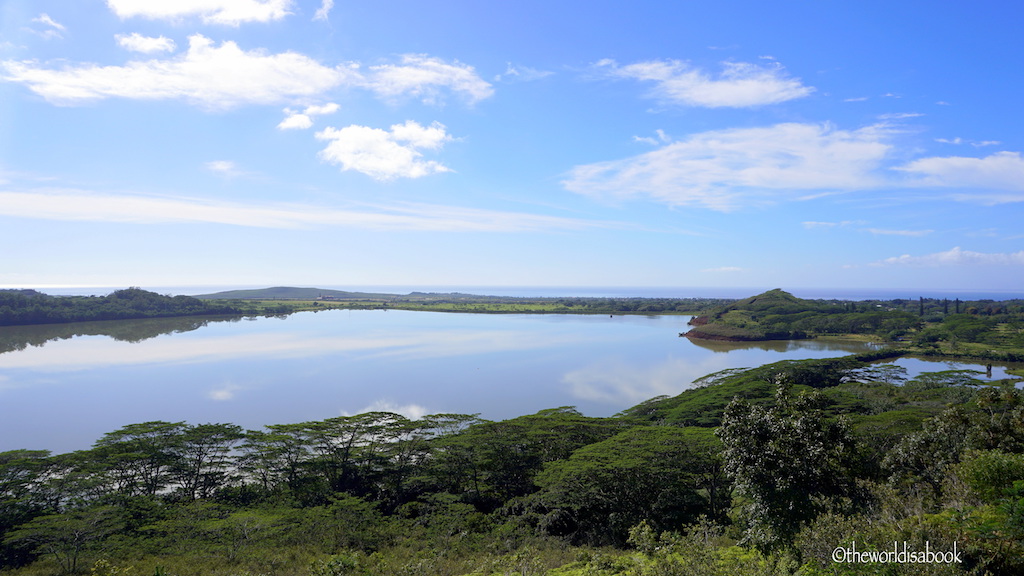 This landscape may look a bit different than the typical Hawaiian portrait of numerous palm trees. We found out that the picturesque, shady trees here with almost fern-like leaves were called African Albizia. They were brought into Hawaii in the early 1900s for shade and lumber. Its rapid growth rate and invasiveness has expanded throughout the roads, jungles and abandoned sugar cane plantations.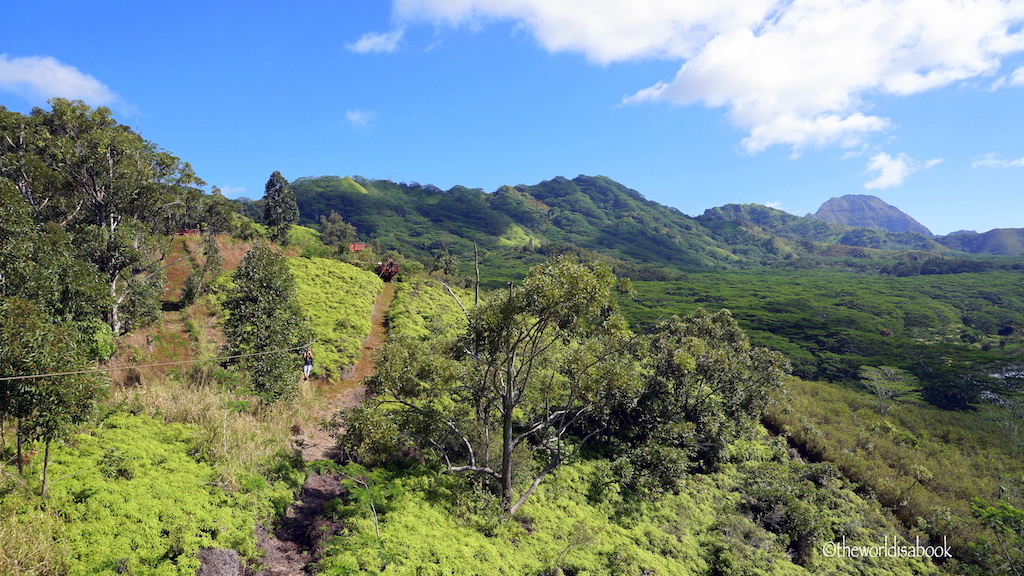 The fantastic scenery and beautiful views that surrounded us as we ziplined over the jungle canopy provided such amazing backdrops. The stations were also positioned so we seem to always be looking out at the views and water reflections.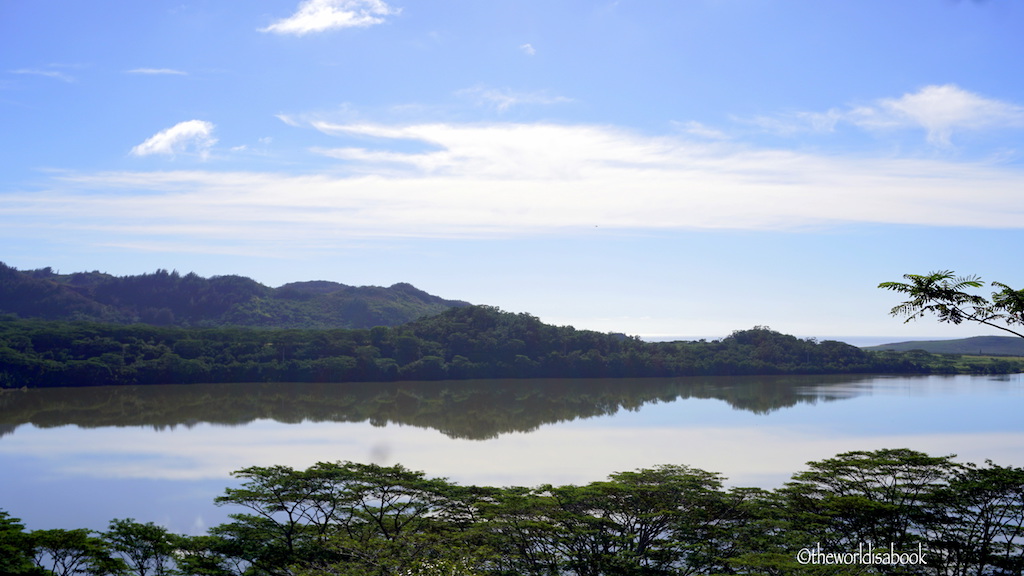 Before our last zipline, we were treated to some snacks and drinks. Get the granola bars. They were delicious! There were benches for us to sit on and admire this beautiful panorama.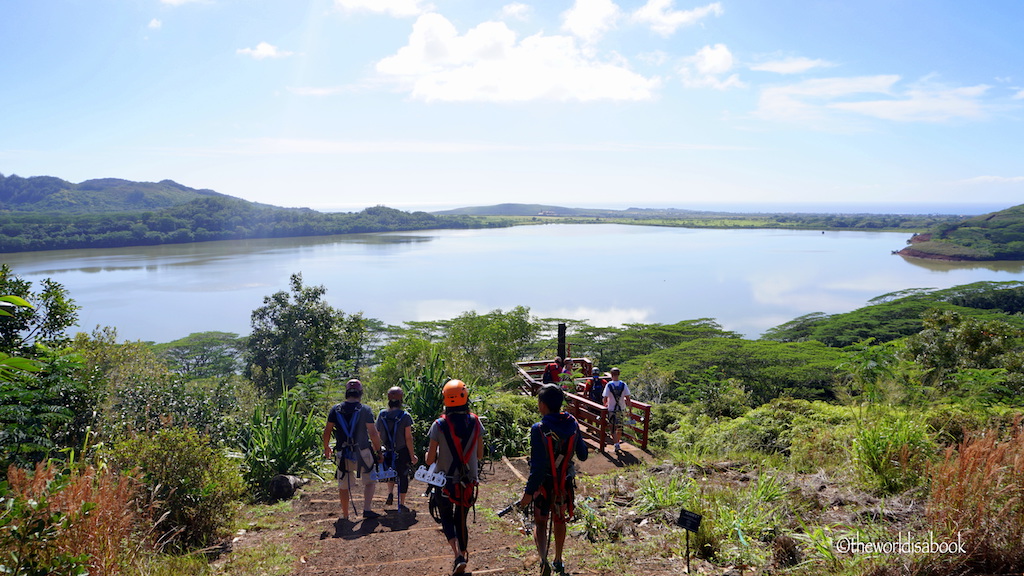 Since part of the Jurassic park movies was filmed here, the guides did a little fun photo shoot with one of the characters.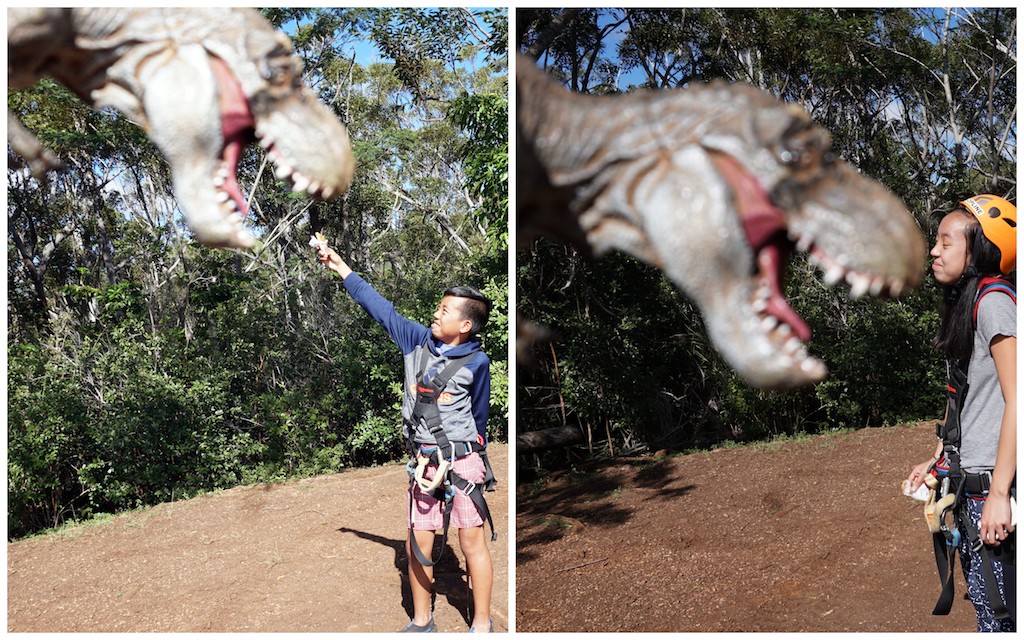 The last line was the longest in the course at ½ mile and went over the water and plantation. There were even some cows and horses in the pasture.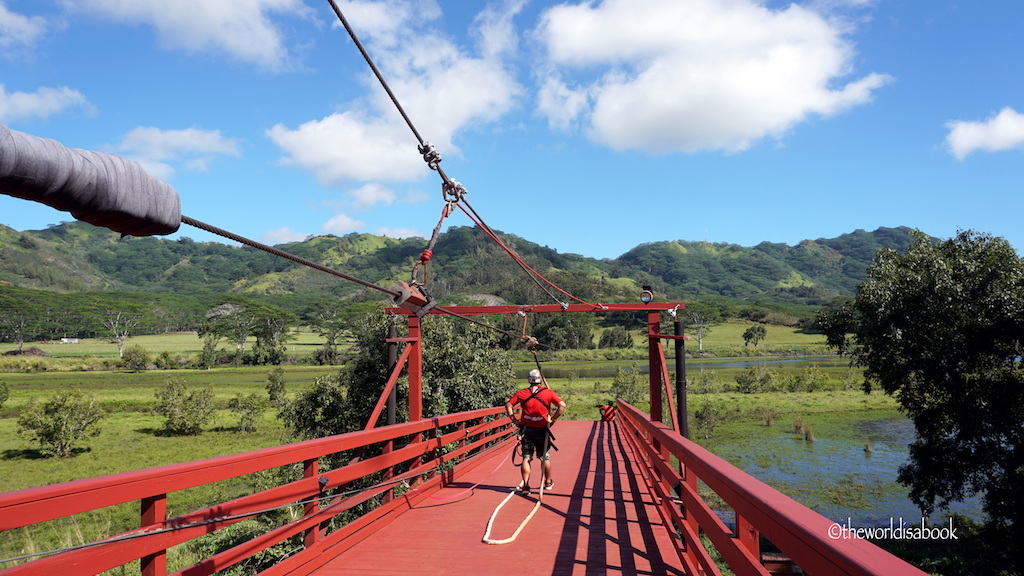 We ended up at this last station that looked out into the agricultural lands. The three-hour tour went by quickly. Time flies when you're having so much fun.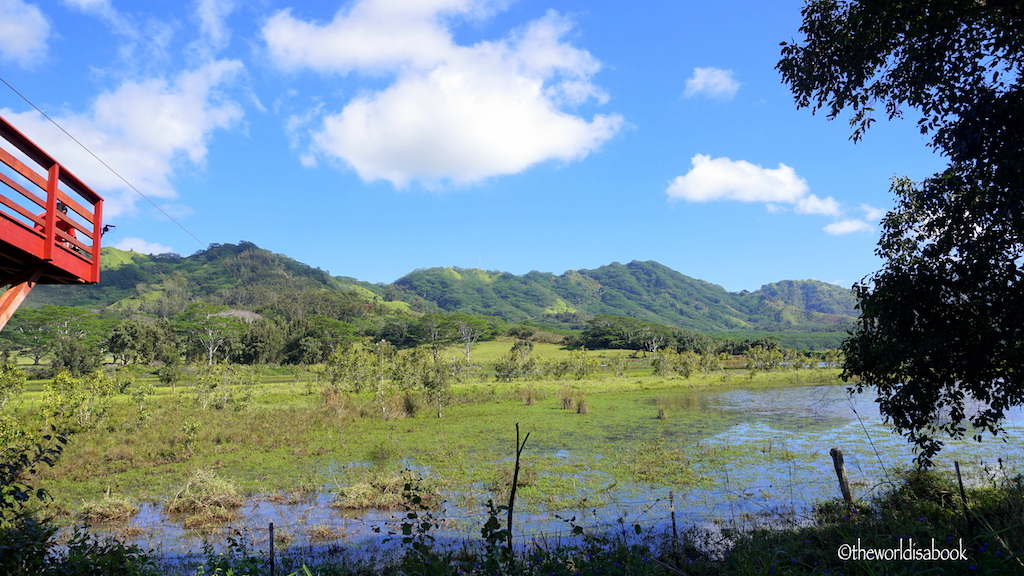 We've done several zipline courses over the years and even a couple during wintertime. What made these excursions memorable were the scenery and the guides. Our zipline guides, Miles and Ekolu, were great throughout the whole tour. They were patient, helpful, engaging and entertaining.
We were relaxed, comfortable and felt completely safe throughout the whole trip. Most of all, they made everything fun. Bonded by that nerve wracking experience, our group was amazing and friendly. We all cheered each other on and added to an overall wonderful experience.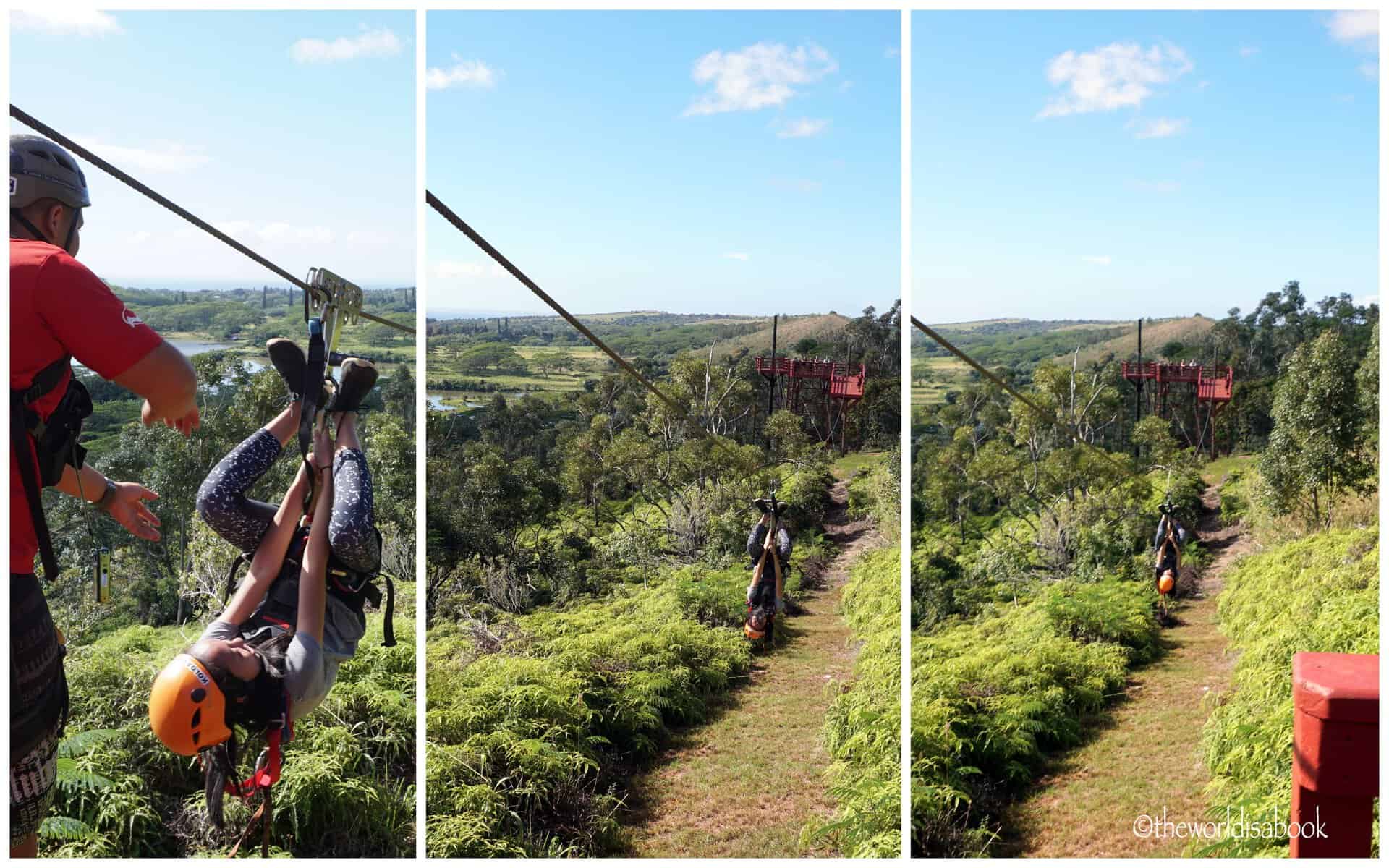 The locals who were with us on the tour reassured us in the beginning that this was the most scenic and best zipline in Kauai. While we haven't tried the other companies, it's pretty hard to top our experience with Koloa Zipline.
We highly recommend doing this family activity when visiting Kauai. We loved the combination of the lines, the scenic backdrop and the ability to do various positions. It was a fantastic way to see and experience the island's lush beauty.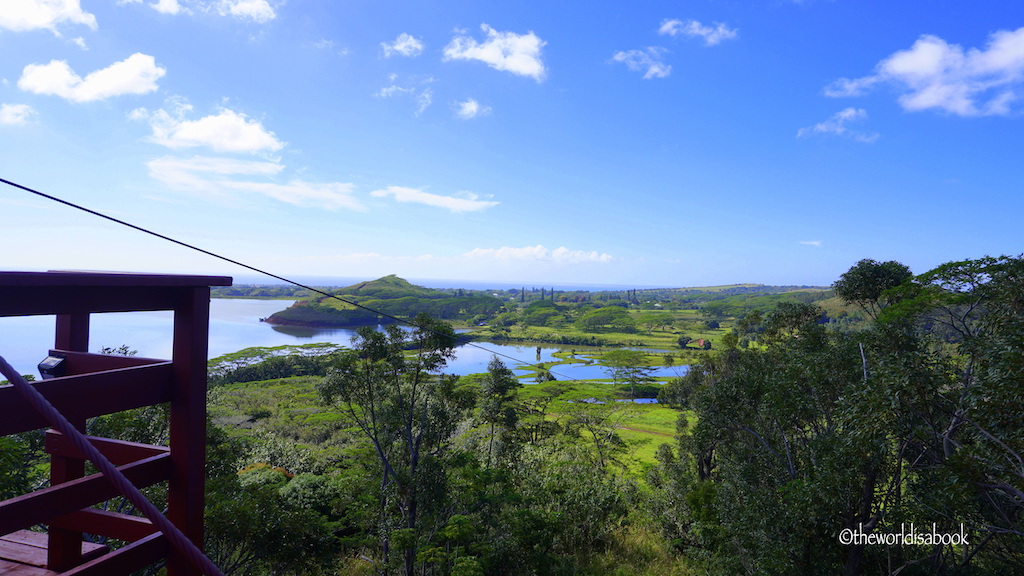 Tips for doing the Koloa Zipline
Reserve your time slot as soon as you can on the Koloa Zipline website. They book up fast. Price is $149 for a 3.5 hour tour.
Arrive 30 minutes before the scheduled tour.
They offer transportation from resorts/hotels on the south side area of the island for $5 per person.
Age Restriction: Children must be 7 years old or older to zip line. All children under 18 must be accompanied by an adult or legal guardian.
Weight Limit: 280 lbs
Not suitable for pregnant women or people with back, neck or knee injuries or have had surgery within the last three months.
Wear pants or longer shorts, t-shirts and long sleeve. Anything with dri-fit is great. Tank tops and really short shorts are not recommended
Wear closed toe shoes like sneakers. No flip-flops or Crocs are allowed.
Put bug spray and sunscreen. Many areas are not shaded.
Bring Go-Pro and cameras with straps. But, if you don't have a camera, the guides took several pictures. Bundled pictures were sold for about $35 (max) after the tour.
Bring something to hold phones, wallets. I had a small across the shoulder purse which held necessary things and it worked out well.
Make sure everyone uses the restroom before putting on the harness. There are no portable restrooms along the tour.
Koloa Zipline also offers ATV tours and sunset ziplines. It's on our travel wish list when we return. The guides told us that there is a discount if you combine the ATV and zipline tours.
*Have you ziplined? Where was your favorite place to zip line?
Disclosure: Koloa Zipline offered my family two complimentary tickets and two discounted tickets for this excursion. All opinions and photos are our own.  
Here is a short video of our zipline adventure:
Pin it for later!