Doing a Napali Sunset Cruise in Kauai, Hawaii
The Hawaiian Islands are some of the best places to watch epic sunsets. One of the best ways to see and experience it is on the waters and through a sunset cruise. Kauai, also known as the Garden Isle, has a very dramatic and spectacular coastline. We were on the island last month and during the winter months, the cruise also doubles as a dolphin and whale watching excursion. Sail away with us on a Napali sunset cruise in Kauai.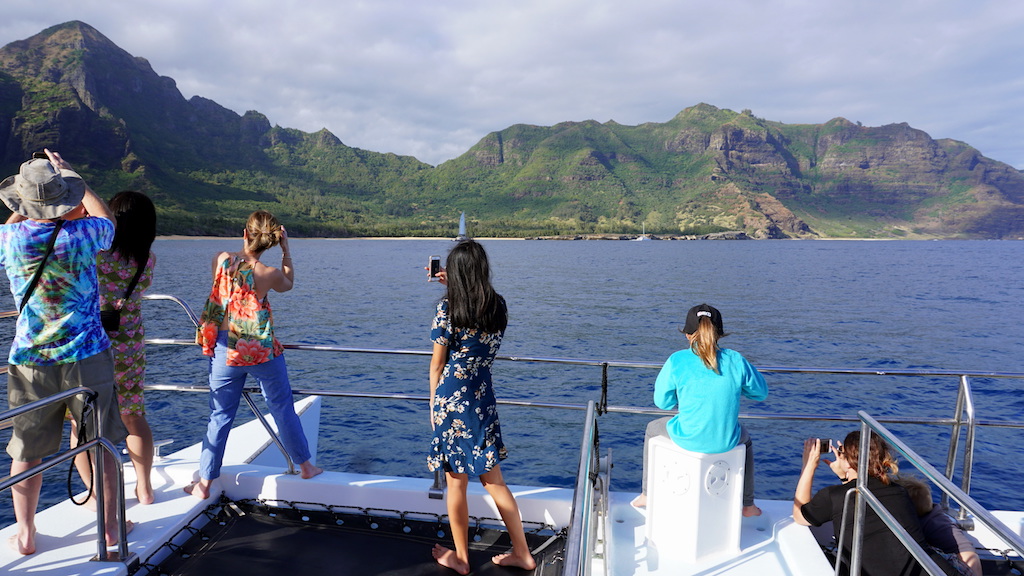 We met at Holo Holo Charter's office in Port Allen to sign waivers. It was a short walk to the dock and the 65' catamaran from there. Most of the passengers were couples and most we found out later were on their honeymoon. There were also a few families and about 10 kids under 15 years old there including my tween and teen.
Our captain met us before heading to the port. Unfortunately, due to rough seas and big waves, the catamaran couldn't make it to the Napali Coast during our cruise. They were really apologetic and gracious enough to reschedule passengers if not seeing the Napali Coast was a deal breaker. We didn't have other available days so I guess we'll just have to return to Kauai another time.
We were really disappointed to miss sailing along the picturesque Napali Coast. But, we knew it was a hit or miss getting to this coastline during winter time. Here's that iconic panorama we would have seen and drooled over.
Our tour was now focused on the southern coast and spent more time looking for whales and dolphins. This was our first glimpse of Kauai's southern beaches and coastline. This part of the island was also knows for its red rocks.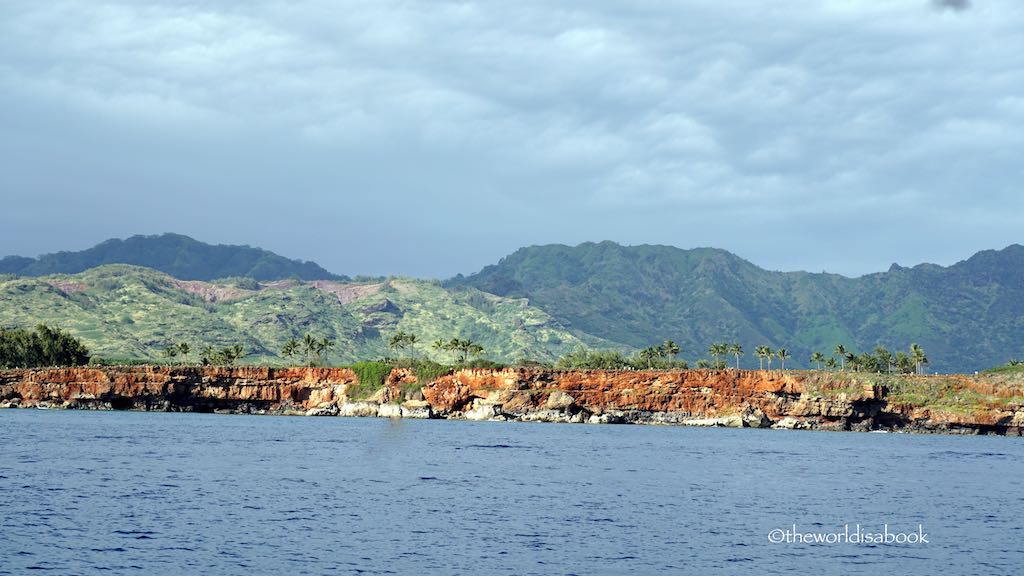 The Spouting Horn is a well-visited attraction in Kauai's southern area. There is a small lookout to watch the blowhole "spout" ocean water into the air much like the whales' blowhole. These sea sprays can go quite high depending on the waves coming in.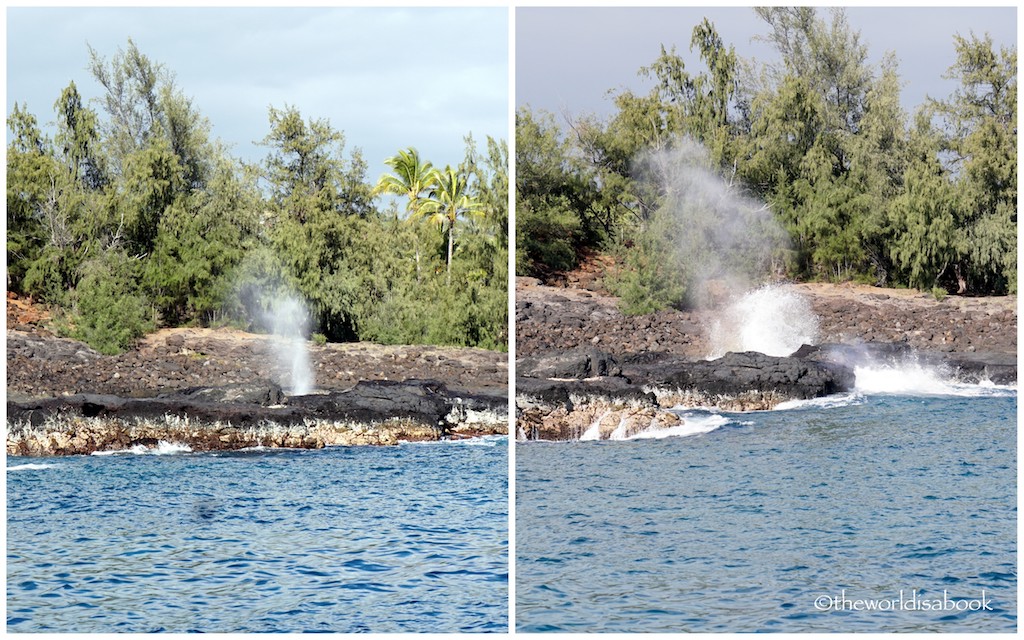 This natural blowhole occurs when large waves crash and water goes into the old lava tube. This builds up pressure and releases the water out through an opening via a high spray.
The captain maneuvered the catamaran as close as we could get to the blowhole. It was interesting to watch the display but also hear it. We loved this vantage point of Spouting Horn.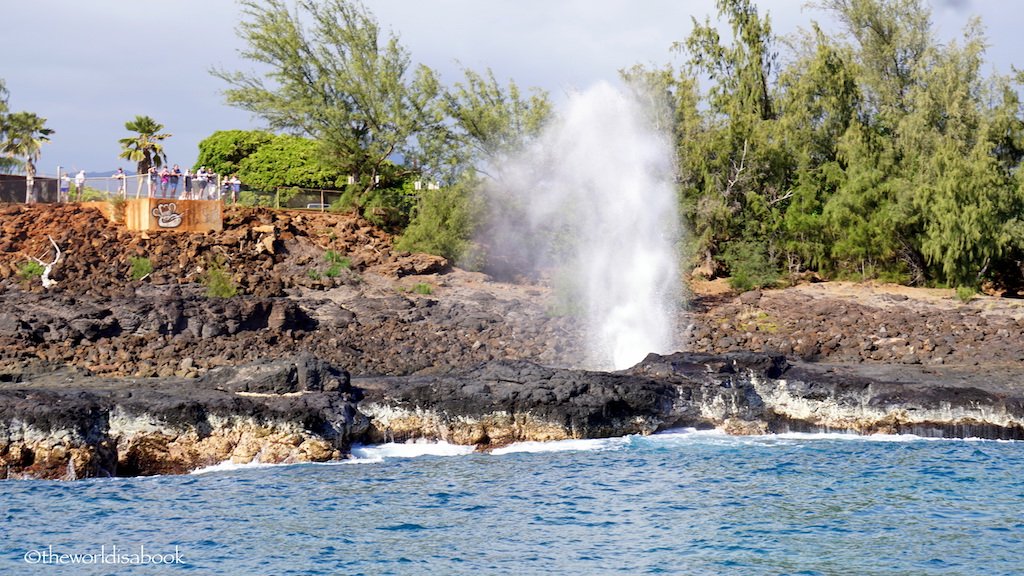 Our altered itinerary took us to a mini version of the Napali coast. The cliffs weren't as dramatic. But, it does showcase some of Kauai's lush beauty and why its nickname of the Garden Isle is so fitting.
It also felt like a geology lesson on Kauai. This is the oldest of the Hawaiian Islands. It is a volcanic island so we got to see majestic sandstone cliffs.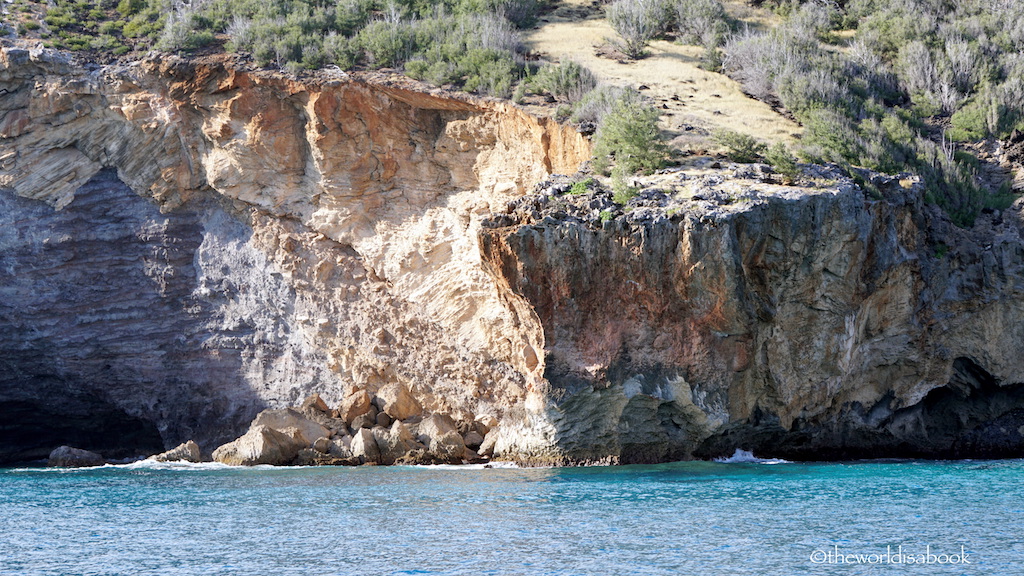 We got quite close to this geologic wonder too. It was interesting to see those lines running along the rock face.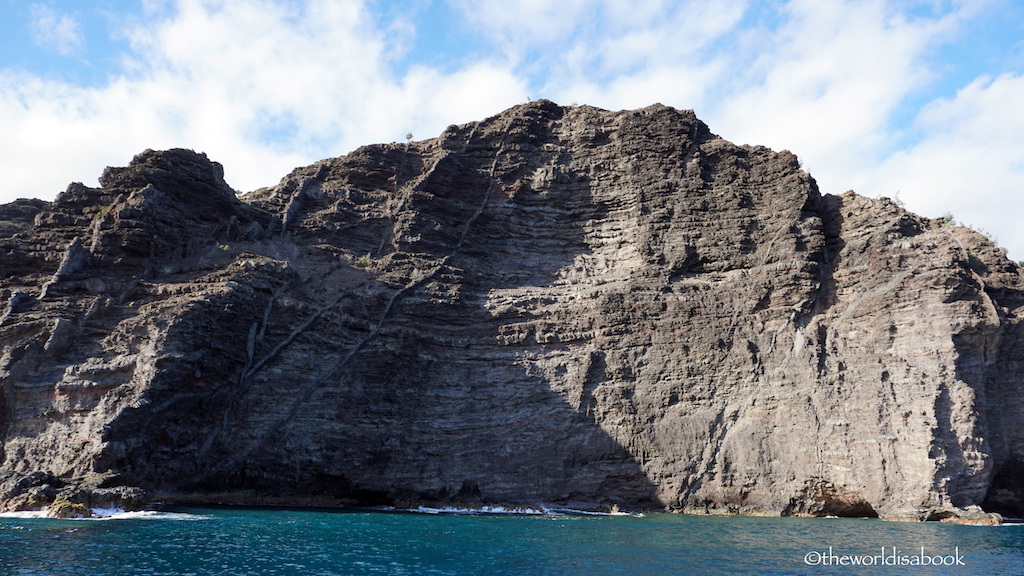 One of the things I loved about this cruise was the chance to see the amazing scenery and coastline from a different vantage point. With a beautiful sea breeze and the sun shining, it was a relaxing way to sightsee.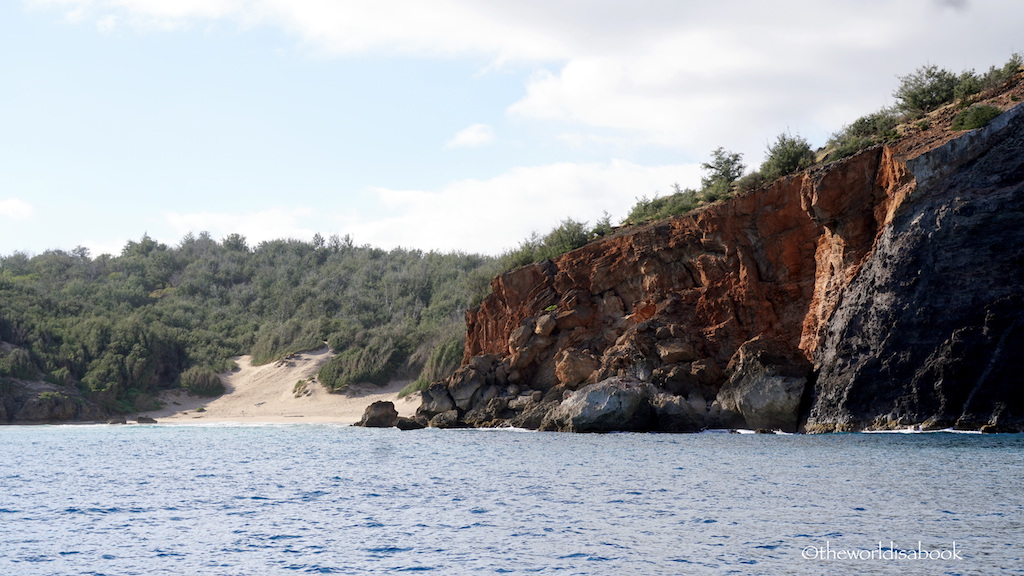 How neat would it be to spend a day at this secluded beach?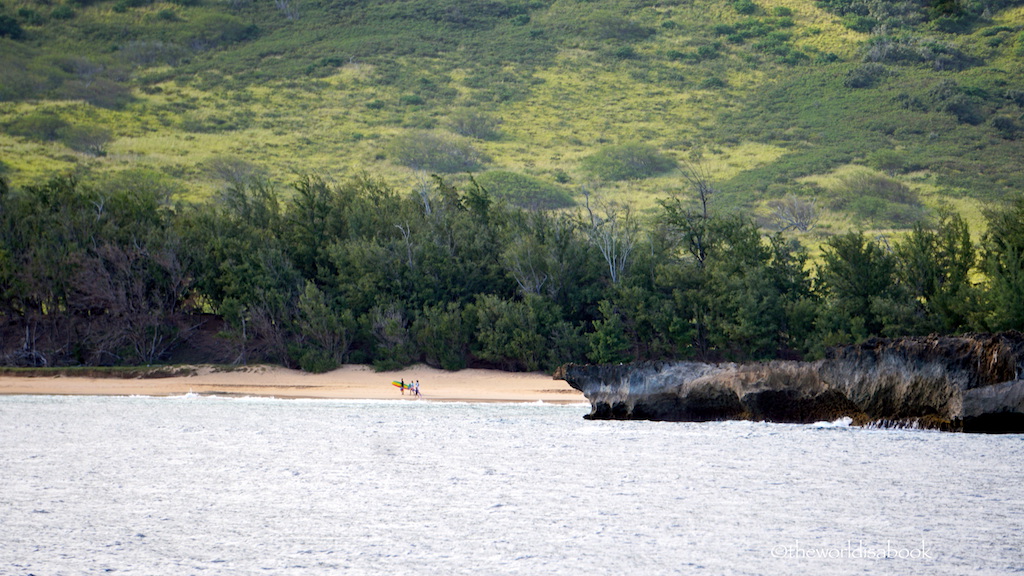 The Animal Sightings
We loved seeing the dolphins on several occasion during the cruise. A few of them swam along the boat and at times underneath it. It's amazing how the staff knew where to spot them.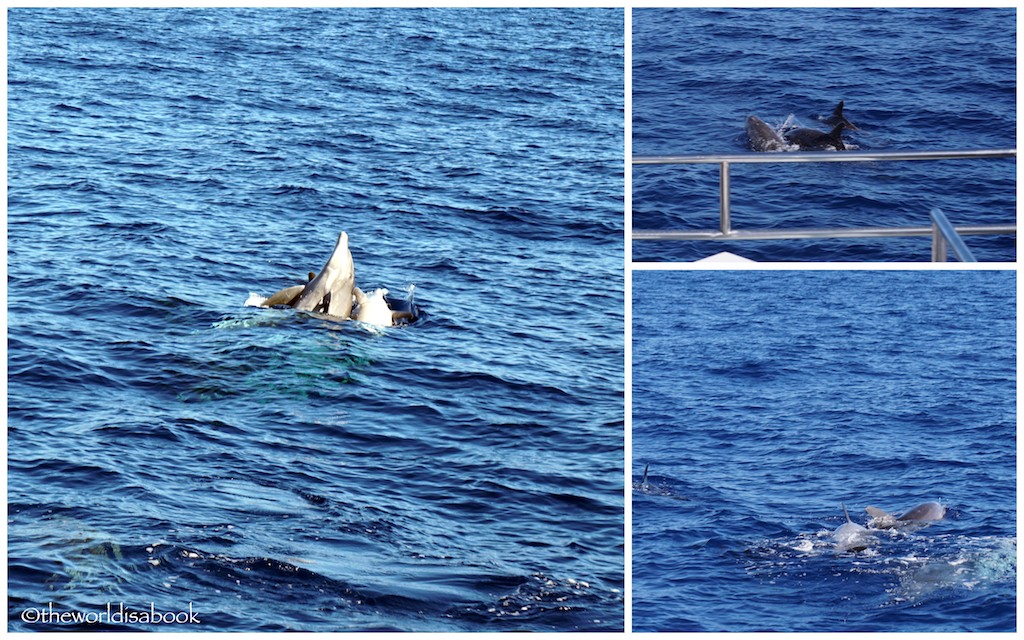 My kids got really lucky since they were at the front when the first pod of dolphins came. It doesn't get any better than watching dolphins swim in the wild and see them in action right in front of you. We loved watching these playful creatures.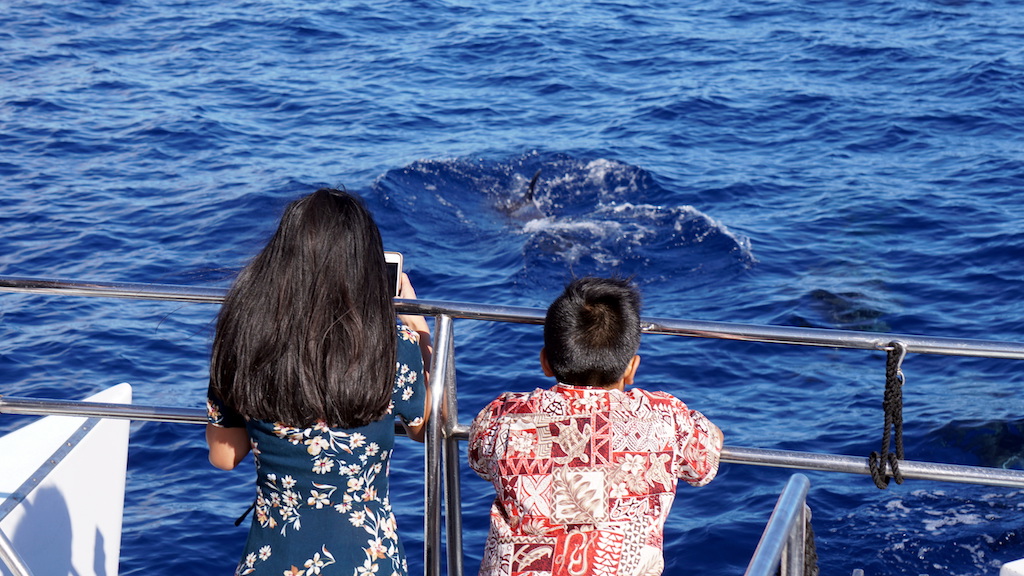 A major bonus doing this cruise from December to May is seeing the magnificent North Pacific Humpback Whales. We were lucky enough to see several of them during our cruise. It was quite amusing to see the passengers, including us, run from one part of the catamaran to the other to catch a glimpse of these incredible creatures.
They live in Alaska and feed there during Summer and migrate to warmer waters during Fall. The whales swim about six to eight weeks non-stop to get to the Hawaiian Islands' warm waters. This is about 6,000-mile roundtrip of annual migration. They use these warmer waters for their winter home to either mate, breed, give birth or care for their calves.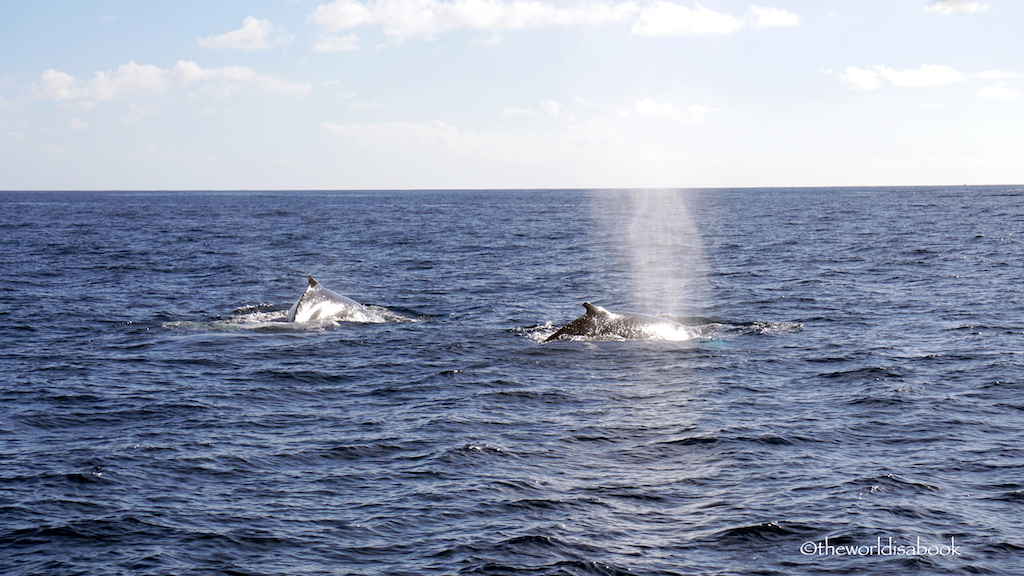 We didn't get lucky and see the whales breach or use their tail to prop them up to the surface momentarily. They were too fast so most of the whale photos we captured were parts of their bodies and tail. The whales spend most of their time underwater. The adult whales only get to the surface every 10-15 minutes and 3-5 minutes for the calves.
We really appreciated the captain making the utmost effort to maneuver the catamaran to ensure we could see many of these animals in their natural habitat. But, we also liked that they didn't get too close and intrude on them.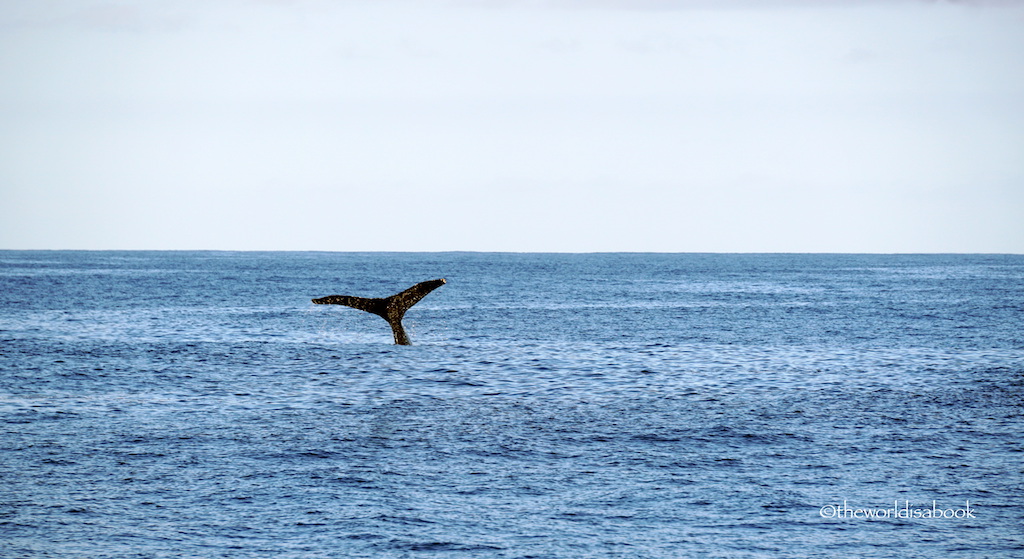 There were two ladies onboard (Jess and Emily) who made sure we were all taken care of and were very attentive. They made sure our glasses were always full or we had drinks throughout the cruise. There was a large variety of alcoholic and non-alcoholic drinks. Yes, some people were quite very happy throughout this cruise. Appetizers of crackers, cheese and cold cut meats were also served.
Our almost dinner buffet included salad, chips and guacamole (which was delicious), kalua pork and fish tacos. I wished they had some other options since some of us weren't big fans of pork or fish. But, you can't please everyone.
Since this was primarily a sunset cruise, it was only fitting to end it with a spectacular one. We had the best view of the sun setting. We've seen our fair share of sunsets over the years. But, this sunset may have been the most special and memorable. We survived the false missile alert warning that morning where, for several minutes, we didn't know if we were going to see another day. Read more about it including our zipline adventure.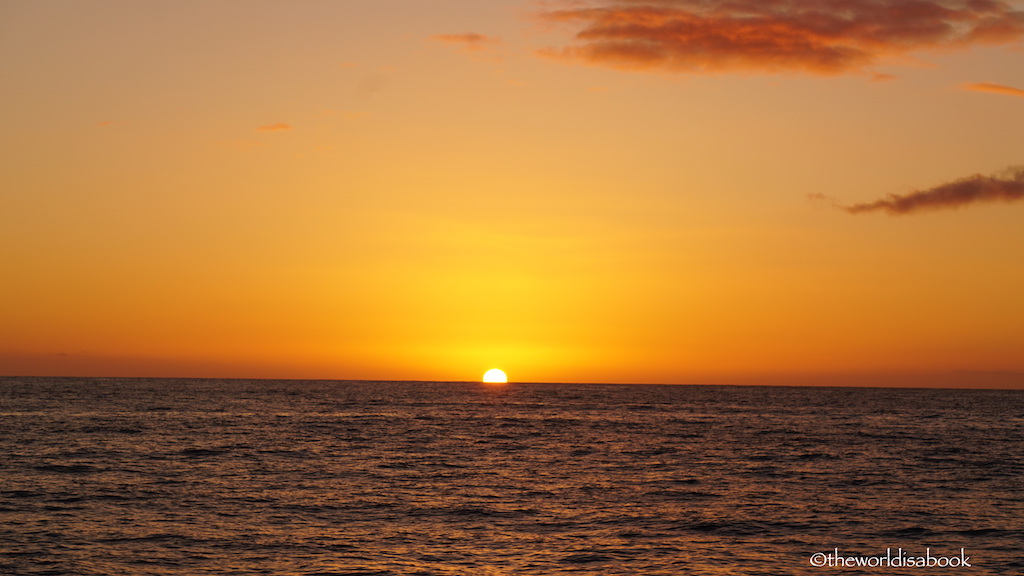 Kauai didn't disappoint us. It gave us a dramatic and unforgettable sunset. Just look at these colors. There was no obstruction and we felt so much closer to the horizon. Beautiful Hawaiian music provided the perfect backdrop.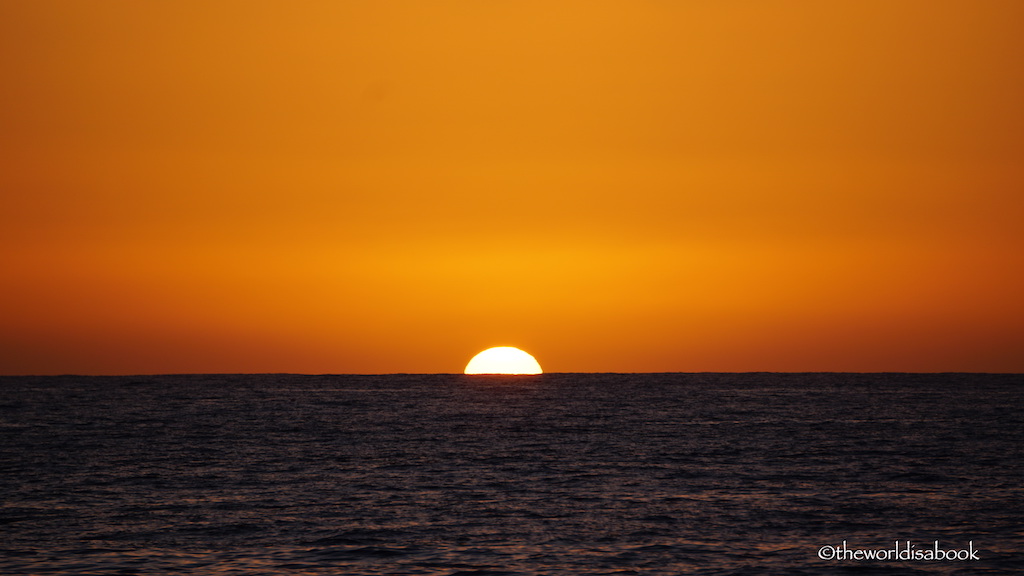 The Garden Isle offers many activities for visitors. The Napali Sunset Cruise is one of those excursions that should be on everyone's to do list. It was easy to enjoy the coastline scenery and the sunset with a full stomach and glass.
We loved the relaxing vibe, smooth sailing and our whole experience. The staff took great care of us and made sure we saw as many dolphins and whales as possible. We hope to redo this cruise and finally see that amazing Napali coast next time.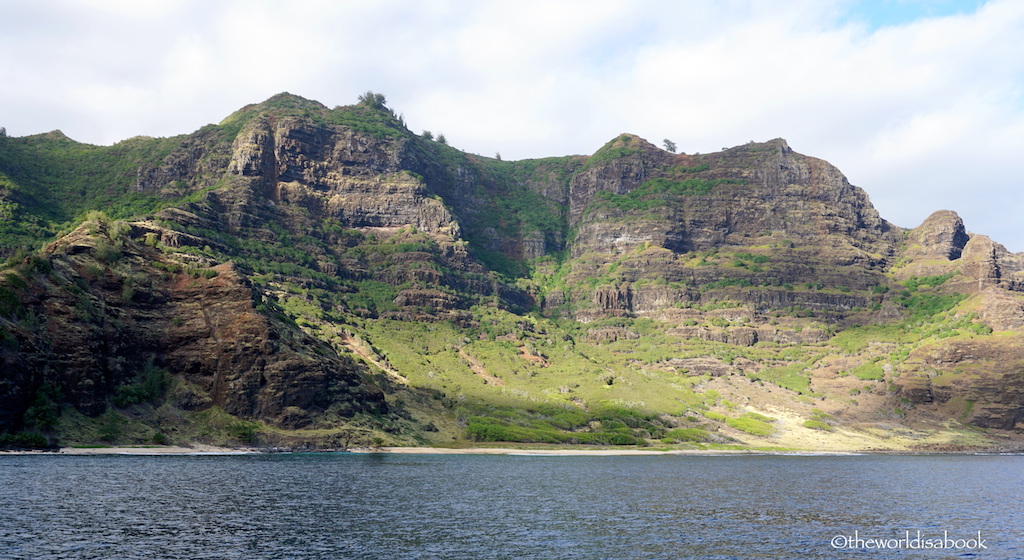 Things to Know and Tips for doing the Napali Sunset cruise
Book this tour as soon as you can on Holo Holo Charter's website. There is a $15 discount per person if booking online at least a day in advance. Space is limited and there is only one sunset cruise per day.
They recommend scheduling the tour early during your trip because weather can be a factor. If the cruise needs to be rescheduled, you'll have alternate days.
Two restrooms were available onboard and the crew ensured they were kept clean.
Be sure to tip your crew. They worked really hard during the cruise and took care of everyone.
No children under 5 years old allowed on the cruise.
Bring a wrap or light jacket. It got pretty chilly after the sunset.
If anyone is prone to seasickness, take some sort of medication like Non-drowsy Dramamine or wear sea bands. It was a very smooth ride for me and we didn't see anyone getting sick. But, conditions always change.
Holo Holo Charters also offers snorkeling tours plus a tour to the "Forbidden Island" of Niihau
*Do you enjoy sunset cruises?
Pin it for later!

Disclosure: Holo Holo Charters provided me with a complimentary ticket and discounted tickets for my family to enjoy the sunset cruise experience. All opinions and fun are our own.
This post is part of Travel Photo Thursday at Budget Travelers Sandbox , Weekend Wanderlust Travel Blog Party, The Weekly Postcard at Travel Notes and Beyond .  Do some armchair traveling and please visit the sites for other travelers' wonderful photos and posts.