Eating in Tokyo with kids
Tokyo is one of the most expensive cities in the world but also had some of the best food. How did we stay on a budget feeding a family of four? Luckily for us, we stayed at the Hilton and we had complimentary breakfast buffet during our 4 days there. We also had access to the Executive lounge for snacks and light dinner as well as water, milk, juice, soda.  This really saved us a lot of money and we're glad we saved those Hilton points.  The other 3 days at the Sheraton we had to fend for ourselves and bought pastries at the grocery stores for snacks and breakfast.
Our biggest money saver tip with food was to visit the food halls at the big department stores. In our case, we frequented the Odakyu Department Store next to Shinjuku station.   The escalators leading down to the hall were near the West exit where we usually caught our hotel shuttle.  This was a huge area with so many different types of food and plenty of activity. All the prices were clearly labeled. People were friendly and we're assuming trying to shout out their specials.  Another good tip is to try and come here to buy things for dinner.  Prices on most bentos were reduced later during the day by as much as half the price.
There were so much variety and plenty of bento boxes. Bentos are compartmentalized takeout meals usually with rice, meat and vegetables.   Food was fresh and reasonably priced.  I had never seen so many types of tempura, noodles or sushi in one place.    Tempura was sold in pieces or packaged.  There were also a couple of chicken yakitori (BBQ chicken on a stick) stands and our kids loved these.  You just have to be a bit careful because they didn't waste any chicken body parts and what looked like dark meat was actually some other part of a chicken or liver.
These food halls catered to everyone in our family since everyone always wanted something a little different.  We found it suited eating with kids better and cheaper.  Our kids were pretty familiar with Japanese food since we frequent Little Tokyo in downtown Los Angeles and our local Japanese supermarkets. So, they knew what they usually wanted.  Some of the portions were generous that our kids shared one bento box.  Food here seemed to tasted a whole lot better than the Japanese restaurants in the US we've been to.  These bento boxes were also sold at 7-11 and Family Mart convenience stores which were found everywhere and at the local grocery stores.
I can't recommend a specific restaurant since most of the names were in Japanese.  Our first lunch was at a restaurant located inside Hibiya station.  There were a few restaurants there and all of them have the plastic plates of food displayed outside which was great since we just had to point to the ones we wanted.
But, these were a little deceiving.   We ordered what looked like small slices of beef but turned out to be liver.  What we thought were noodles turned out to be bean sprouts.  It was still good though.  So, just make sure you know what it is before pointing and ordering.
We passed by a Yoshinoya restaurant while in Mitaka after visiting the Studio Ghibli museum and we knew we had to eat here.  This is a popular chain in the SoCal area for cheap beef bowls.   I've always been skeptical as to whether it really started in Tokyo and it's good to know it did. They were everywhere in Tokyo.  The one we visited didn't have any fast food counter to order but someone actually came to our table and took our order.   We pointed to the beef bowls and a couple of minutes later our food was being served to us in ceramic bowls.   It was the fastest fast food service ever.  The food here tasted a whole lot better than all the Yoshinoyas we've eaten at in California too.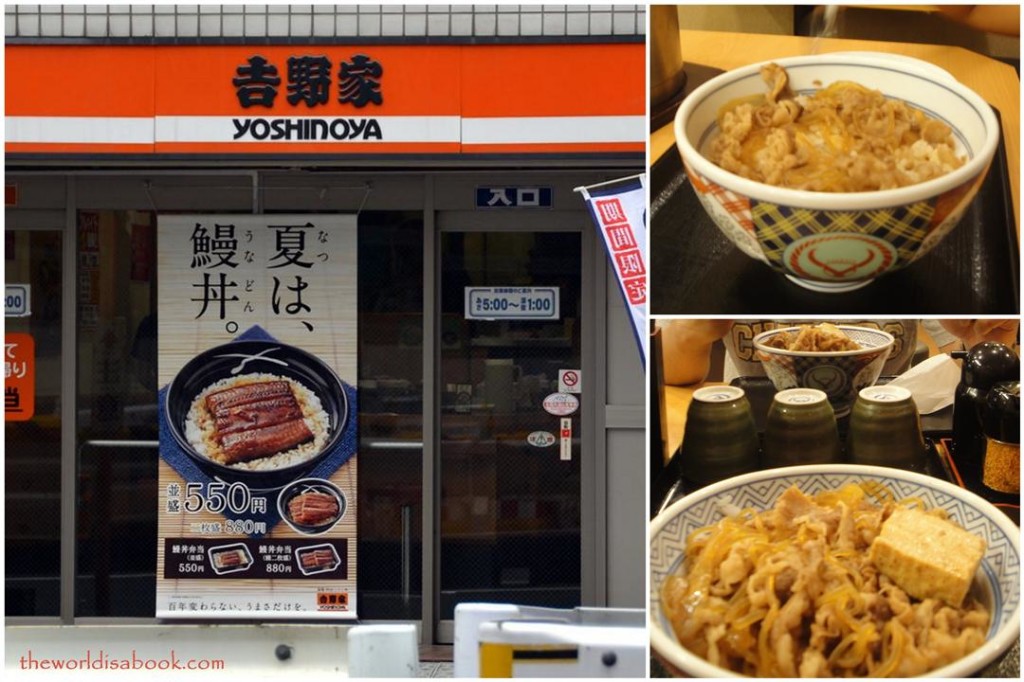 The most authentic and best lunch we had was during our day trip to Kamakura.  I wish I knew the restaurant name but it was written in Japanese.  We followed a couple along a side street who we thought obviously knew what they were looking for.   The food was great and prices were reasonable.  We also ate at a retaurant near one of the gift shops in Hakone at the Owakudani stop.    Again, I don't know the name but we had some of the best udon (Japanese hot noodle soup) dishes there.   Sometimes, you just have to follow the locals or what seemed to look like a favorite local hangout.
Desserts and snacks
Who would have thought to combine waffles with ice cream and a variety of toppings?  Well, we found Pink Dot at the Tokyo Tower food court.  We really need one of these here.  It wasn't an Eggo type waffle either.  It was crispy and freshly made and cut into four slices.   There was Caramel, Chocolate, Strawberry ice cream and your choice of toppings for about 500 yen(about $6).  It was expensive but well worth it since we all shared one.  Waffles were also sold separately with whipped cream and toppings.   It was absolutely sinfully delicious.
Who knew crepes were almost as popular in Tokyo as it was in Paris?   There was no shortage of crepe shops at Takeshita Dori (Takeshita Street)  in the Harajuku area.   There were plenty of crepes with different fillings and looked more like wraps.   They were deliciously displayed on windows.   The sweet smell of sugar and crepes were so strong when we passed by these stands it was so hard to resist them.  Somehow these looked more appetizing than the ones in France. At 400 yen ($5), they don't come cheap but worth every bite.
We also visited the Fujiyama bakery in Ginza.   Their mascot, known as Peko-chan, was an adorable little girl in pigtails with her tongue sticking out. It was hard to pass by this bakery and not go inside. The smell wafting from the sidewalks alone will deem one helpless.  We found plenty of snacks with Peko-chan at the grocery and 100 yen stores too.
Souvenir
Having read that a Tokyo Banana box was a popular souvenir to bring back from Tokyo, we had to try them. Most of the packages were 8 pieces for 1000 yen (about $12.50).   They were small pastries shaped like bananas.   Overall, it was a glorified twinkie but with a better banana flavor pudding filling.  They have an expiration date within a couple of weeks. We found them at the Tokyo Tower second level shops and at Odakyu food hall.  They were also at the Haneda Airport duty free shop for about the same price as the ones in Tokyo.  They were a bit addicting and were good souvenirs to pass out to family and friends.
Convenience
Japan takes the world of vending machines to another level.  There were machines for drinks and snacks and cigarettes.  The variety was astounding.   We relied on these machines for most of our drinks when we were out and about.  They were everywhere and it helped that they were dispensing cold beverages.    One could even order food in a vending machine.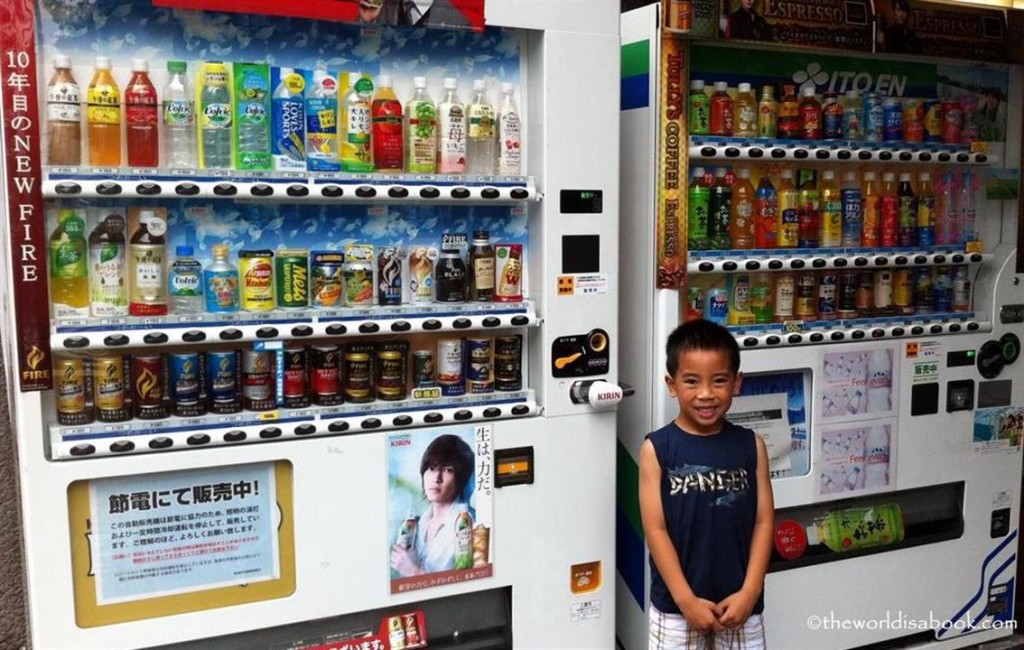 We found a couple of fast food places at the Tokyo Tower food court where you could order food and pay at a vending machine.  My husband wanted to eat at a curry place and wanted to try out the machines.  He was given a receipt which he handed to the worker at the counter.  They gave him some sort of buzzer much like the ones they give at restaurants to tell you when your table is ready.   It took a couple of minutes and he was "buzzed' and his food was ready at the counter.  Voila! Fast food at a whole different level.  We found one of these machines for tempura and udon at a couple of the train stations too.
Despite its reputation, Tokyo can be quite affordable with food even with kids in tow.  There's a whole world beyond the familiar McDonalds, Subway and KFC (which were pretty popular here) for the kids.   We really do recommend visiting the basement food halls at department stores as well as the grocery stores, Family Mart, 7-11 and other convenience stores.  You are bound to see one in and around the tourist spots.  They offered variety for the whole family and were such money savers.   For snack items to feed the young ones and to bring back cheap food-related souvenirs, visit the 100 yen stores around Tokyo too.  These were equivalent to our Dollar Stores with everything at 100 yen or about $1.25.
Related Posts: