Tokyo Imperial Palace East Gardens with kids
Our first destination in Japan after settling into our hotel was the Tokyo Imperial Palace and East Gardens.   We took the subway to Otemachi station.  We got a little disoriented at first but the good thing about Tokyo was they had maps displayed on the sidewalks with the all important "You are here" markers to be able to find your way to your destination.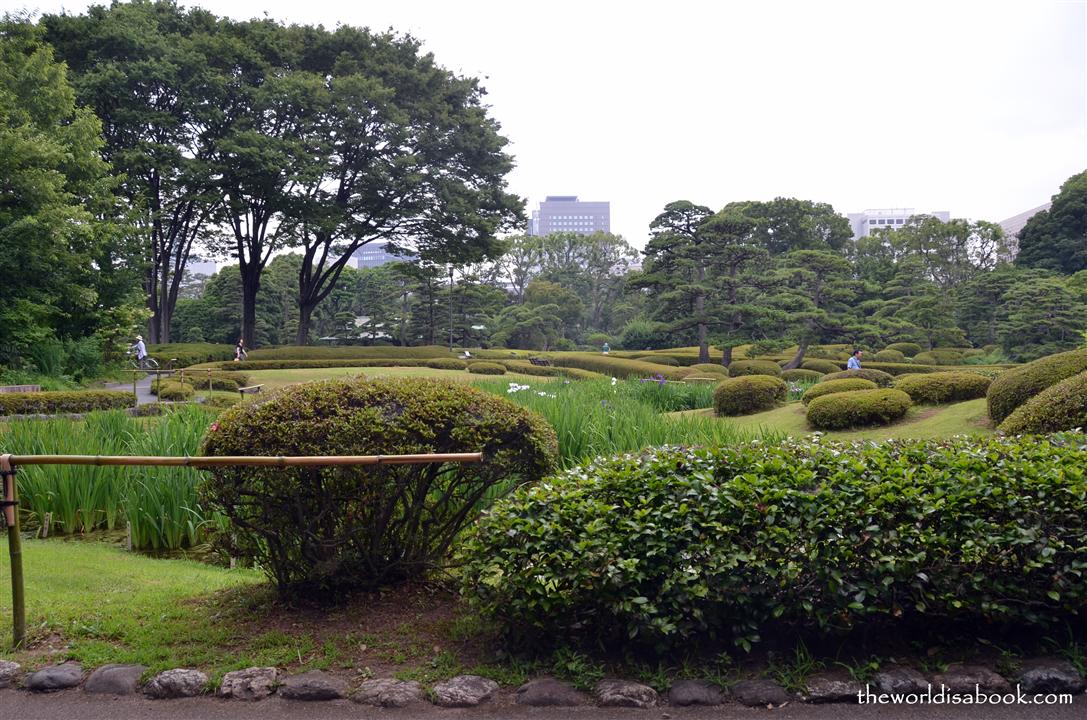 We saw the East Gardens from across the street right away with a moat and stone walls surrounding it.  We saw plenty of joggers around this area too.  Their dedication was admirable considering the heat and humidity that day.
We found the bridge to a small torii (entrance gate) known as the Ote-mon Gate with a guard who waved us in since it was free admission.  The gardens are open every day except on Mondays and Fridays.  We briefly saw the Tokyo Tower from the bridge where there were also swans and ducks to entertain the kids for a bit.
The East Garden area used to be part of the Edo (old Tokyo) Castle grounds where emperors lived before moving their residence to the current Imperial Palace.   Near the entrance was the Museum of the Imperial Collection which was free and open to the public.    It was small but the tapestries displayed in here were pretty spectacular.  There was a small souvenir store with restrooms and vending machines of ice cream and beverages nearby to my kids' delight.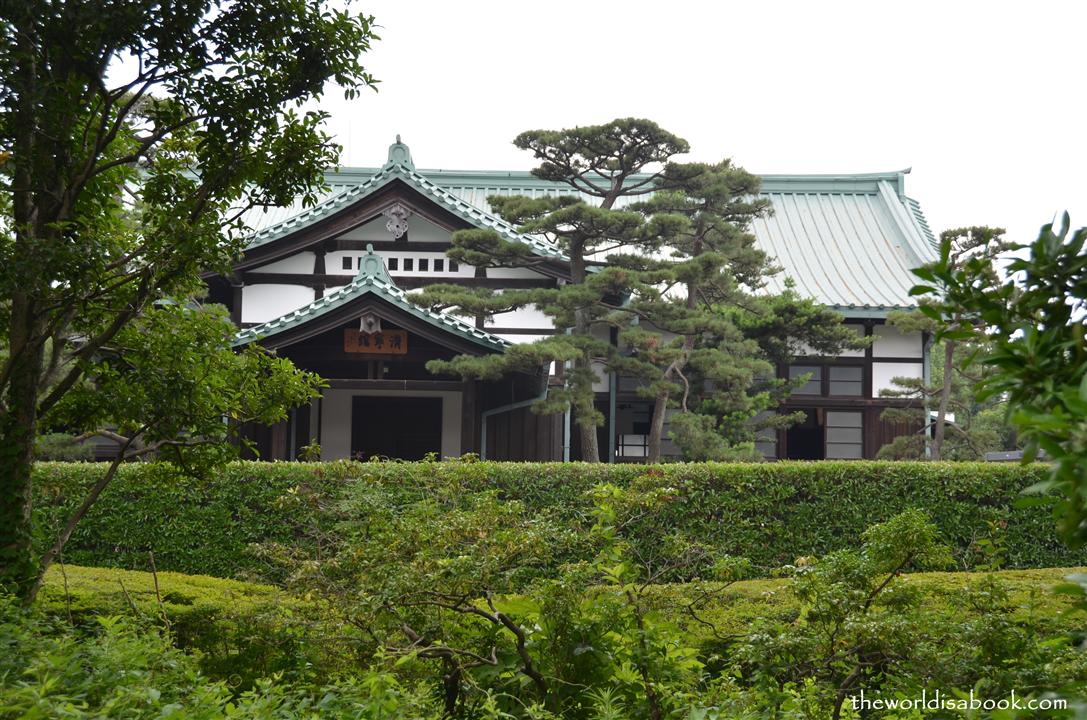 We passed by several guard houses which were remainders from the old Edo period.  There were only three of them still remaining here and they used to house samurai guardsmen to inspect visitors entering through the gate.  There were signs describing the various old structures in English and Japanese for some historical information.
Inside were more high defense stone walls and moats to what was once the inner citadel of the old palace.   I really liked the wide walkways here and was perfect for letting kids and toddlers skip about freely.  I still couldn't get over how clean it was yet we couldn't find a trash can anywhere nearby.
We ended up at the Ninomaru garden area which was one of the main attractions.  It was a beautiful Japanese style garden with a water lily pond and several seating areas.   It was a great space for kids to explore and a wonderful place to relax.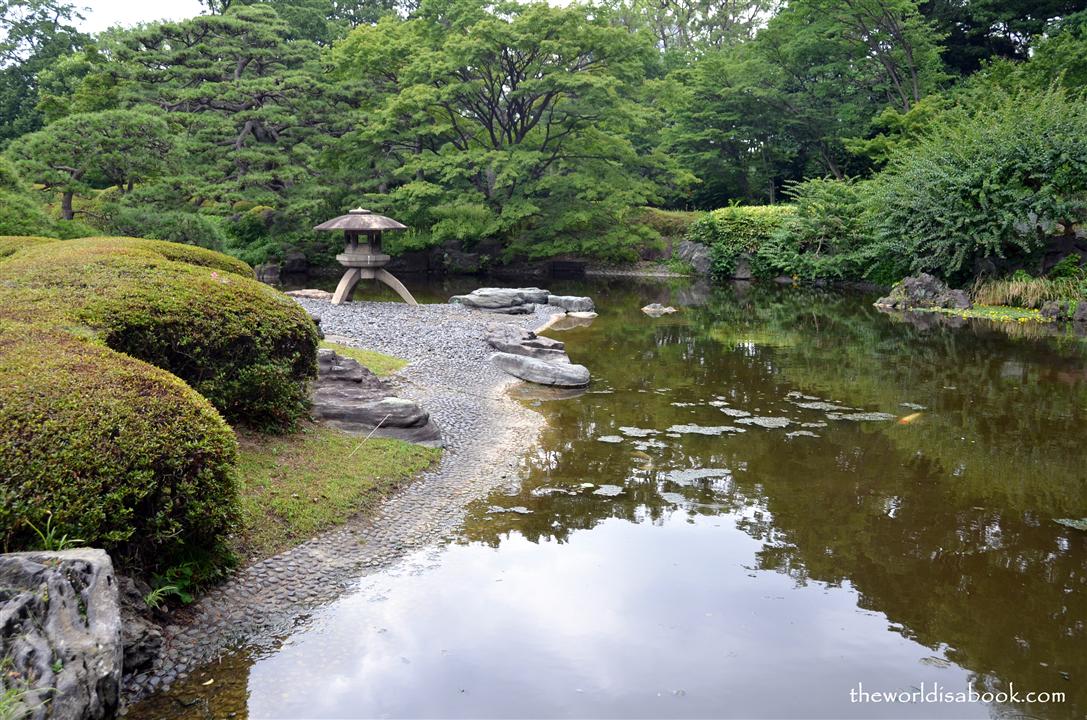 Surprisingly, there weren't that many tourists or visitors here on a Saturday morning.   The trees and hedges were perfectly trimmed and everything was well maintained and so clean. There were plenty of dragonflies here too for the kids to observe.The centerpiece was the big koi pond, a small waterfall with an arched bridge and a small pagoda nearby.  It was a pleasant and serene oasis in the midst of the skyscrapers surrounding it.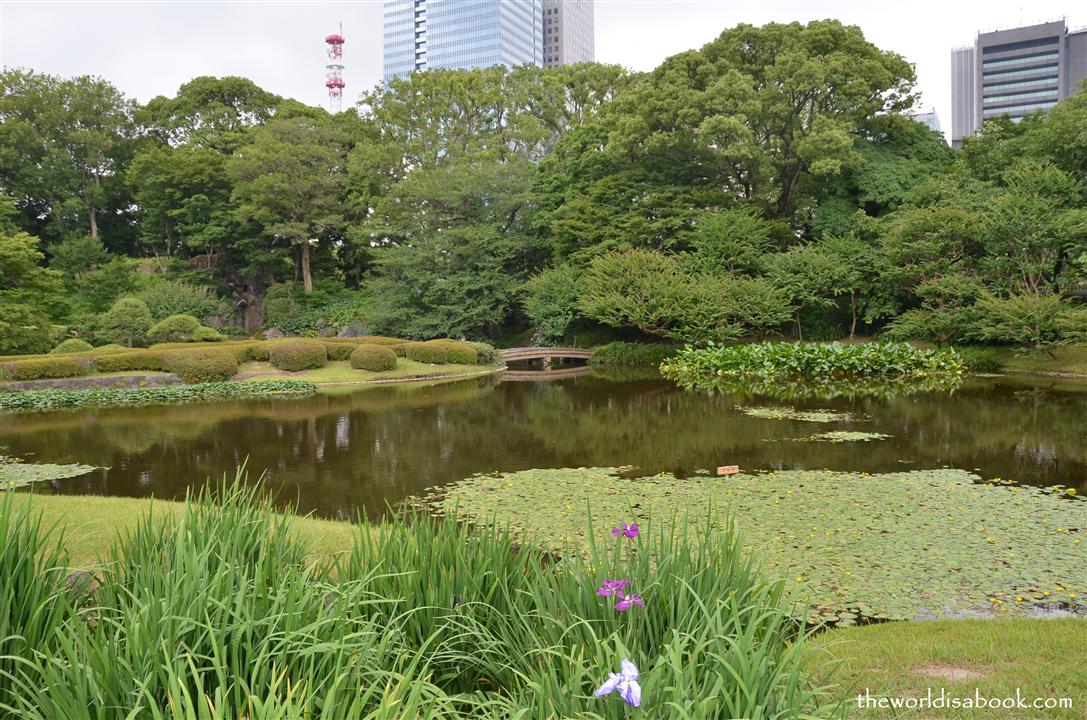 We walked up a hill towards the old inner circle inside the stone walls thinking the Palace was around there but came upon a large open green area.  We saw some people having picnics and taking naps here.  The grass was particularly inviting if only it wasn't so hot.  The surrounding areas had fruit trees, rose bushes and a variety of plants.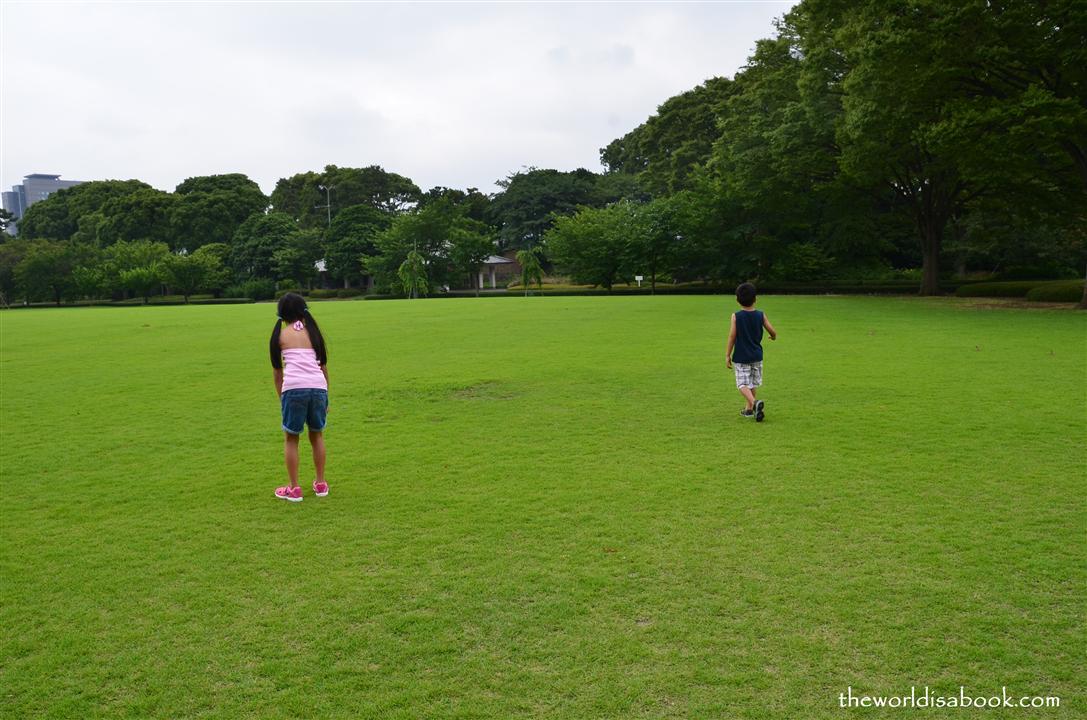 We found the Tenshudai which was the stone structure that used to be the foundation of the old castle tower that looked out into the lawn.
Nearby was the Music Hall that looked more like a church with some art work on its exterior.  It seemed a little bit out of place here among the gardens and old structures. We finally gave up after not seeing any sign of a palace nearby.
There was another English-speaking family there looking for it too and unfortunately, we couldn't help each other.  We ended up asking a couple of guards.  My two years of high school Japanese years ago is now completely useless so I knew minimal phrases.  I think their English was better than my Japanese though.  I pointed to a picture of Nijubashi (two bridges) from the map.
Through a lot of hand gestures, we discovered we had to go out the gate we came in, make a right and walk a bit more.  We double checked our map and it suddenly began to look a whole lot clearer and farther.  Honestly, I don't know what map we were looking at that made us think the attractions were right next to each other.  Our mistake had to be totally underestimating the size of the East Gardens and assuming that they were somehow connected.
By then, the kids had started to whine about being hungry and hot and tired.  We made promises of lunch and a good dessert and getting there soon.   We walked out of the Otemon gate and saw another gate entrance with security guards.  We had to ask the guards again to be sure and he pointed us to the direction of where there were a few tour buses.
We finally came upon an area with railings where the tour bus tourists had special seats to take pictures.  Hooray! The Fushimi Yagura Tower building perched against a stone wall with its distinct Japanese architecture was a stunning sight and picture perfect.  The water in the moat was a little bit greener than we expected but added that 'old world Japan' ambience.  The two bridges with their unique lampposts were visible from the photo areas.  We actually saw people walking on them but were too tired at this point to even think about going there.  We got our tourist pictures and were ready to leave after spending more time than we expected here.
It was worth the long hot walk although our kids would strongly disagree with me.  The Tokyo Imperial Palace is still occupied by Japan's royal family and the emperor.  It is only open to the public on New Year (Jan. 2) and during the Emperor's birthday (Dec. 23).  But, tours are available for the inner areas through reservations with the Imperial Household agency and can be made here.  It is a 75-minute tour in Japanese with English audio guide systems available.  We didn't make reservations knowing our kids would most likely not be able endure this long tour in the heat.
Lesson learned – things appear closer than they actually are on some maps.  If you just need to see the Tokyo Imperial Palace and skip the East Gardens, getting to Tokyo Station or Nijubashi-Mae subway station will take you there directly.  We highly recommend a visit to the East Gardens though.  It was a great way to see a traditional Japanese garden where kids can explore, learn a little bit of Japanese history and was free.
Useful Link:
Related Posts:
Pin it for later!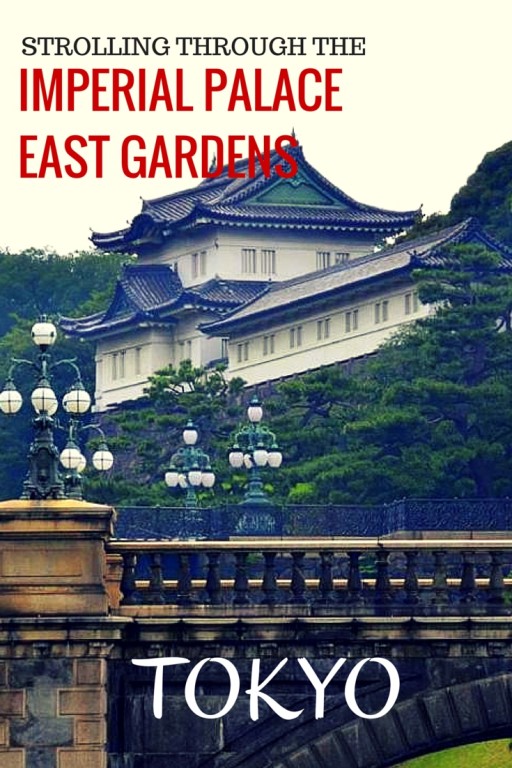 Check out these related posts: