Tokyo with Kids: Odaiba with kids
Odaiba is man-made island built for entertainment, dining and shopping on Tokyo Bay.  We spent our last day in Tokyo here and got to the island using the Rinkai subway line to the Tokyo Teleport station on the island. Leaving the subway station, we saw the Venus Fort  Shopping Center, Toyota Mega Web and the huge ferris wheel nearby all comprising Palette Town.  We chose not to ride the ferris wheel and come to think of it, didn't see it moving while we were there.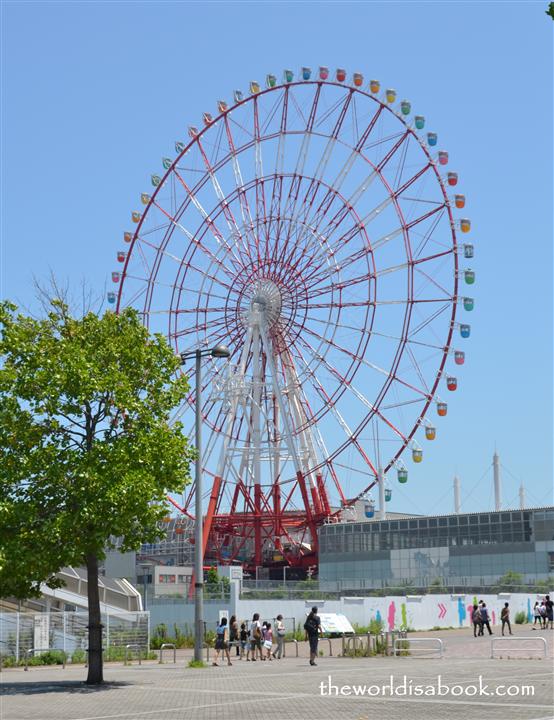 Odaiba Venus Fort
Venus Fort had three levels of various shops, cafes and restaurants with a Mediterranean feel.  The ceiling was the faux clouds which gave it the illusion of eternal blue skies indoors.  It was very similar to the shopping centers in Las Vegas like Venetian and Caesar's Palace including the fountains and store set-up.  We ended up eating at their food court where hubby had Greek food (he wanted something different) and we opted for more noodles.   Once again we got buzzers telling us when our food was ready instead of waiting around for it by their counters.  What a novel concept that still took a bit of getting used to.  The drinks were sold at a separate concession place.
The bottom floor was a kids' haven.  It had a huge arcade and game area where kids could spend hours playing.  Next door was the very pink world of Hello Kitty called Kawaii Paradise.  It was a bit dizzying in there but our Hello Kitty fan loved everything about it.  Too bad the prices were a little high for the products.  There was also a small little restaurant called Pancake Party serving what else, but pancakes and what looked like some sort of pancake sandwich.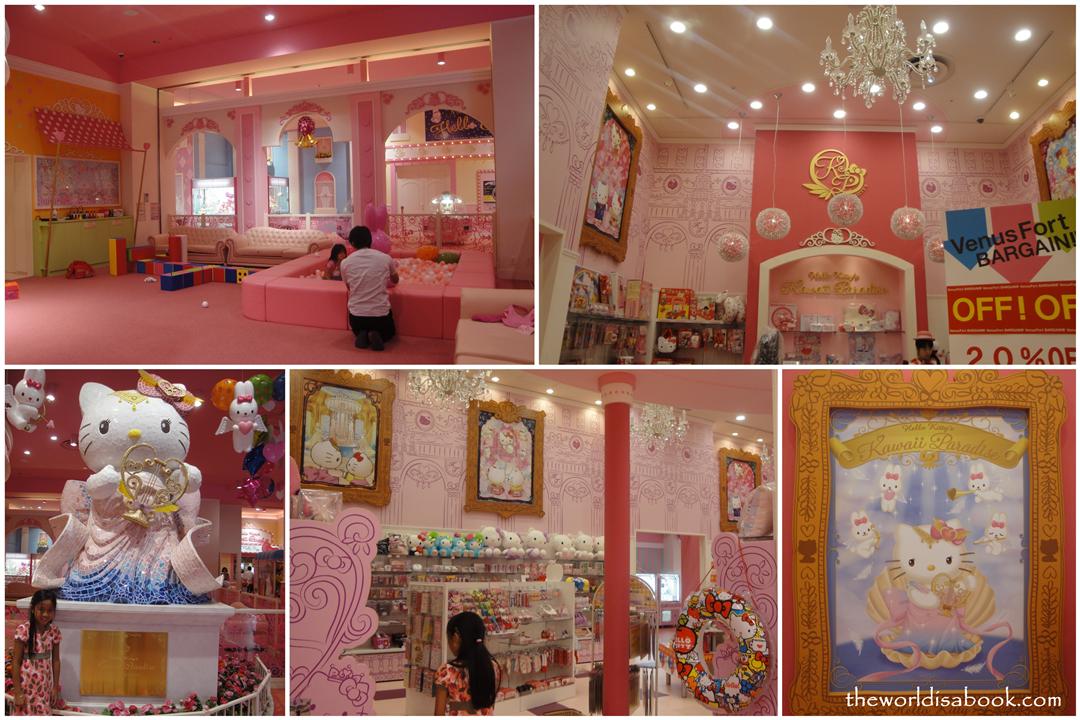 Towards the front was a play area for toddlers and a booth to play some simple games.  The bottom floor by the pet store was a car museum and cafe with various displays of cars including one of Luigi (the FIAT) from Disney's Cars2.    This scored some major points for our car-loving son who ran excitedly from one car to another.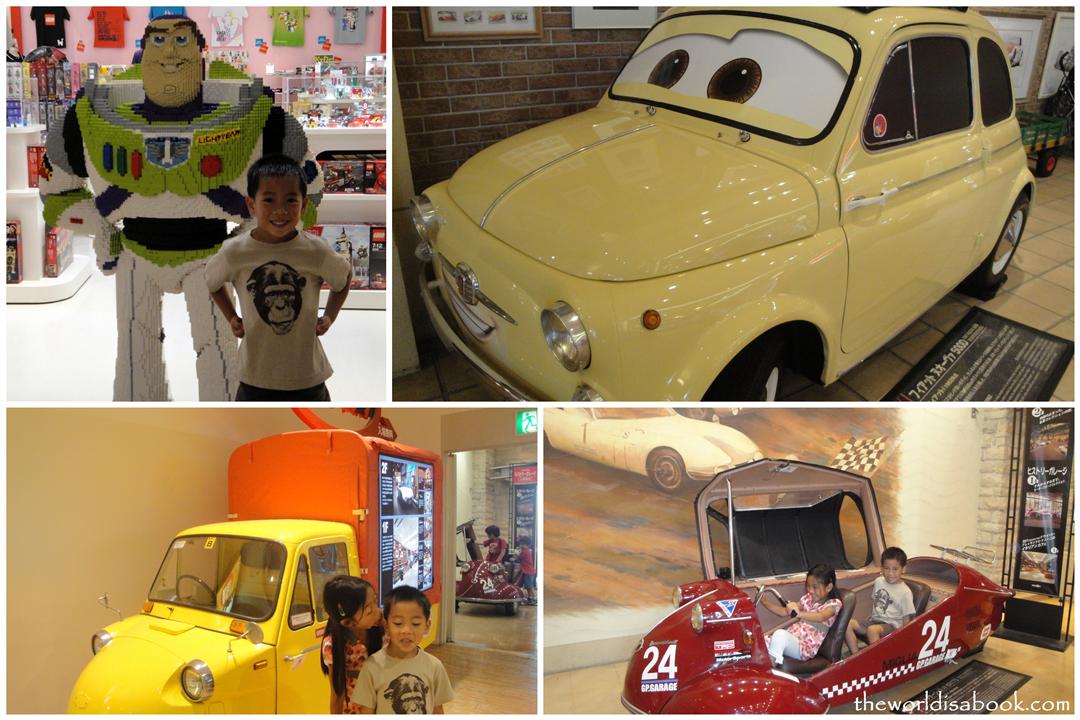 Toyota Mega Web Odaiba
Outside was a courtyard with a bungee trampoline and the Mega Web Toyota showroom (supposedly the world's biggest).  This was a great place for kids and especially those who love cars and was a free attraction.   It was huge with so many cars on display and some not available outside Japan.  The kids could pretend to "test drive" and play with the controls.  Our kids had fun going to each available car, picking out their favorites and seeing the inside of the cars.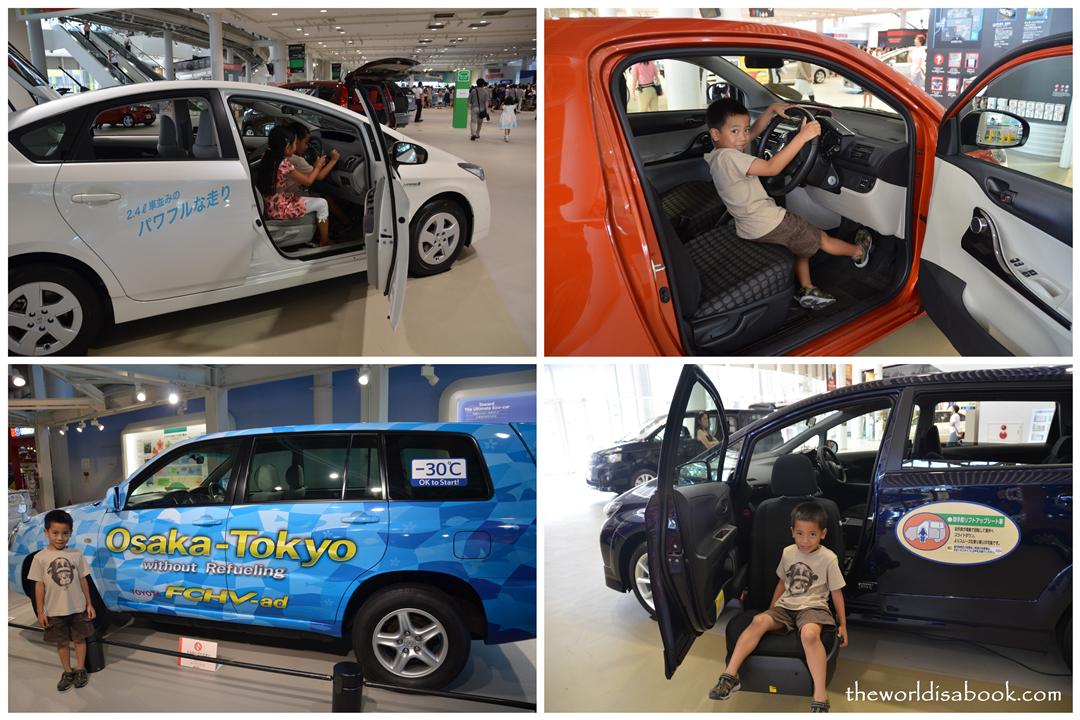 Another awesome thing in the showroom was the Kids Hybrid Ride One attraction which was also free.  Children were allowed to go drive a "foot pedal type electric motor assisted hybrid cart" which went along a small course.
Approximate course time was 15 minutes.  They could even assemble a cart which would add another 15 minutes.   There was a height restriction of 120 cm or about 48 inches.  Unfortunately, our 5 year old didn't meet the height requirement and was disappointed he couldn't "drive".  The next reservation available was another hour so we decided to pass on this.
While we were there, there was a concert of a teenage female pop group called Momoiro Clover Z.  It was so loud and not just from the fans screaming but the gigantic speakers.  It was something I probably would have enjoyed 20 years ago but alas, felt a bit too old among the teenage boppers there.  Even though the group was quite enjoyable, we left after awhile because I was getting a headache from all the noise.   The group reminded me of a live version of the once popular cartoon Powerpuff Girls.  It was quite amusing to experience a mini Japanese concert.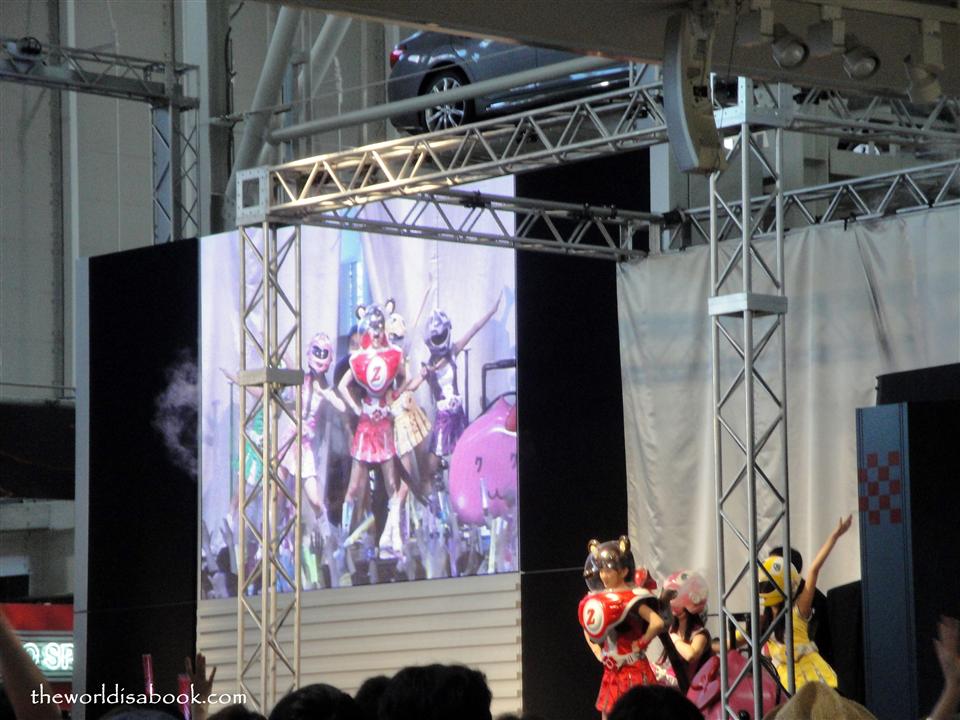 Odaiba Fuji TV Building
We walked back towards the subway and followed the walkway next to the Fuji TV building (a Japan private station).  This futuristic looking building was a really cool.  They have an observation area in the sphere and various exhibits on their TV programs.  Due to our limited time here, we didn't have the chance to go inside the building.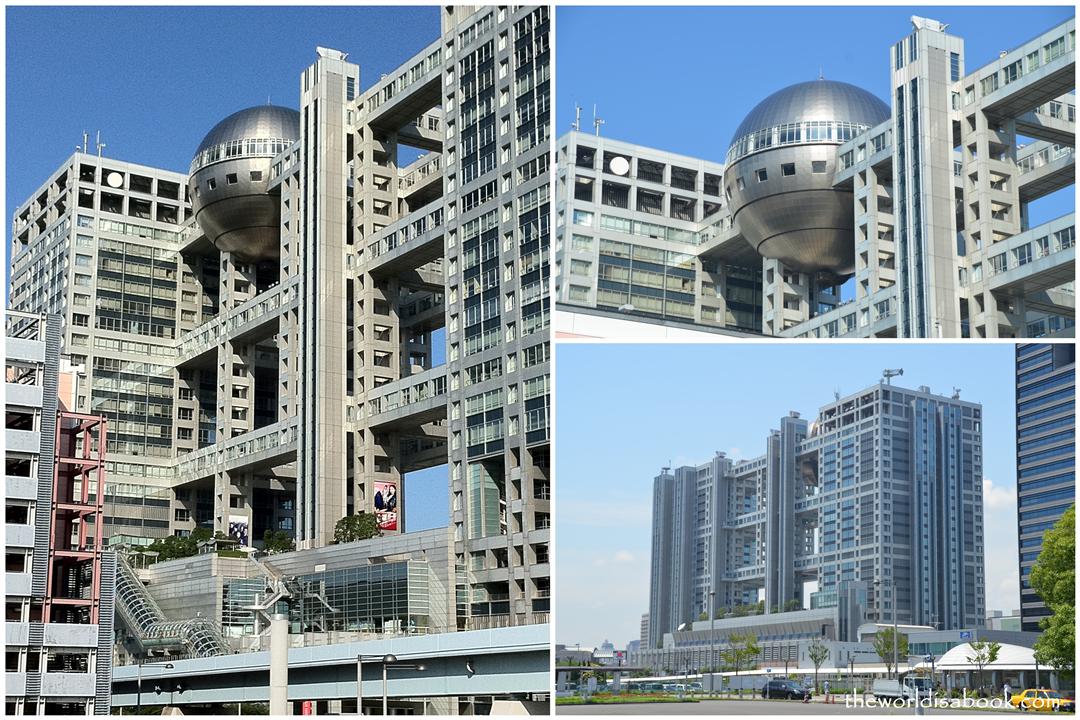 We ended up on the boardwalk that led to a public beach.  The kids waded in the water and spent some time playing in the sand.   Swimming was not allowed but there were plenty of people sunbathing and doing some boardsailing.  Nearby was the waterbus station to catch the boats for scenic rides on Tokyo Bay.   The boats came in 1-2 times per hour to the nearest Hinode pier.  We didn't want to wait so we decided to forego the cruise.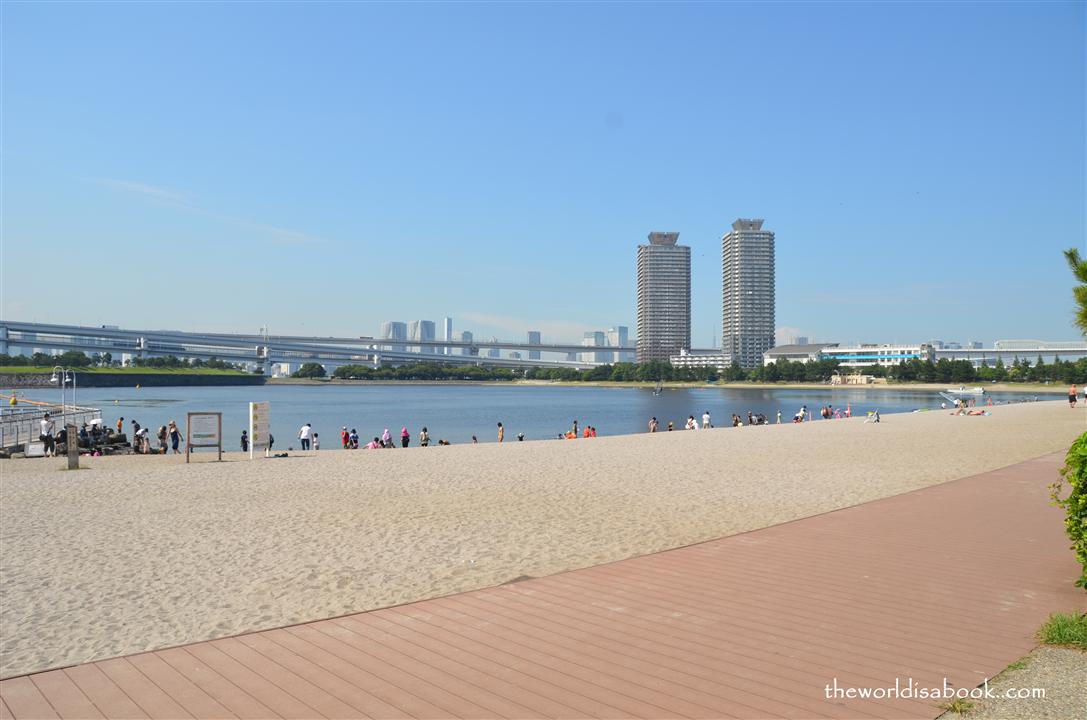 Walking on the boardwalk area towards the Odaiba Seaside Park, we came across a picnic bench and rocky area under a tree.  It was a perfect place to rest and admire the view.  To our surprise, we started seeing fish jumping out of the water at random spots.  This was actually relaxing and was so much cooler in the shade with an occasional sea breeze.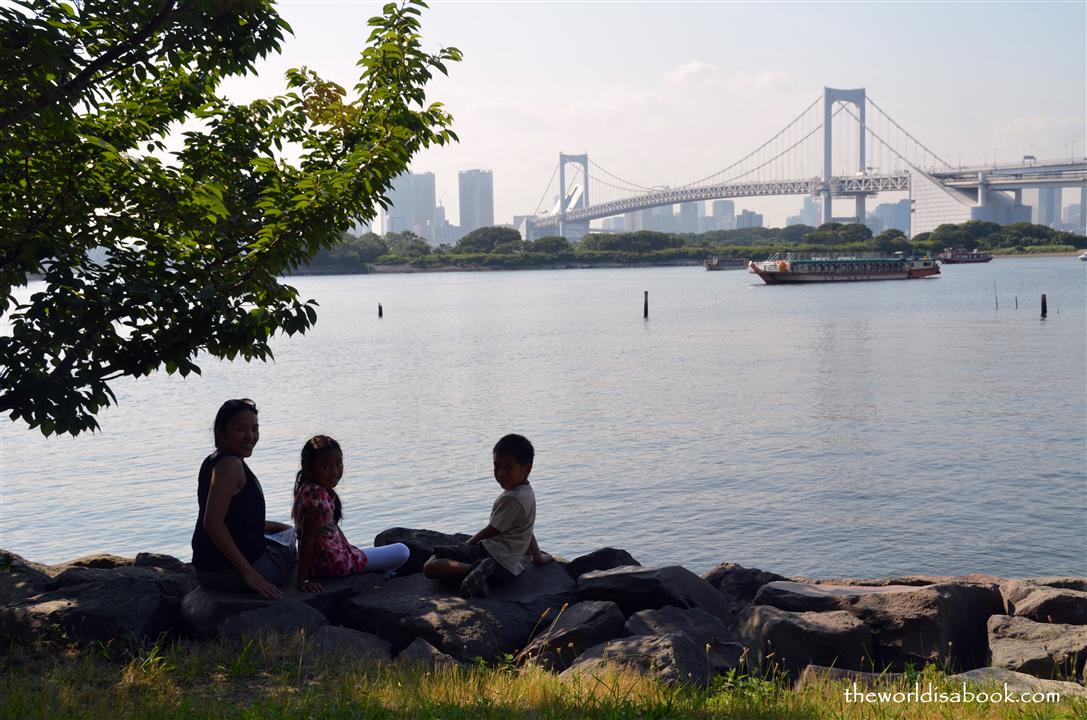 Odaiba Statue Of Liberty
We came upon the Statue of Liberty replica that we've seen on many Odaiba images in tourist brochures.  It was a bit strange to see Lady Liberty here.  So, how did this replica get here? Apparently, the French loaned the original Statue of Liberty to Japan for one year to celebrate and commemorate Japan and France's relationship.   The statue's popularity prompted the Japanese to build this replica and was erected here in 2000.  Judging from all the people still taking pictures of her from different angles, the popularity hasn't subsided.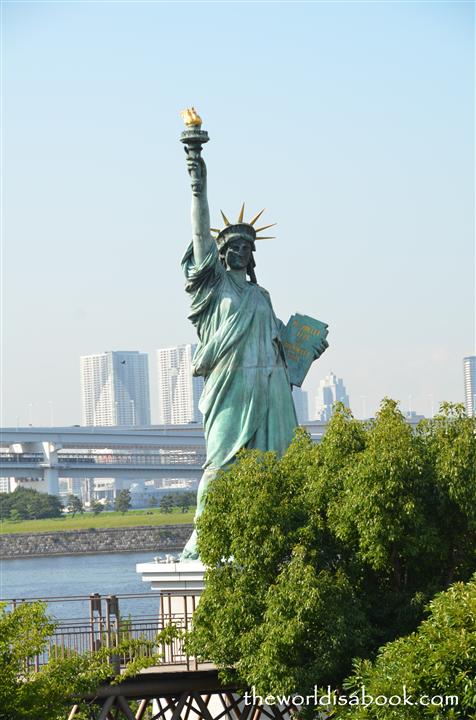 We ended our trip towards the Daiba train station where the platform area by Hotel Nikko offered some magnificent views of the Rainbow Bridge and a different perspective of the Fuji TV building.  The best view though is going through the Rainbow Bridge using the Yurikamome elevated train line which we took on the way back to Tokyo.  You get the Tokyo panoramic skyline and an awesome view of Odaiba attractions.  We got on the back of the train and the big windows offered some spectacular sights.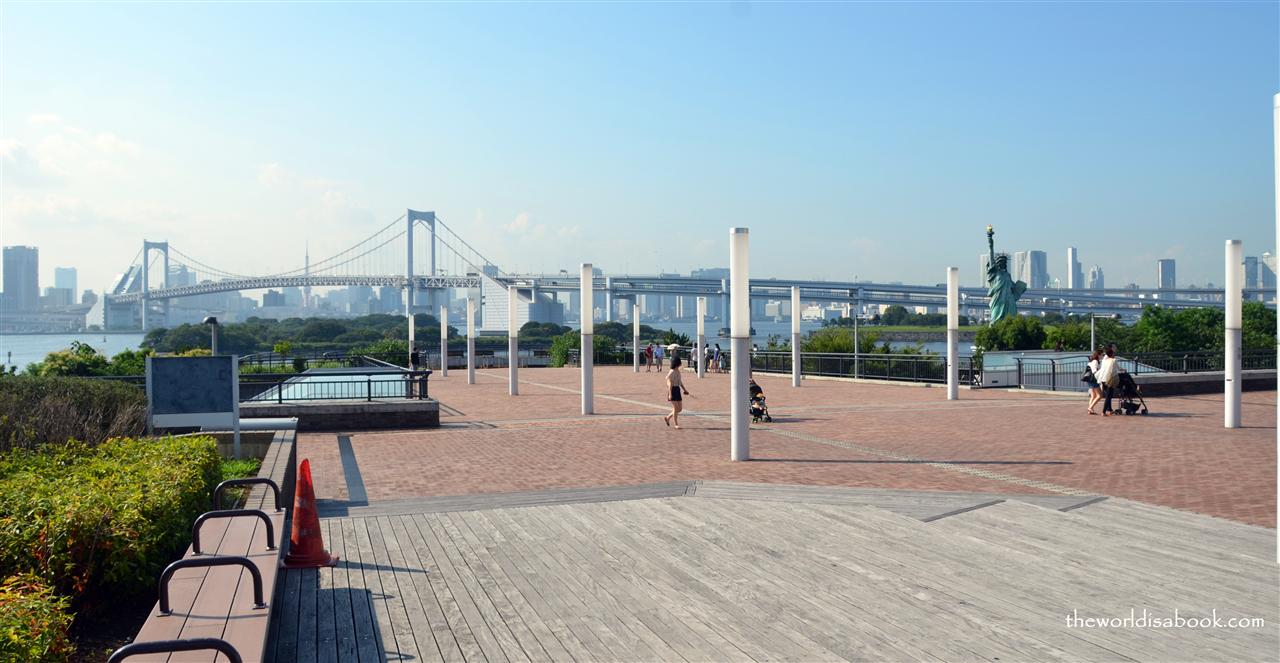 Unfortunately, we didn't even get to venture to their marine park, Aqua City and other museums.   Odaiba had a lot to offer families and was a worthwhile day trip from Tokyo.  It was easy to see why this was a popular destination for locals and tourists.
Related Links: