Palm Springs with kids: The Living Desert
Who knew there was such a unique world of wonder in the middle of the desert?  We recently discovered the Living Desert which  is touted as "A Wildlife  Adventure Through the Deserts of the World' – a zoo and botanical garden 15 minutes from Palm  Springs.  It is filled with exhibits of desert plants and animals that is  sure to entertain  the whole family.
We went to the Living Desert during Smithsonian Museum's Annual Free Museum Day in Sept  2011.   The Living Desert was only open until 1:30 PM during our visit though.   Although they're open everyday except Christmas, the hours are reduced  during the summer  months because of this area's intense heat and high temperatures of  over 100 degrees.  They  are open until 5 PM from Oct. 1 – May 31.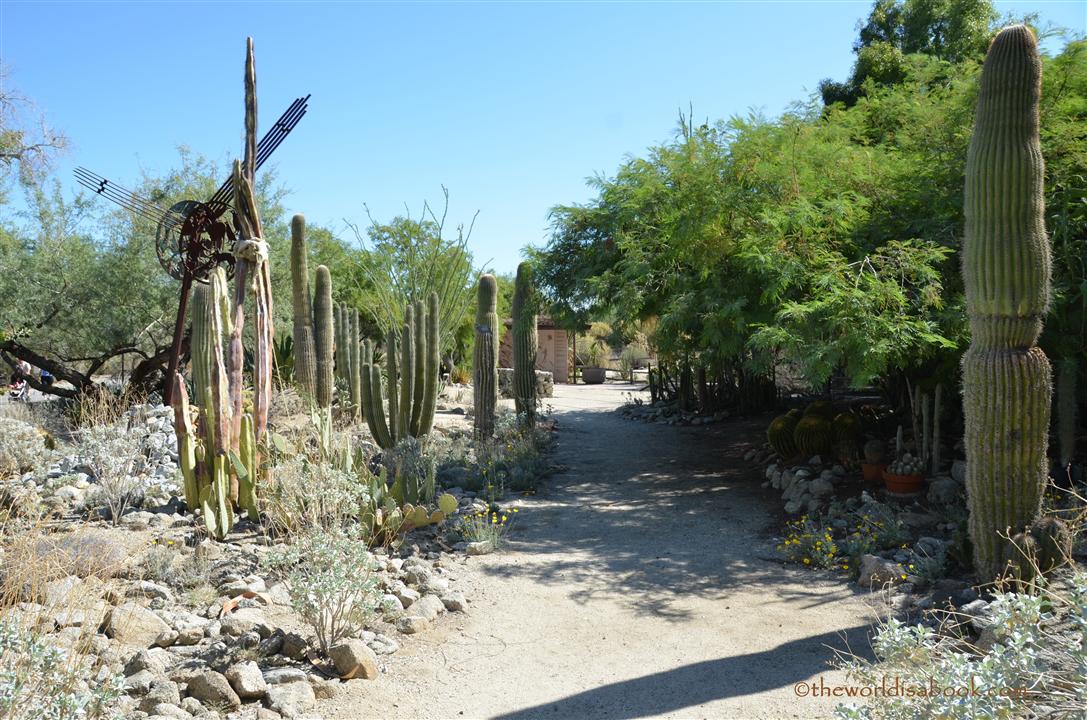 We got there at around 10:30 AM and only took us about an hour and 45 minutes from our  North  San Diego home.  It was located in a residential neighborhood with  plenty of free, outdoor parking spaces.  Surprisingly, there weren't that many people there.  They only had one ticket window and  the lines will most likely get quite long during their busy  season.  To save some time,  tickets can also be purchased online.  The restrooms,  restaurant and gift shop were  all by the entrance.   Strollers were also available for a  donation. Be sure to get a Daily Program Schedule to attend the various animal shows and  encounters.
The park was separated into two lands – North America and  Africa.  A shuttle, in the form of  an extended golf cart, was available to take visitors around with various stops to hop on and  off around the park for $6.  We decided to walk  instead since the path was only a mile  and a half around and headed to the North America area first.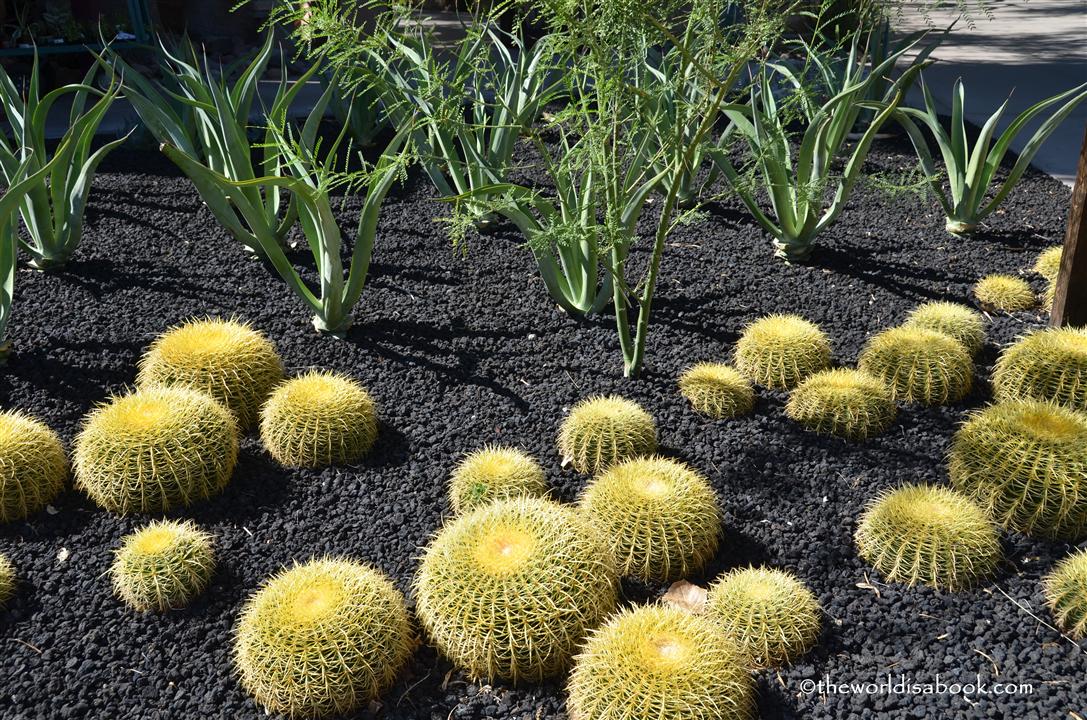 Palo Verde Garden – This cactus garden and a nursery area was a great way to see the different cacti growing in the desert.  Some were actually quite beautiful.  Towards the back  was a sitting area with bird feeders.  Along the pathways, there were cages with rare birds  and owls including one that looked like an owl from Harry Potter.
The Tennity Wildlife Hospital & Conservation Center – Unfortunately,  there were no live  animals around when we visited.  On other days, visitors can observe the staff do exams and  medical procedures on the animals.  Go towards the end of the hallway to your left when  you  enter the hospital though for some pretty cool interactive things for the kids.   A huge  tortoise shell for them to touch and for the bigger kids, to  carry which was quite heavy was  available.  There were also tables of elk and sheep horns, antlers and a  collection of  shredded snake skins.  Kids loved this room because they were able to touch to their heart's  content.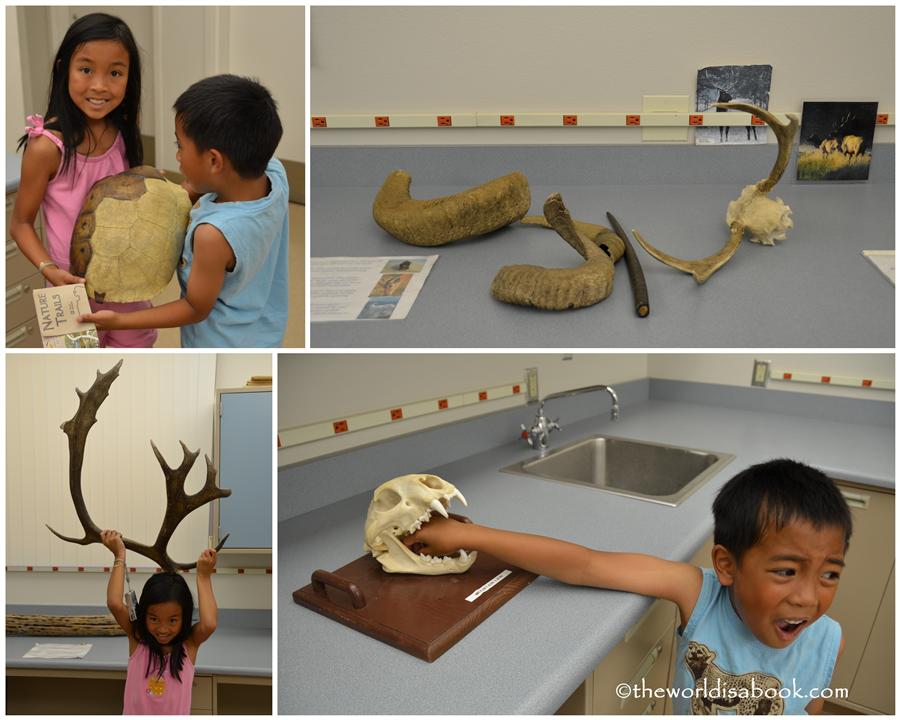 Indian Village – Near the butterfly garden was a replica of an Indian village.  It was a great  way to learn about the Cahuilla tribe who used to live in this area. It was actually perfect timing  since my daughter was learning about various California Native American Indians.  There were  displays of weapons and artifacts they used during their daily lives.  There were replicas of  their sweat lodges and meeting grounds here too.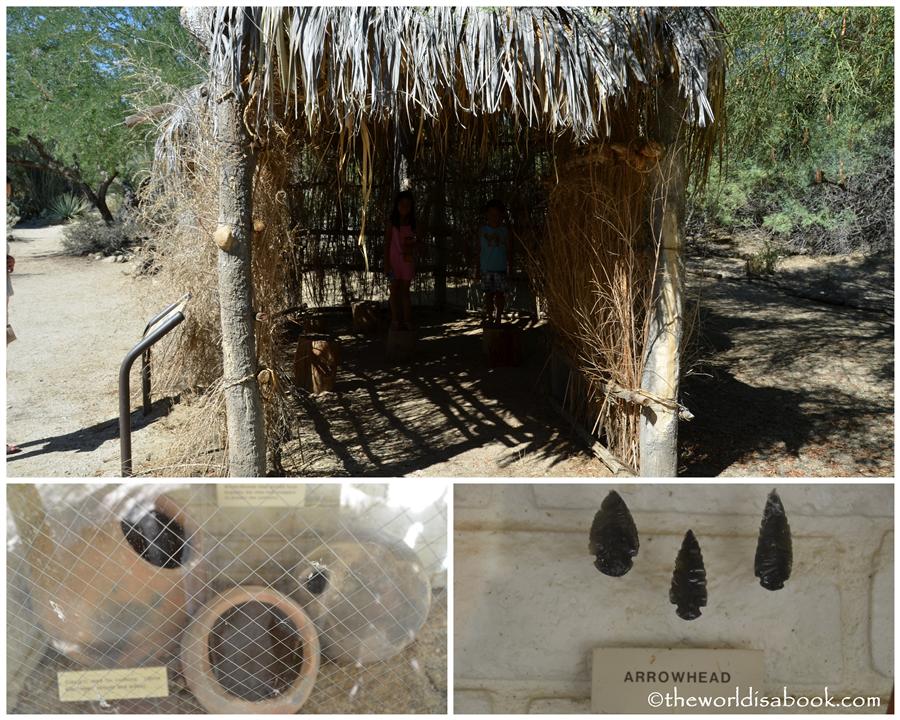 Palm Oasis – The giant palms surrounding this area with a small marsh and pup fish led us to a  pleasant walk. I found this area to be quite calming and looking at the palms almost transports you to a desert oasis.  Though, the  highlight here was the walk-through aviary.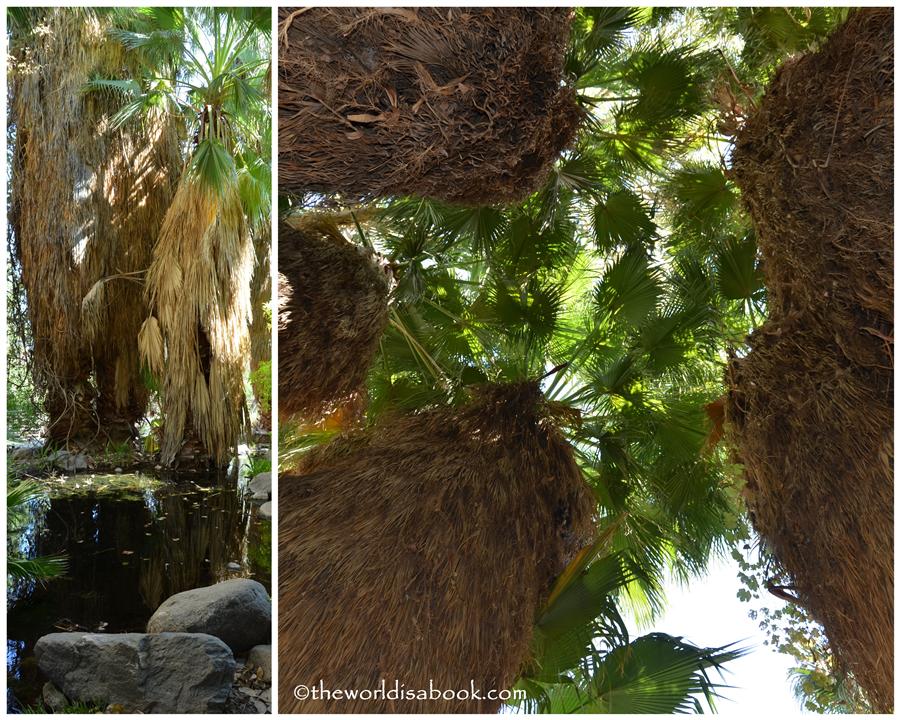 It was huge with  hawks and ravens and other birds who just looked like they were waiting for visitors to gawk  at them.  It was a bit  unnerving walking through here as you stare eye to eye with the birds  and the possibility of a bird swooping down on you.  We walked hurriedly through here and  observed from the outside.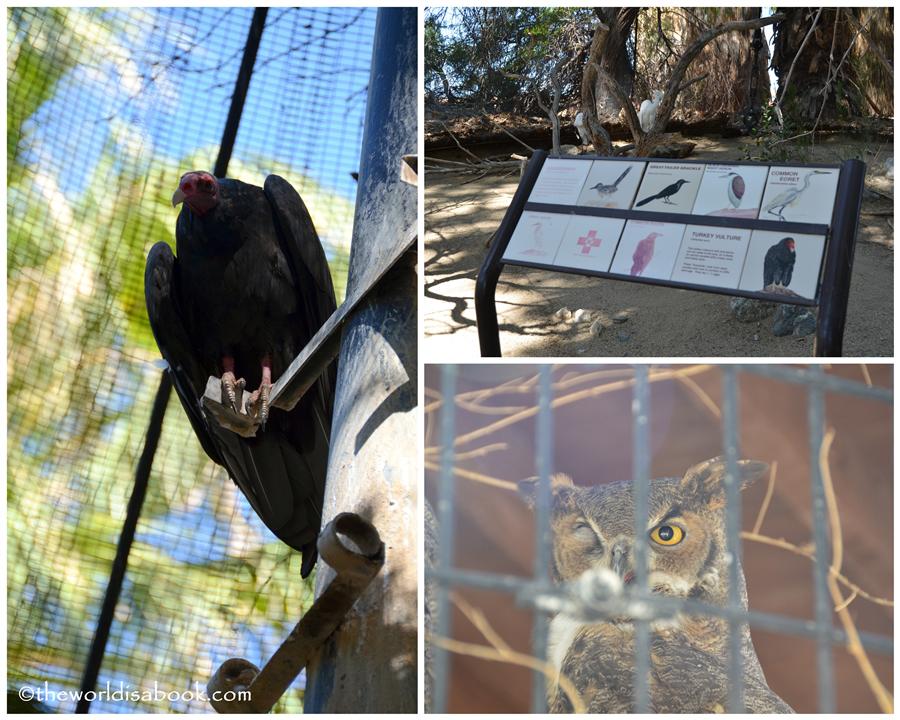 Sonoran Pond – This was a small pond with a lot of vegetation.  There was a walk through game with the intent on helping kids with conservation and recycling.  They were  supposed to  determine which items don't belong in a natural environment.  Unfortunately, some items were  missing from the area. Nonetheless, they had fun playing this short game.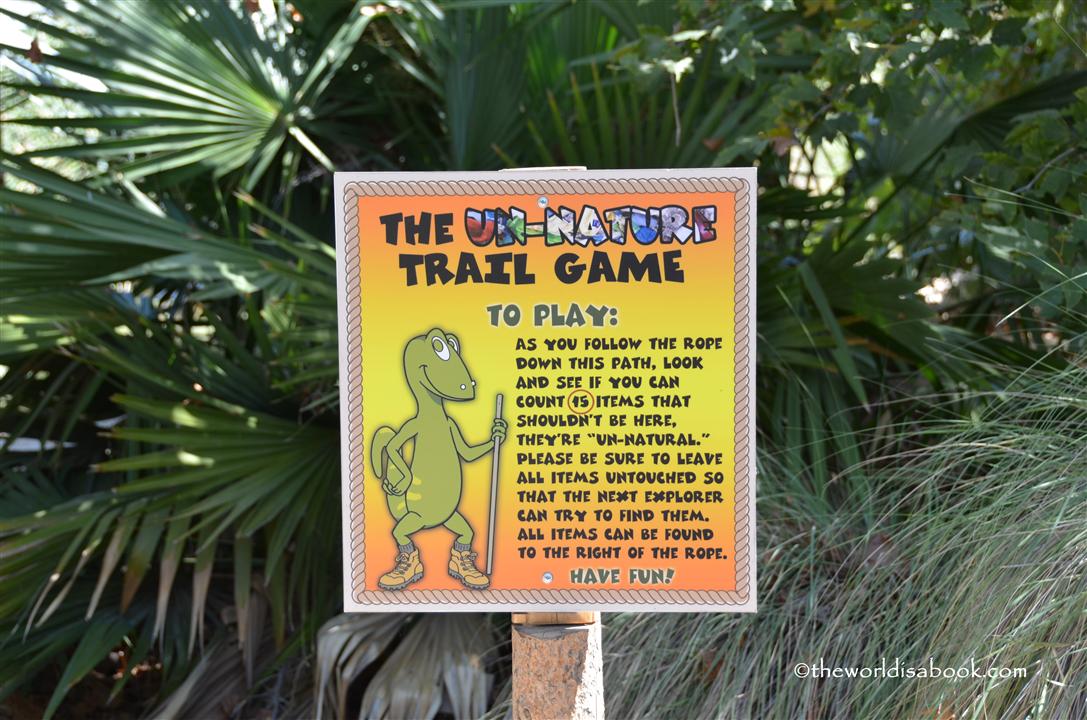 Eagle Canyon – This walk through exhibit of various animals was quite interesting.  We learned  a lot about the different amphibians and the kids were amused looking for the different  animals in each exhibit. There were exhibits of a mountain lion, bobcat, fox, golden eagle  and an  adorable badger.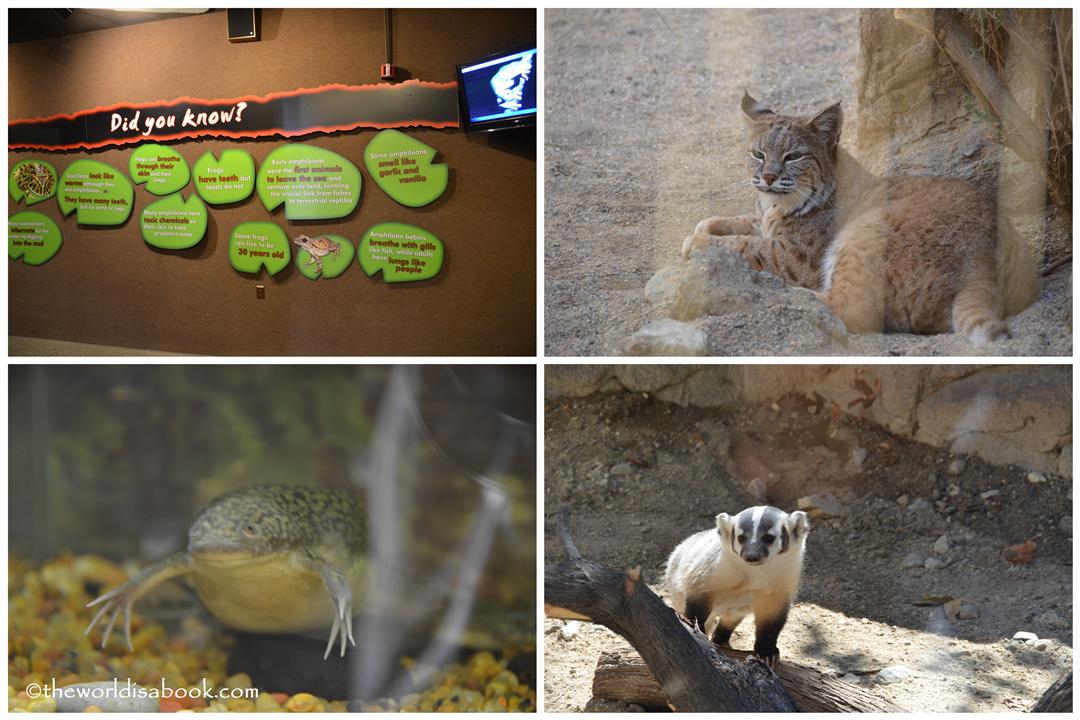 Endangered Species Carousel – Rides were  $2 on any of the 30 animals on Marilyn's Merry-Go-Round.  It seemed a little out of place here but it was a good diversion for the kids.  Be sure you get the animals that move up and down since some animals were stationary.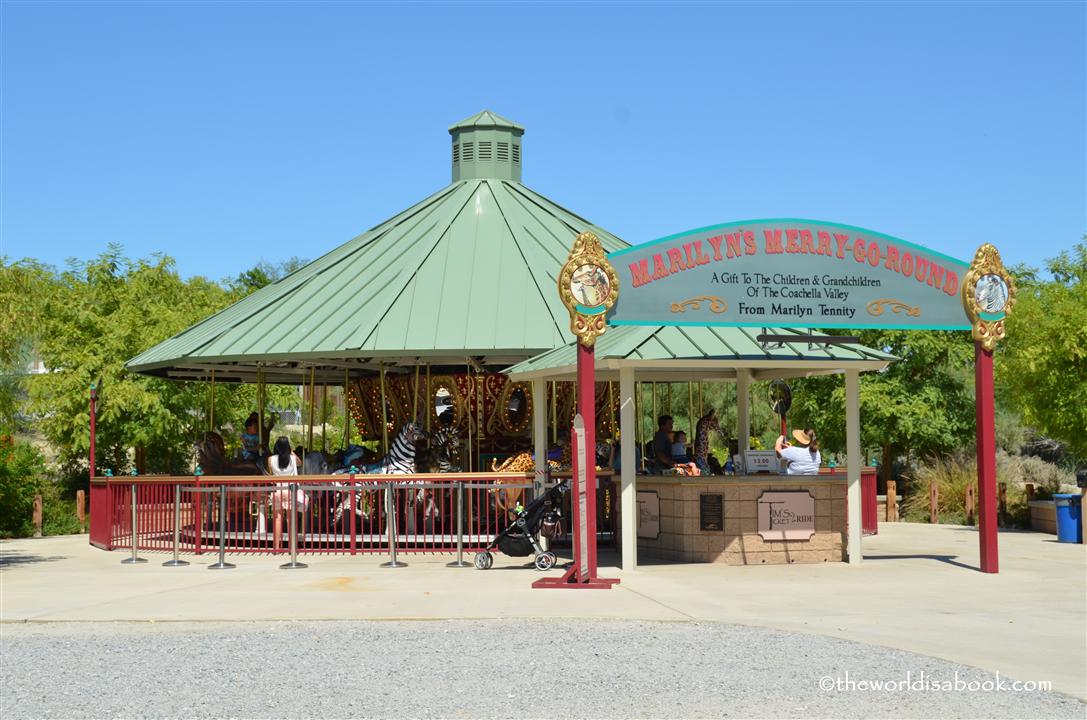 Big Horn Mountain – I liked this area a lot due to the amount of big horn sheep roaming the mountain and blending in with their surroundings.  There were a lot of them and this was as  close as we have gotten to these majestic animals.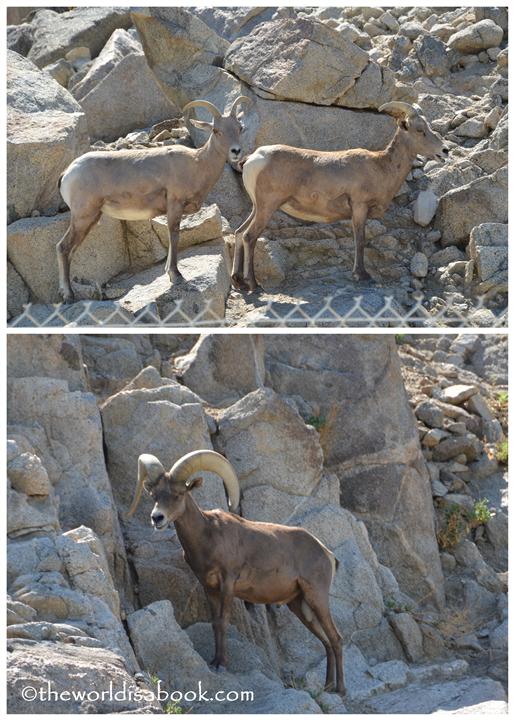 Discovery Center – This indoor area was definitely a must visit and not just as a break from the heat.  There were plenty of interactive and hands-on exhibits inside for the kids to learn and explore and was designed for all ages.  How sand dunes are formed was a pretty popular one with the kids.  It was hard to miss the 8-foot-tall giant ground sloth skeleton near the entrance here.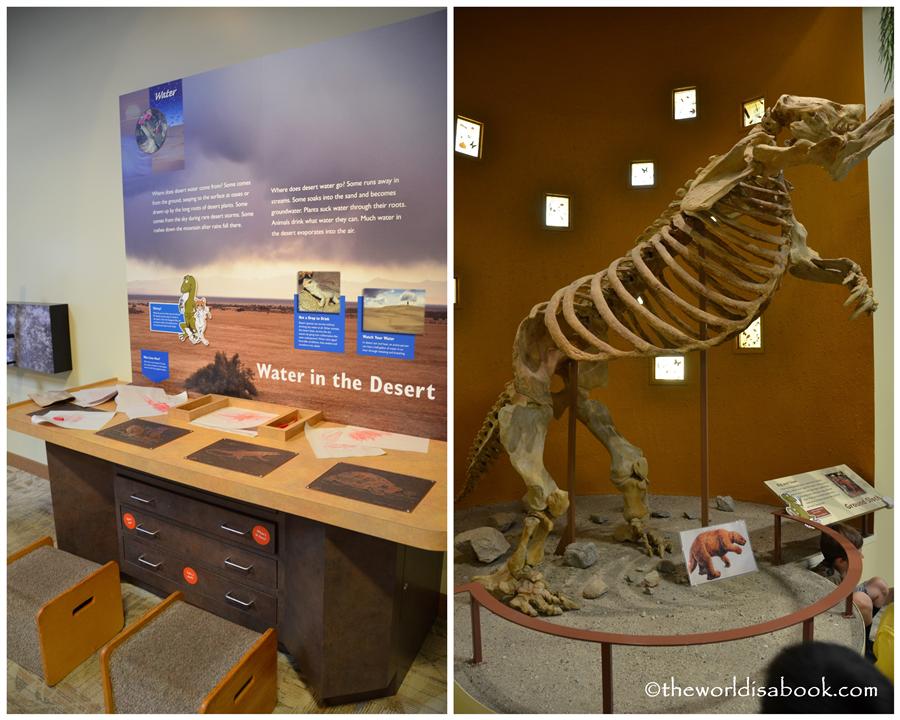 The staff brought out a giant lizard, an owl and a huge porcupine while we were there. The  porcupine got a lot of well deserved attention and was just a delightful animal to look at.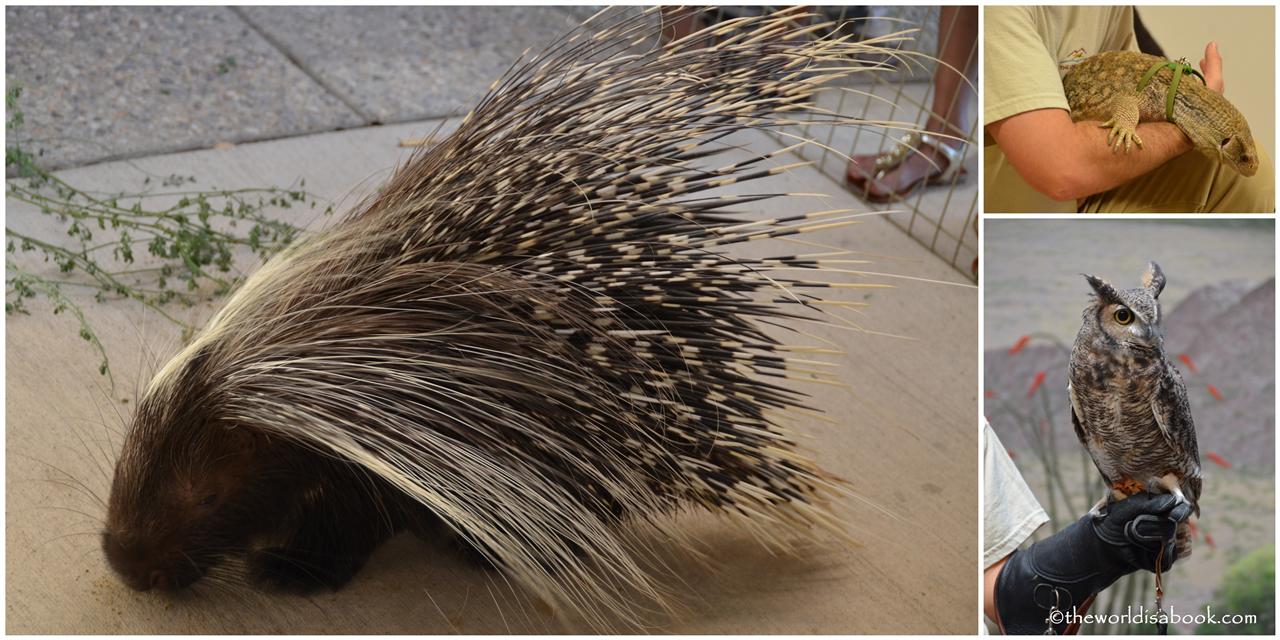 Ant Lab – This exhibit showed how a colony of 10,000 long-legged desert ants lived and were on  display outside the Discovery Center.  It was interesting but a bit disturbing and I felt  like things were crawling on me after seeing that exhibit.  Although, their story panels gave us some very interesting information on ants including all about the power of the Queen Ant.   We learn something new everyday.
Living Desert Africa
The other major section of the Living Desert was Africa which was like going through a mini safari.  There were various animal exhibits  including many you would find at zoos. The  difference is that they seem to be a little bit closer here.  My daughter's favorite animal is  the cheetah and she was so excited to see it in a pretty big enclosure.  The zebras were a  whole lot closer here too compared to the exhibit at San Diego Safari Park.
The most distinctive part of this area had to be Village Watutu which was supposed to be an  authentic African village replica.  It was interesting to see the grass roof structures here.  There was also a small eatery and a gift shop.  Drums were available for the kids to beat on.  Towards the back area was the dromedary camel(single hump ones) exhibit with two male camels.  During the cooler months, camel rides are offered for $5 per ride.  Our kids have their  sights on a camel riding adventure so we know we'll be back here.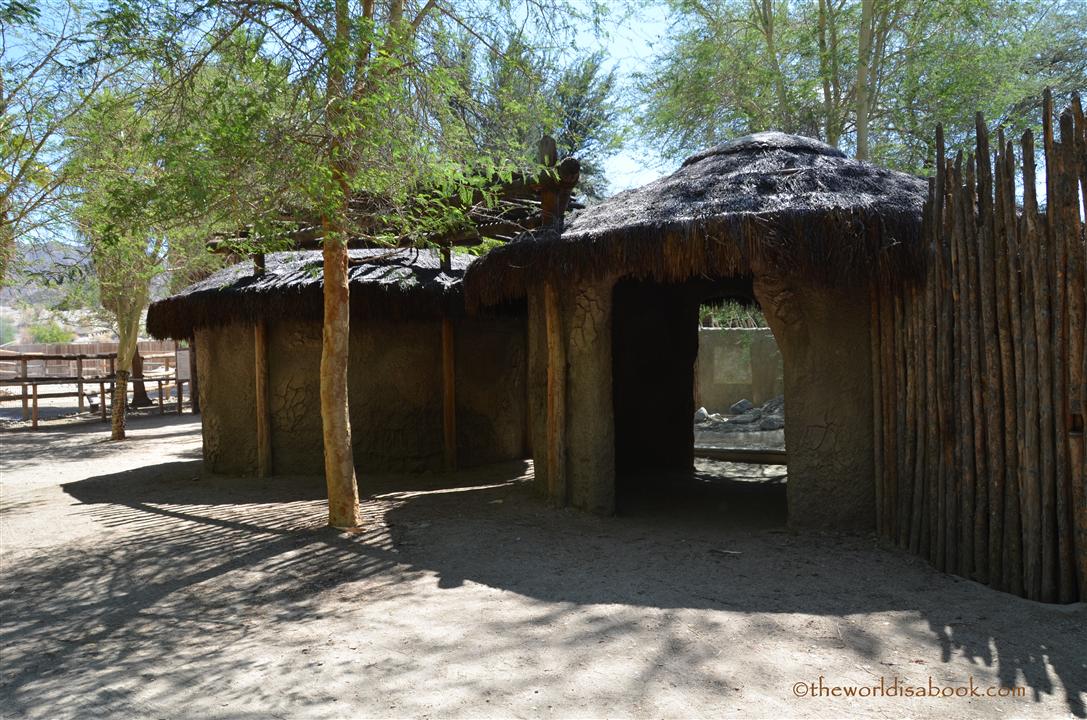 The highlight for my kids was the Petting Kraal.  There were Jacob's sheep and African goats here all waiting for the kids to pet them. Luckily, most of the animals were very cooperative and didn't seem to mind all the kids petting them.  Looking  beyond the fence of the kraal, we saw a couple of animals with the biggest horns. They were the Ankole cattle and they were quite  a sight to see.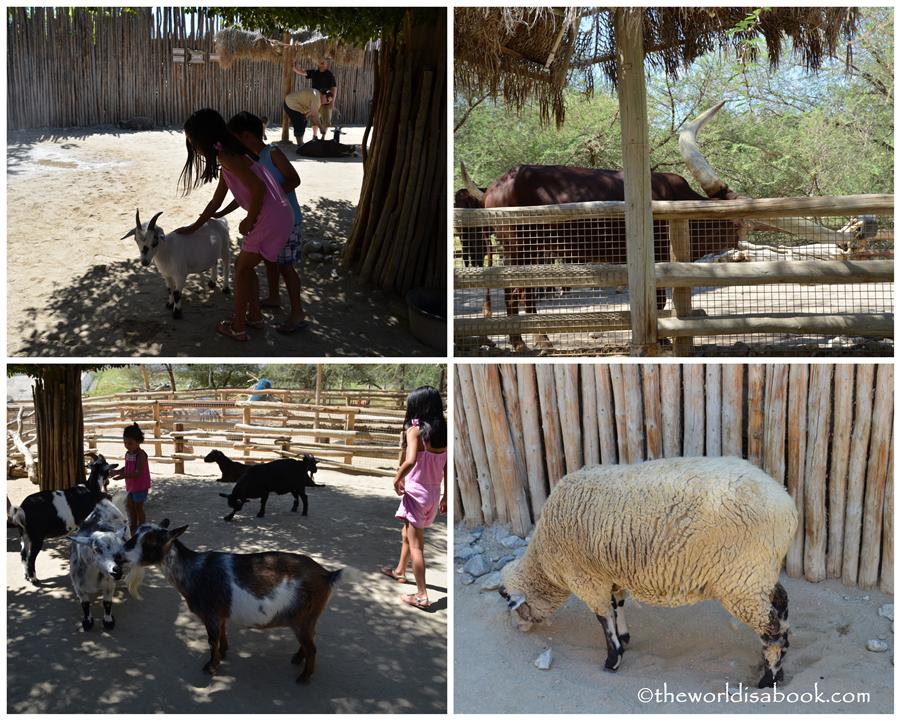 Our last animal exhibit was the giraffes and ostrich.  We were surprised to see that they were  together in one area.  They had about 5 giraffes all walking around leisurely. They also offer  giraffe feedings everyday at 10AM.  This is another thing we need to add to our list for our return trip.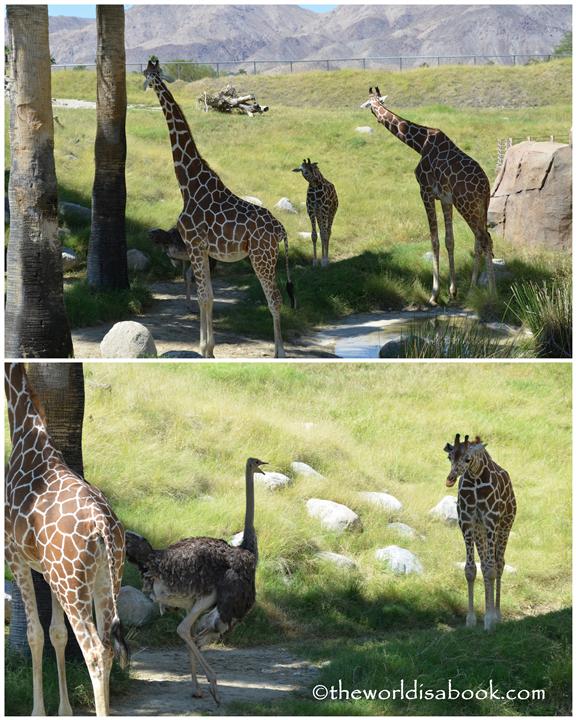 As we neared the exit area, we were amazed to see a huge model train exhibit and garden. These trains were known as "G" scale which are about 1/2 inch to a foot in length.  They run on more than  3,300 feet of track and six different loops. Unfortunately, it wasn't operating during our  visit.  But, the small town and train station exhibits and landscaping were great to look at.   Some of the details were rather remarkable.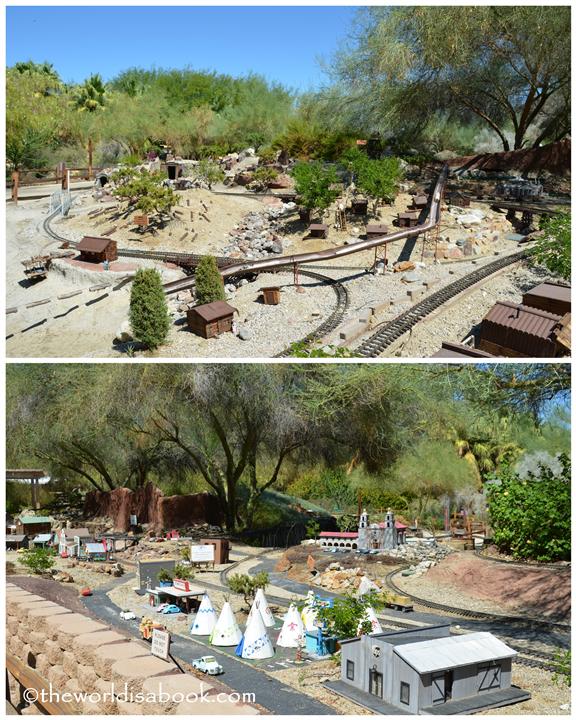 From October to May, they also offer Gecko Explorers for kids 5-12 years old from 9:30 AM –  Noon.  The Gecko Explorers attend classes to get a behind the scenes look and interact with the animals among other things and is $30 per class for members and $40 for non-members.
The Living Desert was such a pleasant surprise and a wonderful place for a family adventure day trip. We didn't have high expectations before coming here thinking it wouldn't measure up  to a large scale zoo but we were wrong.  There was so much to see and yet never felt crowded.  We walked away with a better appreciation for the desert plants and wildlife that adapt to this harsh environment.
Have you visited the Living Desert?