Devils Postpile National Monument
With a name like Devils Postpile, it certainly piqued our curiosity and prompted us to visit this national monument.  It is a unique group of multiple-sided rock columns located in the Sierra Nevada Mountains.  We were visiting the Mammoth Mountain resort during Labor Day weekend 2010 and decided to spend a day here.  The monument is closed during winter and spring.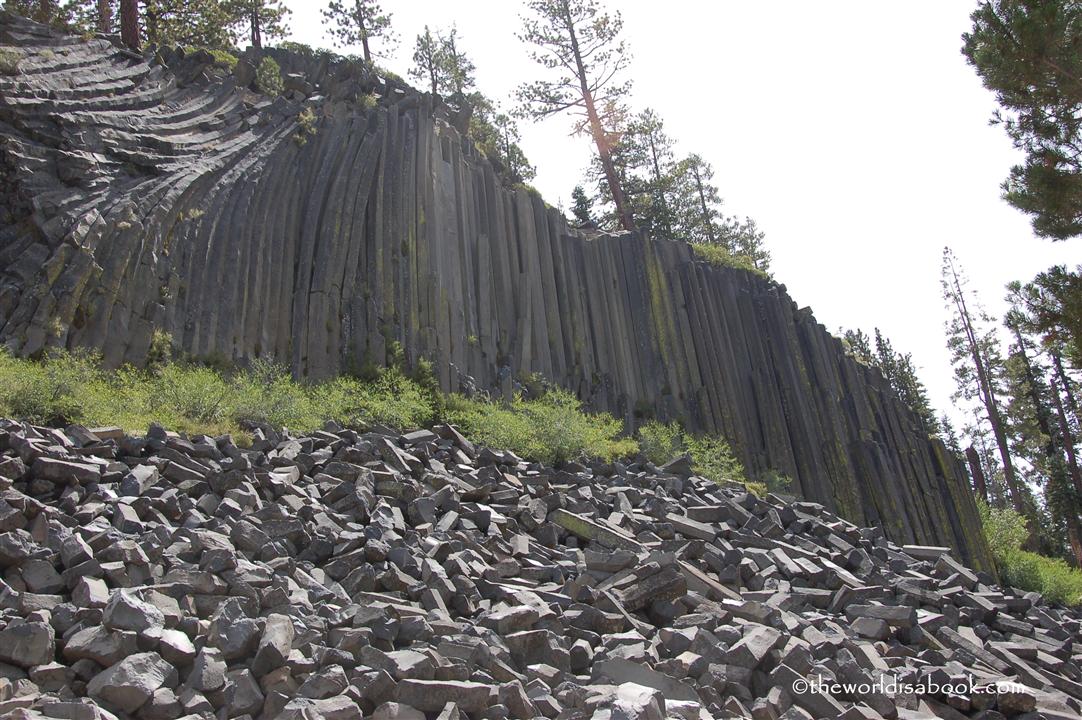 Tickets can be purchased at several locations in the Mammoth Mountain resort for visitors to ride a shuttle bus into the area.  The Red Meadow Shuttle buses usually operate from June to early September.  Ticket prices were $7 for adults and $4 for kids ages 3-15 for day passes.   3-Day and Season passes were also available.  We bought ours at the base of the mountain  inside  the Adventure Center near the shuttle pick-up and drop-offs.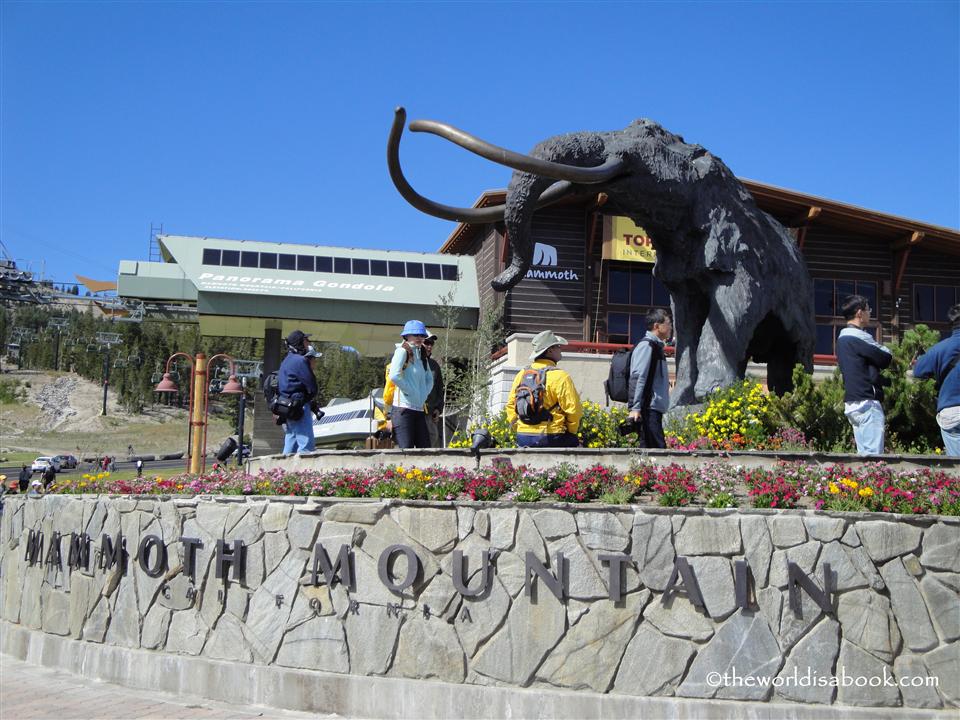 There was a separate line to get a number to board the shuttle buses.  For a time-saving tip,  have someone in your party go in to get the tickets while someone else gets in line to get your shuttle bus number ticket.  The buses load passengers based on a numbering system.  The shuttle bus took about half an hour to travel to the ranger station dropping off hikers along the way down a winding narrow road.  We actually  spotted a deer on our way there which was a neat way to start the trip.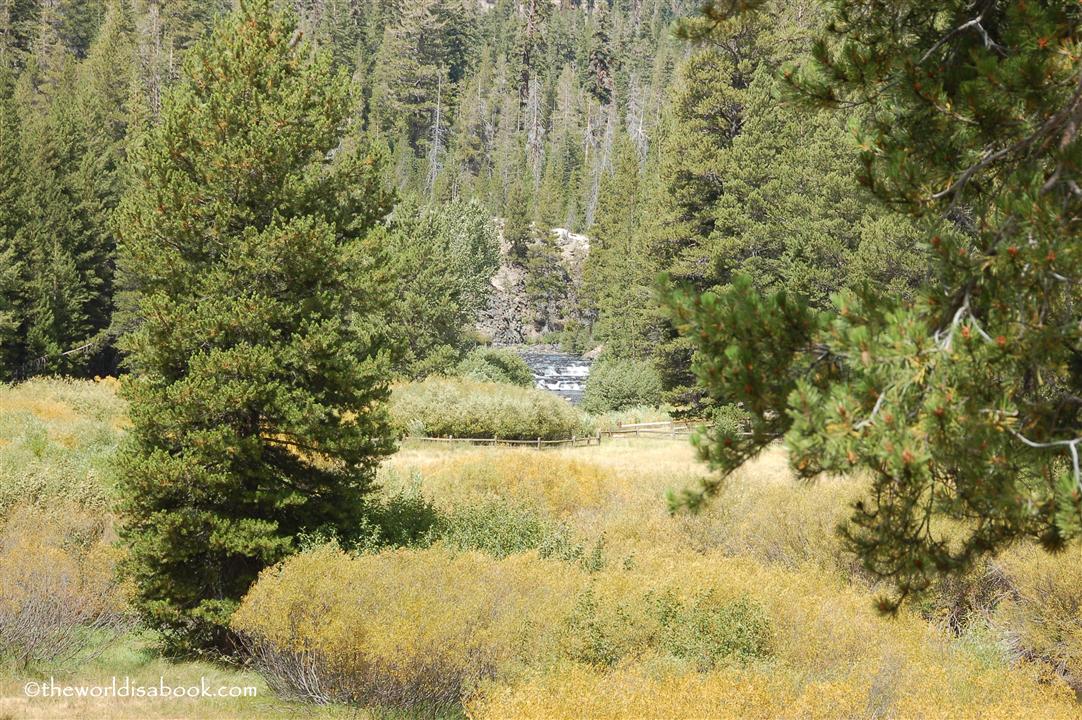 The ranger station has restroom facilities and some picnic areas.  Our kids were able to participate  in the Junior Ranger Program here and earn their badge.  It was a great way for them to learn  about forest conservation and a little bit of geology and rock formations and be aware of  their surroundings.  After completing the activities, they earned their Junior Ranger badge to add to their growing collection.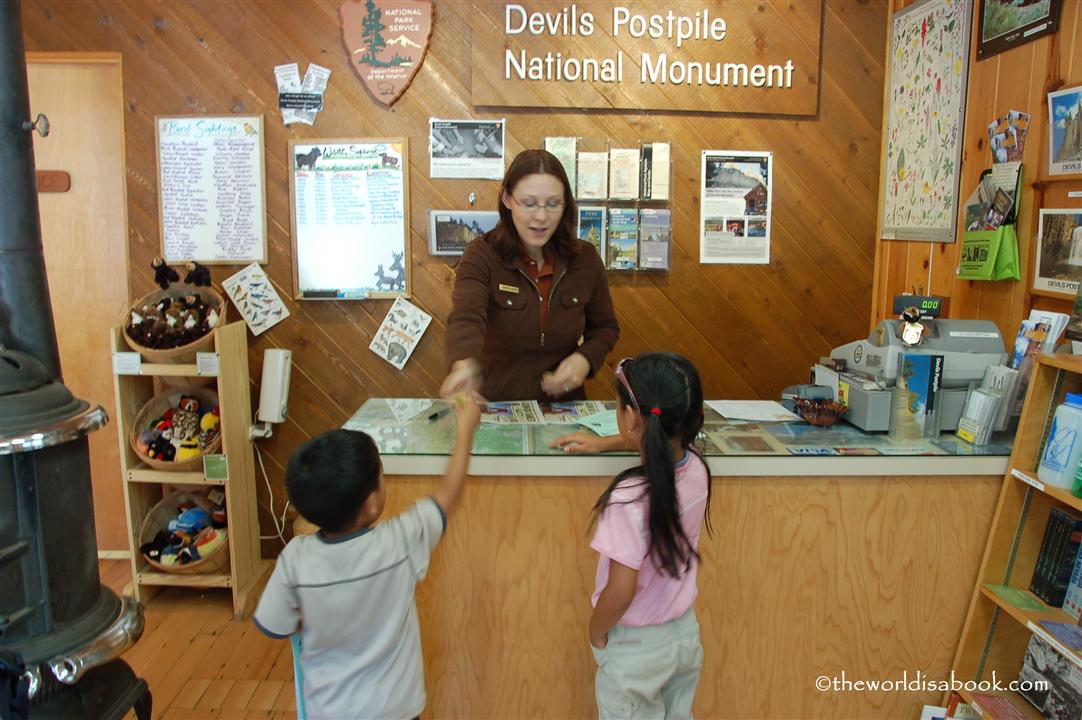 The .4 mile trail from the ranger  station to Devil's Postpile Monument was a pretty easy walk  with the San Joaquin River and scenic views to admire along the way.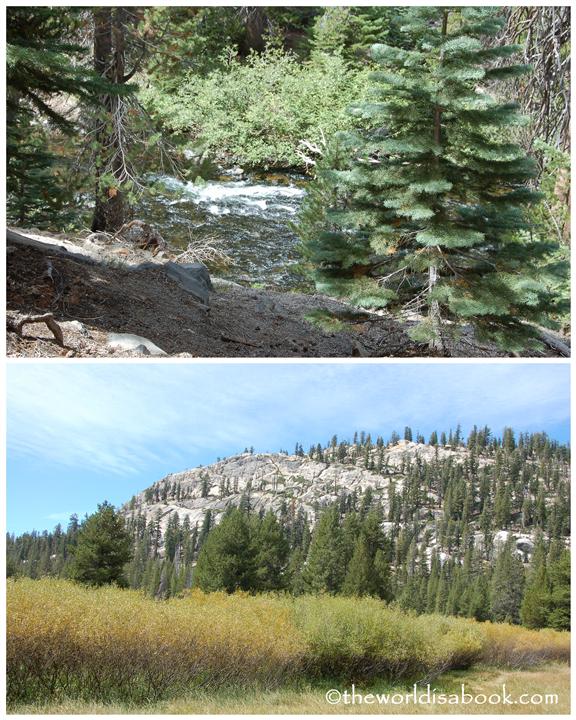 Seeing the tall, vertical columns was quite a sight to behold. It was an immense 60-feet high wall and was hard to comprehend how this actually got formed.  It was truly a geologic wonder and one of Mother Nature's work of art.  There were also piles of volcanic rocks beneath the columns. It was called Devils Postpile because it looked like many fence posts lined up together though I'm not quite sure where the devil fit into all that.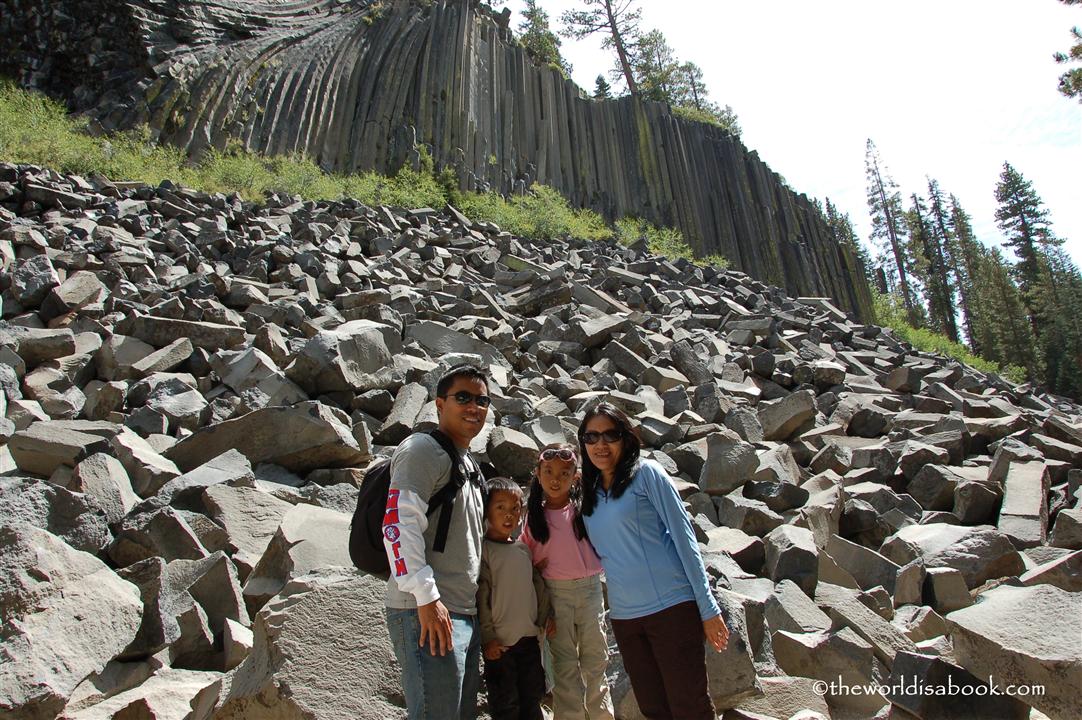 Many of the columns were hexagonal (6-sided) and were formed as a result of fire and ice working over time.  They were formed as basalt lava contracted and cracked during the cooling  process. For an interesting read on the geologic process and formation, read it here.   Unfortunately, we didn't get the chance to hike on top of Devils Postpile.  The top portions  are supposed to look like polished floor tiles with grooves.
Another attraction worth visiting within this 798-acre monument is the 101-foot Rainbow Falls.   We took the shuttle to Stop #9 and hiked 1.4 miles to Rainbow Falls.  This was the  longest hike our kids had been on so far and surprisingly, whining was kept at a minimum. They had snacks along the way and we made a number of stops so their little feet could rest.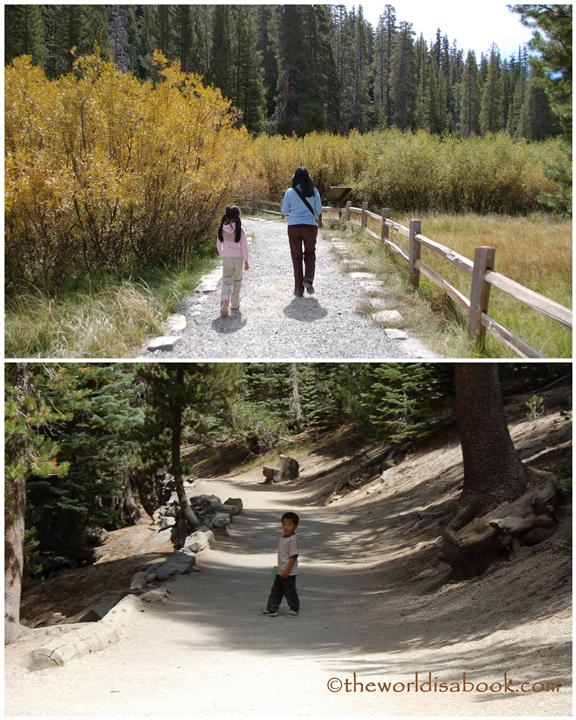 It was also possible to do a one way two-mile hike from Devils Postpile to Rainbow Falls.   Along the way, we saw remnants of a 1992 wildfire caused by lightning strike and its  devastating results on the  forest.  At times, we had to share the trail with visitors on  horseback.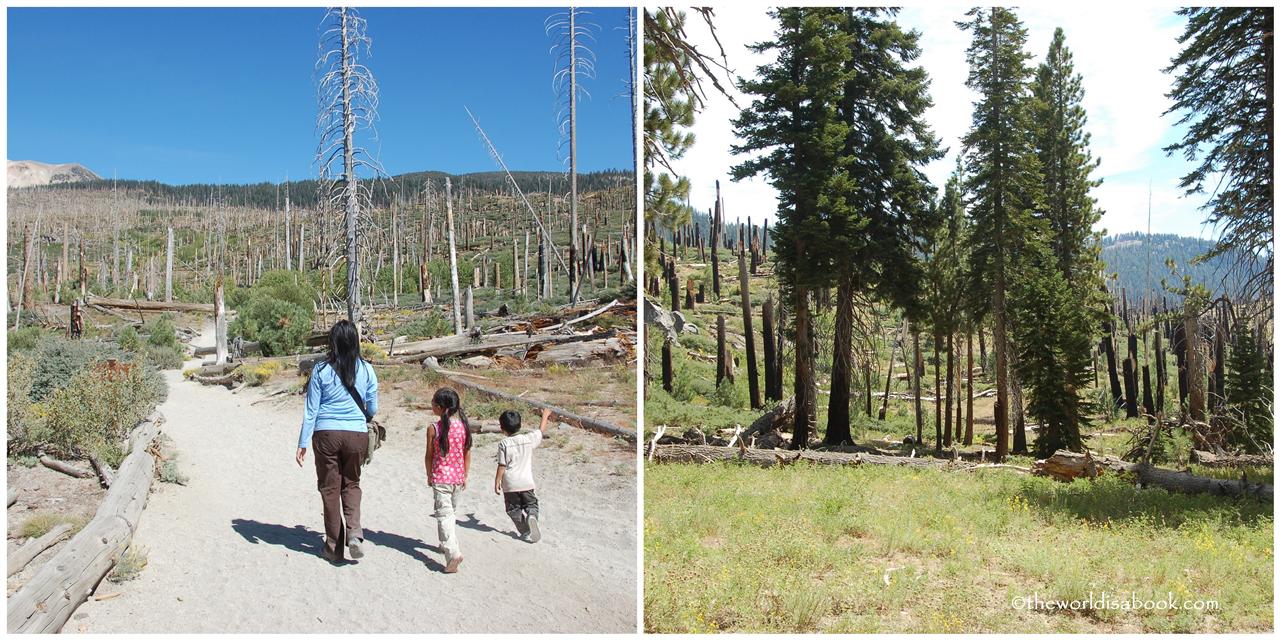 The waterfalls and its current was still pretty strong at this time of the year.  There was a trail to follow to the bottom of the waterfalls and we saw plenty of people swimming in the cool water. We actually got lucky and saw a rainbow during our visit here.  Rainbow Falls was  suitably named for the rainbows that appear in the waterfall's mist.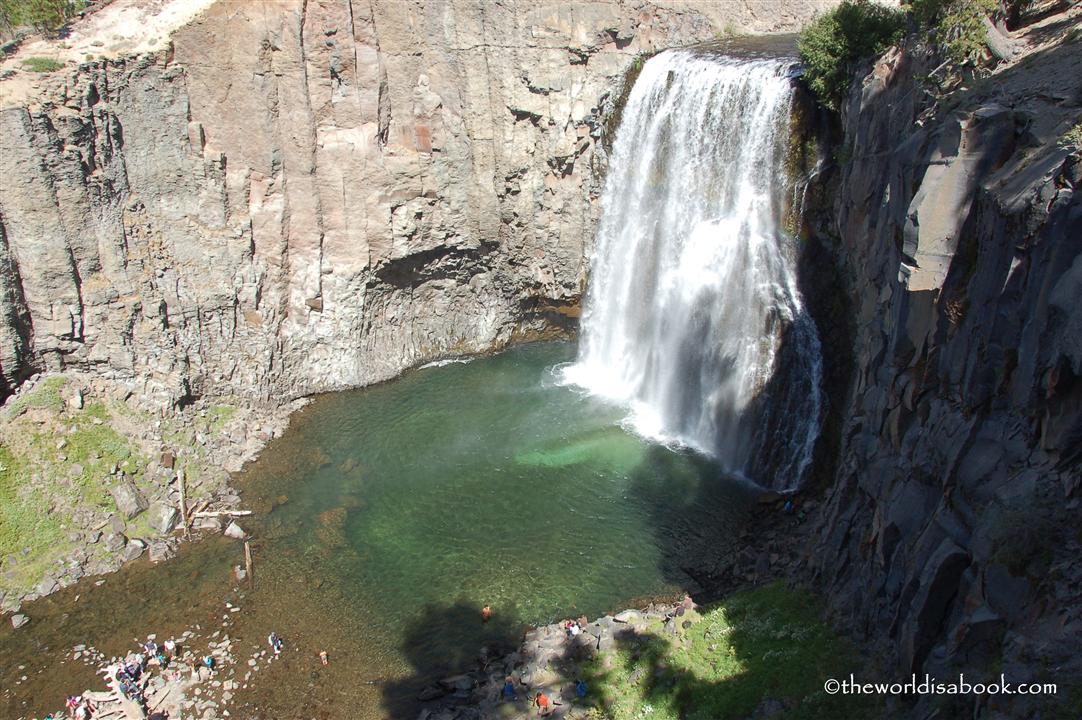 There are plenty of seating  areas for the photo ops.  There was also a group of rocks perfect for sitting with kids that  have a great view of the falls.  It was a popular place for eating packed lunches.  You will  just have to share it with an occasional squirrel or two.
We hiked back to Reds Meadow Resort instead of Stop #9 where we got off.  Reds Meadow had restrooms  and a food concession.  It turned out to be a good idea since this was the last shuttle bus stop.  We had first dibs on seats on an empty bus.  As the bus made its way down to the ranger  station, many visitors were forced to stand or wait for the next one.
Devil's Postpile may not be as famous as neighboring Yosemite but is definitely worth a visit.  The impressive geologic formations are quite unique and unforgettable.  It also offers a  myriad of hiking trails and activities (camping, fishing and horseback riding) for the whole  family to enjoy.