A Ride on Orange County's Giant Balloon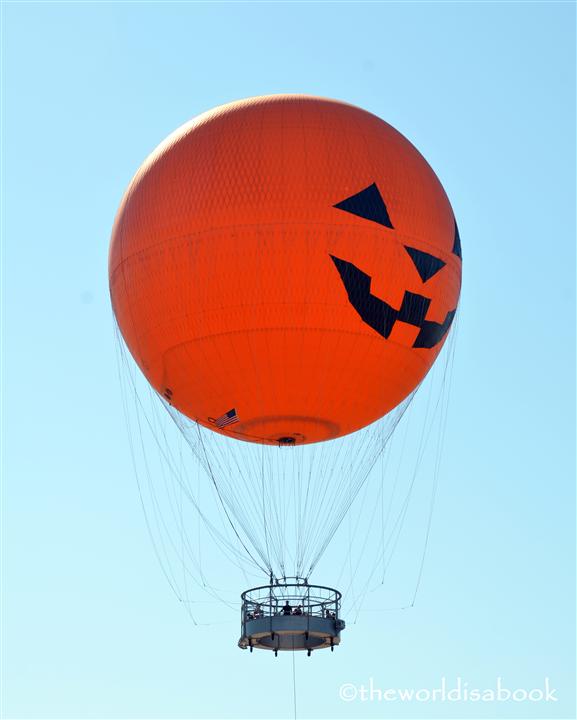 Passing through Southern California's I-5 freeway in Irvine, many have undoubtedly seen the big orange balloon towards the east.  Look for it decorated as a jack-o-lantern during Halloween.  We've actually mistaken it as a full moon a couple of times.  This is the symbol of the Orange County Great Park, a planned metropolitan park said to be twice the size of New York's Central Park  when done.
This area used to be the El Toro Marine Corps Air Station until it closed in 1999.  The land  was bought by home builder company Lennar Corporation and they gave 1400 acres to the county.  It  is designed to be eco-friendly and is evident throughout the park's plans,  its energy and land use and use of recycled materials.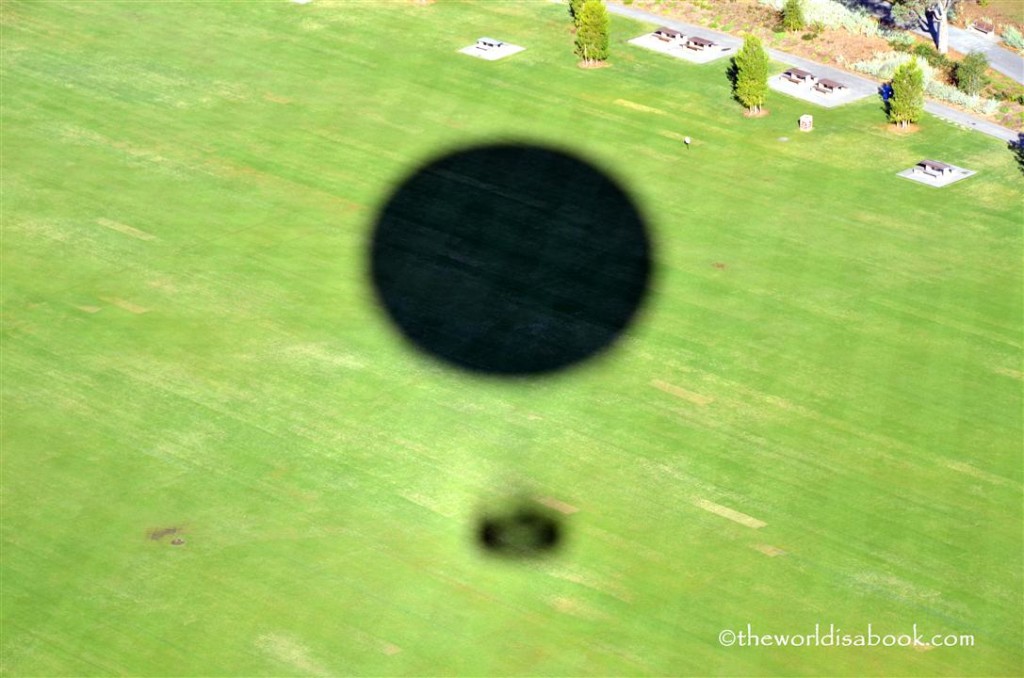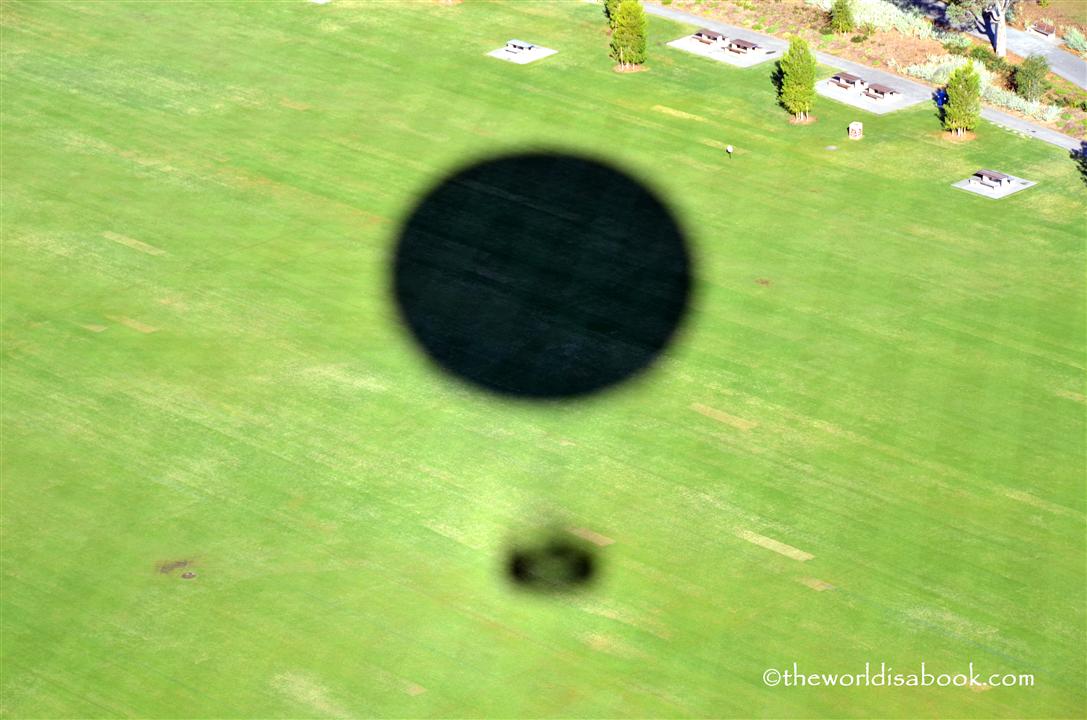 There are three attractions here and the best thing is they are all FREE.  Everyone must check in at the visitor's center (follow signs from the parking lot) to fill out registration forms for each adult before going to each attraction.  Both are on a first come, first serve basis.
The Big Orange Balloon
This giant helium orange balloon serves as an observation deck and offers a panoramic,  360 -degree view spanning up to 40 miles on a clear day.  It holds up to 30 passengers and is stroller and wheelchair friendly.  We registered first at the Visitor's center for our  balloon flight.  We were given a pager similar to the ones they give out at chain restaurants.  When the pagers buzz, we exchanged it for our boarding passes to the balloon.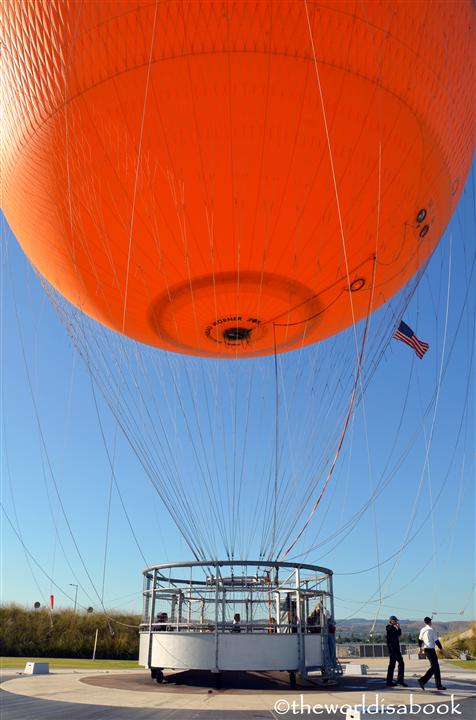 To avoid long waits and to ensure going on the ride, come here early.  We only waited 10  minutes during a Saturday morning in November.  The last time we tried to ride was on a  Saturday afternoon around 2 pm and they had a waiting list.  They have day flights from 9AM- 3PM and night flights from 7-10 PM.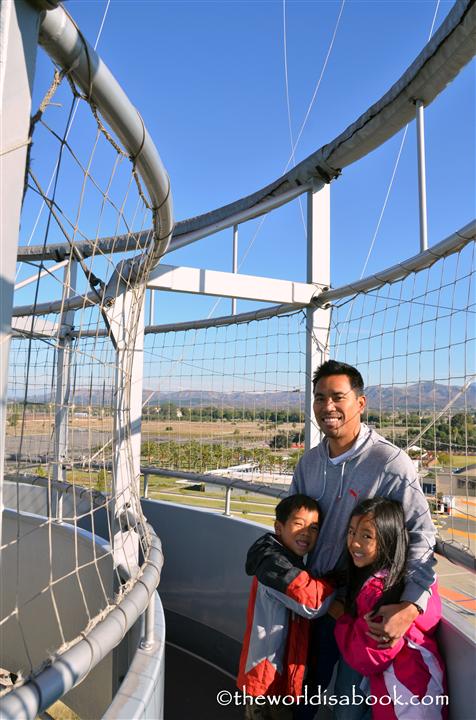 The balloon goes up to 400 feet in the air and took 3 minutes going up and 3 minutes going  down.  We were all excited during our first balloon experience.  It was a little wobbly as it  went up due to a slight wind gust but eventually stabilized.  There were only seven of us  including the balloon operator during our flight.  It was a very smooth ride and the views  were amazing including one of the snow capped mountains. It's a different perspective on Orange County and was perfectly safe and fun for the whole family.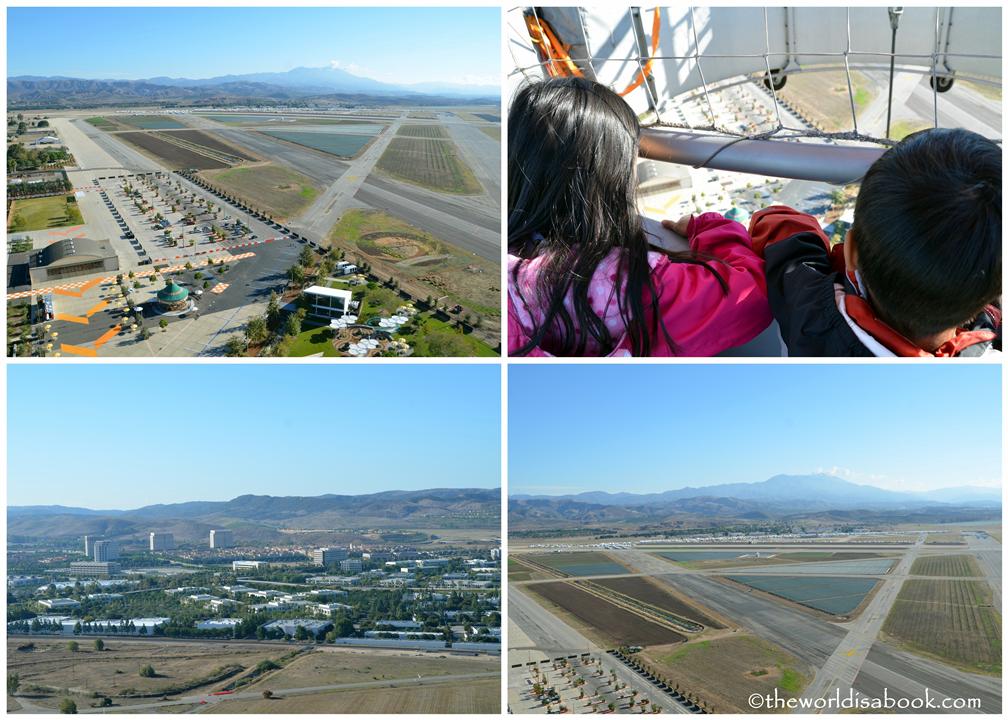 Great Park Carousel
This carousel featured 15 different animals and carries up to 36 riders and takes about 2  minutes for each ride.  Each rider must be stamped at the Visitors center to ride (adults  too).  The few times we have been here the lines were never long and kids can stay on and ride again and again.  Kids under 42″ must be accompanied by adults.  Why pay $1 for one carousel ride at the nearby Irvine Spectrum when this one is totally free?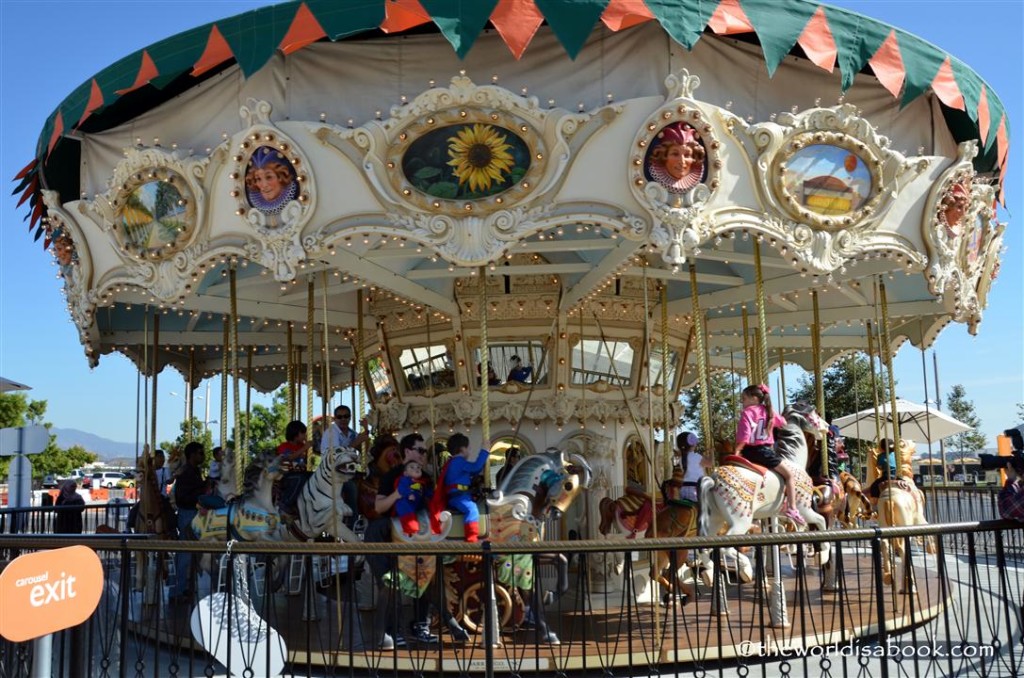 Food + Farm Lab
In a one acre area near the parking lots is the park's Food + Farm Lab.   It is an exhibit of sustainable urban agriculture and healthy foods. This has a variety of fruit trees, vegetables and flowers and a wonderful way for kids to see how they grow.  Near the entrance are raised container gardens with different themes like Pizza Garden, Ethnic Garden  and Sensory Garden. The sensory was our favorite which had plenty of lavender, rosemary and  other plants to smell and touch. Don't miss the ultra soft lamb's ear plant.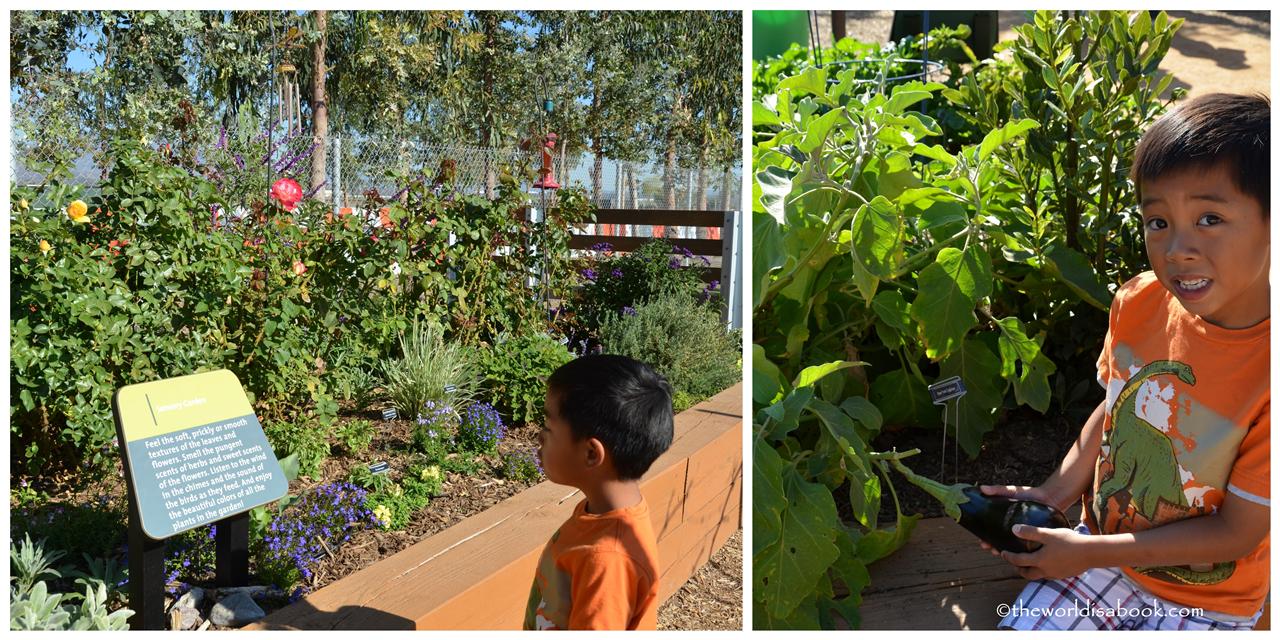 There are plenty of  tables and chairs around the area for resting and to have picnics. We  saw a food truck here once but there aren't any other eating places to eat nor did we see any vending machines anywhere.  They do provide cold water dispensers with small disposable paper cups.
A playground next to the visitor's center will also entertain the kids if you're waiting to get on the balloon.  Kids Rock! environmental play was inspired by the water cycle and ecology.  The shade structures provide mist during hot days.  There are plenty of climbing rocks and small slides and structures to explore.  The seat wall surrounding it is made of recycled concrete runway from the airbase.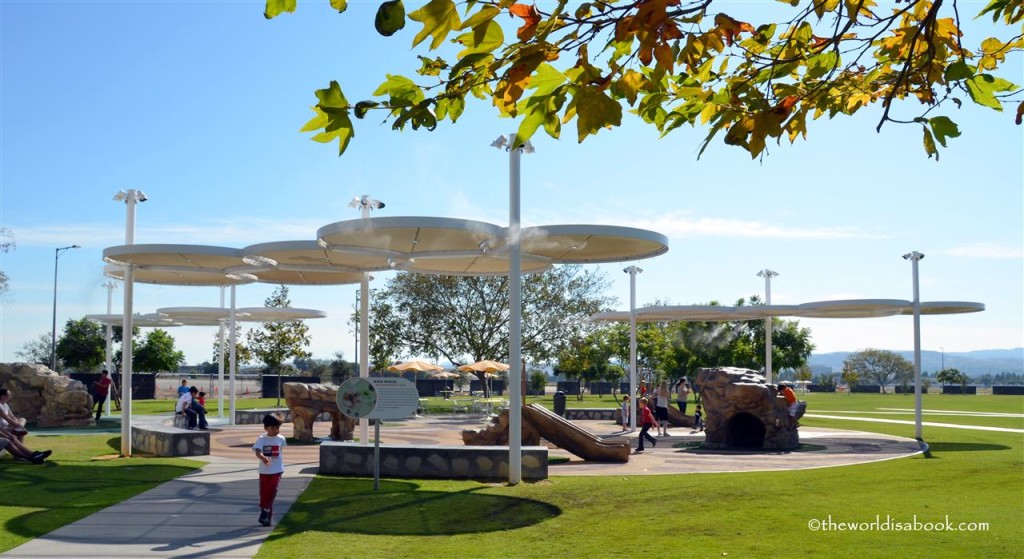 One of the things we like about this park is the amount of wide open spaces  for kids to run around or even ride their bikes.  They are only in Phase 1 of this master plan  and it has already been a great start.  There aren't many free attractions in Orange County and this is truly a wonderful place for the whole family to enjoy.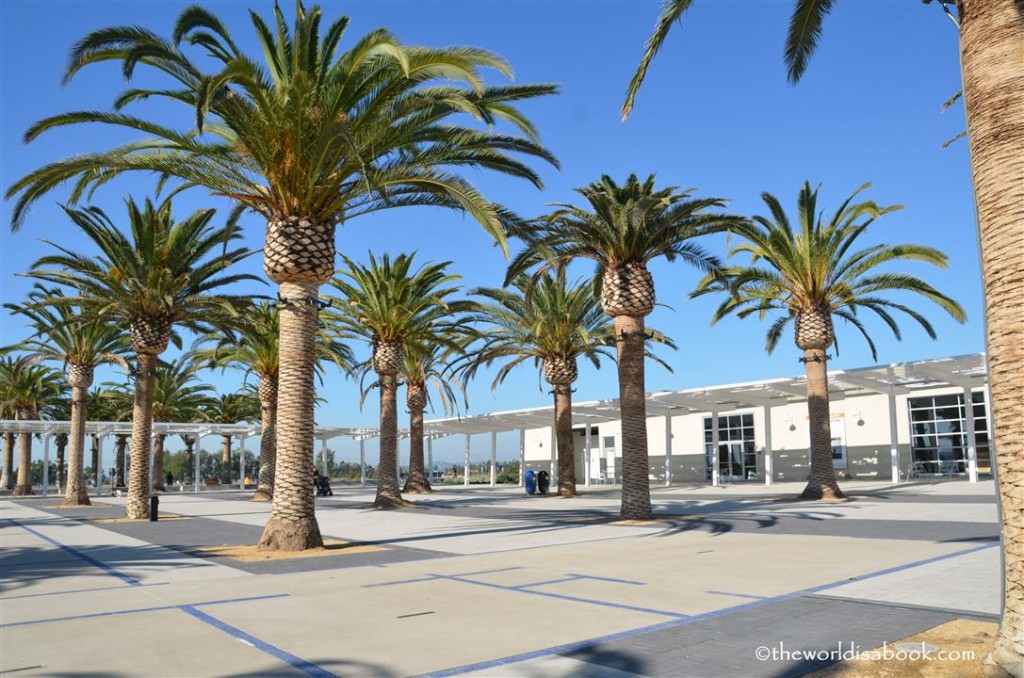 Related Link: