Holland America Kids Club: Club HAL
Ship: ms Rotterdam
Itinerary: 7 day Alaska Inside Passage – Roundtrip Seattle
Sailing Date: July 2010
Club HAL is Holland America's kids program divided into the age groups of 3-7, the tweens(ages 8-12) and the teens (ages 13-17).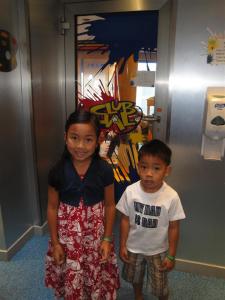 There was a parent orientation meeting on the first day with the staff. Parent/Guardian attendance was required. Birth certificates and passports must be presented when registering children ages 3-5. They played some games during the orientation and kids were able to win some prizes. The first night was a Welcome Aboard Party with icebreaker games and activities.
The club didn't assign pagers but parents signed in and out and gave the staff a general idea of your location in the ship when dropping off the kids. They also asked that we provided a password they kept on record and divulged to them whenwe picked up our kids and presented a valid photo identification. This was a little different from other cruise ships but a good security measure, nonetheless.
During our cruise for the 4th of July week, there were about 30 kids in their manifest between the ages of 3-7 as we were told by the counselors. This was a little surprising considering it was a holiday week in the middle of the summer but I guess Holland America is not exactly known for family cruising. For the smaller kids, they only accepted children who were potty trained or could go to the bathroom and clean up by themselves. The kids' club areas were really small but the staff took the kids out to the adjacent sports deck for some outdoor fun throughout the week. It was on its own floor up the stairs from the Lido Buffet.
Hours: CLUB HAL was usually open during these hours 9:00 AM-11:30AM; 1:00 PM- 4:00 PM; 7:00 PM-10:00 PM. After hours watch was offered from 10:00 PM – 1:00 AM for $5 per child per hour which was a bargain. This service was also available for tween group. You just need to sign up for the service beforehand. Port Day Playtime is available at various times depending on how long the ships are docked at each port.
Activities: The kids' daily activity schedules are sent to the cabin every night in a 5×7 card for each age group. Each activity for ages 3-7 was done in 30 minute increments which also list the location for each activity.
There were theme nights such as camping, pirates and aliens complete with face paintings. They also offered plenty of sports, arts and crafts acitivities. Some activities were customized to our itinerary such as Alaska coloring and activity sheets, Alaska animal puppets and glitter glaciers. A favorite activity for my kids was the treasure hunt which took them all over the ship to hunt for clues.
One of the park rangers came and talked to the kids when they came onboard the ship during glacier viewing.  The staff was all very friendly and helpful and our kids liked them very much.  My kids enjoyed Club HAL so much they didn't want to get off the ship in Victoria. The kids also had individual folders hung on a wall to collect all their artwork and paper crafts to take home and as keepsakes from their cruise.  We loved that they had so many activities to keep the kids occupied and these activities were tailored to their cruise itinerary.
Since we didn't have kids in this age group yet, we don't have an extensive list of the tweens and teens activities. We did pick up a tween and teen schedule for 1 day.  There was a cooking class offered for the tweens as well as Wii fun, cranium games, trivia and freeze dance and team challenges. The teens were in a designated area called the Loft where activities ranged from card games, races, dodge ball and team challenges.
Freebies: Club HAL white T-shirts for coloring and Club HAL mini albums
_____________________________________________________________________________
Related Posts:
Check out these related posts: