Tokyo DisneySea with Kids: Ports of Call
"There's another Disney park other than Tokyo Disneyland in Japan?"  We heard that question in one way or another while planning our trip to Tokyo last July and after coming back.  Yes, there is a theme park adjacent to Disneyland and what an impressive park it is.  Despite being big Disney fans, I admit that I hadn't heard of it either until I started looking into what to do in Tokyo with kids.  This was one of the highlights of our trip.  For our kids, it may have been the best part since they haven't stopped talking about it since last summer.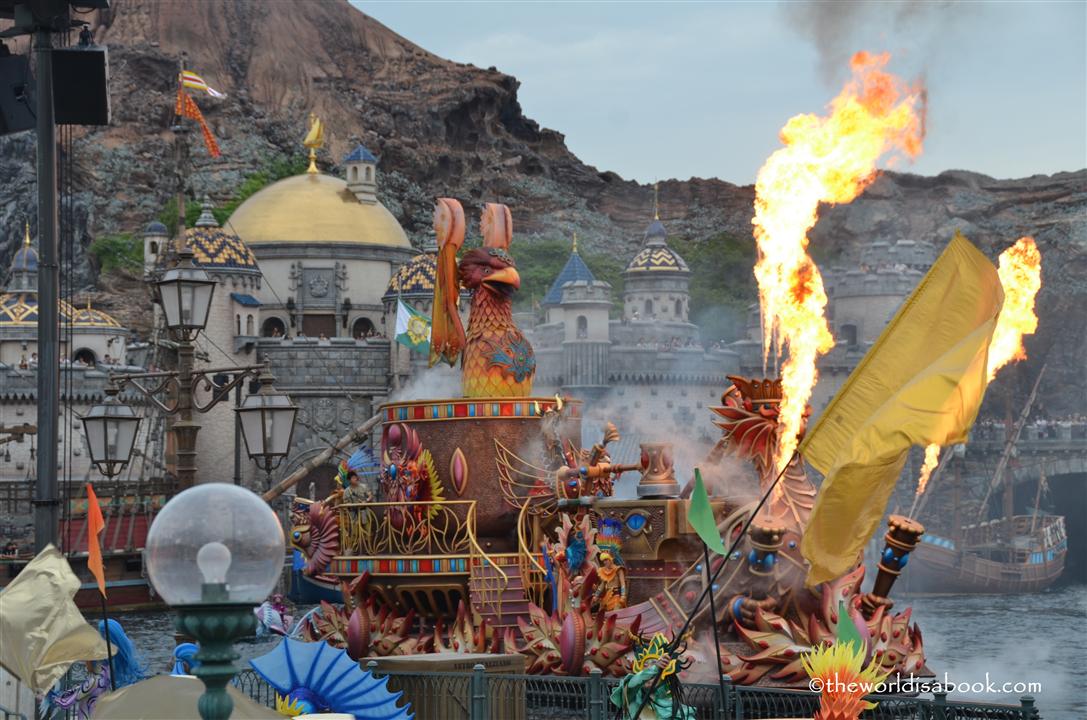 Tokyo DisneySea was built using the myths and legends of the sea for inspiration and recently celebrated its 10th anniversary.  Unlike the other Disney parks, this water-centric theme park had seven "ports of call" instead of the usual themed lands.  These exotic, fun and mythical ports of call were filled with various attractions, stores and restaurants all staying true to their theme.  These pictures feature the best of each port from this unique and unforgettable park.
Mediterranean Harbor was designed using a Southern European port town as an inspiration.  The results were colorful, detailed buildings that provided the perfect lakeside setting including a gondola ride and a transit steamer.  The park's version of Main Street is the big body of water used for some of the best parades and shows we've ever seen.
American Waterfront represented the northeastern seaboard of the United States in the early 1900s including Cape Cod and the New York Harbor.  The focal points here are the Tower of Terror ride and the massive S.S. Columbia ship which had restaurants inside.
We also loved the New England looking harbor area. It's amazing how accurate these landscapes looked.
Port Discovery was Disney Sea's version of Tomorrowland or the port of the future and it did not fail to deliver with one of the coolest rides called Aquatopia.  Think bumper cars in water! (sort of)
Lost River Delta was an outpost in a remote jungle set in the midst of an ancient Central American civilization.  Where else would the Indiana Jones ride reside but here along with a scary looking roller coaster called Raging Spirits?
We could hear the roar and feel the warmth of the fire passing by this attraction.
Arabian Coast was inspired by tales from 1001 Arabian Nights and the Disney movie Aladdin.  This enchanted port was supposed to have been created by Aladdin's Genie.  He was everywhere that we also dubbed this port Aladdin and Genie land.
It was filled with open air plazas and street bazaars with a two-story carousel that looked like a sultan's palace as a centerpiece.
Mermaid Lagoon is home to the most famous Disney mermaid of them all – Ariel.   The outdoor area filled with giant seashells and corals along with a huge indoor, underwater kingdom of carnival rides made this one of my kids' favorite port.
It was the most child-friendly port and understandably, where we spent the most time in. My kids didn't want to leave this area.
Mysterious Island could have been named Jules Verne Island since his novels of Journey to the Center of the Earth and 20,000 Leagues Under the Sea were the inspiration for the two major attractions in this port.  The centerpiece which served as the park's focal point was an active Mt. Prometheus.
Want to see more pictures?   Here is a detailed post of our day at Tokyo DisneySea with kids.
Pin it for later!
Related Posts:
Check out these related posts: