Bonaire with kids: Flamingos and Donkeys in the Wild
Bonaire is an island nation in the Southern Caribbean region and is the "B" of the ABC chain with  Aruba and  Curacao, lying 50 miles north of Venezuela.  They are part of the Dutch Antilles which are Caribbean islands linked in one way or another to The Netherlands.  It was a port stop for us on a cruise in February 2009.  We were  here for about six hours which didn't leave much time for a tour of the 24-mile island but we made the most of it.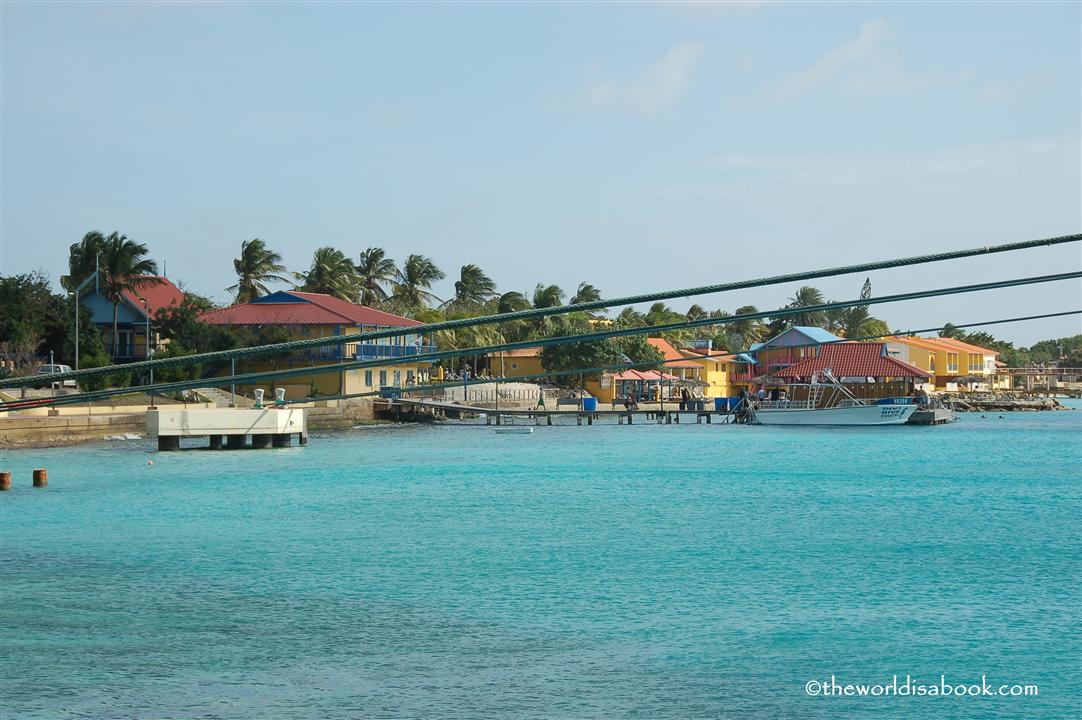 Known for its excellent scuba diving and snorkeling spots and preservation of the marine environment, it is a water sports lovers paradise.  We're not divers or snorkelers so we decided to just do an island tour.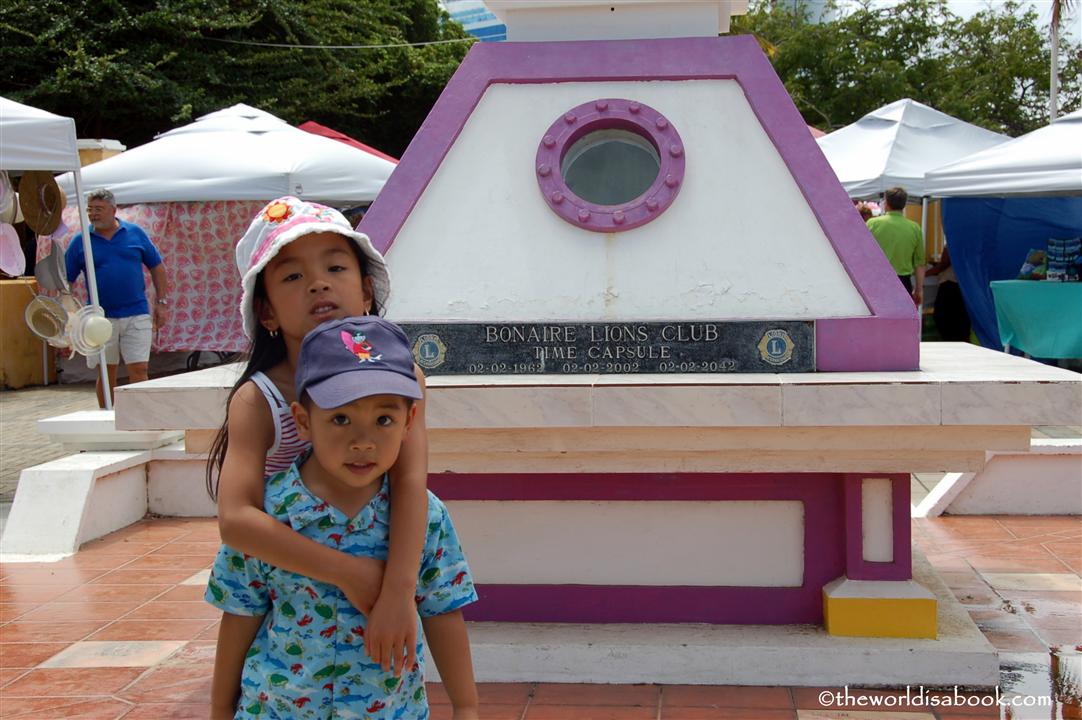 Getting off the ship we walked a few blocks to their downtown area of Kralendijk.   The colorful Dutch colonial  architecture was prominent throughout the streets.  We ventured into the Wilhelmina Square which was a marketplace of local vendors selling food, jewelry, handmade crafts and original art.   We found Kaya Grandi nearby which was a main street full of shops and restaurants.  We didn't spend too much time here.  I actually expected a bigger downtown area.
We followed the boardwalk back to the ship.  The clear, turquoise waters were very inviting on this hot and  humid day.  It was surprising to see they didn't have much shoreline or sand.  The shores were actually full of coral and rocks.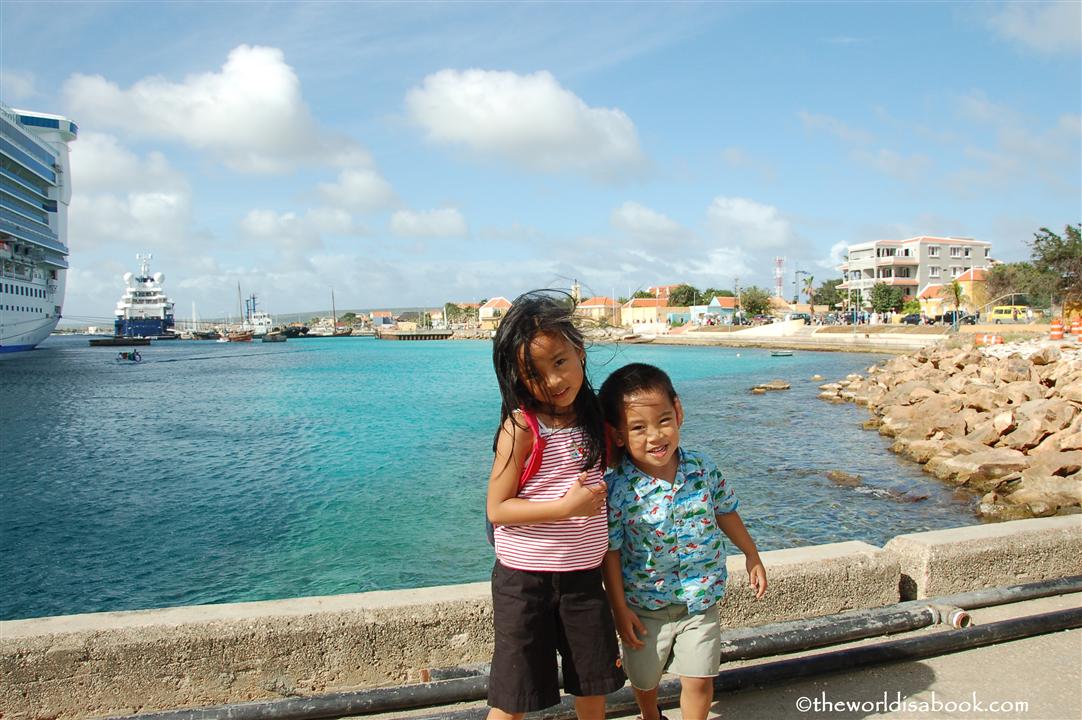 When we got back to the ship, we decided to hire one of the tour guides outside.  She was a sweet lady who gave us a great deal for a few hours.   She even waited while my husband ran to get the car seats. We agreed  beforehand the areas she would take us which focused on the northern part of the island.  The price was almost half of what the cruise lines were charging for their tours.  It still goes to show it's still cheaper to book your own shore excursion even if it is last minute.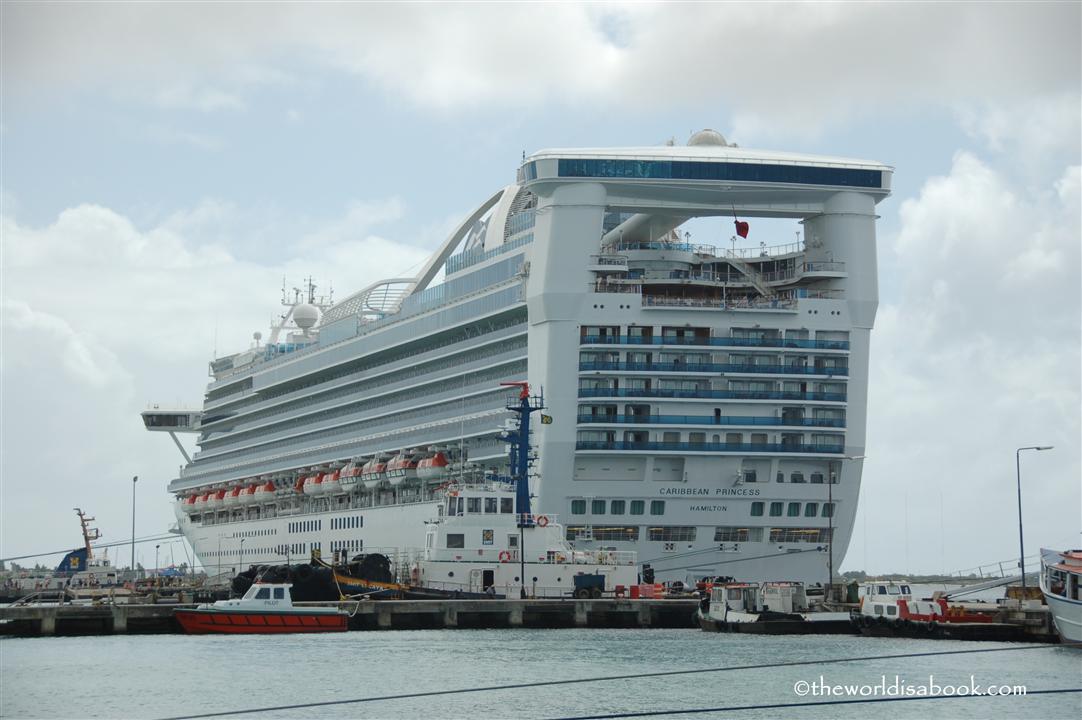 Driving through Bonaire  with its colorful houses and cacti growing was so scenic, and unique.   It really was easy to see why this desert island has also been nicknamed "Arizona By The Sea".  There was an abundance of cacti here which were tall and not as prickly-looking as the ones we've seen in the Western US desert.  Is there such thing as a tropical cacti?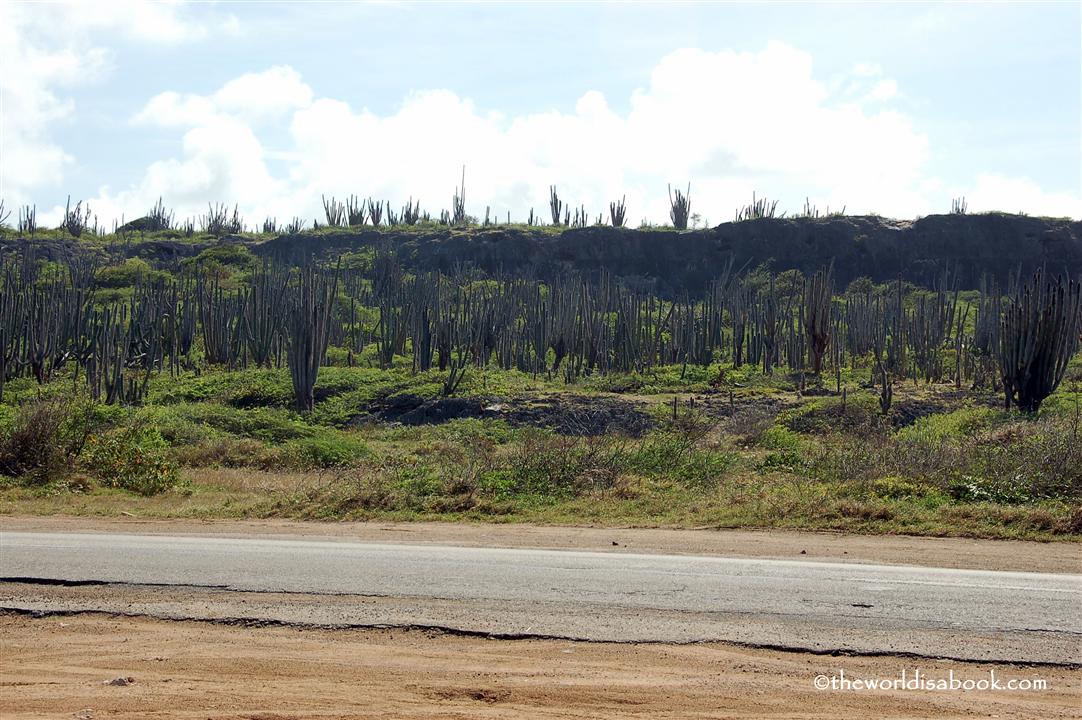 We learned that they pretty much have perfect weather being outside the hurricane belt.  Mostly everyone is multilingual speaking their common dialect of Papiamento (native language of Dutch Caribbean) as well as Dutch, English and Spanish. How cool!  The whole island also doesn't have any traffic lights, yet our drive was pleasant and smooth.  In a way, we were glad we weren't driving.
1000 Steps
Our first quick stop was at a place called 1000 steps along the road going north. This is one of the more popular places for diving and snorkeling.  There actually aren't that many steps going down to the beach area but was aptly named because it could feel like it's 1000 steps going back up if carrying diving gear.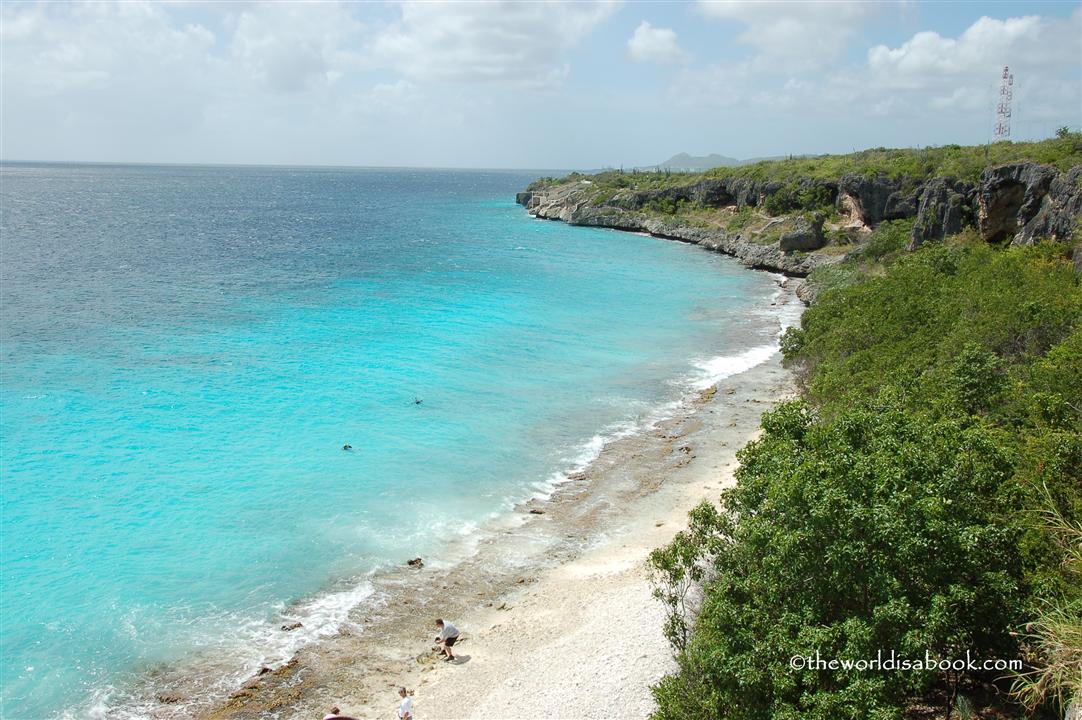 We saw plenty of divers and snorkelers enjoying the area.  The turquoise waters were crystal clear but most of the shoreline was filled with corals and rock remnants again. There was hardly a patch of sand in sight which was pretty weird.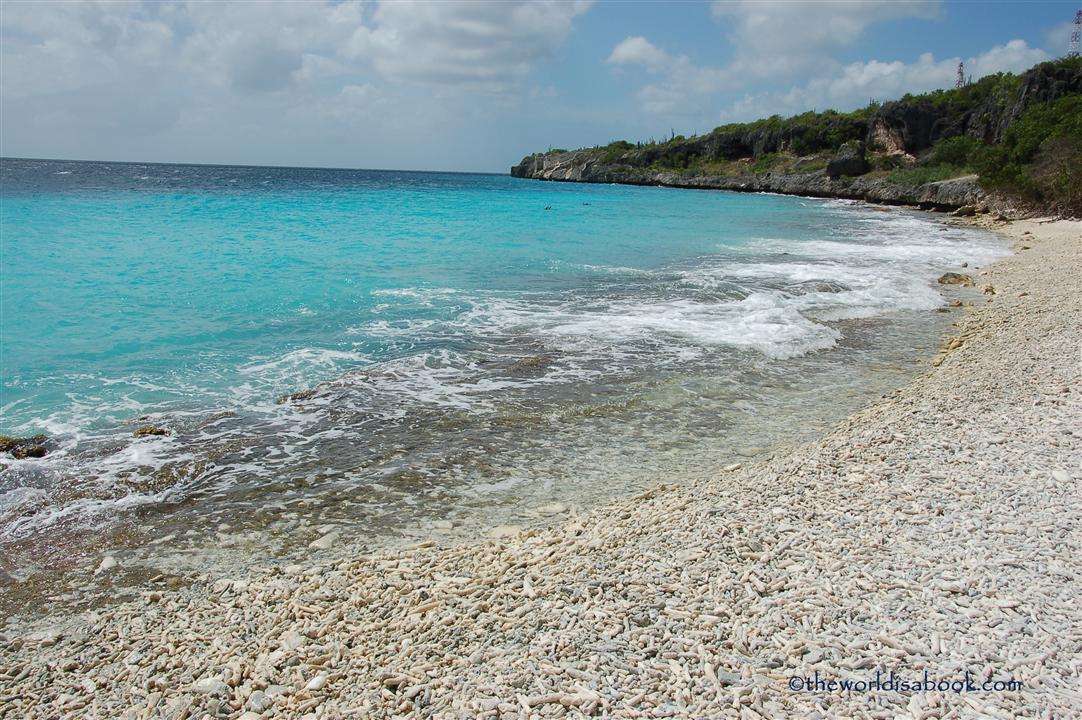 Flamingos
Bonaire is one of the four places in the world where flamingo colonies breed.   It is said that there can be as many as 5,000 flamingos on the island which is a third of Bonaire's population.  This was one of the main attractions we wanted to see on the island.  As we  drove to Goto Lake or Goto Meer on the outskirts of Washington Slagbaai National Park, the scenic landscape of  mountains and tall cacti varieties with the saltwater lake in the middle was quite a sight to see.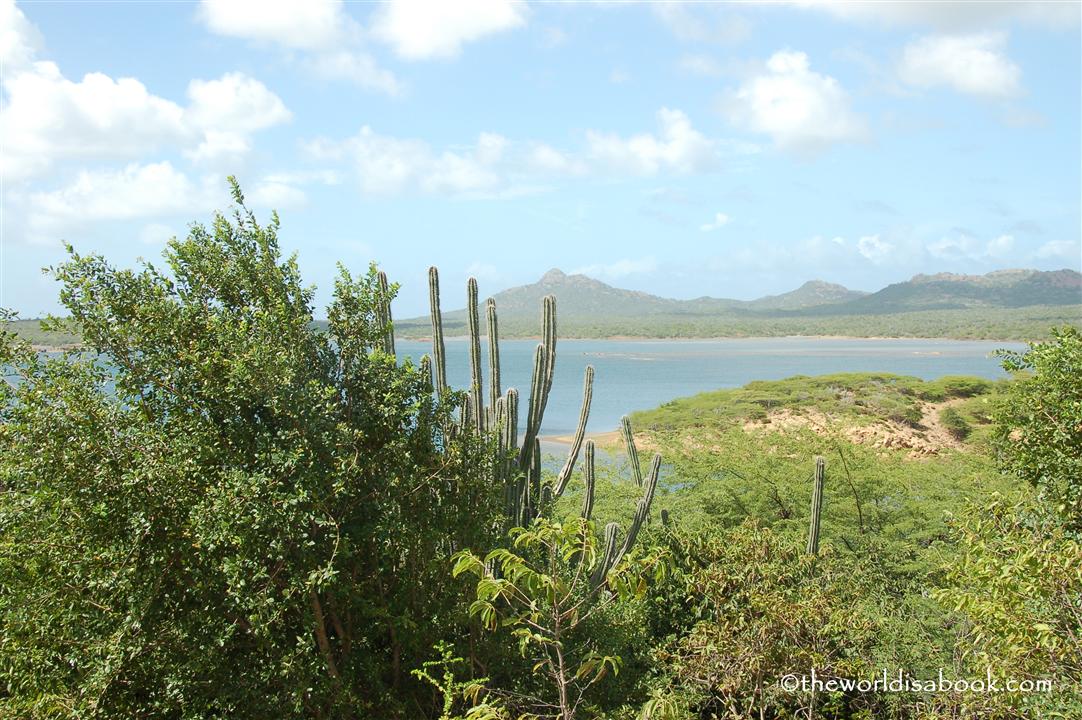 But, the main  attractions were the pink dots we saw from afar scattered throughout the lake.  As we got closer to the lake, it was amazing to see the many flamingos in the water.  Our guide parked the car and we sat there mesmerized watching them.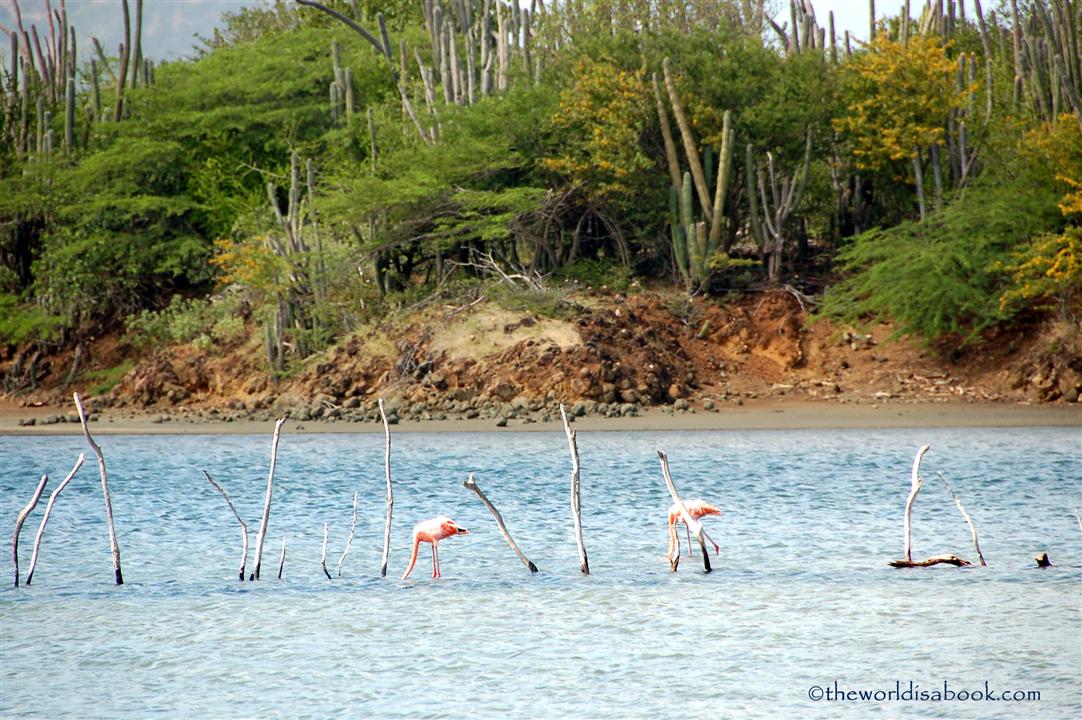 I must admit that for a couple of fleeting moments while looking at the  flamingos, my mind was suddenly filled with visions of the flock of dancing flamingos from the Fantasia  2000 movie my kids have watched countless times.  Here's a video link of the movie scene.   We've only seen flamingos in the zoos so it was a special treat to see them in their natural habitat.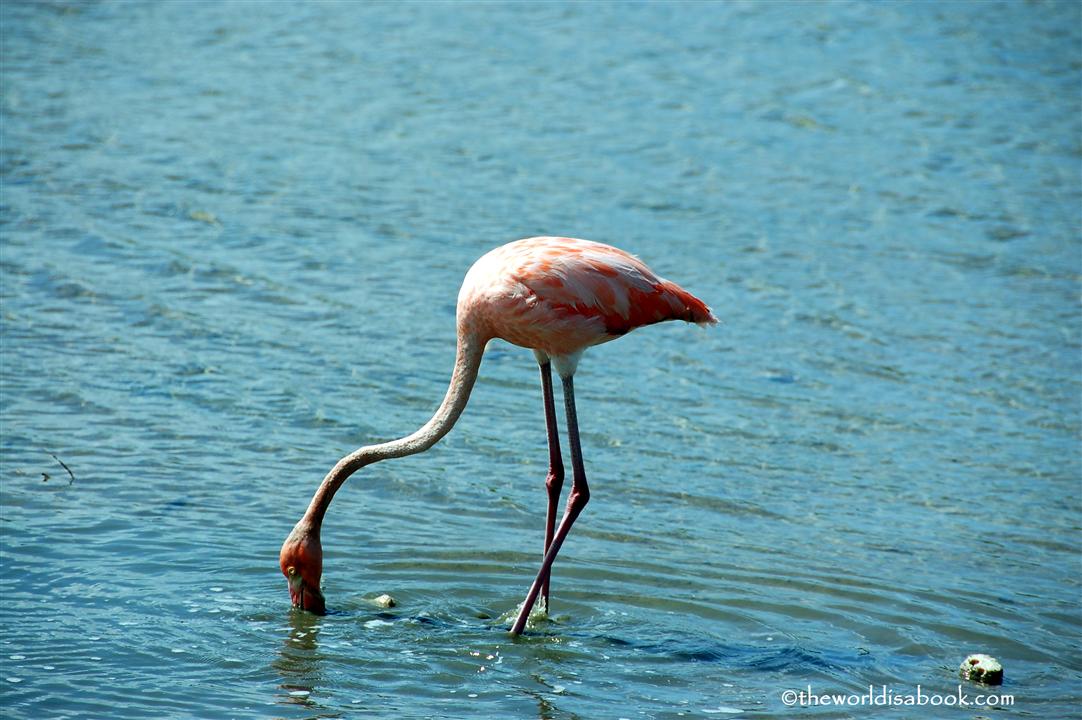 Rincon
We drove through the small village of Rincon, Bonaire's oldest village. This small village had many colorful huts including ones that used to house slaves who worked on the salt flats and plantations.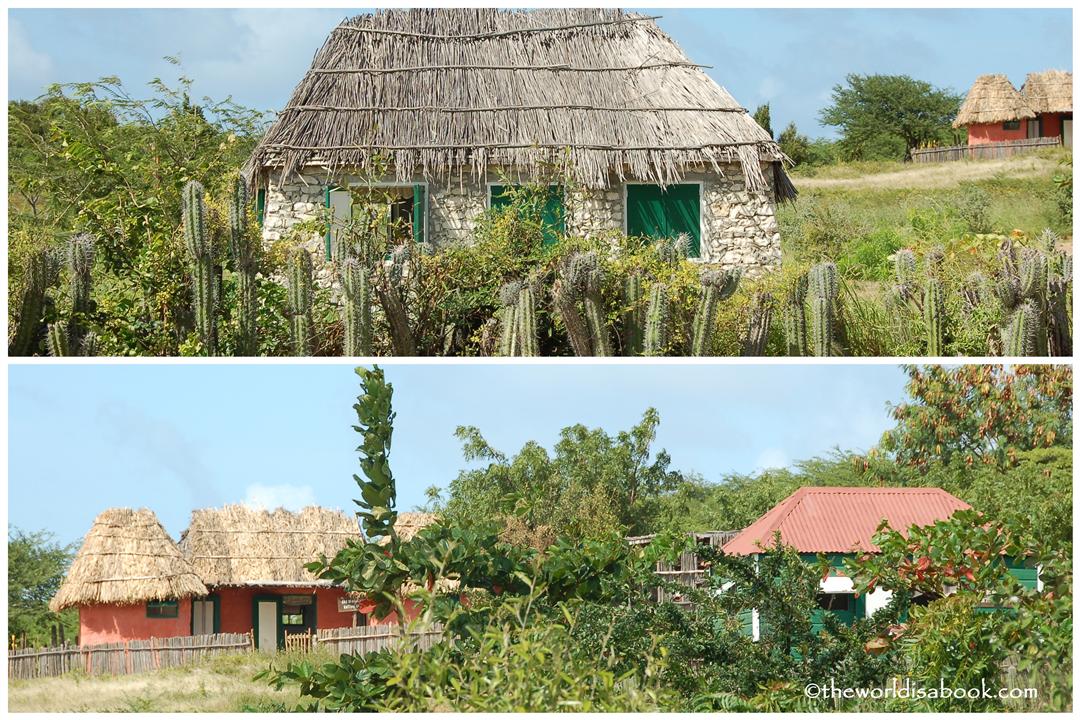 We briefly stopped at the Lourdes Grotto or Gruta di Lourdes.  While not in a grand scale as the grotto in France, this one served its purpose as a place of solitude for residents and visitors.  There was a gate that opened into an open area with benches and what looked like an altar set up for outdoor masses.  A big wall of rock contained the statue of the Virgin Mary and St. Bernadette.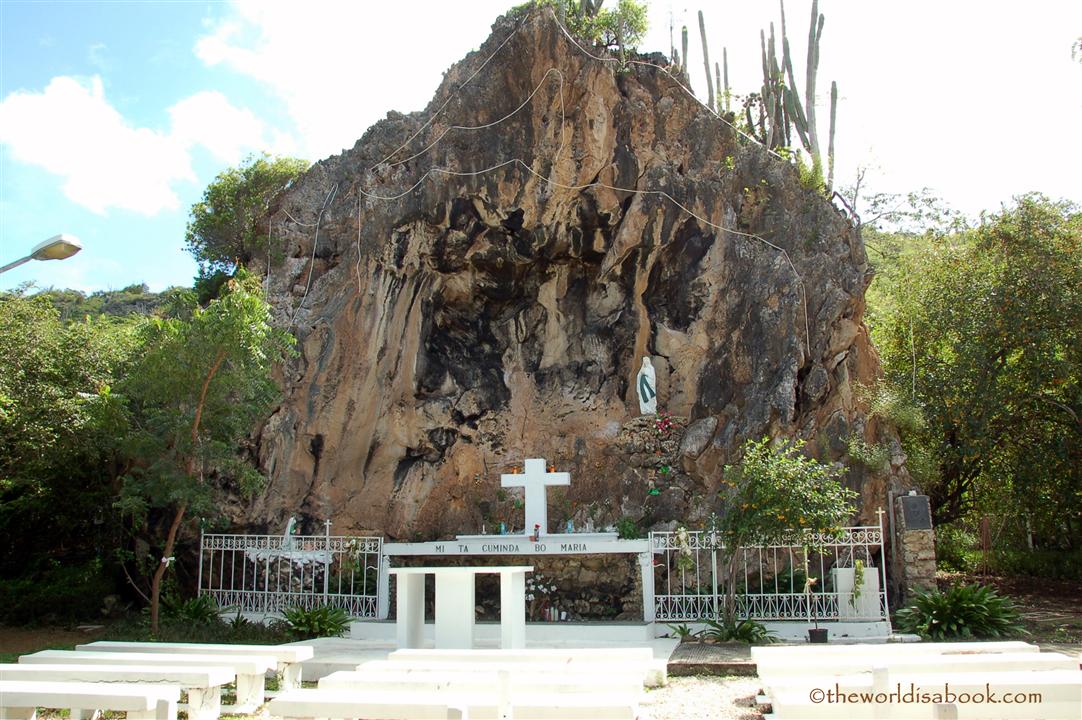 Donkeys in the Wild
Along the way we saw a lot of donkeys on the side of the road just feeding on the open, grassy areas by the ocean. Our animal loving kids were more than happy to just watch them in their natural setting.  They looked like they're used to all the passersby gawking at them. The scenery seemed a bit surreal at times – donkeys, cacti and the ocean in the background.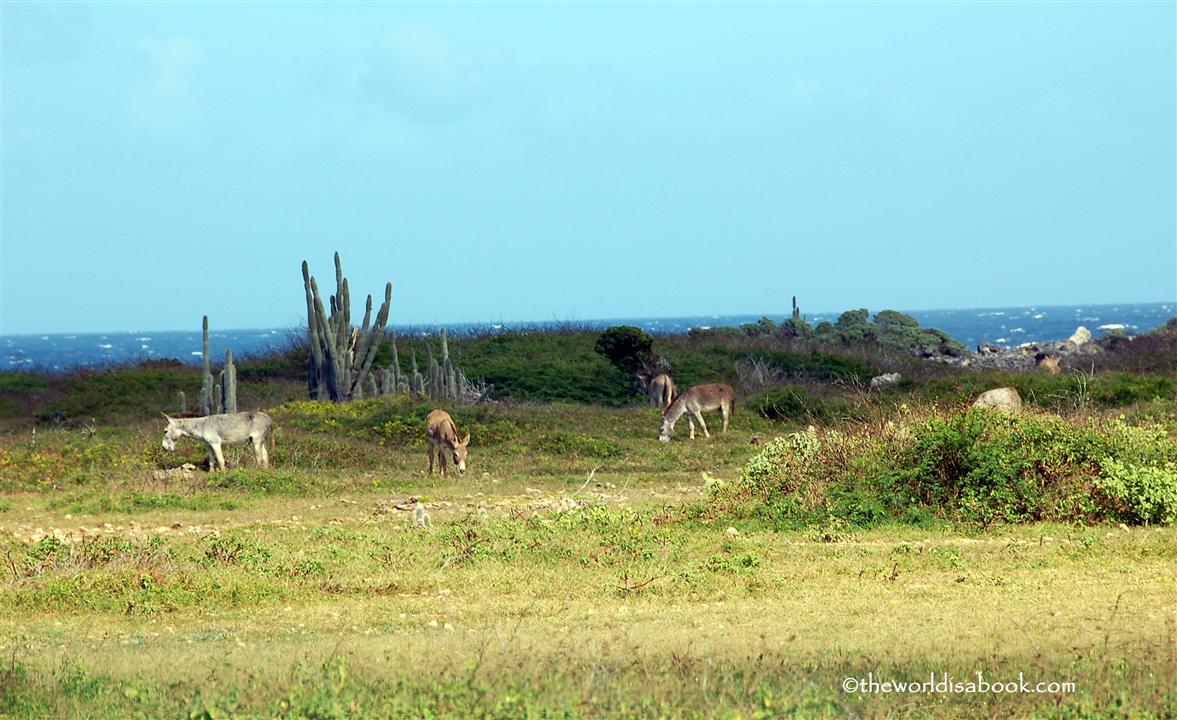 We stopped by a lookout point called Seru Largu (meaning long hill) where we saw the panoramic, open views of the southern part of Bonaire.  It was very flat! We were able to see Kralendijk and even our ship from the distance.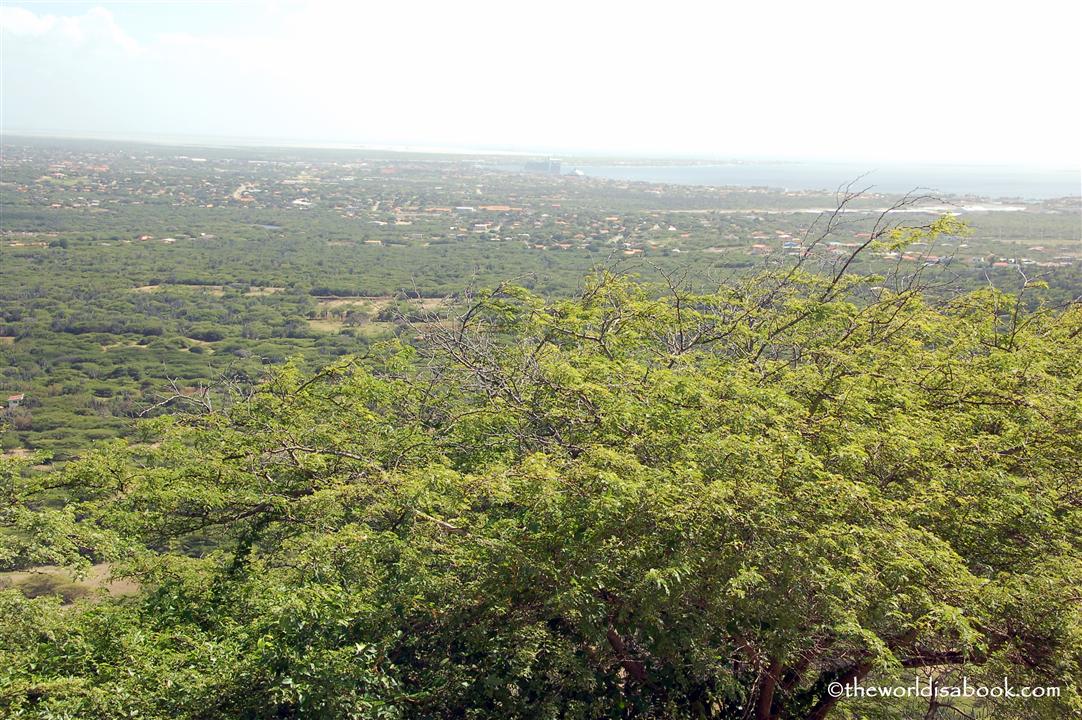 This was also a popular place for stargazing at night.  There was another monument here to honor the Virgin Mary.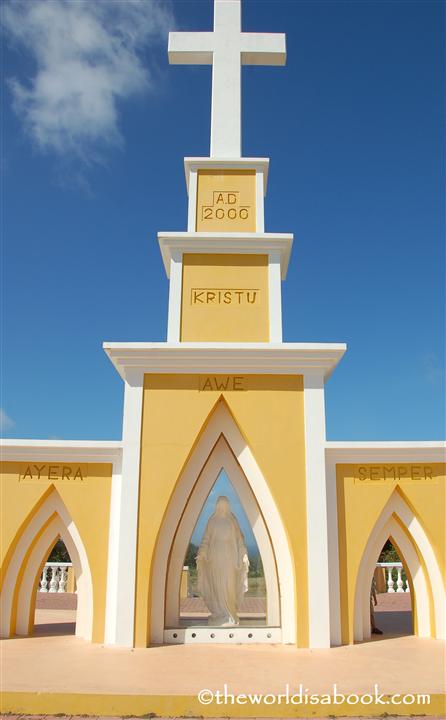 Bonaire was a wonderful island for a port stop even with our limited time.  It definitely is a place worth going back to for an extended land vacation especially if you are a diving or snorkeling enthusiast.  There's a reason 'Diver's Paradise' is imprinted on their license plates.  I would, however, visit it along with nearby Aruba and Curacao all at once since airfare is expensive going to each island.  They offered plenty of beaches and activities for the whole family.  The people we met were all friendly and hospitable.  The sheer amount of flamingos and donkeys alone will surely entertain and fascinate the kids.
For Next Time:
Washington Slagbaii National Park – We would have loved to spend some time at this 13,500 acre nature preserve see its landscape and saline plains.  Unfortunately, our guide couldn't take us in because a 4×4 truck or jeep was needed.  There was supposed to be a beach here called Playa Funchi which has no current and would be great for kids.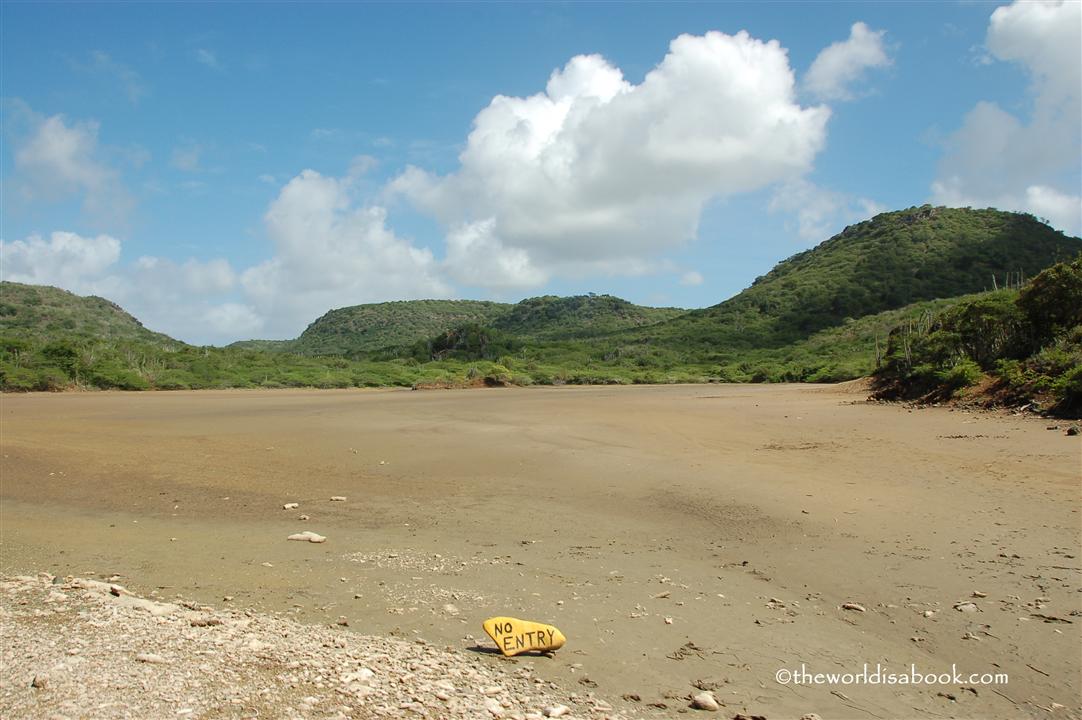 Donkey Sanctuary – This is a one of a kind drive through park among the 400 (and counting) donkeys. Although, that may be a bit harrowing to see all those donkeys come up to your car.  It looks particularly interesting since the owners rescued these donkeys from harsh situations.  Visitors are able to get a bag of food and feed the donkeys or just stroll around the area.
Salt Mountains  – Bonaire's arid and hot weather has made it one of the biggest producers of sea salt.   The island has  one of the most successful salt-mining industries in the world.  The southern part of the island has mountains of white salt crystals to see.
Klein Bonaire – This uninhabited island was half a mile from town, at its closest point.  Water taxis are available for less than $20 roundtrip.  It was a pretty popular spot for cruise shore excursions for snorkeling, diving and beach picnics.
*Have you been to Bonaire? 
Pin it for later!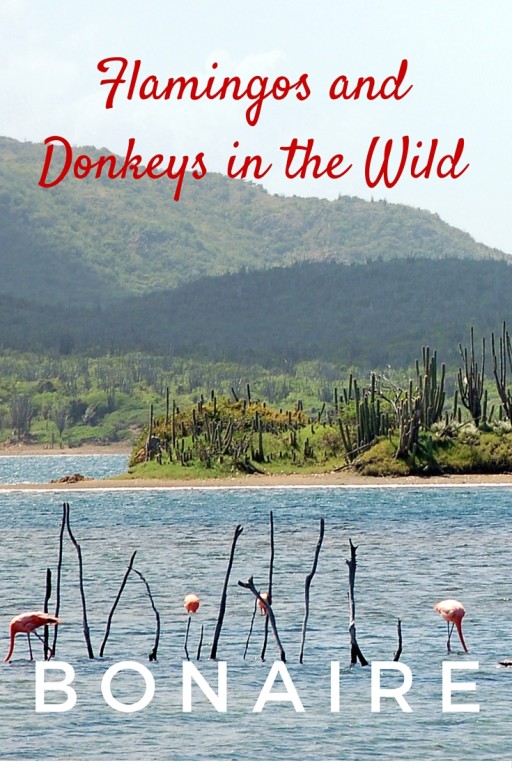 Check out these related posts: