Petting a cub at MGM Lion Habitat
One of the great free attractions in the Las Vegas strip is the MGM Grand Hotel's Lion Habitat.  Despite being in Vegas at least a couple of times a year, we've never gotten the chance to visit.  We finally decided to be the tourists that we are and take the kids recently during our Thanksgiving 2011 weekend visit.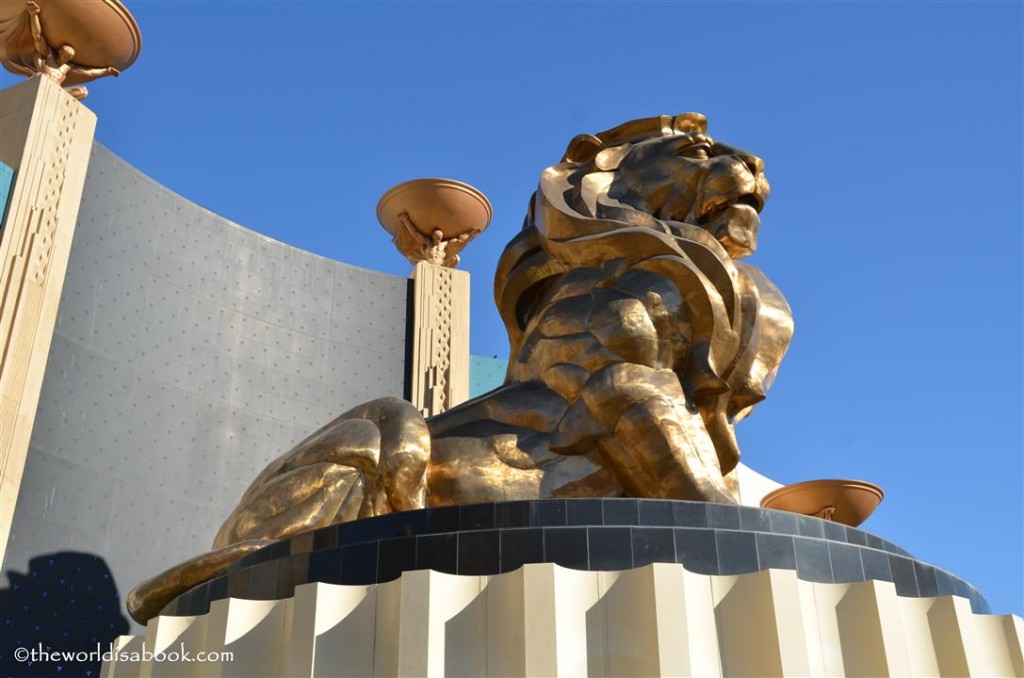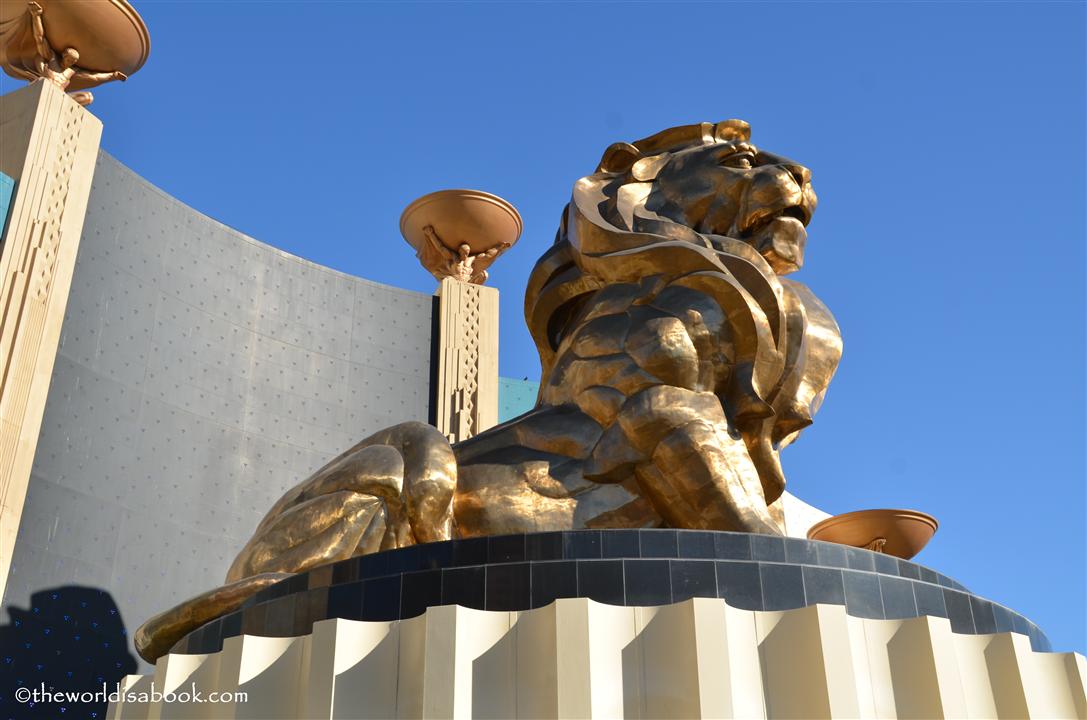 It was a pretty far walk from the parking lot yet so close to the entrance from the strip aka Las Vegas Boulevard.  We got there ten minutes before its opening time of 11 AM and the space in front of the enclosure was already filled with people.  The glass enclosure was actually a pretty big space with trees, a small waterfall and many ledges for the lions to rest.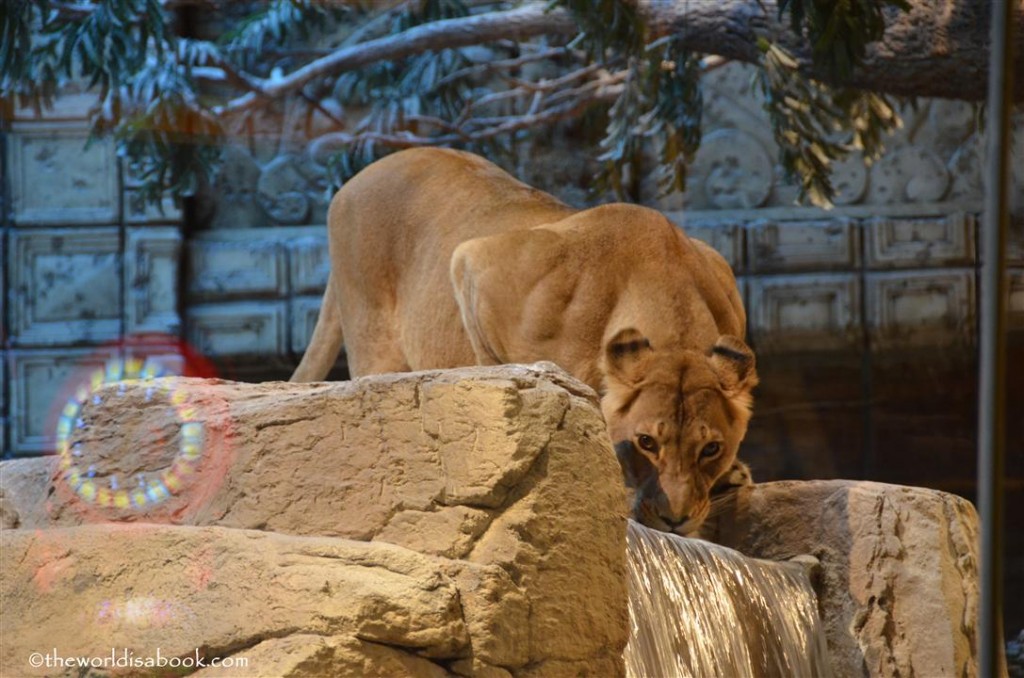 We saw a door that people were lining up in and since the line wasn't too long we joined them.  As soon as the lions leapt out, there was a loud gasp from the crowd.  We went through a walkway with a glass ceiling.  Just our luck, the lions came bounding on top and decided to rest here.  It was pretty cool to be right under a huge lion.  They were massive!  The kids could get up close and touch the glass by riding on dad's shoulders.
It turned out to be a better idea to go on the side door and offered a less crowded view.  We went through the glass enclosure and followed it all the way to the end by the gift shop entrance.  Though it's not as close, we still saw the lions playing.  It got a little crowded since it was a walkway but we just stood by the door and got the view below.  See the crowd of people on the other side?   There were two trainers that stayed and fed them.  Though, we didn't really see them interact too much with the lions.
The cub cage was right across from here where we saw the cubs playing with their toys.  They were very amusing to watch and so adorable.  I don't remember ever seeing cubs at either the San Diego Safari Park or San Diego Zoo near our house so this was a real treat for all of us (even if it was behind a glass window).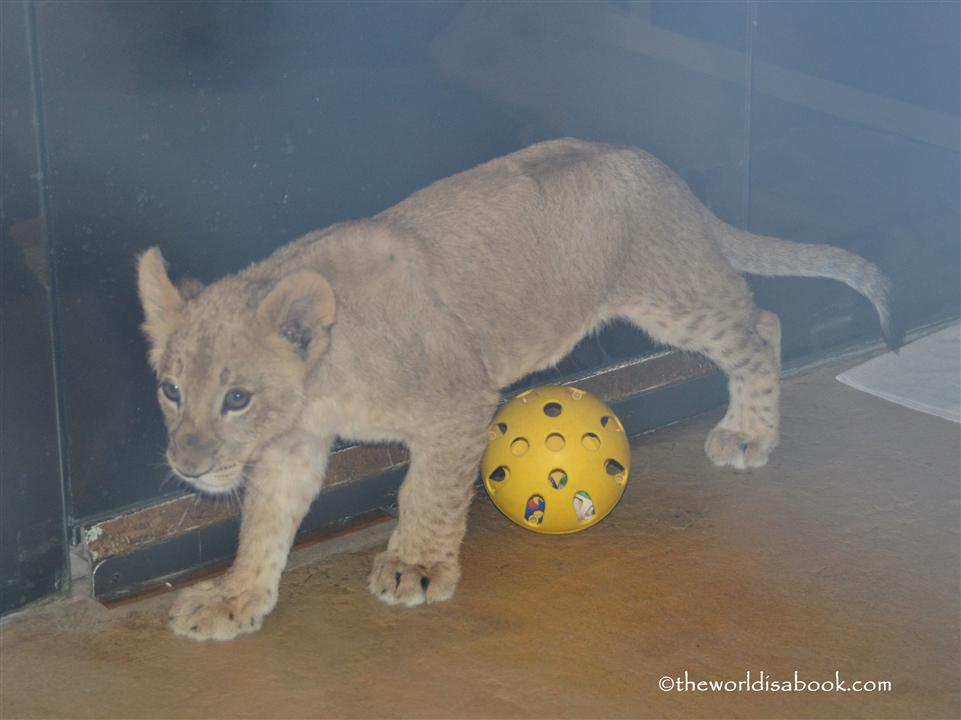 The two lions we saw didn't have the magnificient looking mane like the Lion King.  So, they were either females or young ones.  We were too fascinated to verify.  We read that the male lions start to grow the regal looking mane between the ages of one and two and completely have a full one by the age of seven.   Another fun fact: Lions sleep from 18-20 hours per day.  Sometimes, I wish I can sleep for that long too.  We spent a majority of the time watching the lions gnawing on a piece of large bone and tear it into pieces.  Wow…those teeth were ferocious and pretty scary looking.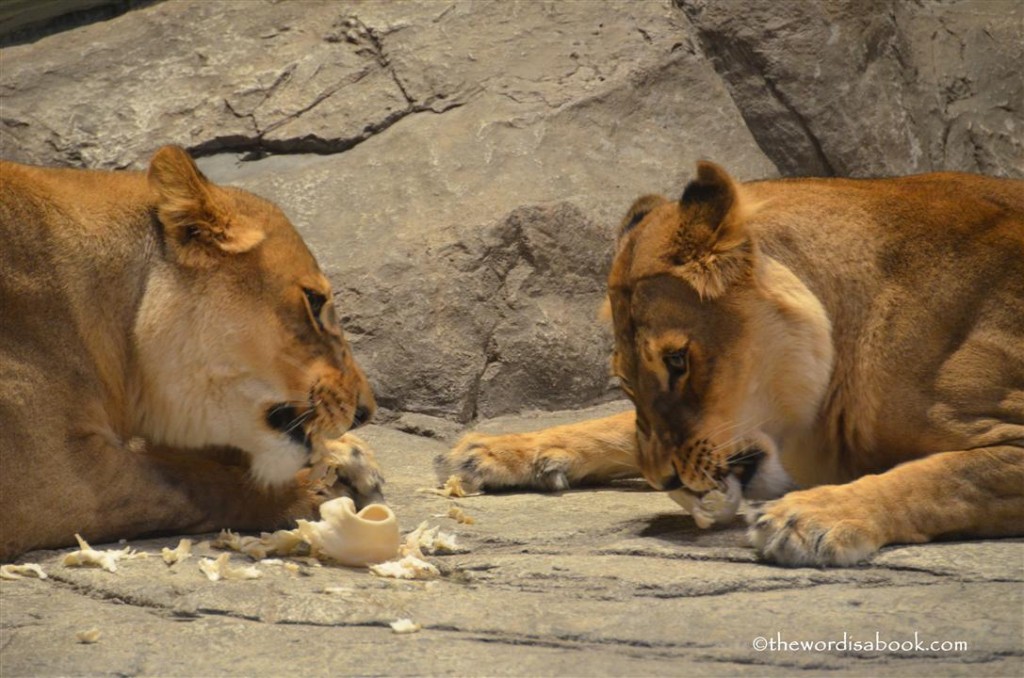 I imagine feeding those lions can be quite costly so they somehow need to make some extra money.   There is a photo opportunity to pose with a cub where an 8×10 picture costs $25.   Only two people were allowed per picture.  We thought this may be the only chance the kids get to be this close to a cub and we figured it helps the lions too.  So, here's the most expensive 8×10 photo we've ever bought yet worth every penny.
The picture is a bit deceiving since it looks like a giant stuffed animal but that's a real cub.  My kids called him Simba (from the Lion King, of course).  They said his fur was really soft and it was "so cool".   My husband and I may just have to do this photo op next time.  We couldn't go in to the photo taking area with the kids but we had a clear view from behind the backdrop and kept reminding them to "Smile!" and "Don't blink!"  We heard a man asking one of the workers if they can re-take a picture because he had his eyes closed.  After a little bit of deliberation,  they let him re-take it.  That was good to know but that may just be up to a worker's discretion and not their policy.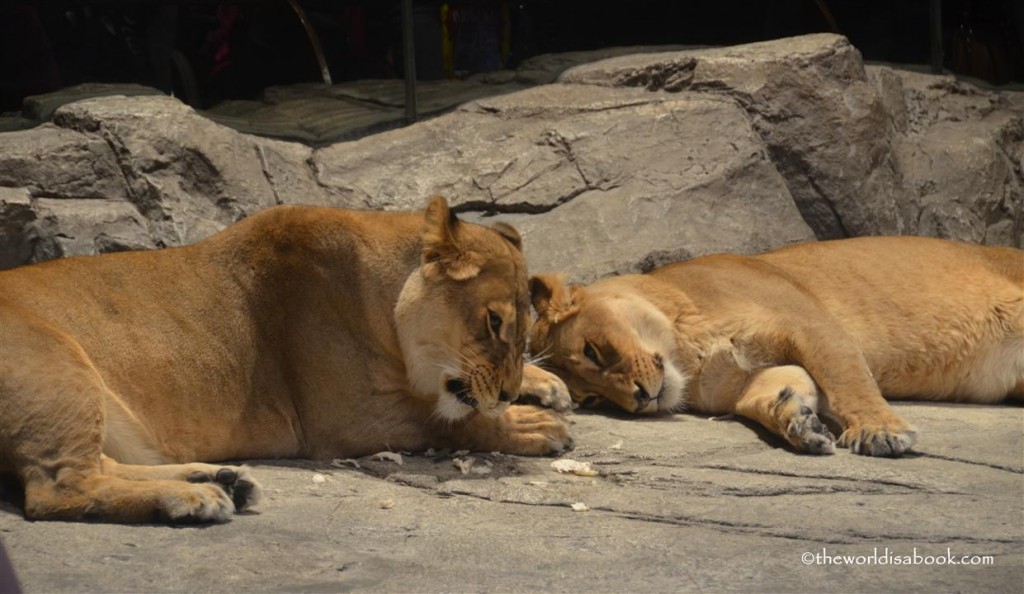 We highly recommend going here and will be visiting more often from now on.  Don't forget to grab one of the brochures inside the photo sign-up sheet.  It contains a lot of interesting information about these incredible animals.  The lions in the exhibit are African lions owned and cared for by Keith Evans (feline expert and trainer) and his staff.  When not in the exhibit, the lions live full-time at Mr. Evans' Las Vegas ranch known as "The Cat House". 
MGM Grand Lion Habitat – Las Vegas Blvd and Tropicana Avenue ~ Hours: 11 AM – 7 PM Daily
Related Post: