St. Thomas US Virgin Islands with Kids: The Skyride
The picturesque port of St. Thomas is a popular stop for many Caribbean cruises.  This is one of the three islands that make up the US Virgin Islands, a US territory.   Our Princess ship was not docked in town but at Crown Bay (about 1.5 miles from downtown) during our cruise in 2009.
On the way to the taxis, we saw a few large iguanas at the rocks which was nice way to welcome us to the islands and totally fascinated the kids.  We were on a port intensive cruise (five islands in seven days) so we decided to take it easy in St. Thomas and do some sightseeing and shopping.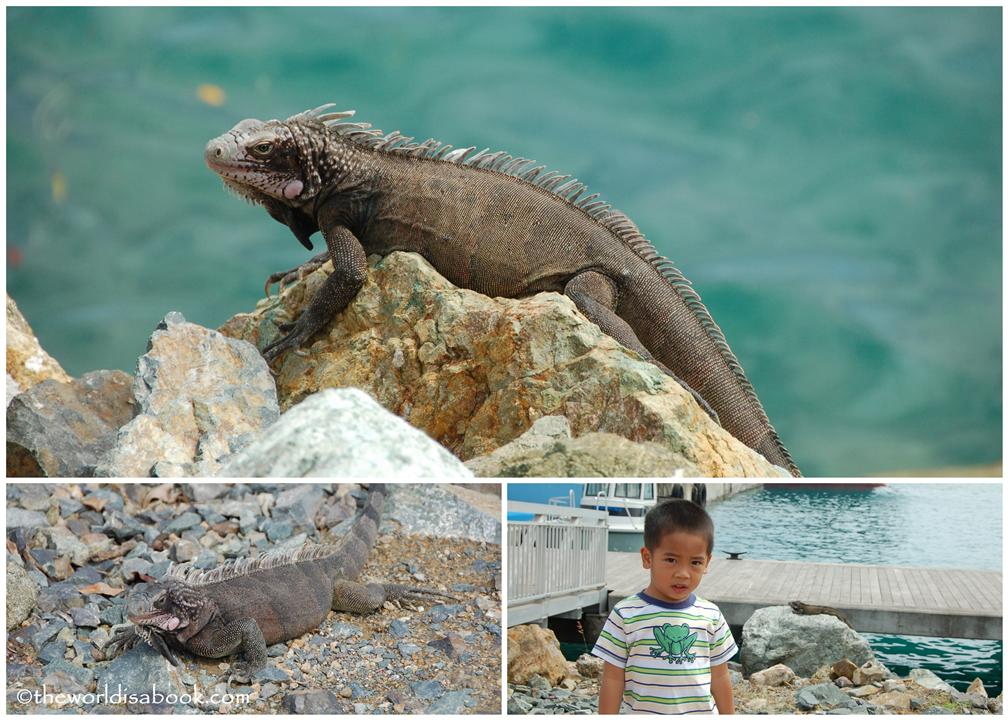 Our first stop was the St. Thomas Skyride.  It was a tram (much like the ones at ski resorts) that took visitors to the top of Paradise Point – 800 feet above the town of Charlotte Amalie.   Since our kids loved riding gondolas and anything suspended in the air for that matter, we thought this would be a good way to see some scenery.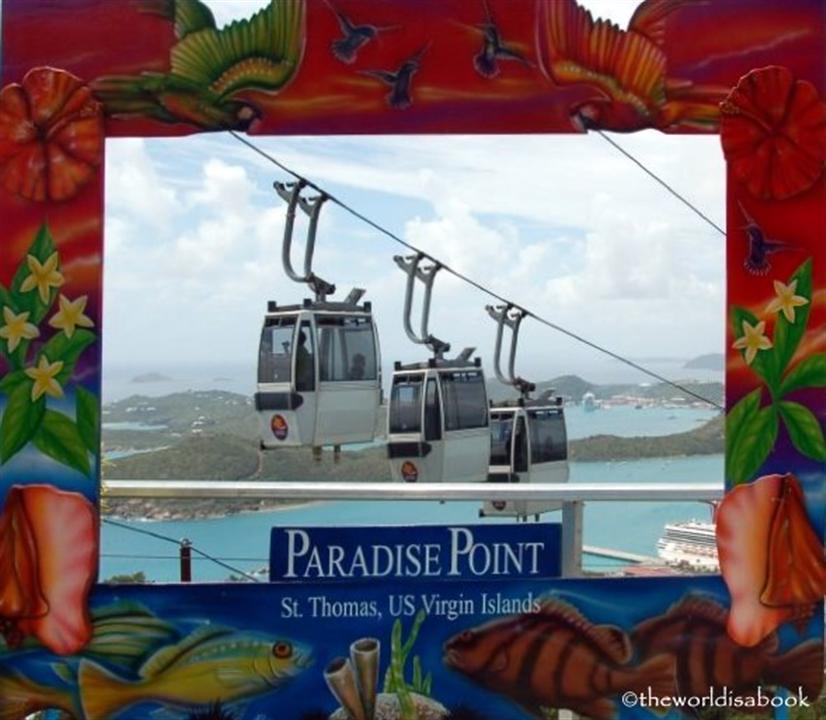 We bought our tickets at the base of the gondola in Havensight near where most of the cruise ships dock.  We were able get discount coupons in one of the brochures we picked up.  It was $20 per adult for an all day ride but the kids were free.
Much to our delight, we had a gondola to ourselves.  The bad part – no ventilation in the stifling heat.  Luckily, it was only a seven minute ride up.   The gondolas do not stop or slow down for anyone.  It was pretty much a step on, step off process.   The surrounding views as we ascended were fantastic.  It was a surprisingly smooth and quick ride.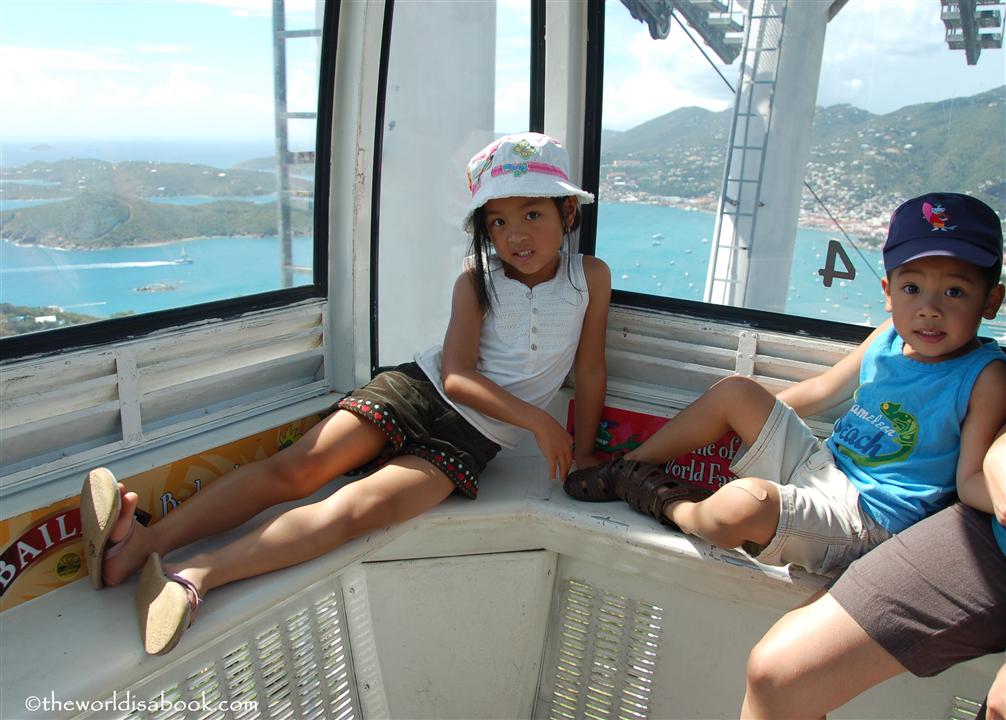 We were greeted at the top with one of the best panoramic views of the island and the bay – three ships on dock, the harbor, downtown and the outlying islands.  That steep ticket price was redeemed with this breathtaking view.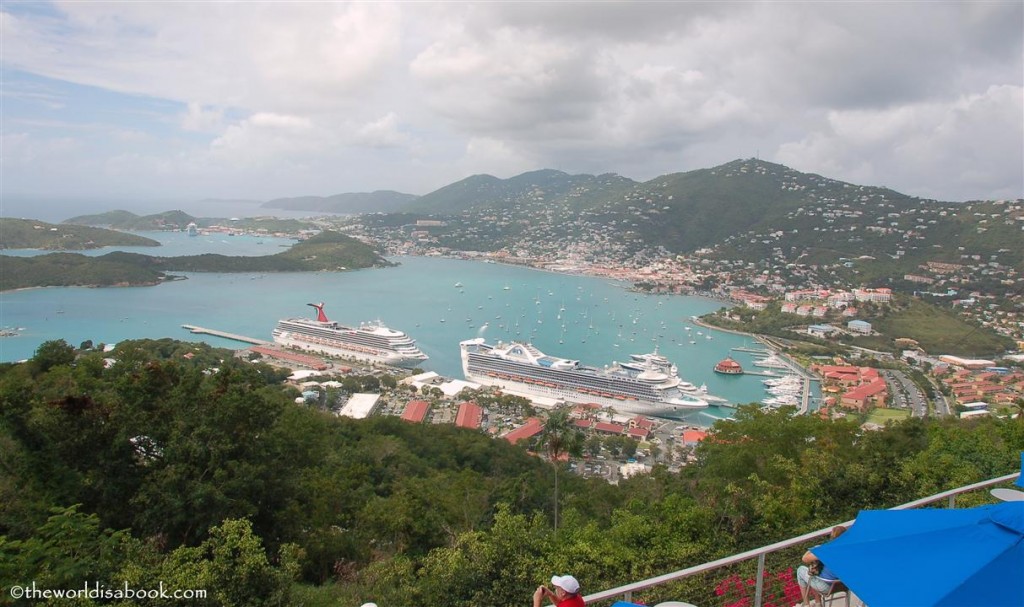 A Bird Show?
Without a doubt, the highlight for the kids here was the bird show. Yes, we came for the views and stayed for the birds. The scenic view to a 3 and 6 year old can only be impressive for about a minute, at the most. We were then asked with 'What are we looking for?' and "Can we go now?"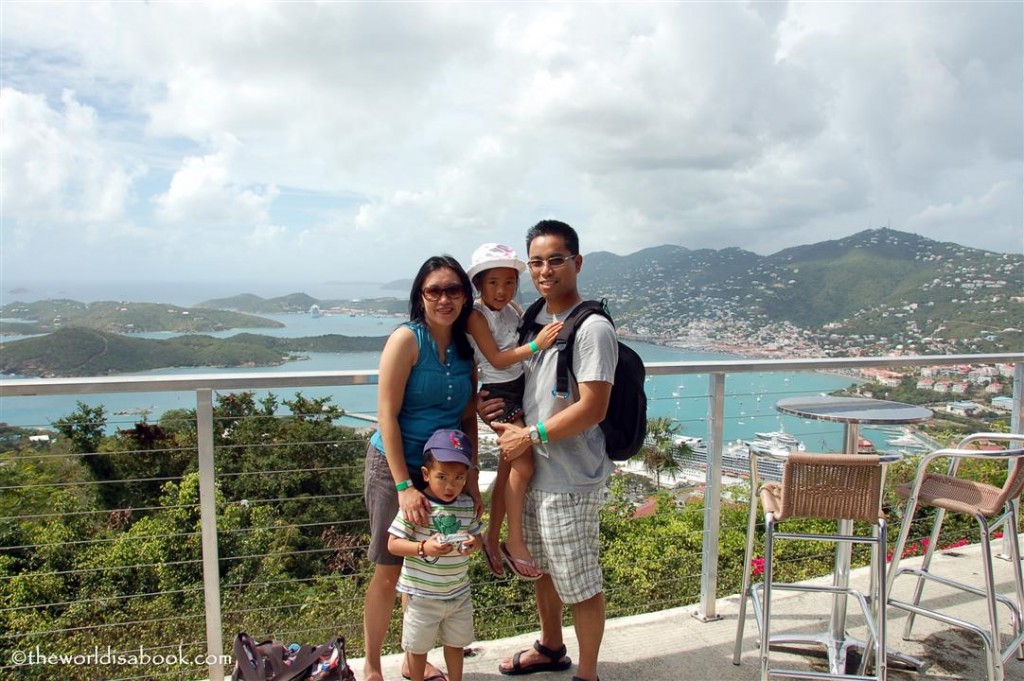 The bird show was put on by a lady with a variety of birds as the stars – mainly macaws, cuckatoos and parrots.  It was free but tips were encouraged.  She was behind a bar used as a stage for the birds.  These talented birds walked on high wires and rode bicycles and skateboards.  It was actually pretty entertaining.  Who knew you could do so much with these birds?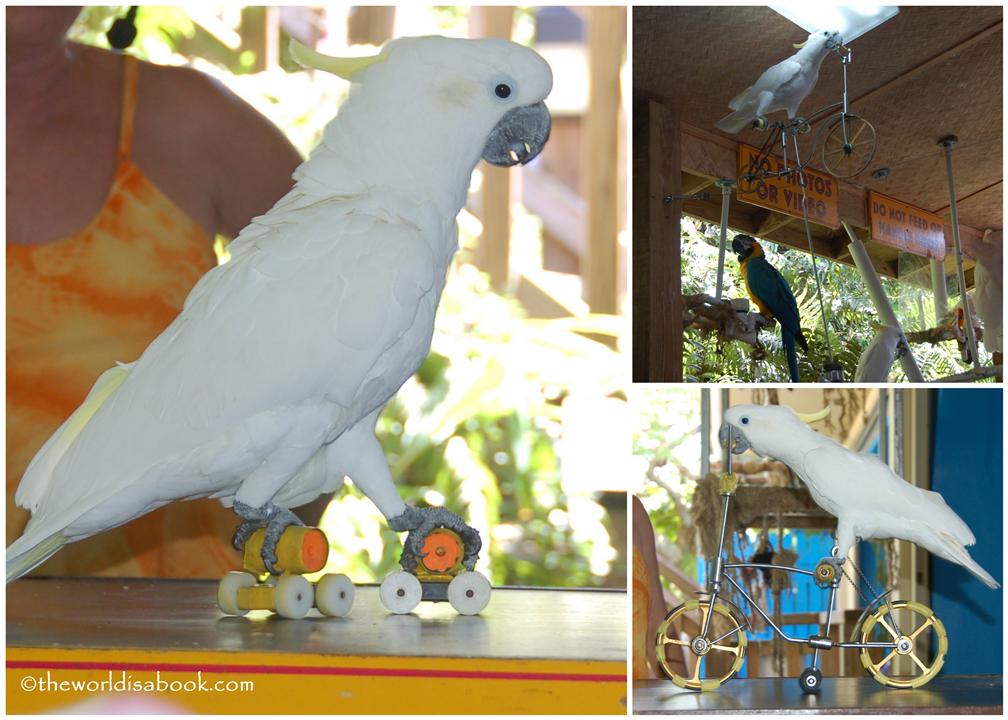 Paradise Point also had a few gift shops and restaurants on site.    There were plenty of chairs and tables outside too.  It was so relaxing to sit there and admire the views with a gentle breeze cooling us.  Some items were a bit overpriced, as expected.  Get a small souvenir and head to town to shop or at the Kmart down the street for all other St. Thomas souvenirs.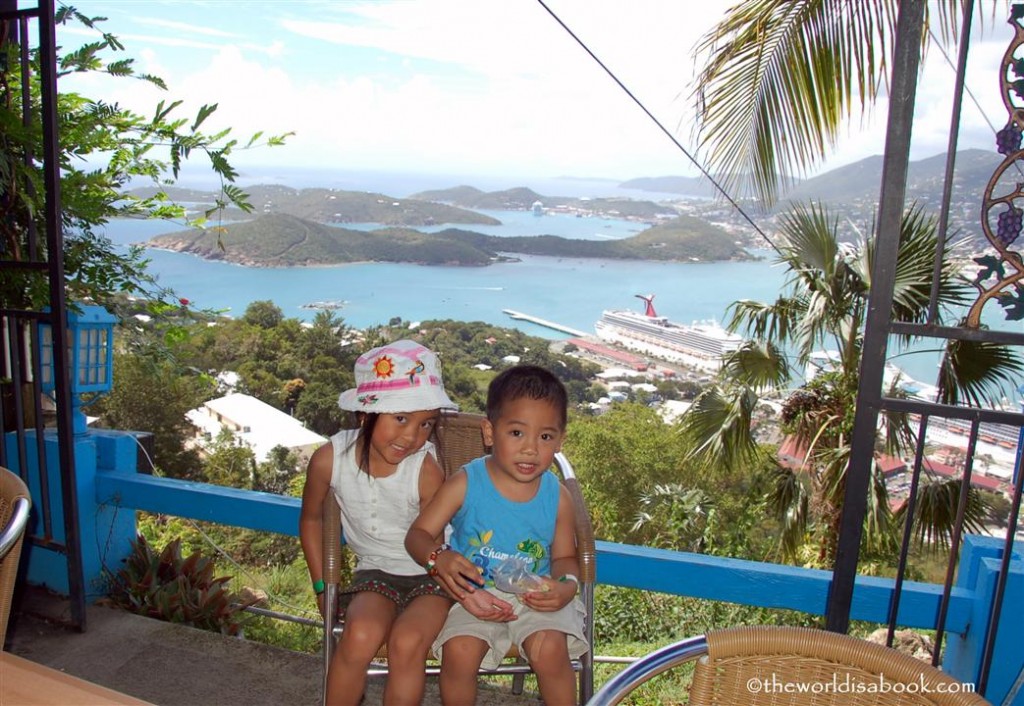 As a port of call, we highly recommend taking one of the island overview tours especially for first time visitors.  It usually includes the skyride.  If you are docked in Havensight and need a quick attraction, then this is a good family outing.
Transportation Option
While exploring St. Thomas, we saw many of these decorated trucks that were converted into public transportation options called safaris.  The back has been covered and benches were installed for seating.  While this is not the safest way to go on tours since there were no seatbelts, it was a very popular way to tour the island.  For many of us traveling with kids and car seats, we only look in awe as we hailed taxicabs instead.
For Next Time:
St John, US Virgin Islands – We are looking forward to our return to St. Thomas and then plan to head to the island of St. John via ferry. The Virgin Islands National Park covers two-thirds of this tiny island.  But, it is rich with activities ranging from kayaking to horseback riding.
Magen's Bay – We spent half the day at the island's most popular beach in 2004 and would love to return.  It was a clean beach with turquoise waters and white sand.  It was easy to see why it has been ranked as one of the top ten beaches in the world.
Coral World Ocean Park – This is one of the island;s top attractions for swimming with sea lions and exploring the rich, underwater world of the island.
Related Links: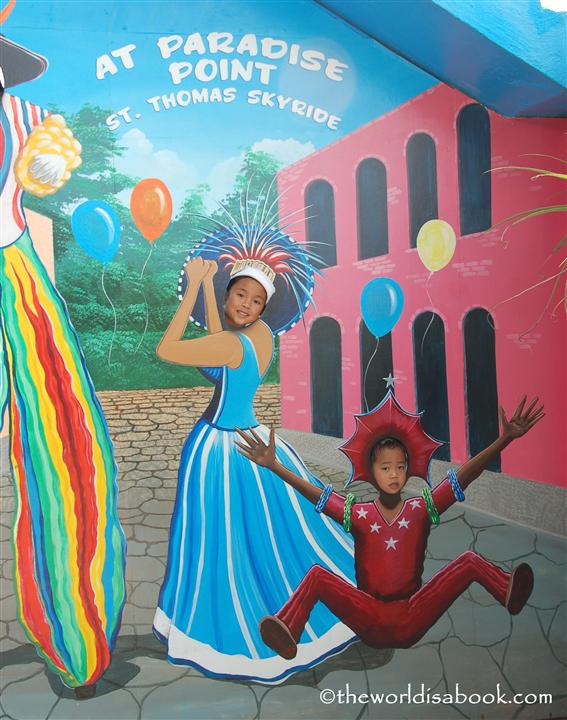 Check out these related posts: