Visiting Old Mission Santa Barbara
California's twenty-one Spanish Missions have played an integral part in the state's history .  Founded by the Franciscan priests, each Mission was built a day's worth of horse back riding apart from each other.  They were centers of religious and cultural activities. Today, they function as parishes and living museums.  Unfortunately, the Missions are not always at the top of many tourist attraction lists.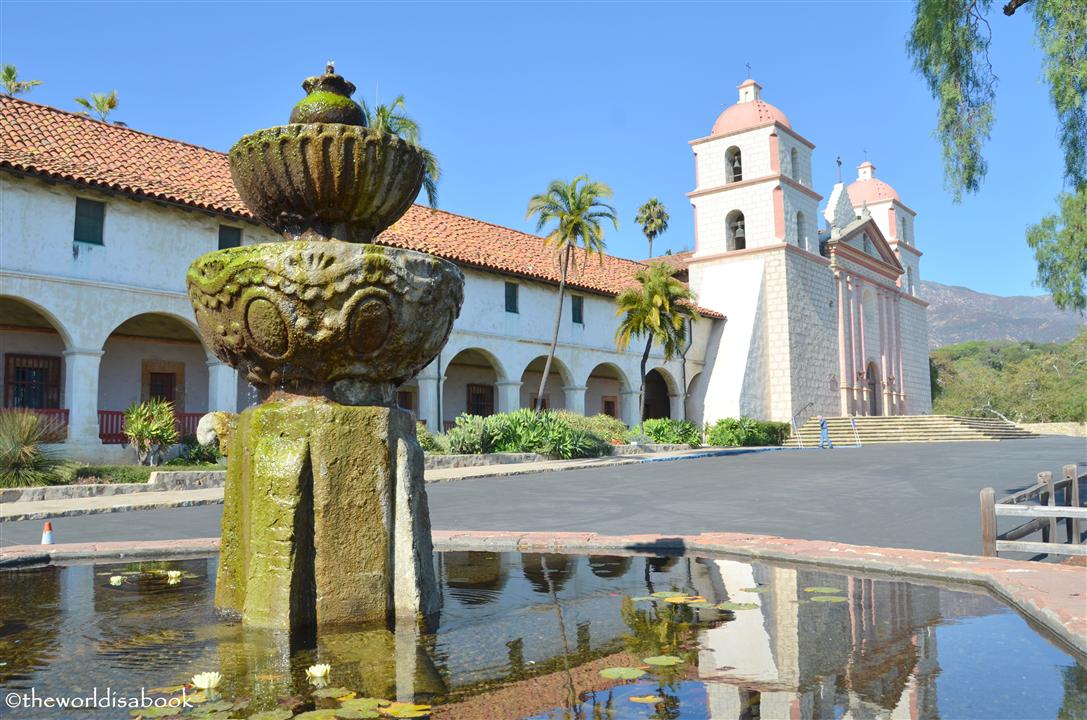 Writing a report or building a model about a Mission has been an important project for California's fourth graders for many years.   We visited  Mission Santa Barbara  – about 2 hours north of Los Angeles – last month for my daughter's project.  Even though there are three other Missions less than an hour's drive from our house, she picked the Queen of the Missions,  so named because it's considered the prettiest by many.  She's a girl – she likes pretty things.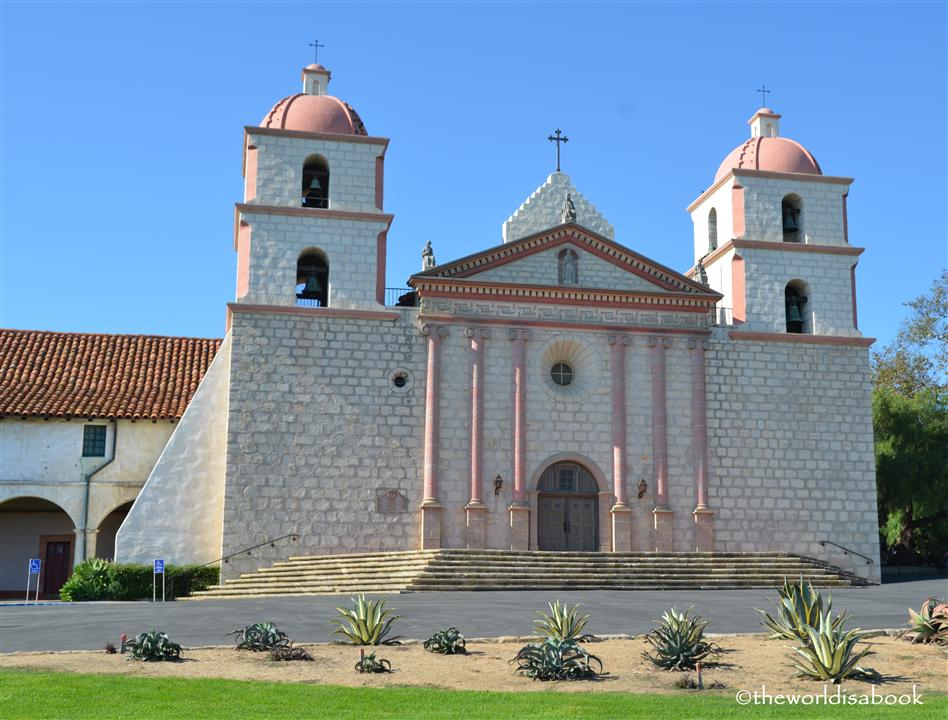 Located on a hilltop overlooking the city and the Pacific Ocean, it was impressive.   Its architectural style was a combination of Greek, Roman and Spanish – inspired by a Latin temple. The church with its six pink-hued columns made it quite unique from other Missions we've visited.  Its facade was based on a Roman architect's picture of a Greek temple. The statues on top were Faith, Hope and Charity and St. Barbara in the center niche.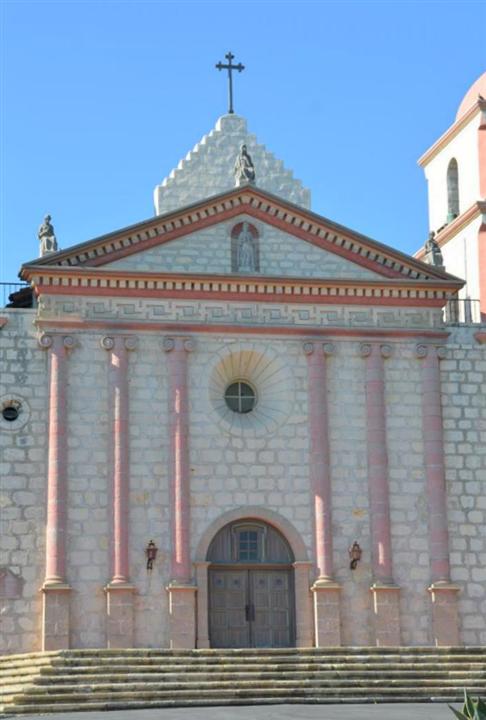 It is the only Mission with twin bell towers.  The six huge bells welcomed guests and announced various events throughout its history.  In the old days, it was also used to summon the Indians to assemble in church and rang during the day as activity reminders.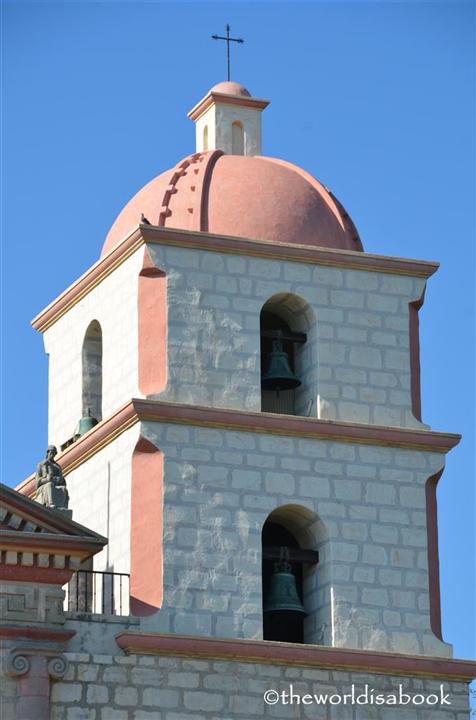 Founded in 1786, its purpose was to convert the native Chumash Indians into Christians.  We did the self-guided tour and for a small fee of $5 was truly worth it. It started with the beautiful courtyard called the Sacred Garden with a fountain in the middle amid towering palm trees and a well maintained landscape of roses and cacti.  This was the Native Americans' work area for learning trades.  The adjacent buildings were their workshops.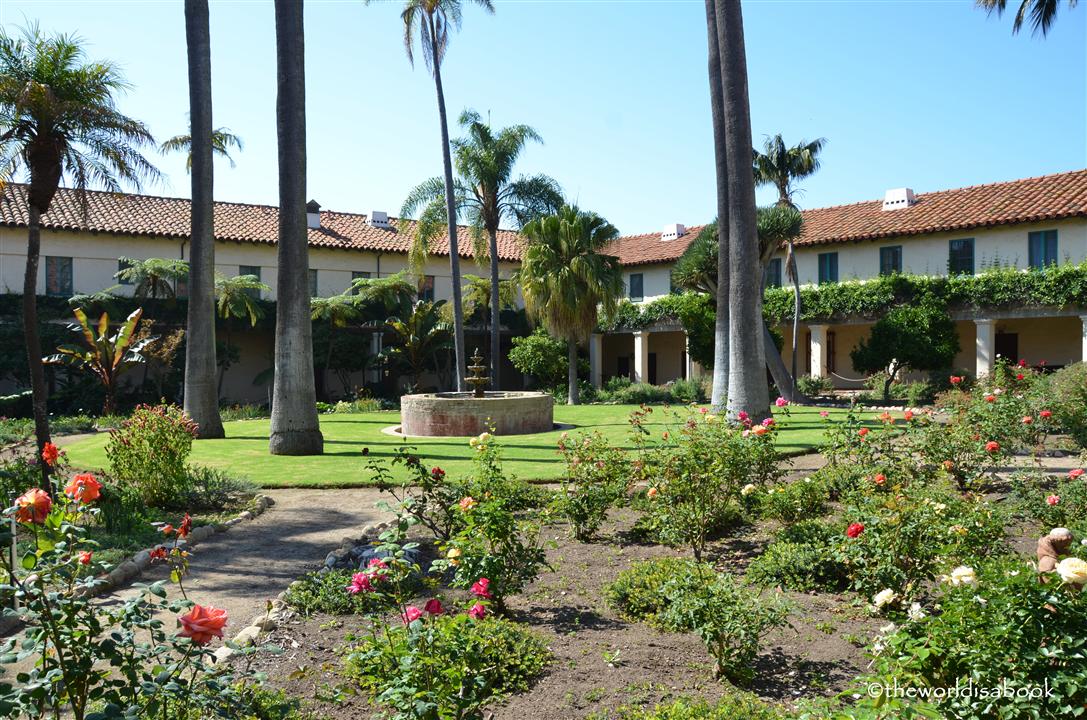 Through a maze of newer buildings and a couple of outdoor exhibits, the path ended at the Mission cemetary.  More than 4,000 Chumash Indians were buried here.  Juana Maria, the Indian girl who inspired the award-winning novel, 'Island of the Blue Dolphins' was one of those buried in an unmarked grave.  A plaque in her memory lies towards the exit.  Tombs and mausoleums of early Spanish families were also here.    The giant fig tree in the center provided some much needed shade.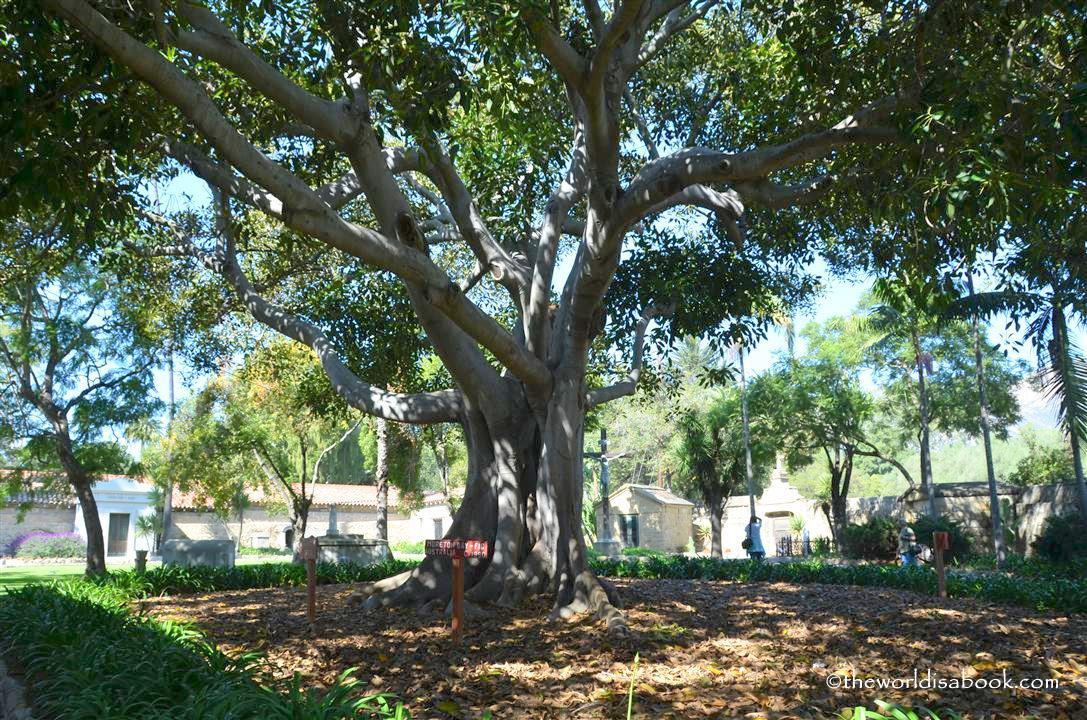 Tour signs pointed us towards a a door with skull and crossbone carvings over it.  Contrary to my 6-year old son's thoughts of this being pirate territory, these were actually traditional signs marking a cemetary.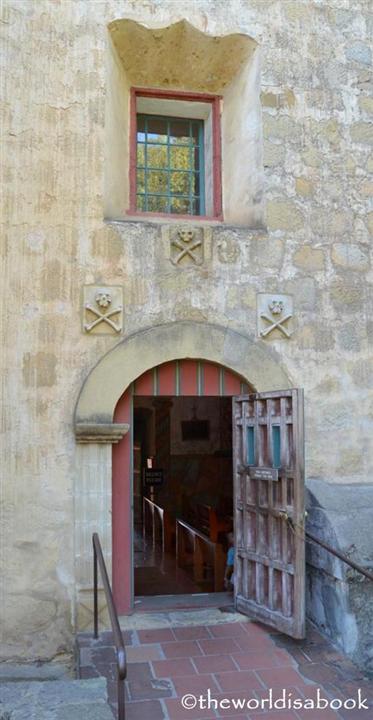 This door led to the Mission's church – its main attraction.   I could see why this church was very popular for weddings. The altar was absolutely stunning and very colorful.  The canvas backdrop behind the altar almost looked three-dimensional and imitated the church's facade of columns and intricate designs.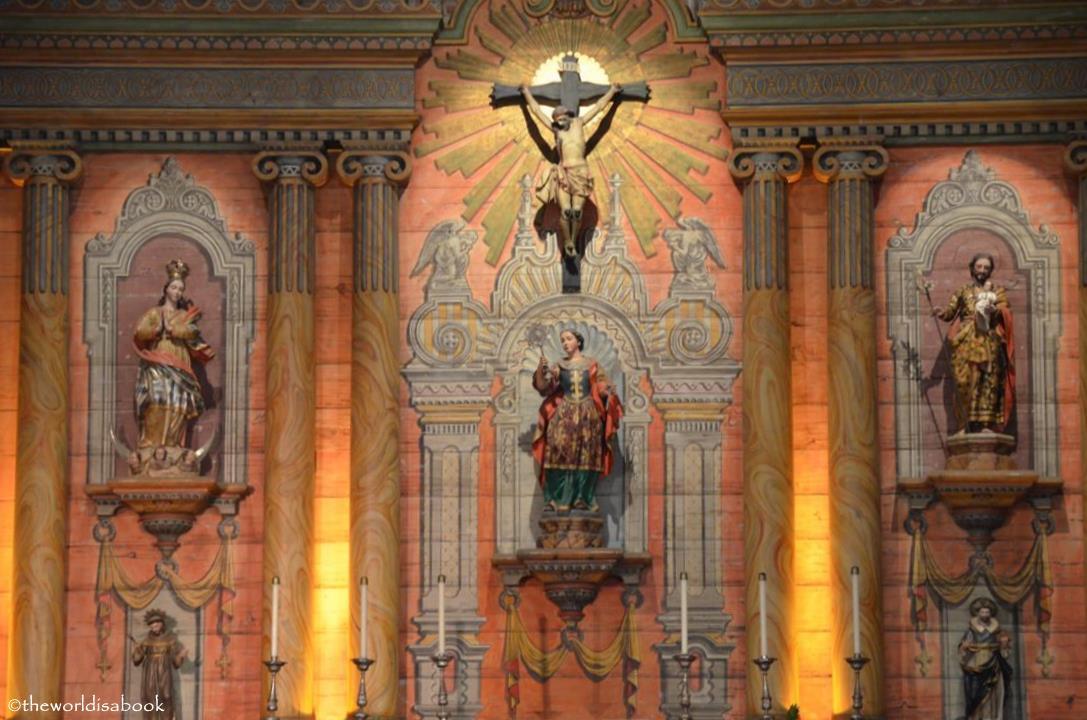 I don't think I have ever seen such a colorful church.  It actually felt more like a museum.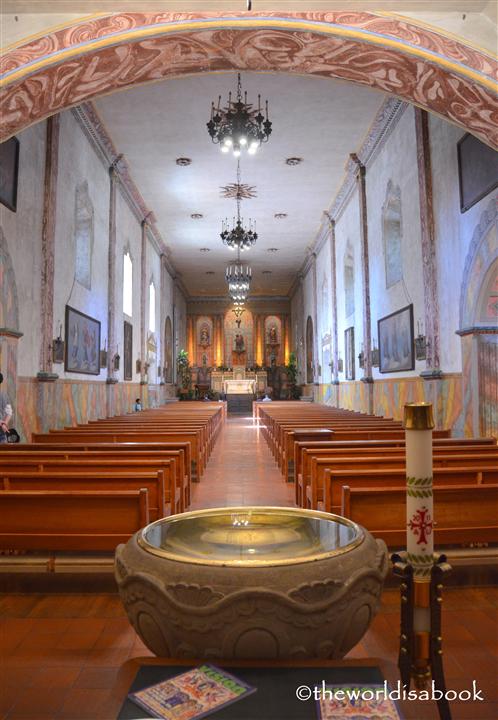 Various enclaves contained large stone sculptures of saints.  Its walls were adorned with large religious artwork masterfully painted by Mexican artists in the 18th and 19th centuries.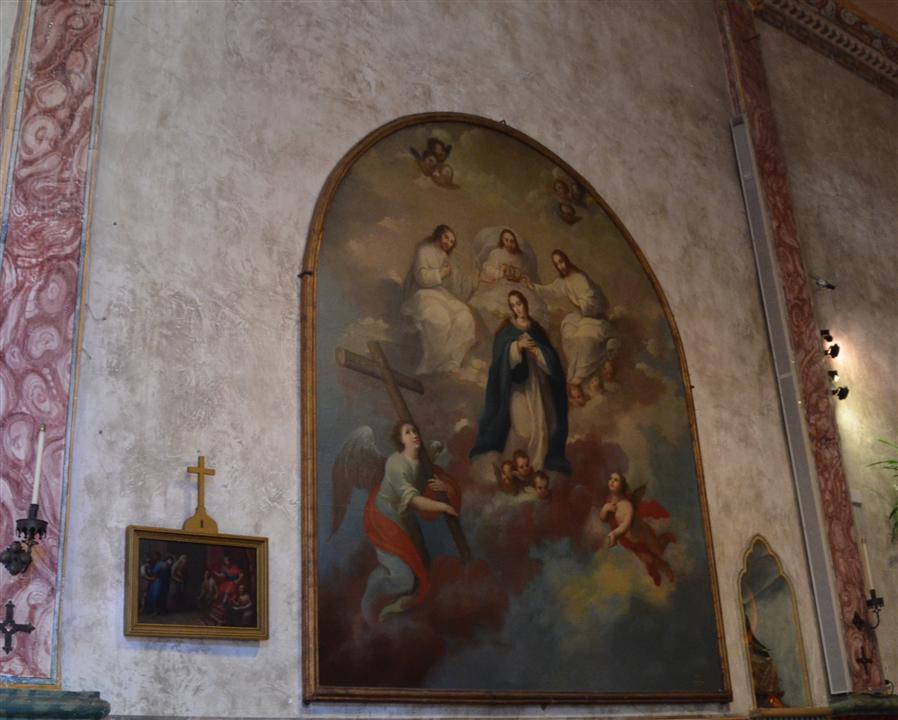 Beneath the paintings were entire walls painted with vivid colors.  It was so worth it to sit there for a few minutes and admire the church's fine art and arhitecture.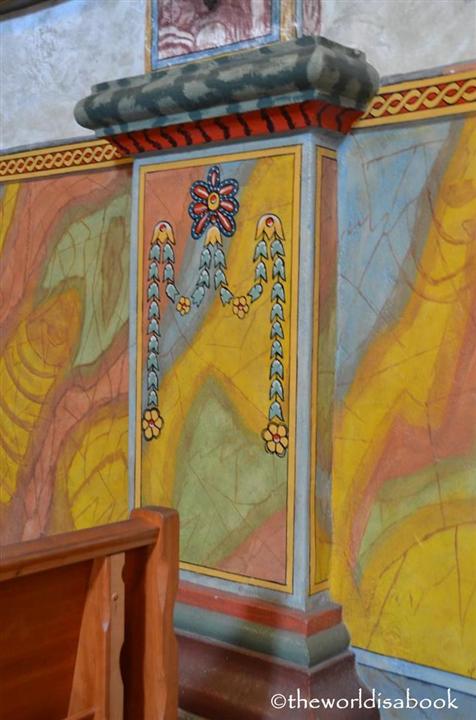 Even the kids enjoyed walking around the church admiring everything. With doors like these, how can you not feel a bit of joy walking in here?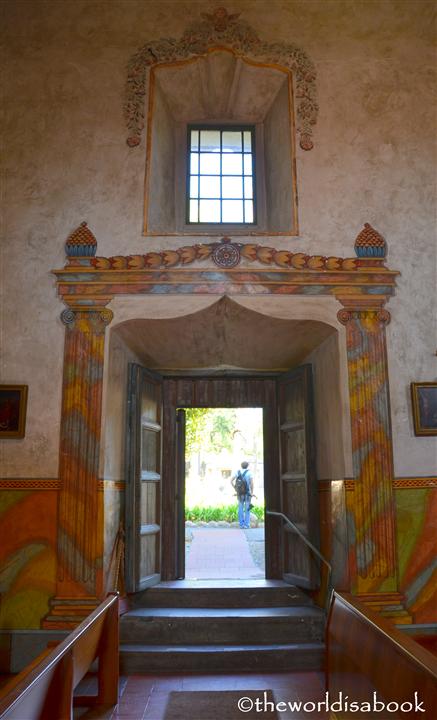 For something unusual, the ceiling was decorated with various carved, wooden designs where the chandeliers hung.  While not very large, this church absolutely made up for its lack of size with grandeur and ornate decorations.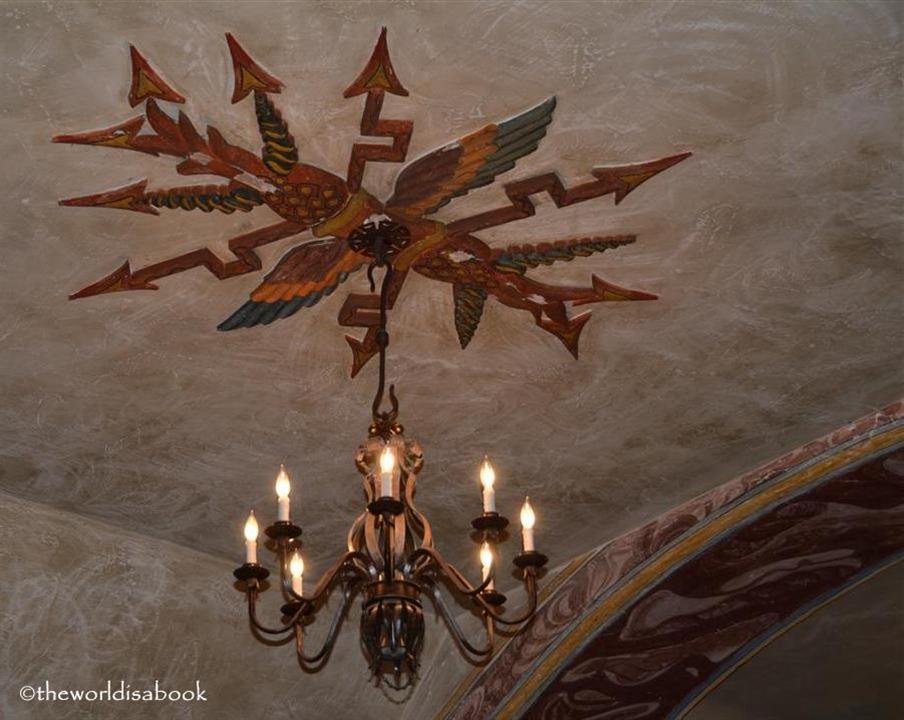 A walking tour through the museum was the last portion of our visit.  These rooms used to be the missionaries' living quarters.   The exhibits gave us a sense of what life was like for the priests and the Indians.  There were various displays of what the Indians did – weaving, candle making, and woodcraft among other things.  It was a fascinating glimpse into this part of history.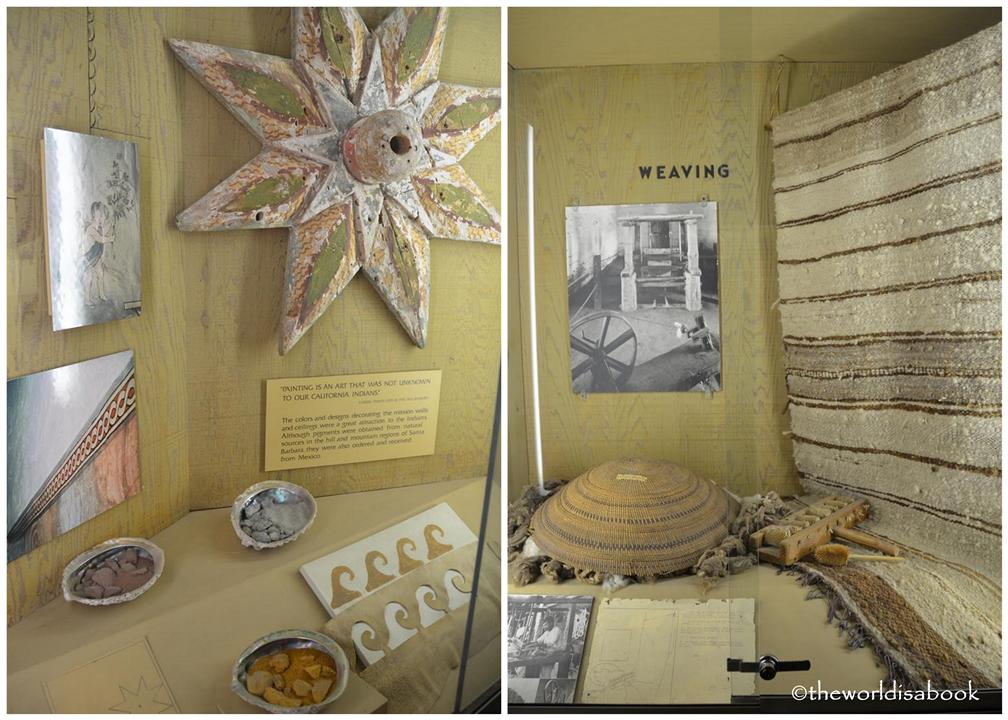 The kitchen exhibit was actually interesting.  It was a recreation of a smaller Mission indoor kitchen used for cooking meals for the priests and guests in the 1800s.
We particularly liked that a corner of the museum was dedicated to keeping kids busy while the parents were preoccupied.  The tile overlay coloring activity provided a great souvenir for the kids.
While the Mission's interior was full of history, the outside area also had some noteworthy structures – the Moorish fountain built in the 1800s and the lavanderia.  This long stone structure was used by the Indians to wash clothes.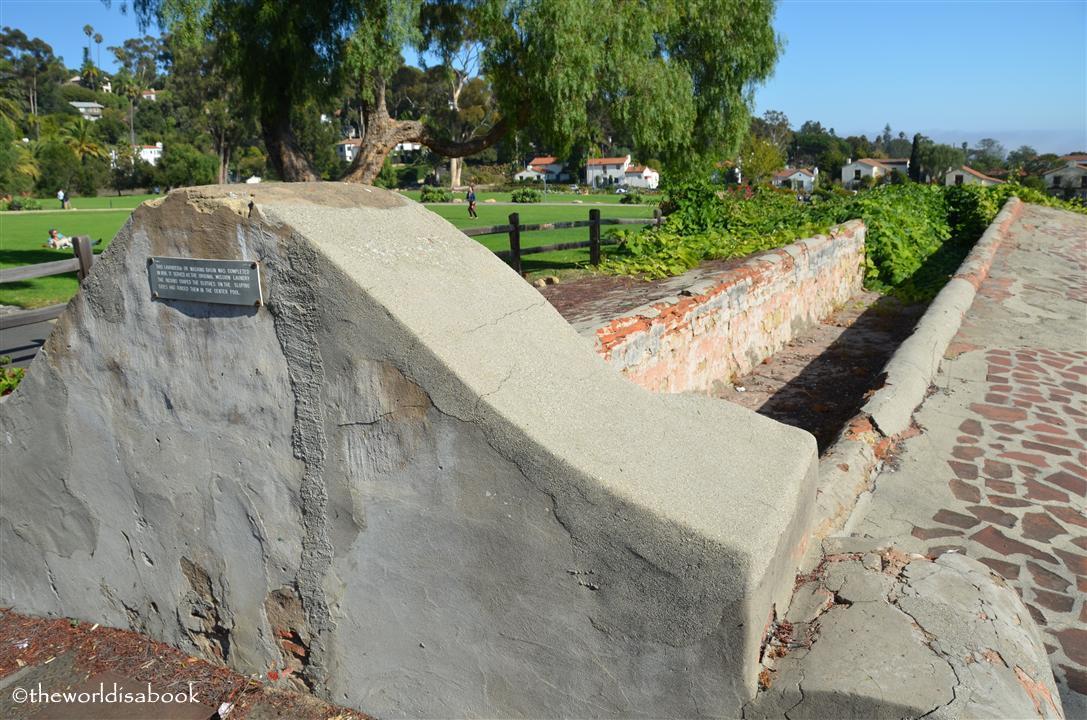 The wide open grassy area was a popular spot for sunbathers, picnickers and for kids to run around.  Also, a popular photo background for wedding and engagement photos.  The rose garden across was a wonderful place to visit and sit back and admire the Mission.  If you're ever in the area, we definitely recommend a visit to one of California's historic gems.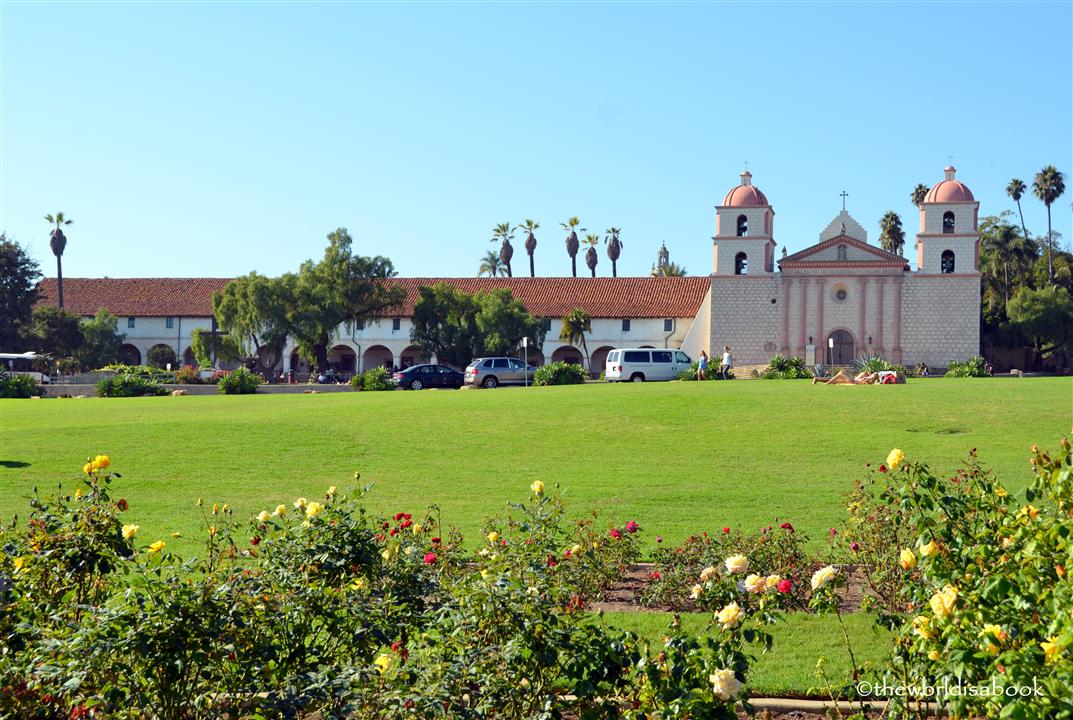 Have you visited Mission Santa Barbara or any of the California Missions?
**For updates, please follow us on Twitter or 'LIKE' our Facebook page .  Thanks!** 
Pin it for later!