Boldt Castle on Heart Island
In honor of Valentine's Day next week, I couldn't think of a more appropriate post for the occasion than a revisit to Boldt Castle on Heart Island.  We visited this unique attraction a couple of years ago during a family trip to upstate New York.  Heart Island is located near the town of Alexandria Bay on the Thousand Islands region along the St. Lawrence River.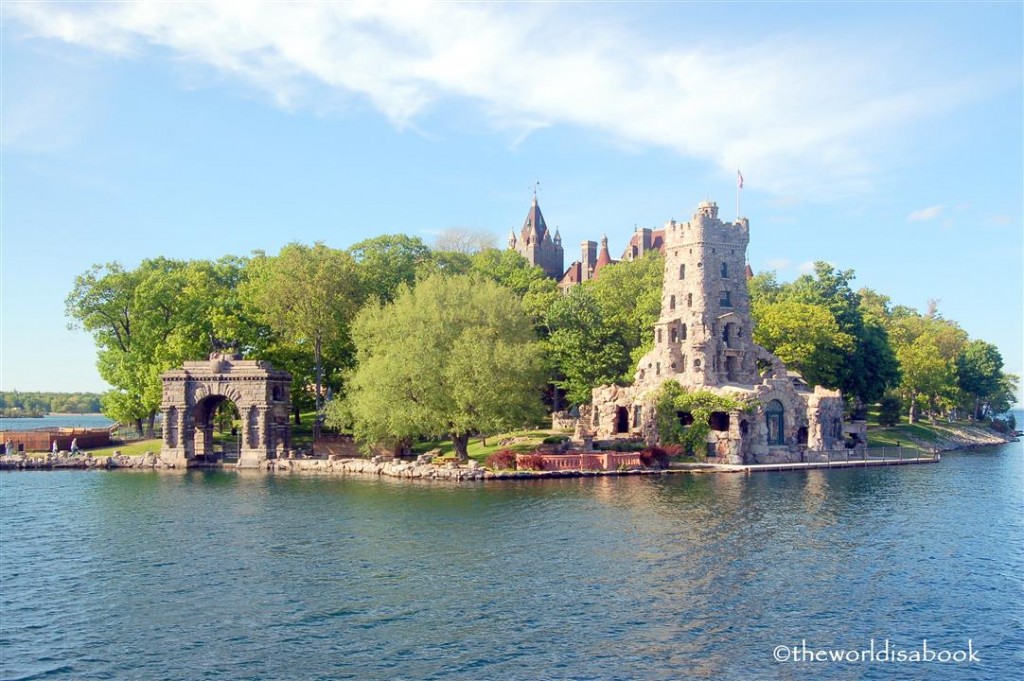 George C. Boldt was a multi-millionaire proprietor of New York City's luxurious Walforf Astoria and owner of Philadelphia's Bellevue-Stratford Hotel.  In the early 1900s, he set up an ambitious plan to build a full-size replica fairy tale castle of ones he had seen along the Rhine river from his childhood in Germany.  This was supposed to be a six story, 120 room dream castle.  All this opulence and extravagance was to symbolize his love for his wife, Louise.  How's that for husband of the century award?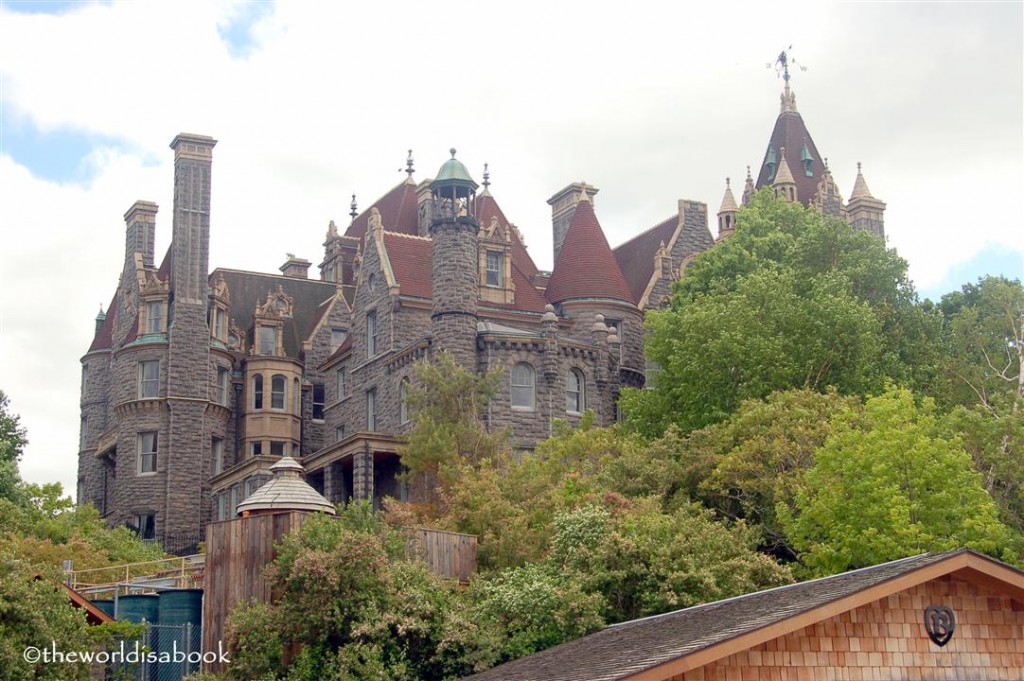 However, Louise Boldt suddenly died in 1904.  Grief stricken and heart broken, Boldt stopped construction on the castle indefinitely.  He never returned to the island and the castle was left in disarray for over 70 years.    In 1977, it was donated to The Thousand Islands Bridge Authority.  The agency has poured millions of dollars since then to restore and preserve the castle and the adjacent structures on the five-acre island.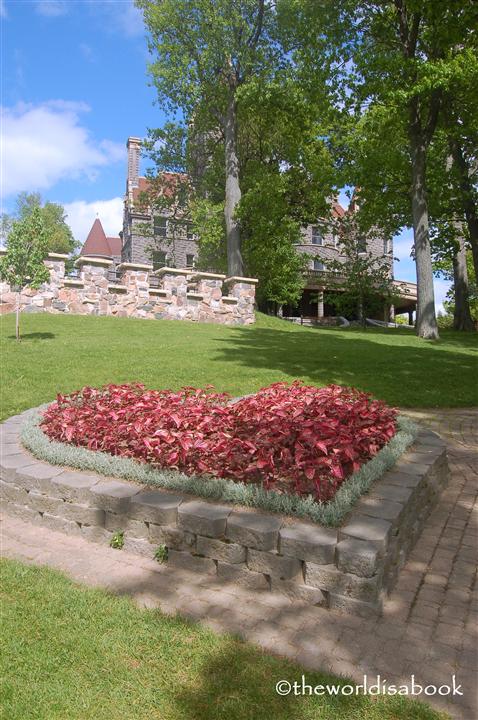 Obviously, I couldn't take an aerial shot so this is a borrowed photo from high above the island.  I was a bit skeptical until I saw this picture proving it really is shaped like a heart (sort of) – thanks to Mr. Boldt's reshaping effort.  Boldt Castle is only accessible by water with tours starting in Alexandria Bay or Clayton, NY and Ontario, Canada.   Unfortunately, it is only open from mid-May to mid-October.
The imposing castle with its various turrets, towers and red-tiled roofs were a sight to behold as we stepped off the boat.  It was magnificent but also had an eeriness about it.  At one time, 300 workers, including stonemasons, carpenters and artisans, worked on the island.  It was believed that Mr. Boldt initially invested over $2.5 million for the castle.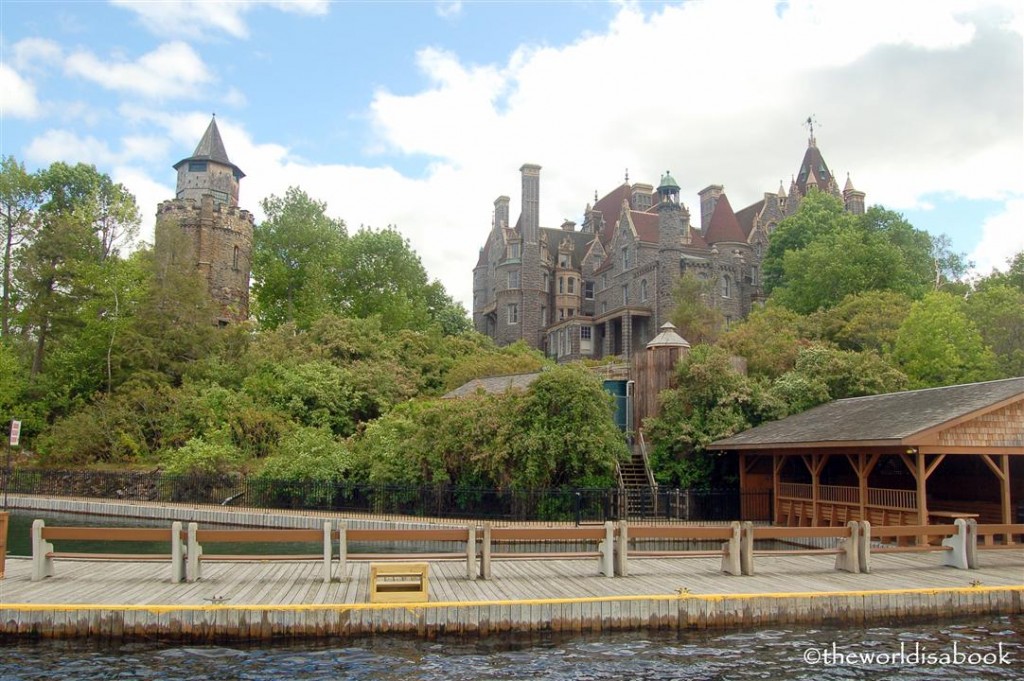 Self-guided tours were available through some main floor rooms of the castle. There was even a movie on the construction and restoration of the castle as well as its history and a peek into the lavish lifestyle of the Boldts.  At the time of our visit, many of the rooms were still under construction.  We were greeted with the grand main hall that opened into an elegant marble staircase.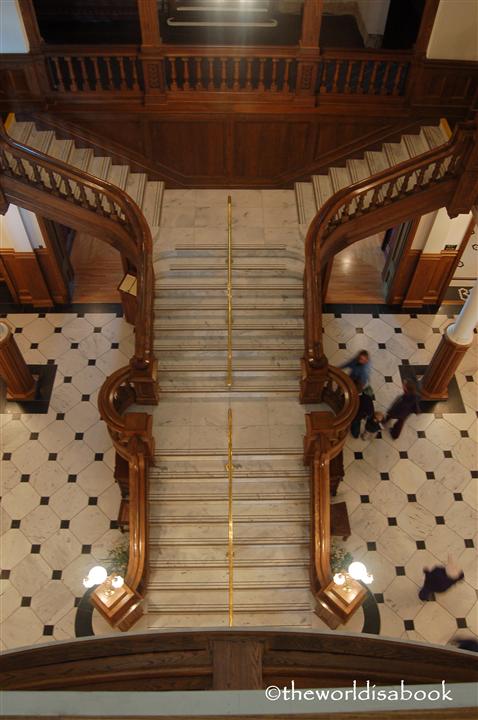 Although, the focal point here was the stunning stained glass dome ceiling.  Since no known drawings were found, the design was based on a Boston conservator's interpretation of how Mr. Boldt would have designed it.  The dome itself measures 24 feet long and is over seven feet high.  Over 6,000 pieces of hand-cut art glass on 48 individual sections were used.  I loved the details and how the hearts were incorporated into it.   It was definitely befitting of a castle.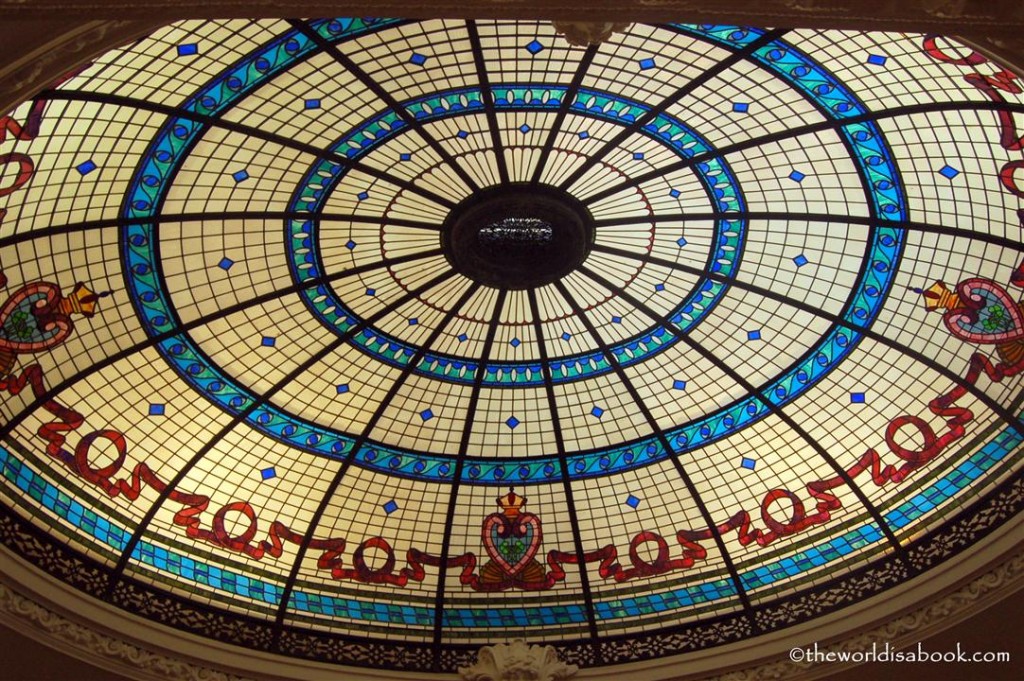 The first floor contained some rooms which were meticulously reproduced from the Boldt's original plans. Below is one of the finished reception rooms with ornate details on the ceiling and walls.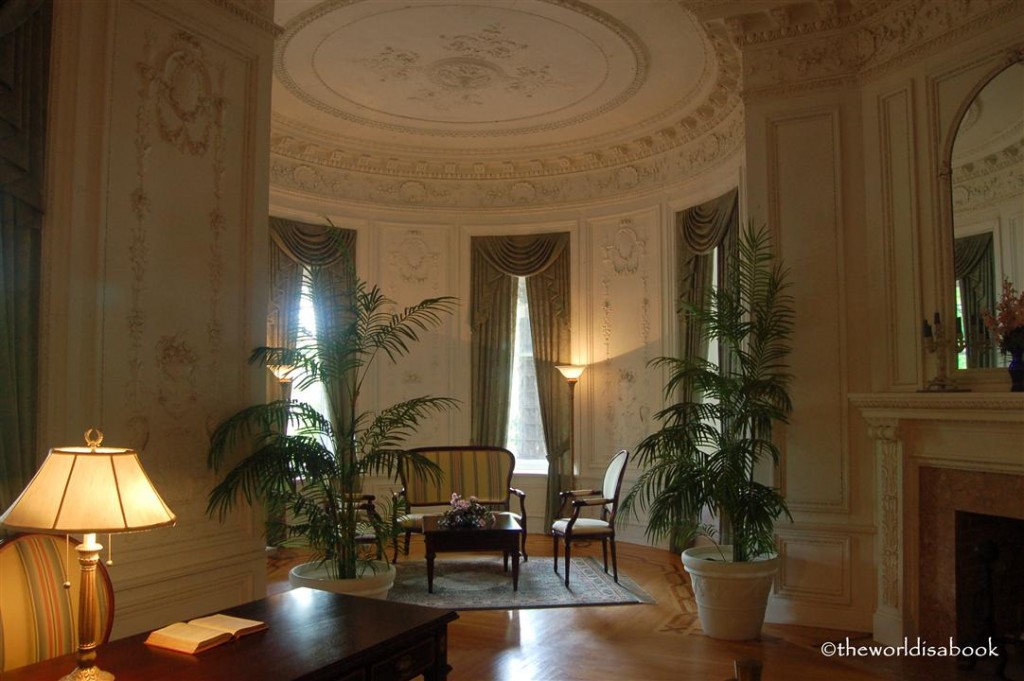 In addition to the impressive castle on Heart Island, there were additional structures to explore.
The Power House and Clock Tower was a miniature version of a medieval castle and was also known as the "water castle".  It was built to house coal-powered steam generators that would provide electricity to the island.  An arched, stone bridge, made to look like its drawbridge, connected it to the island.  Inside were exhibits of the residents' lifestyle in the early 1900s and a steam engine display.  This picturesque structure was a favorite with my daughter and nieces.
Rising 90 feet tall, the unique structure known as Alster Tower was designed to look like a defense tower in the Alster River in Germany.  It was also known as the playhouse.  Its purpose though wasn't for the Boldt children but for the guests' entertainment – dancing, a bowling alley in the basement, billiard room, library and café.  The family occasionally stayed here too while visiting the island and overseeing the construction.
Near the docks was the structure known as the Hennery or Dove-Cote.  This was the first one built on the island.  Its circular fortress looking tower contained a large enough water tank to sustain the island buildings.  The top structure was supposed to house an exotic bird collection.
The stoned arch or water gate was designed to look like a Roman monument and was used as a grand entrance to welcome guests to the island.  Its granite structure was adorned with three bronze male deer or stag statues ("hart" in Old English).  The "hart" was a symbol of George Boldt's European ancestry and was also a part of the family's coat-of-arms.
It's no surprise that this stone gazebo with its stone columns and steepled roofs is a favorite spot for weddings. The forest-like setting surrounded by the lake on a heart-shaped island has a lot of elements for a fairy-tale and a most romantic wedding.
The Boldt Castle Yacht House was a separate structure located on nearby Wellesley Island.  It was accessible via a free shuttle boat from Heart Island.   We didn't get to visit this structure but surely the fanciest boat house we've ever seen.  This held the Boldt's family yachts and houseboat as well as a shop and crew and staff quarters.   It is listed in the National Register of Historic Places and now features exhibits and collections of antique wooden boats.
It was certainly a wonderful and interesting place to visit and an overall terrific family-friendly destination.  The beautiful gardens and extensive, well-maintained lawns were great for picnics and strolls.  There were wide enough spaces for kids to run around and play.  They even provided strollers to help with the leisurely walks around the island.
We can only imagine how this castle would have looked completed and furnished with the finest things.  But, the Thousand Islands Bridge Authority have done an impressive job in making this a key regional attraction and restoring this "monument of love" for all of us to enjoy.
 Have you been to Heart Island or any of the Thousand Islands in New York?  Is there someplace, like Boldt Castle, you've visited built and dedicated to a loved one ?
**For updates, please follow us on Twitter or 'LIKE' our Facebook page .  Thanks!**