Roatan with kids: Zip Line Adventure
Zip lining has always both intrigued and scared me.  My biggest fear?  Falling. Yet, the thought of being adventurous and seeing sights from a different perspective totally piqued my interests.  When we found out that our cruise ports of Honduras and Belize offered zip lines for less than half the price in Southern California or Hawaii, we knew we had to do it.  How could we resist zip lining over a jungle in Central America?  Of course, the fear was still there but we resolved to try new adventures in 2012.  Luckily, our kids are willing to try most new ventures.  Our 6-year-old had his doubts but the 9-year-old was excited about it.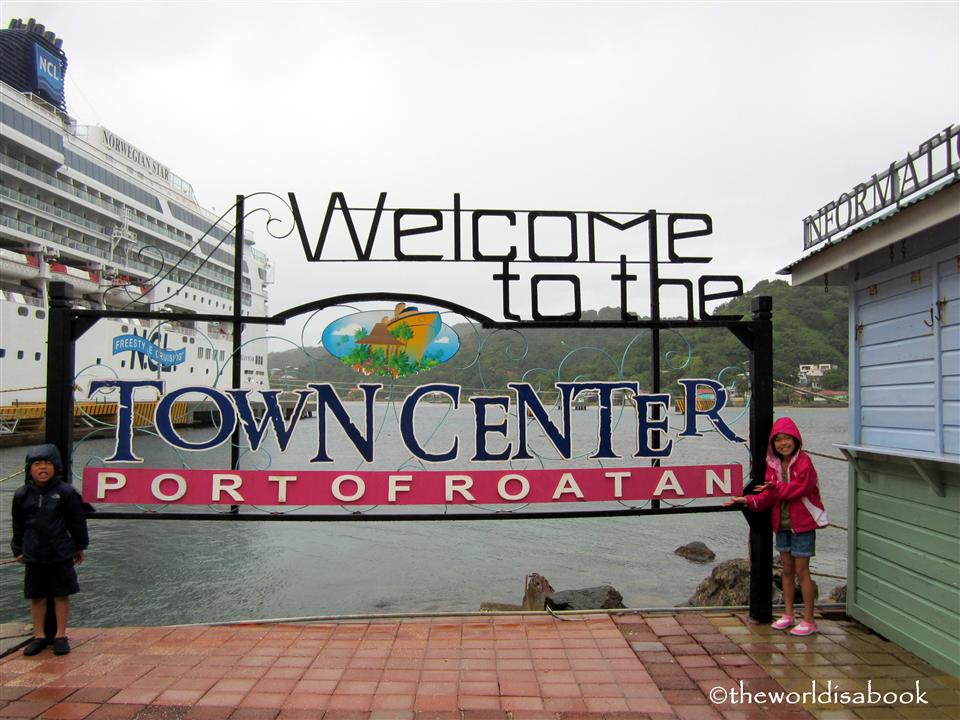 We booked the Zip-n-Dip through Victor Bodden tours which included zip lining on 12 platforms, a visit to his monkey farm and a dip at the West Bay Beach.  We emailed Victor to reserve our space and he was so efficient with answering emails and alleviating our concerns like our son's weight , doing tandems, etc.  He sent us detailed instructions on everything including where to find them which was a short walk outside the docks.
Our van was led by our tour guide Leona and driver Ben.  During our drive to the zip line, we learned a lot about their way of life, geography, school system, housing prices, etc.  Unfortunately, the weather didn't cooperate much. We waited in the van for awhile once we got to the Mayan Jungle Canopy zipline because it was raining so hard but eventually stopped.  Paying through a cashier in gift shop, there was some confusion with the fares so be sure you print out Victor's emails with the price he quoted.
We were directed to a building where we were measured and outfitted with all the equipment. It sure came with a lot but made me feel a bit safer. It came with helmets (always a good thing), a belt strap around the waist that also went on the inner thighs with a lot of safety harnesses, hooks, glides and carabiners(new word I learned).  My husband who has rock climbed before said the equipment was pretty similar.  They also used the top supplier of zipline safety equipment in the world – truly reassuring.
Our 6 year old was still a little worried but it also helped that there was another little boy in our group.  Many of us were first timers in our group at the zip line. So, it helped to share this adventure, empathy and nervousness together.  Our anticipation built up as we climbed and climbed steps to a really tall tree platform.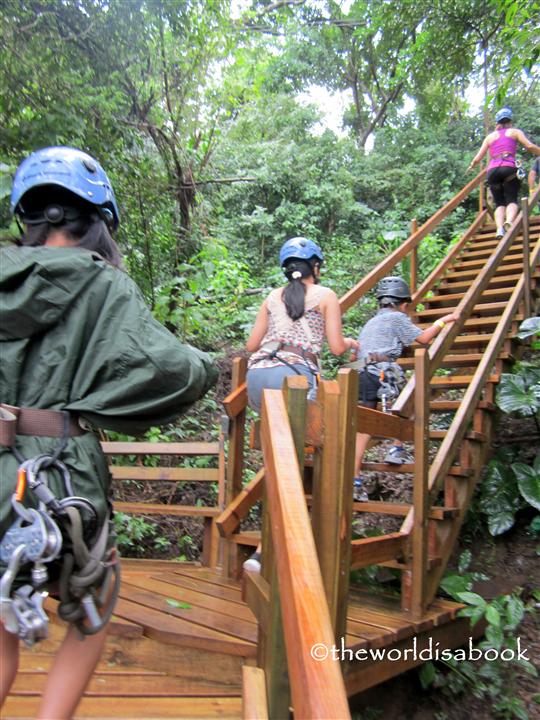 The first zip line is the most harrowing for being a zip line virgin. I didn't really know what to expect and the next tree just seemed so far away. It really wasn't but it certainly looked like it.  We decided to do our first zipline in a tandem with our kids. My husband and son went first.  I heard gasps and then shouts of joy.  That was a relief!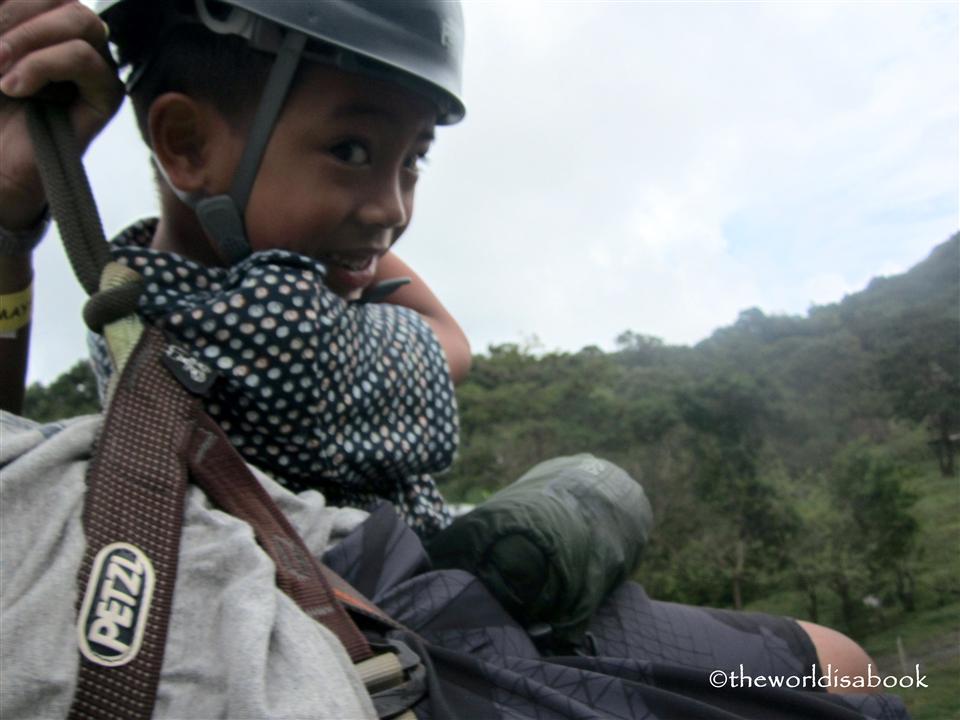 My daughter and I were strapped together for our first line and screamed our lungs out as we stepped off the platform. Halfway through the line, we felt the rush, the excitement and the thrill of it.  We made it and it was so much fun!  There was such a carefree feeling to it.
They made the course a bit more fun by adding a couple of suspension bridges for us to cross on too.  It was absolutely very shaky but added another layer of adventure.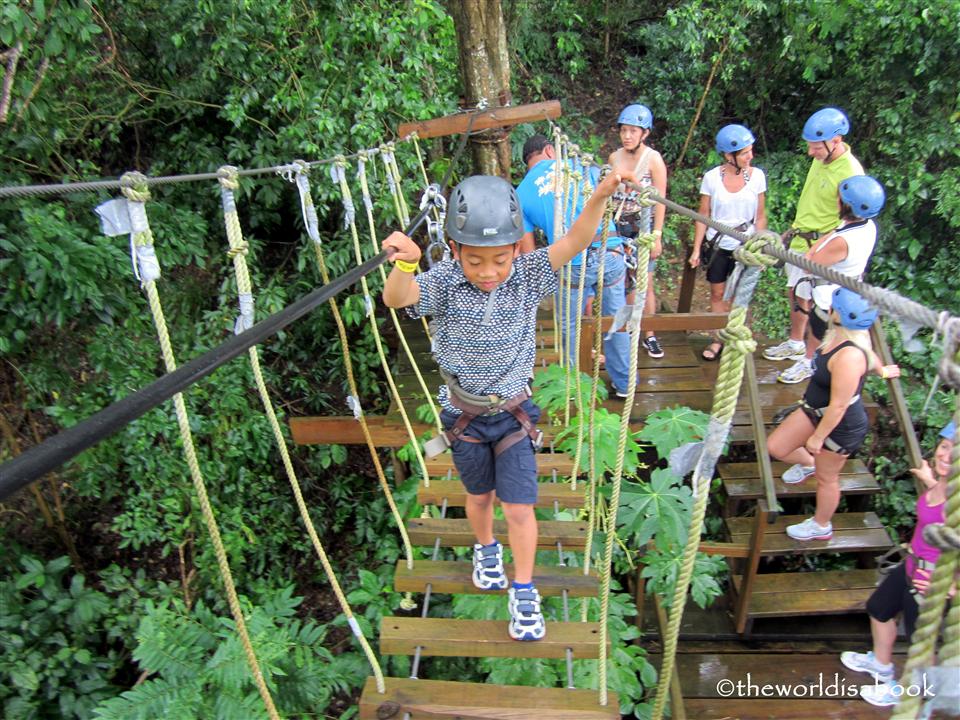 The kids felt so comfortable they decided they wanted to do most of the zip lines by themselves.  Though, there were a couple of the longer lines where they had to do a tandem with us or with each other because they were too light.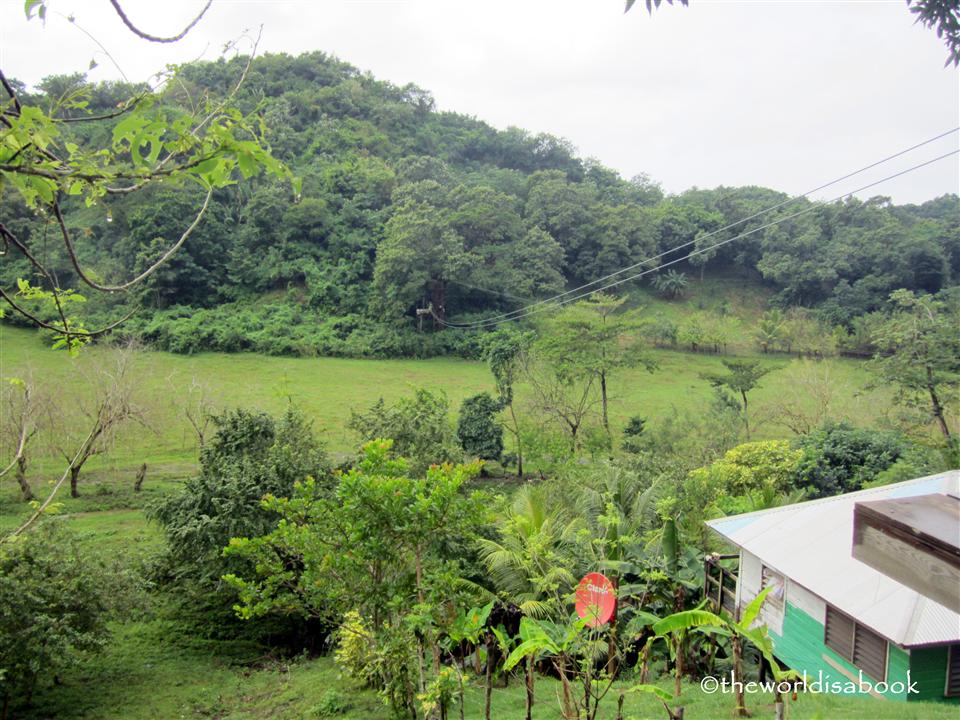 It was likely that they wouldn't have enough momentum and would get stuck in the middle if doing it alone.  The longest line we did was almost 170 yards (155 m)- way longer than an American football field over a large meadow.
My daughter felt so at ease that they taught her to change positions and zip line upside down. She loved it and did it for half of the course.  My husband didn't get the chance to do it and I don't do well with hanging upside down even when I was younger.  We watched her cautiously and cherished the priceless look of enjoyment on her face.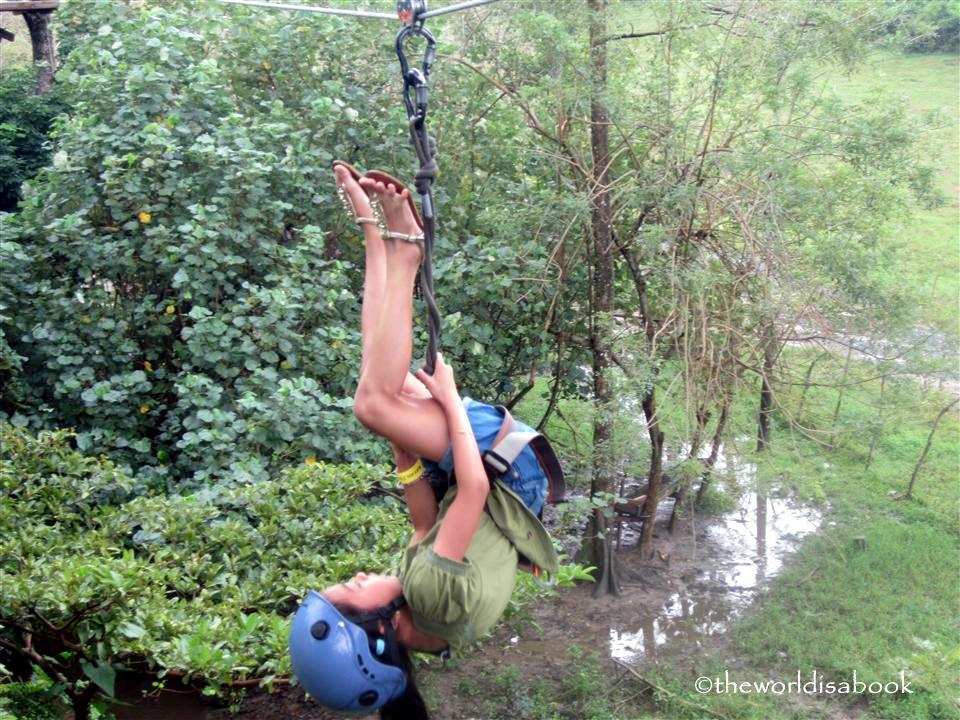 Here's a video of her and look at that smile of satisfaction at the end.

The guides unhitched and hitched us to the tethers.  They also ensured that we were hooked up properly and checked on all our equipment.  Most importantly, they stopped us as we were zipping to the nearest platform preventing us from hitting the tree for going too fast.   This was another fear I secretly harbored.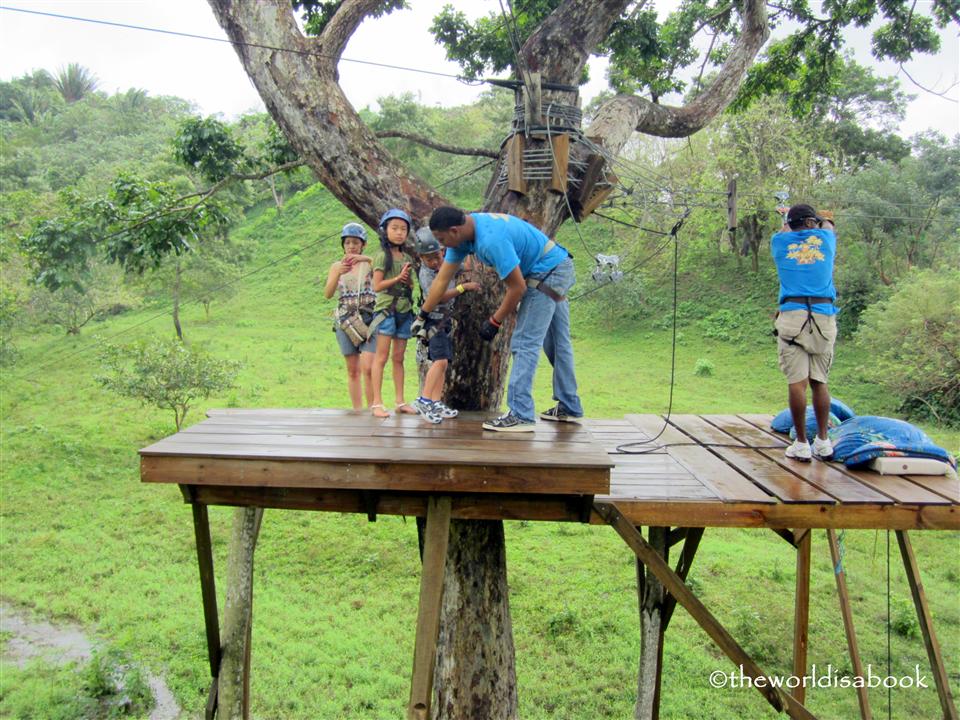 There were at least four of them helping us get off and on the platforms.  These young men were such pros, helpful and friendly that they earned every tip given to them.  They all made us feel perfectly safe but also encouraged us to have fun.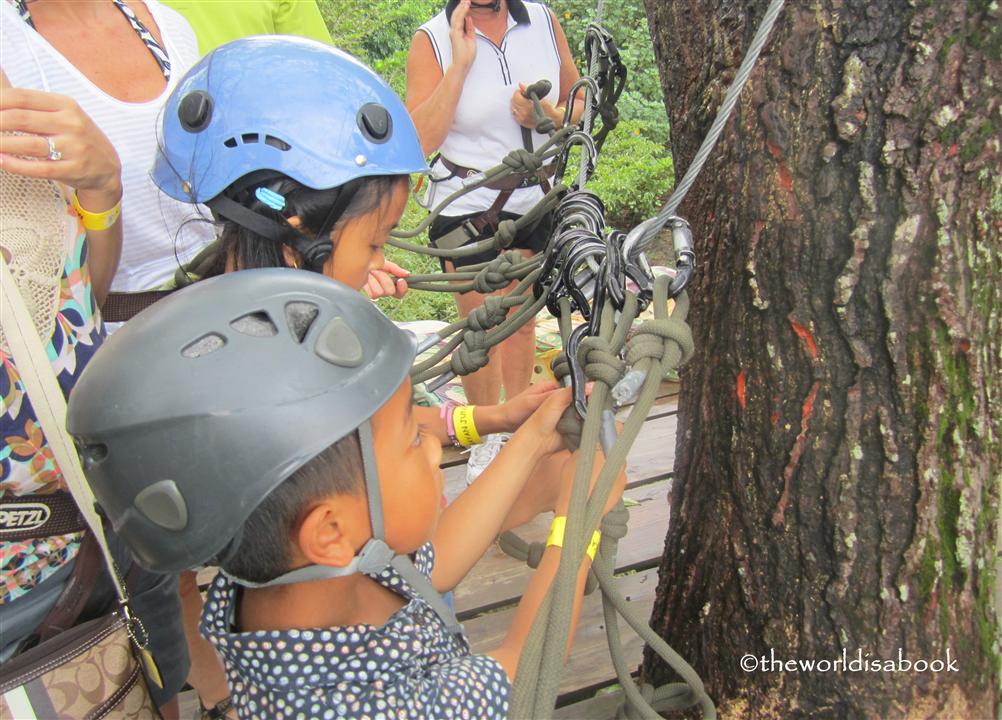 At times, we waited for the guides to get to the other platform which gave us a chance to enjoy the forest and surrounding areas.  We even spotted a number of chickens roaming the grounds.  They also had a photographer who followed us and they sold pictures in a CD for $20.  These aren't those pictures since we regrettably didn't get it. (Hubby thought ours with the video was good enough)  As we neared the last couple of lines, there was a disappointment of "it's over?" 
We had an amazing time and we're all eagerly looking forward to the next zipline adventure.  My kids thought it felt like flying and liked being on top of the trees.  This has been known as not one of the most challenging courses but it was perfectly fine for first-timers and kids and we all greatly enjoyed it.
Roatan Zip Line Tips:
Research.  Be sure to read reviews and look up the company's safety record, equipment used and customer reviews.
Ask companies about weight limits, minimum kids age and doing tandems with the kids.
Check and double check all equipment and gear.
Supervise the kids at all times especially on the platforms.
Wear shoes – no flip-flops or anything that can come off.
Spray insect repellant generously – you're bound to be in a jungle after all.
Bring water especially for the kids.
Enjoy and have fun!
Check out these related posts: