Exploring Belize Zoo with kids
We were in Belize last January during a cruise port stop.  One of the downsides of cruising is the short amount of time spent in each place.  Often times, it's a disappointment since countries like Belize had so much to offer.  It was a pleasant surprise to find the Belize Zoo was a highly regarded one.  Numerous visits to zoos and animal parks over the years have fortunately encouraged my kids' curiosity and fondness for animals.  So, we made sure that despite our brief stay on the island, it included a trip to this unique zoo.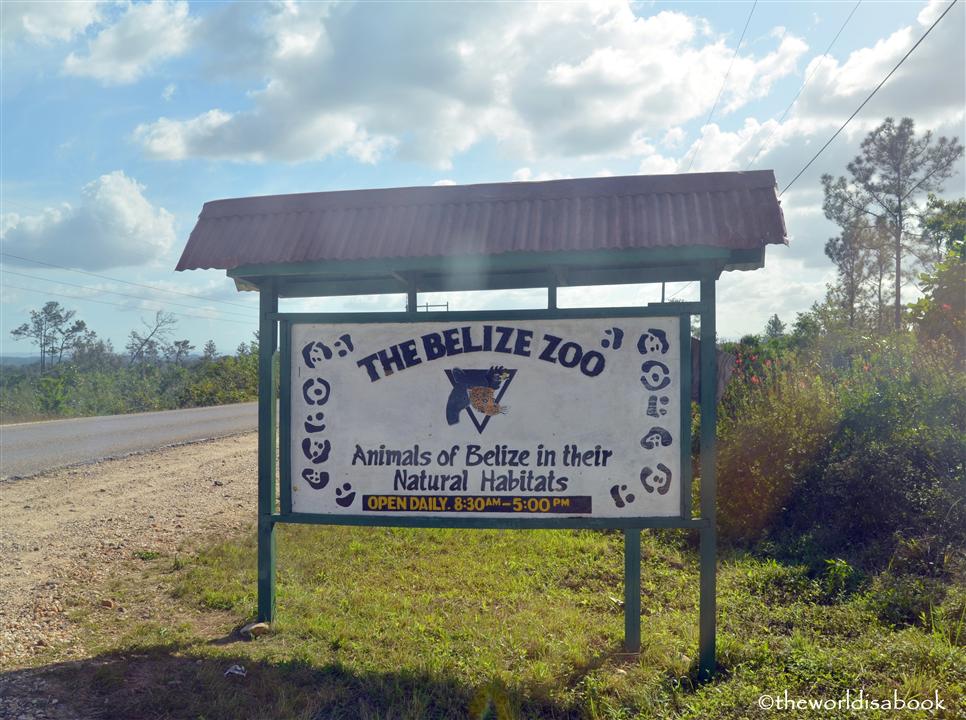 The Belize Zoo and Tropical Education Center was founded by an American, Sharon Matola, as a haven for animals that were used in a Belizean forest documentary in 1983.  It has evolved into a sanctuary for orphaned, abused, abandoned, rescued animals and some were donated by private owners.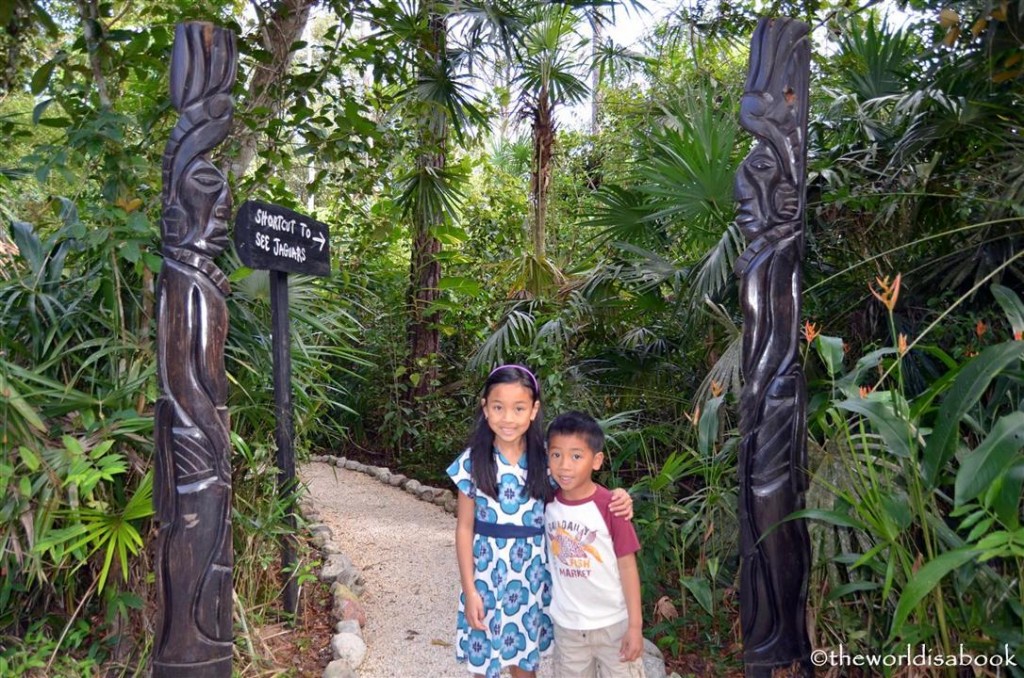 This isn't your average zoo though.  Instead of giraffes, bears and elephants, we had the chance of smelling a stinky pecarry and seeing animals like a bird called a motmot, a huge Jabiru stork and Belize's national animal – a tapir which looked like a large anteater.  Ever heard of any of them?  The tapirs were so highly regarded that we found out there are major fines for hunting them and they're even on the Belizean currency.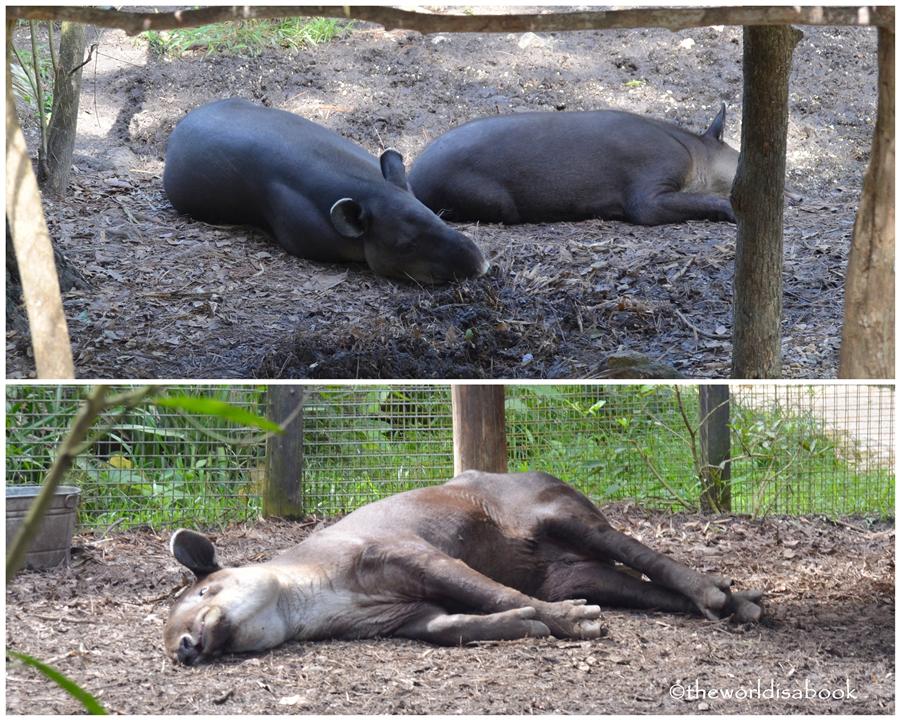 The zoo currently has over 150 different animals that can only be found in Belize.  We booked with a local tour operator(Cavetubing.BZ) who took us cave tubing first and then to the zoo.  It was a wonderful way to learn about their way of life and culture.  Luckily, our tour guide also used to work as a zookeeper here. We were treated to his personal insights into some animals' history and habits.  He also knew how to get the animals to come greet us and quickly spotted the ones that were hiding.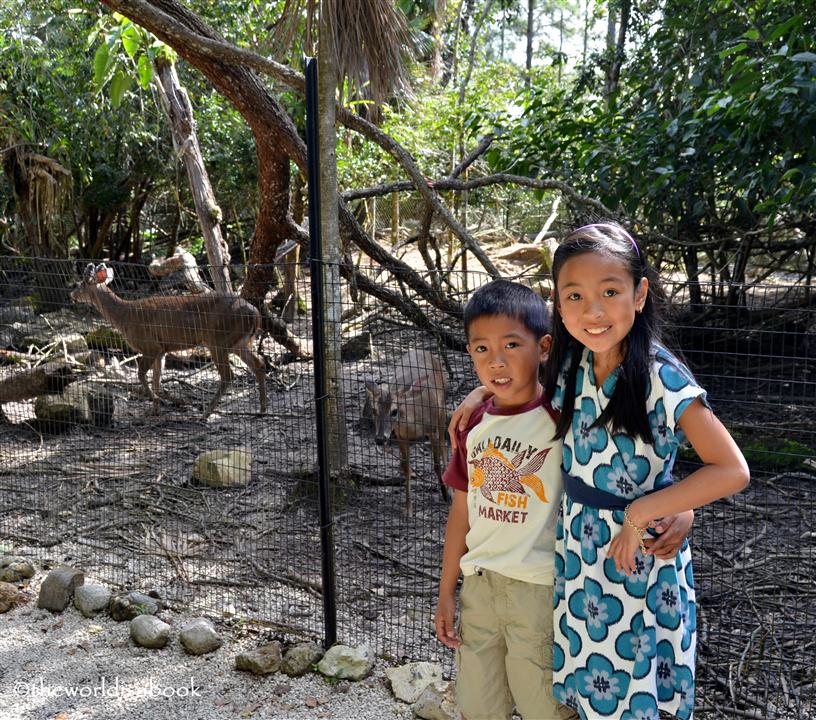 With its gravel path and lush vegetation, it almost felt like visiting a botanical garden.  It had an intimate and homey atmosphere – small enough to leisurely spend a couple of hours to walk through and enjoy the animals.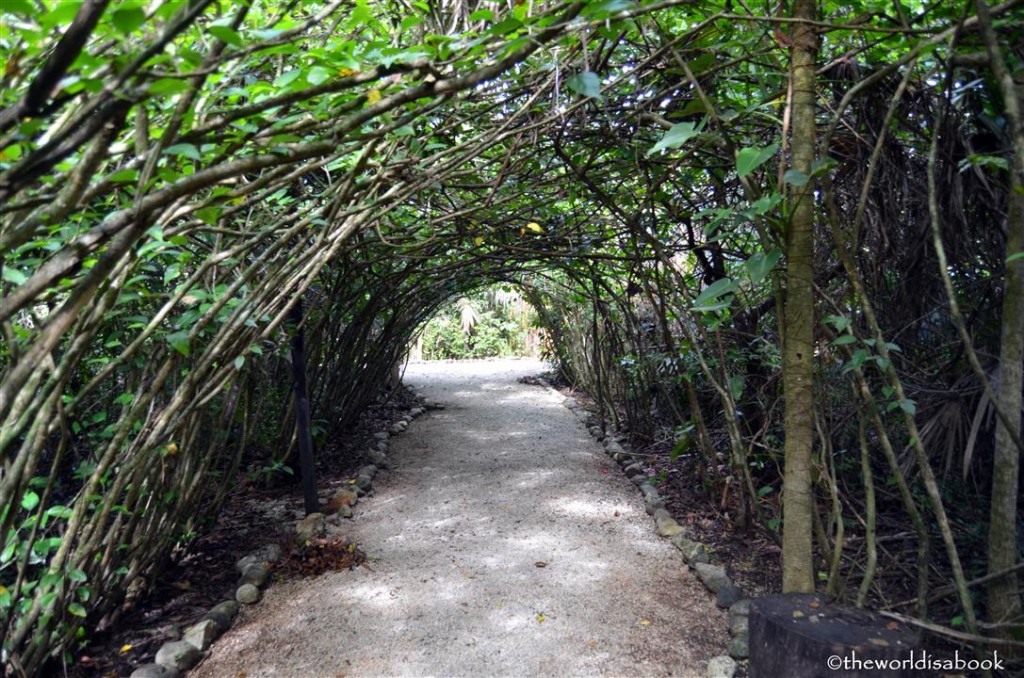 The animal enclosures were made to look like their natural habitat instead of concrete slabs common in other zoos.  It was refreshing to see most of the animals up close.  Many were within reach for petting and our guide did pet some of them which was pretty cool and delighted the kids.   This Morelet crocodile was a little too close though.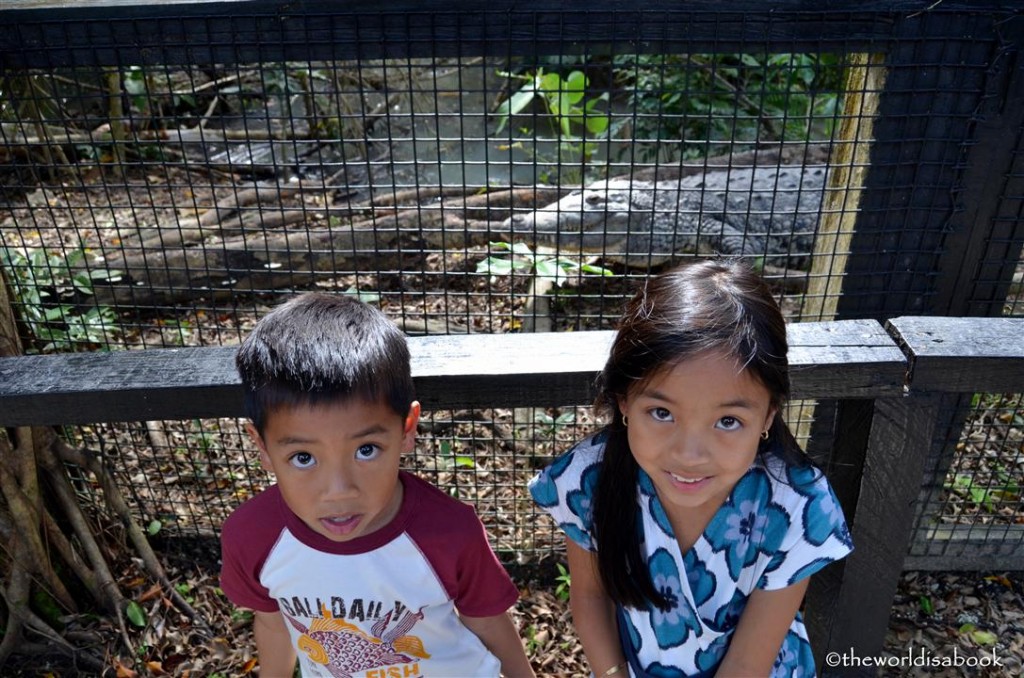 We adored the big, handwritten exhibit signs for each animal.  They were witty and whimsical with special messages from the animals.  It also had subtle environmental ideas.  The kids enjoyed reading them and we all learned something along the way.  Many zoos really should adopt this way of introducing animals. Humor goes a long way to help retain information for everyone.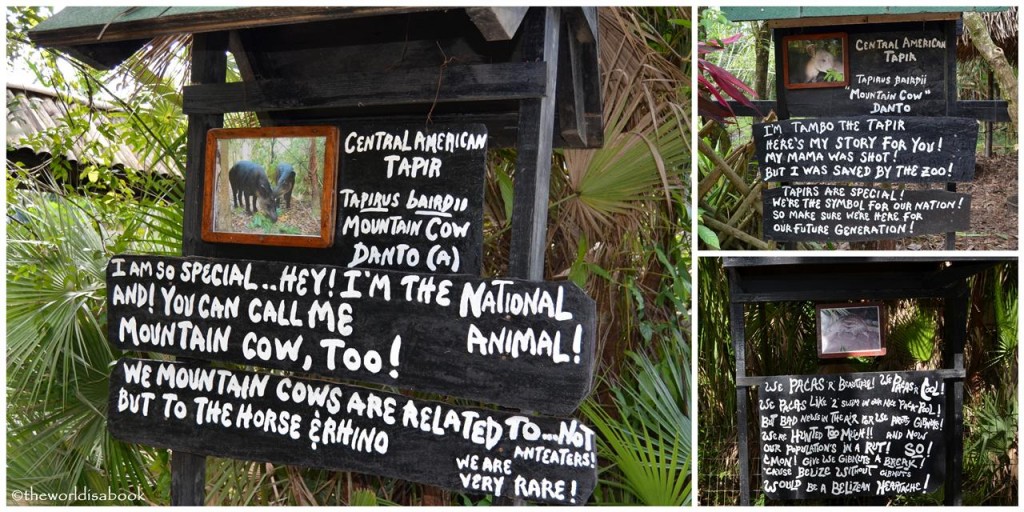 It made us look forward to reading each sign when we otherwise would have skipped most of them.  These were also large signs where you can't possibly miss them. The signs were memorable and one of the great things about the Belize zoo.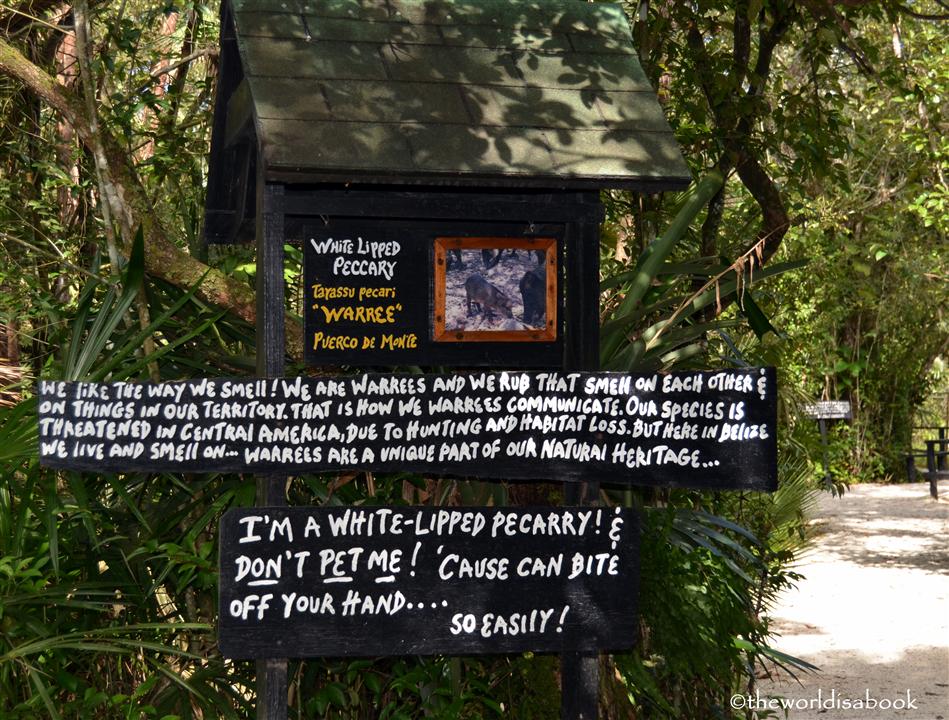 The unofficial face of the zoo was Junior Buddy, the jaguar.  He was born at the zoo and is such a majestic animal.  Jaguars are still considered an endangered species so it was a treat to see him up close.   My kids could have watched Junior play all day.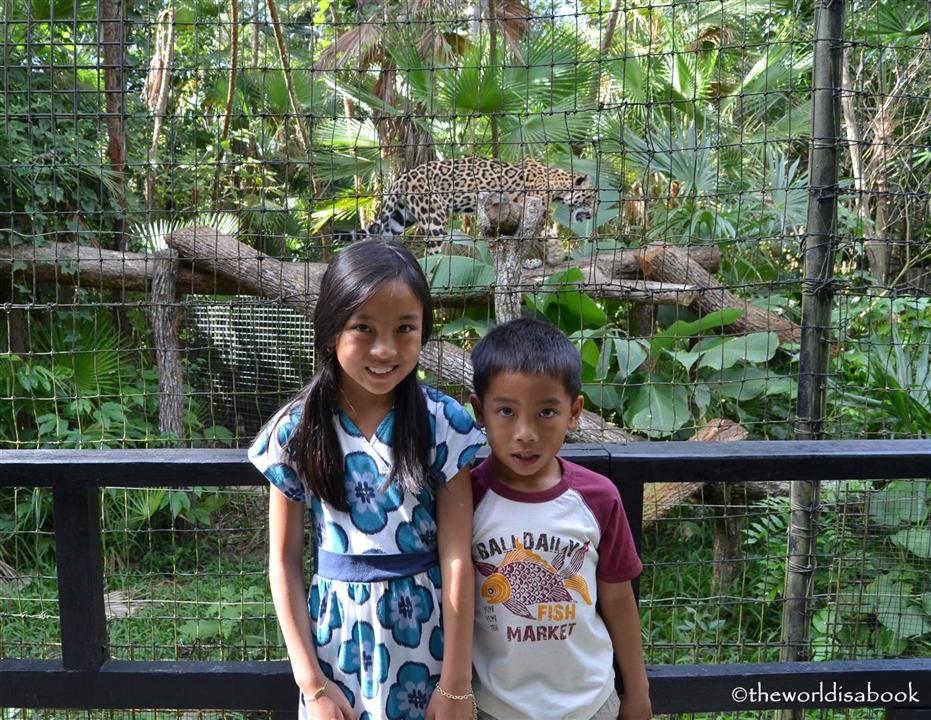 He was aware of his visitors and usually played pretty close to the fence.  His enclosure was so accessible that our guide was able to let Junior lick his hand.  We obviously kept a close watch on the kids in case they felt the need to pet Junior too.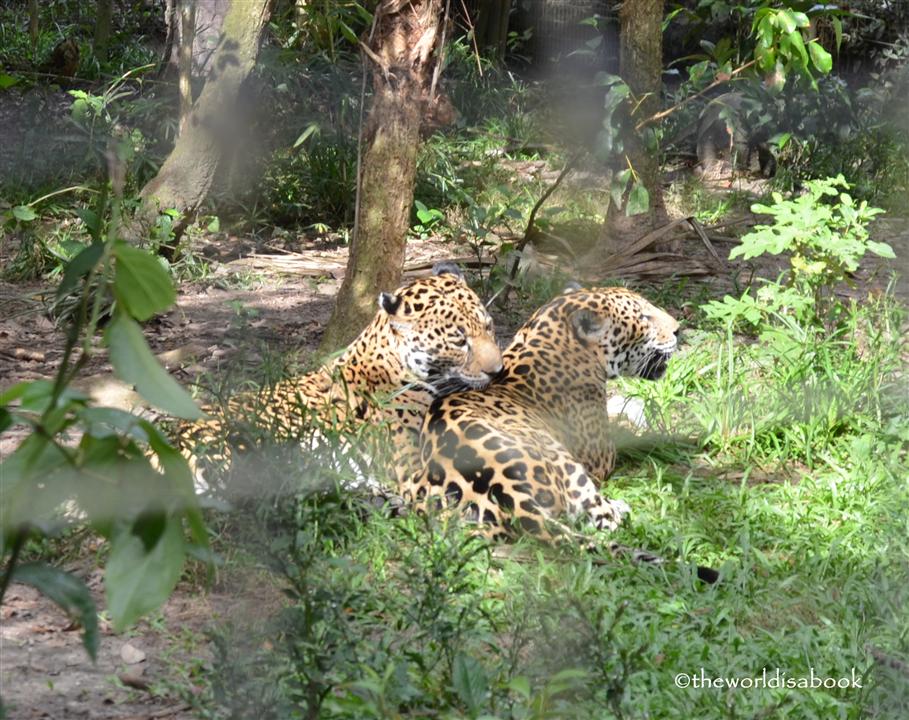 Staying in Belize for more than a day?  When we go back to Belize (yup, planning for a return trip already), we'd love to stay at one of their VIP cabins set in a forest setting adjacent to the zoo.  They have a variety of lodging options on the premises.   Since many of its animals are nocturnal, the guided night time tours would be an incredible way to interact with the animals.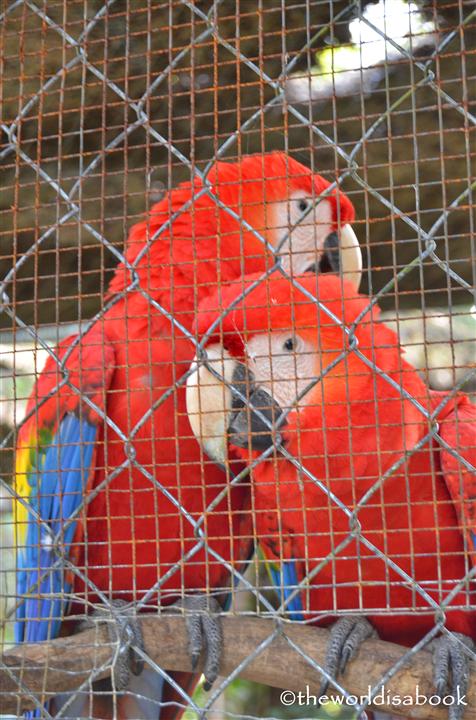 They also offered interactive exhibits where kids can pose with or feed Junior or feed the birds.  Unfortunately, we didn't get the chance to do these activities.  This is a popular place for the local children where the zoo hosts various workshops and educational programs.  Exploring the Belize zoo with the kids was a remarkable and enjoyable experience.  They take pride in calling themselves "The Best Little Zoo In the World" and to some extent, we wholeheartedly agree.
Tips for visiting Belize Zoo with kids:
If coming in from a cruise, it is best to book a tour in advance.  We used Cavetubing.bz for our tour which was a combination with cave tubing and a free lunch.
If renting a car while in Belize, the roads looked pretty manageable so that would be the best way to get here.  It is along the Western Highway. We did see people waiting for buses outside but with kids, that will not be too convenient.
Allow at least two hours to fully enjoy this zoo and read all the fun signs.  You never know what you'll learn.
Bring plenty of cold water or other drinks since it gets pretty hot.
No food is allowed inside the park but there was a picnic area by the parking lot.
Wear comfortable shoes.  Most of the path is on gravel so no open toe shoes, sandals or slippers.  My daughter kept complaining about the gravel getting in her sandals and hurting her feet.
Visit the gift shop for some unique and local Belizean souvenirs.  We loved the wood carvings and ones designed by Steve Wu.  Drinks and ice cream are also sold here.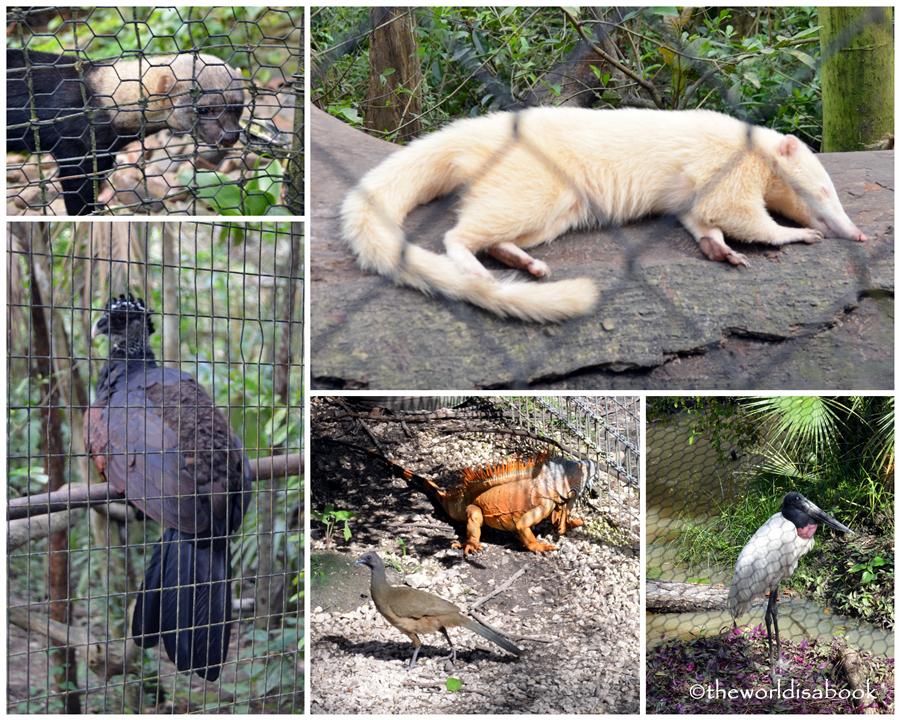 The Basics:
Hours: 9 AM – 5 PM everyday; Last admission at 4:30 PM
Fees: $15 (US) Adults; $5 (US) for non-Belizean children (Our fees were included with our tour)
Website: http://www.belizezoo.org/
*Have you been to a zoo that offered unique touches that made them stand out from the rest?