Geyser Gazing at Yellowstone National Park
Early American pioneers referred to Yellowstone National Park as "the place where hell bubbles up."   It wasn't too far from the description considering that the world's oldest national park has some 10,000 thermal wonders and over 500 of them are geysers.  Most of the world's geysers (60%) are located here.  The various geothermal features of Yellowstone National Park gives it the stunning, otherworldly landscape of steam and smoke everywhere.
Geysers are unique hot springs and natural fountains that shoot boiling water and steam into the air during its eruption.  Its existence is based on certain conditions of surface water supply, volcanic heat source and a special plumbing system beneath its surface.  This interesting animation is what I showed my kids to explain how geysers work and why they erupt and simplified things for me too.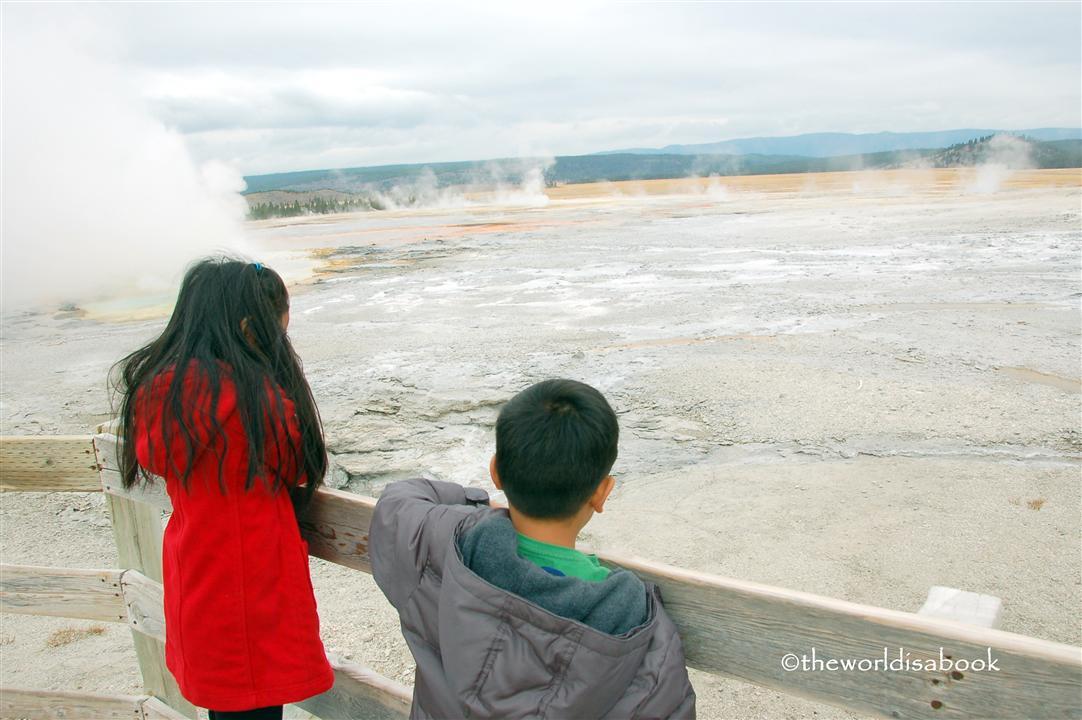 During our almost three days there, we only managed to cover a few of the 500 geysers.  The good thing was most of them were grouped together in several geyser basins so it was easy to see several in one area.  Most were pretty quiet only spouting small bursts of water into the air.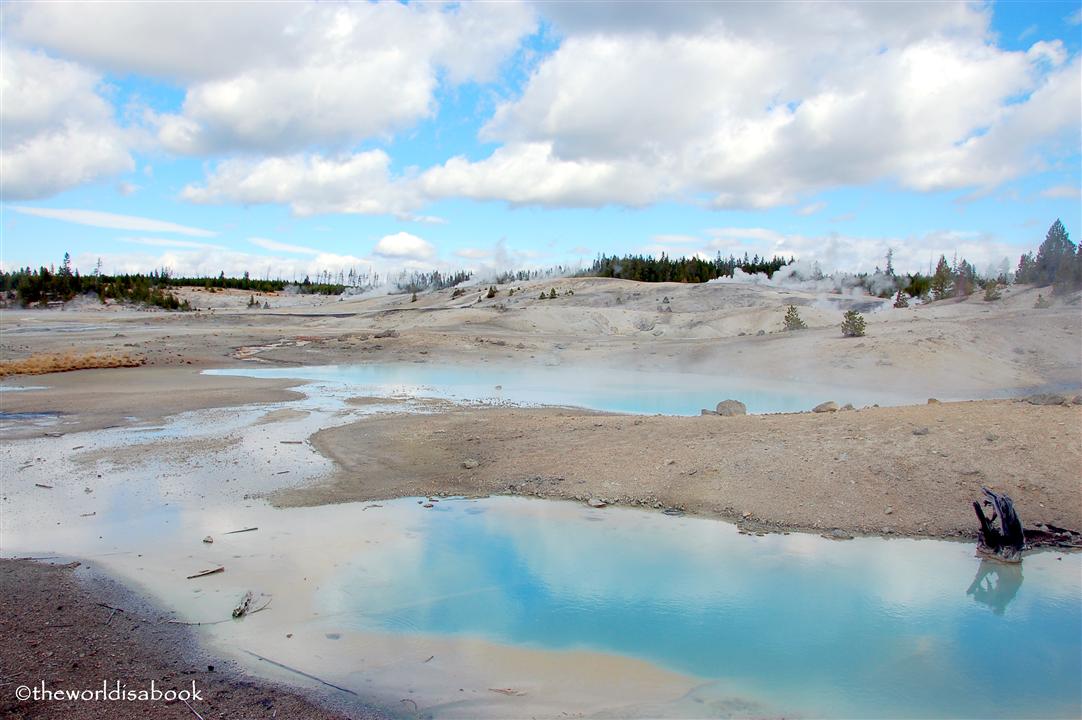 Norris Geyser Basin is the hottest geyser basin in the park.  Porcelain Basin is part of this section which was surprisingly surrounded with pine trees.  The geothermal areas gave it a desolate, barren look since it contained several hot springs, steam vents and small geysers.  It was certanly very strange but incredible scenery.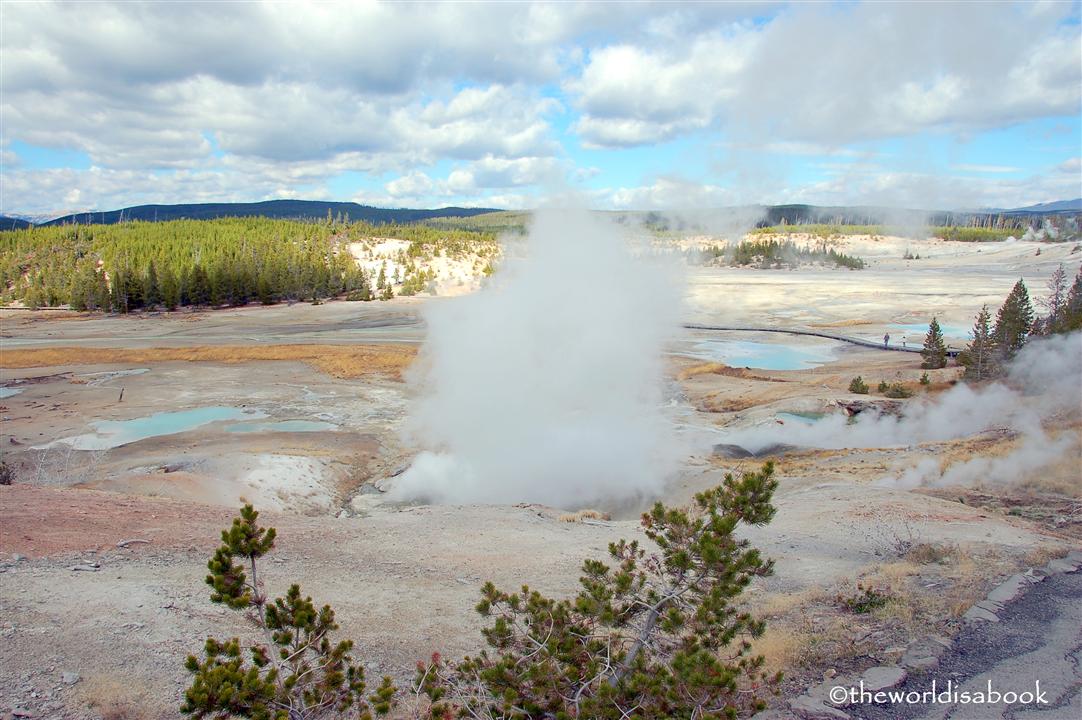 We were engulfed with smoke as we walked on the boardwalk when one small geyser erupted.  It felt like walking into a very smelly sauna.  We got used to the overwhelming, sulfuric smell after awhile and the kids eventually stopped holding their noses from the "bad egg smell".  It was very odd to smell the combination of sulfur, fresh mountain air and pine scent at the same time.
Some of the smaller geysers  look like small holes in the ground and could easily be missed if not for the signs.  We found out that over the years some of the older geysers "die" and stop erupting and new ones are "born".
At the appropriately named Firehole Lake Drive is the Great Fountain Geyser  which is one of the park's major geysers.  It erupts every 9 to 15 hours in a series of bursts.  Unfortunately, it didn't erupt during our visit.  Surrounded by reflective pools, the smoking crater in the center is where the eruptions occur.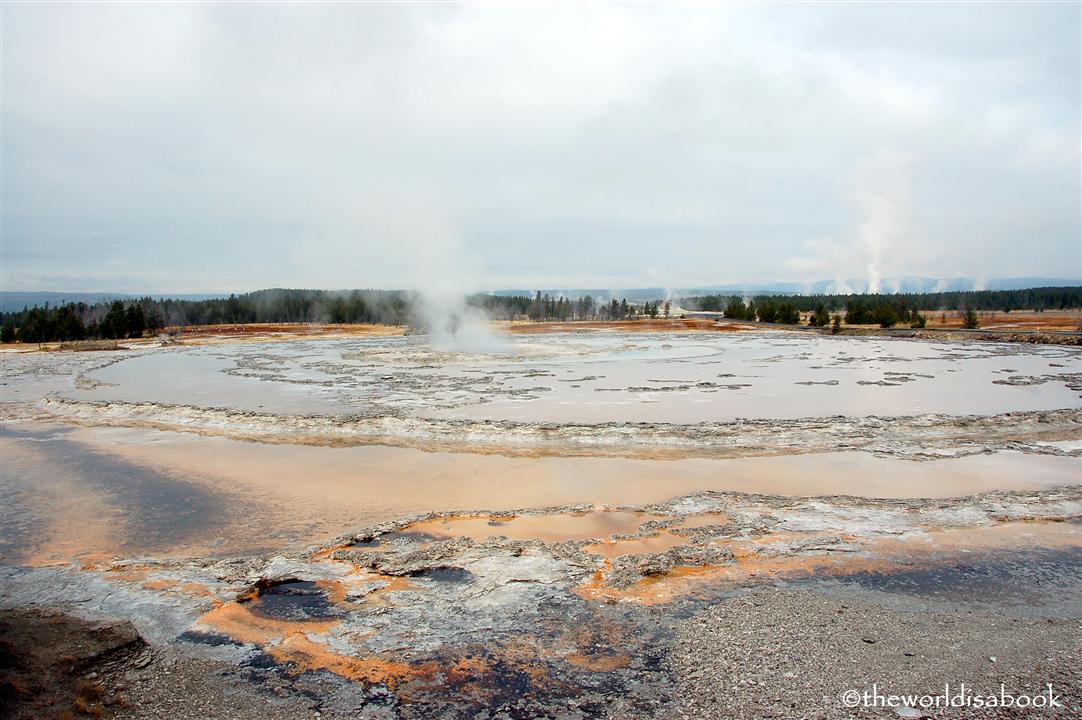 Nearby was the White Dome Geyser which is one of the largest in the park.  This was how we pictured a geyser to look like – a mini-volcano with smoke coming out of its cone ready to release water into the air.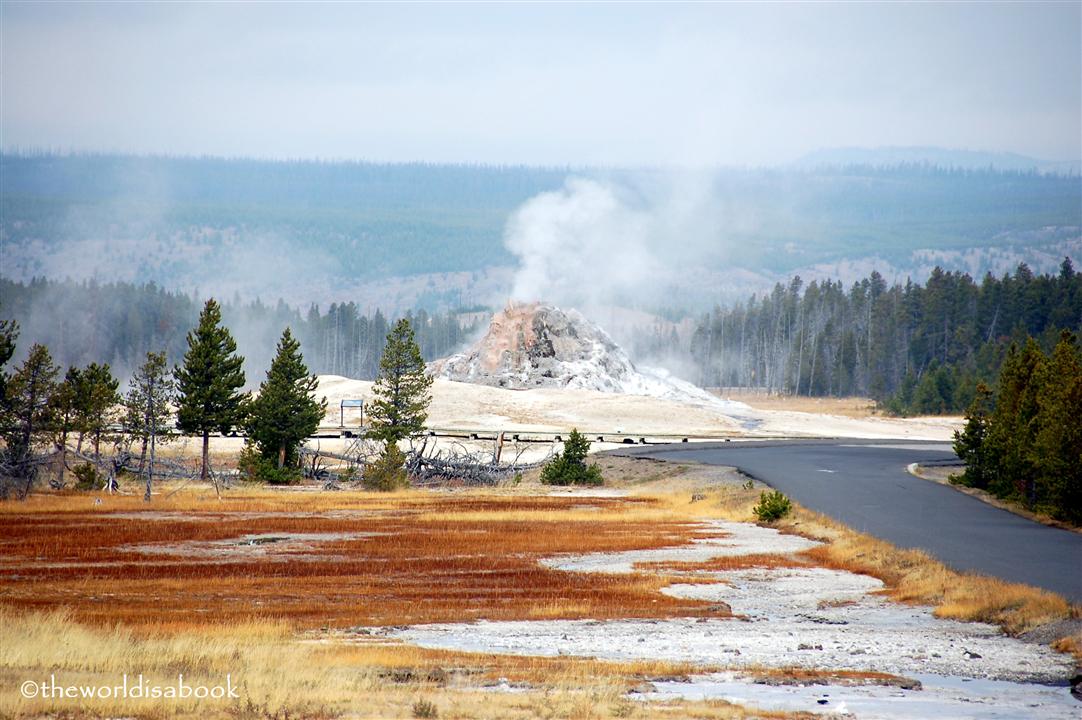 We got lucky and it erupted while we were there.  Needless to say, this made our day since it came as a surprise and put on quite an amazing show.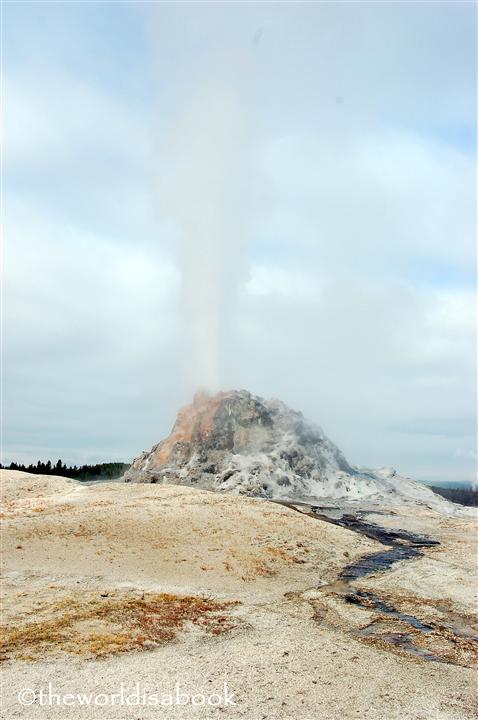 The geysers even have interesting names like Whirlgig, Porkchop, Steamboat, Sizzler, Jet, and Spasm geysers.  We found Spasm geyser ready to erupt as we heard water around it boiling.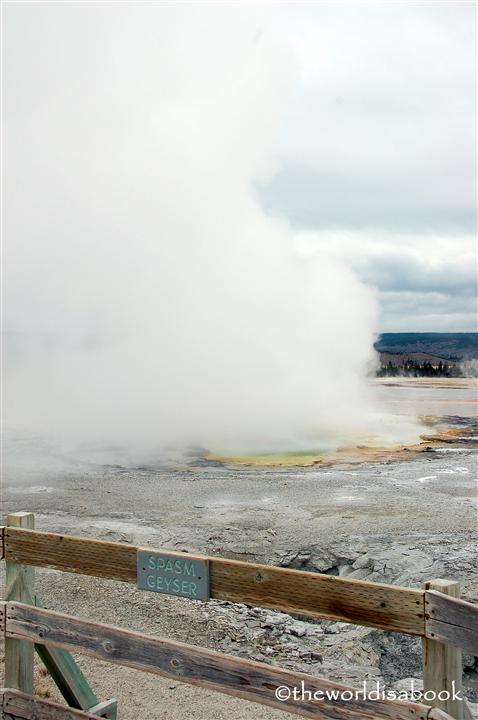 This is a close up of the Spasm geyser with the boiling water at the opening of its vents ready to erupt.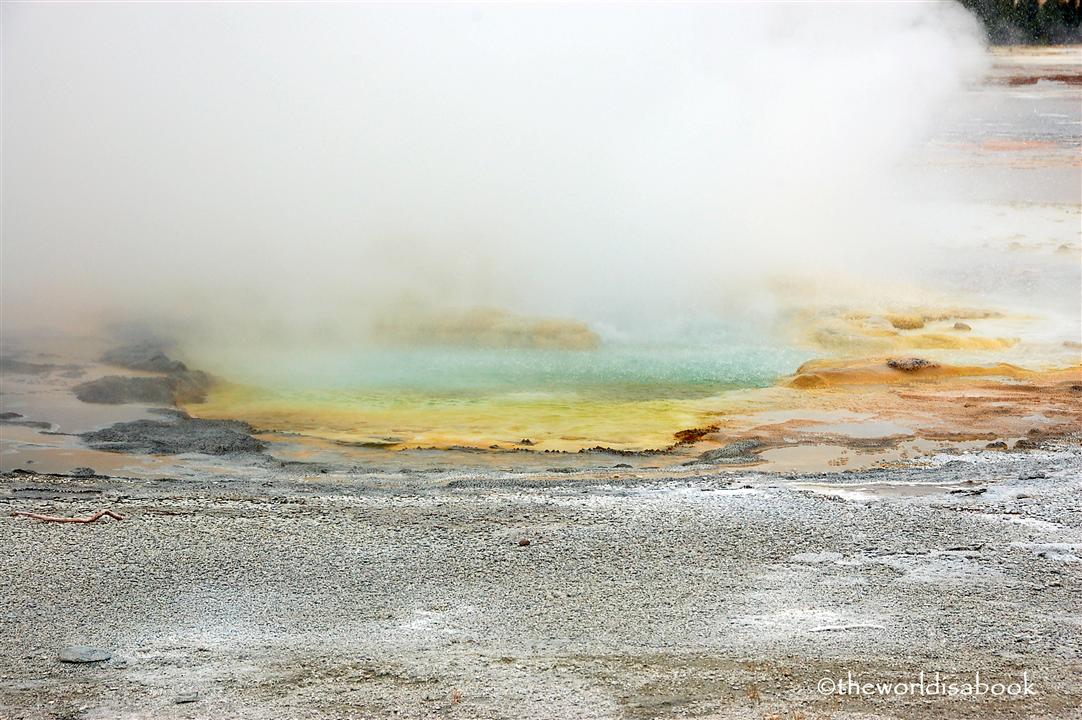 Fountain Paint Pots Trail was a half mile trail containing many examples of the various thermal areas – steam vents, hot springs, mudpots and smaller geysers.  It almost looked like the remnants of a forest fire.
The most famous geyser here, of course, is Old Faithful – so named due to its regular eruption intervals.   Our first sighting of Old Faithful was at dusk and with a few of the park's resident buffalos grazing nearby.  We actually expected something a little bigger than a small mound with smoke coming out.
Eruption times of about 45-90 minutes(+/- 10 minutes) are posted at the Visitor's Center nearby.   Its average eruption height is 145 feet (44 m).  The geyser was definitely a tourist magnet with spectator seats arranged around it for eruption viewing.  The display of thousands of gallons of hot water and steam bursting high into the sky lasting for about a minute was truly a unique experience.  During our viewing, steam was more prevalent but amazing nonetheless.
I guess enough accidents and daredevils over the years have warranted them to install this strange warning sign near Old Faithful.  As a final thought,  stay on the boardwalks to see these natural wonders.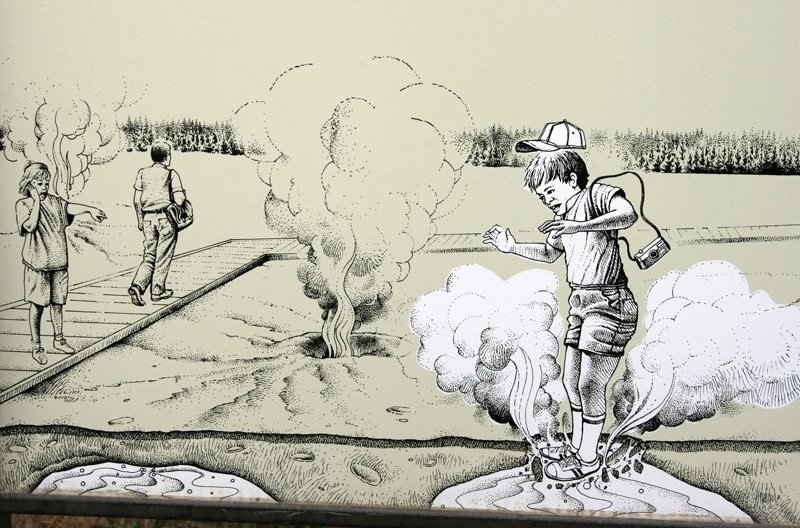 *Have you explored the geysers at Yellowstone National Park or elsewhere? What was our experience like?
Related Posts: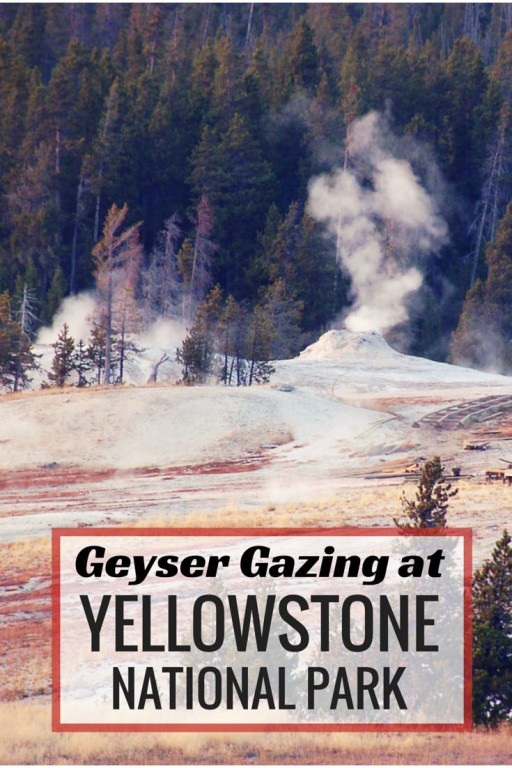 Check out these related posts: