Walking through the Land of the Giant Sequoia Trees
In honor of America's National Park Week starting this Saturday (April 21-29) and Earth Day on April 22, it's all about one of the most incredible natural wonders on the planet – the giant sequoia trees  this week.  Considered the largest trees on earth, it's hard to put into perspective their immensity until they're actually seen in person.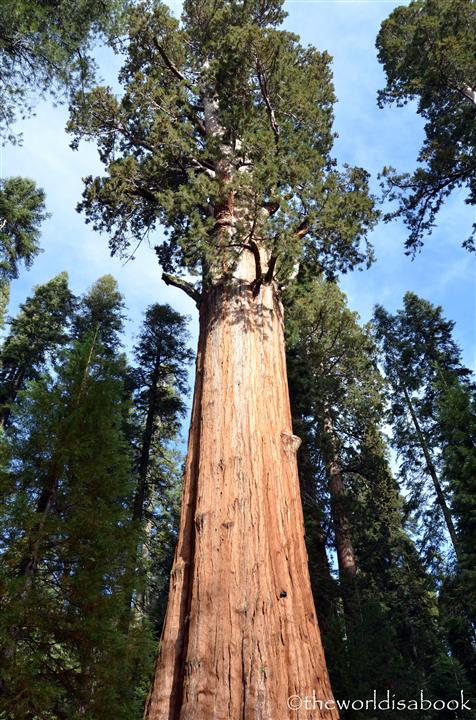 Monarch sequoias have huge, cylindrical, reddish-brown trunks with their evergreen leaves on top.  These trees grow naturally in altitudes between 5,000- 7,000 feet (1.5 – 2.1 km) in a particular climate and on the western slopes of the Sierra Nevada Mountain range.  They have thrived for thousands of years and grow in groves at Sequoia, King's Canyon and Yosemite National Parks in the central California region.  During every visit, we stand there in awe and feel so infinitely small in this land of giants.
How big do these sequoias get?  The largest of the trees are as tall as an average 26-story building with its trunk base diameters spanning wider than most city streets.  Its upward growth usually stops at 275 feet (84 m) but its trunk thickens, gaining more mass during its lifetime.
The General Grant, officially known as America's Christmas tree, is the widest of the sequoias.  It would take about 20 people holding hands to form a circle around its base.  Its height of 268 feet (81.7 m) makes it the third largest tree in the world and has been around for 1,700 years.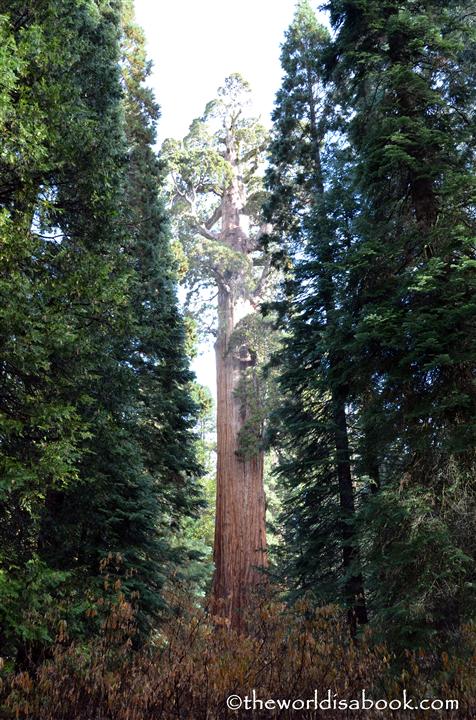 The star of the sequoias though is the General Sherman tree.  This is considered the largest tree in the world by volume.  It rises at a height of 275 feet (84 m) with a circumference of 83 feet (25.2 m).  It is also among the oldest with an estimated age of at least 2,000 years old.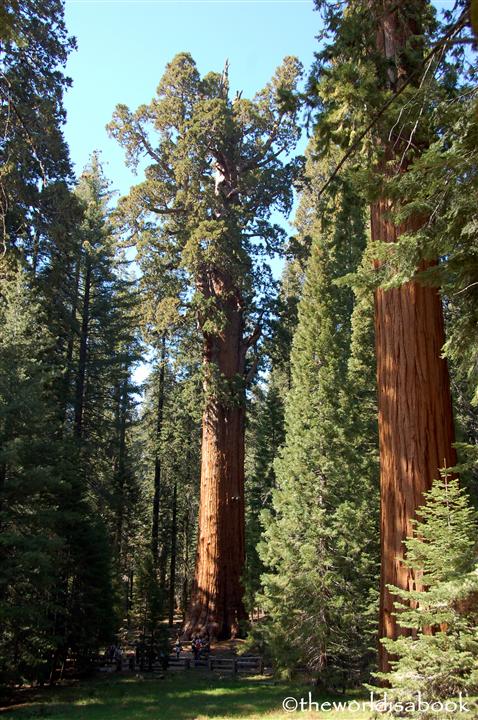 One of the best analogies I've read to put the size of this massive tree into perspective is this: "Looking up at the General Sherman tree for a 6 foot tall human is about the equivalent of a mouse looking up at a 6 foot tall human!"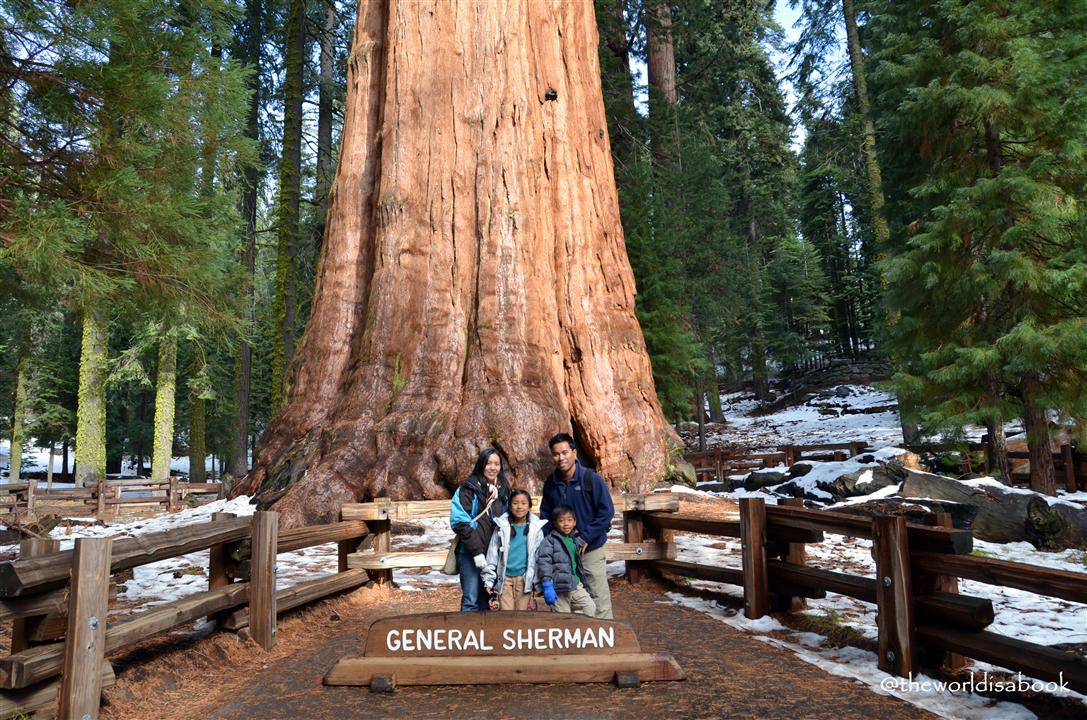 Sequoias are also known for being resilient and endure many threatening natural forces.  Its bark is flame retardant protecting mature trees from fire damage as well as from fungi disease and insects.  Their main cause of death or toppling is their very shallow root system which is unable to withstand all the tree's weight as it matures.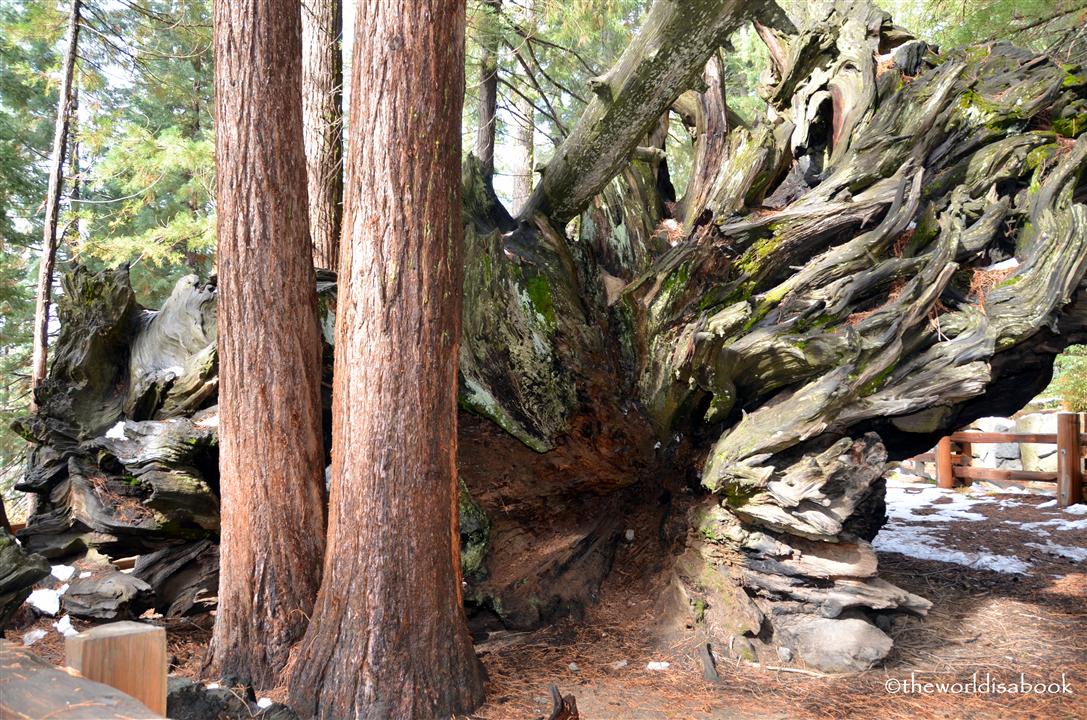 Another interesting fact about sequoias is that it needs fire to grow.  A fire's intense heat is the only agent that enables pine cones to release their seeds.  Fires also clear out accumulated excess brush and other trees allowing the new seedlings to get ample sunlight and bare soil to flourish.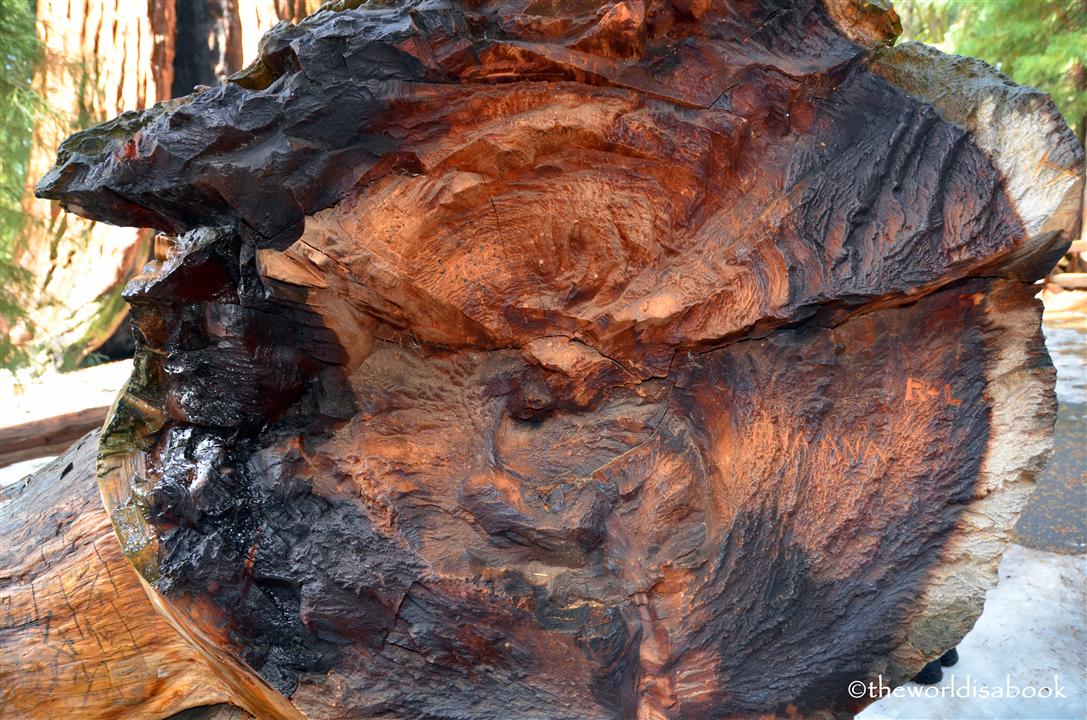 The parks had exhibits of fallen trees to see its interior.   This living museum is a wonderful way to learn more about them.  It's hard to believe how these trees can be so old yet so gigantic.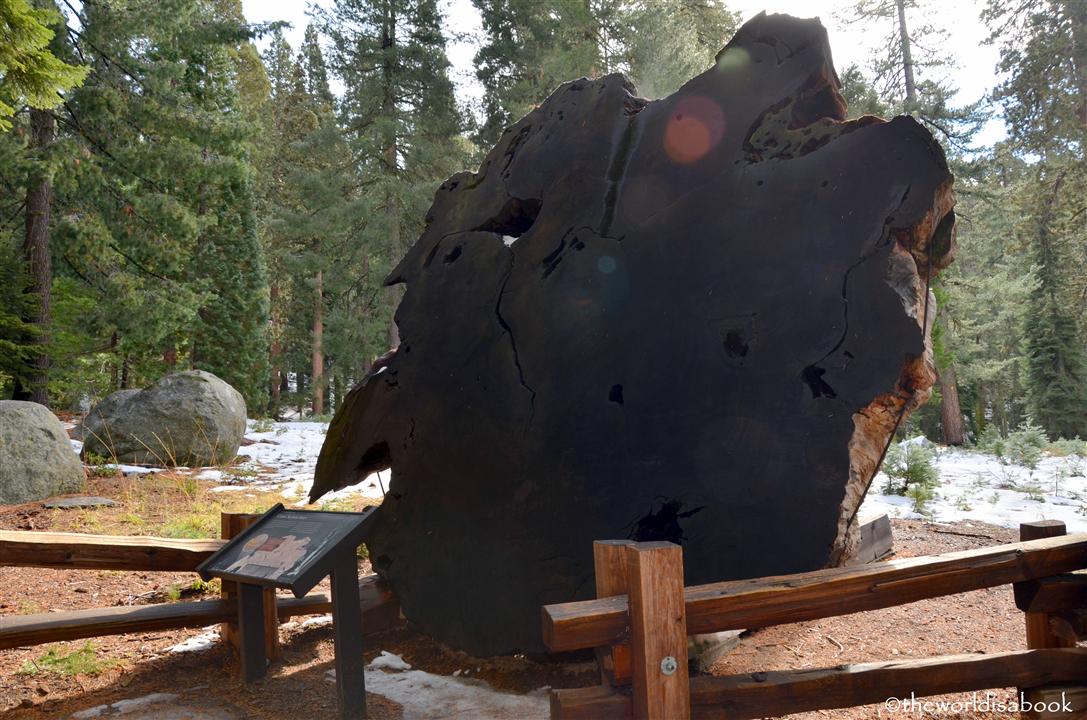 You can even walk through fallen trees at Sequoia National Park through a small pathway.  Of course, this was a popular place for the visitors and especially kids.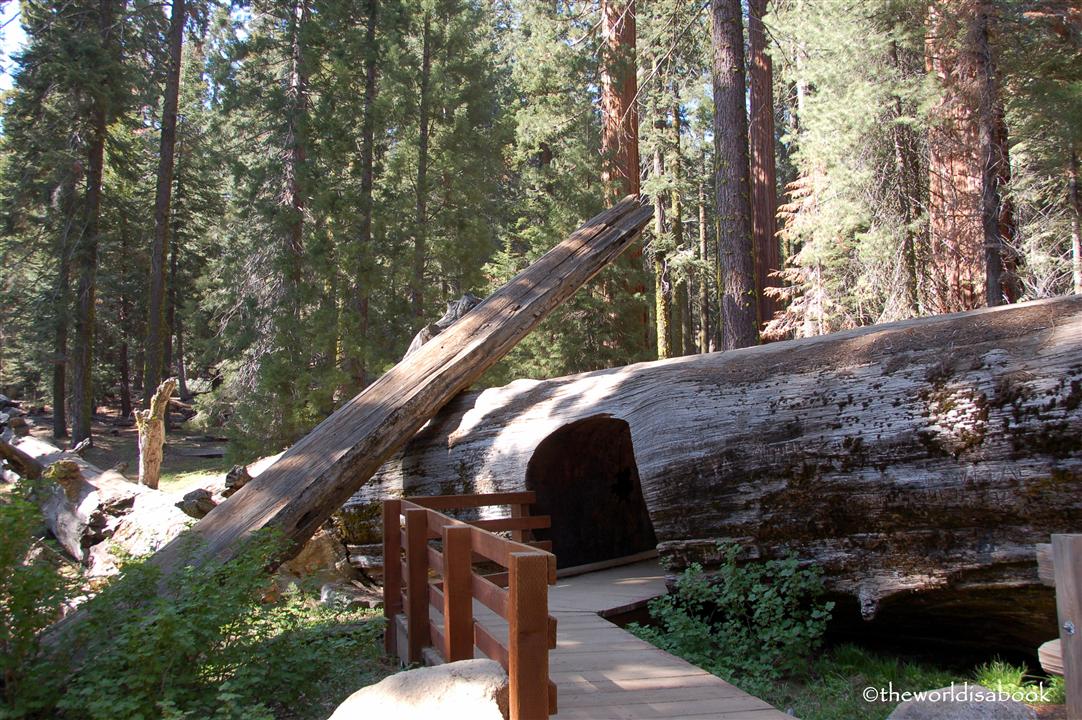 This is what we saw once we walked through the tree. It was too bad the "graffiti artists" had to make their mark here.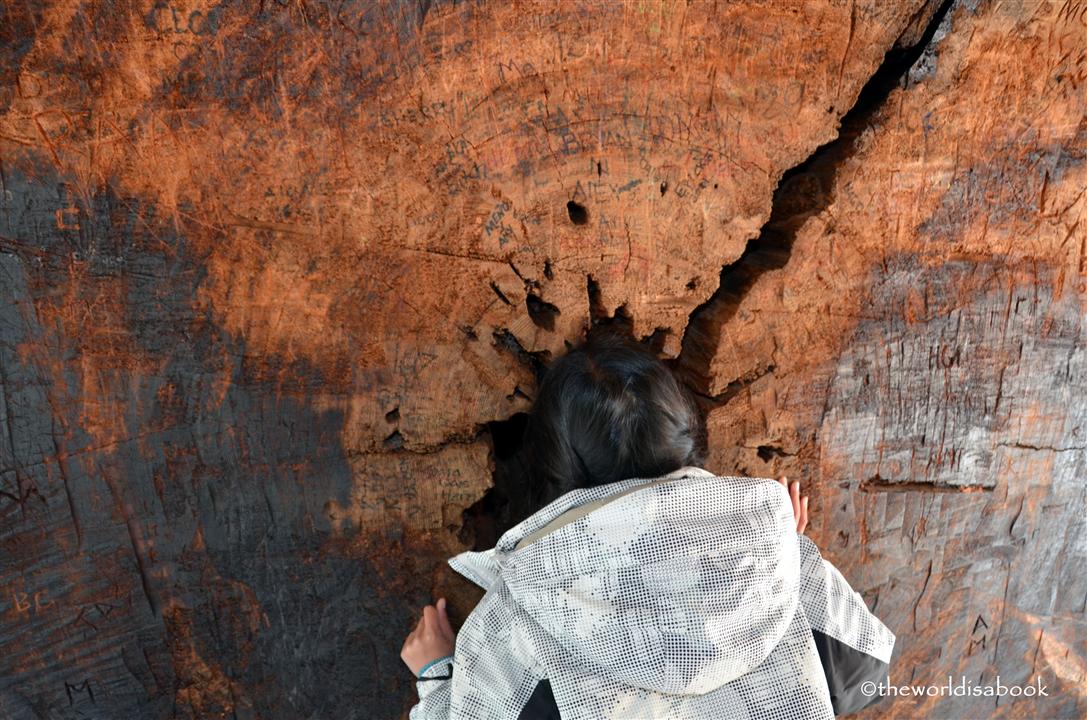 This Fallen Monarch tree at King's Canyon National Park is used as an actual walkway through a hollowed out sequoia.  It has been here unchanged for over 100 years.  Unfortunately, wasps were fairly common around the trunk area.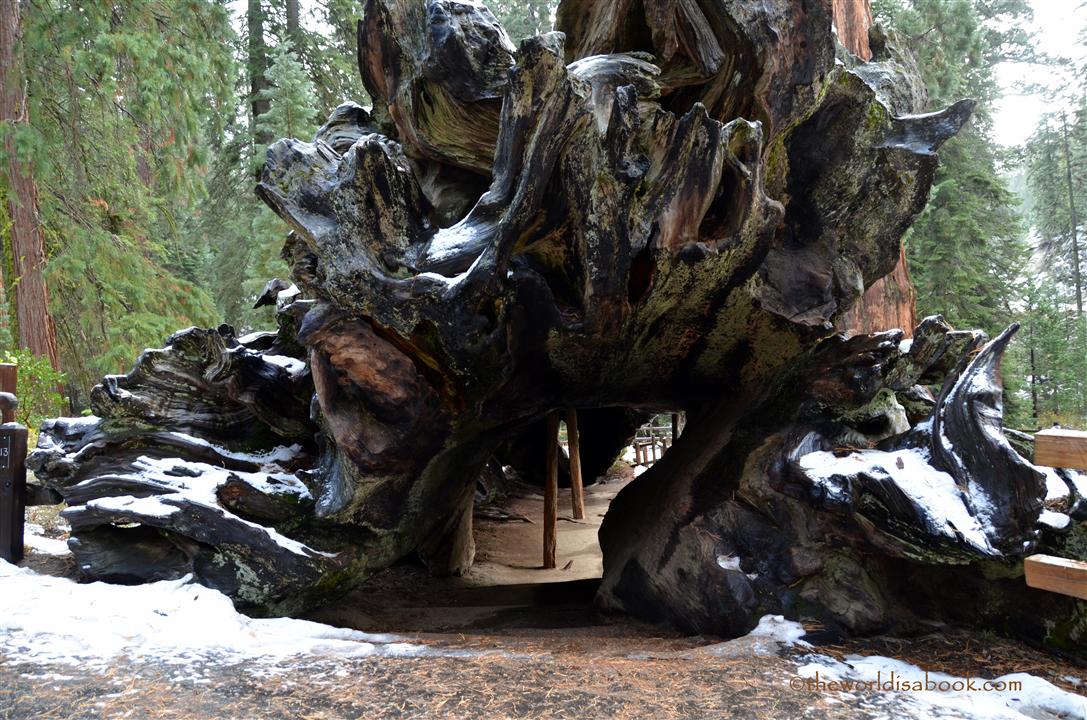 Then, there are those fallen trees where we can drive through like the tunnel log at Sequoia National Park.  This tree fell in 1937 and the tunnel was carved out at 8 ft (2.4 m) high and 17 ft (5.1 m) wide.  My kids thought this was so cool they wanted to keep driving through it over and over again.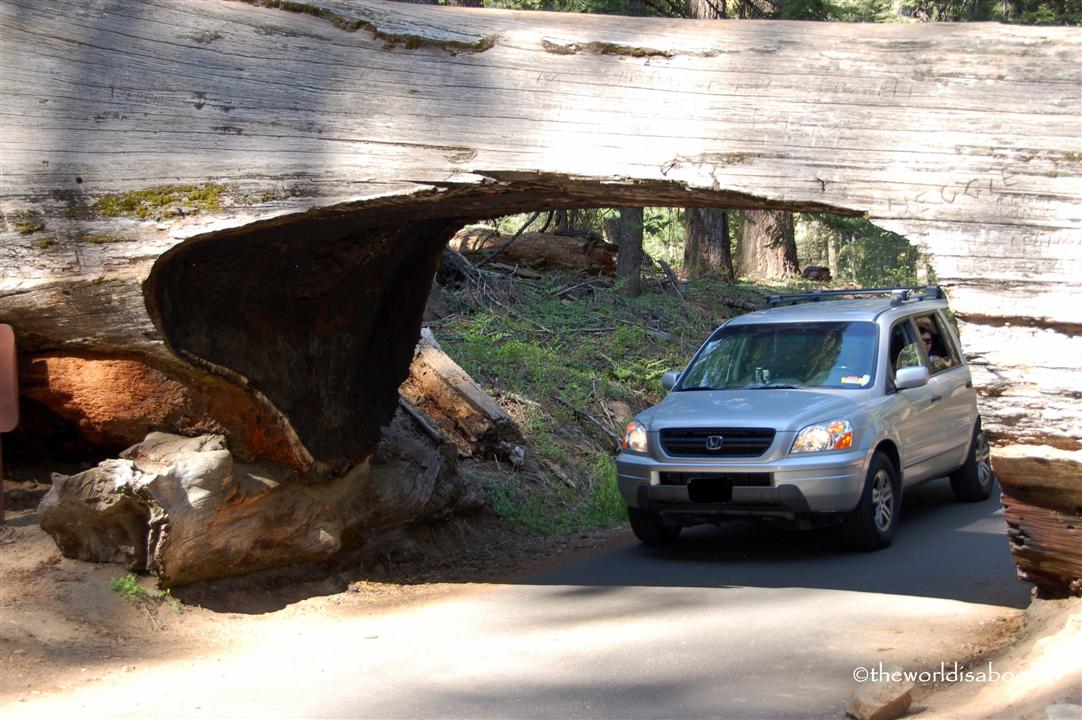 We love coming to these National Parks for their wonderful trails and stunning scenery.  It's hard to imagine that these trees started out as seedlings thousands of years ago.  We were amazed at how they have grown and withstood so much – fires, drought, etc. – yet continue to flourish here.  Many generations have marveled at these giant trees and I hope they'll be around for many more years for future generations to appreciate.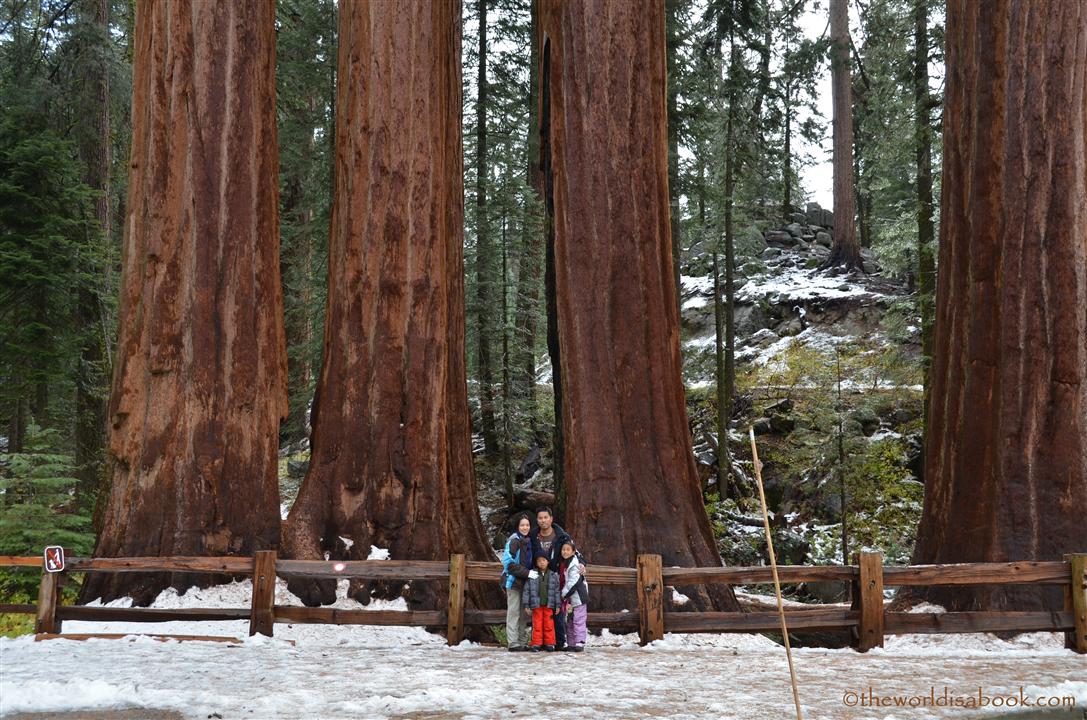 *Have you visited and marveled at these giant sequoia trees? 
Related Posts: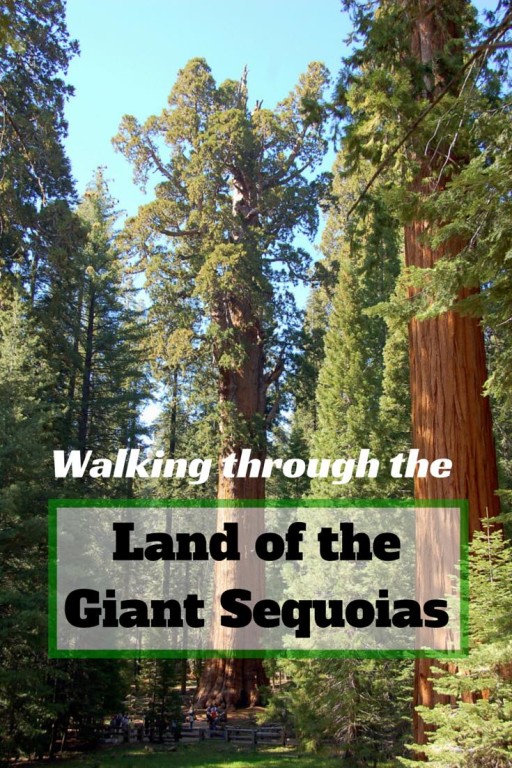 Check out these related posts: