Cruising with Babies and Toddlers: Packing Items
We all know packing all the baby and toddler gear is hard even for a short trip to the grandparents.  This makes packing for a week long cruise look like such a daunting task. Stores are not easily accessible and being at sea seems so remote.  Cruising is a wonderful way to travel with the kids.  Everyone can visit various destinations and unpack all that gear and luggage only once.  By taking turns, parents can still enjoy most of the ship's amenities – the pool, gym, casino, shows and onboard activities.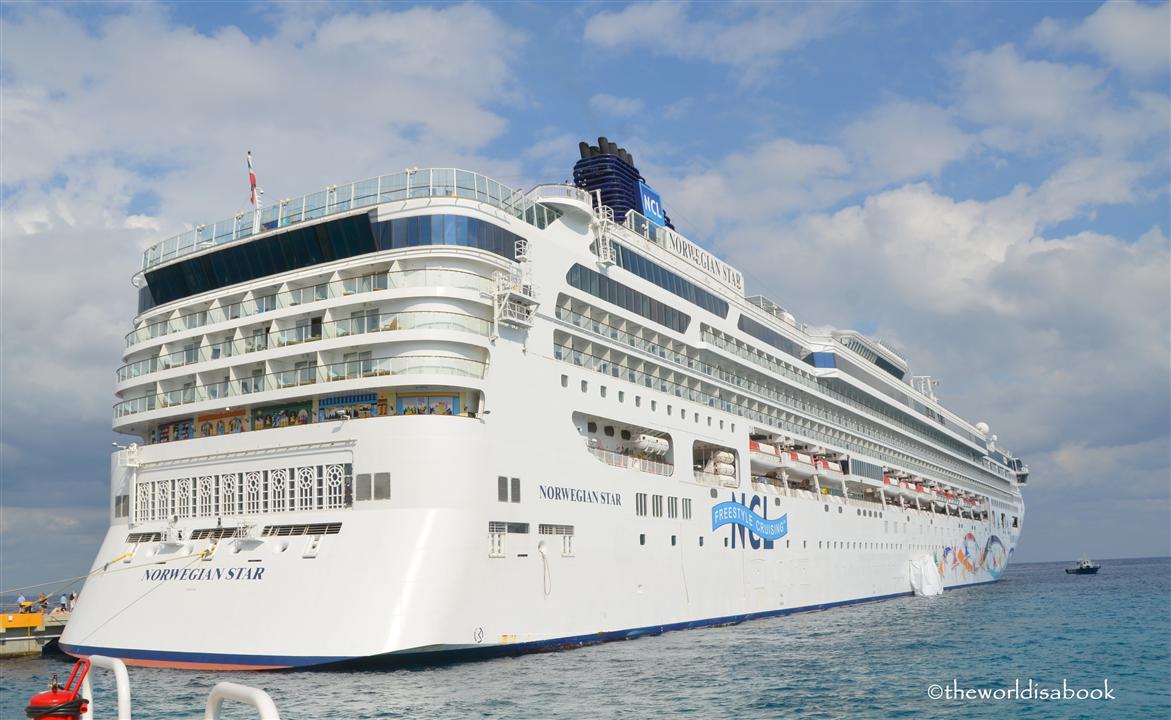 Our daughter celebrated her 6th month on a 7-day Alaska cruise nine years ago, went on a Caribbean cruise at 17 months and a Mexican cruise at two years old.  The hardest trip was traveling when our son was 14 months on an 11-day Hawaiian cruise along with our then 3-year old daughter.  Of course, it was challenging with lessons learned but completely doable.  Planning is essential when packing for a cruise.  These are the items I would recommend to bring for a family thinking of cruising based on our experience but is not meant to be a comprehensive list.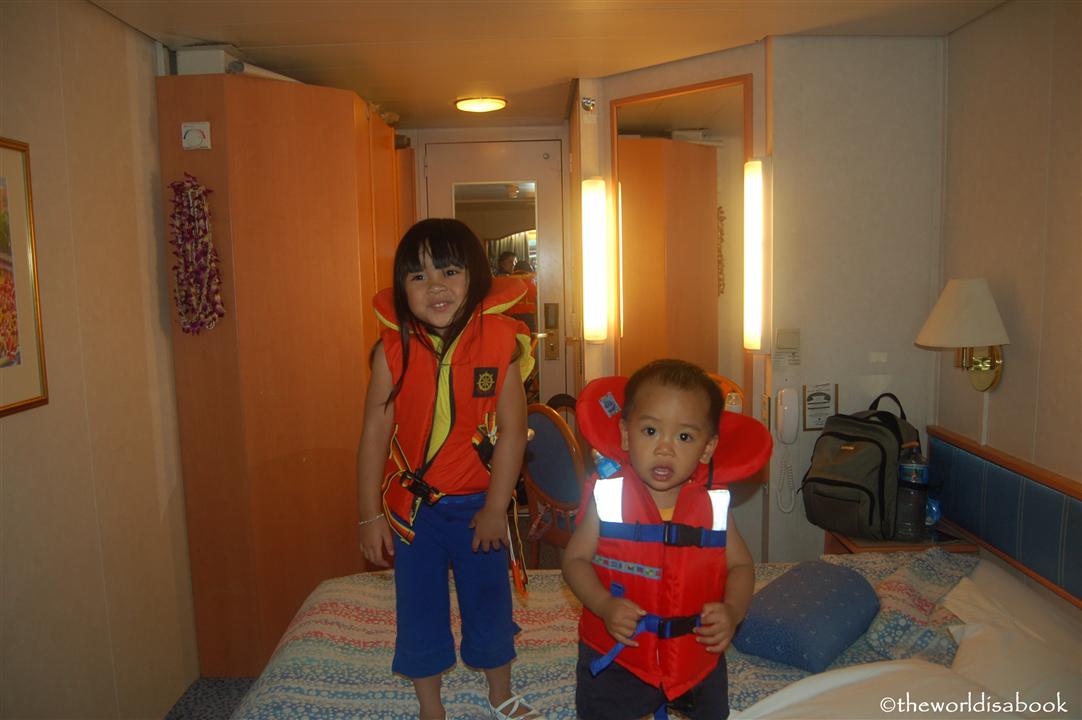 1. Baby Carrier.  This was our preferred way of carrying our daughter during that first cruise and getting around the ship and on shore . Our daughter loved being carried everywhere in it. She fell asleep on it many times and left our hands free to do other things. Depending on how old or heavy your child is, we considered a baby carrier a must have item.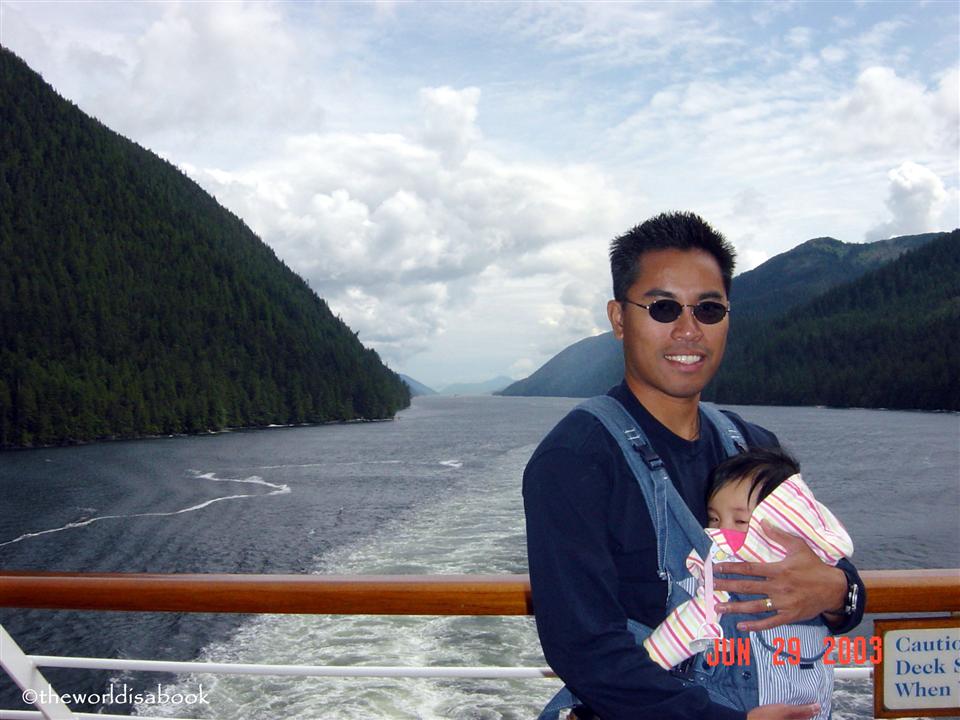 2. Inflatable Infant Pools.  Many cruise ships don't have bath tubs. Our kids went in the showers with us.  Some passengers have brought the blow up baby pools to give their kids showers.  We've also seen parents bring these inflatable infant pools at the side of the pool since most ships don't allow non-potty trained kids or don't have a section for babies in pools.  It's a great way for the babies to splash around in their own little pool.
3. Comfort Items.  Even at a young age, babies and toddlers need something familiar when taken out of their routine during trips. Be sure your little one has their favorite toy, book, blanket or pacifier to have some comforts of home close to them.
4. First Aid/Pharmacy on the go.  Being at sea makes it even more vital to have a well stocked first aid and pharmacy kit. While there are over the counter items on sale aboard the ship, they will likely not have many (if any) infant items. These kits should include neosporin, band aids, thermometer, nasal aspirator, saline drops, tylenol, diaper rash cream, benadryl at the very least.  Doctors are onboard the ship but will charge for the visit.
5. Ligthweight or umbrella stroller.  These umbrella strollers are ideal for the smaller spaces on the ship and on navigating ports like the Caribbean islands.  They're also easier to store in the cabins, easier to carry and easier to move around and fit in and out of elevators.  While it may not be the most comfortable places for kids to sleep, ours have taken some long naps on strollers no matter where they are.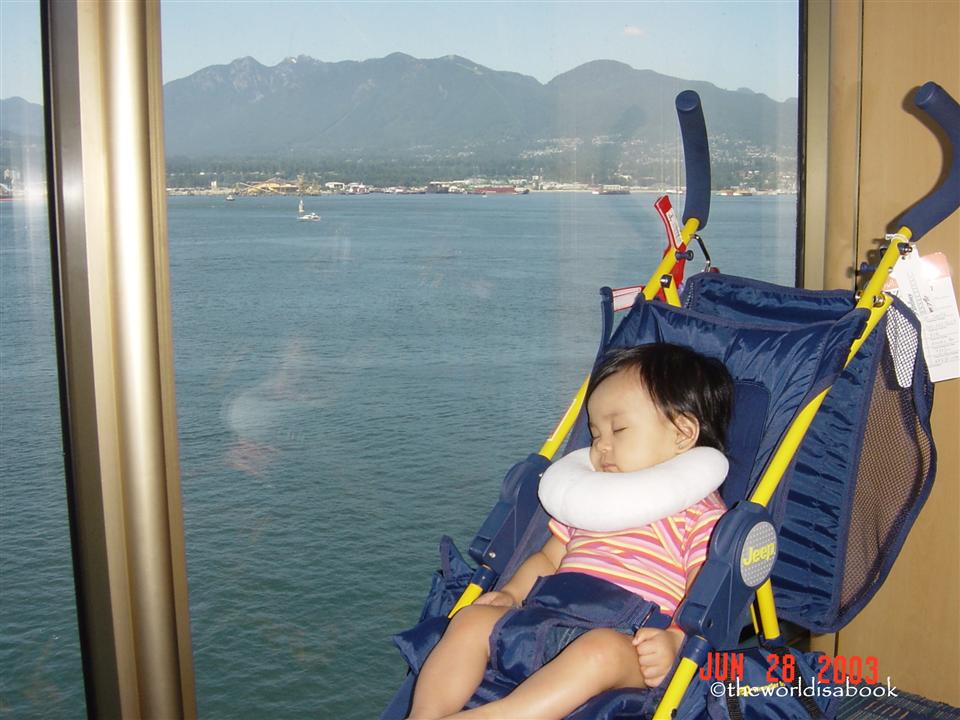 6. Crib sheets or blankets.  Complimentary cribs or pack and plays can be arranged with the cruise line so it will be in your stateroom when you get there. We never took advantage of these because our daughter slept with us. They eventually graduated to their own low level beds as toddlers. If you do use the ship's crib or pack and play, bring your own crib sheets, pillowcases and blankets especially if your kids have sensitive skin.
7. Entertainment items.  Other than the comfort items, it's also a good idea to bring a small amount of compact toys and cloth cover books. A few new ones to bring out for dinner, excursions, waiting in line, bedtimes and playtime will go a long way.  We didn't have the Ipad or Iphone when our kids were younger but they were perfectly entertained with a portable DVD player.
8.  Ziploc bags.  We've used various sizes of Ziploc bags to hold dirty diapers, dirty clothes, wipes, and snacks.
9.  Feeding Items.  The must have baby feeding items always included bottles, sippy cups, small bowls, utensils and disposable bibs.  We've also made sure to bring extra ones in case something goes missing.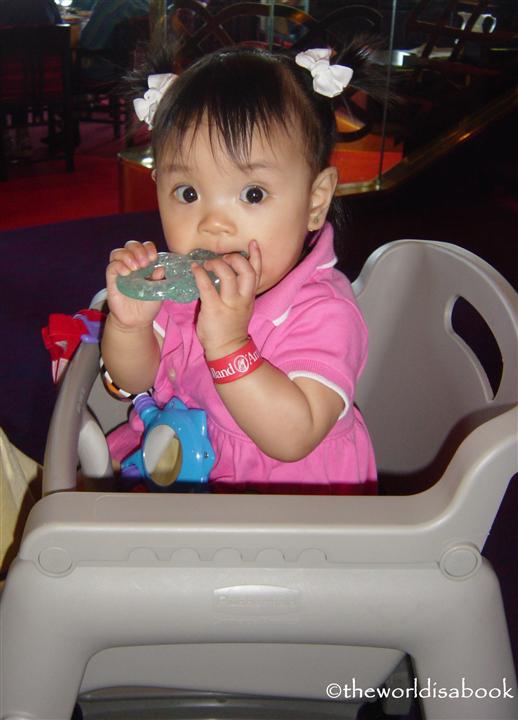 10. Bottles with disposable liners.  We brought these bottles with disposable liners along and were so useful.  These will cut down on the washing so we would only wash bottles, nipples and caps. It was also great for feeding the kids during excursions.
11. Baby drinking water.  These are essential for hydration at sunny ports and to mix with formula.   Bottled water onboard is expensive, We've usually gotten to port a day before the cruise embarkation to account for delays.  One of our first trips is usually to a grocery store to stock up on water, juices and snacks.
12. Food and Snacks.  Our first cruise with a baby was a bit easier because I was breastfeeding my daughter and was supplemented with formula.  Along with regular formula, we've also brought along the Ready to Feed formula.  These were convenient for times when we didn't have access to warming milk up or ran out of water.
But, we also brought our own jars of baby food.  Although, some ships were willing to puree food.  The other times we were grateful they were old enough to eat some food at the buffet and off the kids' menu.  We've always brought their favorite snacks and juice though especially for port days.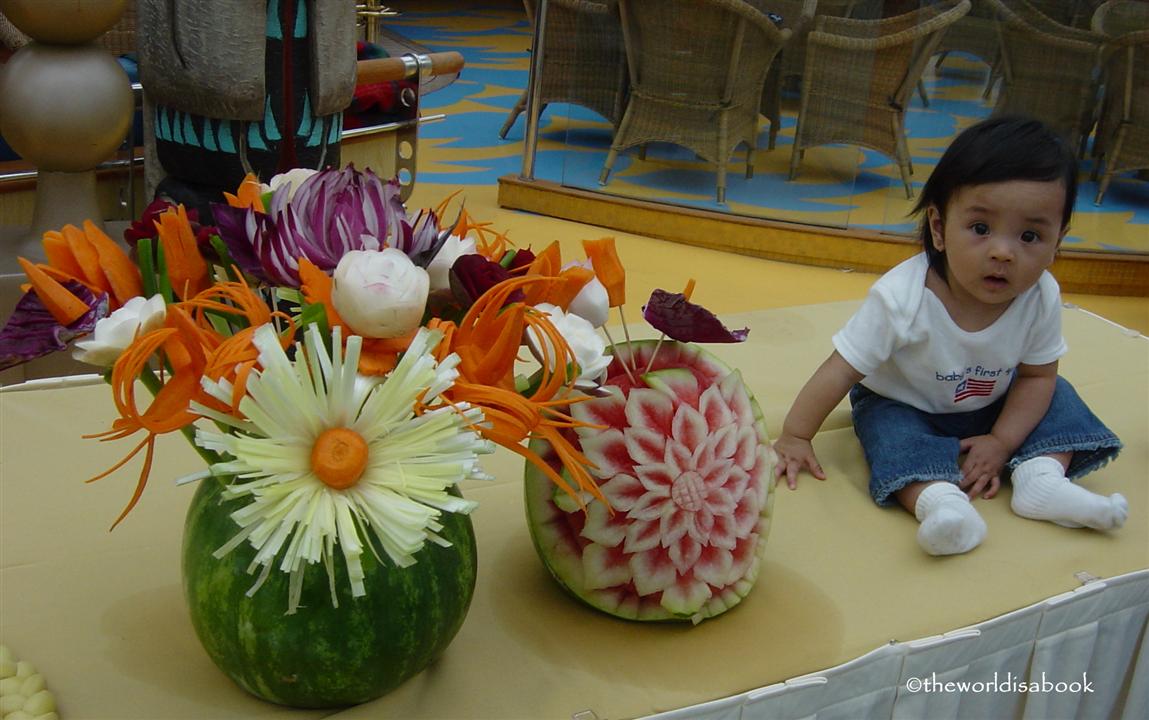 13. Small soft sided cooler.  We've tried to sail on cruise ships that had mini refrigerators which came in handy for storing milk and juices.  Unfortunately, some cruise ships don't always have one. Some people have recommend using these collapsible soft sided coolers as an alternative to the ice buckets. We've used ours to take food and drinks during shore excursions.
14. Cleaning items.  We have brought dishwashing detergent, brushes, and sponges for washing bottles, sippy cups, plastic bowls, and baby utensils.
15. Stain remover.  Stains are inevitable with this age group so we've always packed stain removers (the stick kinds) for everyone.  It has always been put to good use and some clothes have been saved in the process.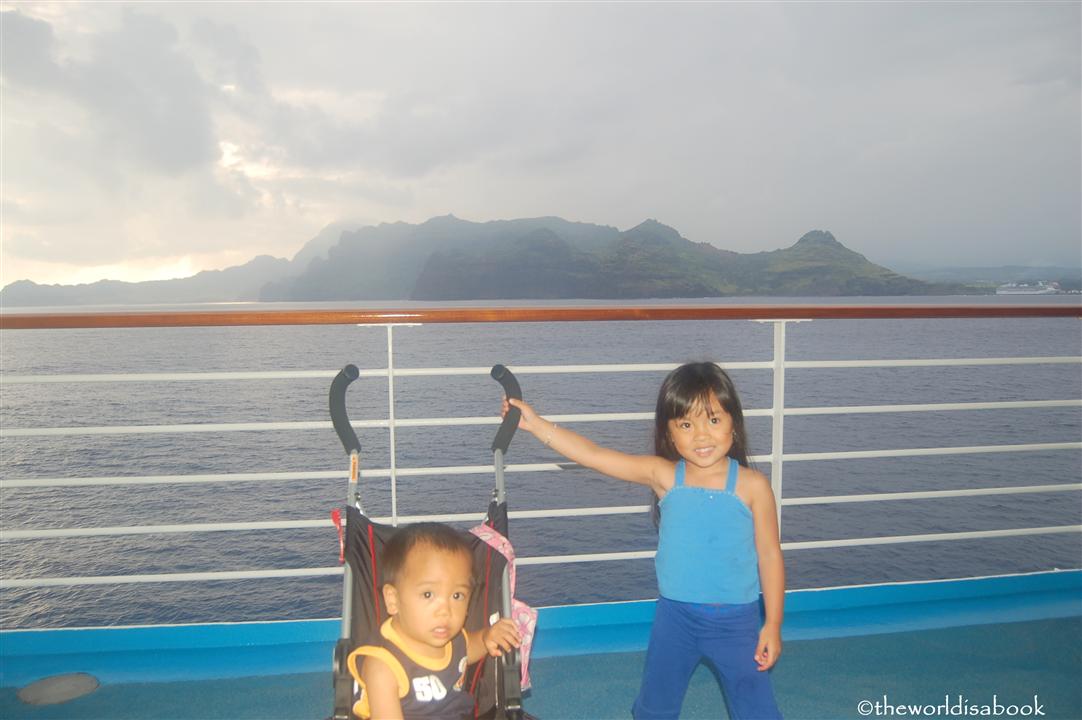 16. Sanitizers.  Cruise ships are very thorough with their hand sanitizing procedures and sanitizing stations at entrances and food areas.  Knowing how toddlers put everything they find in their mouths, I've had to wipe down every door knob, remote control, handles and light switches with sanitizing wipes as part of a ritual when entering cabins and hotel rooms.  Hand sanitizers are always useful when changing diapers and on ports where a faucet is not readily available.
17. Sun Protection.  A baby-friendly sunblock is essential when walking around the ports or lounging at the ship's decks. A flap hat that covers their neck and ears especially during pool times or during excursions is also necessary.  Our son always wears a rash guard during swimming times too.
18. Formal night outfits.  There are two formal nights during a 7-day cruise. We've always liked dressing up and is a great excuse to dress up the little ones in their best outfits.  Who can resist little boys looking adorable in a suit and tie and little girls looking like little princesses?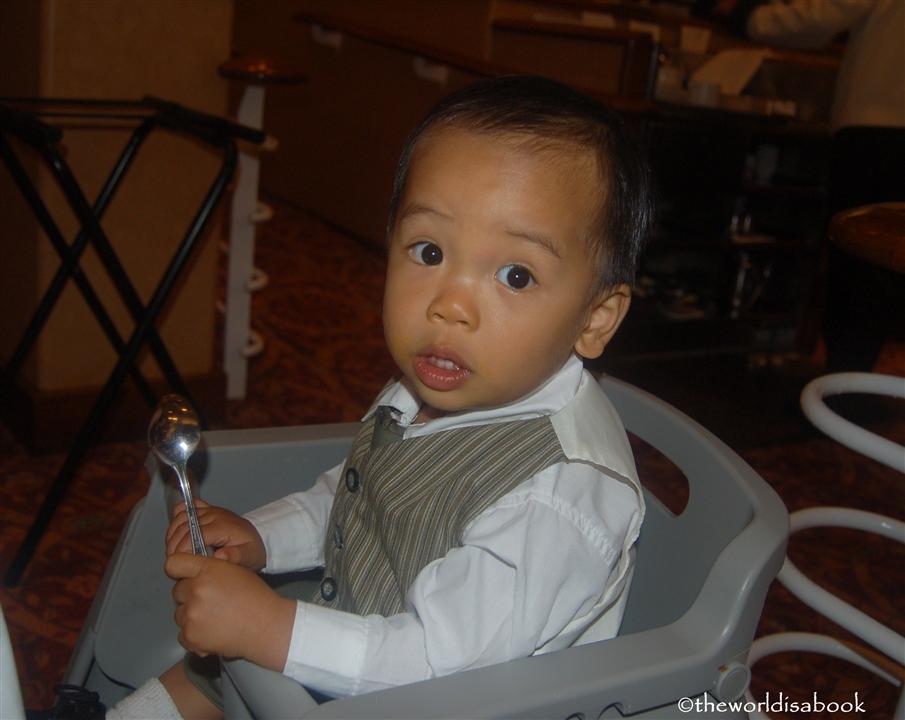 19. Diapers and wipes.  Our rule had always been to bring 20% more wipes and diapers than our daily usage.  It's always better to have more than to run out while in the middle of the ocean.  Don't pack all of your diapers in one suitcase.  Having no diapers is a nightmare in case of lost luggage. We've always scattered it among different luggages and carry-ons and luckily, it has worked.
20. Nightlight.  My kids are one of those people who can't sleep in the dark and need a little bit of light for the room. So, a nightlight has been better option than a completely dark cabin or having the bathroom light on.
It is worth mentioning that some ships now have baby packages for diapers, baby food, wipes, etc. to be delivered to your stateroom upon arrival and must be pre-ordered prior to sailing.   These cut down on items you don't have to carry on the plane.  Some have toys to borrow from their kids' programs too.
My babies are turning 10 and 7 this year and going on their 11th and 8th cruise later in the year.  Cruising with them hasn't always been easy but definitely worth it to see their joy in seeing new places to explore.  I hope this list is a good start for your next cruising vacation with your baby or toddler or one to pass along.
*Do you have any additional cruise packing items for babies and toddlers?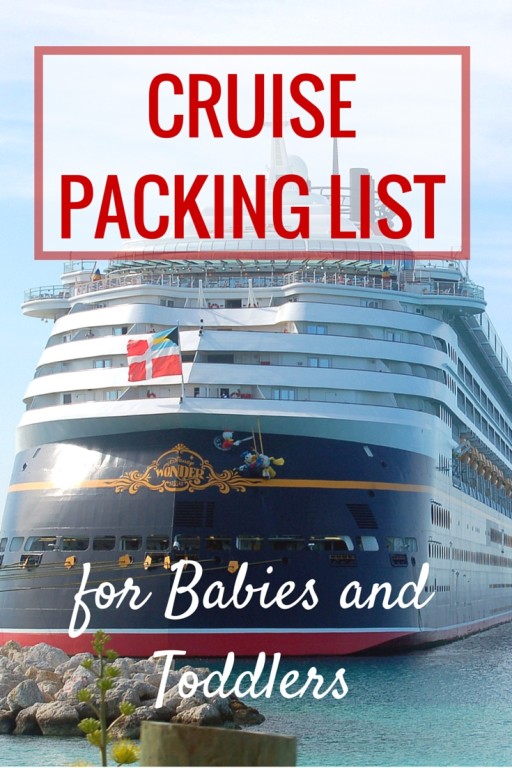 Check out these related posts: