Strolling Solvang with Kids: Danish Capital of America
Sometimes an inspiration to visit a place comes from an unconventional source.  In my case, it's an ethnic-themed town located in central California.  Solvang, a charming village known as the "Danish Capital of America", has always inspired me to explore Denmark and introduce the kids to this part of Europe.  After years of lingering on our travel bucket list, we finally booked a trip to Denmark this summer (along with a couple of neighboring countries). Update: See our blog posts on our Denmark trip.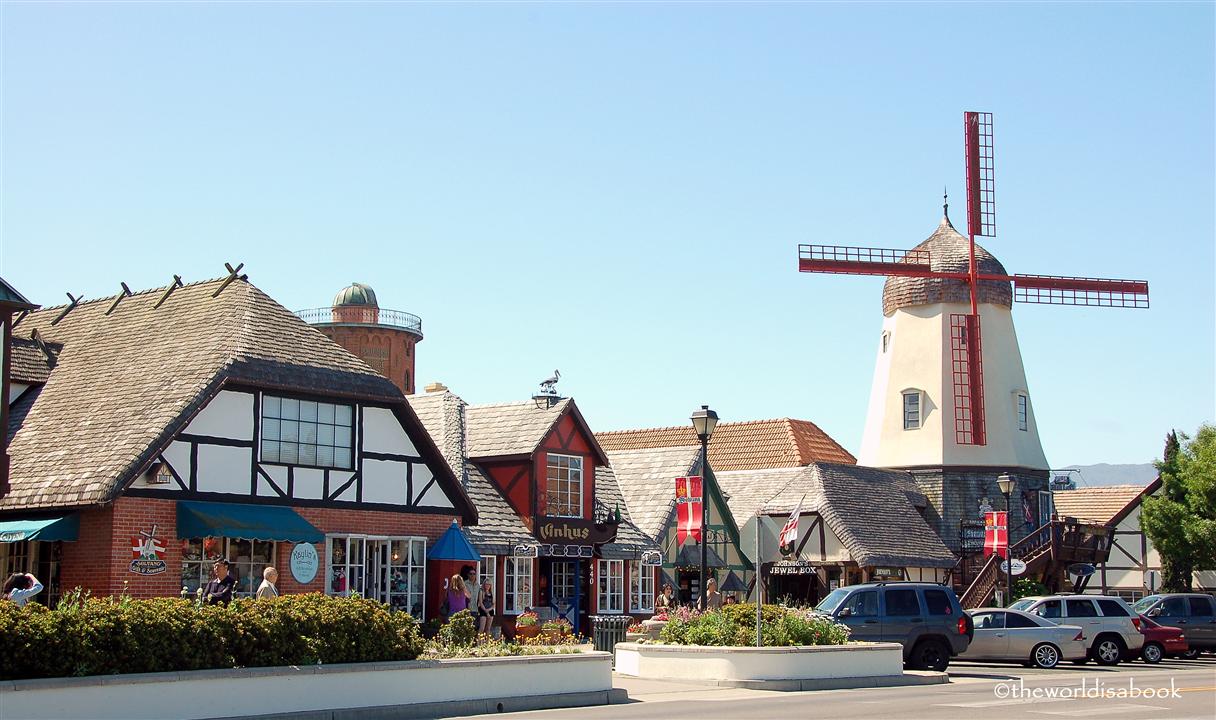 Solvang (meaning sunny field in Danish) was founded in 1911 by three Danish immigrants who raised enough money to buy almost 10,000 acres of land in the Santa Ynez Valley.  Many Danish settlers and immigrants from California and the Midwest bought these lands which were subdivided into farms and homes and established businesses to help grow this town into a colony.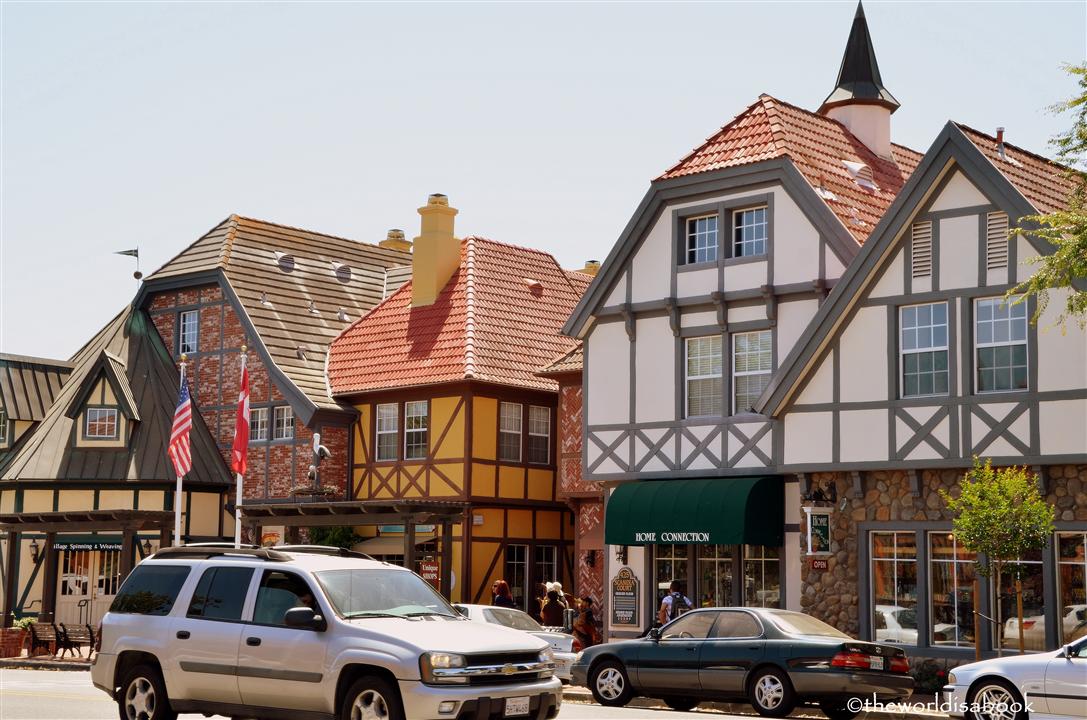 We spent this past holiday weekend at the central California coast and decided to revisit Solvang and do a "little Denmark" mini-orientation for the kids before our trip.  We were here a couple of years ago but this visit meant a little more knowing we'll see its counterpart soon.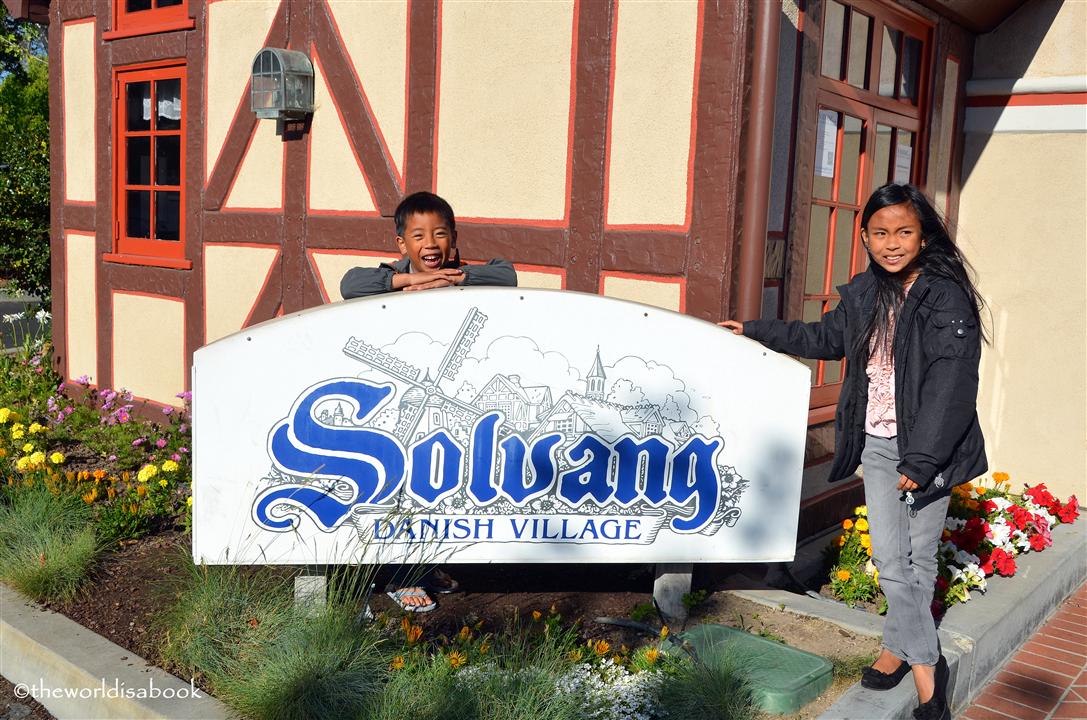 Walking around the streets of Solvang, one can instantly feel its old world charm.  I always feel like I've been transported to a quaint European village.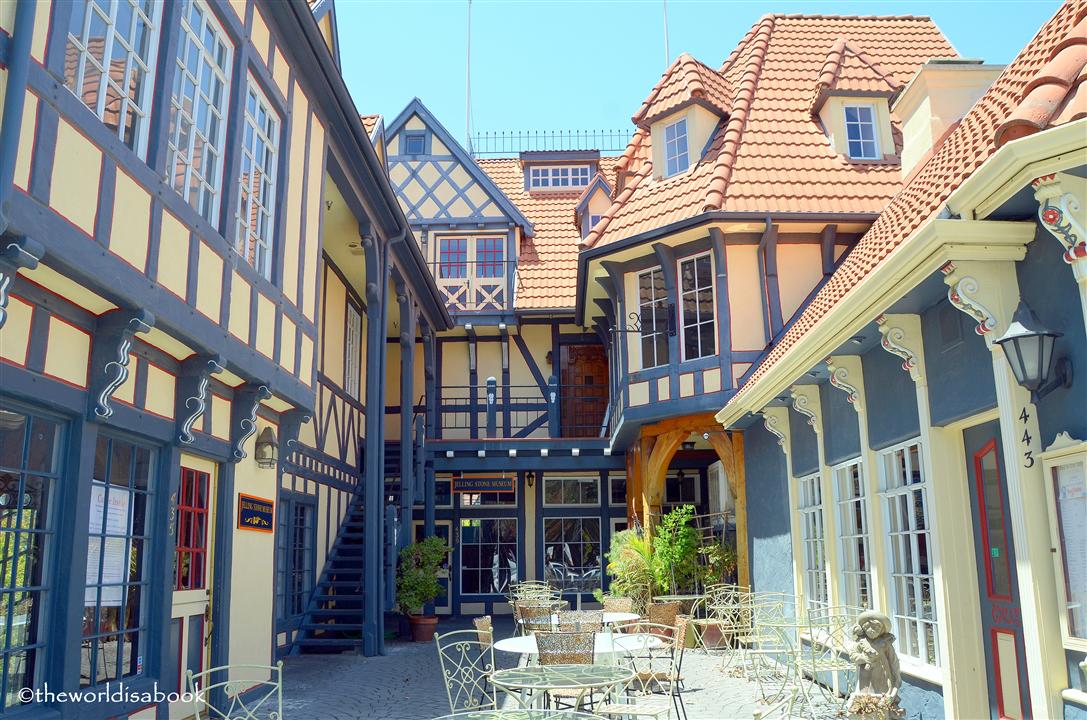 In the late 1940s, residents decided to construct new buildings and remodel old ones to reflect their heritage and culture.  Most followed a Danish provincial style architecture including the use of wood shingles to make the structures appear to have thatch roofs.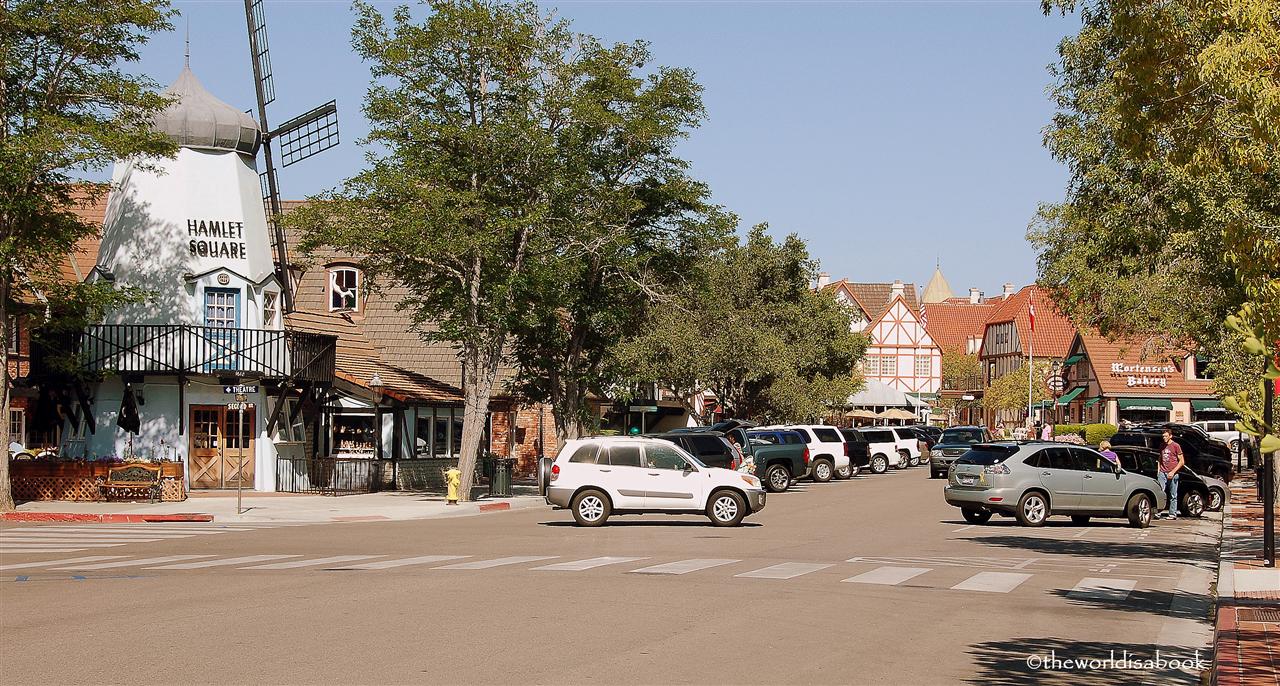 Main Street was changed to Copenhagen Drive and most of the street names were renamed to Danish names and cities – Atterdag, Kronborg, Kolding, Roskilde to name a few.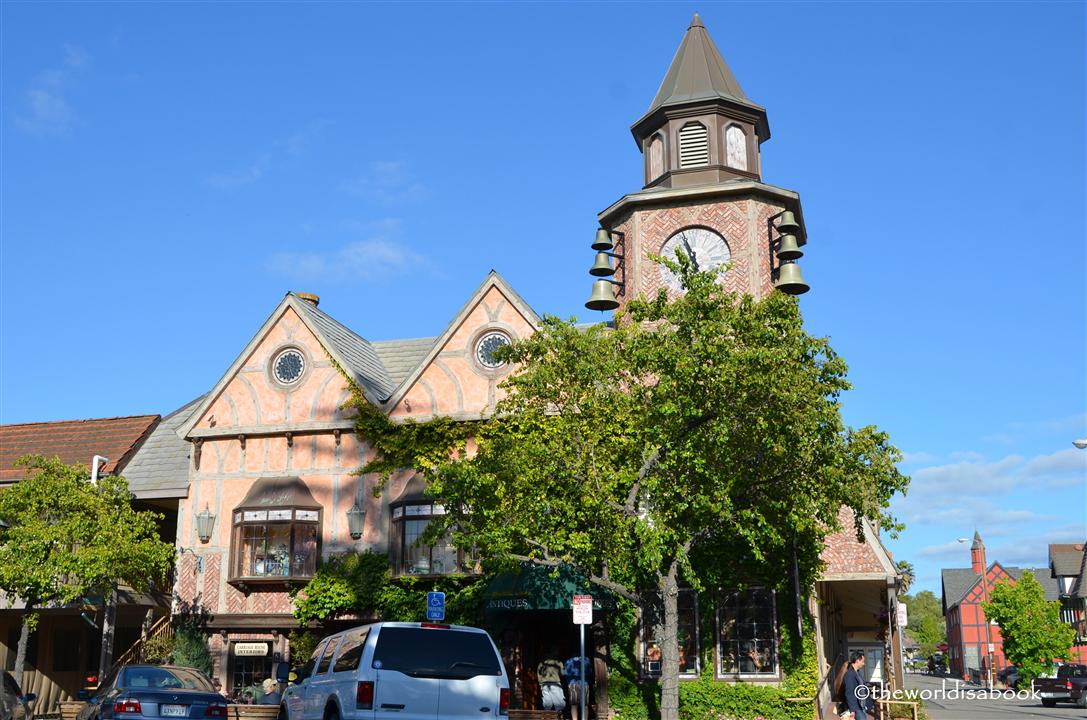 Details, such as wrought ironwork and hand painted panels, were incorporated into various buildings to give them the overall authentic Danish village look.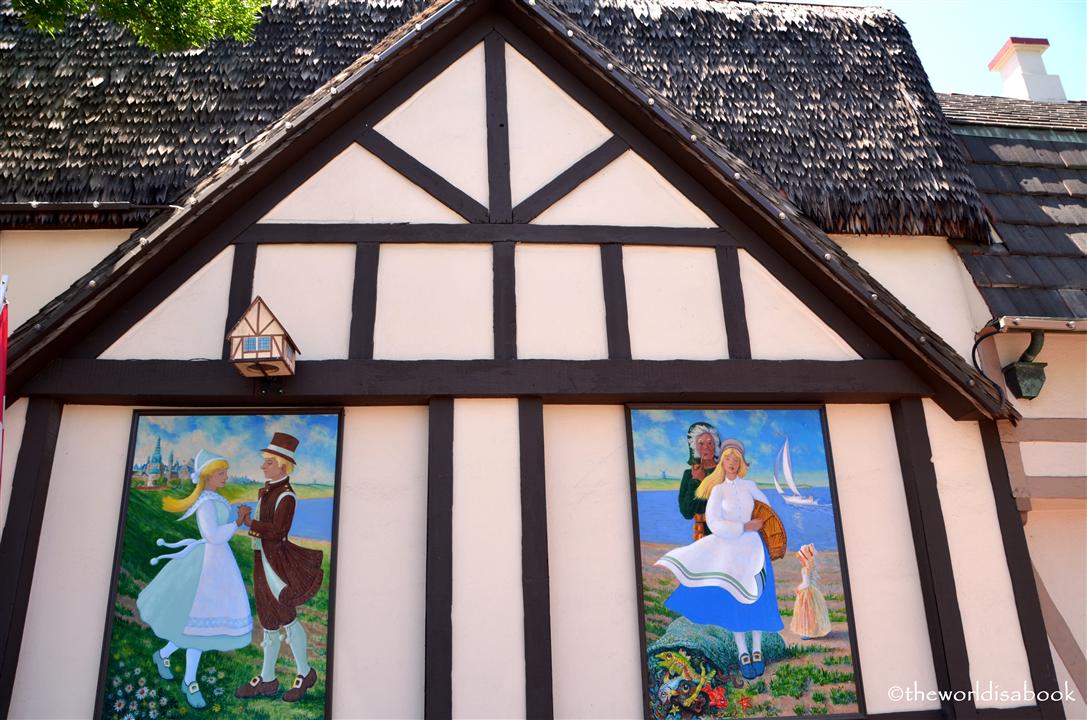 Solvang has four Danish-style windmills scattered throughout the town.  Most of them house gift shops nowadays.
Many of the building have various plastic nesting stork decorations displayed on their rooftops.  Danish tradition states that storks ward off lightning and bring good luck.  Stork spotting was a wonderful way to keep the kids busy while strolling the streets.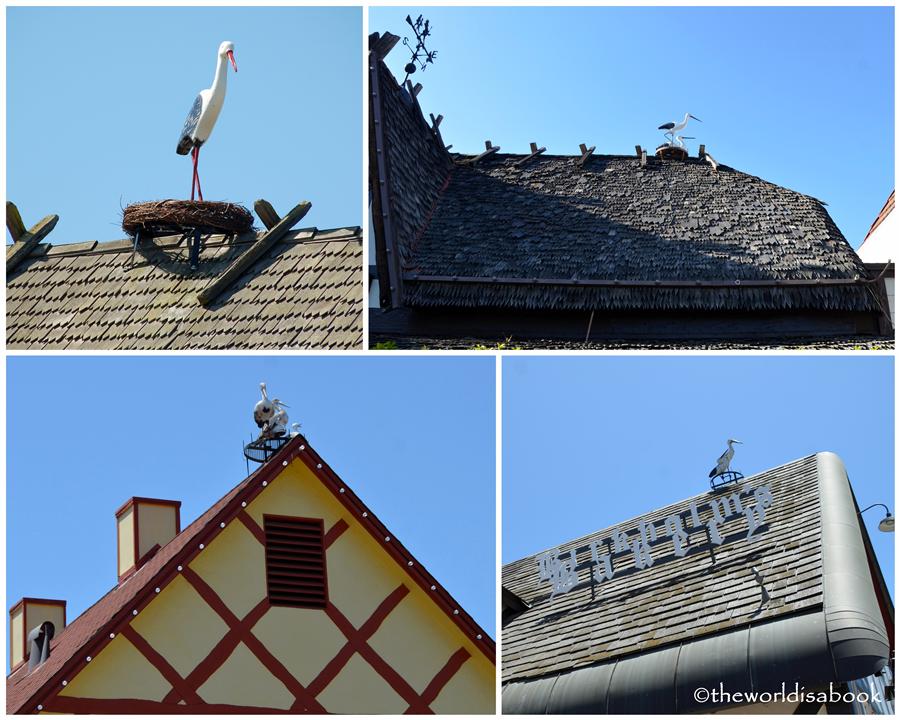 There are a couple of Copenhagen landmarks that gave us a bit of a preview of attractions we'll see.  One of Copenhagen's famous landmark is The Little Mermaid statue.  Solvang's version sits on top of a fountain, that could easily be missed, located on a busy intersection.  After visiting Solvang a few times over the years, this is the first time we've actually seen her.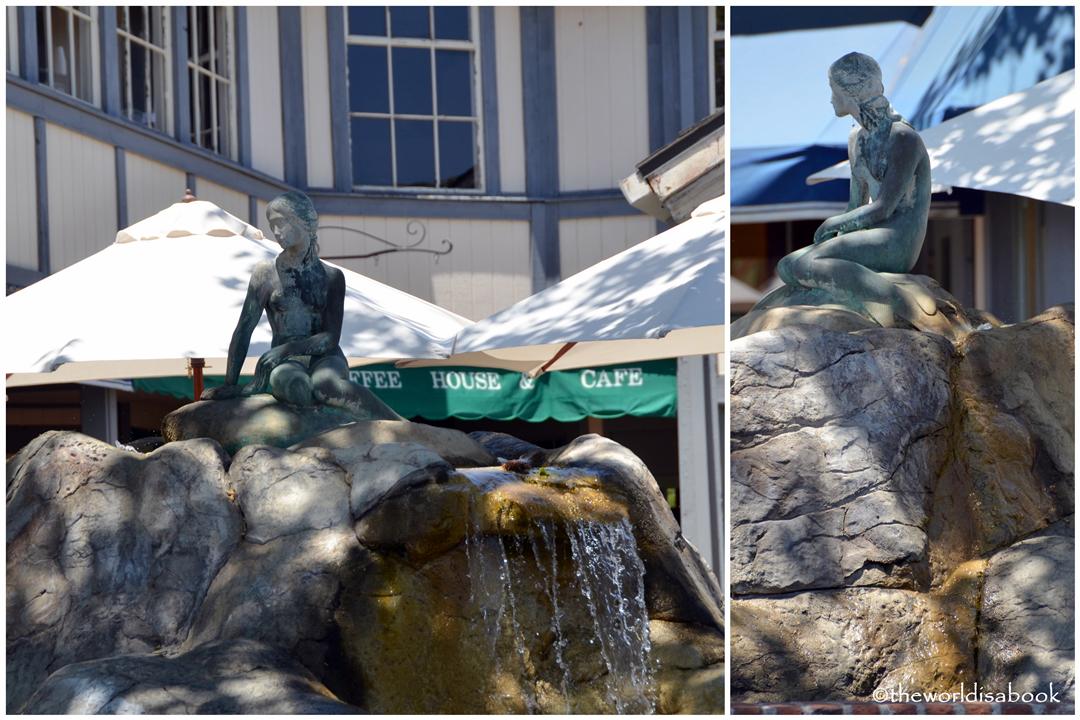 The Round Tower  (Rundetårn) in Copenhagen is one of  Europe's oldest astronomical observatories.   Solvang's version is a third the size of the original and is a pizza restaurant.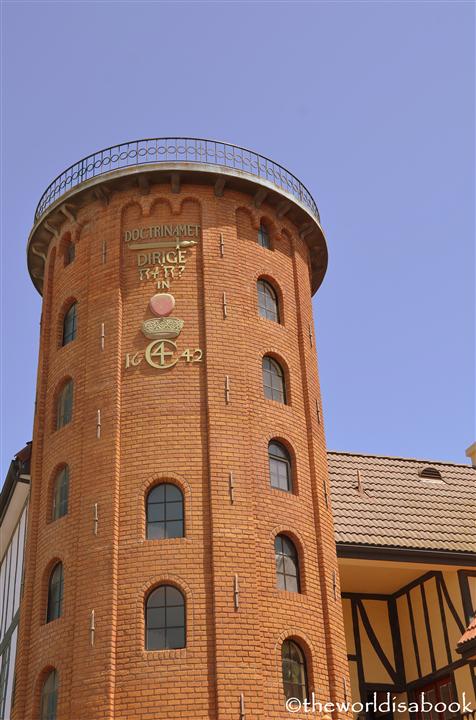 Solvang has various bakeries selling traditional Danish pastries including buckets of butter cookies that can be taken home as souvenirs.  It's hard to walk around and not see visitors eating various treats including a favorite, the aebleskiver (pronounced aye-bell-ski-ver).  These are little pastry balls, drizzled with raspberry jam and dusted with powdered sugar.  There's usually a line at the Solvang Restaurant shop window to get these tasty treats.  If you feel the need to cook some at home, they have aebliskiver pans sold at many stores too.  They are delicious!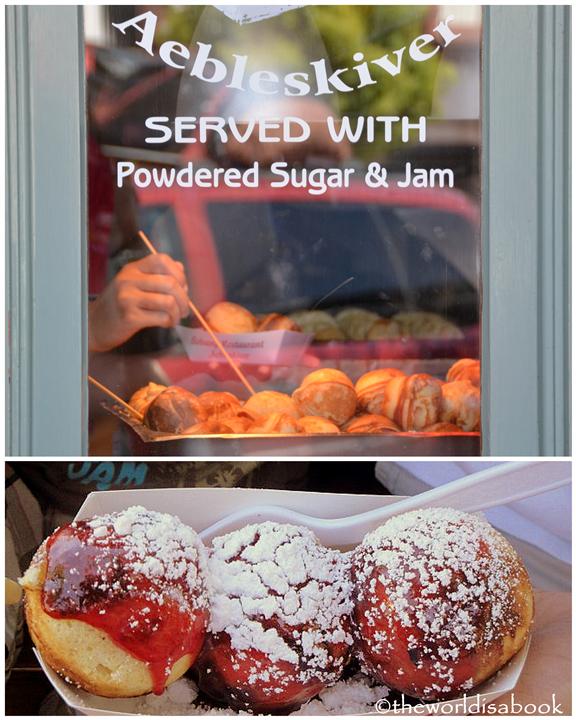 For some who may need to wash down all the desserts and pastries, there are about 14 wine tasting rooms within a four block radius around town.  Solvang's proximity to the 80+ wineries at the nearby Santa Ynez Valley also makes this a popular place for wine lovers.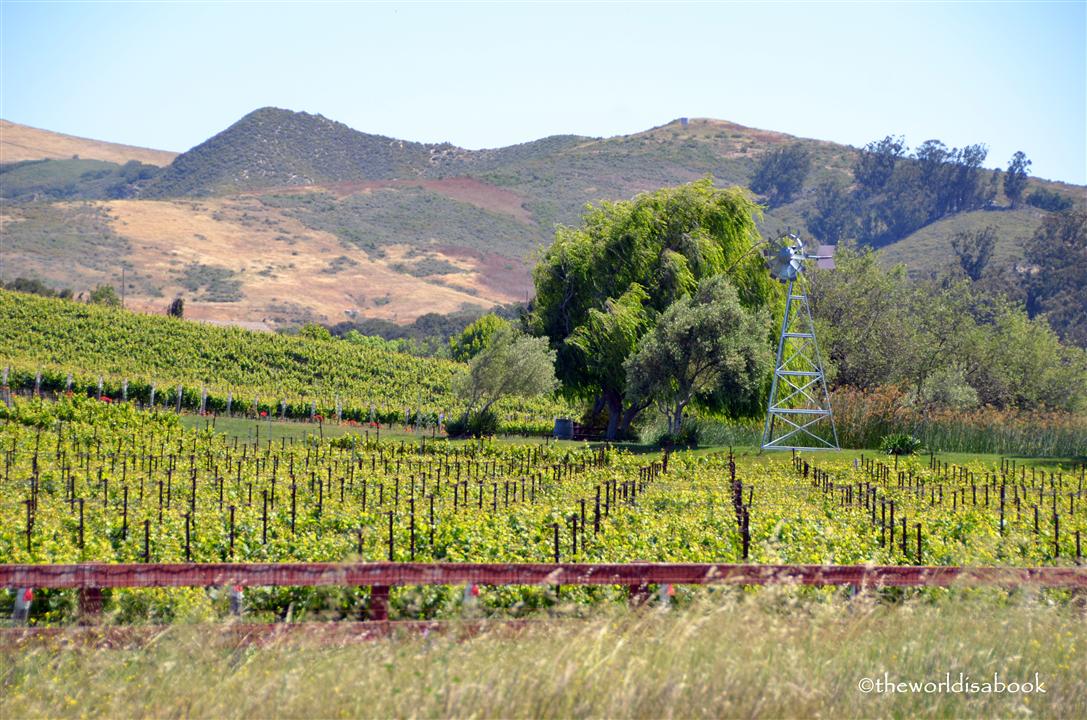 Staying close to its heritage, Solvang has two museums, the Elverhøj and Hans Christian Andersen for visitors to enjoy.  Elverhøj was created to preserve Solvang's Danish culture and to promote the arts.   We visited the free Hans Christian Andersen to get acquainted with one of Denmark's citizens, famous for writing beloved tales like Little Mermaid and Ugly Duckling.  My daughter was fascinated with this museum and explored every corner and exhibit.  She treated us to various Hans Christian Andersen trivia on the way home and hopefully will come in handy on the trip.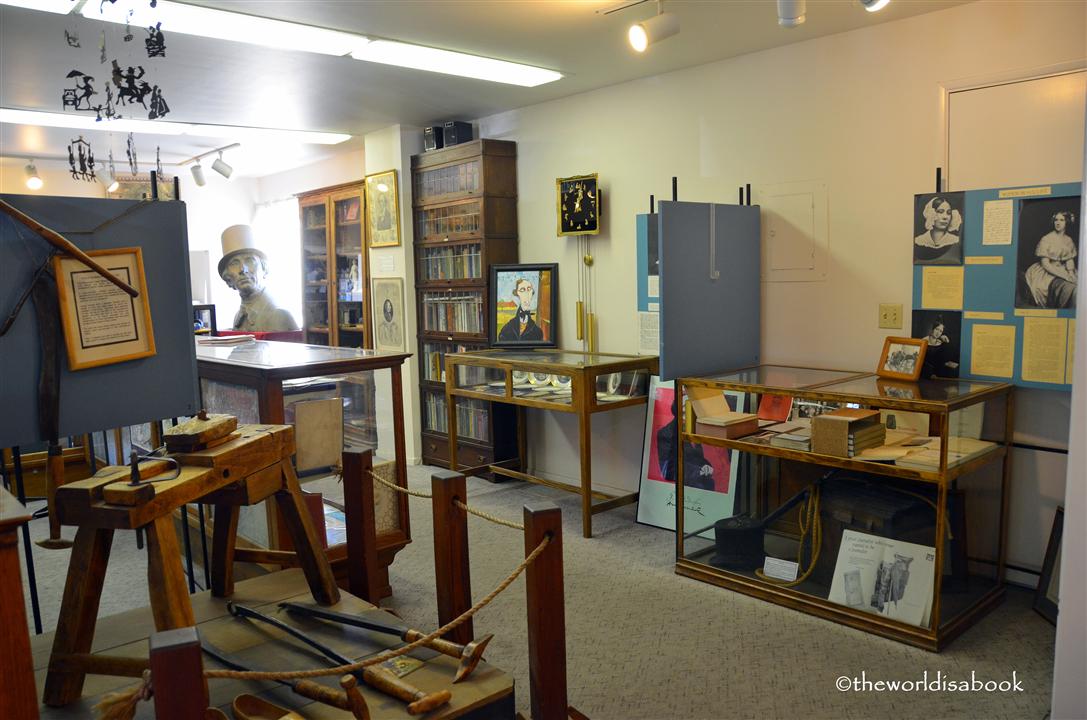 Solvang isn't a very big town of 5,400 residents.  It's pedestrian friendly and very walkable.  But, visitors also have a chance to sightsee through horse-drawn trolleys or through surrey bicycles (bikes with four wheels).  The surreys were a very popular way to see the town alongside the cars.  We even saw a few families (some with three generations) doing this activity together.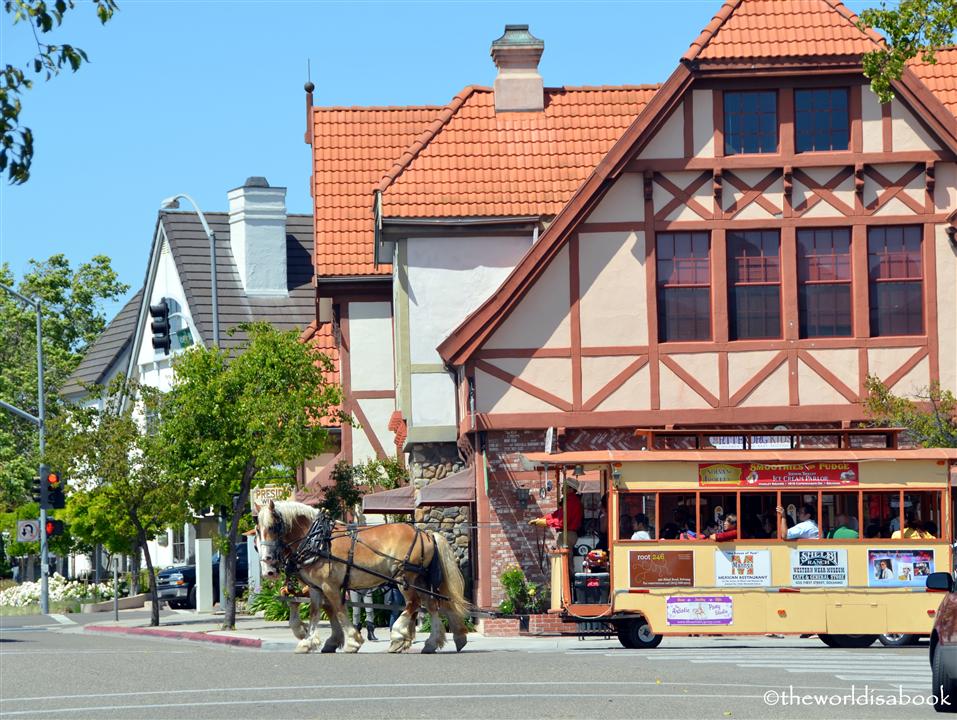 Over the years, Solvang has become a major tourist attraction.  Its distance of less than a two-hour drive from Los Angeles have also made this a popular day trip location.  There are various photo ops around town for tourists including phone booths and Vikings.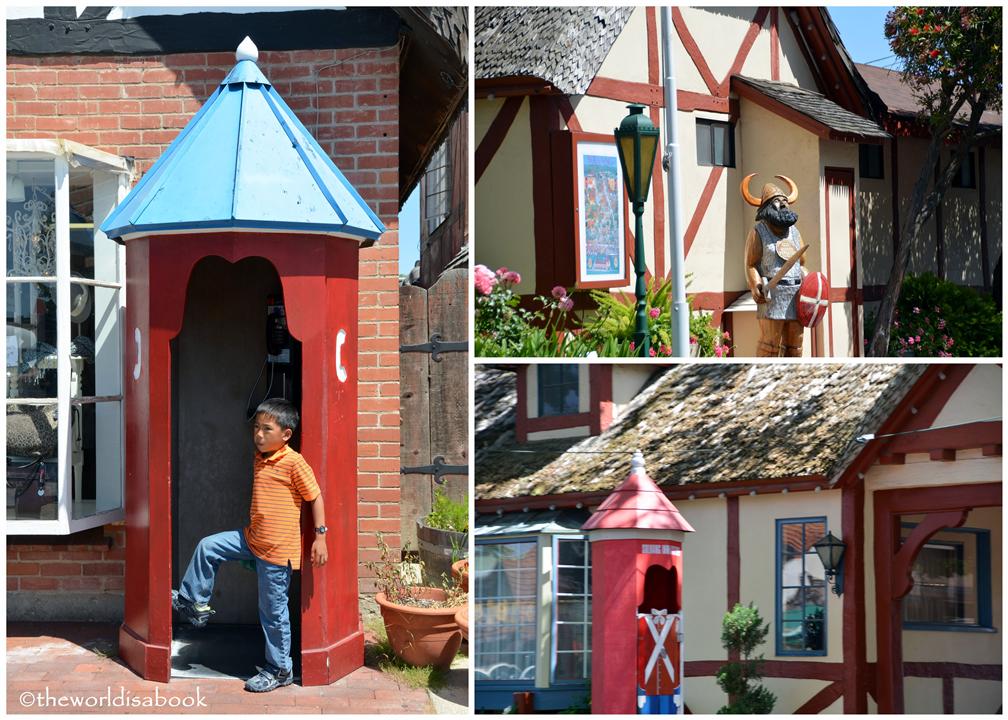 A popular street attraction(usually with a line) is in front of the Solvang Shoe Store.  There's something about this clog that makes people stop and pose next to it.  We've also seen a few adults and kids stuck inside the clog trying to get that precious photo.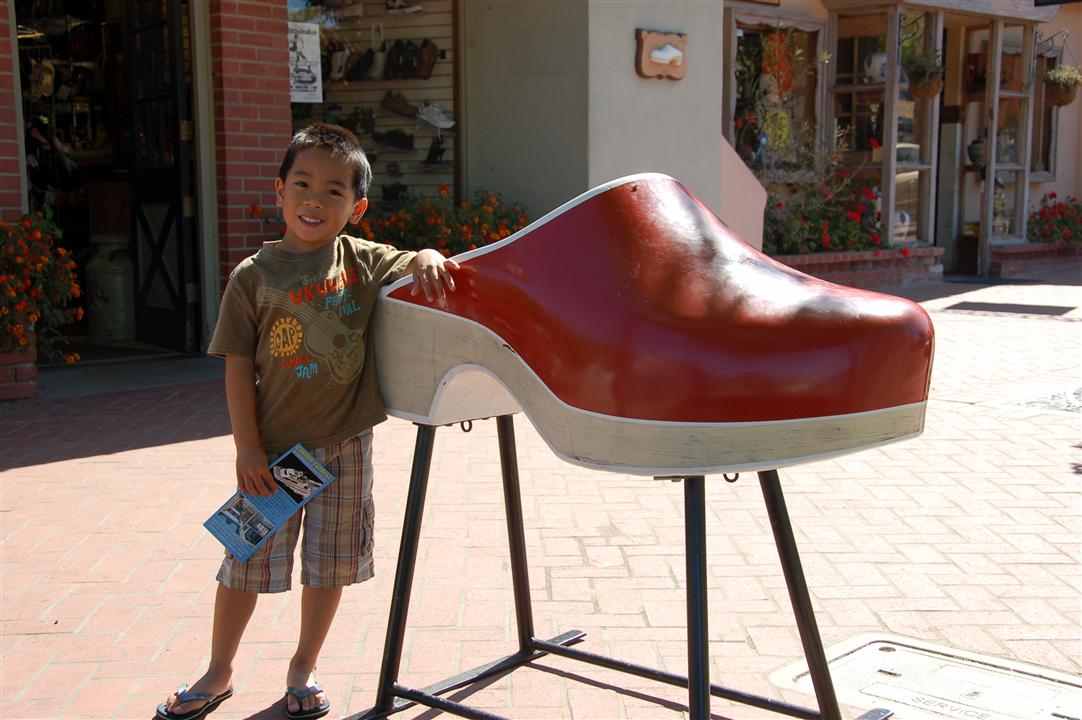 There are countless unique shops for everyone in the family.  If one ever needs to dress up in traditional Danish attire or need some Nordic knives or music boxes, you'll find them in Solvang.  Many restaurants line the streets and some of them have waitresses dressed in traditional Danish costume.  It's not all Danish or Scandinavian food here.  One can find varied menus around town too.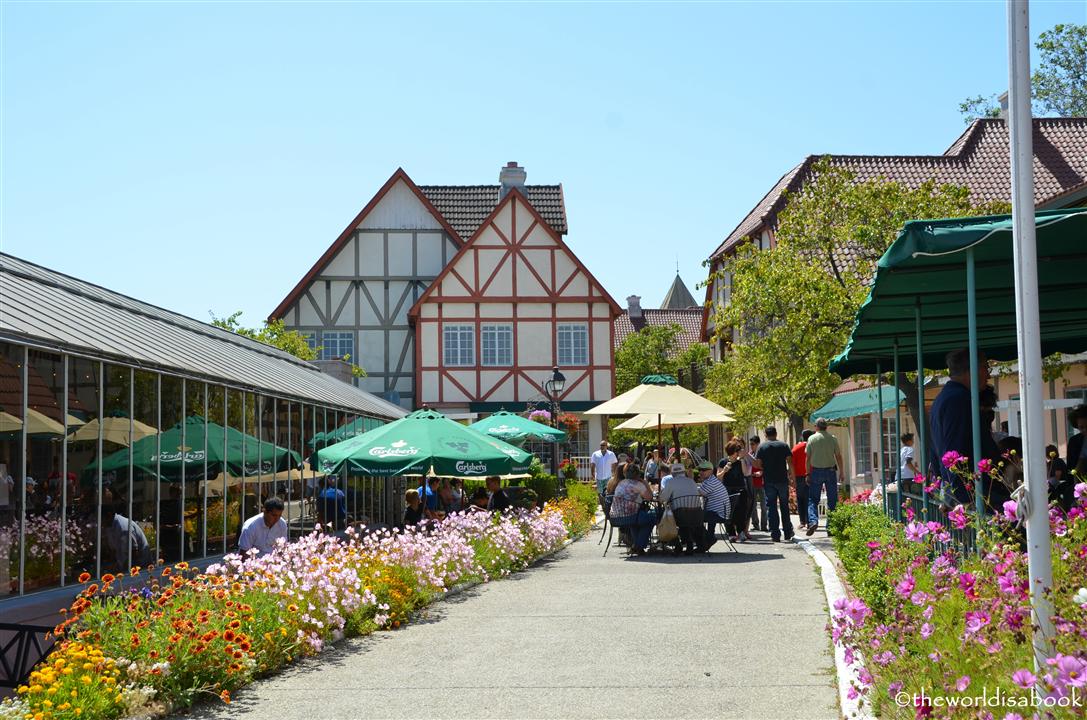 One of the best times to visit Solvang is during the annual Danish Days festival, usually held on the third weekend of September.  This three-day celebration of parades, dancing, live music and living history exhibits honors the establishment of Solvang and its continuing preservation of Danish heritage.  We actually went to one a few years ago and remember it being very festive with a lot of food.  If you ever need to have a little piece of Denmark without using a passport and spending a lot less, now you know that Solvang is the perfect escape.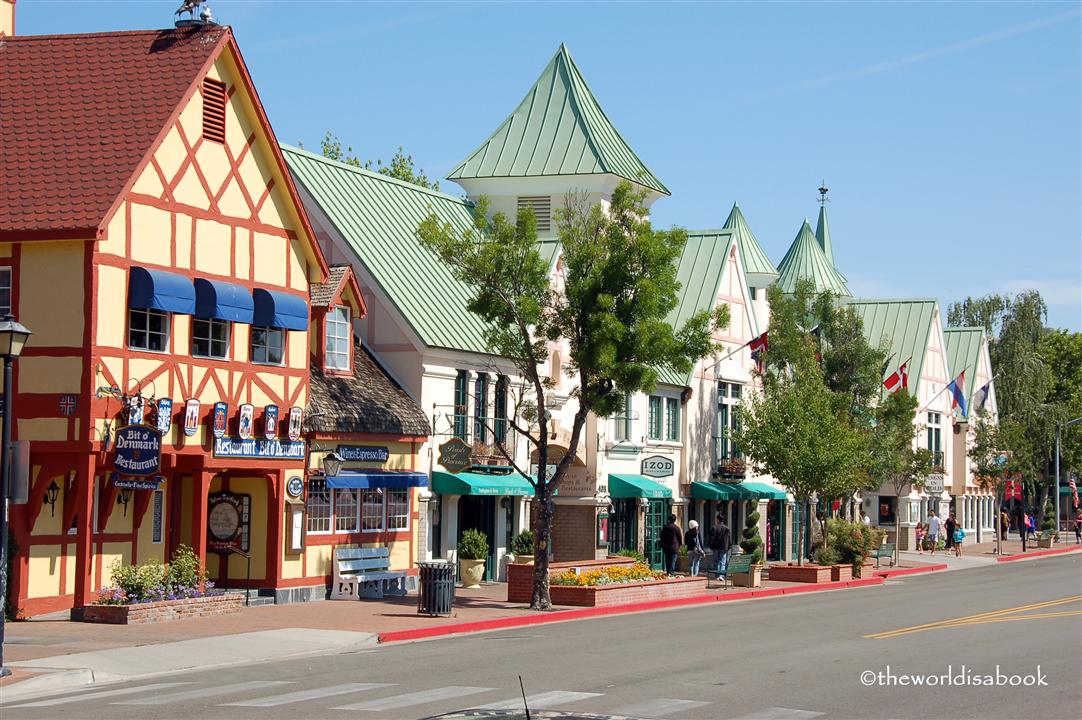 *Have you visited Solvang?  If you've visited Denmark, how does this compare? Has a town inspired you to travel somewhere? 
Pin it for later!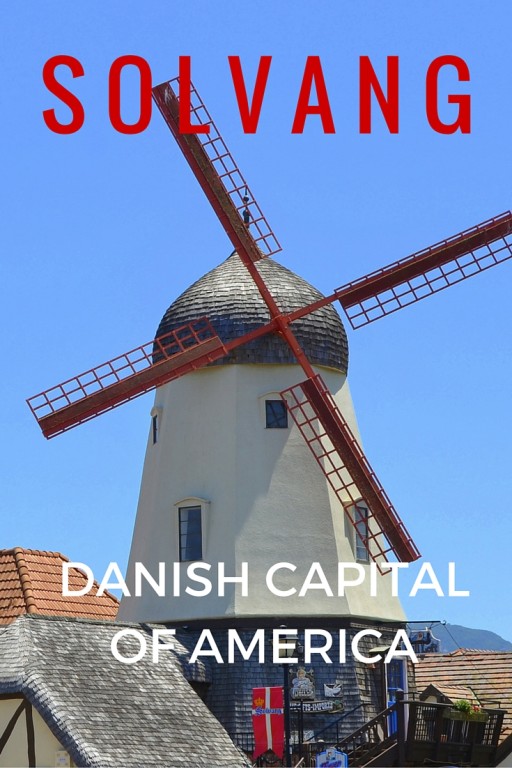 Check out these related posts: