Cruising the Canals of Copenhagen
We spent part of our vacation in Copenhagen last month after a four-day stop in Iceland.  The first tour we did was a canal tour to get an overview of the city.  I've always loved doing canal and river tours in Europe no matter how touristy they may seem.  They give visitors a unique perspective from the water.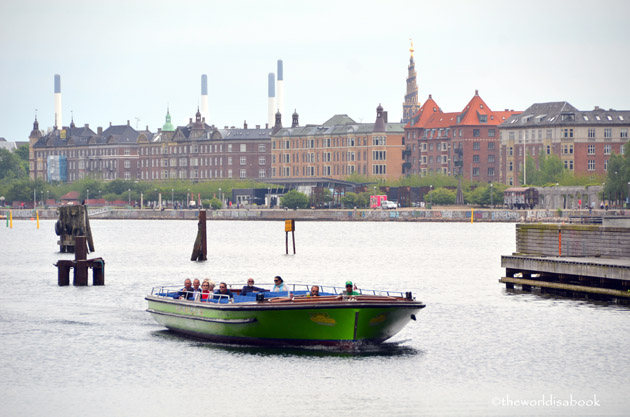 The tour took us through the old and newer parts of Copenhagen with 14 stops along the way to hop-on and hop-off.  It was a wonderful orientation to some of Copenhagen's main attractions.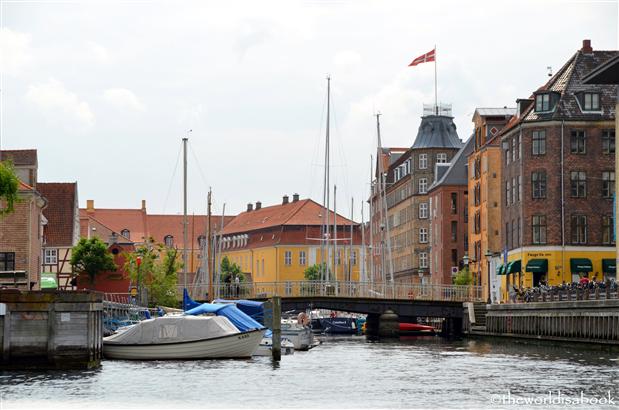 Some of Copenhagen's charming canals were definitely low and almost felt claustrophobic as we passed through them.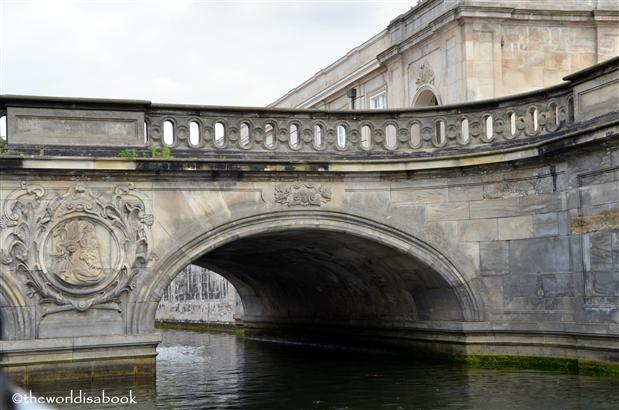 We lost count on the number of warnings we got to keep our heads low and stay seated.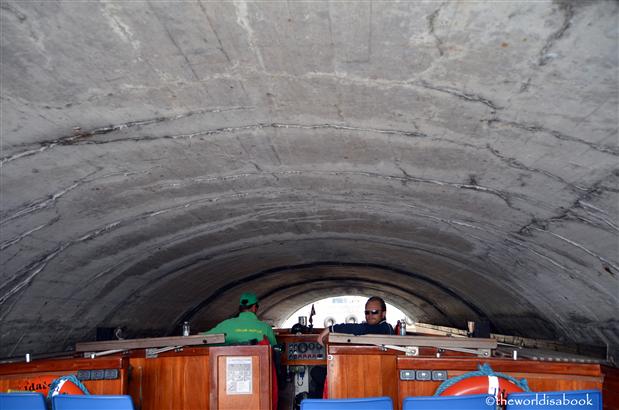 Christiansborg Palace has been around for 800 years and is now the location of the Danish Parliament and the Supreme Court. Some parts of the palace are still used for royal functions and events.  We did a tour of the undergrounds a few days later for a fascinating look into the history of the Danish monarchy and the palaces that stood before here.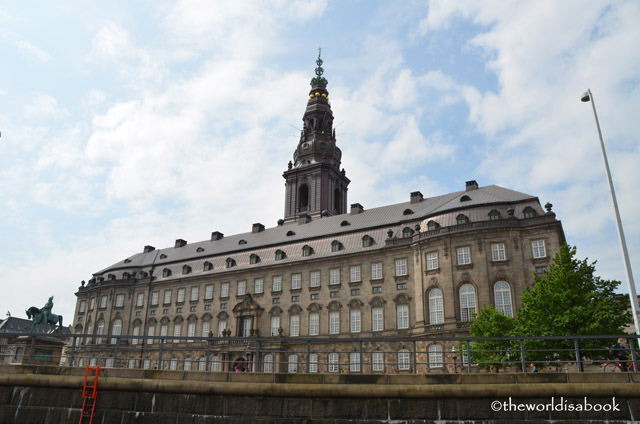 Next door is the Old Stock Exchange, one of the oldest buildings in the city and has survived the ravages of fire, weather and time. Its interior is now largely used for banquet and conference facilities.  Its most distinguishing characteristic is the prominent 197 ft (60 meters) high spire of four dragons whose tails are intertwined to the top capped off with three crowns representing the close ties between Denmark, Norway and Sweden.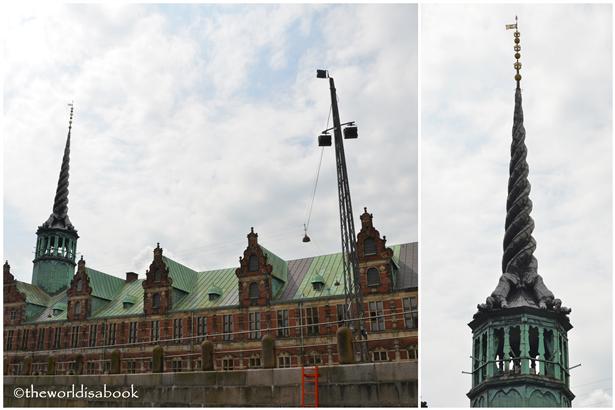 One of the most popular areas in the city and one of our favorites was Nyhavn (meaning new port).  This was the gateway from the sea to the old inner city and a hub for trading and shipping activities.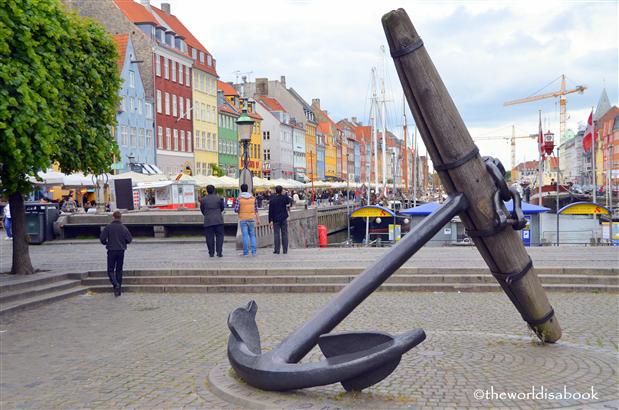 Nyhavn's colorful, picturesque houses are some of the oldest parts of the city's harbor dating back to 1673.  It is now a vibrant area of restaurants and cafes overlooking the canal.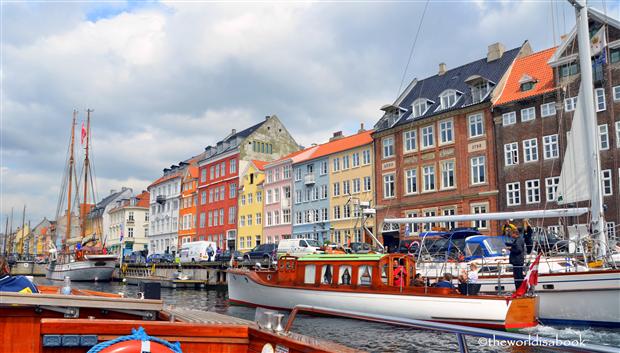 Many huge wooden ships and small boats lined the canals with so many activities going on.  We ate dinner at one of the restaurants here and loved the lively atmosphere and sitting in this famous, historical area.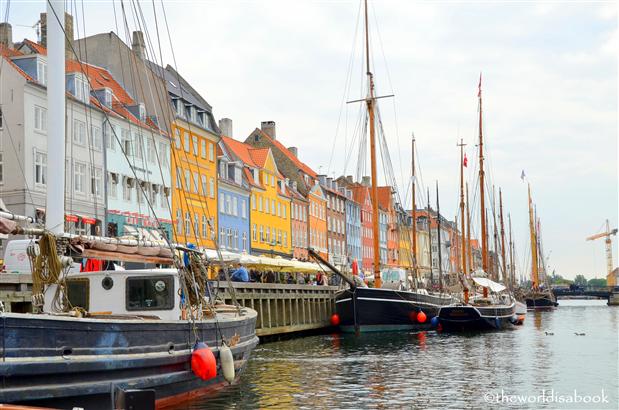 One of the most impressive modern buildings we saw as we sailed out into the harbor was the Copenhagen Opera House.  The 14-story building (five are underground) and its main stage can seat up to 1,400 people.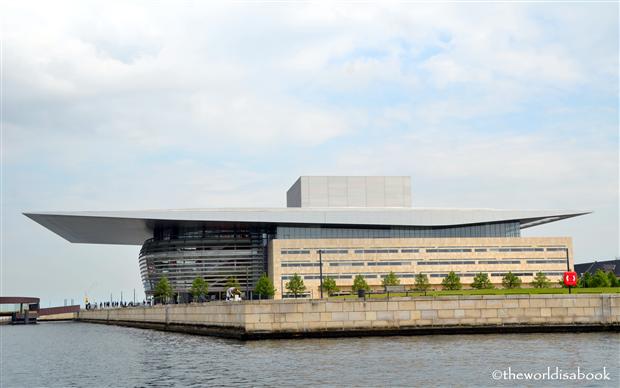 We passed by the Holmen area which served as Copenhagen's naval base for more than 300 years.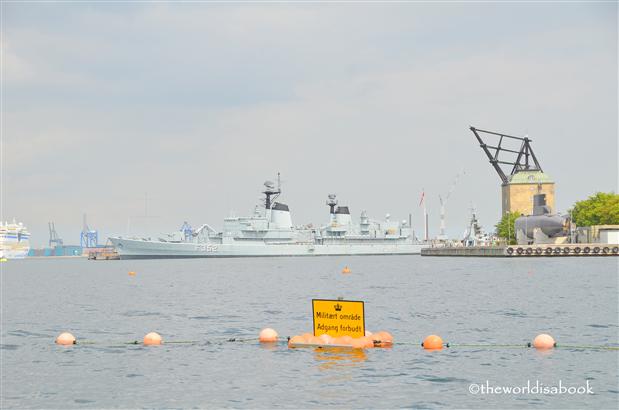 After what seemed like a very long ride, it was time for the one attraction on this tour my daughter was really looking forward to seeing – the Little Mermaid.   She loves Hans Christian Andersen's fairy tales and this bronze statue was based on his famous story.  Not Disney's version as my six-year old son liked to believe.

Perched on a rock in the water, she receives a million tourists every year.  She is undoubtedly Denmark's most famous statue and has been here since 1913.  This was the only area we hopped-off and stopped for over an hour to walk around and eat.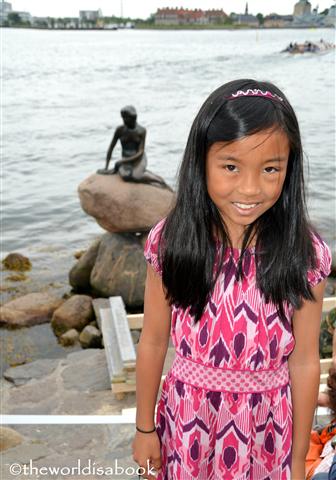 We never saw this mermaid below in any of the tourist booklets though.  She was twice as big as her famous counterpart in more ways than one.  We found her down the road from the famous statue at the Langelie promenade.
You never really know what you see when cruising around the harbor.  We passed by this glistening, fancy boat and found out it was the Queen's yacht.  It was a bit surprising not to see it all roped off.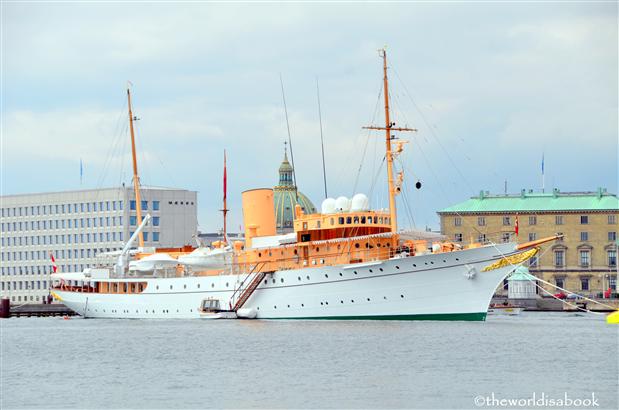 The furthest area the tour ventured out to was Trekroner.  This small island is the oldest sea fortress in the fortifications built to defend Copenhagen.
Trekroner was the site of many  battles and was a military barracks for the Danish navy.  It is now a site of historical buildings and also a recreational area.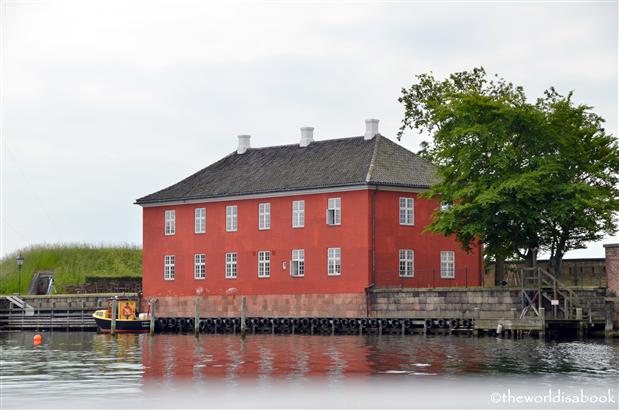 Our last stop was the Christianshavn area, filled with narrow cobble stoned streets, interesting buildings and restaurants.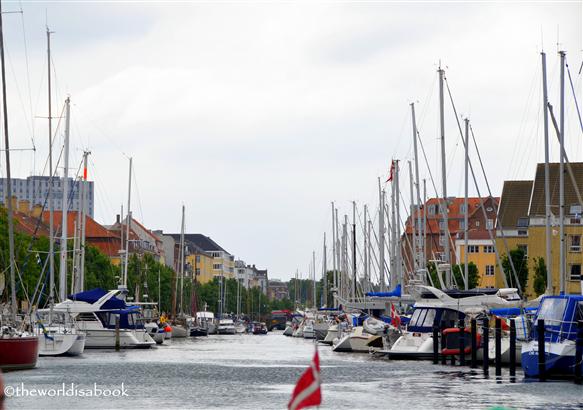 The Church of Our Saviour's distinctive spiral tower with gold accents stands out in the city's skyline and is Christianshavn's famous building.  This tower is 295 feet (90 meters) high and was inaugurated in 1752.  We nervously made the trek up the 400 steps, including the external staircases, to the top for some amazing panoramic views.  Read about our harrowing experience here.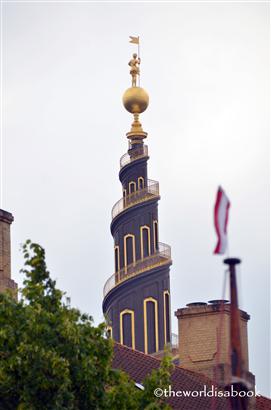 Some of the other scenes we saw along the way included several huge sandcastle sculptures during an exhibition.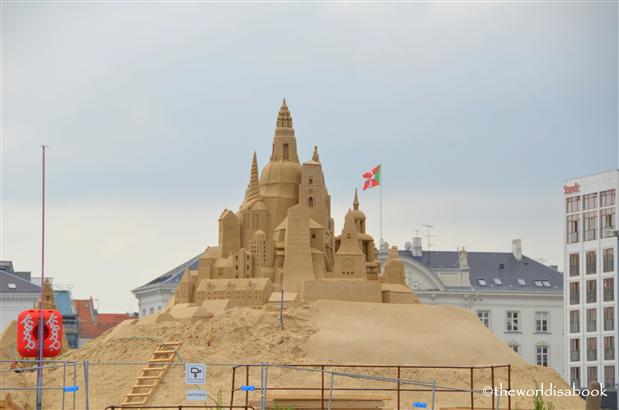 We also saw these giant sea windmill farms along Copenhagen's harbor.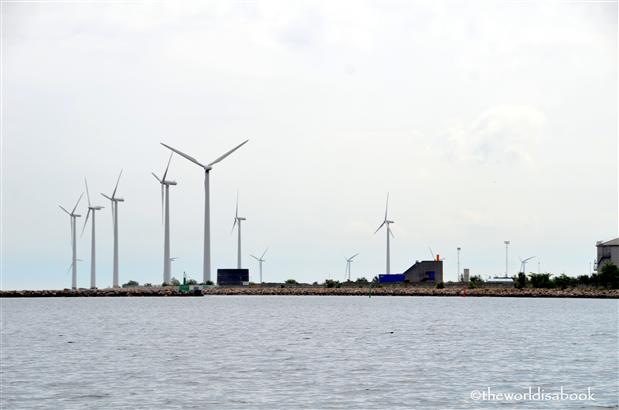 These swans were a pleasant sight to see along the water and delighted the kids.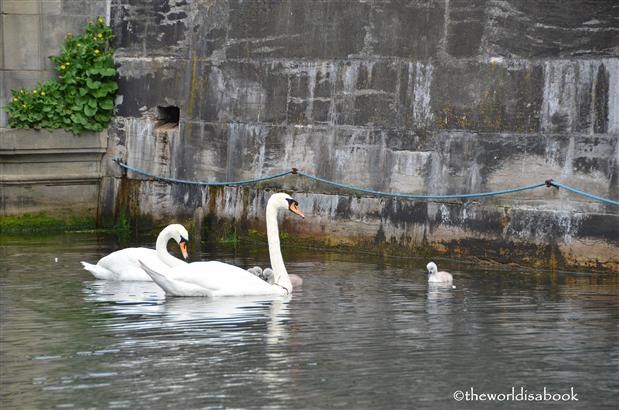 Sometimes, it's worth to take a closer look at the details as you pass through the bridges or one would miss seeing odd sights like this lion with a pacifier in its mouth.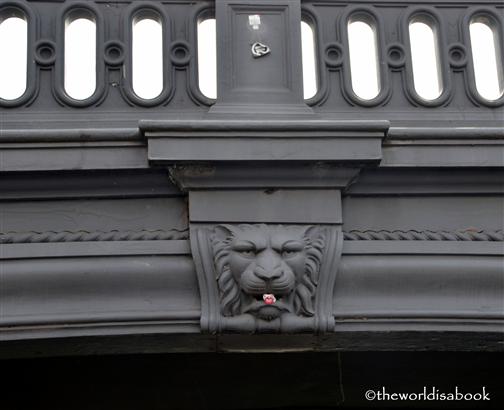 We definitely recommend a canal tour when first visiting Copenhagen.  The hop-on, hop-off ones were an excellent way to see the attractions and spend more time at each one.  The boats usually came within 30 minutes to an hour of each other.  Sightseeing by boat was informative, interesting, relaxing and a fantastic way to see the city.
Copenhagen Canal Boat Tour Basics:
We did our tour through Canal Tours Copenhagen. 
Tickets can be purchased onboard.
Ticket prices: Adults 70 DKK (about $11.80 US); Kids 6-11 yrs old 40 DKK ($6.70 US)
Get the Family Ticket (good for 2 adults 3 kids) for 180 DKK ($30 US).  This is huge savings for traveling families.
Hop-on/Hop-Off in operation only in May – September.
Headsets were provided to plug into a device on each seat for the audio guide.  Tour commentaries were activated as we approached each site and were avalable in 11 languages.
Canal tours can be combined with the hop-on, hop-off bus tours.
Dress in layers and bring umbrellas or hoods.  Copenhagen's weather was sporadic and unpredictable with sun, rain and clouds or all of the above during our tour.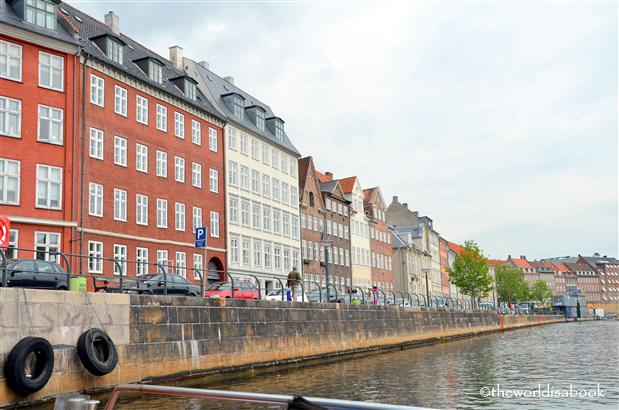 *Have you enjoyed a cruise along a canal or a river on your travels?  Please share your favorites.