Iceland with kids: Getting there and around
Considering the state of airlines these days (particularly the American legacy carriers), it was refreshing to fly on an international airline that surprised us with little things that made flying a bit more tolerable.   We flew on IcelandAir specifically to take advantage of the free stopover in Iceland on our way to Copenhagen during a recent vacation.
IcelandAir is one of the few airlines that offer these "two nation vacations".  Passengers can stay in Iceland up to four nights before or after a trip at no additional cost.  It's a good way to break up a trip to Europe especially when traveling with kids.  We've always wanted to visit Iceland and this was a good orientation to the country even if it was only for four days.  We caught the flight from New York's JFK airport which only took 5.5 hours to get to Iceland.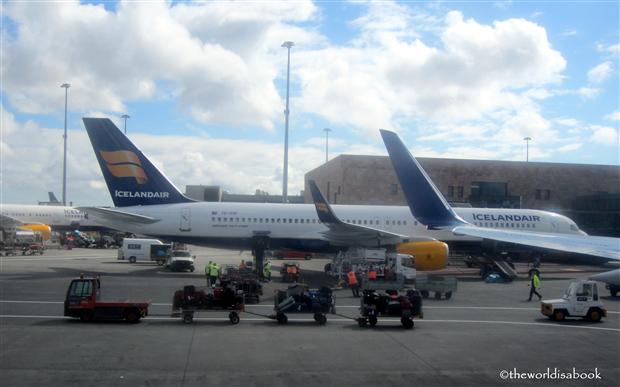 Icelandic culture is inherent in its national airline.  This was evident upon stepping on to the plane. We were greeted by smartly dressed, smiling flight attendants handing out pure Icelandic glacial bottled water.  I know it's just water but considering we've had to beg some domestic airlines for cold bottled water these days, this was already a nice start.
The seat headrests had little lessons in Icelandic phrases, blankets with cute sayings and pillows with an Icelandic lullaby. What a fantastic way to introduce Iceland to its passengers.  The seats were equipped with in-flight entertainment which made my kids so excited.  Our flight to New York on a domestic carrier was uneventful and lacked any form of entertainment.  Selections were varied with movies, TV shows and documentaries.  Don't miss the Iceland orientation documentary.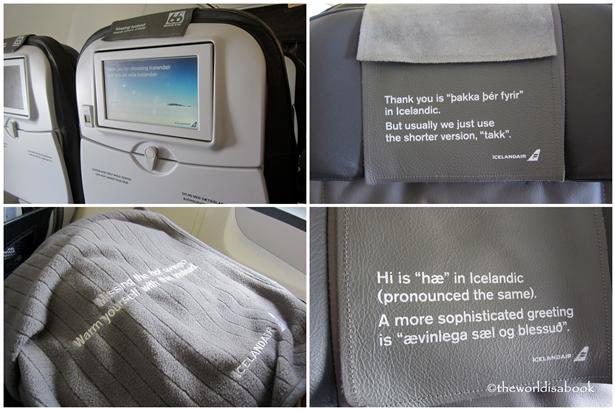 The 5+ hour flight meant no free meals.  A friend flew Icelandair from Seattle to Reykjavik on a seven-hour flight and didn't get free meals either.  The meals for purchase ranged from sandwiches to pasta.  The only thing we got was the ham and cheese baguette (twice) which was actually pretty good and reasonably priced at EUR 4 ($5 US) for its size.
IcelandAir was definitely family-friendly.  Their website claims "Kids are our most precious passengers."  They actually do follow through in serving the kids compared to many airlines here.  Families got to board right after the business class passengers.  Our kids got complimentary meals at every flight.  They also received crayons, coloring postcards, coloring storybooks and headsets.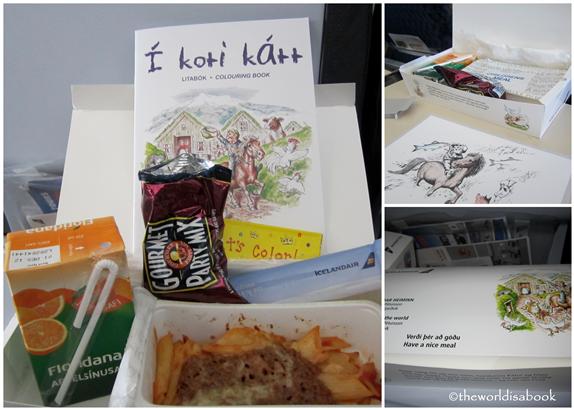 I know some of the other airlines give out more or a lot less in addition to the free meals but many don't really acknowledge kids as paying passengers too. We flew Air France a few years ago and the kids got some great amenities including a toiletry kit and games. We flew Delta to Japan last year and the kids just got plastic pilot wings.
We landed in Iceland close to midnight in early June.  The picture below was taken at about 1 AM outside the airport.  Seriously! This was one of the more cloudy days.  On the sunny days during our trip, the sun was bright and shining at midnight.  It took some getting used to but we loved that we had so much daylight hours to sightsee.
Getting Around – Driving in Iceland
Unlike many European cities, Reykjavik (its capital city) and pretty much all of Iceland doesn't have an extensive transportation system.  Actually, they have no public trains and buses seemed limited to the metropolitan area. Tourists visiting Iceland either have to go on tours or rent a car.  Keep in mind that Keflavik Airport (code KEF) is the international airport(which is the one many of us tourists will land at) and is about a 40-minute drive to Reykjavik.
Tours could get pretty expensive for families. It only made sense for us to rent a car to save time and money.  Plus, my kids don't do too well on long tour bus rides.  Renting a car gave us the flexibility to stop at as many scenic spots as possible and go on potty and eating breaks according to our schedule.  My husband did all the price comparisons and we ended up renting with Hertz for about $70 per day during their high summer season and over a weekend.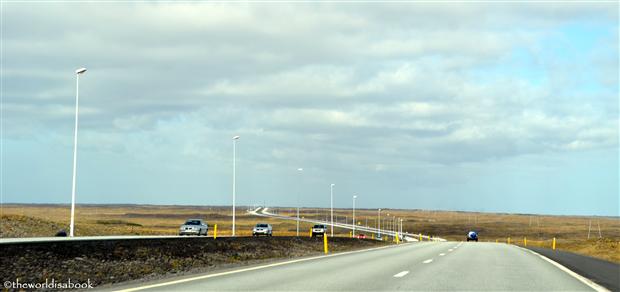 The rental car kiosks were right by the arrivals hall and there were quite a few agencies there.  We ended up with a compact car – a Volkswagen golf – which suited us fine.  It is recommended for tourists who venture further out into the remote, unpaved areas of the country to rent 4×4 vehicles.  No international driving license was needed as long as you have a valid driver's license in your home state or country.
The roads were well paved and signs were widely available and well-placed.  We've been asked a few times already but yes, they drive on the same side as we do in the US and Canada.  So, it wasn't hard to get used to driving.  Actually, people's questions were more along the lines of "Do they drive on the wrong side of the road?" which I always found amusing.
Don't be intimidated by the unpronounceable street and city names.  We brought along our trusted Garmin GPS navigation system from home with downloaded Iceland maps.  Our GPS worked perfectly fine throughout the trip and didn't manage to get us lost.  Iceland is a huge island so you can't really get too lost.  GPS units were also available at the rental car places for $10-$15 (US) per day.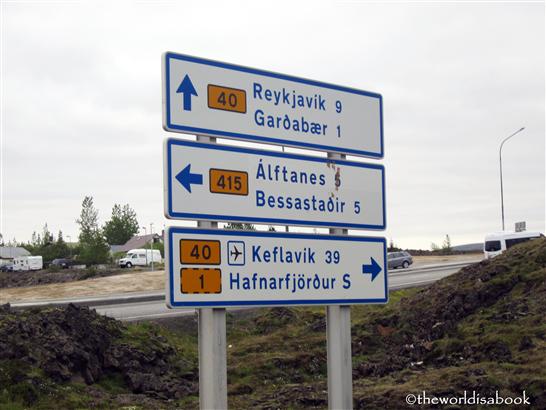 The Icelanders were courteous drivers.  There were quite a few of the roundabouts or circular intersections.  Traffic was non-existent.  My husband drove throughout the trip.  This was his first time driving in Europe since we've always used public transportation or visited friends who lived here.  He loved the open roads and the ease of navigating them.
Gas stations were full-service with no large variations in gas prices around Reykjavik.  We only put gas twice during our four-day rental despite traveling hundreds of miles.  My husband calculated the price (which was by liters) and was equivalent to about $7 per gallon which was twice as much as it was in the US in June 2012.  Yikes! That's what we said when we filled up but despite that it still came out cheaper than going on tours.  I didn't pay attention to how much it was in liters but just be prepared to pay a considerable amount more in gas than you're used to at home.
Driving in Iceland Tips and Thoughts
Go Online.  Shop around for best rates on rental cars online.  Also try to book these cars online in advance.
Stick is cheap.  Manual transmission cars were more available and cheaper than automatic transmissions. We both don't know how to drive stick shift cars so we paid a little more.
Scrap off-roading.  Save some money and don't rent a 4×4 vehicle if you don't need to go off-roading and are just going on the main roads.  We drove on some gravel areas and the car was fine.
Direction Ready. Bring your GPS navigational systems from home and download the Iceland maps.   Program your destinations into the "Favorites" list on the GPS to save time.
Gas-up! Gas stations were few and far between when driving the Golden Circle or on off-the-beaten paths.  Plan your gas fill-ups accordingly.  Most of the gas stations were concentrated in the city area.
Cash is king.  Having cash (Icelandic krona) is highly recommended when paying at gas stations just in case they don't have credit card machines or only accept the European based credit cards with PINs.
We loved our visit to Iceland so much we'd gladly fly Icelandair again on a return trip to Europe or fly to Iceland for an extended trip.  For traveling families and travelers who want greater flexibility, renting a car is your best option to sightsee.  Having that rental car made our trip so much easier and stress-free.  It was a wonderful way to explore the outlying parts of this beautiful country on our own while saving time and money in the process.
*Have you driven around Iceland?  What other European cities have you had the most fun driving?
Related Posts: