Roskilde Cathedral: Art & Architecture in Denmark's Royal Burial Site
There is something both calming and captivating when visiting European churches.  They are more than places of worship but works of art and historical structures that transcend time.  I find European churches fascinating, especially cathedrals, and make it a point to go inside when passing by them.  We visited quite a few during our Scandinavia trip in June but Denmark's Roskilde Cathedral or Domkirke was unlike any church we've ever visited.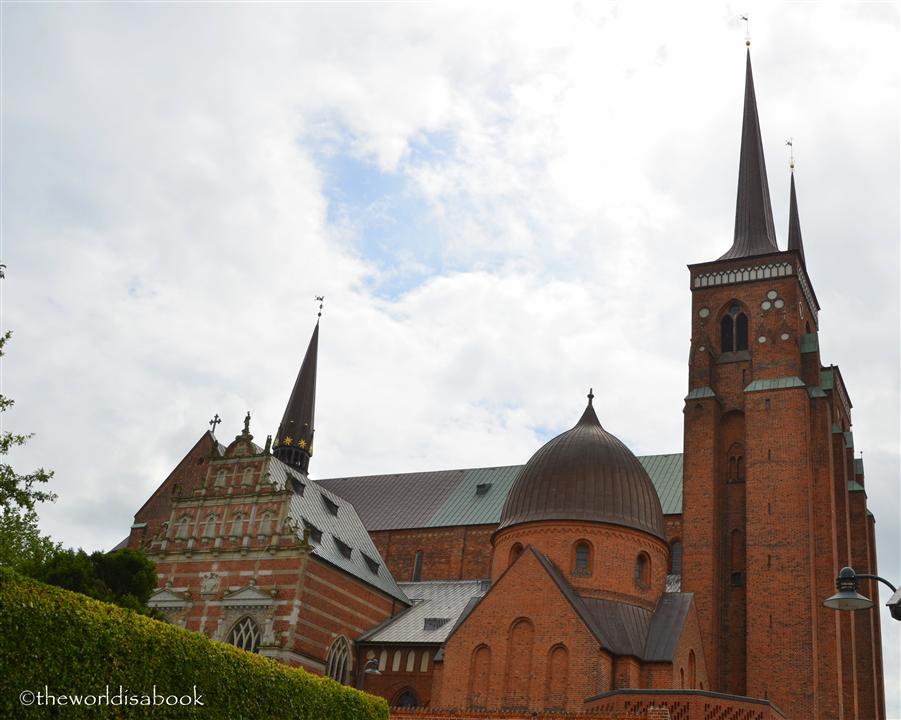 Our main purpose for a day trip to Roskilde, Denmark's former medieval capital, was to explore the Viking Ship Museum.  We had a good dose of Vikings and ships.  But, the town's other main attraction was the cathedral which was a UNESCO World Heritage site.  Its tall spires could be seen all over the town.  Other than being the town's parish,  this was also the main burial place of the Danish royalty since the 15th century.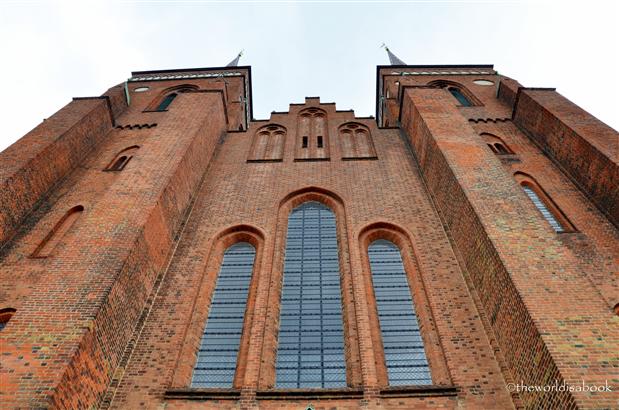 These  monarchs were honored in various chapels throughout the church.  We've visited some mausoleums but this had to be the most lavish.   It felt like visiting a museum with its collection of frescoes, paintings and sculptures.  This was the first time I'd heard of funerary art and it was at its finest.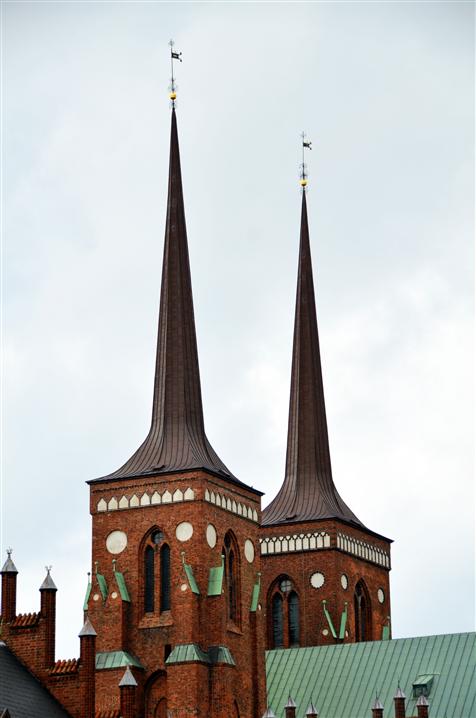 Many churches once stood at this location for more than 1,000 years.  The Roskilde Cathedral was first built in 1170 and construction took more than 100 years using 3 million fired clay bricks.  The French-inspired Gothic red brick structure had many chapels added throughout the years.  Each chapel was distinct based on the monarch's wishes and personality.  It displayed different architectural styles depending on the period it was built.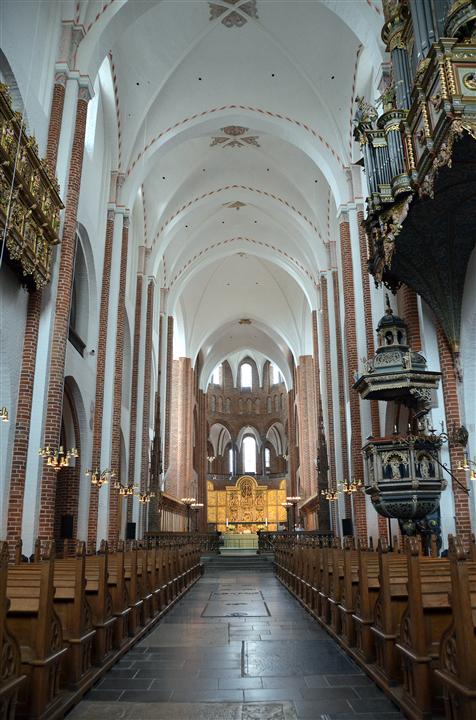 The first chapel we saw was the Chapel of the Magic which Christian I built containing extravagant, canopied sepulchre or burial vaults for himself and his queen.  Two of his children were buried in small chambers under the floor.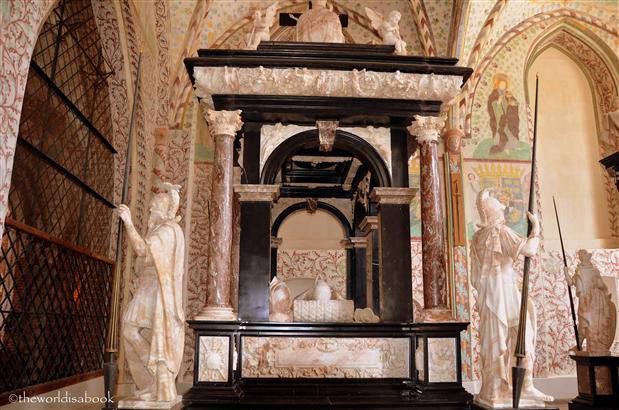 The well-preserved frescoes were impressive here including ones on the ceiling.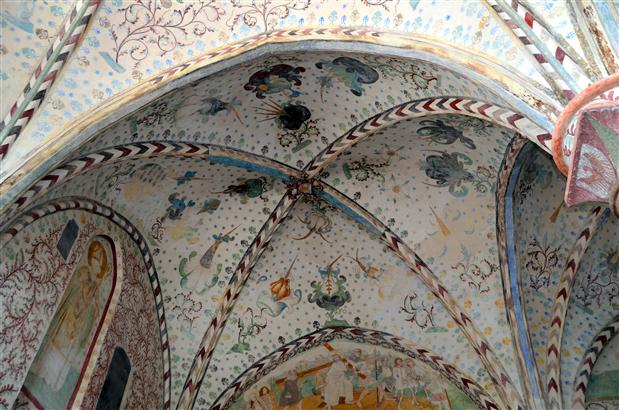 Built in the Dutch Renaissance Style, the medieval decorations covered most of the walls depicting a variety of saints and angels that were supposed to show the "daily intercession that should be prayed for the royal family's souls".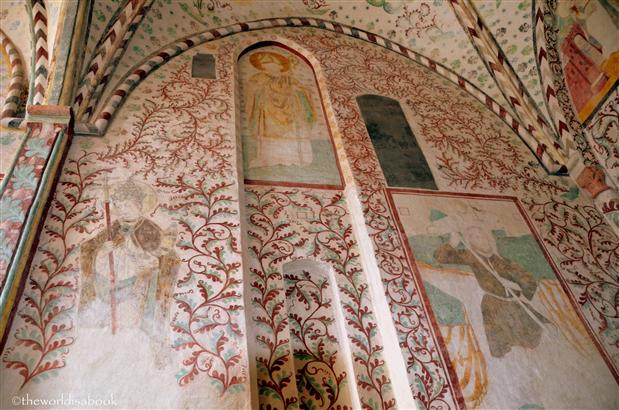 Prominent architects were commissioned to design these chapels.  Down the walkway was Frederik V's chapel built in a Neo-classism style and completed in 1789.  Considered as an absolute monarch, he wanted to be glorified and buried with the same honors as Roman emperors.  The white monument had two women statues grieving for the king and symbolize Denmark and Norway.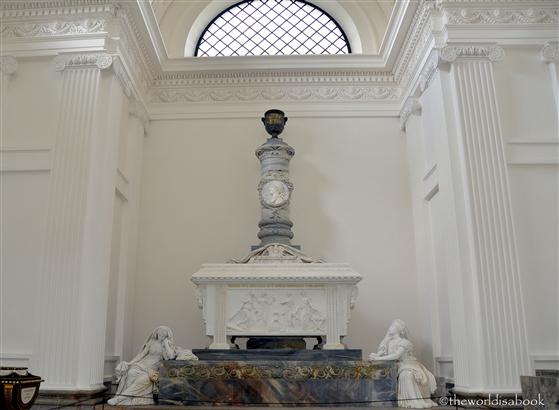 There were twelve other royal tombs in this chapel including 5 sarcophagi and fabric-covered coffins.  It was interesting to see how the monarchs were entombed and their varying styles- some more pretentious and grandiose than others.  It was a shame some of them didn't get to see it but those that planned well in advance were assured their resting places were being admired by many.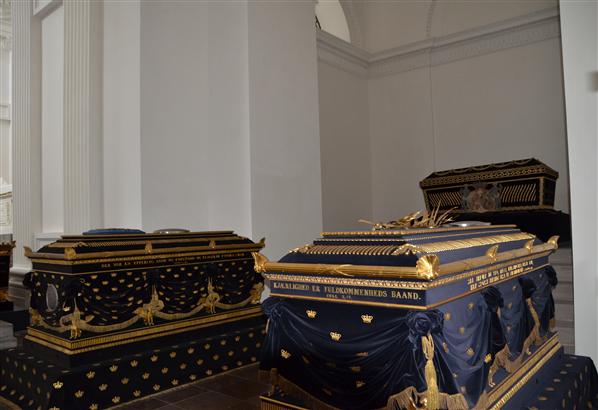 There was a sense of eeriness and morbidity as we walked around numerous tombs, floor plaques and knowing there were many more graves underneath the cathedral floor.  It felt really strange taking pictures of tombs and coffins but we couldn't stop.  Most of them were decorated so beautifully.  It was as if each monarch was trying to outdo their predecessors in terms of tomb and chapel opulence.  This was fairly evident with Christian IV's chapel.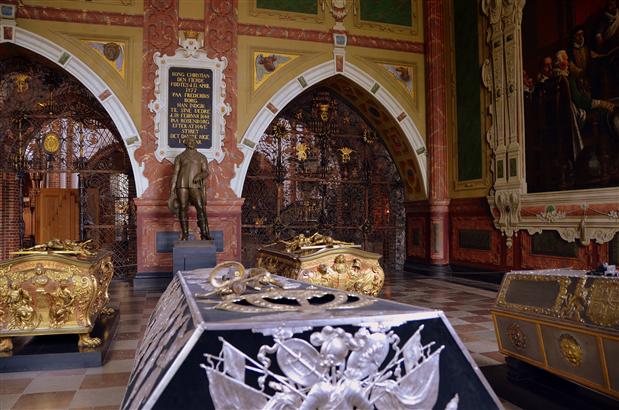 Built in 1620, two large paintings illustrated important scenes from Christian IV's life – a sea battle and as a judge and his statue watching over the chapel.  There were five ornately decorated coffins here as well – his was the silver and black.  This decorative ceiling and walls were not a surprise after visiting Christian IV's royal residence, Frederiksborg Castle, a few days earlier.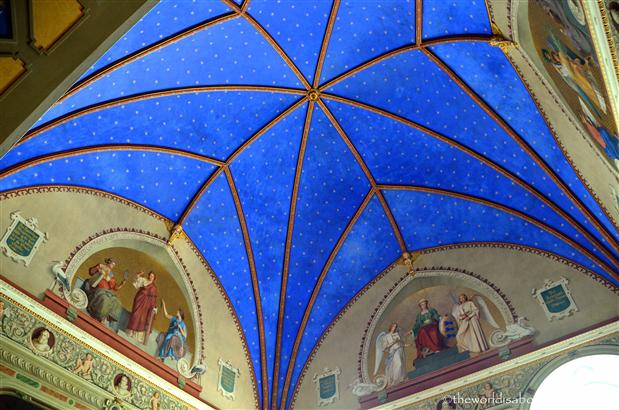 This was one of the stunning iron work separating the chapel from the church.
A stark contrast in simplicity and an example of a more recent style was The Glucksburger Chapel built in 1924 inspired by Romanesque and Byzantine architecture.   King Christian IX (who reigned for 43 years) and Queen Louis were entombed in a double sarcophagus with gold crowns adorning the top.  The three female sculptures surrounding it were Remembrance, Love and Grief.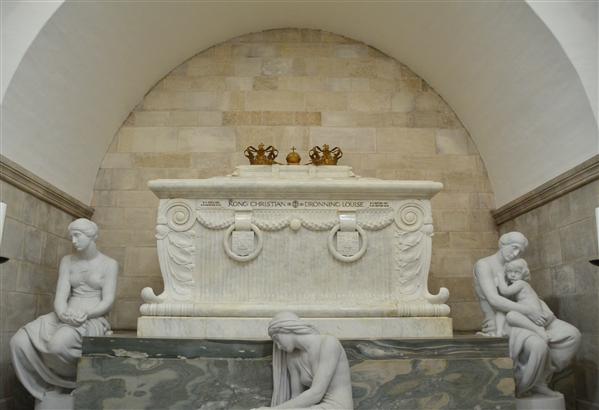 St. Birgitta's Chapel will be the future "sepulchral monument" of the current royal couple , Queen Margrethe II and the Prince Consort.  She'll be buried in a glass sarcophagus as depicted in this small model.  Definitely unique and modern for the 21st century queen.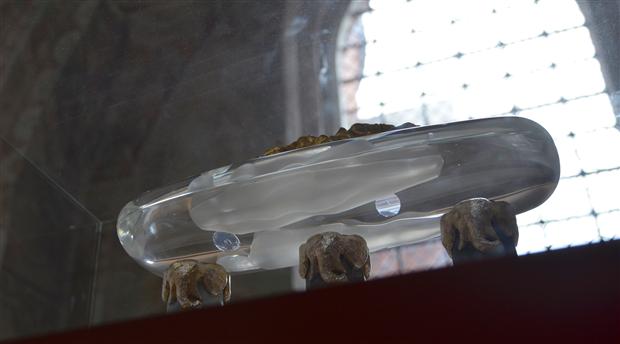 St. Andrew's Chapel was a small one used for some religious services. The highlight here was the altarpiece made of 56,000 small glass mosaic tiles representing Christ's tears falling. Various frescoes dating back to 1511 show some religious scenes including the apostle Andrew for which this chapel was named.  Even the simple chapels manage to have some stunning relics in them.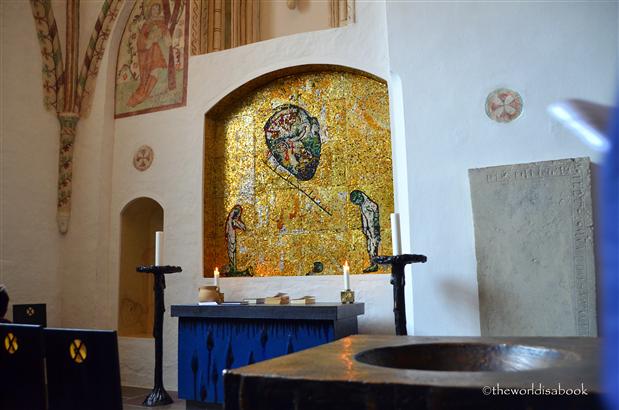 It was hard to ignore the other features of the church beyond the tombs.   The centerpiece was the gold three-piece altar which was made in Antwerp in the mid-1500s.  It showed the various scenes from Christ's life.  The details were stunning and sparkled with the sun's rays shining in through the windows.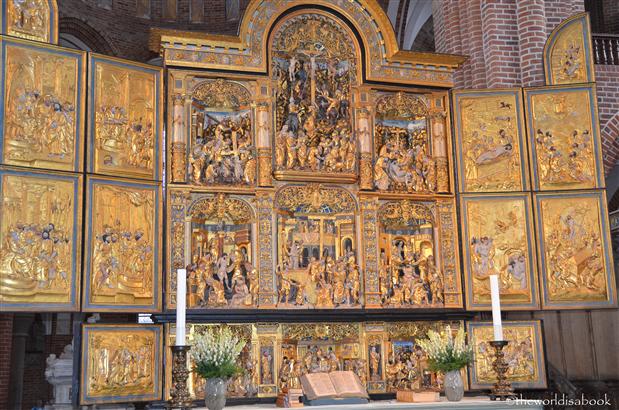 We walked behind the altar and saw more monarch and noblemen's elaborate marble tombs with carved portraits on top.  There were nearly 40 kings and queens buried in the cathedral but they were spread out throughout so it never felt like a crypt obstacle course.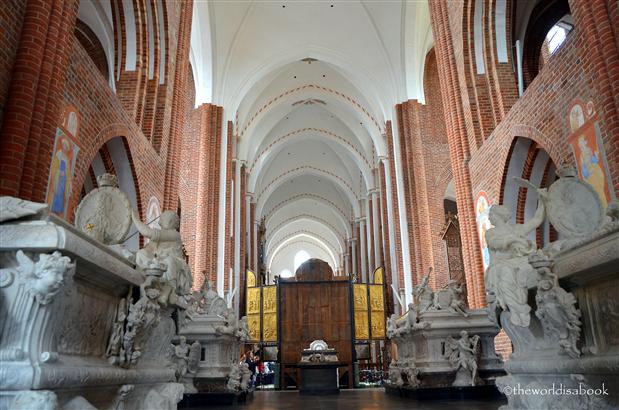 The most prominent sarcophagus behind the altar was of Queen Margrete I, Denmark's first queen, whose remains have been in Roskilde since 1413.  The sculpture of the queen lying in state with golden crowns was striking.  Its sides decorated with intricate carvings of  small religious figures embellished with gold accents.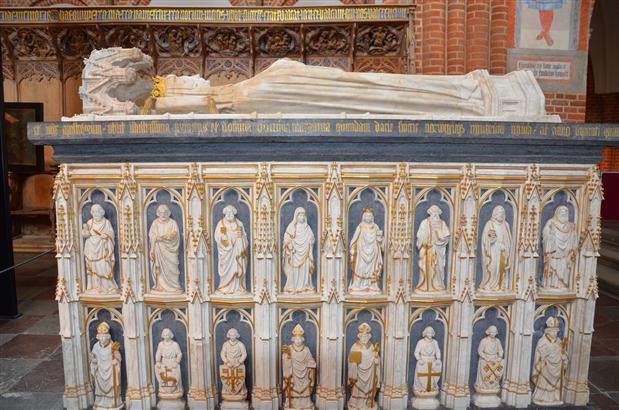 The impressive pulpit to the side was donated by King Christian IV in 1610.  It was made of brick and sandstone with a wooden entrance.  I loved the details in the side panels here.
The eye-catching private box hanging high above the cathedral walls were incredible.  King Christian IV had this two-room box installed with two floors of ornate, multi-colored and gold decorations.  I doubt this box was used much anymore during church services.
It's always a challenge bringing children to churches and this mausoleum had me a bit worried of creeping them out.  Surprisingly, my kids were fascinated with all the sculptures and frescoes and asked amusing questions like "Are there really dead people in those?" and "Are there ghosts around here, then?"  We gave them a camera and the worries went away.  Tired, little feet found these wooden choir stalls dating back to 1420.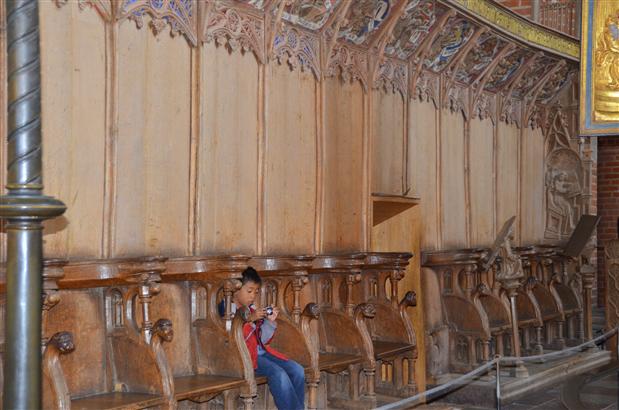 I never expected a day trip to see Vikings would also include this wonderfully unique Danish cultural heritage site.  It was interesting to see the varying qualities on each monumental tomb – all masterfully crafted.  Roskilde Cathedral's exterior may not be as impressive as other European churches but its interior deserves a leisurely stroll to fully appreciate its historic and religious art and architectural details.
Visiting Roskilde Domkirke thoughts and tips:
The cathedral is closed for touring during church services and ceremonies.
There are no restrooms in the cathedral but public restrooms were at the nearby square.
Free admission with the Copenhagen card. Admission is 60 DKK ($10 US) for Adults; Kids under 18 are free.
Guided tours are available for a fee.
There is a Cathedral museum above Christian I's chapel showing exhibits on the Cathedral's history. It can only be visited on specific times and accompanied by the staff.
Roskilde was less than half an hour by train from central Copenhagen.
Visit the cathedral website for more information.
*Have you visited other mausoleums or churches in your travels?  How do you feel about visiting mausoleums as tourist attractions?
PIN IT NOW, READ LATER!