Yellowstone Lodging (and enroute)
We stayed at three different hotels for the three nights of our trip through Idaho, Montana and Wyoming and visits to Yellowstone and Grand Teton National Parks.
Old Faithful Inn – Yellowstone
There are many options for staying in Yellowstone although the choices dwindle if you're traveling outside of the summer season due to closures. However, for this visit, there was no question on where we were sleeping – Old Faithful Inn.  I have always wanted to stay at this historic hotel inside the park. We were lucky enough to be traveling during the fall so we were able to reserve rooms with only a few weeks before the trip.   This is the most sought after lodging in the park and is usually sold out months in advance. It closes for the season during mid-October through mid-May. It is the largest log hotel in the world.
Walking into the grand lobby was truly amazing. The atrium of 3 balconies was made of intertwined logs and branches with a bit of whimsy in some of them. The imposing giant stone fireplace with seats (including some rocking chairs) all around it was the lobby's centerpiece. It was actually composed of eight fireplaces but only one seemed to be operational. There were plenty of seating areas in the balconies looking out into the lobby. There were also window seats and writing desks in the second floor balcony area.   A piano player entertained the guests.  There was a coffee shop on the second floor area too near the balcony entrance to see the geyser eruption. There was restricted access to the upper levels due to safety concerns after earthquake damage some time ago.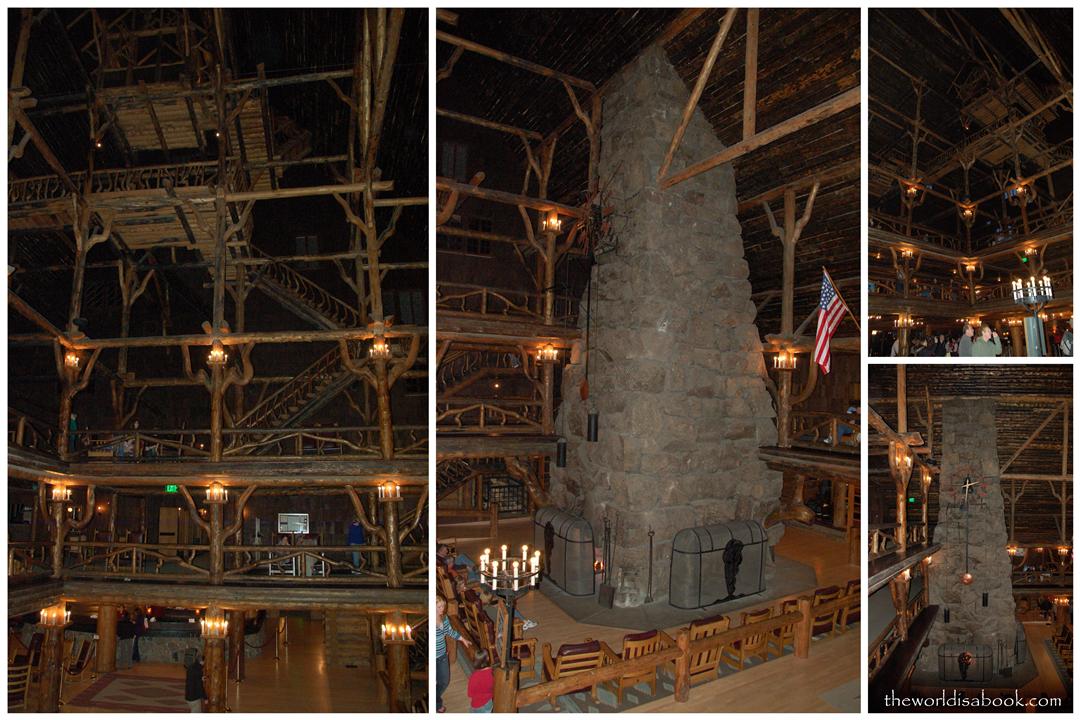 We booked the room in the West Wing Standard which was the newer addition (as in during the 1920s) connected to the old building through a foyer and they classified it as "premium rooms". We got the rooms with 2 queen beds. The room was quite sparse and minimally decorated with no rustic atmosphere.  Frankly, it looked a lot more like a motel room and was not what I expected. We had a private bathroom with a tub/shower and linoleum flooring and wood paneling. There was a heater in the corner of the room by the window.
We had a view of some of the hot springs. A stuffed moose toy (which was actually pretty soft) from the Yellowstone foundation greeted our kids in the room and cost $16.99 if we decided to keep it. My kids' biggest gripe about this hotel room was…NO TELEVISION. So, please be aware and bring that valuable DVD player, laptop or other form of entertainment to keep them occupied at night. We got there pretty late and had dinner afterwards so by the time we got back to the room it was bedtime for the kids. I guess bad plumbing could probably be expected at an old hotel. There was not enough water pressure in the toilet to begin with so we had a clogging problem. We did call the front desk and maintenance came within a half hour. The staff we encountered were all friendly and helpful during this stay.
However, for the really rustic, old world, cabin feel, one only needed to stay at the original part of the hotel called the "Old House" which was completed in 1904. The rooms still have shared bathrooms with only a sink in the room and have log walls and ceilings. Robes were provided. The bathrooms with private showers were on the same floor usually at the end of the hall reminiscent of those college dorm days. There was a little window in the room so it didn't feel too claustraphobic. My brother in-law and sister in-law booked this room for about $99. They were satisfied with their stay since it was only for one night.
TIP: If you're booking early enough and traveling during the non-busy season of June, July, Aug., call the Inn and request to be put on the list for your kids to go up to the treehouse and go with the bellman to raise the flags in the morning. All else fails, you can ask the bellman when you get there if they can go up. Unfortunately, we went on a holiday weekend and booked it less than a month before so their list was full. The Inn also offered historic 45 minute tours of the building with hours posted on the lobby.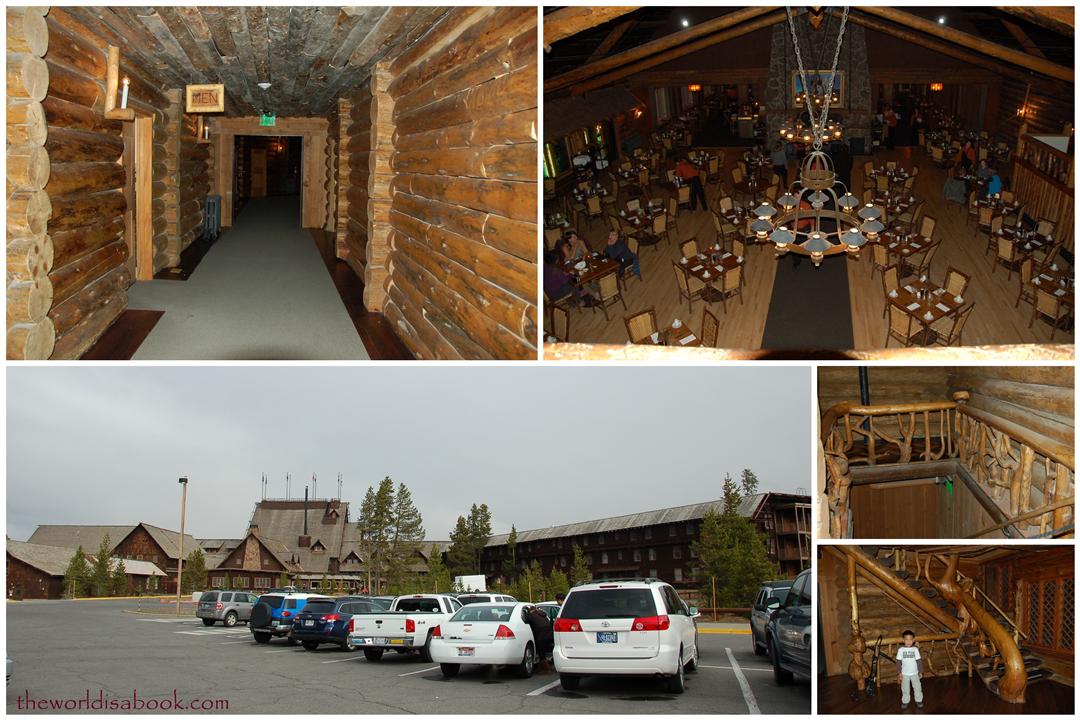 The best thing about this hotel , even more so than its unique architecture, was the location of course. It was right next to its famous namesake geyser and the newly opened visitor's center within the park. There was an outdoor viewing area for geyser eruption on the 2nd floor. A village surrounded it with stores, a gas station and some restaurants.  This was not a 4 or 5 star rated hotel but book this inn for its history, unique architecture, rustic ambience and most of all, location.
For reservations: 1.866.439.7375 (GEYSERLAND)
Wyoming Inn of Jackson Hole – Jackson, WY
This was my favorite hotel during our 3-day weekend trip to Yellowstone. It was on Jackson's main street off Broadway and about a mile away from the town square and downtown area. There was plenty of parking on the side of the building. Check-in was a breeze and hotel personnel were helpful. The lobby was beautiful and very inviting with a fireplace and cozy seating areas. There was a counter with coffee and delicious, homemade chocolate chip cookies when we came back from dinner. The computer common area was on the second floor overlooking the lobby.
We booked a room with 2 queen beds for a really great rate. It had a very rustic, homey feel to the rooms in tune with its surroundings and its proximity to Yellowstone and the Grand Tetons.   The wallpaper border had moose in it and the pictures were of the animals found in the parks. Just like Old Faithful Inn, there was a stuffed moose for sale that greeted our kids.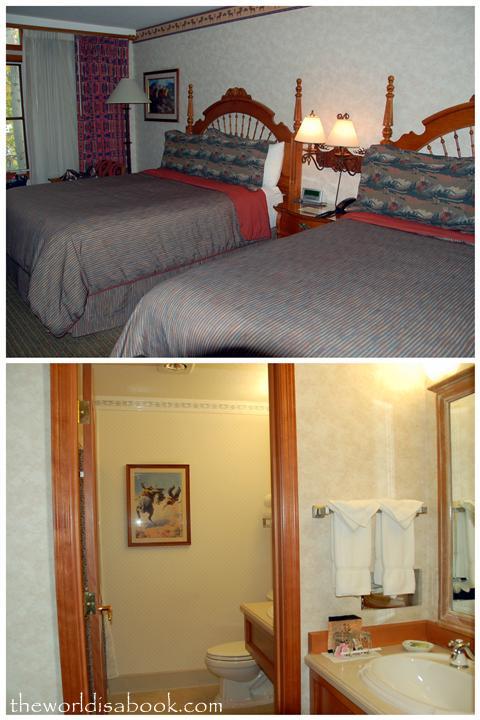 The beds were very comfortable and soft with a lot of pillows.   Apparently, they were Simmons Pillowtop mattresses which explained my extra sleep comfort.  There was also a sink right outside the bathroom in a little area across from the closet. This worked out really well for families especially when the bathrooms were occupied.  The bathroom was clean with plenty of complimentary Bath and Body Works products. The soaps were even bigger than the usual hotel room soap freebies.  Overall, the room and hotel was clean. My daughter's shoe went under the bed and I had to retrieve it. Lo and behold, I found a little card with a saying "Yes, we clean down here too."   What a wonderful little surprise and comforting to know.
The breakfast area was pretty spacious and there was a very friendly worker there who attended to us even though breakfast was largely self-service. There was juice, coffee (SBC brand) and fruits. The hot items included scrambled eggs. Individual cereal boxes were available and plenty of pastries such as bagels and muffins.  We would definitely come back and stay at this hotel on our next trip to Jackson.
Contact: 1.800.844.0035    Address: 930 West Broadway Jackson, WY
We stayed at this hotel for one night on our way to Yellowstone over Columbus Day weekend. This was about 6 miles from the airport located a couple of blocks from a hospital in a quiet street and was right next to the Holiday Inn. It looked fairly new with plenty of parking. We were only here for 1 night and we checked in after 10 PM due to a delayed flight. There was a 1-story mall and a 24-hour Wal-mart within a mile of the hotel. There was also a busy street parallel to it with many dining choices.
There were a few seating areas in front of a fireplace. Coffee and tea were readily available in the lobby. The breakfast area was small with only about a dozen tables.  Complimentary breakfast consisted of yogurt, bagel pizza, cereal, sweet sausages, fried potatoes, hard boiled eggs, pastries (bagels, muffins). Their fried potatoes were actually pretty good. Breakfast hours were between 7 – 10 AM in the lobby area.
Our non-smoking room consisted of 2 queen beds was spacious and clean. The beds were comfortable enough that no one complained of any issues the following morning.  Pillows were soft and there were plenty of them for all of us, We were provided with 4 cookies and 4 bottled water as Hilton HHonors members (which is usually a lot more than what we're usually given at other Hamptons).
Contact: 208.529.9800  Address: 2500 Channing Way Idaho Falls, ID
Related Links:
Check out these related posts: