Adventures at Arches National Park with Kids
We usually avoid National Parks in the summer due to the heat and crowds.  But, we spent this past weekend at Arches National Park for a day and a half of hike-filled adventure in the heat.  A last minute flight sale made this the kids' last summer trip before school starts next week.  Surprisingly, the heat wasn't as intense since some hikes were between large rocks and it wasn't as crowded as we expected.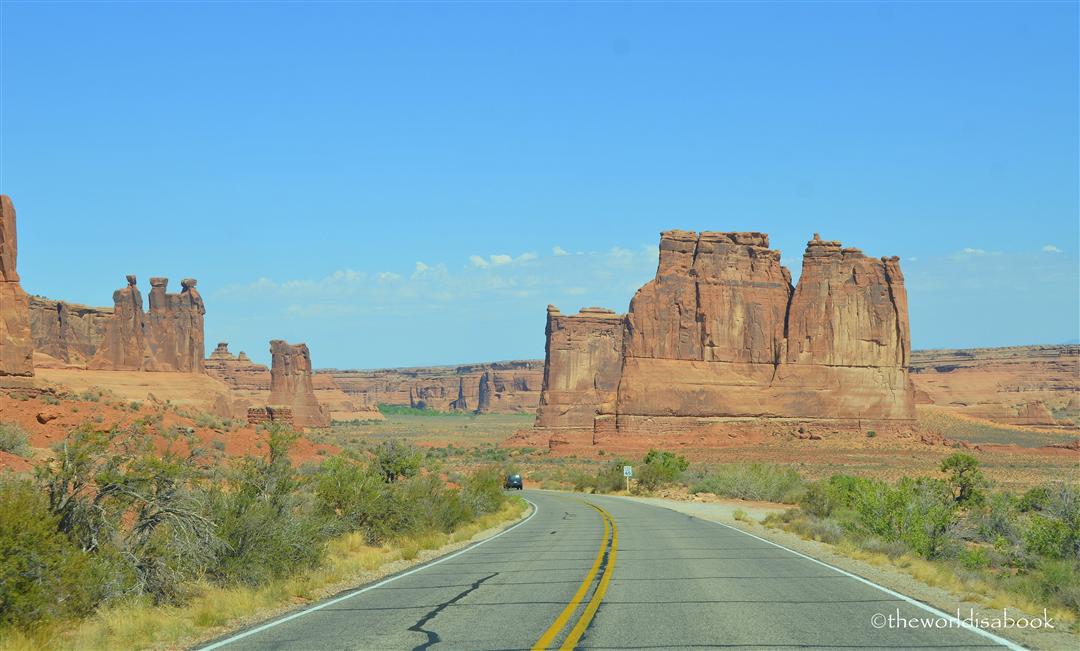 Arches National Park is located a few miles from the town of Moab in southeastern Utah. It has one of the most breathtaking and unique park scenery we've ever visited.  There are over 2,000 sandstone arches at the park which is the highest concentration anywhere in the world.  The arches and rock formations were formed through a combination of forces of water, ice, wind, extreme temperatures and the movement of the underground salt bed it sits on.  These gradually sculpted the landscape for thousands of years.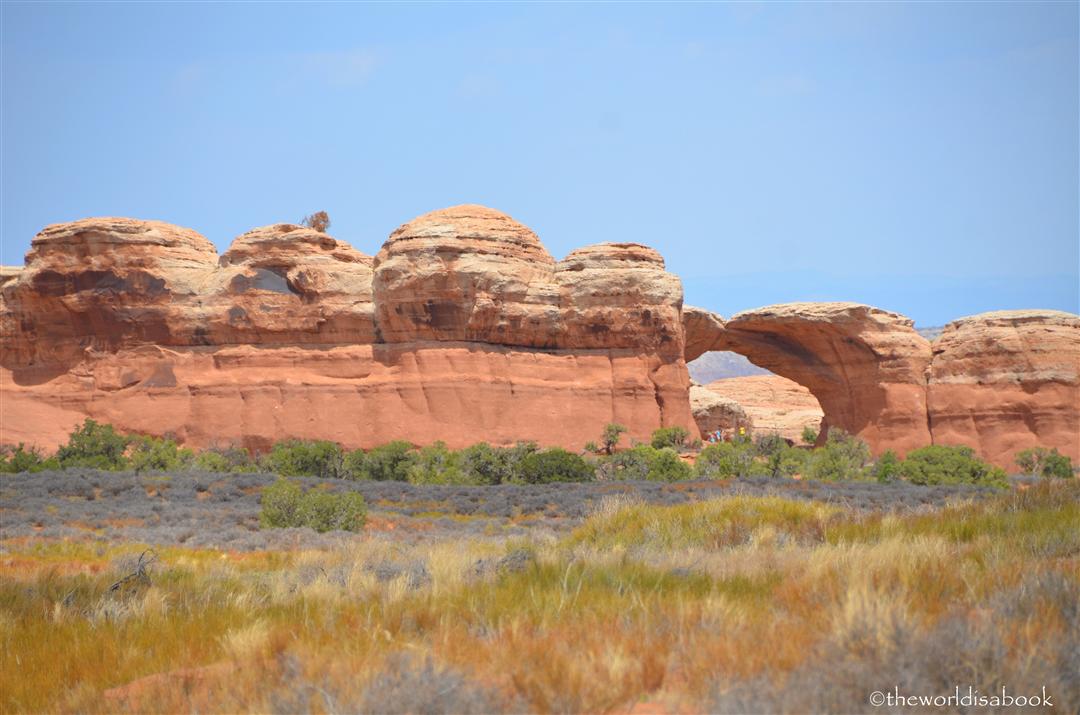 The park was also home to a variety of spires, pinnacles, sandstone walls or fins and giant monoliths.  The 36-mile (58 km) roundtrip scenic road had plenty of viewpoints and trails to marvel at these majestic spectacles.  One of the first things that greeted us were these huge red rock formations.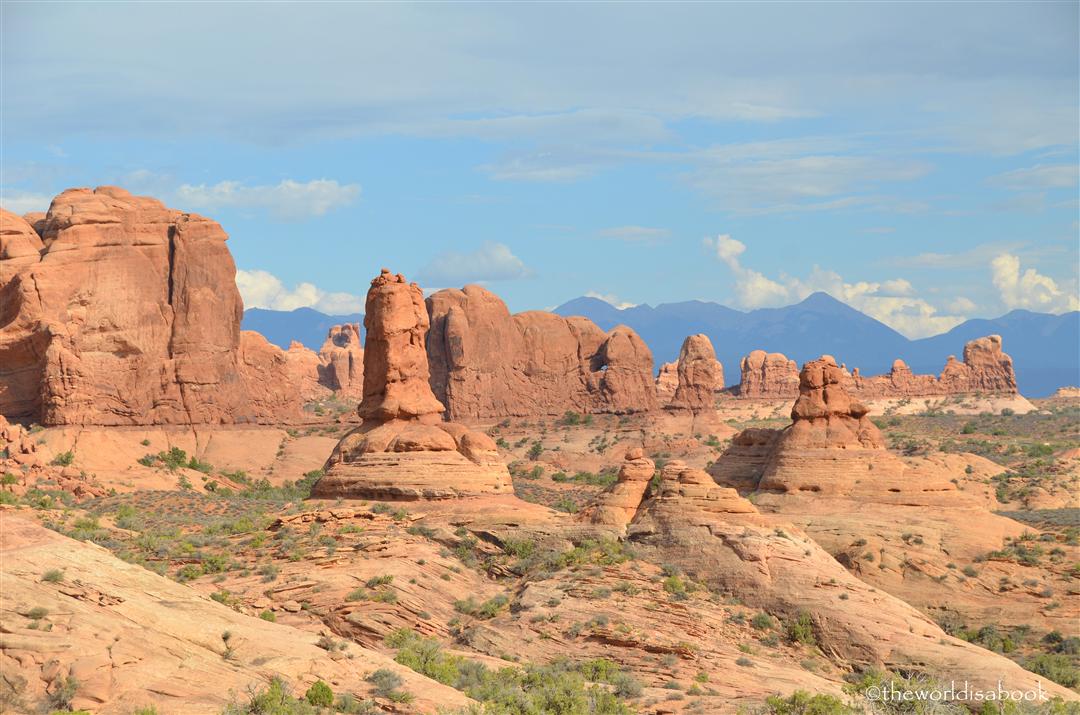 You look at these rock formations long enough and they seem to morph into something familiar.  My daughter instantly thought this one area of sheep's rock looked like a lion's head profile.  What do you think?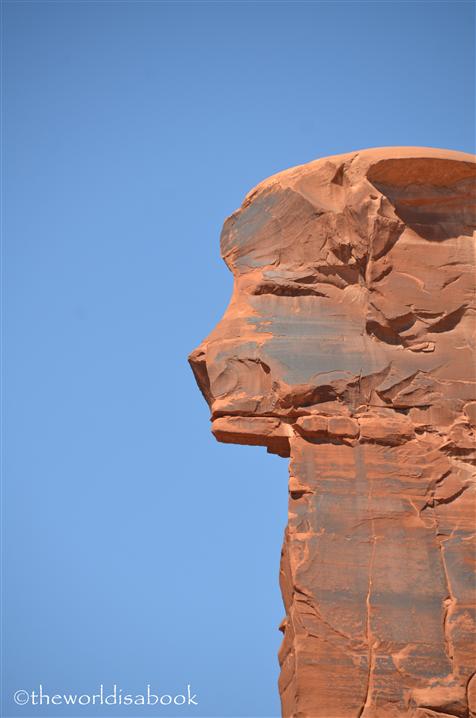 The high sandstone walls of the narrow canyon was called "Park Avenue" by early visitors since it reminded them of buildings lining a city street.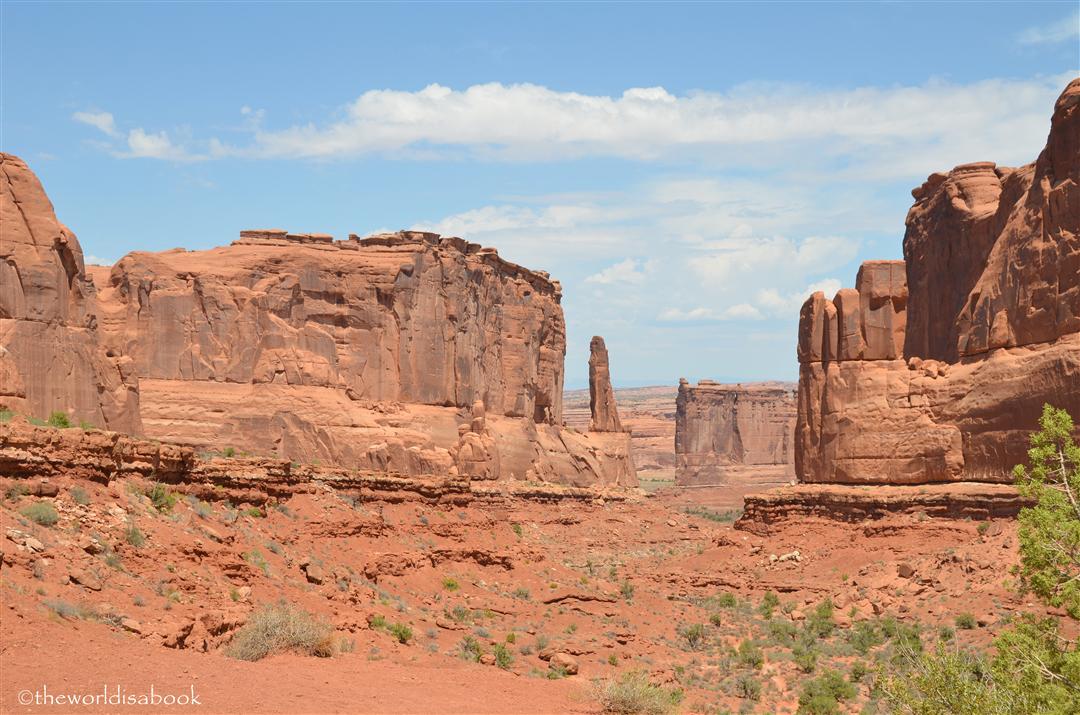 Balanced Rock was a 3,000 ton boulder that was perched 55 feet above an eroded rock pedestal – a sight that almost defied gravity.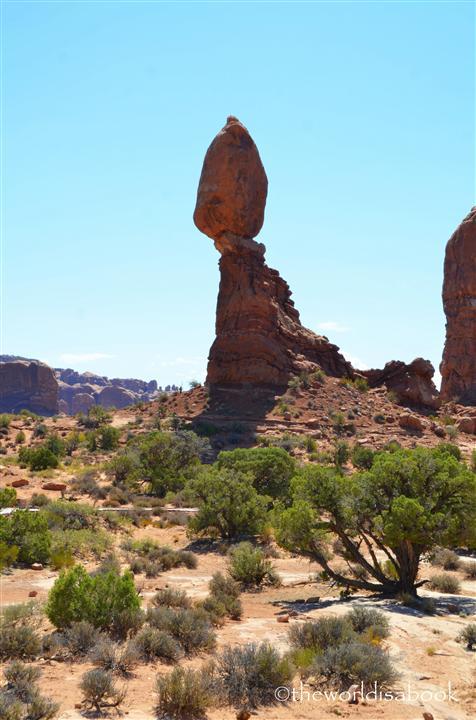 Many of the rock formations were named by the American Indians who lived here and called it as how it looked.  It seemed like Mother Nature picked the most stable base and carefully placed this huge rock on top of it.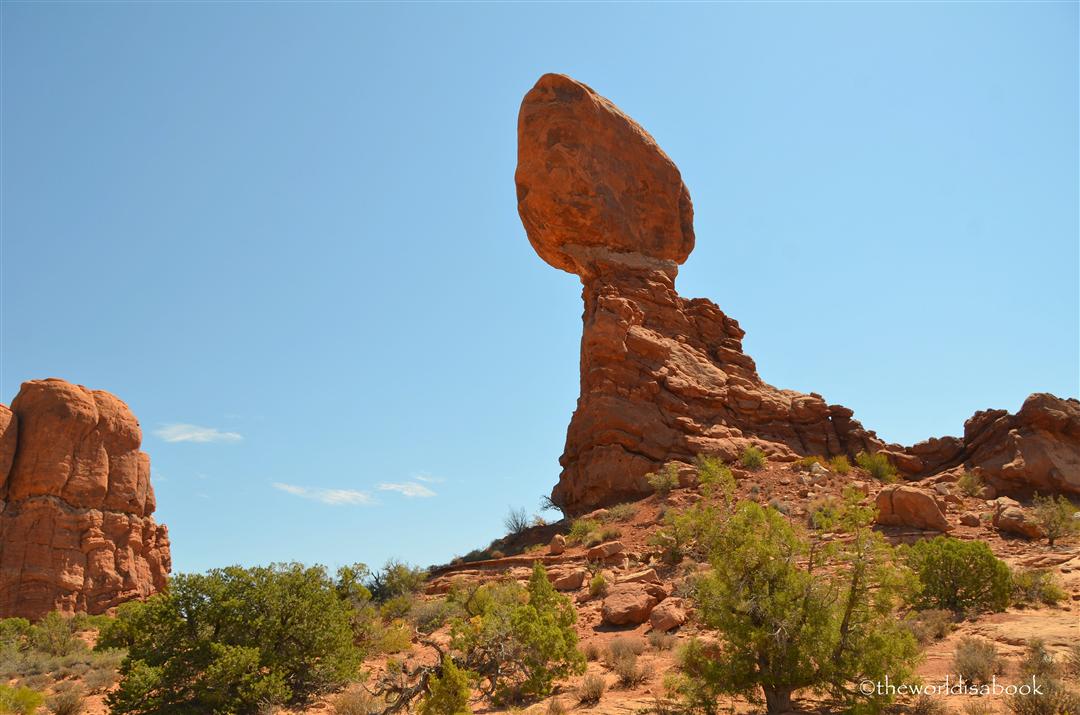 One of the first arches we hiked to explore was Sand Dune Arch.  Walking barefoot in the soft, red sand and climbing between huge rocks  made this easily my kids' favorite hike.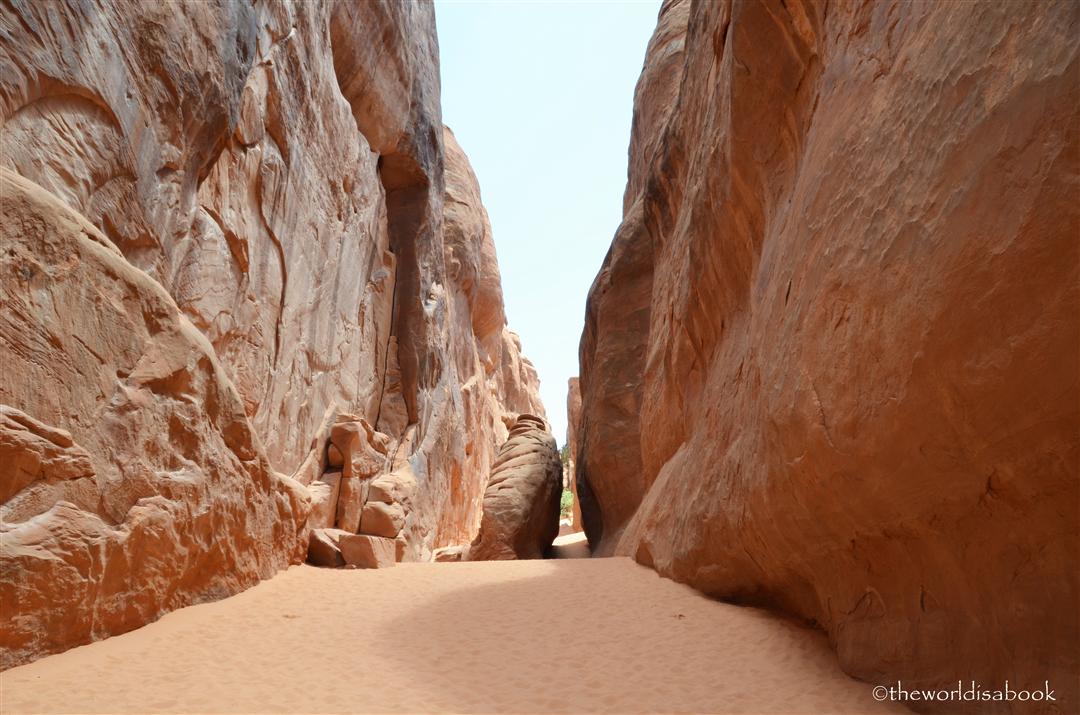 This was the most kid-friendly hike with shaded areas, a cool breeze blowing in between the rocks and a short distance from the parking lot.  It was also the perfect spot for playing if only we had some sand toys.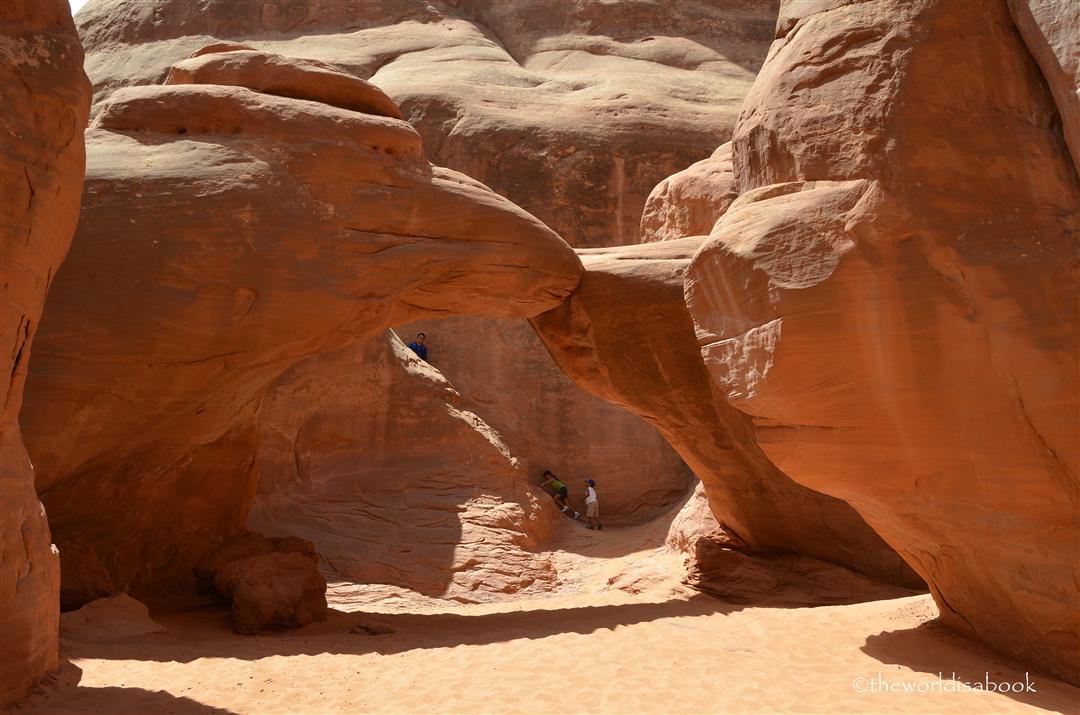 Also known as "red rock wonderland", the distinctive color around the park comes from the iron oxide.  Below is a small section of the red and white sandstone canyon of Fiery Furnace.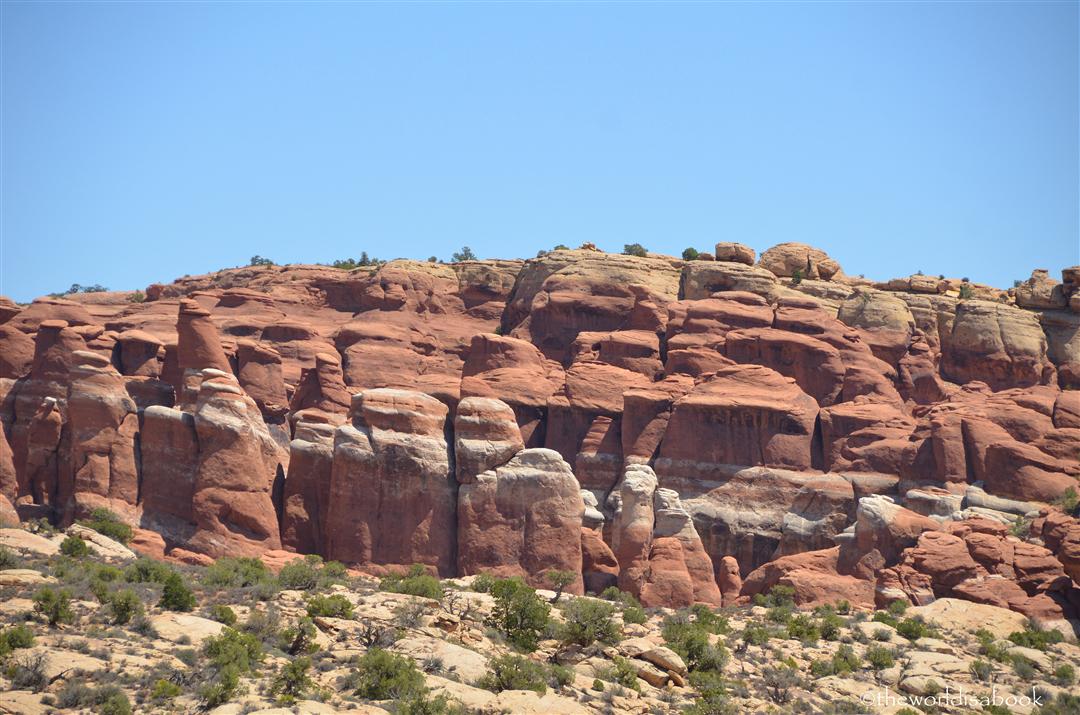 Skyline Arch was one of the prominent arches seen from the road on a slanted bed of rocks.  A huge boulder fell off the arch in 1940 which doubled its size.  Natural elements and time are continuosly sculpting the geological marvels in this park in what scientists call "erosion in action".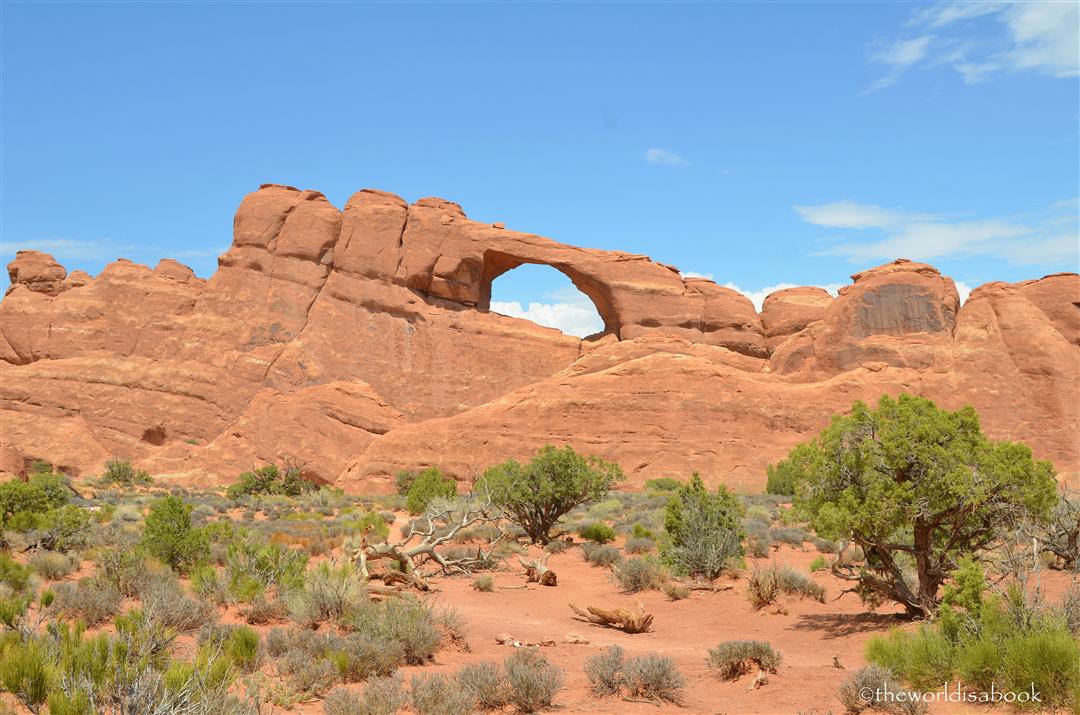 The scenic highway ends and loops around an area called Devil's Garden which is a trailhead and the park's lone campground.  A mile hike between tall sandstone fins is Landscape Arch.  This is the world's longest natural arch at 306 feet from base to base.  Part of it broke off 20 years ago and its narrowest point is now only 6 feet wide.  It is precariously thin looking reminding us of its vulnerability to the forces of nature.  The rangers highly recommend seeing this before natural elements take its toll.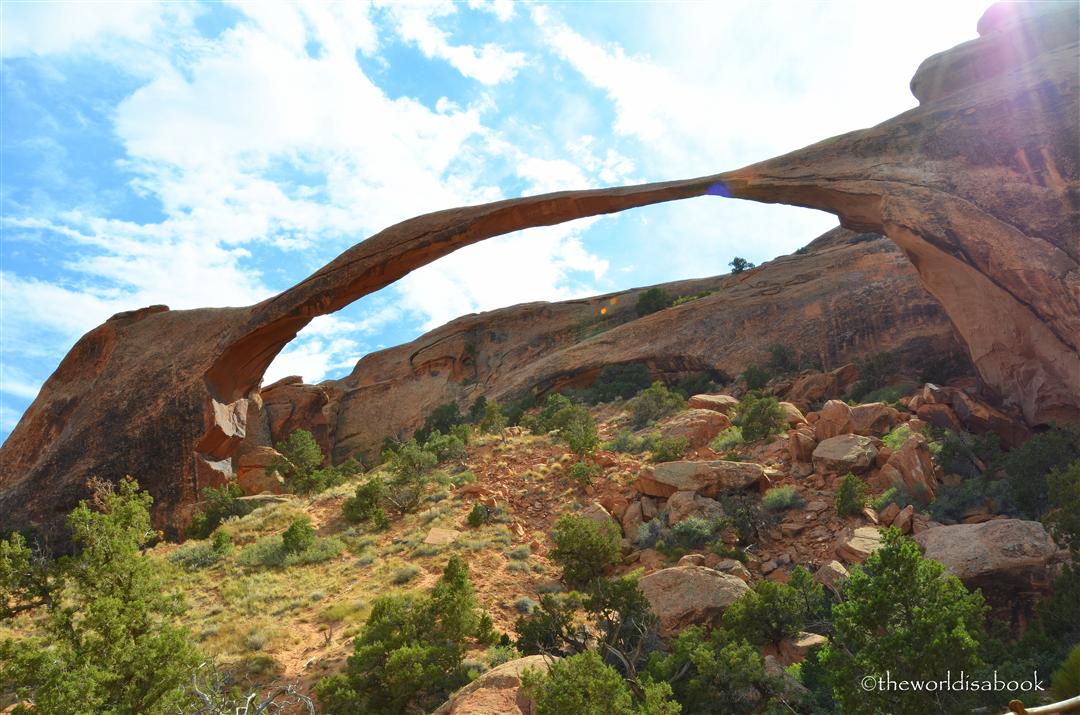 The highest concentration of arches and some of the largest can be found at an area called the Windows.  Looking like a set of eyes from a distance, the appropriately named North and South Windows were quite a sight to behold.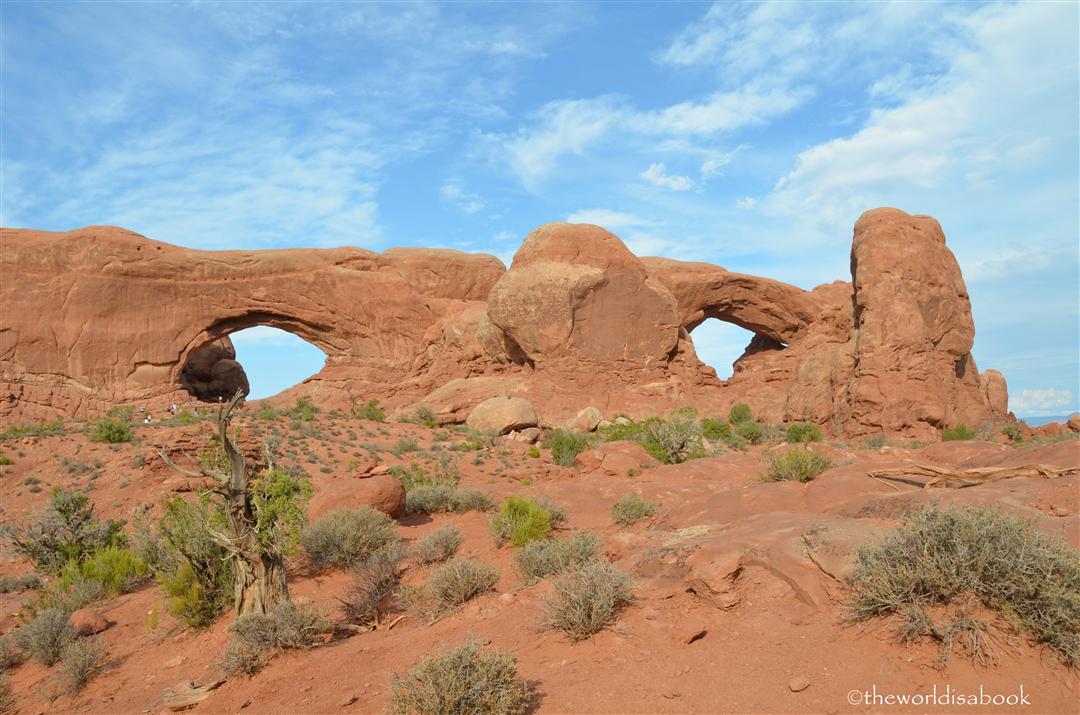 The relatively easy hike led us to take a closer look at these formations like the North Window below.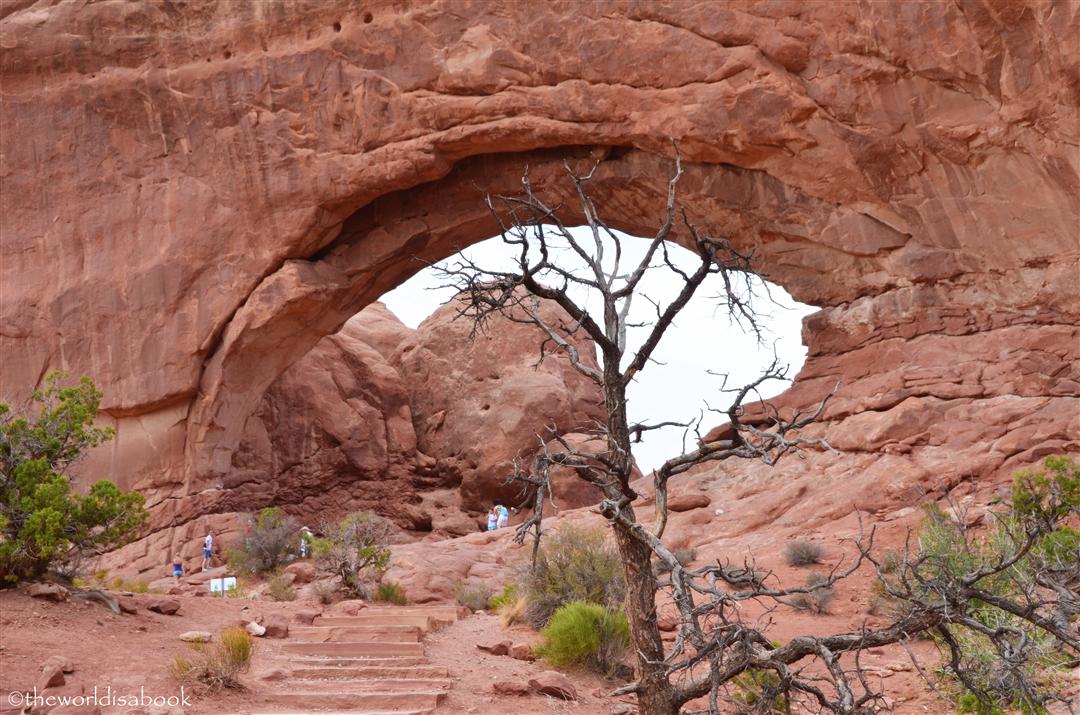 The window arches also made for a good backdrop for some fun pictures.  My kids loved having an "eye" in the background.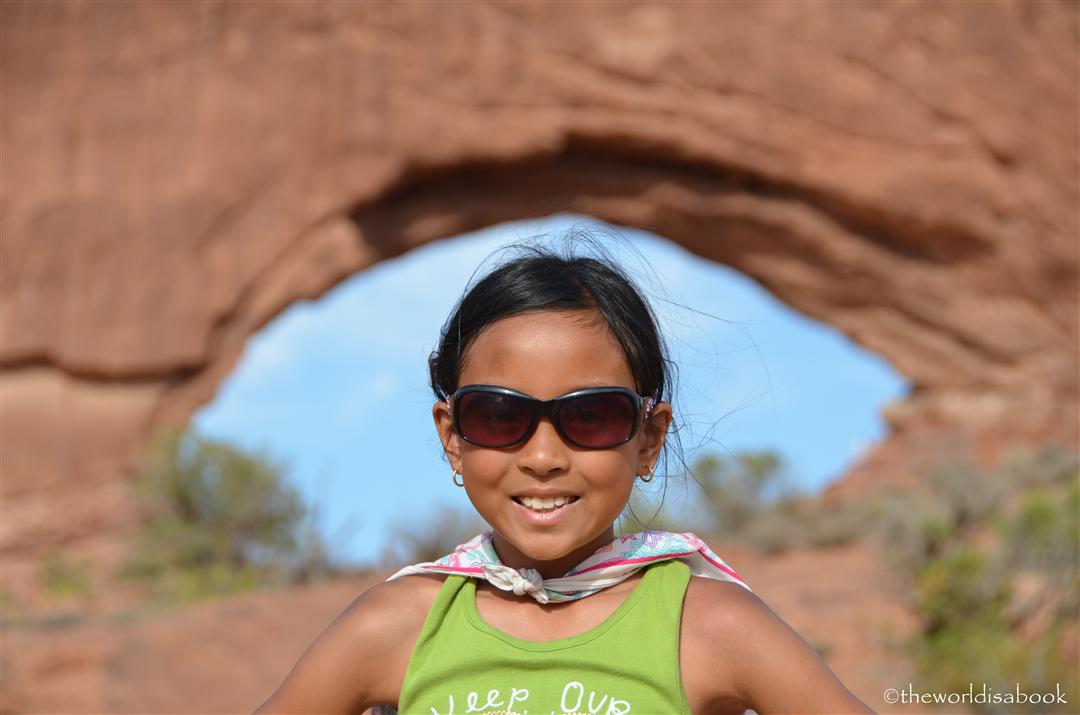 Turret Arch, one of the "younger" arches was also nearby.  This was 100 feet wide which included a smaller arch nearby.  Scientists have speculated that in time, these may form into one large arch.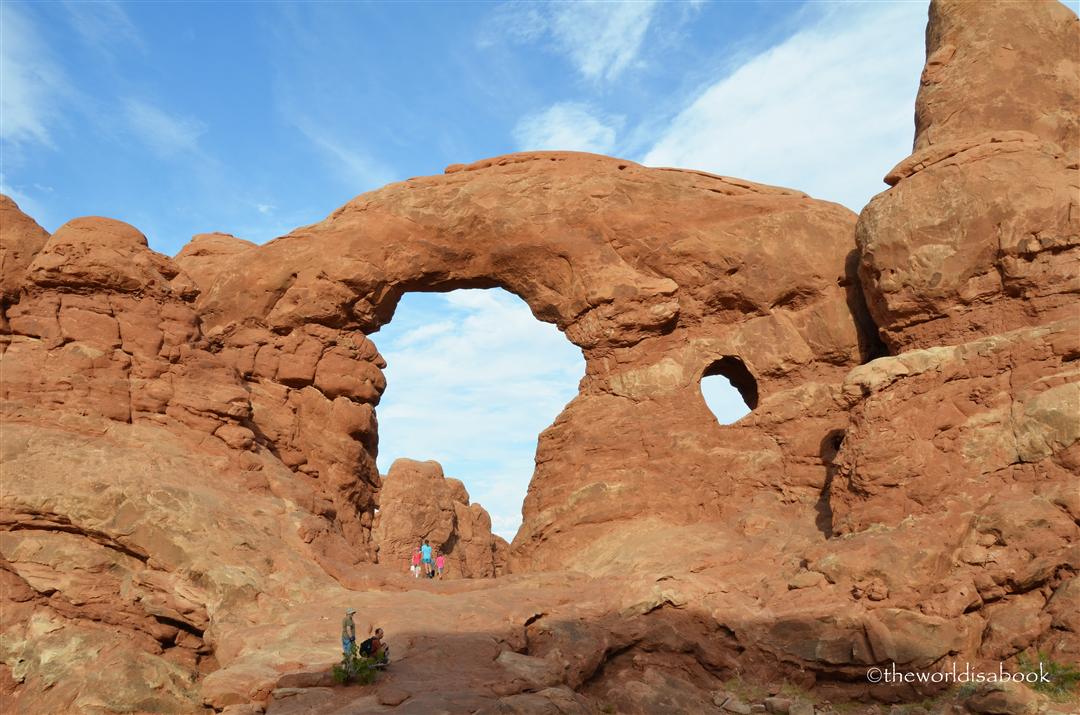 The appropriately named Double Arch stems from the same source and may look familiar to Indiana Jones film fans.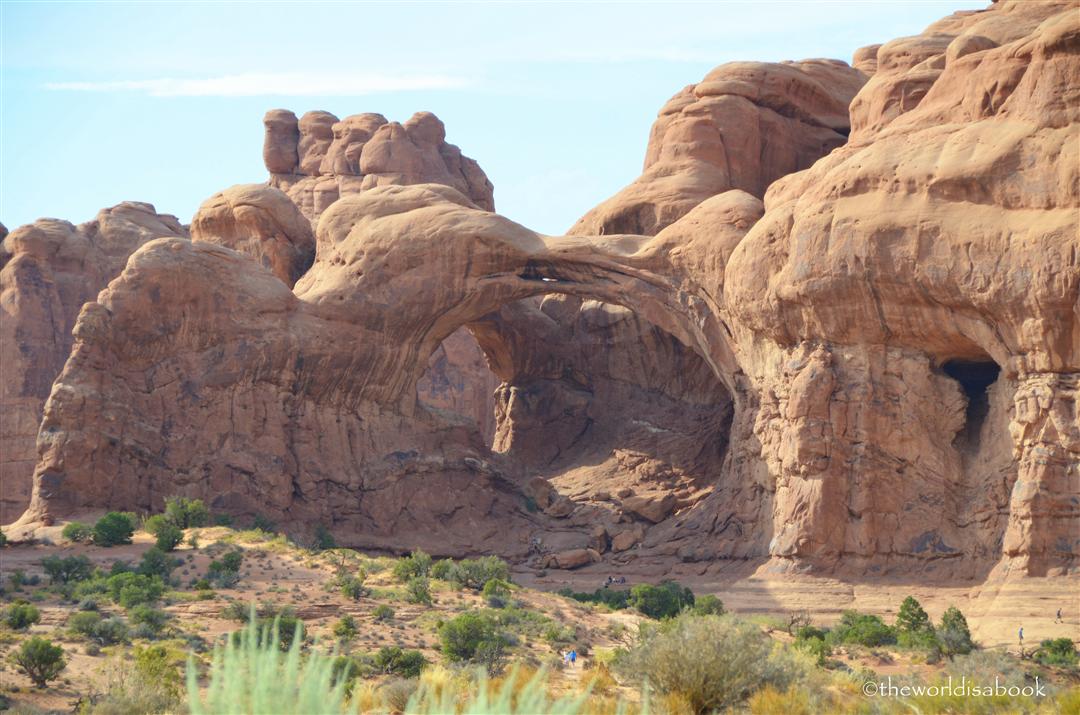 Despite the thousands of arches and rock formations in the park, there was one that everyone visits.  The most famous of the arches, Delicate Arch, is Utah's unofficial symbol.  Seeing Delicate Arch has always been on my "must see" list of natural wonders.  It's mostly due to the Microsoft Windows desktop background I see everytime I turn my computer on at home and all the Utah license plates I've seen.
Our first day included a short hike to see it from across the canyon on the Delicate Arch viewpoint trailhead.  This was our view.  Please excuse my kids' hot, sweaty and "not happy to be hiking in the afternoon heat" looks.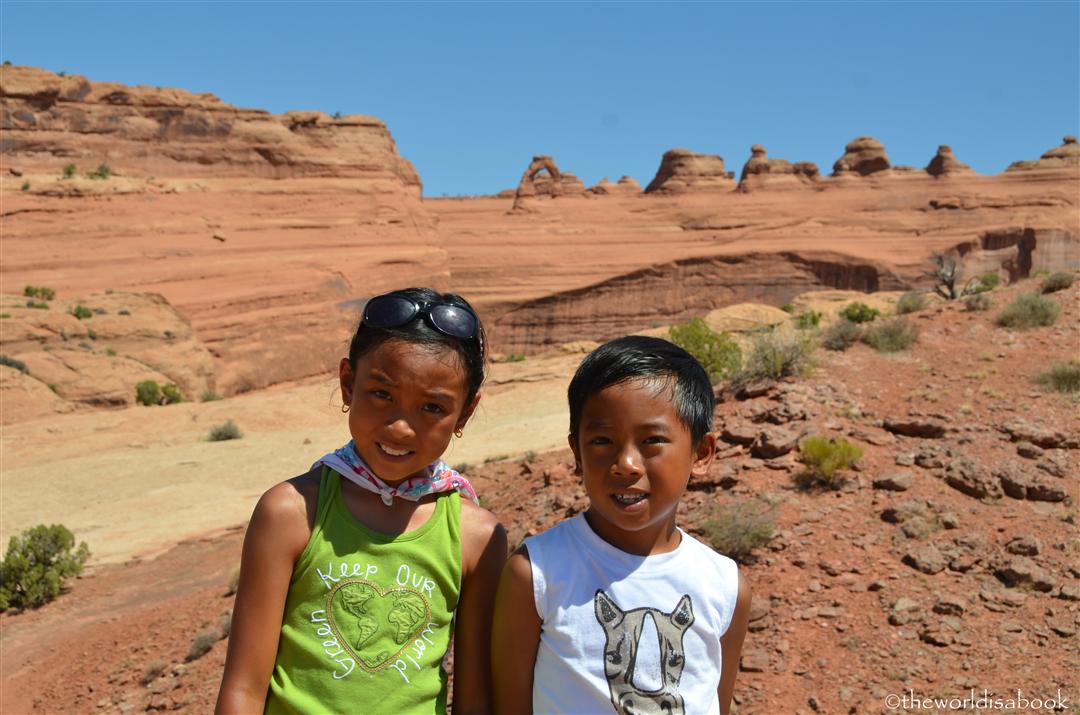 It was impressive but it just seemed so far away and small.  We saw all these visitors enjoying the arch through a zoom lens view.  The short and fairly easy viewpoint trail would be suited for those not wanting to do the long arduous trek to see the arch up close.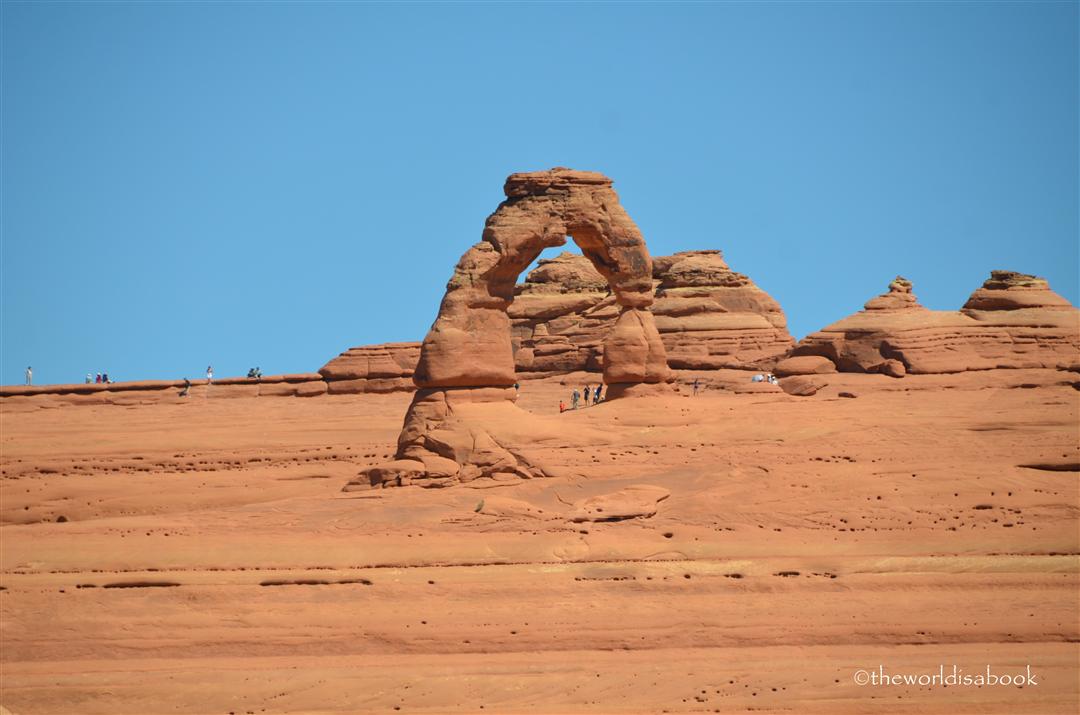 We set out early in the morning the following day to beat the heat for the 3 mile (4.8 km) roundtrip hike to get up close and personal with the Delicate Arch.  This trail started at the Wolfe Ranch area where the old log cabin built over 100 years ago still stands but has been closed to the public.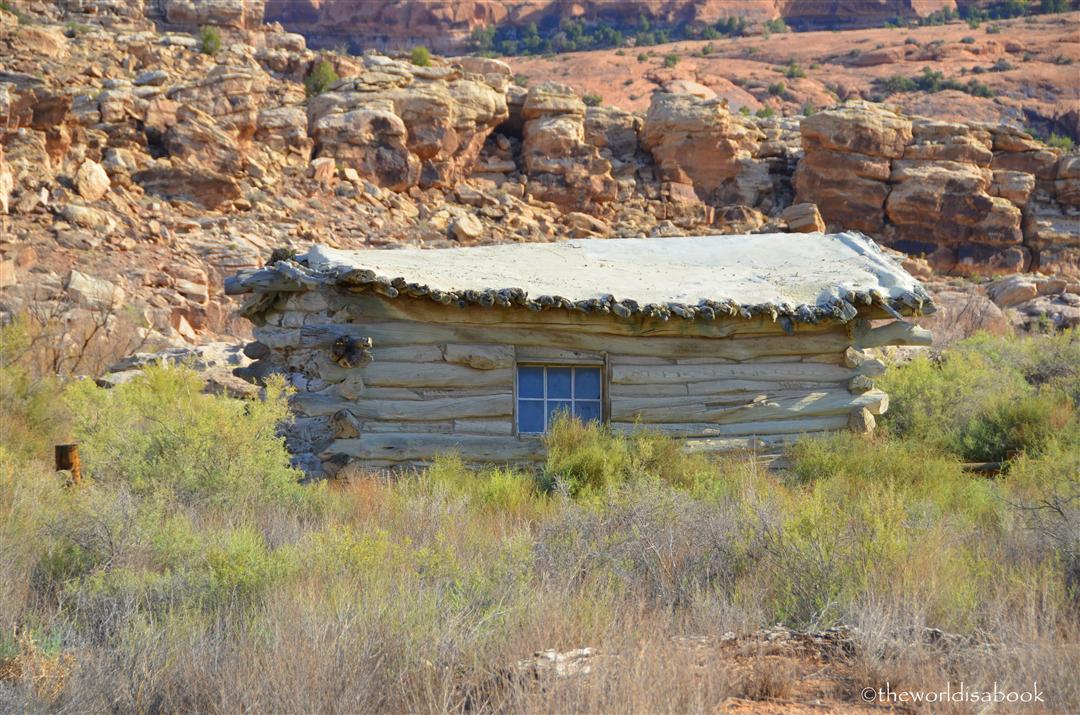 Part of this hike, which took the longest, was an upward climb on a wide, unshaded slickrock.  We could barely make out the people crossing the slickrock from the start of the trail. Yes, we had to make it over that mountain.
Before seeing the popular attraction though, everyone must also walk through a scary ledge hugging a steep cliff with no guard rails. This was not for those who have a fear of heights.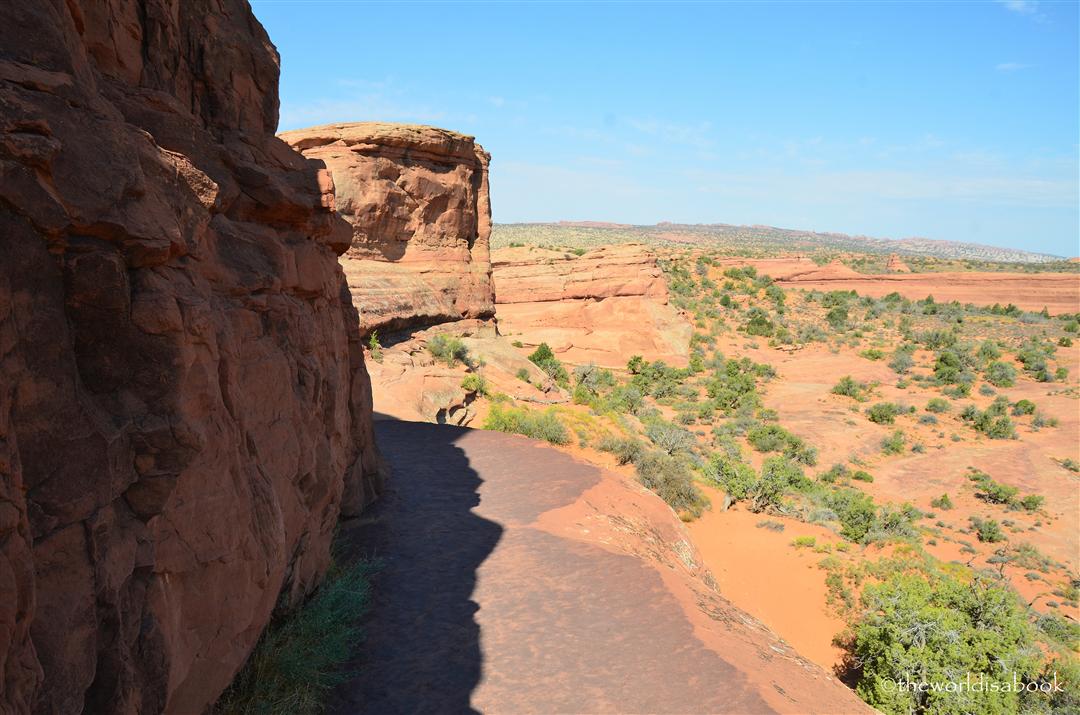 Walking around the ridge and seeing this natural wonder in person was absolutely worth the hike for me.  The image embedded in my mind didn't compare to seeing it in person.  It was stunning and spectacular and deserves every superlative that's been used to describe it.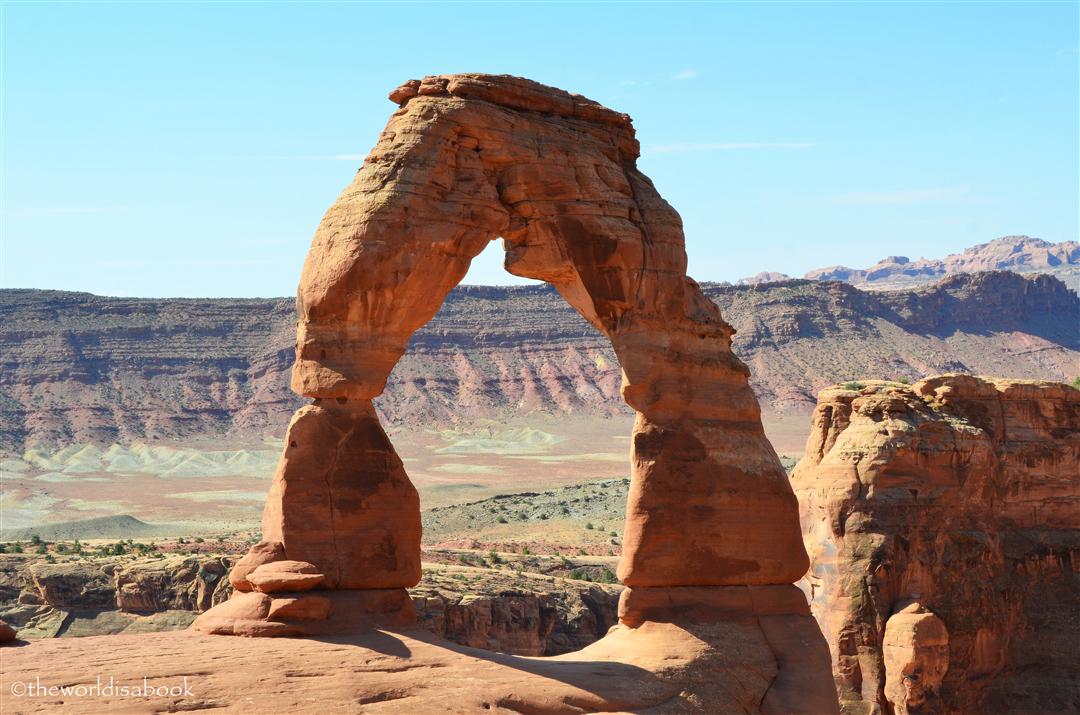 Surrounded by an ampitheater of red rocks, there was nothing delicate about this free-standing arch at 65 feet (20 m) tall. I didn't expect it to be this imposing, huge and yet, smooth looking.  It has also been called "Old Maid's Bloomers" and "Cowboy Chaps" which many think is more appropriate.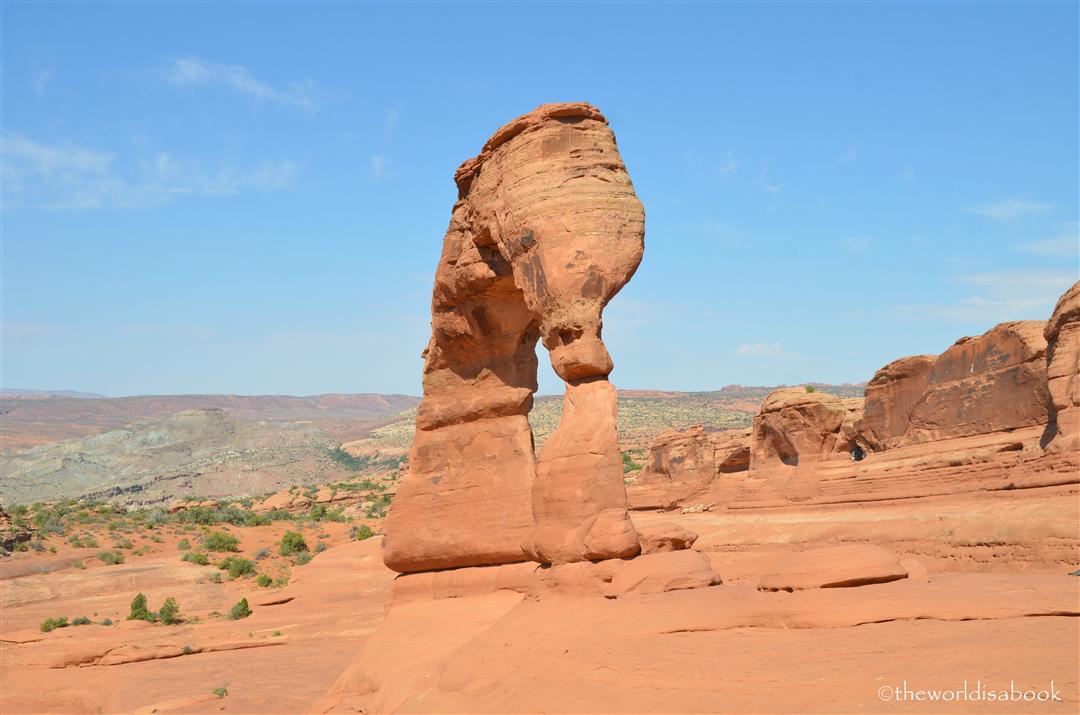 The ampitheater was a slope where walking sideways carefully was the norm to move around.  I made the mistake of looking down a few times and my heart skipped a beat after seeing the distance of the canyon drop-off below.   As a paranoid mother of an overly active boy, being here was also a bit nerve-wracking.  But, we also found small, shaded corners to fully enjoy the panoramic views.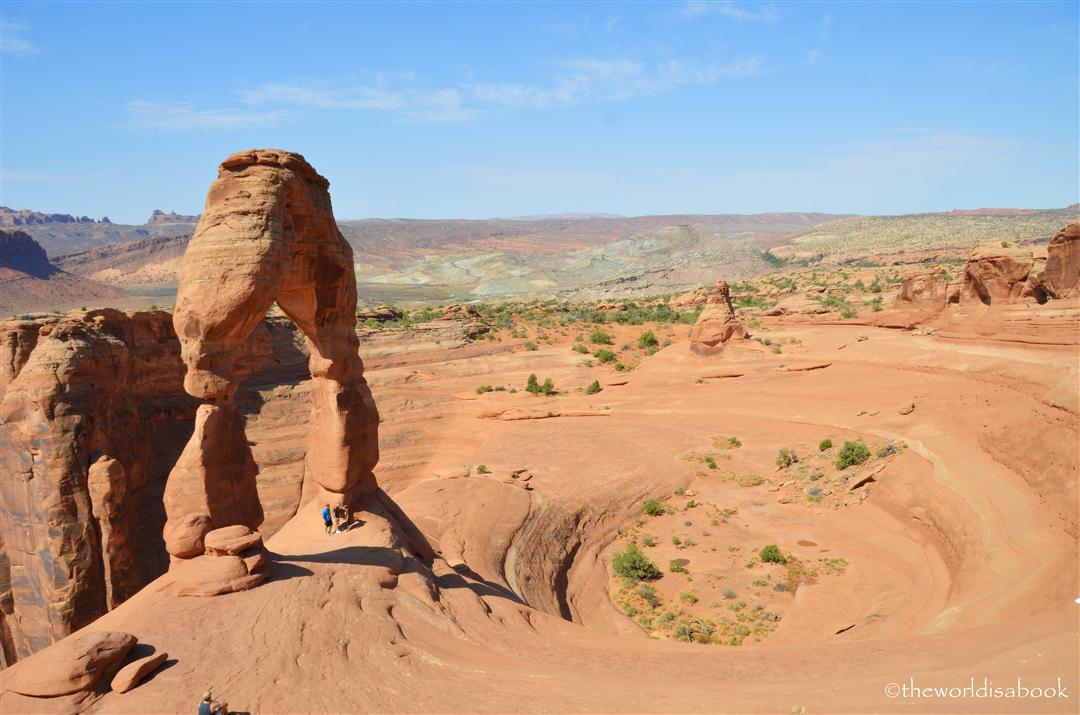 My husband and daughter decided to venture further under the arch for that memorable photo.  Having people under it really puts into perspective the massiveness of this arch.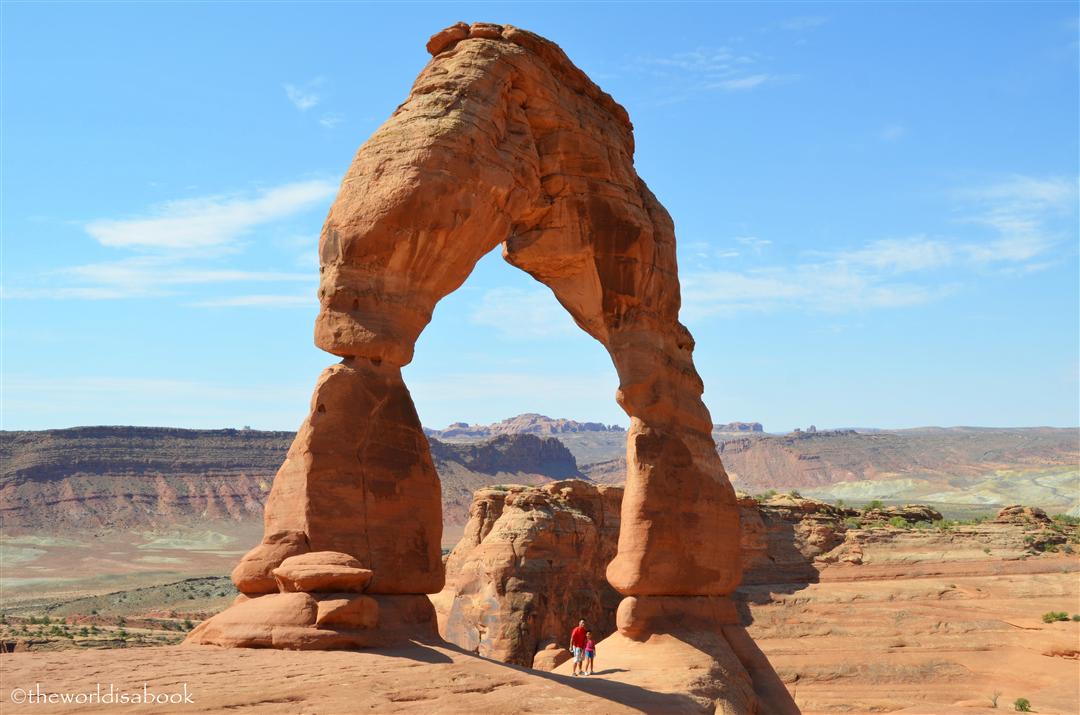 Arches National Park's' amazing natural wonders provided the perfect place for a variety of hiking levels.  We saw parents hiking with kids of all ages including babies(one family even had a stroller), and elderly people with canes towards Delicate Arch.  Though, I'm not sure how well that family with a stroller did on the mountain and ledge.  We loved that there were so many easy hikes for the whole family to do and it offered a lot for the kids(more on a later post).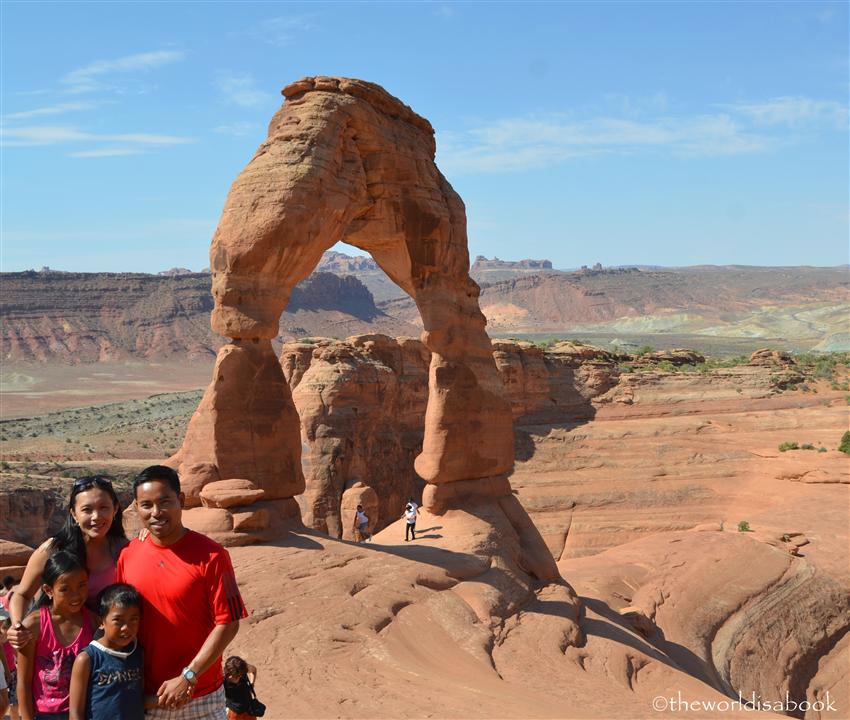 Our kids made it through the hikes with minimal complaints.  It's surprising how much of a motivating factor gelato can be for kids.  Despite the sweltering conditions, it was a fun-filled weekend of exploring and learning that we all would gladly do over again – except the summer.   So many arches…so little time.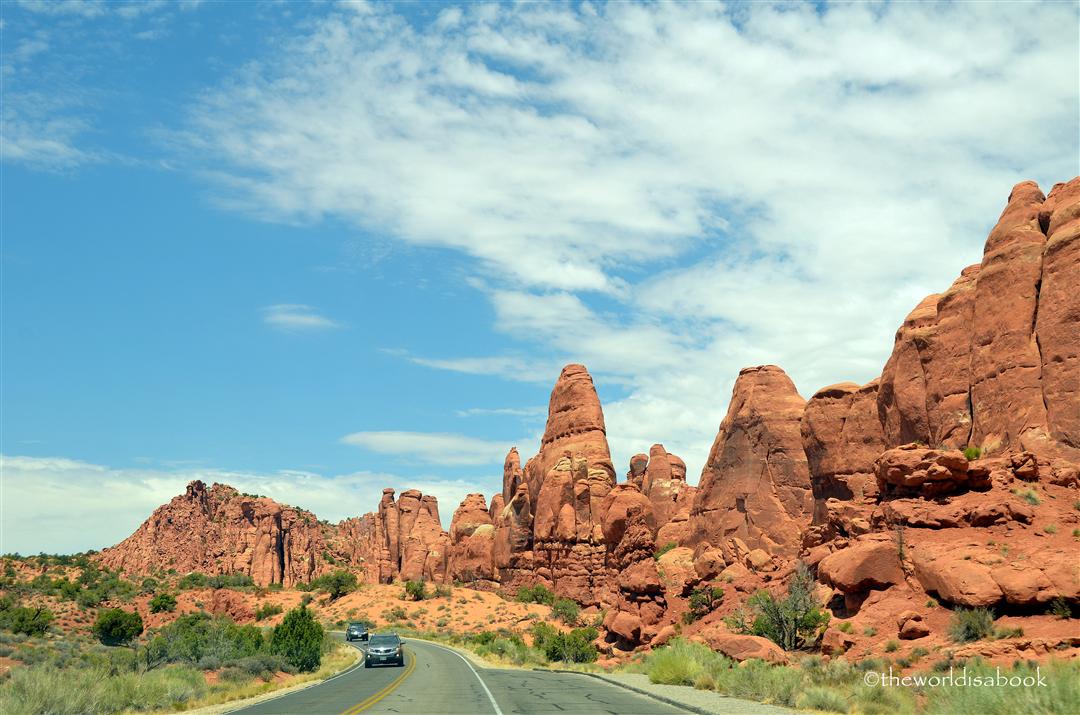 *Have you visited and explored Arches National Park?