Yellowstone Attractions with Kids
This park was so huge and unique that it was hard for my kids to be bored. We only did a quick three day overview but we're hoping for a return trip soon to explore more areas. Here are just some highlights of what we covered but there are a few great sites that are dedicated to the country's oldest national park listed on the Yellowstone National Park page.  The map and visitor's guide newspaper they gave us at the entrance was an invaluable resource as we made our way through the park.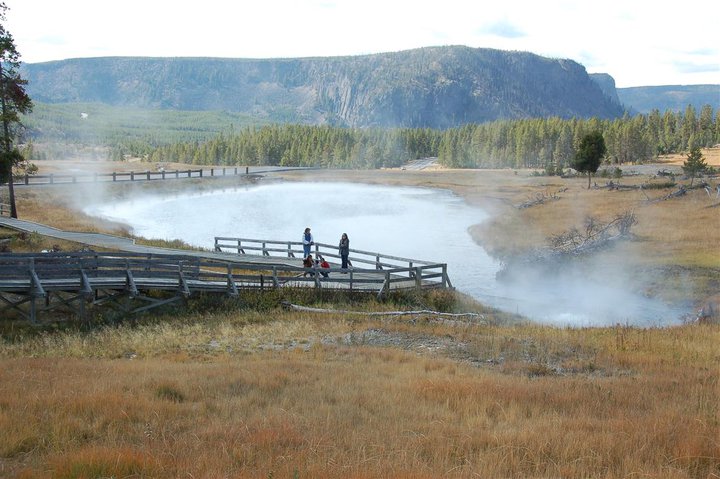 Thermal Features and Geysers
Firehole River Drive was a three-mile drive with the highest concentration of geothermal activity. There was smoke everywhere. It was a very pleasant drive and the main attraction here was the Great Fountain Geyser with supposedly a more impressive showing than Old Faithful.  Unfortunately, we didn't catch the eruption while there.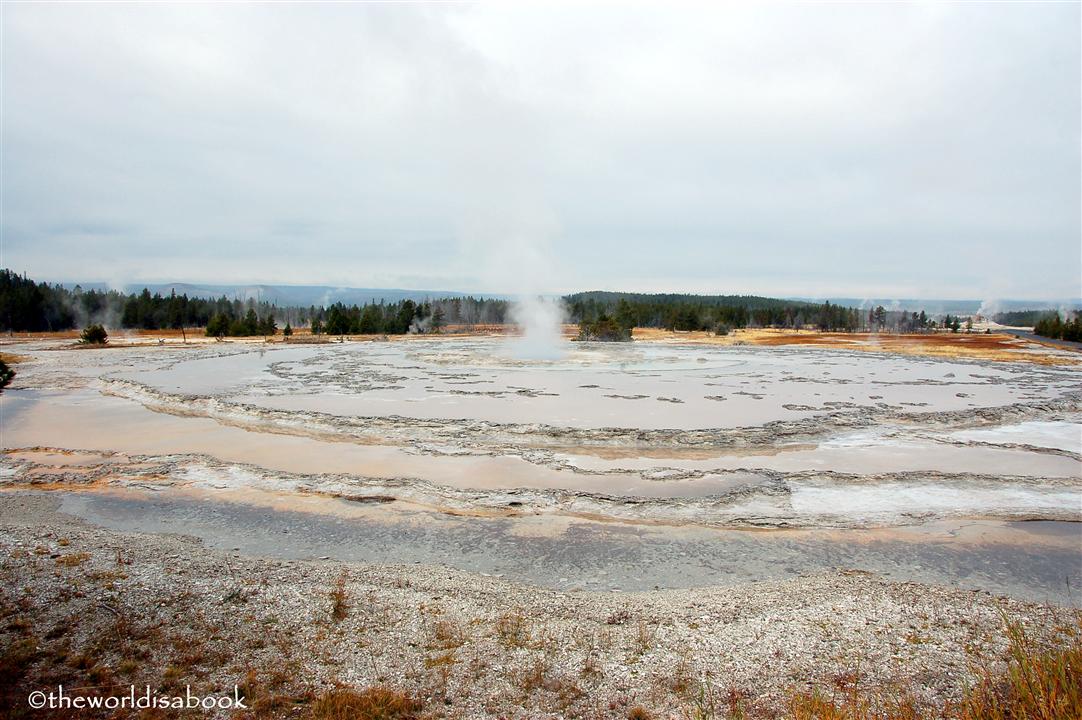 However, down the road was White Dome Geyser which was shaped like a mini volcano with a white substance on one side.  We got lucky and it erupted right before we left.   The kids were so excited to have witnessed this geologic wonder close.
Norris Geyser Basin (the hottest geyser basin in the park) had so many geysers and hot pools, the whole area was literally smoking. There was a big parking lot with a couple of restroom shacks. We walked on a little trail pass a bookstore leading to a fork. We went right towards the museum (which was closed) and to the Porcelain Basin area.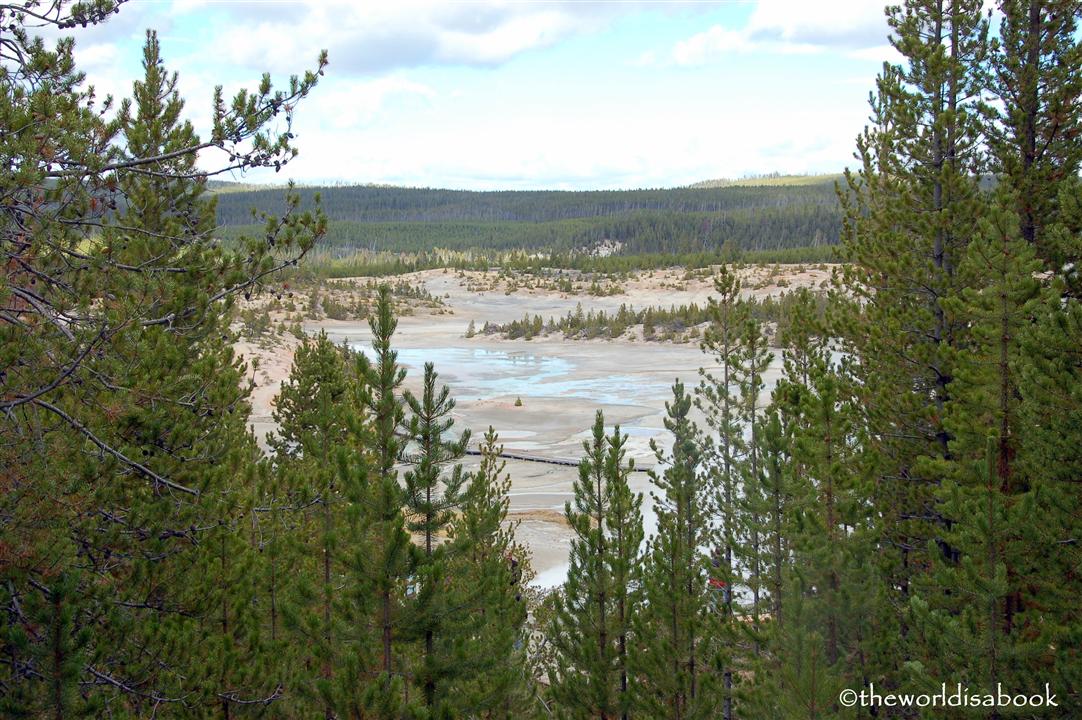 Turning left would have taken us to Back Basin which was supposed to have a bit more vegetation.  Porcelain Basin was a sight to behold as smoke billowed out from everywhere.  There was a boardwalk path passing through the different geysers and mud pools where it was easy enough for kids to observe the different thermal activities.
Our kids found the microorganisms feeding on the sulfur fascinating.  We weren't quite prepared for the smoke that  engulfed us as we walked on the path towards the bottom area.  There was a very strong sulfur (or as my kids called it – "bad egg smell") in the air particularly around here.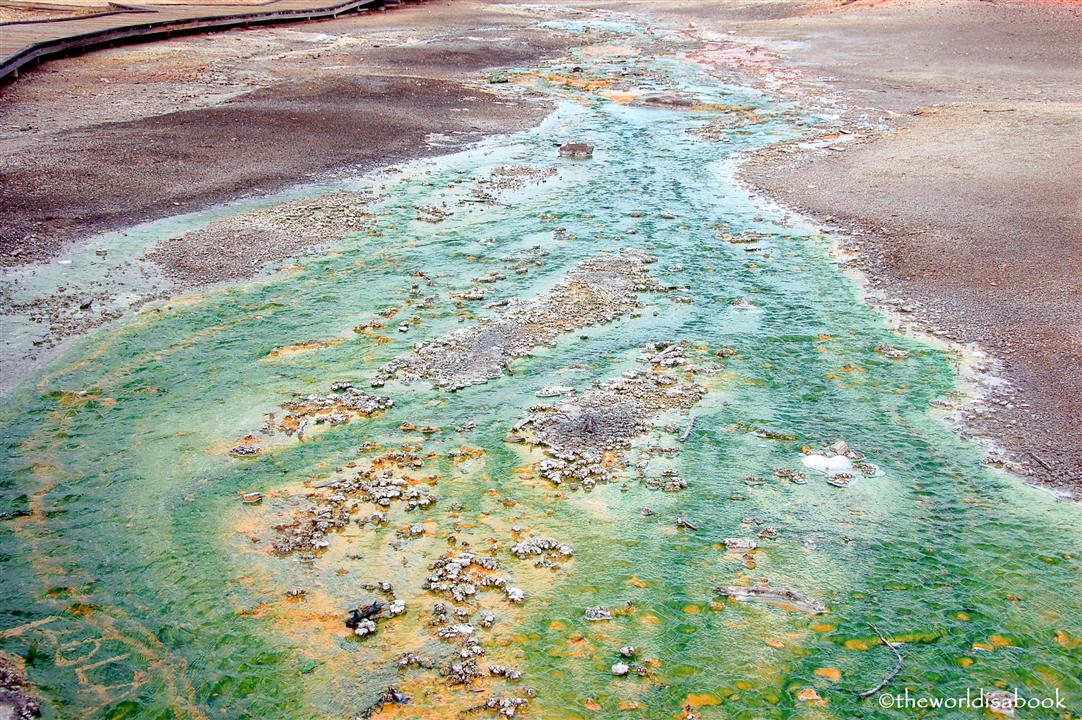 Fountain Paint Pots – There was a big parking lot with a trail passing by some geysers, bacteria mat and the famous mudpots (acidic hot springs).    These reddish clay substances with boiling mud scaterred throughout were so fascinating to me.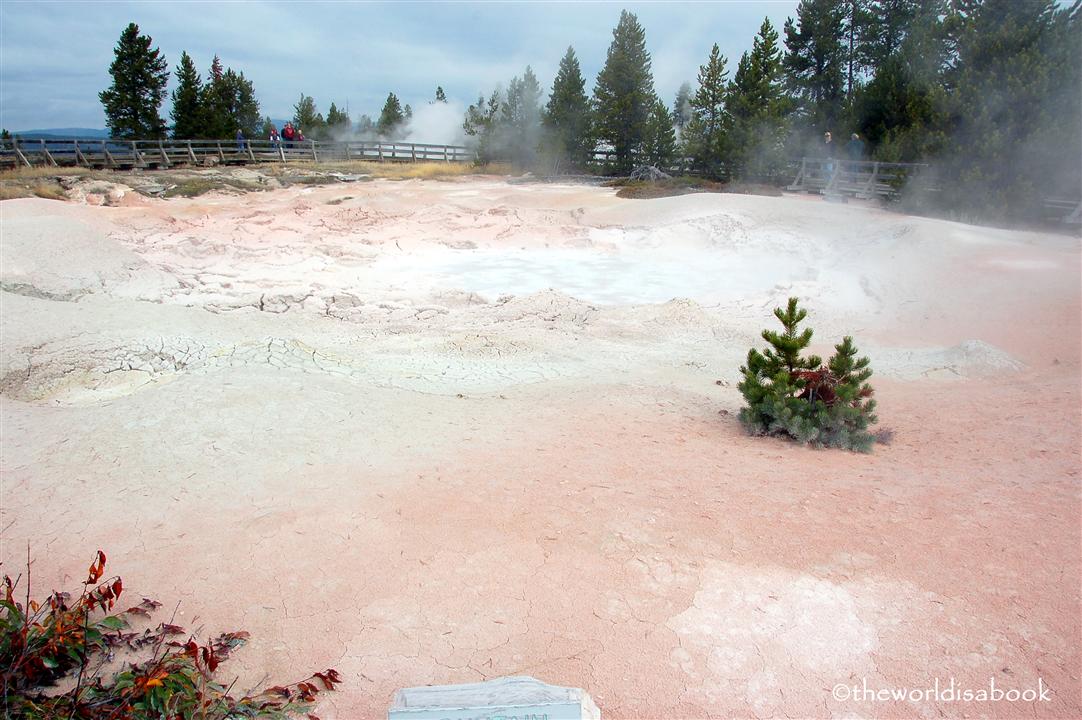 Next to the fountain paint pot were fumeroles (steam vents) which made a loud hissing sound. As my son described it, "the monster is trying to come out".  There were more boardwalks towards the back that took us closer to these geologic wonders.  It was pretty surreal to be walking on footpaths while smoke surrounded us.
Our favorite attraction here was Silex Spring which was a hot spring in an almost glacier like blue with the milky, white substance of the mineral deposits.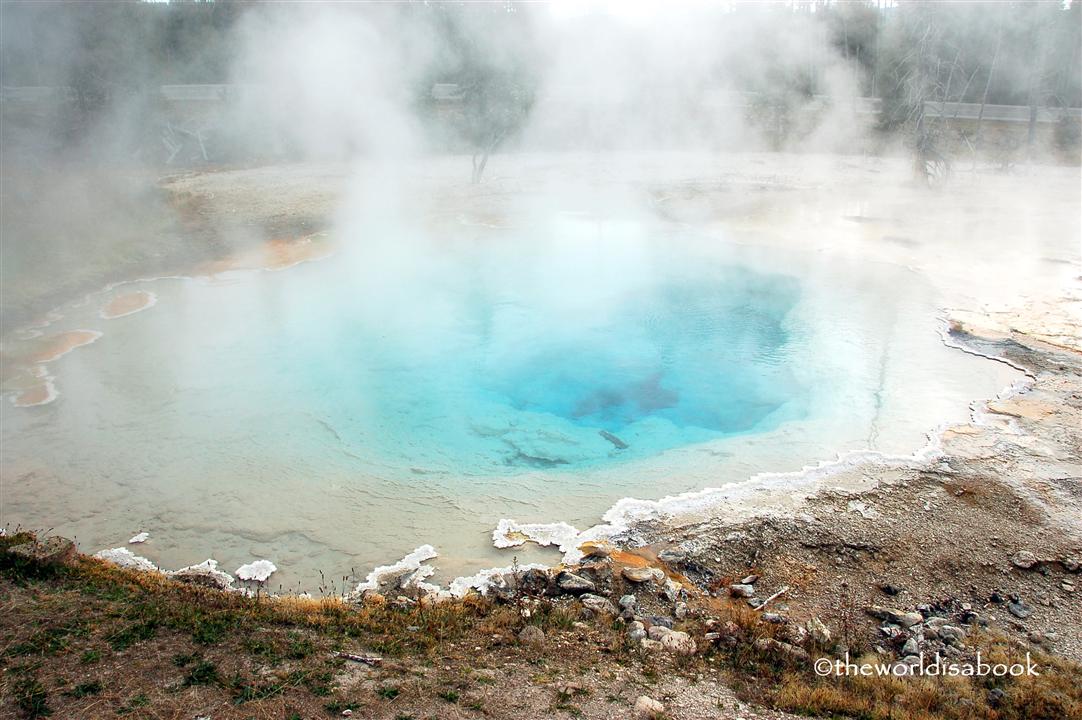 Old Faithful Geyser – Of course, the most famous attraction at Yellowstone could not be missed. We were greeted by a group of bison on our first visit to Old Faithful at dusk. Unfortunately, we had missed the eruption by minutes. We found out that the rangers always have the +/- 10 minute allowance on their predicted eruption times. Nonetheless, it was great to just sit there and admire the pair of bison walking along Old Faithful which looked like most of the other geysers in the park by the way.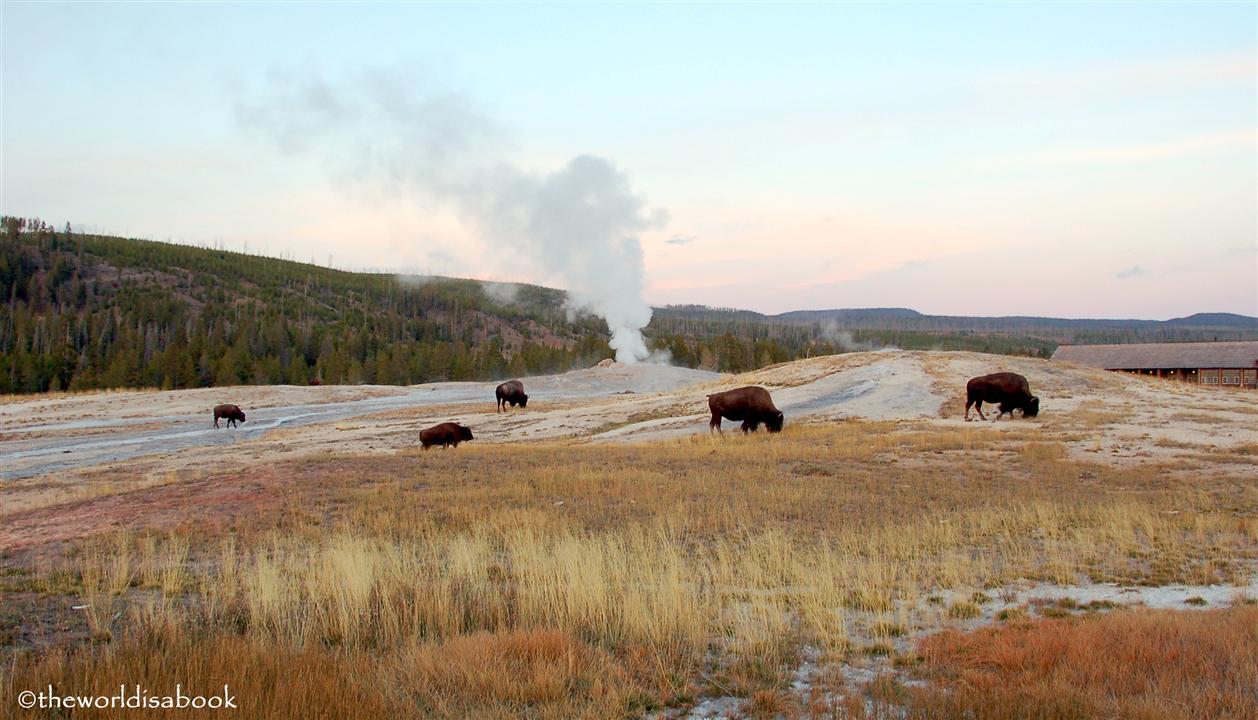 We woke up early the next morning and did not want to miss the eruption at 9:37 AM. According to my husband, The best viewing area may be on the path leading to the visitor center as he saw an earlier eruption from a different angle which was the path closer to Old Faithful Inn. The eruption lasted for a few minutes and not quite as loud or grand as we expected.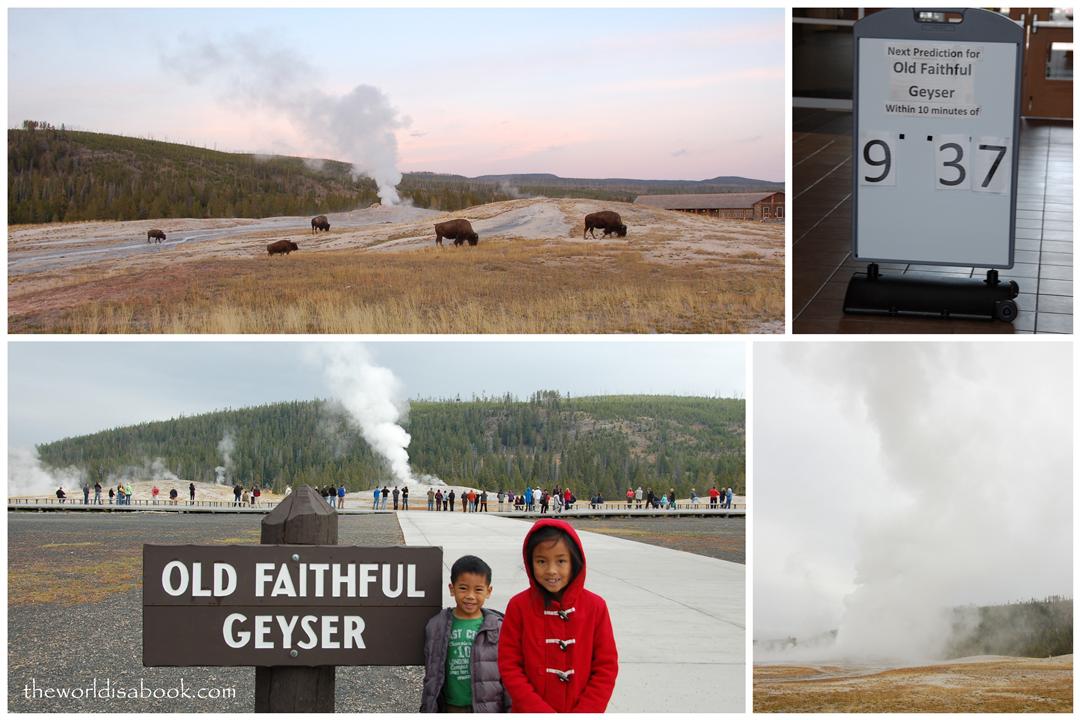 Waterfalls and Canyons
Grand Canyon of the Yellowstone – My image of Yellowstone didn't initially include waterfalls and canyons.  After all, it is more well known for its wildlife and geothermal features.  The Grand Canyon of the Yellowstone was somewhat smaller than its Arizona counterpart and looked very different but was still absolutely stunning. We would love to someday do some hikes here closer to the waterfalls.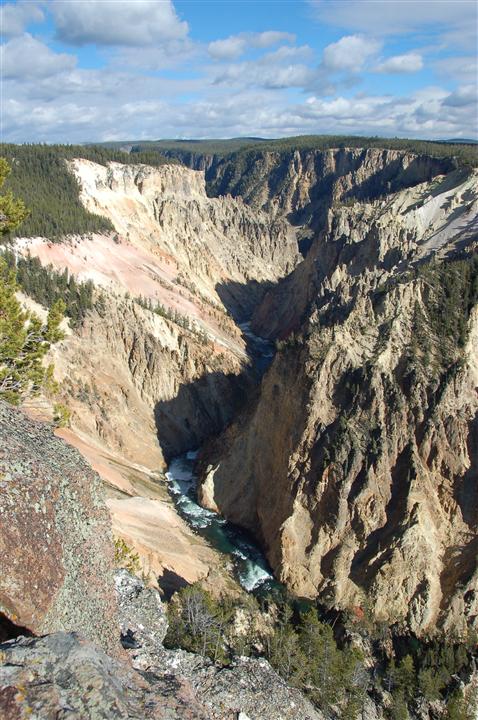 There were many overlooks to see the Lower and Upper Falls. The one way road took us to these vantage points appropriately named Lookout, Inspiration and Grand View Points.  We were all amazed by the waterfalls, the strong currents, the beauty of the canyon and the vastness of this area.
Kepler Cascades – This waterfall was just a few miles south of Old Faithful right off the main road. There was a lookout and platform into the waterfalls and the river on the other side. It was a quick photo op stop and very popular with the tour buses.  It was worth a short stop as the waterfalls, though not as dramatic, was still quite scenic.
Yellowstone Lake is the largest high altitude lake in North America at 20 miles long. This lake was huge and it looked like it just went on and on as we drove along the shoreline. The Absaroka Range mountains provide a dramatic backdrop. Swimming was not allowed at any time due to the cold water temperature. However, we saw that the park offered some boat tours during the summer.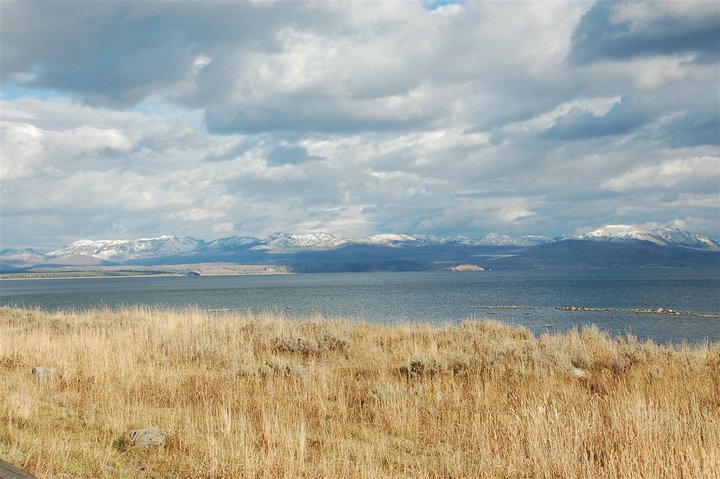 Wildlife
Our first animal sighting was a herd of elk on a meadow grazing. We got really lucky to have our first encounter with a bison within 30 minutes of entering the park as we were driving on the road. Cars in front of us were at a standstill and we noticed a huge bison in the middle of the road approaching our car. We did manage to take a couple of pictures but forgot to videotape it in our excitement and anxiety over this big animal approaching us.  We were quite nervous to see this animal right next to our car but the kids loved being that close to this amazing animal and won't forget this encounter for a long time.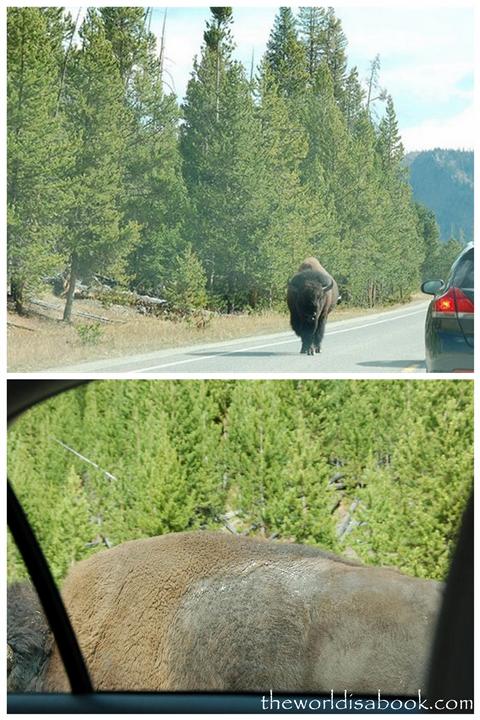 We drove through Hayden Valley in the afternoon to get our first glimpse of a bison herd. There were plenty of bison here. There were a couple of lookouts and turnouts along the road.   There was even one area where a bison and its calf meandered close enough for us to watch them eat and interact.  We followed the rules of staying over 25 yards from wildlife.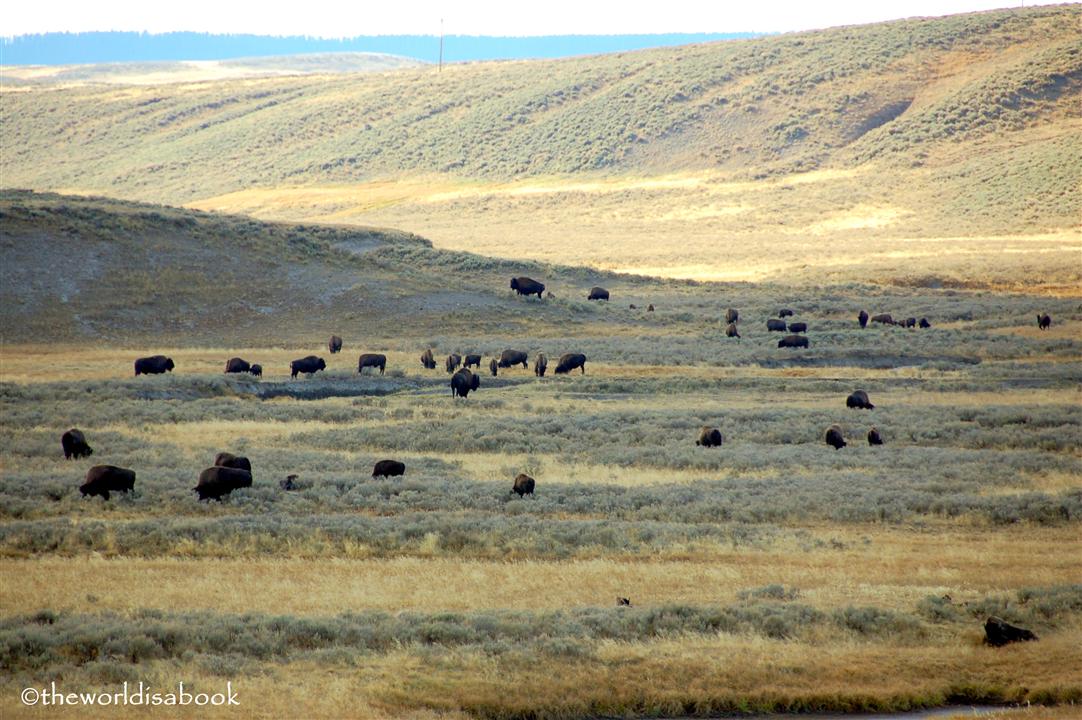 The kids were a little disappointed that we didn't see bears or moose this time. We learned that the best time to see this would have to be summer and during dawn and dusk.
Related Posts: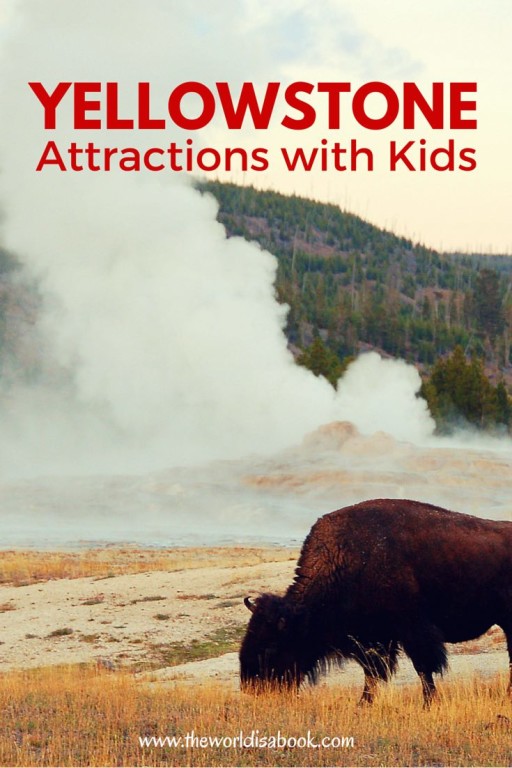 Check out these related posts: