5 Free Things to do in Santa Fe New Mexico with Kids
Santa Fe has always appealed to me for its art, culture, adobe architecture and those ubiquitous chile peppers. This is the oldest capital city in the United States with plenty of history from the Pueblo Indians to the Spaniards. Our family enjoyed visiting this colorful city and lucky for us there were free attractions. Those money savings were great for souvenir artwork and to splurge on all their delicious food. Here are 5 free things to do in Santa Fe New Mexico with kids.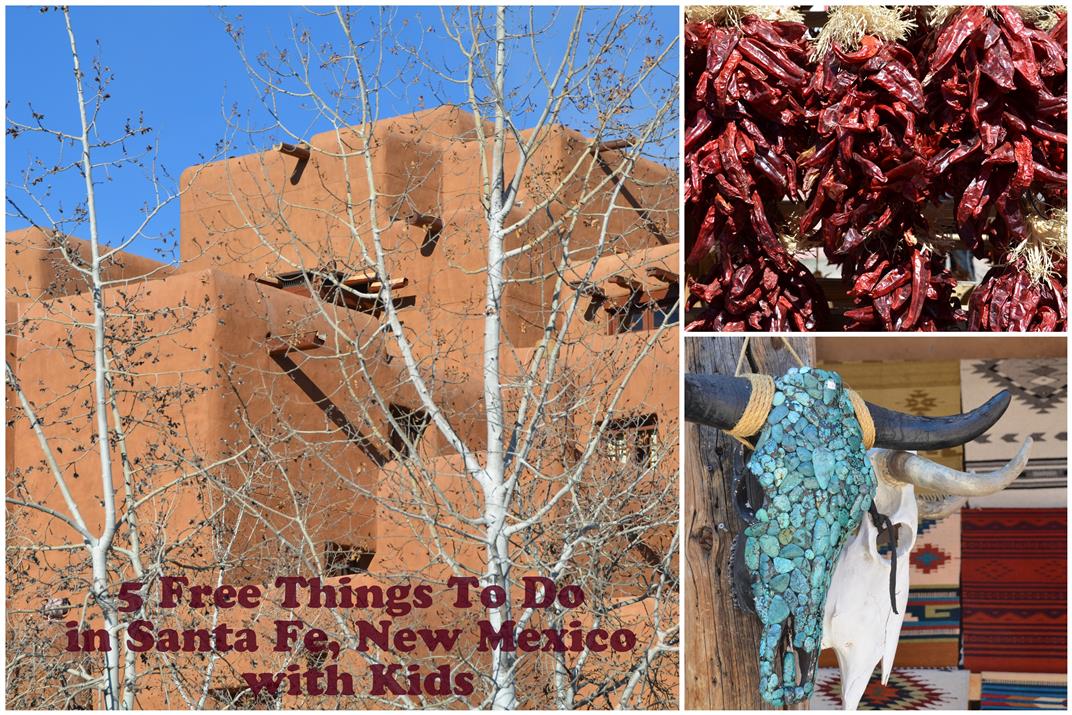 1. Walk around Historic Santa Fe Plaza
This National Historic Landmark is considered the heart of the city since its founding around 1610. It used to be a fort and eventually the end point of the Santa Fe Trail trade route. Many shops and restaurants surround the plaza in adobe structures. If the kids want snacks, there were also a few food cart vendors. The aroma from some of the carts was very enticing. The plaza has plenty of open areas kids loved, a gazebo and benches for relaxing. The trees were leafless during our visit but I'm sure this park-like setting would be absolutely beautiful during spring and summer.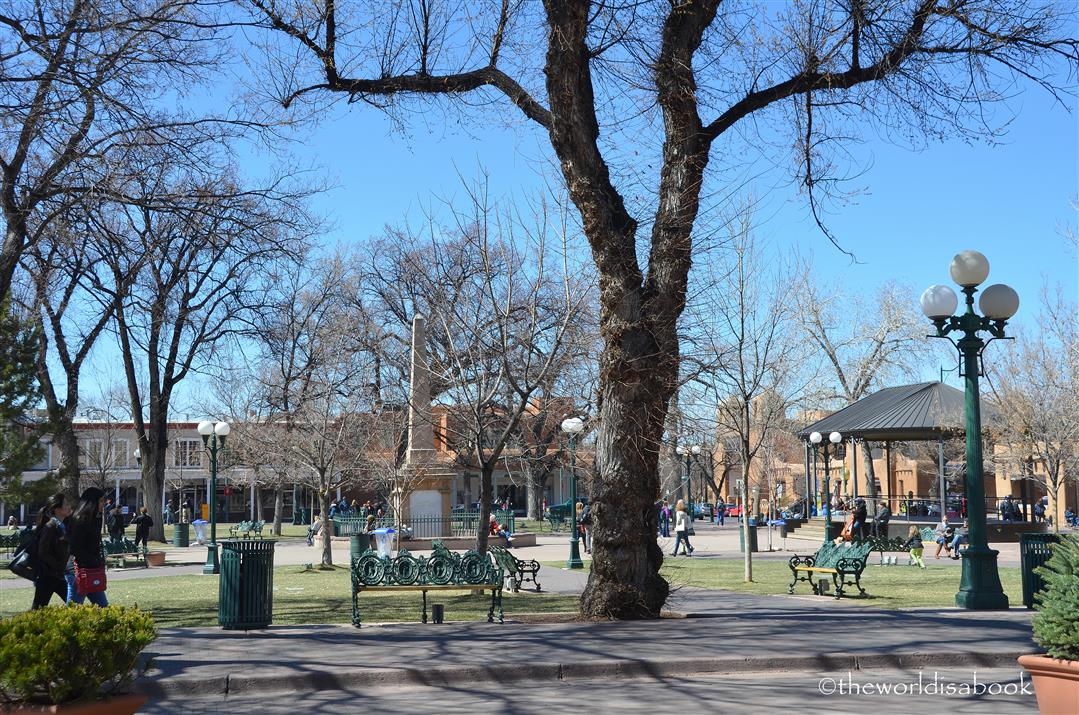 One of the plaza's main buildings is the Palace of the Governors. It is the country's oldest public building that used to be a fortified adobe, a governor's residence and government seat. It is now a history museum. Kids 16 and under are admitted free into the museum.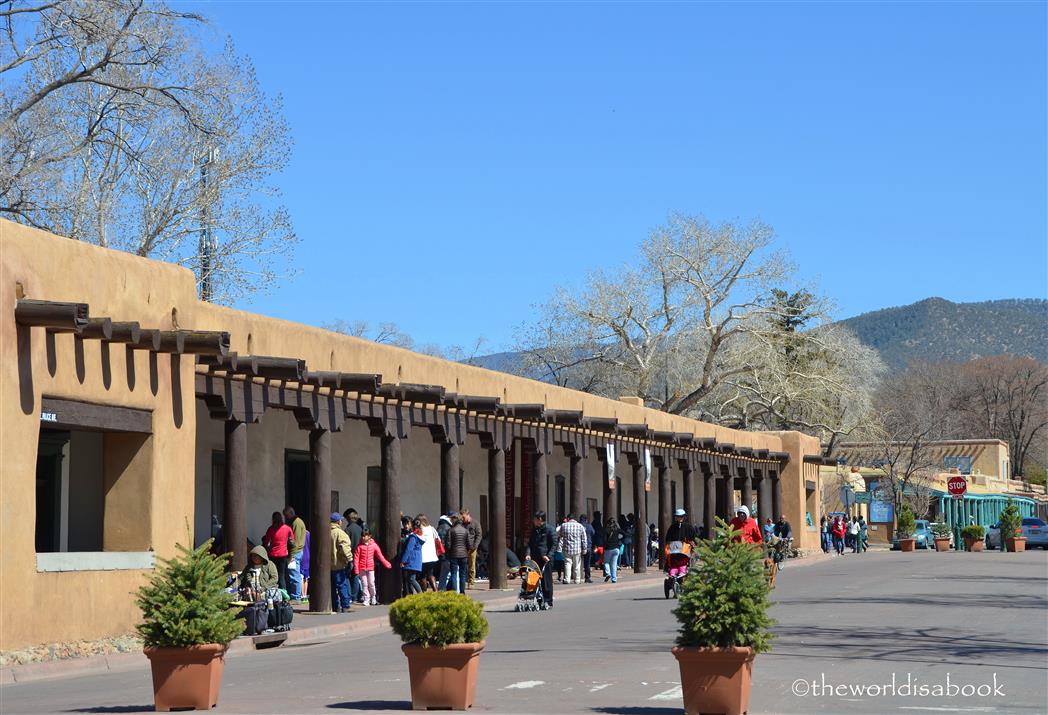 Many Native American vendors were along the covered sidewalk to the museum. There was an abundance of crafts and beautiful turquoise and handmade jewelry at reasonable prices here. My tween loved walking around here and we saw plenty of teenage girls having a great time shopping too.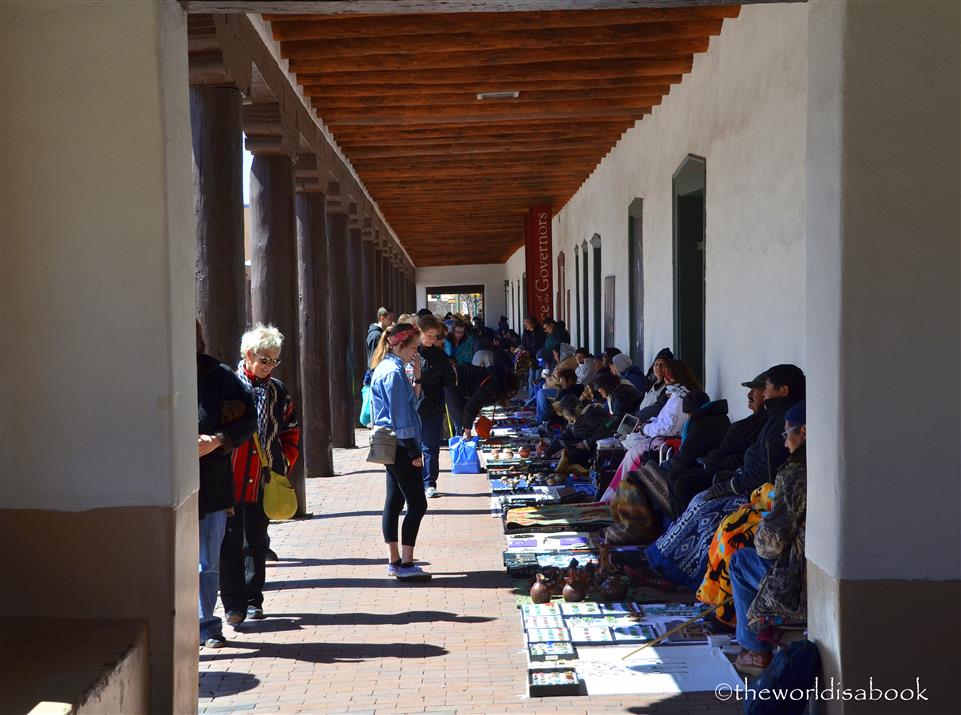 2. Visit Cathedral Basilica of St. Francis of Assisi
We love visiting old churches. Of course, we couldn't pass up a visit to the city's largest church which was located near the historic plaza. Named after the patron saint of animals, its Romanesque style was a sharp contrast to the adobe buildings surrounding it. The church is an architectural beauty outside but its interior is just as grand.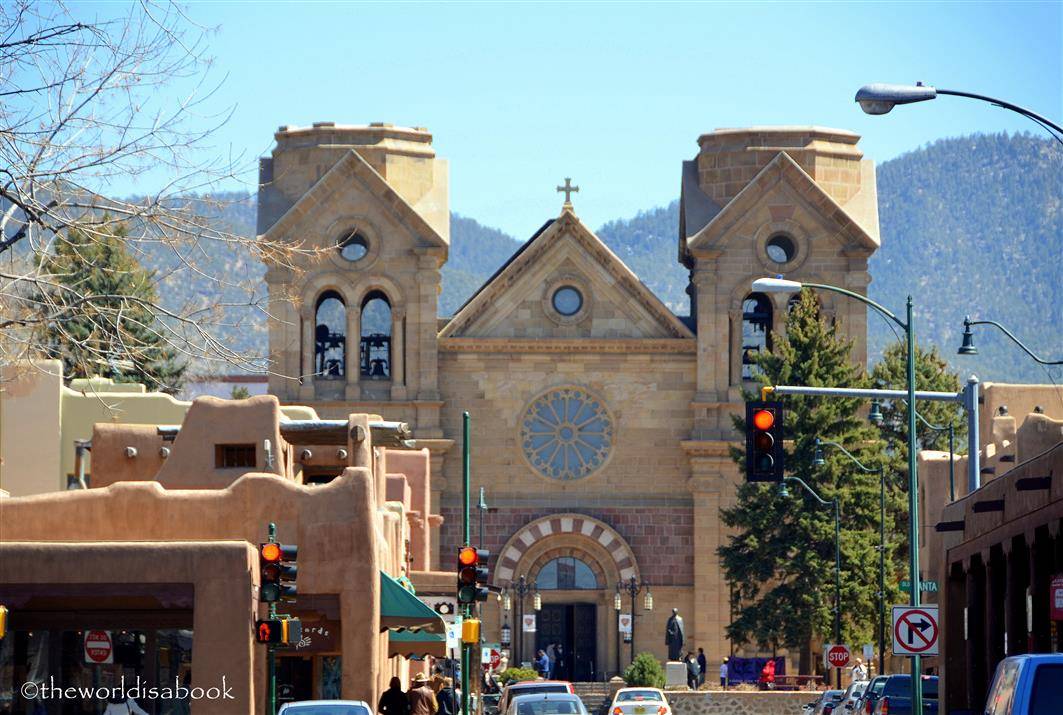 Since it's a Roman Catholic church, we attended Sunday mass here. The church had many stunning and colorful stained glass windows with a lot of light streaming in. It created a rainbow effect many times which enhanced our experience here. I've taken my kids to enough churches and I'm grateful they have actually started to appreciate and like stained glass windows.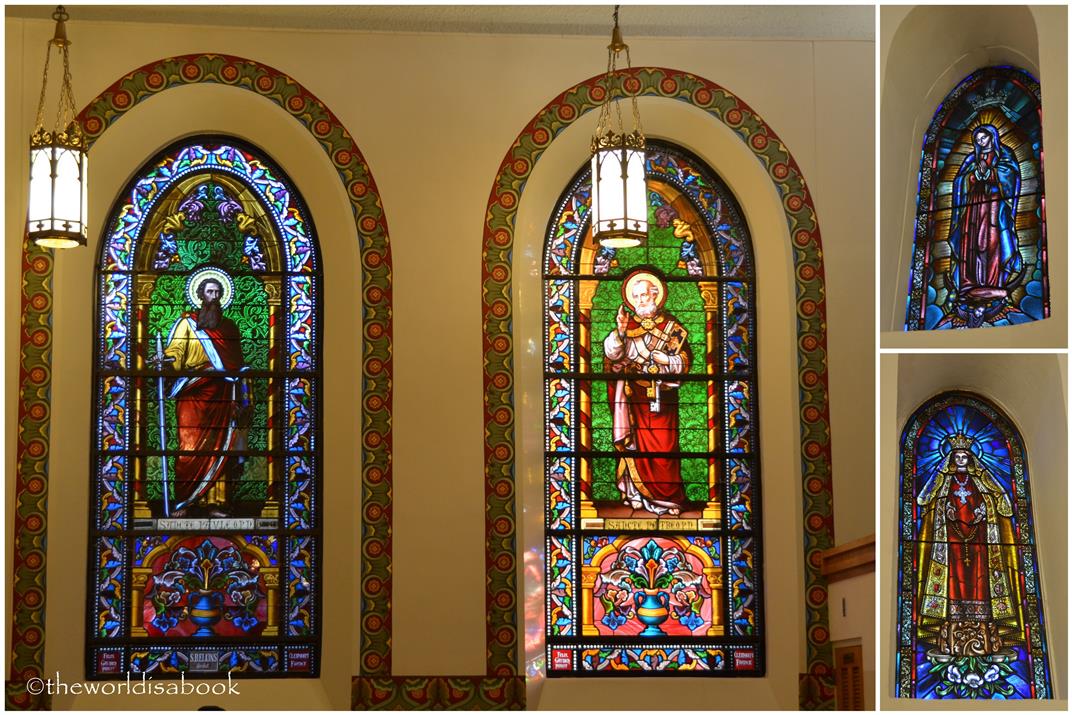 The cathedral is a historical landmark and was completed in 1886 where old churches once stood. We stayed afterwards to get a closer look at the church's remarkable details and altar. The altar panel had a statue of St. Francis in the middle surrounded by paintings of various saints. The La Conquistadora Chapel to the side had a relic collection of various saints which included bone fragments and teeth. My kids thought it was a little disturbing but thought it was still interesting.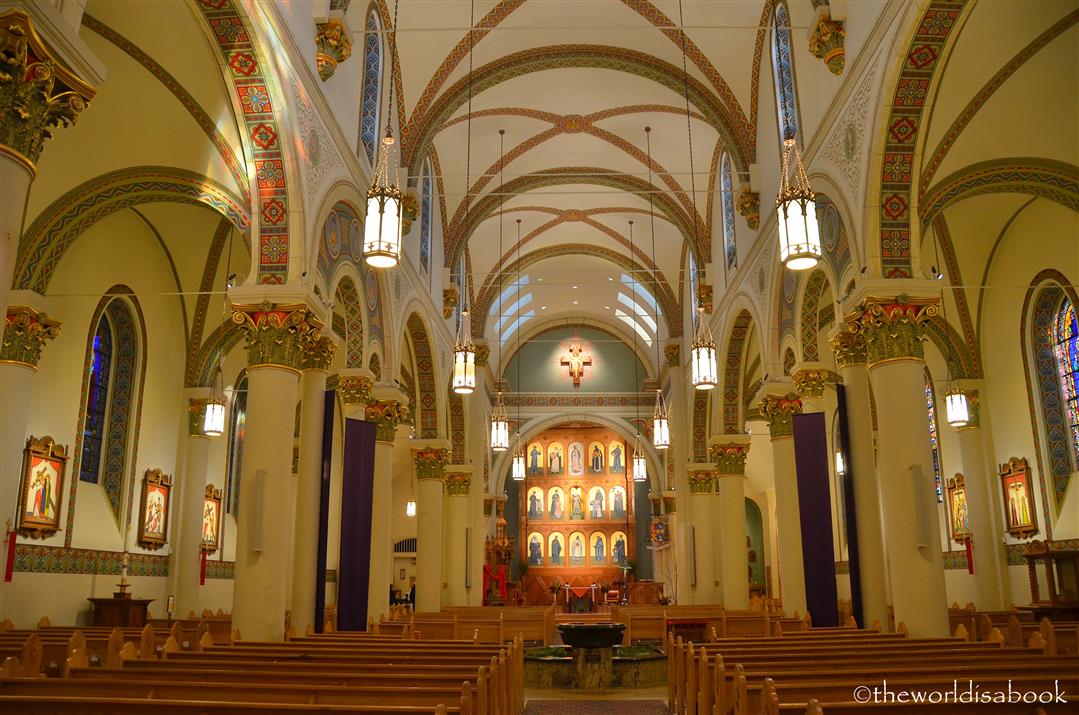 Don't miss the stunning bronze front door which tells the story of the history of the church. There is also a large grassy area next to the church for kids who want some outdoor fun. Outside are statues of Saint Kateri, first North American Indian to be beautified and Bishop Lamy who was the first bishop of the Santa Fe Diocese and contributed to building the church as well as one of St. Francis of Assisi.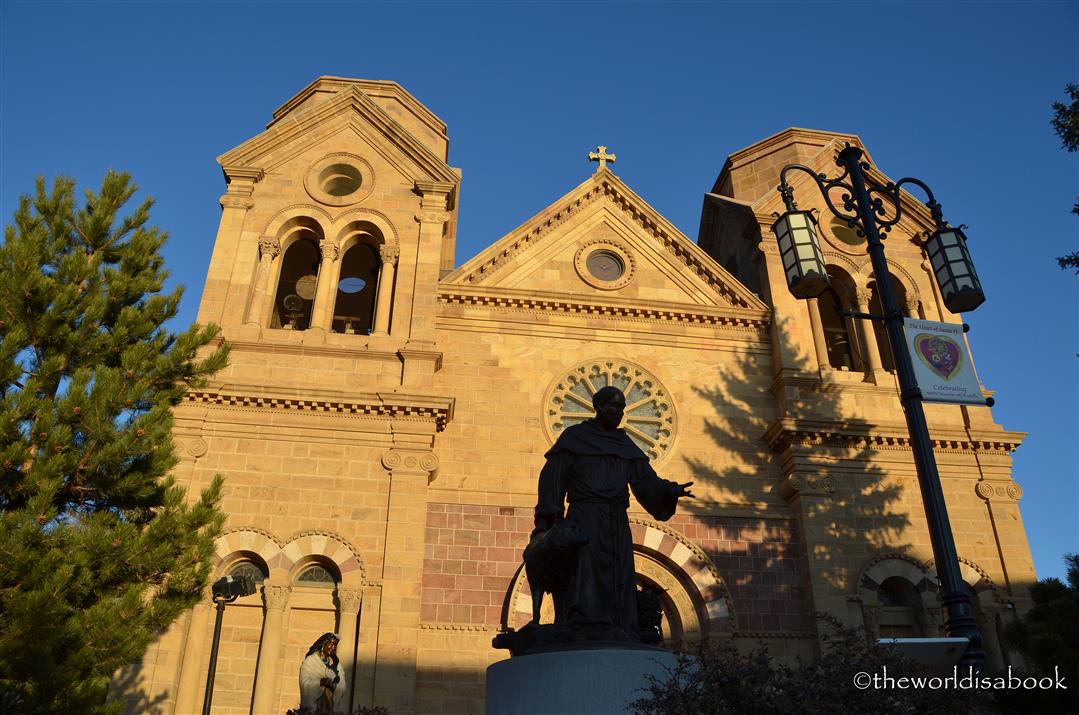 3. Santa Fe Railyard Park and Plaza
This railyard is one of Santa Fe's historic location. It was a hub of activity for many years since it first brought visitors by train in 1880. The area has been revitalized by the city. For many little boys, like my son, who loves trains, it's a wonderful place to see trains pull in or leave. The New Mexico RailRunner Express, the commuter rail between Santa Fe and Albuquerque, is a constant fixture here.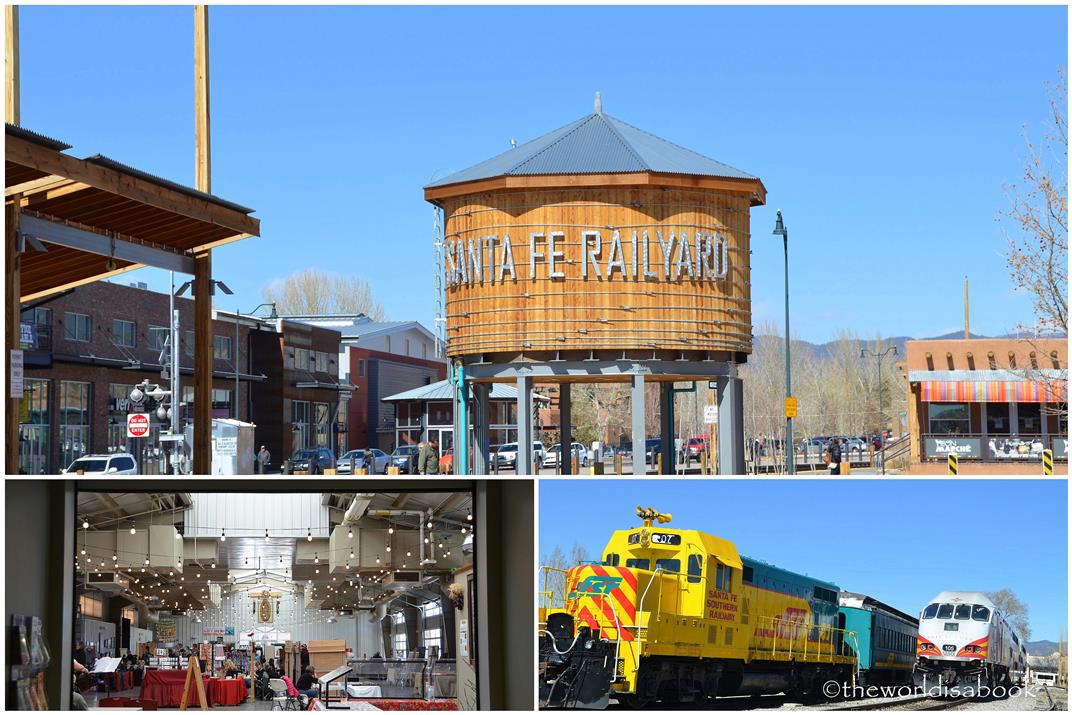 There's more than a train depot here though. There is a farmer's market, an artisan market on Sundays, restaurants, shops, studios and art galleries at the pedestrianized plaza area. It was built as an "all-ages destination" and with something for both residents and visitors. Check the calendar for free concerts and events.
The 10-acre Railyard Park has a children's play area with many amenities like jungle gyms, rope courses, walking labyrinth and climbing walls. It also has plenty of hike and bike trails for the entire family. Get some delicious food at the farmer's market and head to one of the picnic areas near the gardens and amongst the over 300 trees here.
4. Hike and Explore
With 320 sunny days a year, Santa Fe has plenty of activities to enjoy the great outdoors. The city has 30 miles of scenic hiking trails and more than 50 parks. Located six miles from the plaza, the Chamisa Trail is close enough to town and easy enough for kids. Sangre de Cristo Mountains is only a few miles from downtown but offers many trails that's sure to meet everyone's hiking abilities. The 10-mile Aspen Vista Trail  is the most popular trail in this mountain area. Kasha-Katuwe Tent Rocks  is located about 35 miles (56 km) from Santa Fe but takes you to an otherworldly landscape of unique rock formations. There's a minimal fee ($5 per car) to enter the park but free with passes.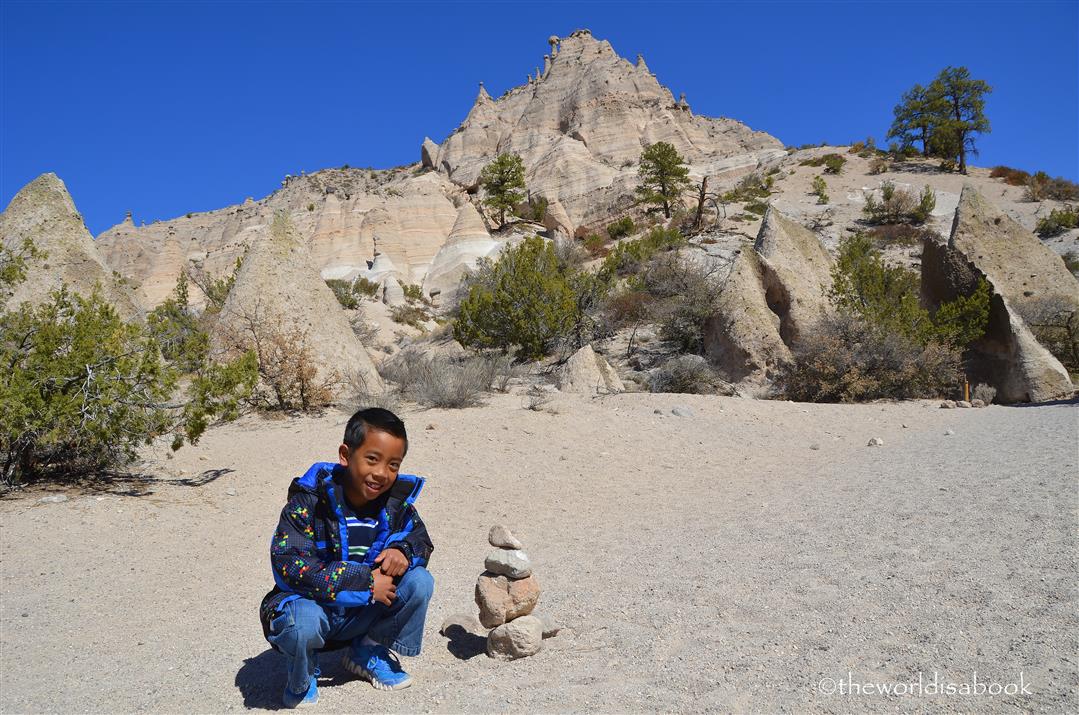 5. Stroll down Canyon Road
Santa Fe has more than 240 galleries. Canyon Road is the center of the city's art community lined with over 100 art galleries and studios. Many of them housed in historic adobe structures with strings of chile peppers or ristras hanging near their doors said to bring good health and luck. The seven block district also has restaurants and boutiques.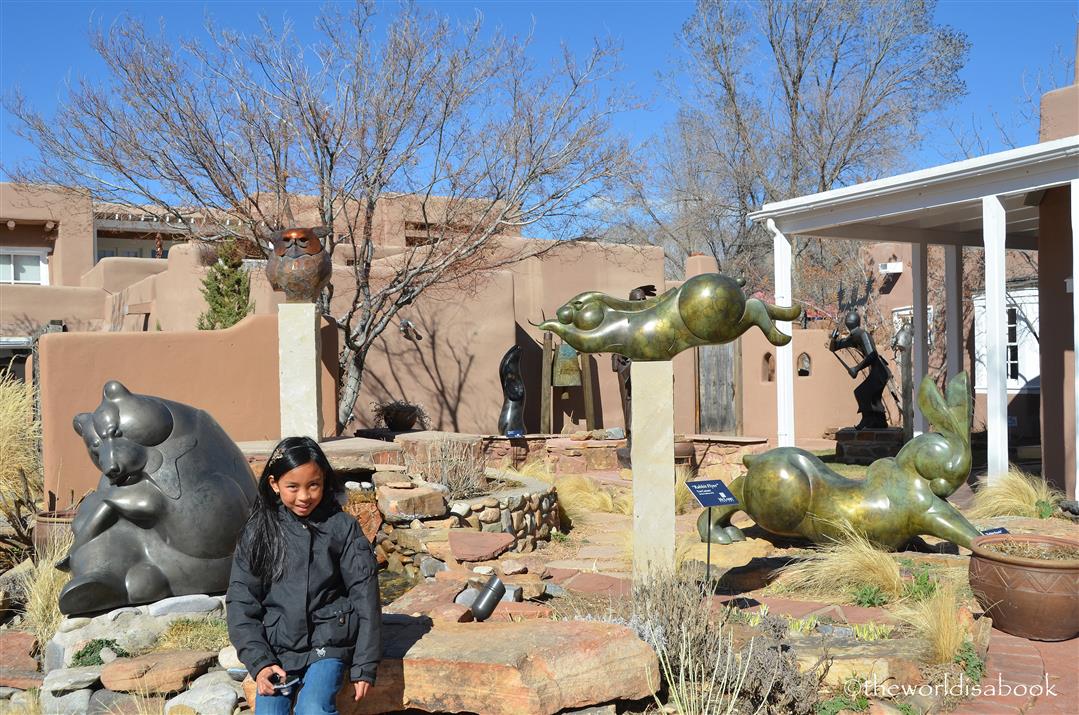 My husband isn't a huge art fanatic but really enjoyed walking around and seeing the many varied sculptures displayed outside the galleries. It was wonderful to leisurely stroll through the courtyards and alleys and see the diverse themes and mediums from each gallery.  We gave the kids our smartphones to take pictures to engage them and see which art pieces they found fascinating. They loved the sculptures of children.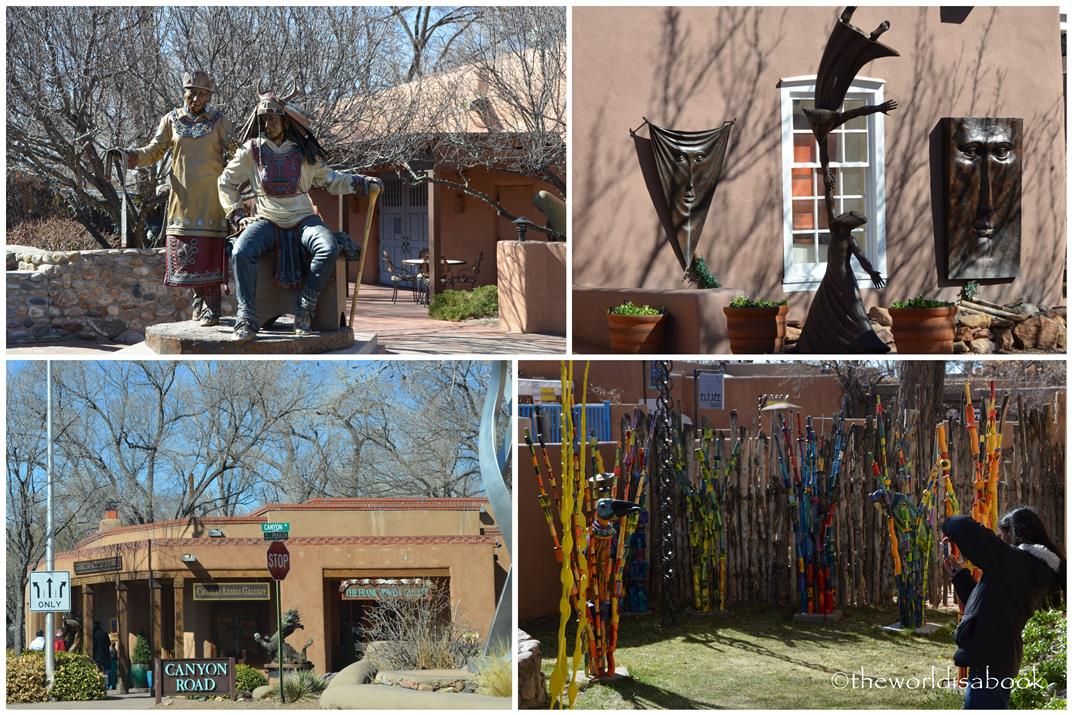 Santa Fe is the country's second largest art market. Canyon Road clearly showed us why many people visit the city for their vast selection and distinct art experience.
Honorable Mentions:
There are self-guided free walking tours at Visiting Santa Fe's website that range from Chocolate Lovers (one we highly recommend) to Art Legacy Tours.
Visit the New Mexico State Capitol and book a free guided tour (Mon.-Fri.) by calling 505.986.4589. We would have liked to do this tour but we were here on a weekend. Self-guided tours are also available Mon.- Fri between 7AM and 6 PM. Kids may even enjoying sitting in during legislative sessions in January. It has an impressive Capitol Art Collection showcasing 600 artworks by New Mexican artists displayed inside and around its garden and grounds.
Occasional Freebies:
Many of the art galleries hold free exhibition openings and artists receptions every Friday and Saturday.
Every Friday from 5:00 to 8:00 PM admission is free to the Museum of Fine Arts, Palace of the Governors/New Mexico History Museum, and the Georgia O'Keeffe Museum. All are within easy walking distance of one another downtown.
There is a program of free music at the Santa Fe Plaza during the summer
The Santa Fe Farmers Market is free every Tuesday and Saturday, April through October.
*What other free attractions in Santa Fe can you add to the list?
This is a part of a series called Five Free Family Friday which is a collective guide of free family-friendly attractions from places all over the world.  If you'd like to contribute with the free attractions in your home city, I would love your guest posts. Thanks!
Pin it for later!