5 Free Things To Do in New Orleans With Kids
I first visited New Orleans as a high school senior many years ago. Coming from the island of Guam, Bourbon Street totally shocked my friends and me. But, I also remember fun times riding the street cars, visiting the zoo and cruising the Mississippi River. I haven't been back to the Big Easy since then but have always wanted to revisit with my kids. I'm happy to introduce this guest post from Christina Loiacono, who was kind enough to give us a list of these wonderful free attractions that will be on my itinerary when we hopefully visit soon. 
Though New Orleans is known for its friendly and easygoing attitude, it's probably not the first city parents think of for a vacation with kids. In Travel + Leisure's 2013 online survey about America's Favorite Cities, New Orleans ranked number one for happy hours, cocktail lounges, wild weekends, girlfriend getaways and the singles scene — not exactly family entertainment!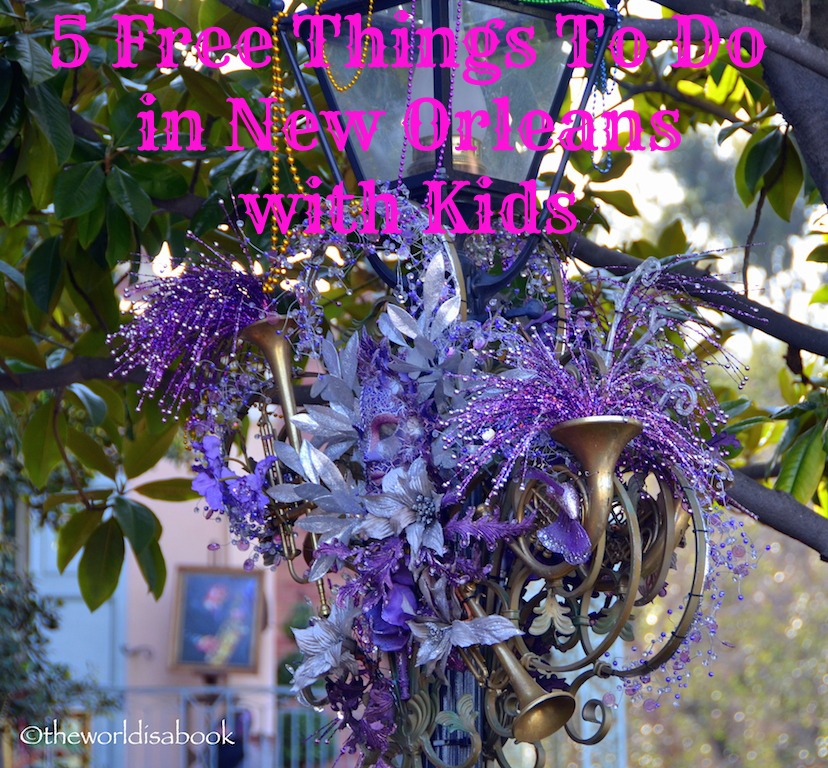 New Orleans is much more than a place to party, however. It is also known for its culture, cuisine, architecture, street entertainment, and shopping, which are all great for captivating adults and children alike! Here are a few things to do in The Big Easy that are not only free, but also things the whole family will enjoy:
1. Barataria Preserve
Kids love exploring the great outdoors. They are great places to explore and to burn some of that seemingly endless youthful energy. Barataria Preserve contains thousands of acres of swamps, marshes, and bayous, and is located only 30 minutes south of Downtown New Orleans. Plus, it's one of six sites that make up Jean Lafitte National Historic Park and Preserve —tell your kids they'll be visiting a park named after a pirate and they'll be begging to go!
Make sure to stop by the visitor's center at the start of your visit for displays and exhibits covering the history and importance of the land. You can also get information regarding the ranger-led programs, including the Junior Ranger program, where kids can solve puzzles and complete activities to earn a badge. Additional free programs may include guided walks, bird watching, and canoeing.
2. Sydney and Walda Besthoff Sculpture Garden
The Sydney and Walda Besthoff Sculpture Garden is a collection found at the New Orleans Museum of Art, but unlike the exhibits within the museum, admission to this five-acre attraction is entirely free of charge. The focus of the garden is on modern sculpture, and there are more than 60 works for visitors to enjoy. Make it interactive by asking your kids what they think each piece represents. They might surprise you with their creative answers!
The garden is located within the famed City Park, so after viewing the art, you can head over to the Singing Oak at Big Lake. Your whole family will marvel at the soothing sounds of the wind chimes suspended from the tree.
3. Walk the streets of the French Quarter
While I would not recommend visiting Bourbon Street with children, the French Quarter is certainly worth a visit. Royal Street runs parallel to Bourbon, just one street over towards the Mississippi River, and it's much more family-friendly. As you stroll you can gaze at the ornate iron balconies and colorful buildings. If your family is up for a longer walk, the next two streets, Chartres and Decatur, are both great for window-shopping.
If your kids are a bit older, you might want to start your visit to the French Quarter by stopping by the Visitor Center on Decatur Street. Rangers lead Riverfront History Walks Tuesday through Saturday. Arrive by 9 a.m., because space is limited.
4. Jackson Square
Though this is technically in the French Quarter, I'm splitting it off into its own attraction because as most parents know, kids' attention spans are limited. Since many of the attractions in the French Quarter require a lot of time on your feet, allowing time to take a nice midday nap (or at least a break to sit) in between will do wonders for keeping your kids both interested and cheery.  
Jackson Square is filled with artists and street performers that are sure to captivate the little ones. While they are mesmerized, parents can take a moment to absorb the multitude of historic buildings that surround them. These include the Cabildo (where the Louisiana Purchase was signed), the Pontalba (the oldest apartment building in the U.S.), and the St. Louis Cathedral (the oldest continually used cathedral in the U.S.)!
I know this is all supposed to be about free things, but I can't help but mention that the Café du Monde is located on this square, and for just a few dollars you can indulge in some beignets, a doughnut-like New Orleans classic!
5. Music at the French Market
The French Market works with the New Orleans Jazz National Historic Park to present a variety of free, indoor concerts year round. After all, New Orleans is the birthplace of jazz!
For families with young children, I recommend planning to visit the first Friday of the month to catch children's musician Johnette Downing. Make sure to check the schedule ahead of time, because there are occasional changes. If you can't make it that first week, every Tuesday at noon there's a free Piano Hour.
Additionally, the French Market offers free walking tours on Monday and Wednesday. I also recommend walking around the shops, and especially checking out the praline stores, where you can see the famous candies in the works!
Christina Loiacono is a travel enthusiast currently living just a few short hours outside of the Big Easy. She loves exploring new places and being a travel contributor with Zerve.  You can follow Christina on Google+ too.
*Any other suggestions for free things to do in New Orleans with kids? 
This is a part of a series called Five Free Family Friday which is a collective guide of free family-friendly attractions from places all over the world.  If you'd like to contribute with the free attractions in your home city, I would love your guest posts. Thanks!