Strolling the Historic Center of Bologna, Italy
Sometimes, not having any expectations about a place can totally surprise you. We arrived in Bologna, Italy from Venice via the train to go on a flight back to Madrid last November. It happened to be the cheapest flight prices and gave us an opportunity to explore another Italian city. Walk along with us as we explore Bologna's historic center.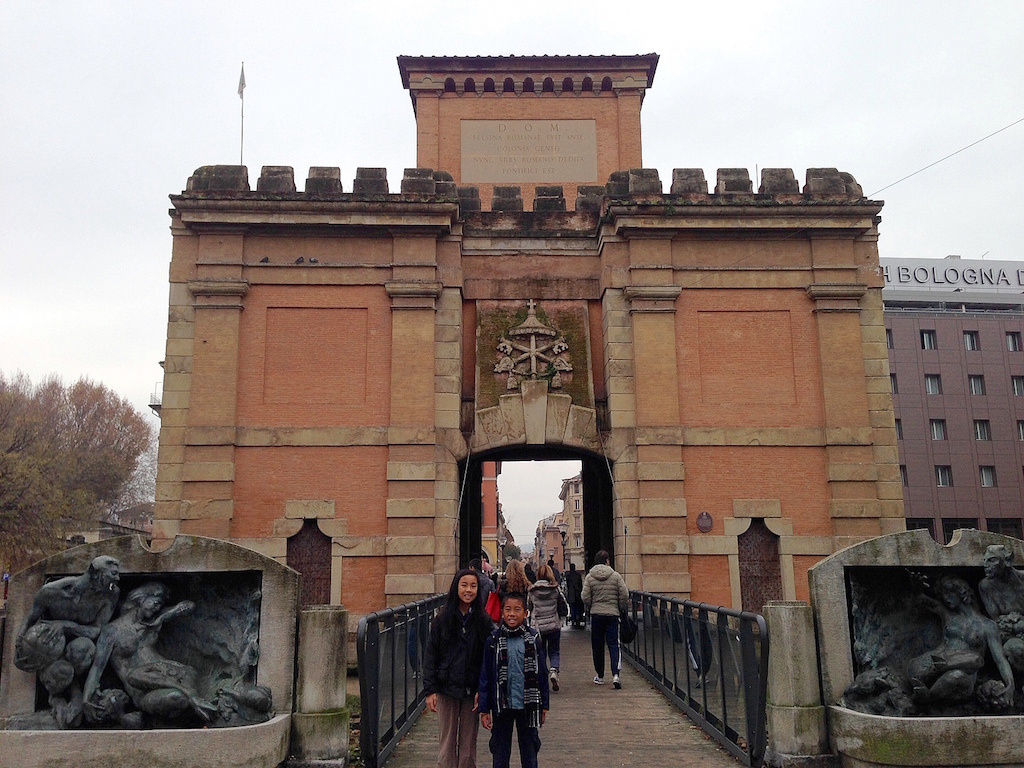 The two things I knew about Bologna before heading here and reading up on it was its famous bolognese sauce and its connection to the lunchmeats or as my kids asked, "Is that where baloney/bologna sausage comes from?" Apparently, it really did but is known as mortadella in Bologna(a thick Italian sausage).
History
Bologna actually has an interesting history. It traces its roots back to the 6th century when it was known as Felsina. It was renamed to Bononia 200 years later when Gaul tribes took control. Over the years, various groups from the Goths to the Huns had occupied it.
It eventually gained its independence and became the home of one of Europe's leading and oldest universities, University of Bologna, which was founded in 1088. Bologna fell under the Pope's control in the early 1500s for 200 years until it became part of Italy in 1860. 40% of Bologna's industry building was destroyed during World War II. Fortunately, the historic part of the town within the walls made it through intact and is one of the most visited and preserved attractions.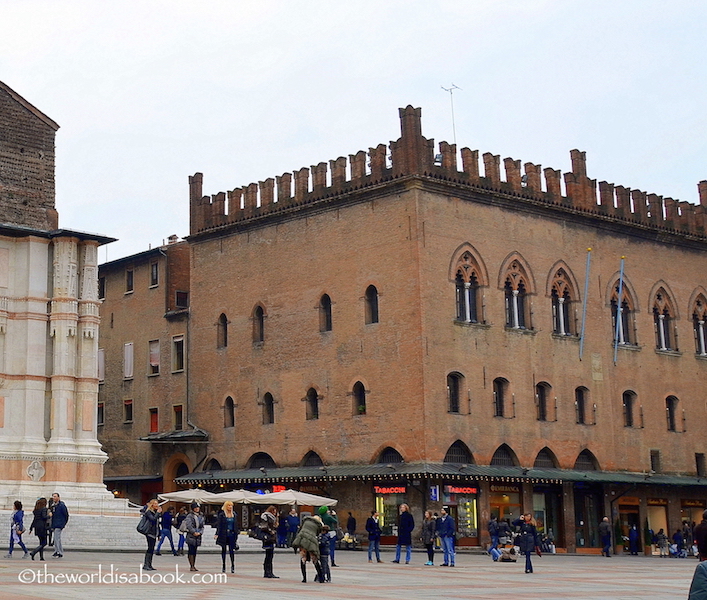 The Historic Center
We decided to do the 20-minute from the train station to the city center which was about a mile. Buses are also available but we highly recommend walking to see some interesting parts of the town. One of the first things we encountered out from the train station was the Porta Galliera. The gate was built in the 13th century and reconstructed over time. This was one of the gates of Bologna's outer medieval walls. It was actually quite elaborate for a portal.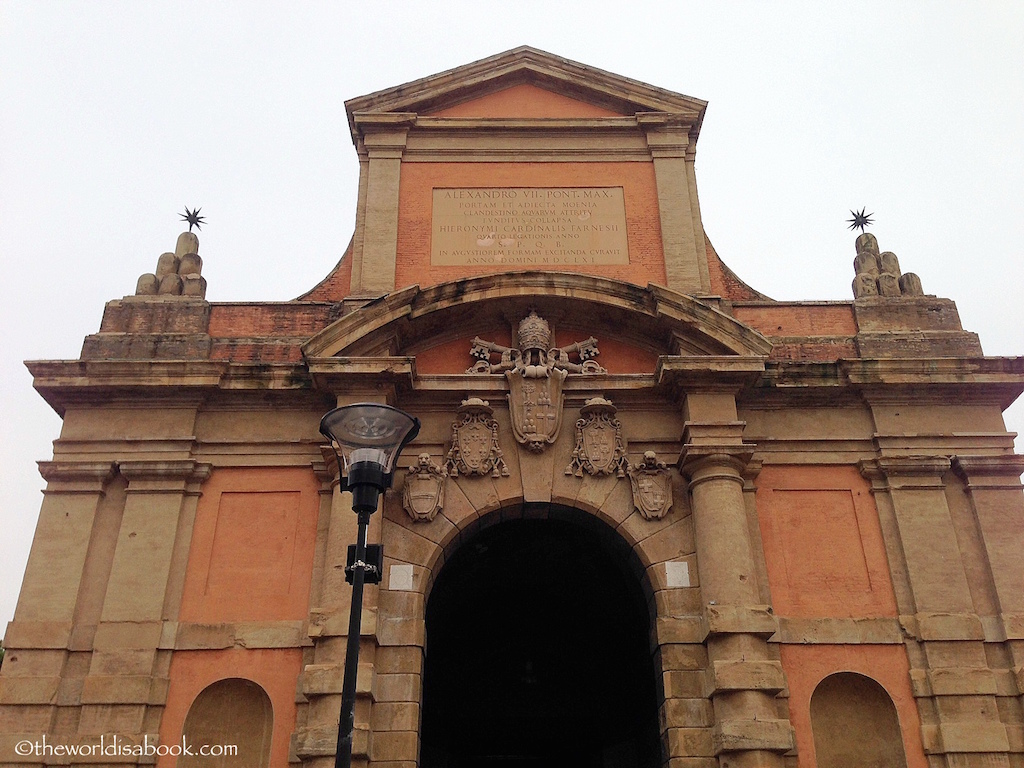 We made our way to Via Indipendenza which was the shopping area. I loved all the historic buildings that surrounded the street and the stores under covered arcades. There were a lot of shades of red and orange with all the buildings here primarily made of red bricks. Apparently, Black Friday sale madness has made its way to Italy too. Plenty of store window signs boasted deep discounts in honor of the original American Black Friday after Thanksgiving sale.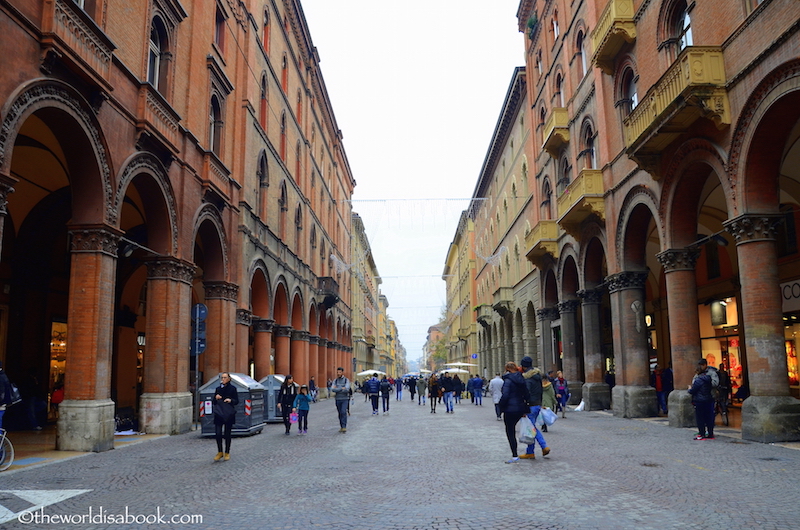 We got here around lunchtime and made our way to one of the most highly recommended places to eat in Bologna. Ditta A.F. Tamburini has been around since 1932. It was a cafeteria-style eatery and there were plenty of locals here. There were limited seats and dining tables were very close together. They specialized in Emilia Romagna (northern Italy region) food, had diverse selections and were a great value.
Bologna's specialties include stuffed and handmade egg pasta and pasta bolognese (slow cooked meat sauce). It's also known for salami and ham and Tamburini was selling a lot of these meats including some hanging hams. Our lunch was delicious and glad we had a hearty and memorable last meal in Italy.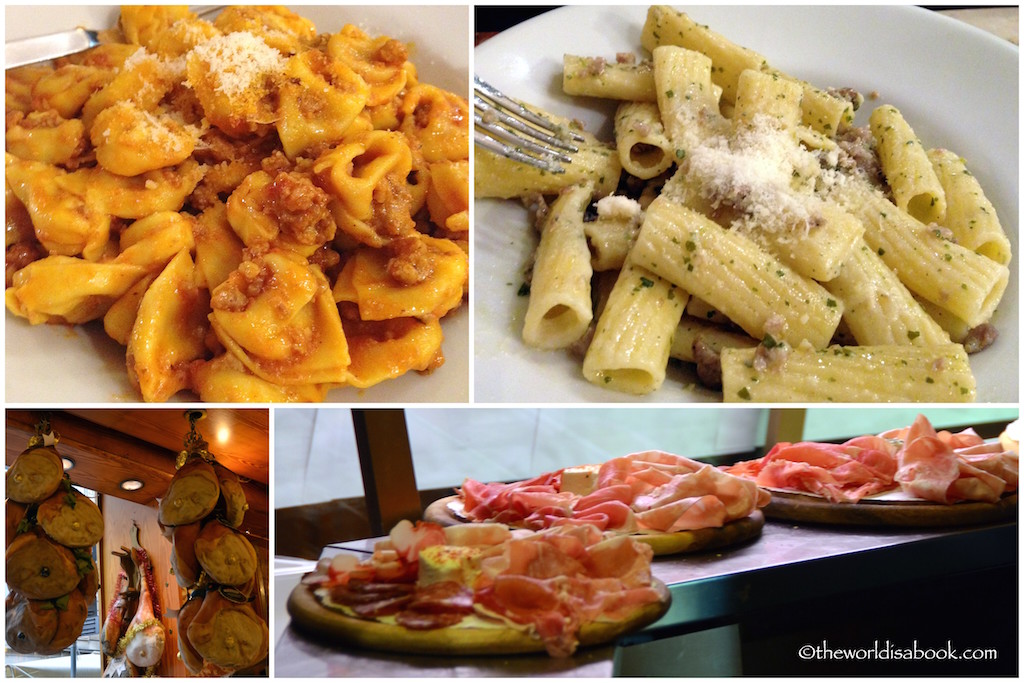 It would be a travesty not to have any dessert while in Italy especially a gelato. My kids had multiple gelatos on a given day while we were in Italy despite some freezing temperature. This was our last gelato in Italy and they savored every bite.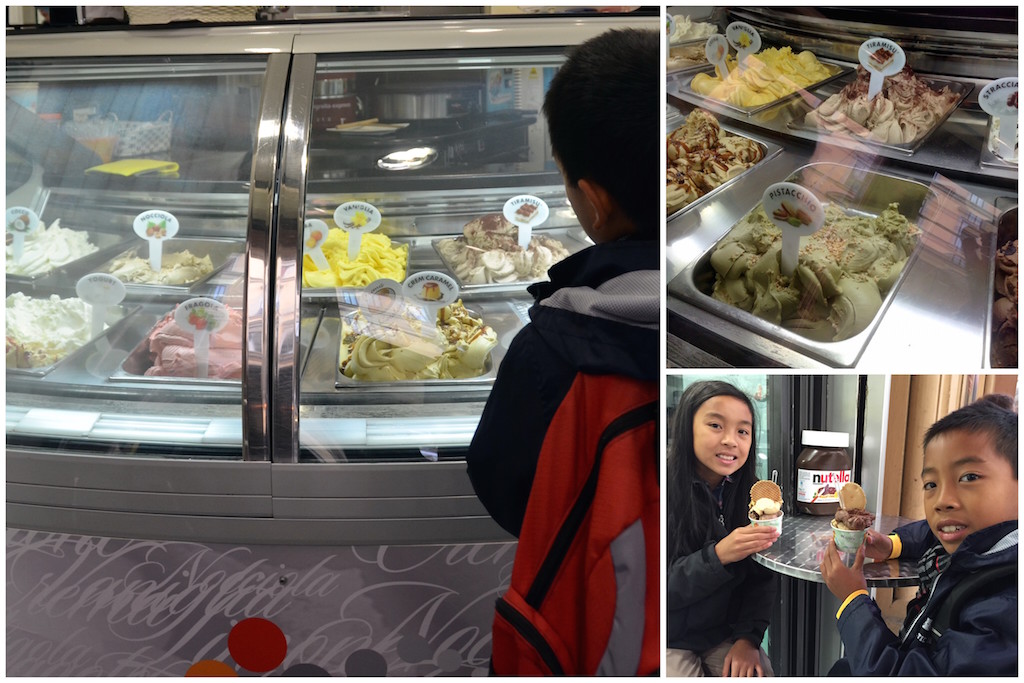 We were here during the weekday but encountered a few street musicians along the way. One of the things we noticed about Bologna was its liveliness. Music was emanating from every corner whether from a restaurant or the street. I can just imagine how much fun it is here during a summer weekend.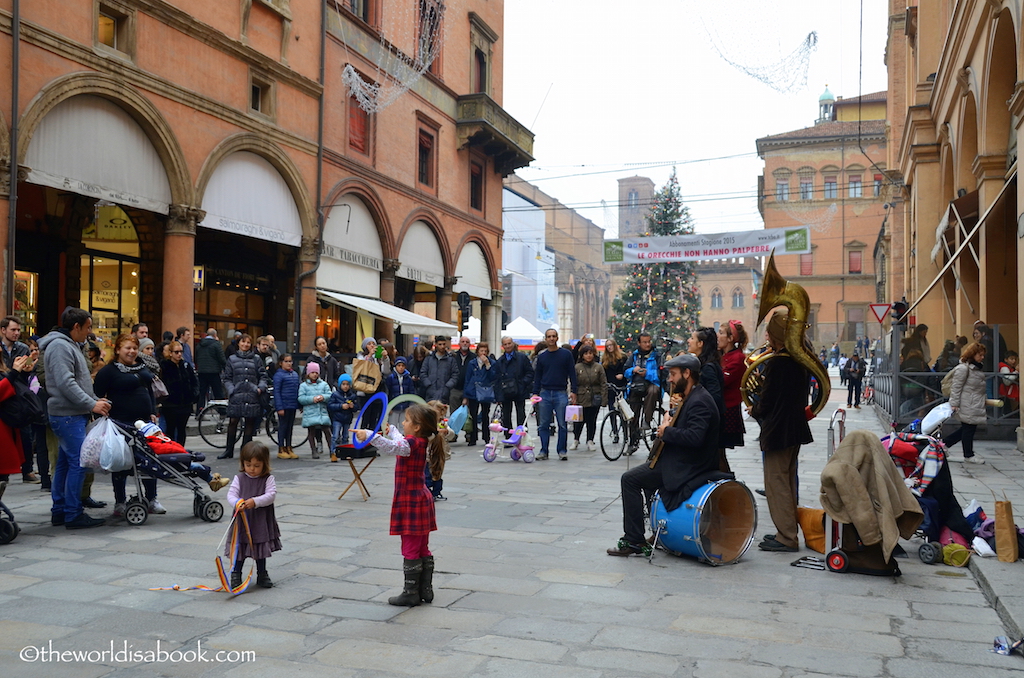 Some of the streets were closed for car traffic when we were there. I'm not sure if that was permanent or just during certain days. But, we enjoyed the pedestrianized zones and made it easy to walk around and window shop.
Like many European cities, Bologna's public squares are both a meeting place and filled with historic buildings. Piazza Maggiore was once Bologna's economic center but is now a cultural hub and a favorite local hangout. We liked how wide and open this piazza was compared to the other squares. It was surrounded with great architectural details, interesting buildings and arcades. I wish we had more time to explore the small side streets that led away from the piazza.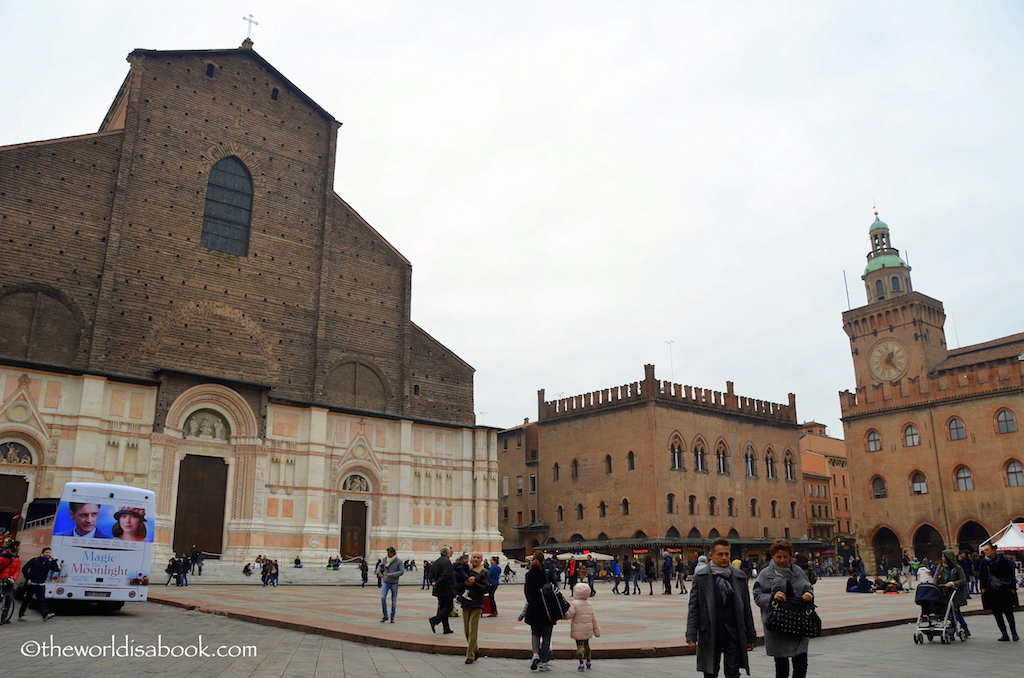 The most prominent building at the piazza was the Gothic church of Basilica of San Petronio. Its steps were a favorite hangout for tourists and locals especially students. Inside was supposed to be the world's largest sundial. We went inside and it was a beautiful church. It was quite a contrast to its dark exterior. Unfortunately, we couldn't take pictures in there. There were authorities walking around making sure we followed the rules.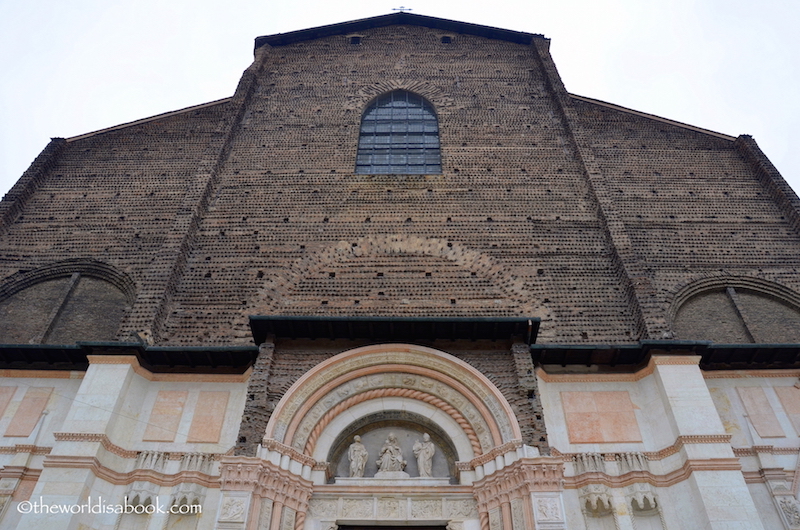 The other large building with the clock tower around the piazza is Palazzo d'Accursio or commonly called "Palaz" by the locals. This was once a University of Bologna law professor's, (Accursio) home but is now the city's town hall. It is also actually a complex of connected buildings that includes an art museum and the City Art Collection containing some of the city's historical memorabilia.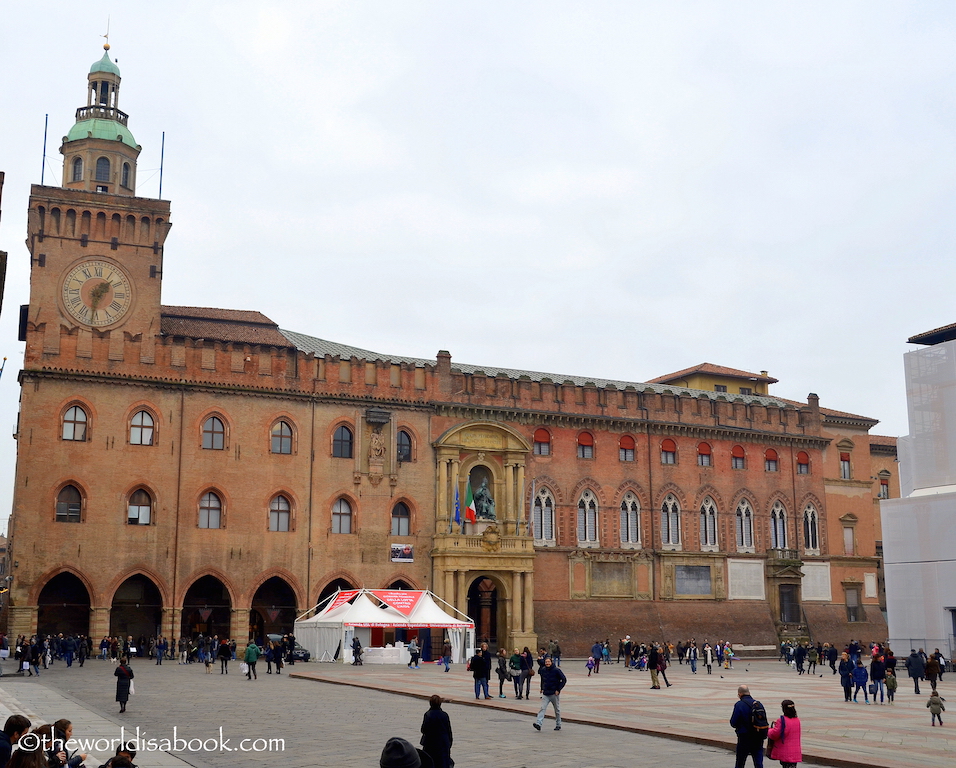 It's hard to miss the huge statue of Pope Gregory XIII, a Bolognese pope, which was built in the late 1500s. When Napoleon and his troops invaded the city in 1796, he ordered all papal statues to be destroyed. The Bolognese transformed this statue to its patron saint of San Petronio to save it from destruction by altering details like putting a cross in his hand. They also replaced the plague above it with Divus Petronius Protector et Pater. The plaque remained long after Napoleon died confusing many visitors with this statue's identity.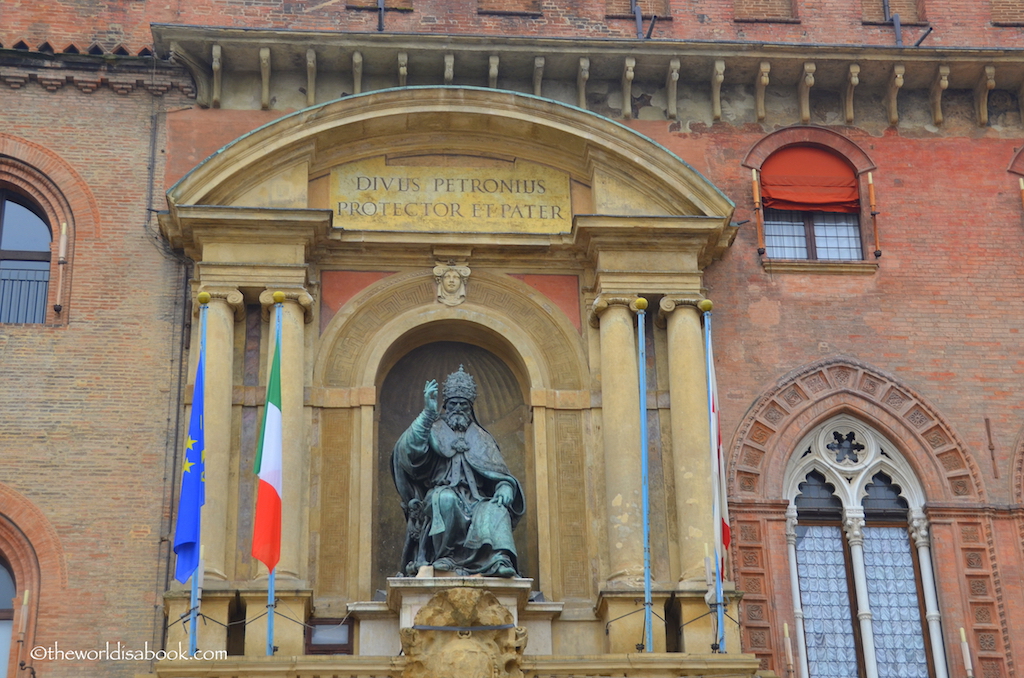 One of Bologna's other popular squares was Piazza del Nettuno, which was next to Piazza Maggiore. There was a large Christmas tree here during our visit which added to the festive atmosphere. The large and decorative Fountain of Neptune (Fontana del Nettuno) also stood at the center of the square. This was completed in 1566 by a Flemish sculptor also known as Giambologna. The fountain was meant to symbolize the Pope's power during that era much like how Neptune exerted his power over the seas.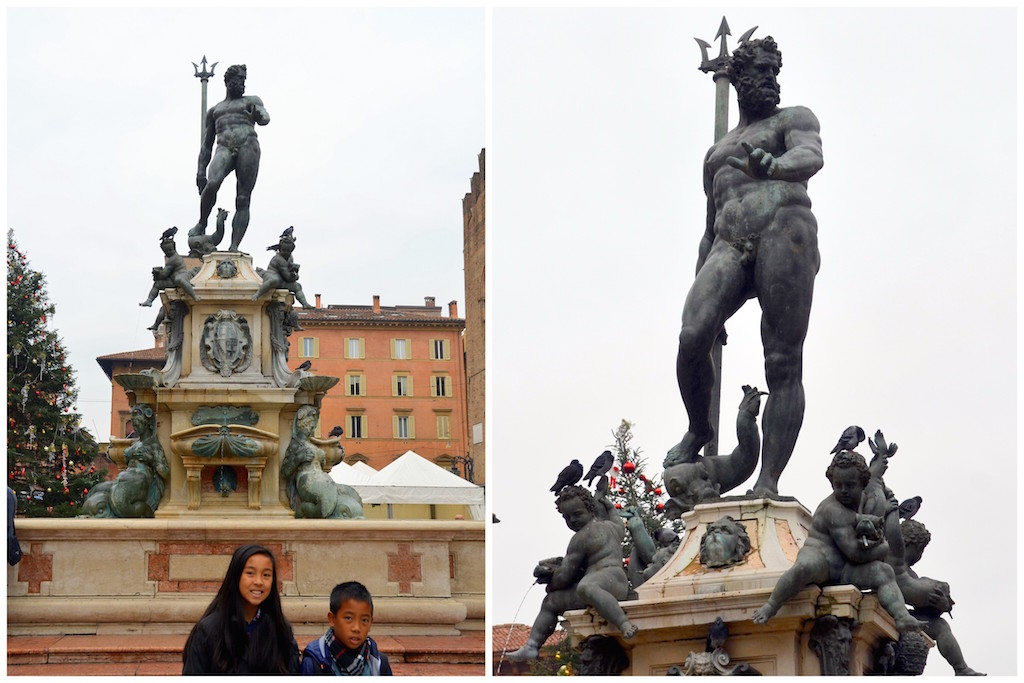 Since the squares were popular attractions, there was no shortage of street entertainers. We found these two unique ones near each other. That guy in the baby stroller was a bit creepy but the gravity-defying guy was pretty neat that my kids wanted to take a closer look.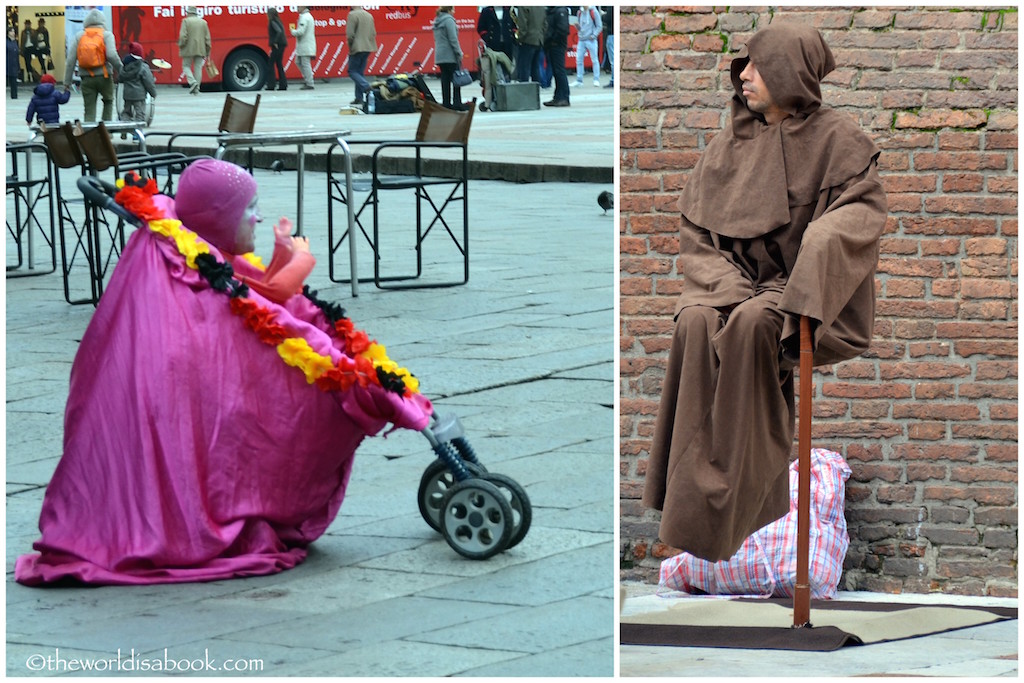 Prominent families built 180 towers to show their power and wealth in the 12th century. There are about 20 of these medieval towers left standing today and have become one of Bologna's traditional symbols. Torre degli Asinelli (Asinelli Tower) is open for climbing. It's a steep 498 steps to the top for some wonderful panoramic views of the city and beyond. We passed on this one since we were short on time.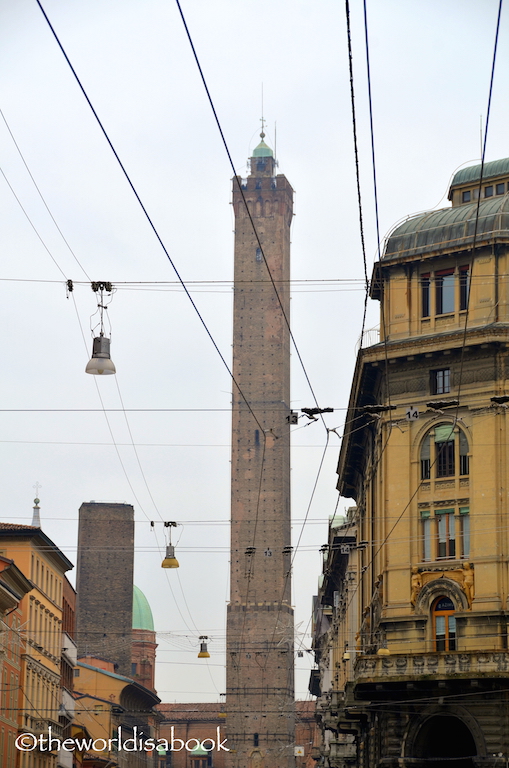 We were here in late November which was the start of the Christmas markets. Vendors and stalls of food, decorations and clothing were at almost every block. We loved wandering around the maze of clothing and shoes in this one market. Many clothing items were actually cheap. It was too bad we were flying light.
We were glad we were able to get a glimpse of Bologna and its historic center during our few hours there. The city was compact enough and easy to get around with many pedestrianized areas. If you're in the area, this city is a worthy stop for its architecture, attractions and delicious food.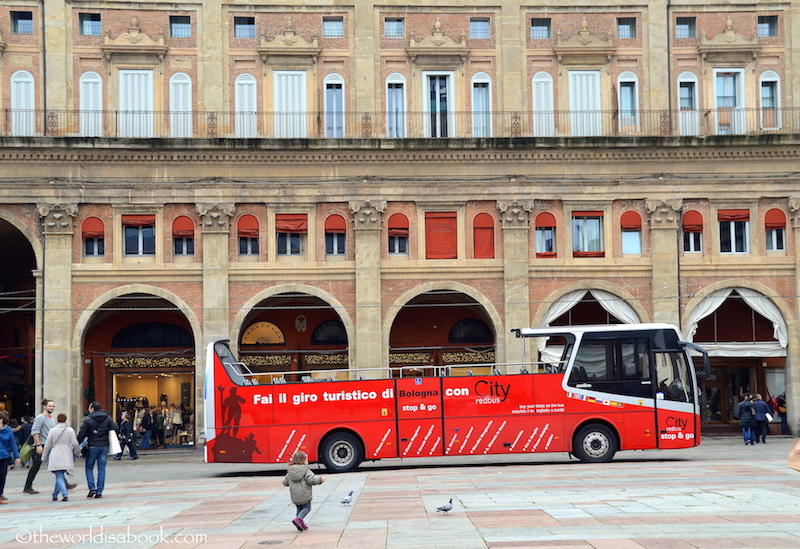 Visiting Bologna Tips and Basics
Bologna is easily accessible via high-speed trains from other major Italian cities (30 minutes from Florence, 1 hour from Milan and 1.5 hour from Venice)
If you're coming by train and have luggage, you can store them at the station's Left Luggage Office, which was what we did. Prices as of Nov. 2014 were six Euros for each luggage for the first five hours and Euro .90 for each hour between the 6th – 12th hours. Maximum weight for each luggage is 55 lbs (25 kg).
We decided to walk the 1 mile (1.6 km) from the train station to the city center. Buses (Bus 25, A, 30) are also available. We really enjoyed walking through the covered arcades and window-shopping.
Guided tours are also available including one with City Red Bus Tour Bologna with a few routes.
*Have you visited Bologna or would you want to visit?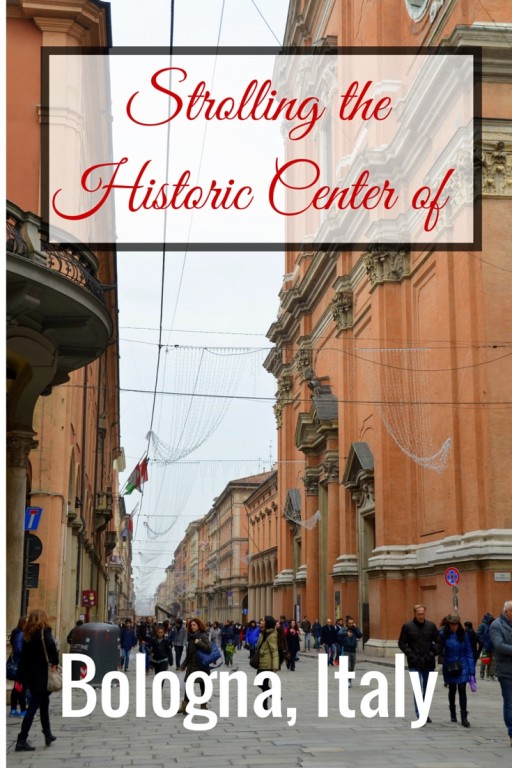 Check out these related posts: