Iceland Blue Lagoon with Kids: The good, bad and the naked
We knew this was going to be unlike any country we've visited so far.  We were in Iceland two weeks ago during a four-day stopover on our way to the Scandinavia region.  There is so much to amazing Iceland that I can't wait to write about it and share.  This first series post is about its most recognized attraction – the Blue Lagoon.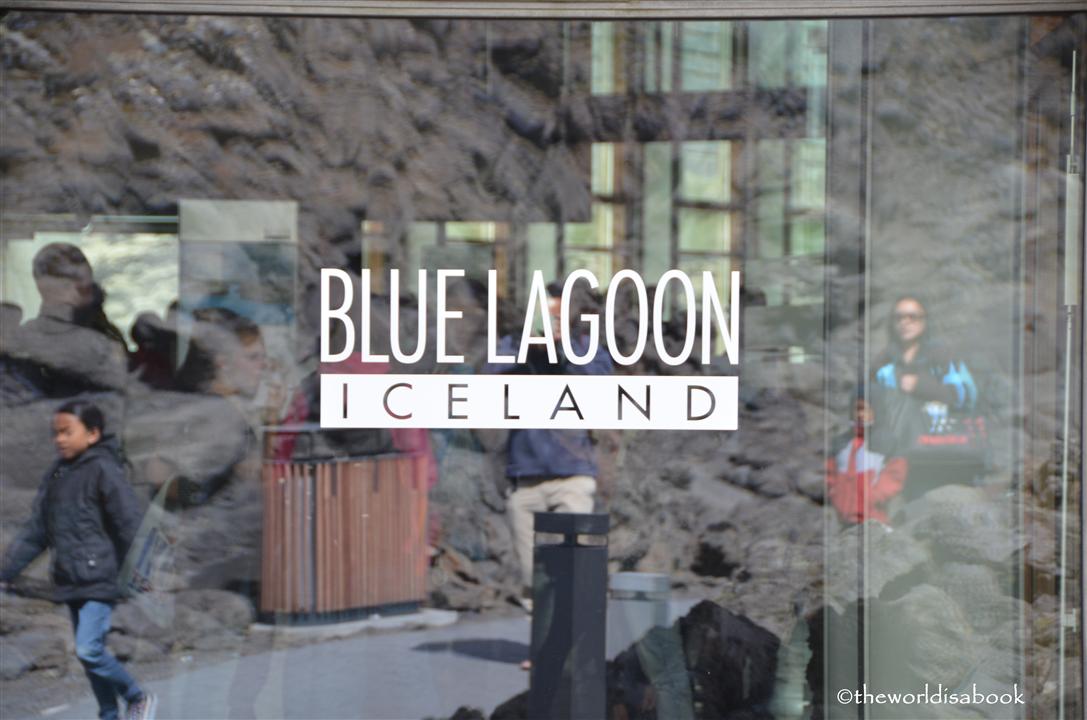 After a hearty brunch at our hotel, a stroll on the nearby harbor, picking up our rental car and some grocery shopping, we were off to the spend our first Iceland day at the Blue Lagoon. We were looking forward to a relaxing afternoon after being on two long plane rides and battling a bit of jet lag.  The kids equated the lagoon to a giant pool so they were excited.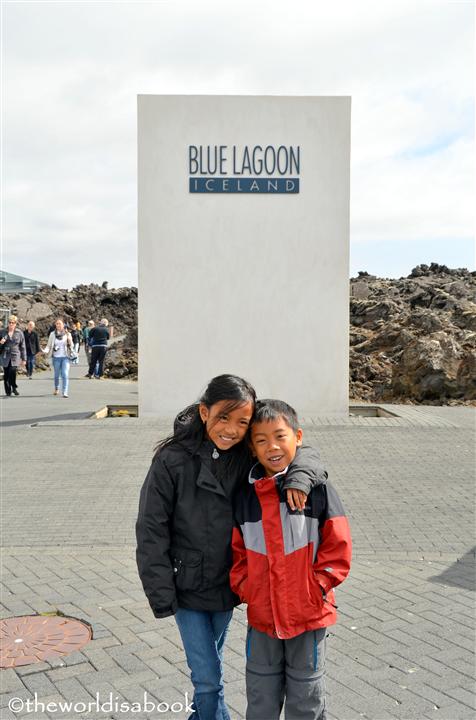 The Blue Lagoon is a unique geothermal spa.  The nearby Svartsengi power plant pumps geothermally heated seawater from thousands of feet below the earth's surface and uses this to produce heat and electricity for the nearby towns.
The excess water (supposedly totally clean) is pumped into the lagoon and renewed every 40 hours.  Yes, it was man made but seeing the lava field, one can easily believe it was all supernatural.  Its mineral-rich waters are believed to contain some healing powers for skin ailments like psoriasis and eczema.  The blue color is said to come from the blue-green algae.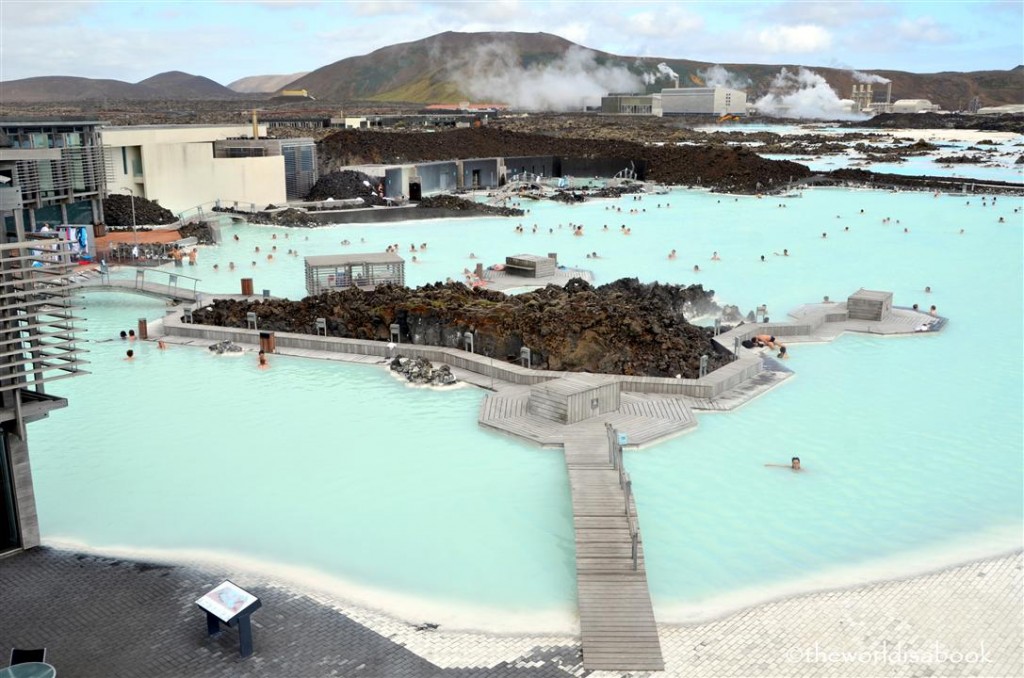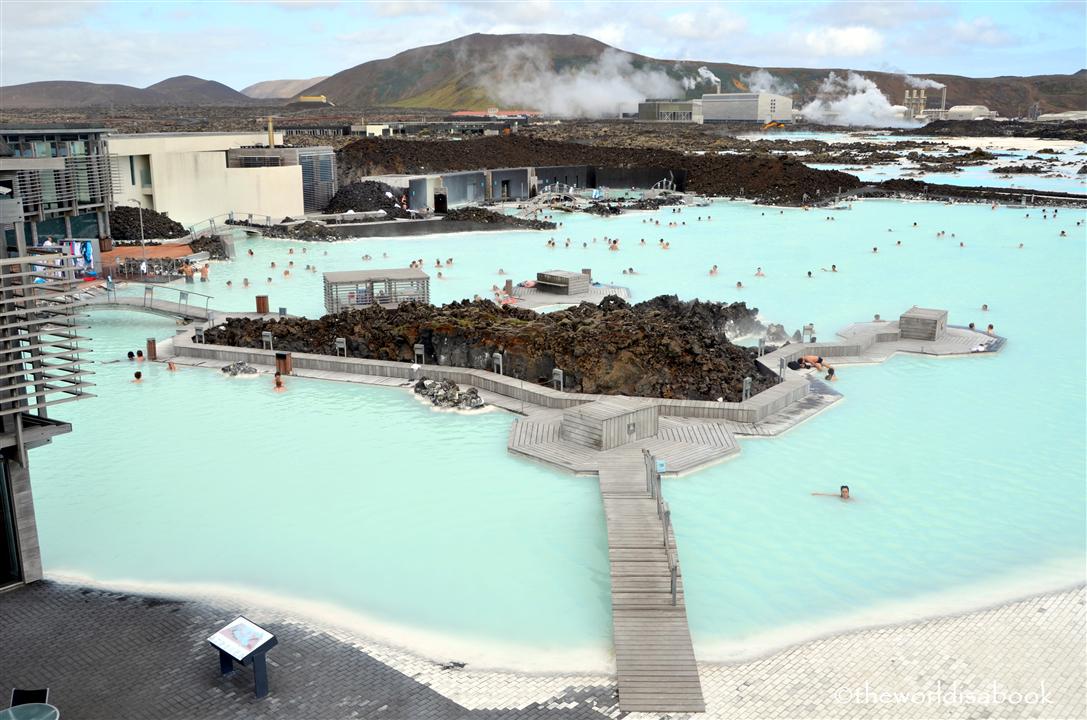 Getting There
Much of what we had seen so far of Iceland's landscape were moss-covered volcanic rocks sprinkled with purple, bluish looking flowers.  It was surreal and many people's description of being "otherworldly" was absolutely right.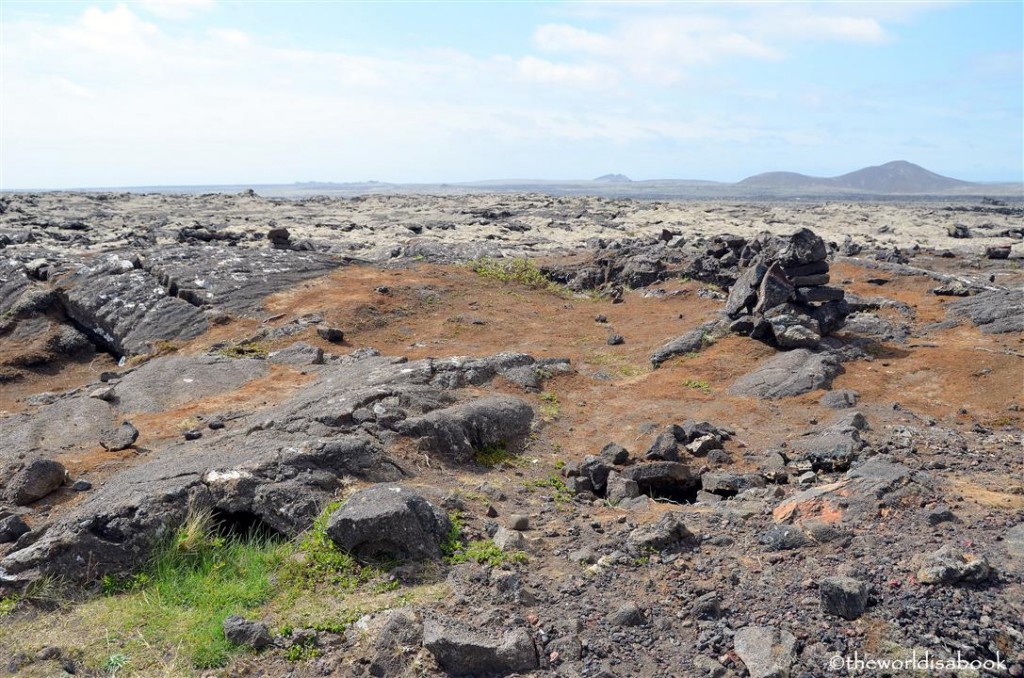 The Blue Lagoon was located 20 minutes from the Keflavik International Airport making this a popular stop for visitors when arriving or right before leaving Iceland. Rising in a valley in the middle of nowhere, we knew we were nearby upon seeing the billowing smoke from the power plant.  Somehow, the power plant usually gets left off in those idyllic marketing images.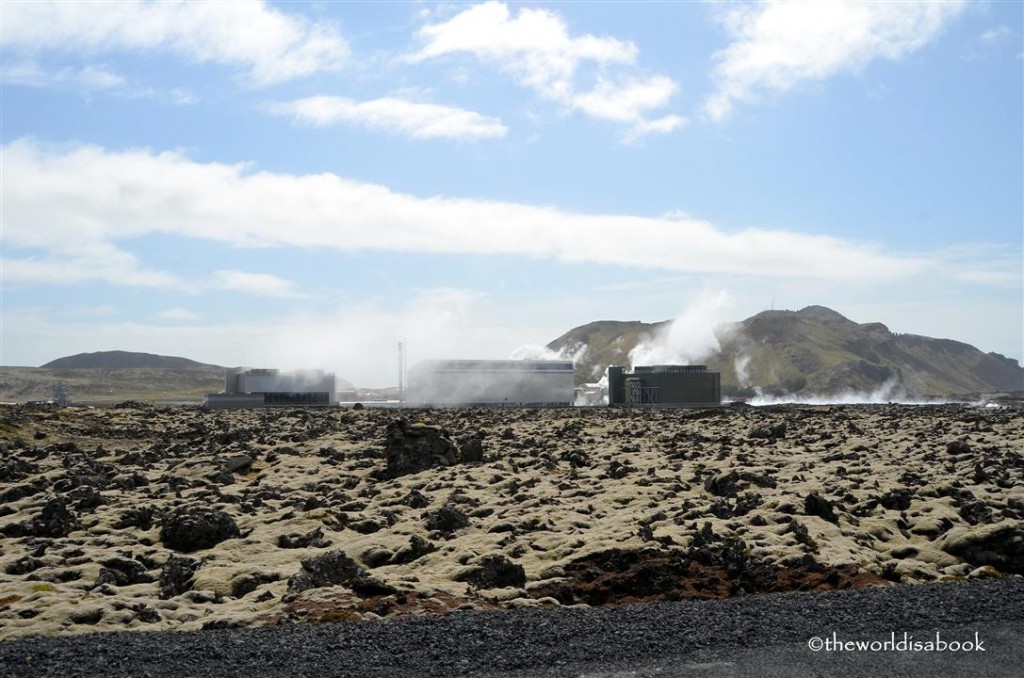 As we drove through the entrance, we saw a few people taking pictures of a small body of blue water on the side of the road.  I thought of Windex blue (the glass cleaner) and my kids thought light Gatorage Blue (the drink). Of course, being the tourists that we are, joined them.
The beauty is overpowered by the strong scent of sulfur or what my kids call "bad egg smell" here though.  This was the last place we smelled the sulfur and surprisingly, it wasn't that bad at the lagoon.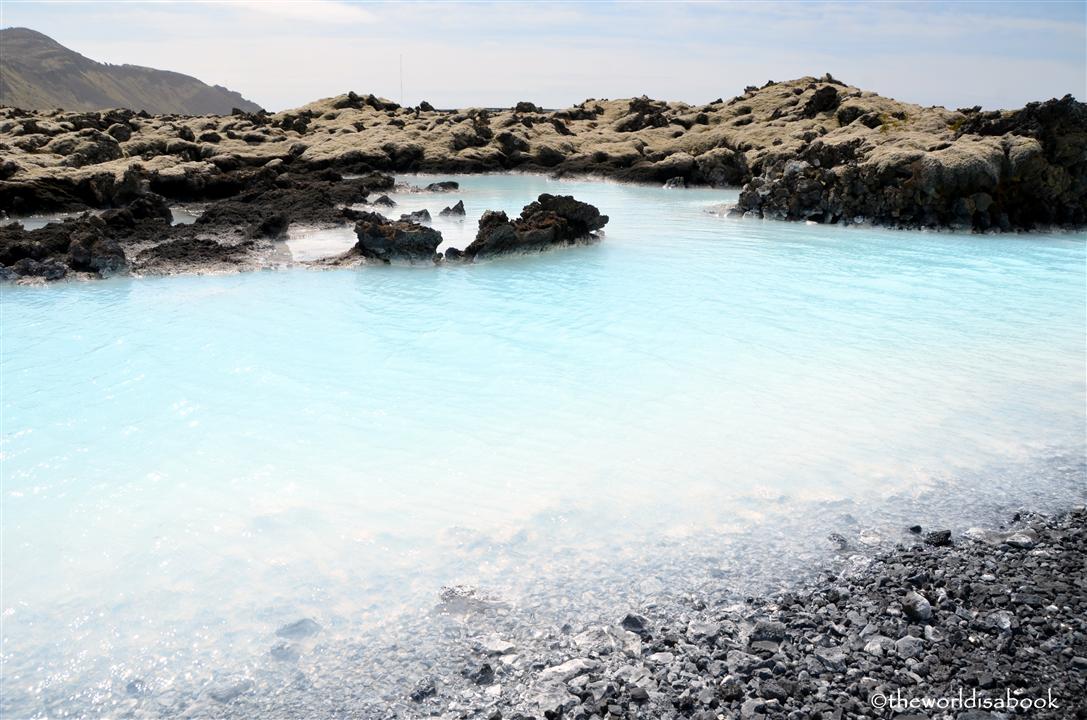 The paved walkway to the lagoon center was surrounded by sharp, volcanic rocks.  We decided to follow the pathway to the left before entering the building.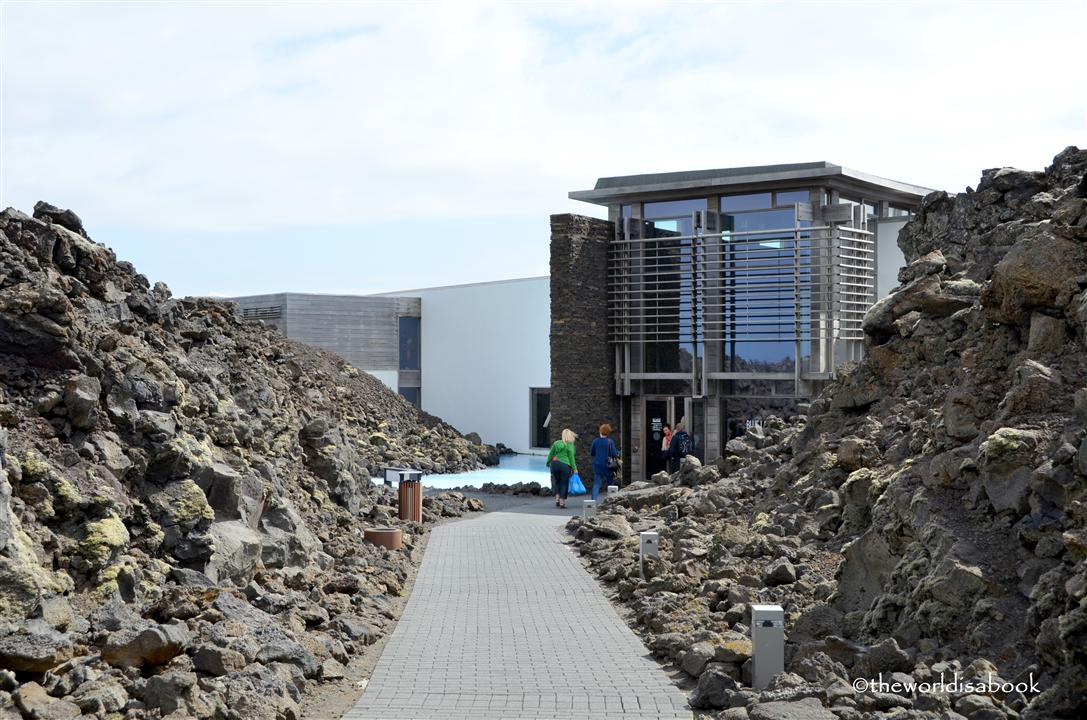 It was worth the detour for some fantastic scenery of the blue pools in the midst of black lava rocks.  This wasn't a swimming area so the trail gave us an idea of what to expect and some stunning photo spots despite the cold and wind.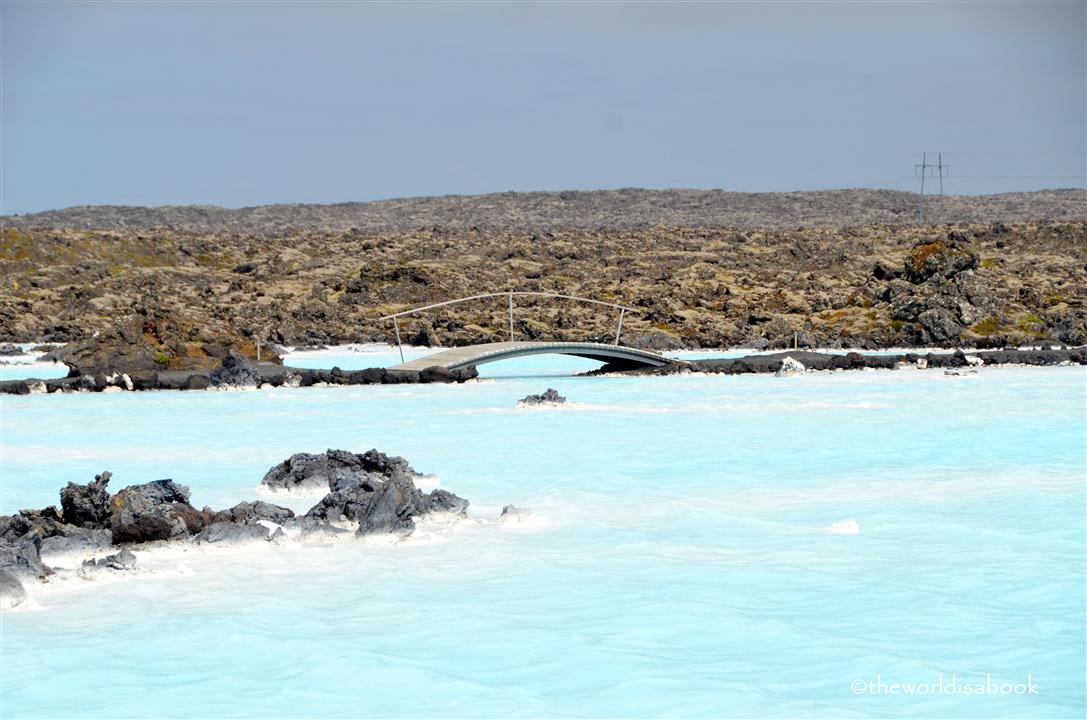 Upon entering the building and paying, we were issued electronic bracelets to enter/exit and to open the modern lockers for storage. These could also be used as a virtual money to charge drinks, food, massages, etc. which was very convenient.
It was pretty pricey to enter at EUR 35 ($44) for adults and kids, 13 years and younger, were Free.  Teens 14 & 15 were EUR 15($19).  This admission price didn't include towels (EUR 5/$6) and robes (EUR 9/$11).
The Naked Part
My daughter and I went into our locker room which was actually really nice, modern and clean.  There were various partitions with seats in the middle surrounded by lockers.  Shoes had their own wall compartment and rows of dressers and mirrors lined the walls.
We entered one of the first spaces we found.  Then, I caught a glimpse of the first naked lady and then another changing out there in the open.  Despite growing up in the islands, I've never been comfortable in a bathing suit. Walking around naked among strangers was definitely not going to happen. It was admirable to see all these people shed all inhibitions though.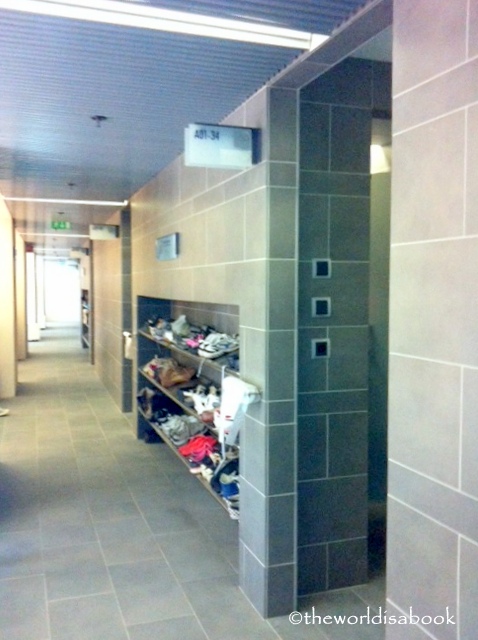 We knew this was the norm before coming here.  Frankly, I was a bit worried about my kids' reactions to seeing all this stranger nakedness. My 6-year-old son is a bit more spontaneous but I hoped my 9-year old daughter had enough self-control with her thoughts.  But, these were also the same kids who laughingly point at naked statues' private parts.  So, we were hoping for no pointing and no embarrassing comments.
I was trying to gauge my daughter's reaction and thankfully it didn't seem to affect her too much.  Afterwards, she said it was "gross" to see all the naked people. I didn't go into "a body is a beautiful" speech but she does realize that some cultures and people are just more comfortable with publicly showing their bodies.  We're just not one of them.  My husband shielded our son as much as possible so we don't think he's overly traumatized.
Luckily, we found a private room to change in.  It is mandatory to shower (preferably nude) before entering the lagoon.  Communal showers had separate stalls and they provided shampoo and body wash.  I had never seen so many naked people in one area during that short time.
They came in all shapes and sizes – old and young – and letting everything hang out.  My husband said it was the same in the men's room but mostly the older men. I felt like a prude showering in my bathing suit but grateful that there were quite a few who shared my modesty.
The Blue Lagoon experience with kids
My son was given arm band floaties to use even though he knew how to swim. He was a little disappointed but they were very strict with having kids under 7 years old wear them.
We witnessed the lifeguards hunt down a couple of families around the lagoon and personally give the kids floaties.  The few lifeguards walking around were the warmest dressed people out there – looking like they just came down from the ski slopes.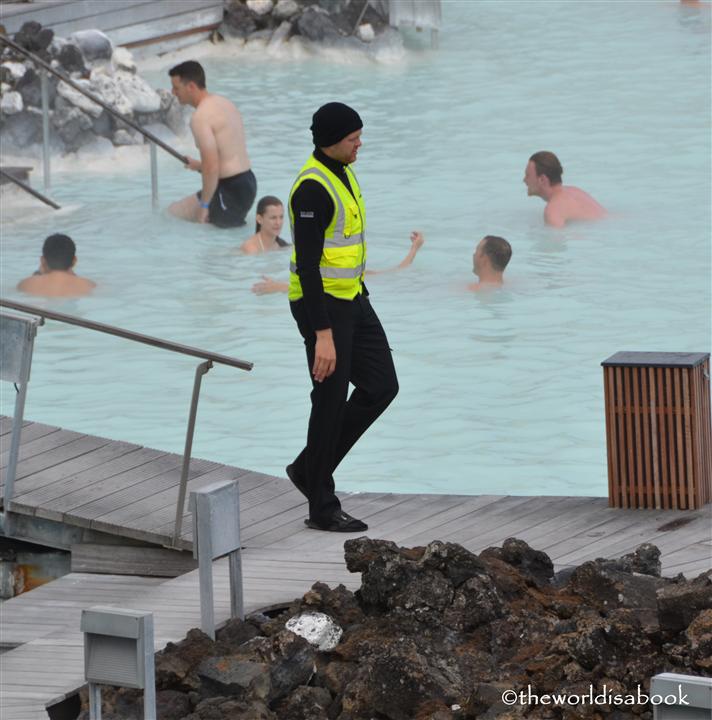 Iceland's summer was still cold with a steady wind gust and the sun sometimes hiding behind the afternoon clouds.  There was a small indoor water section for the kids to swim by the cafe.  We made our entrance to the lagoon through here and it led to a small cave with shallow waters perfect for kids.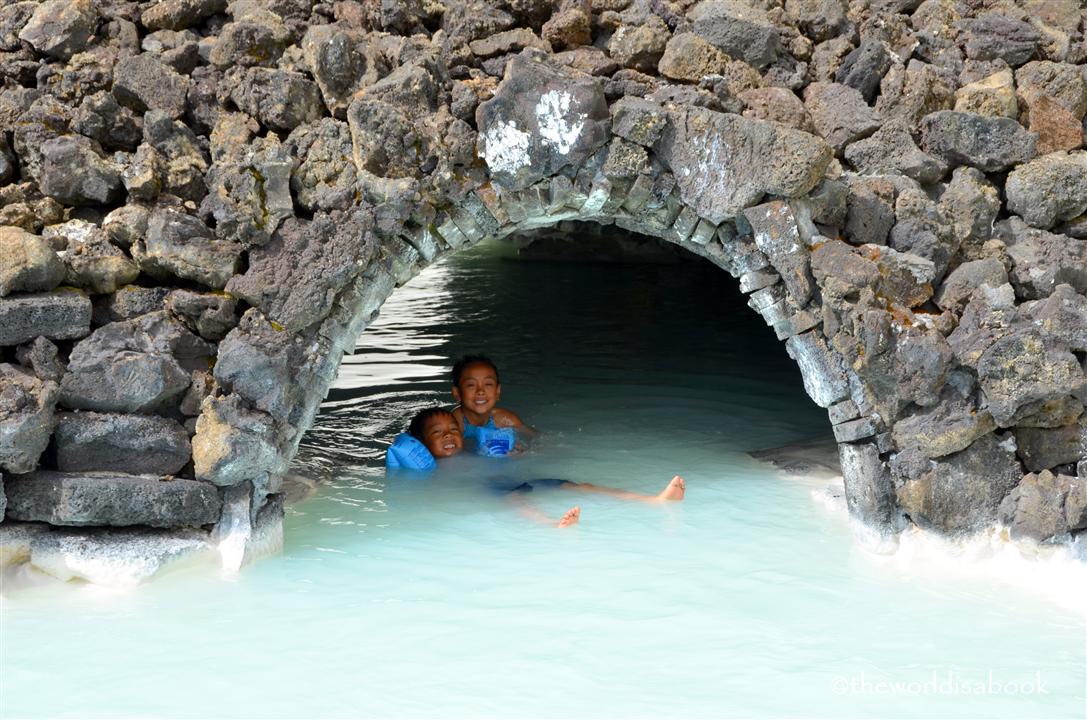 The lagoon was so comfortably warm everywhere.  Its waters are constantly kept at 37-39°C (98-102°F).  As we wandered into the main pool, I was surprised at the water's depth.  Most of the time we were sitting and to get around, squat walked.  There were varying degrees of depthness throughout the lagoon so we had to be careful when taking the kids around.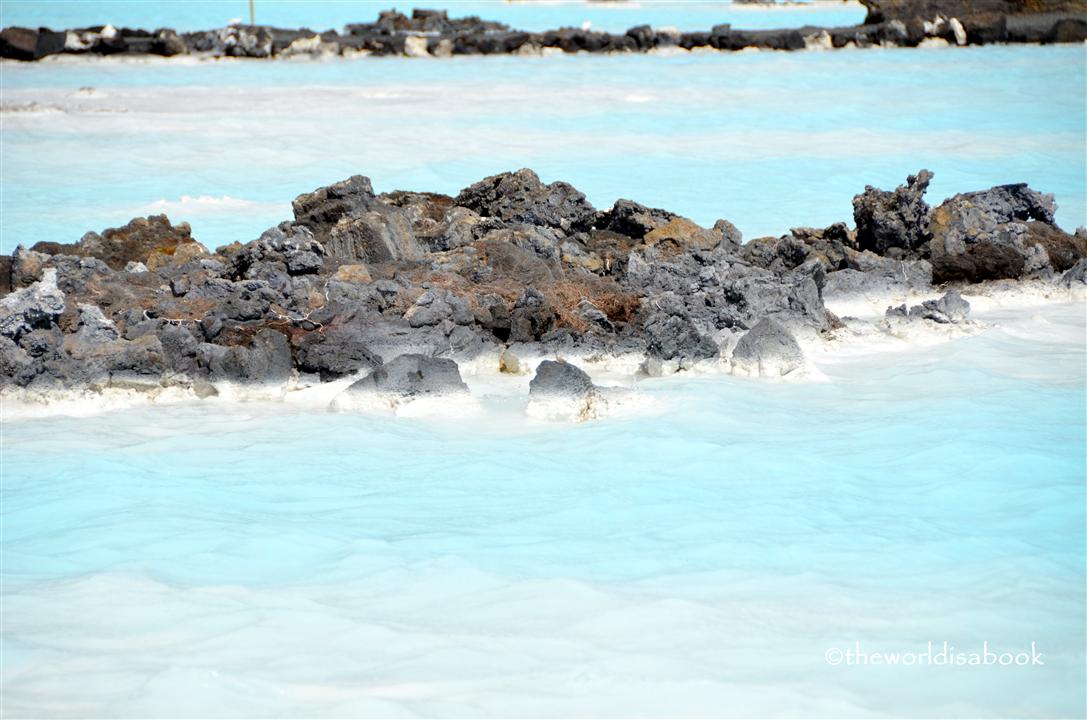 There were six million liters of geothermal seawater in the lagoon. It was big enough and wasn't as crowded when we got there that we were able to find some private areas.  There were certain sections made to look like hot tubs while steam rooms and saunas were also available.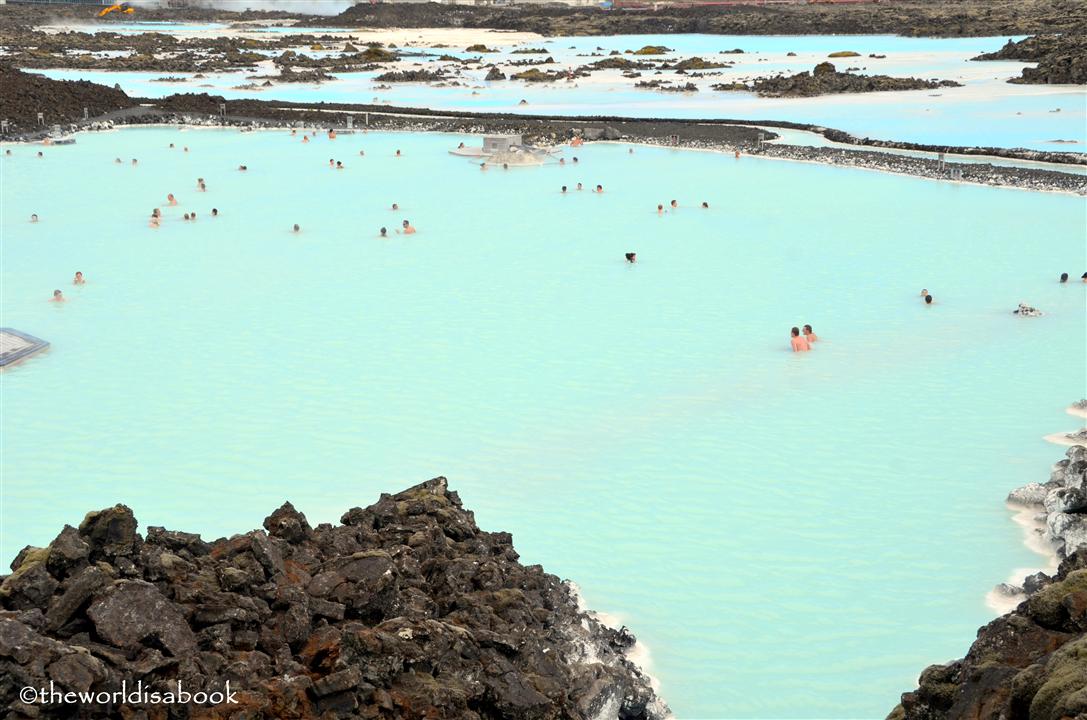 We semi-floated around to find a good spot.  You could sit or you could float.  Water temperature fluctuated throughout the lagoon.  Some areas were warm, some really hot.  The bottom portion of the lagoon is not all smooth.  I didn't check but it sure felt like volcanic rocks and were pretty sharp in some areas.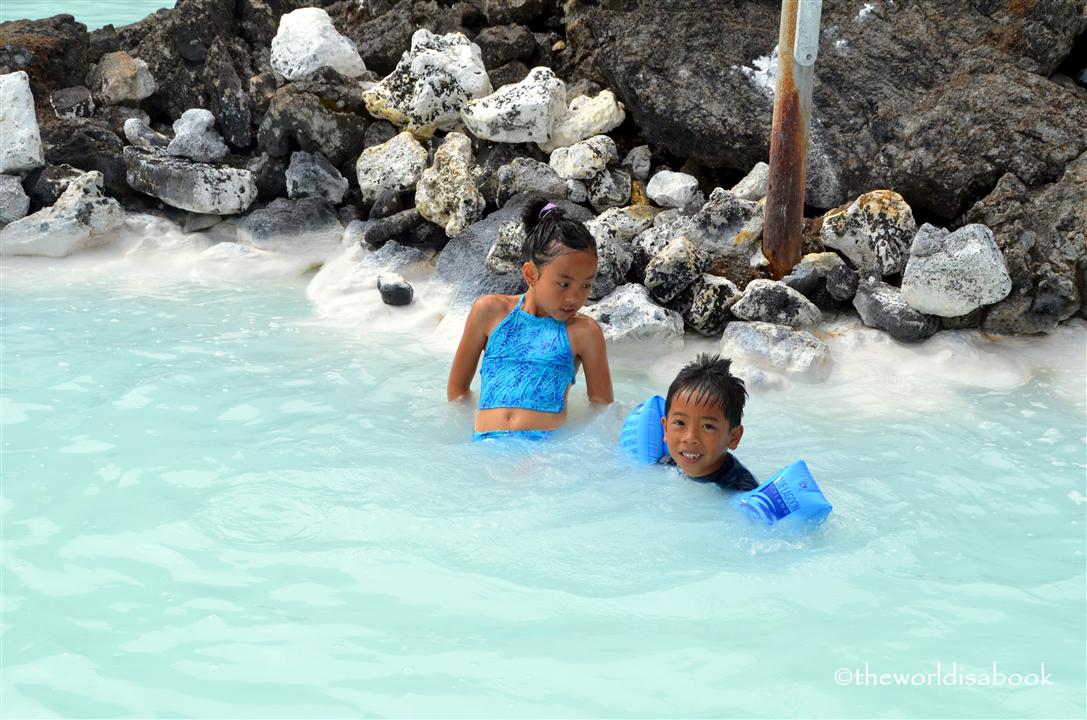 Maybe you've seen those pictures of people at the lagoon with white facial masks.  Those white substance are silica mud.  Contrary to what we've read, they're not at the bottom of the lagoon you could scoop up.
Although, there were probably some mud you could get underwater.  I'd rather not think what that contained though.  They had large silica tubs that the staff actually refilled.  It was very porous and you're supposed to rub it on your face to act as a mud mask.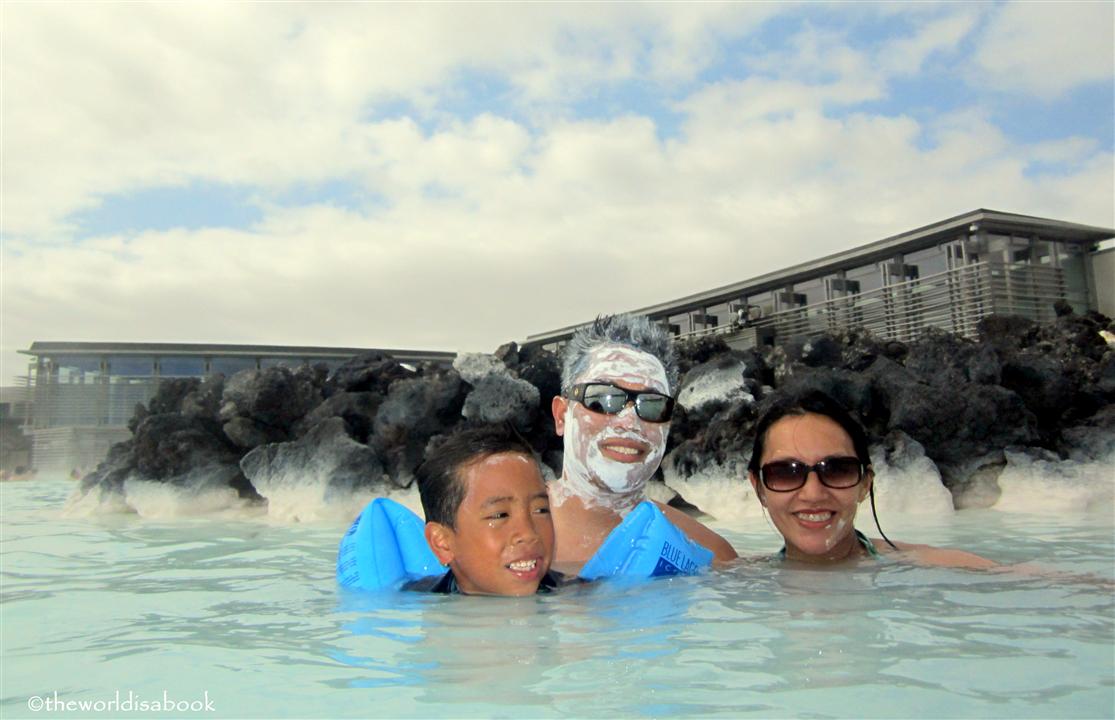 I have sensitive skin so I didn't dare rub anything on my face that will risk making me look like a red-faced blotch for the rest of my vacation.  My husband took on the challenge and generously applied it to his face.  He didn't notice any significant smoothness.
So, I'm not sure if he left it on long enough.  It was a bit unnerving to be gliding around in the mist and fog and suddenly encounter people whose faces were completely covered in white mud.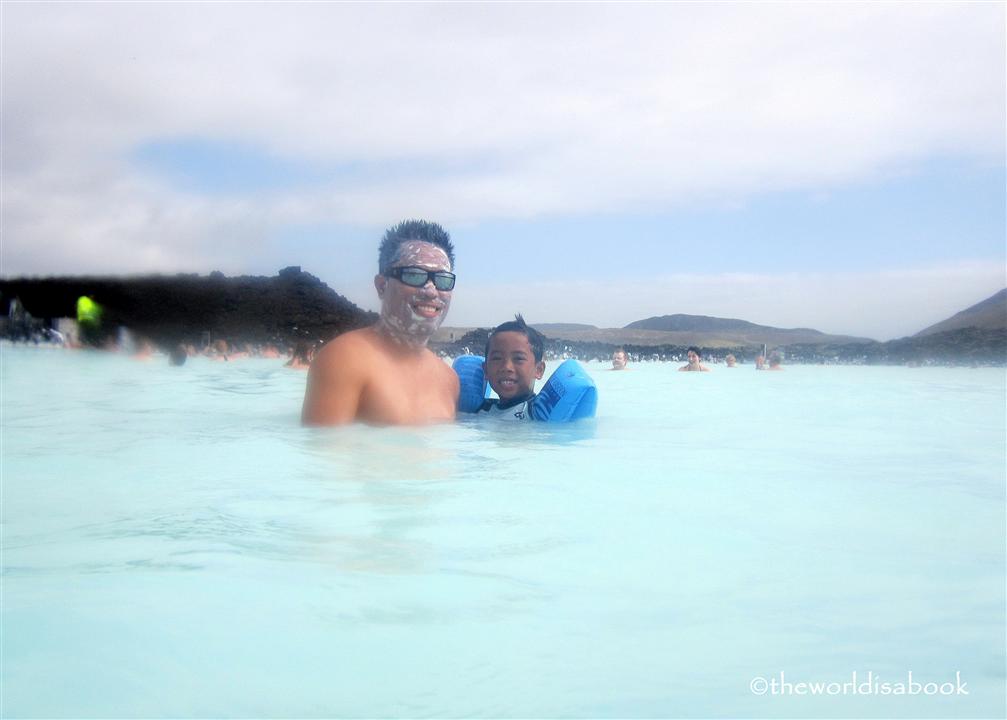 We spent a couple of hours in the water – floating, relaxing, people watching and letting the smooth currents gently massage us.  Soaking for hours made our finger tips all wrinkly so some breaks were necessary.
After a long flight, it was understandable why this was a popular place for tourists to de-stress.  We highly recommend going to the man-made waterfall by the wall.  We sat there and had our backs against it and let the powerful flow massage us.  It felt heavenly!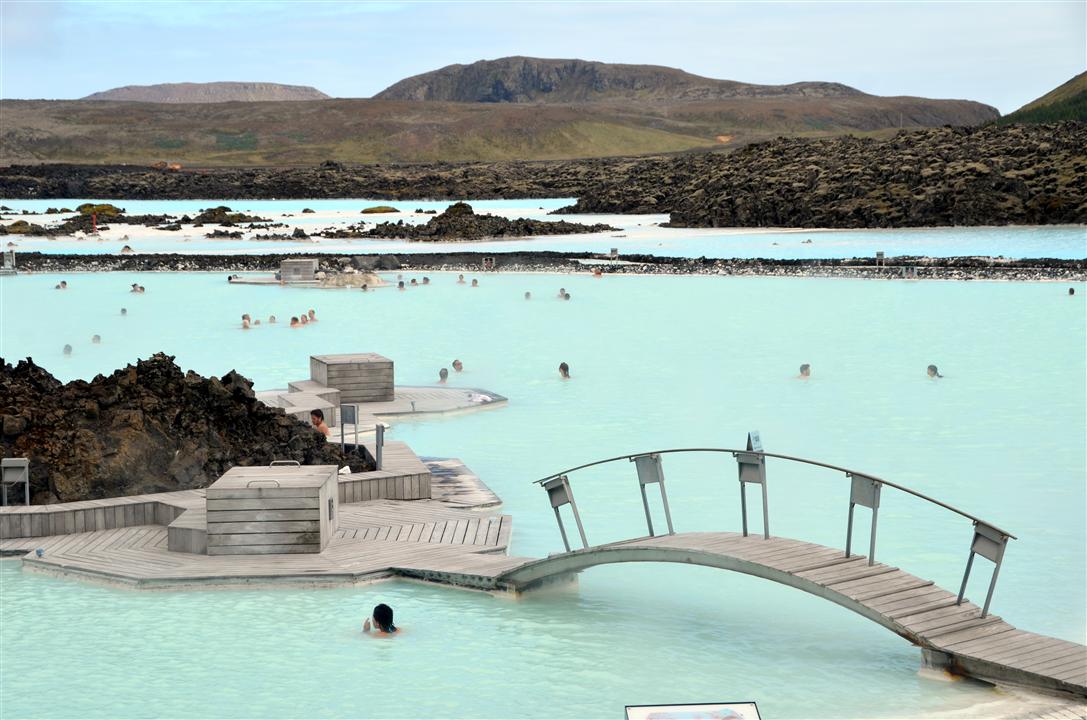 Along with the fog and smoke rising, there was something mystical about this place despite it being mostly unnatural.  Surrounded by black lava rocks and the contrasting murky blue water, it was a very distinctive atmosphere.  There was even a swim-up bar to buy drinks so one doesn't need to get out of the water.  We didn't get any but drinks ranged between $8-$10.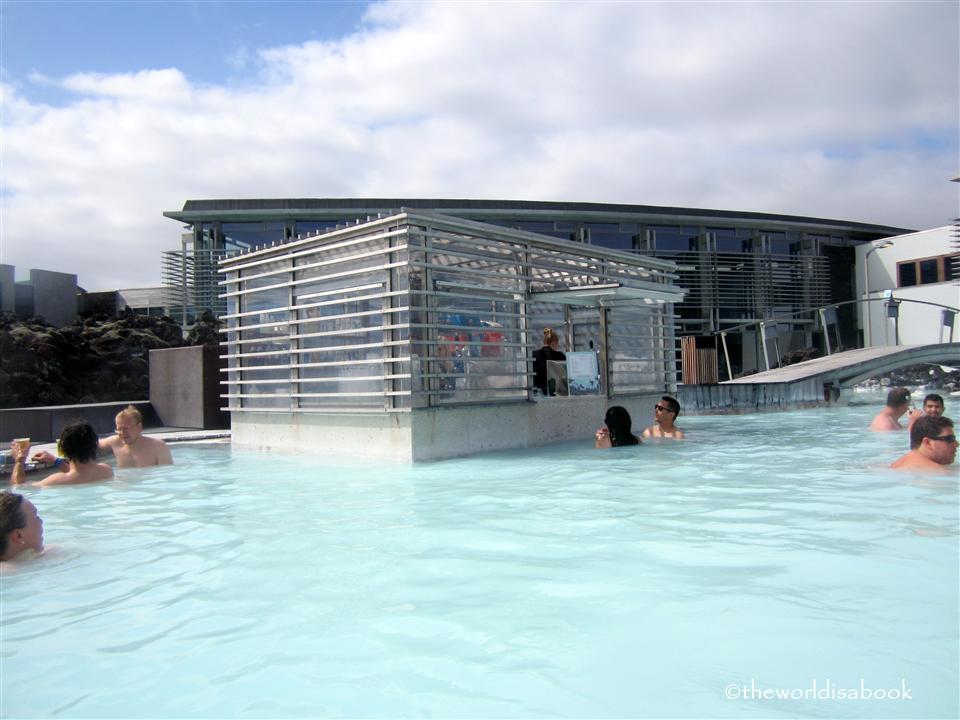 During our visit, the crowd was a mixture of tour bus groups of senior citizens, young couples, and fair amount of guys in groups.  There weren't that many families and my kids were probably among the 15 floating around during a Saturday afternoon.
Did my skin feel smoother after soaking here? A little bit.  So, there may be something to the waters after all.  For smoother, silky skin, go to their gift shop and try out one of their lotions.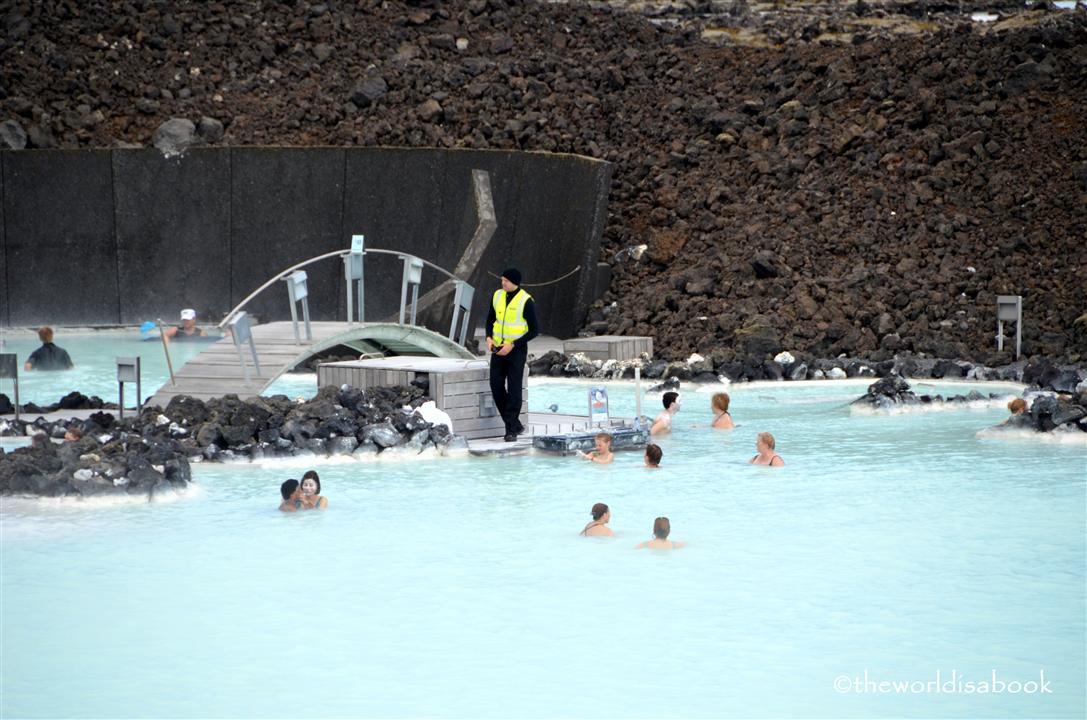 It may be touristy, expensive and can get crowded but definitely worth a visit.  Soaking in the Blue Lagoon has been on my husband's travel bucket list and he enjoyed the experience a lot.  While I felt like I was sharing this giant bathtub with a 100+ people and the semi-germaphobe in me had some anxious moments, it was a pleasant surprise and very refreshing.
The kids had fun just playing and soaking.  If you're going to be in Iceland, the Blue Lagoon is an attraction that should not be missed.  Relax and enjoy the unique and unforgettable experience.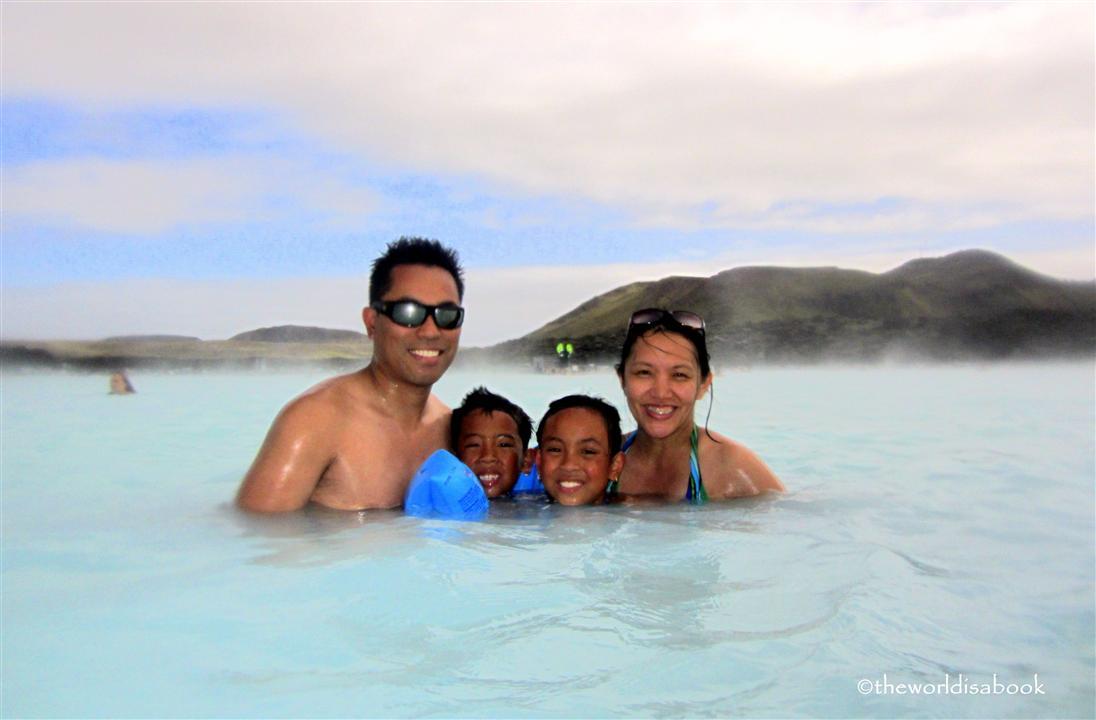 Tips for visiting the Blue Lagoon with kids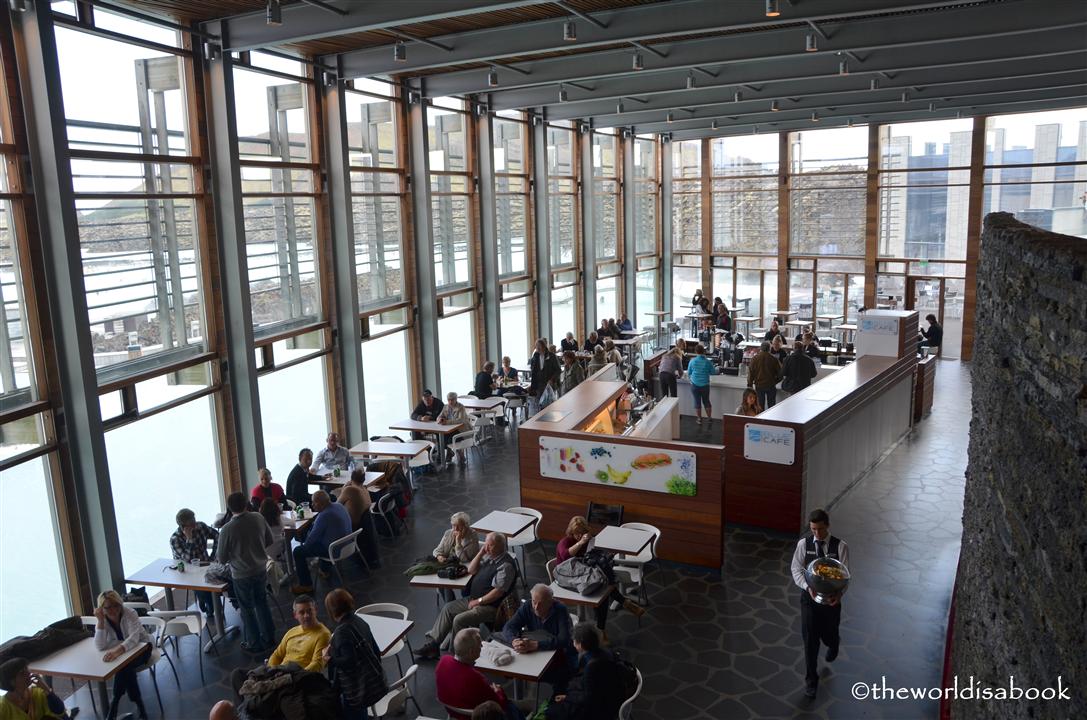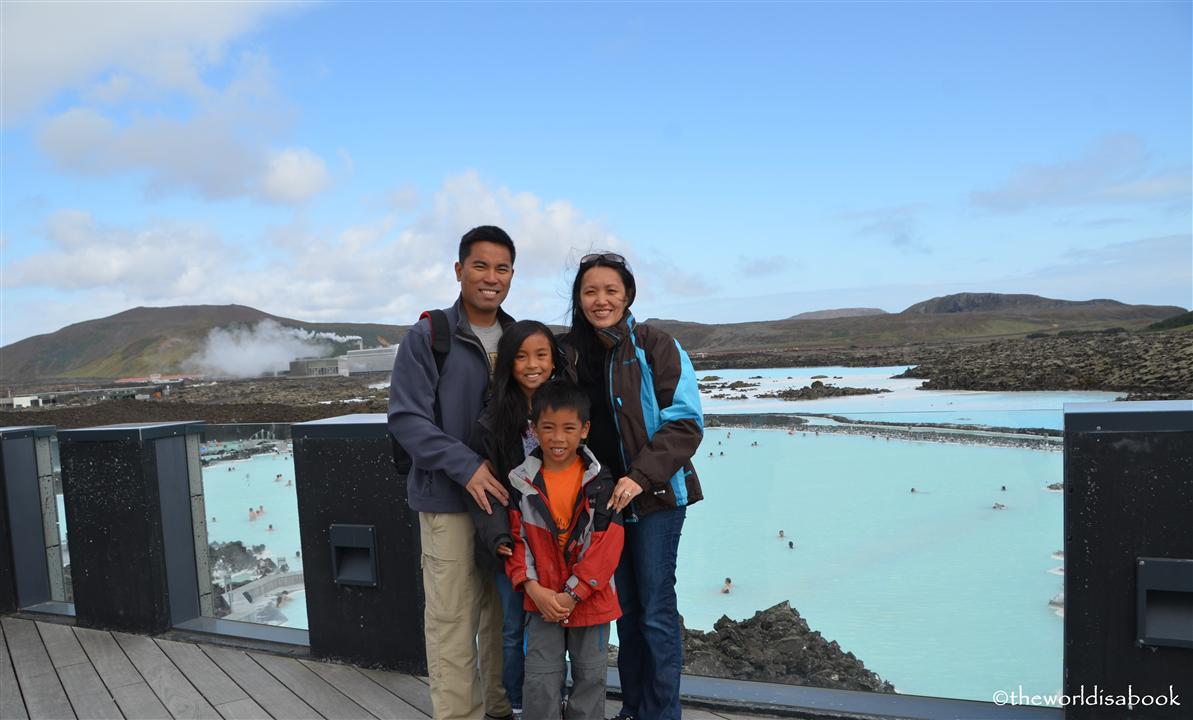 *Have you been to the Blue Lagoon or other places like it?  What was your experience? 
Related Posts:
Where to Stay
Car Rntals
Flights/Vacation Packages
—————————–
Pin it for later!