Iceland's Golden Circle Photo Tour
Iceland was a breathtakingly scenic country – raw, awe-inspiring, strange, otherworldly.  Our visit two weeks ago included  a trip on the Golden Circle which gave us a glimpse of why this is called the Land of Fire and Ice.  The Iceland Golden Circle is the 190 mile (300 km) roundtrip route that covers three of Iceland's spectacular attractions – a national park, geysers and waterfalls.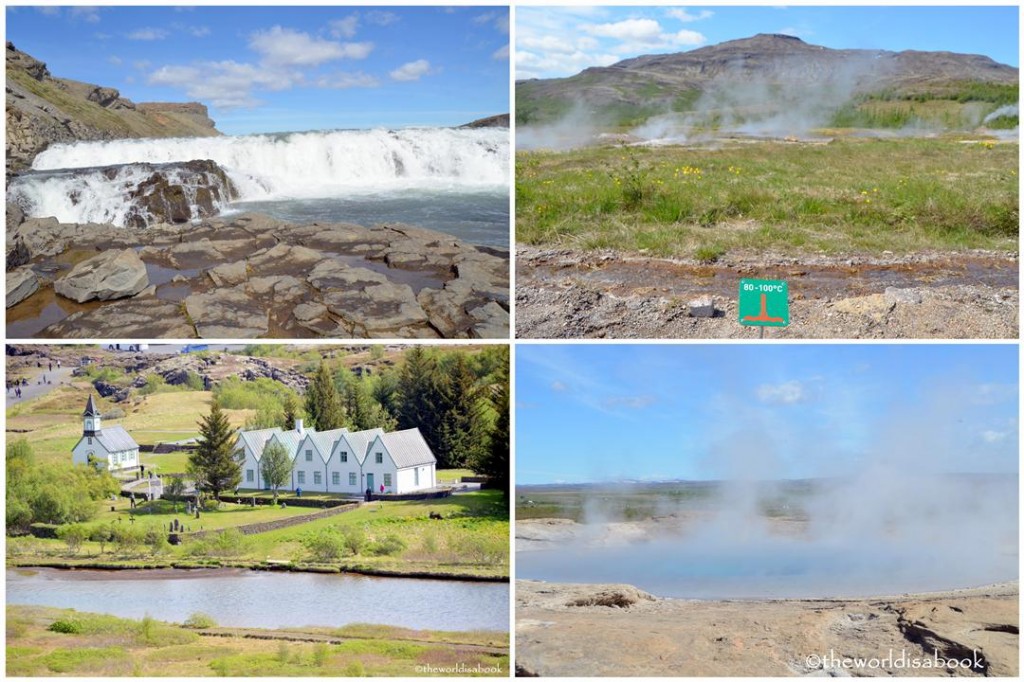 We had a rental car and a trusted GPS so we were able to cover the route in one day.  This was a lot more sightseeing and more tiring than our relaxing afternoon at the Blue Lagoon the previous day.  While each attraction deserves its own post, this is a summary for now of what we saw during our drive.
Much of Iceland was shaped by volcanic eruptions and glaciers melting.  It has more than two dozen volcanoes so lava rocks and fields were much of what we expected to see.  Surprisingly, we saw many farmlands and pastures below volcanic hills and mountains too.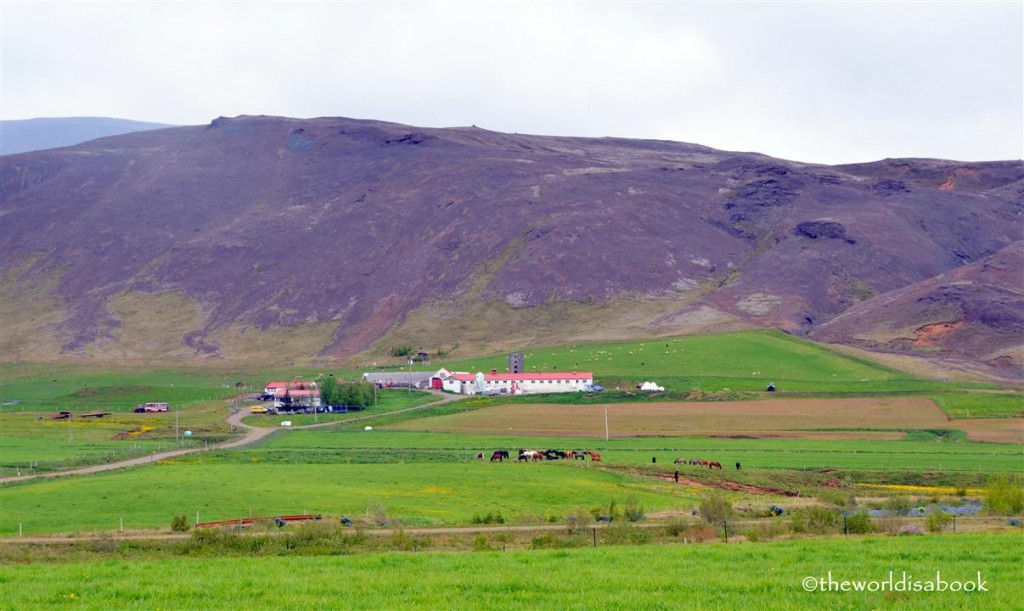 Our first stop was a spontaneous one after seeing many cars stopped on a lookout.  We found this homemade rock garden overlooking a lake.  Some tourists were making their own contribution but a whole lot more were taking photos of this interesting roadside attraction.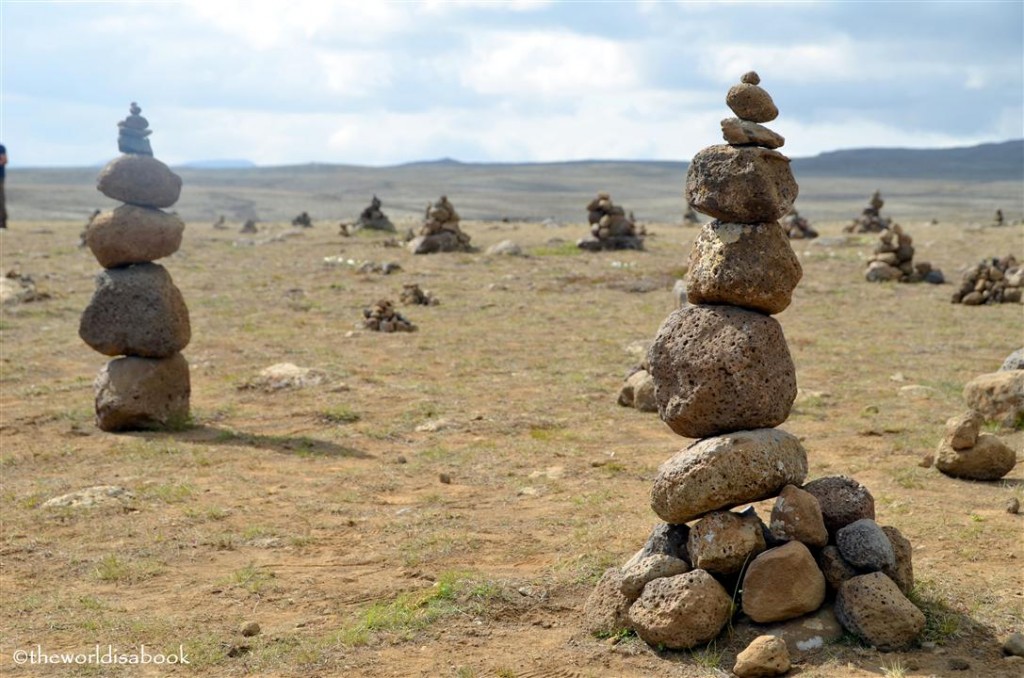 Þingvellir/Thingvellir National Park
Thingvellir (pronounced Thing-vet-leer), meaning "Parliament Plains",  is an important site where many major events in Iceland's history took place.  The Althing general assembly (world's oldest parliament) was founded here in the year 930 AD.
The assembly met here for the next 300 years.  What a wonderful place to congregate – out in the open surrounded by stunning vistas and majestic scenery.  The church, old cemetery and manor house now mark this special place.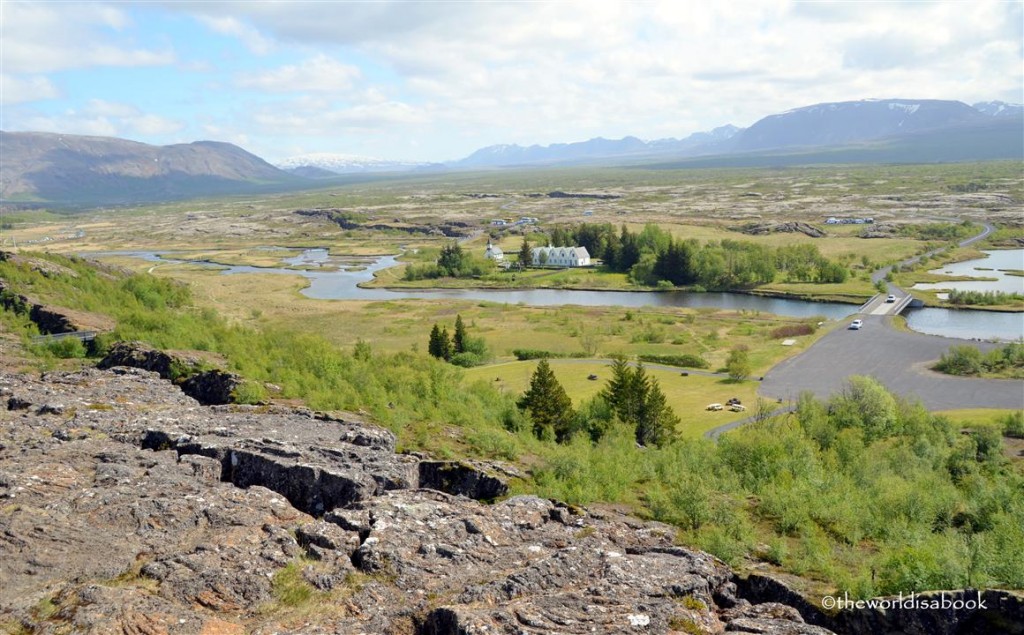 This has been declared as a "protected national shrine for all Icelanders" and against the setting of Lake Thinvallavatn, the largest natural lake in Iceland.  There were many hiking trails here enough to spend days exploring it.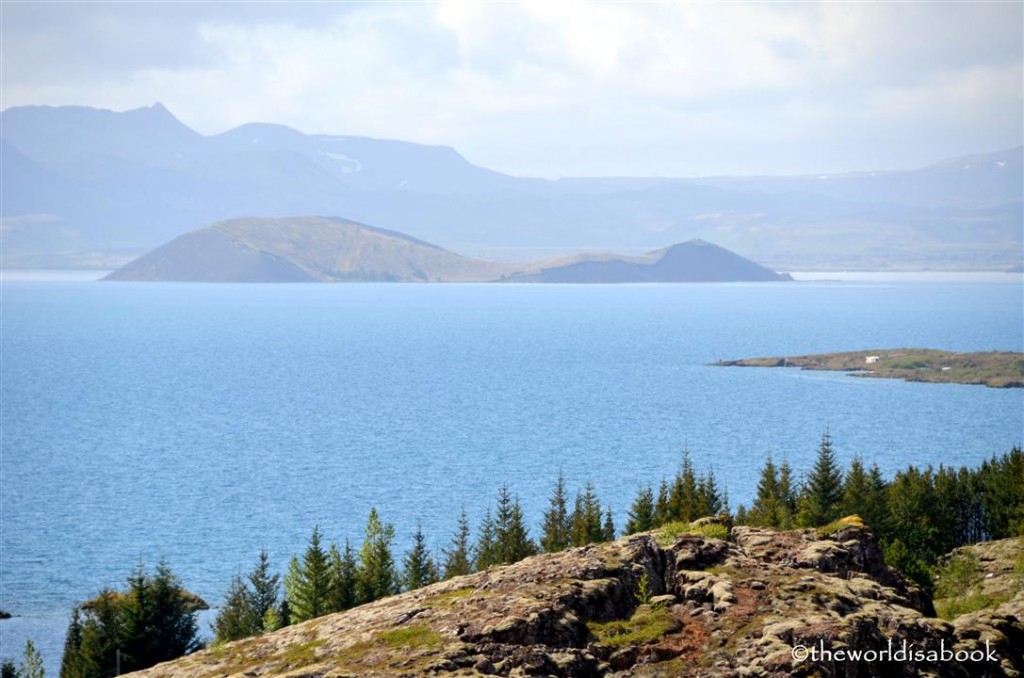 This park is more than a natural wonder, historical site and and a UNESCO World Heritage Center.  It is also of geologic importance. It is part of a zone fracture that runs through the island and sits on top of the Mid-Atlantic Ridge that separates the North American and Eurasian plates. Cracks and crevices of all sizes could be seen throughout the area.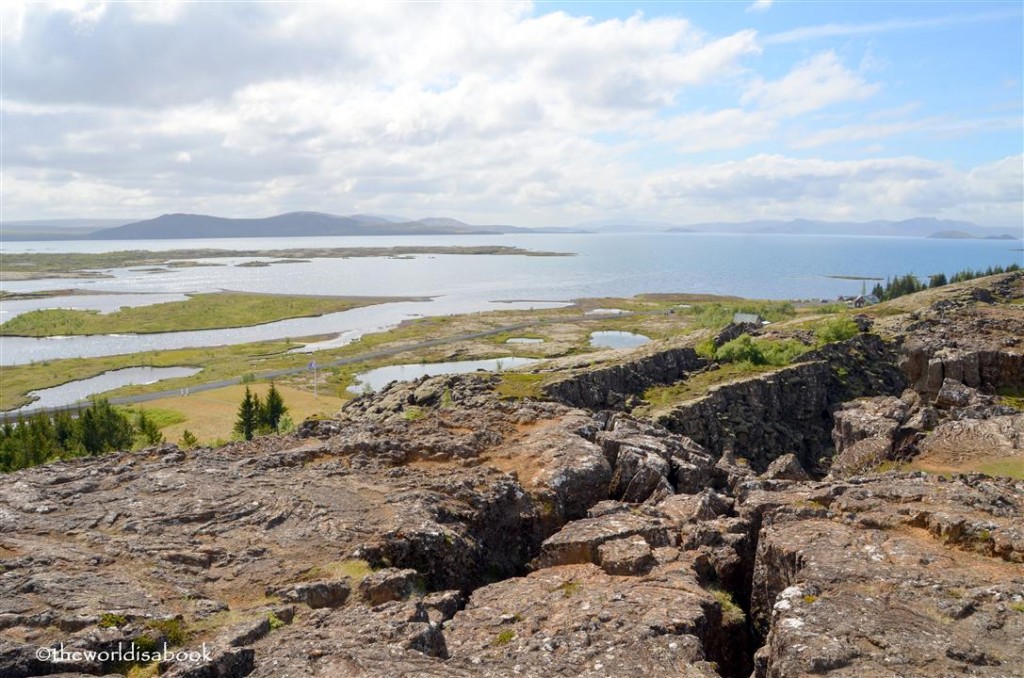 Geysir Area
Our next stop was an active geothermal region that felt like America's Yellowstone National Park was suddenly transported to Iceland.  Smoking grounds, steaming vents, bubbling mud pools, and geysers were all concentrated in this one area.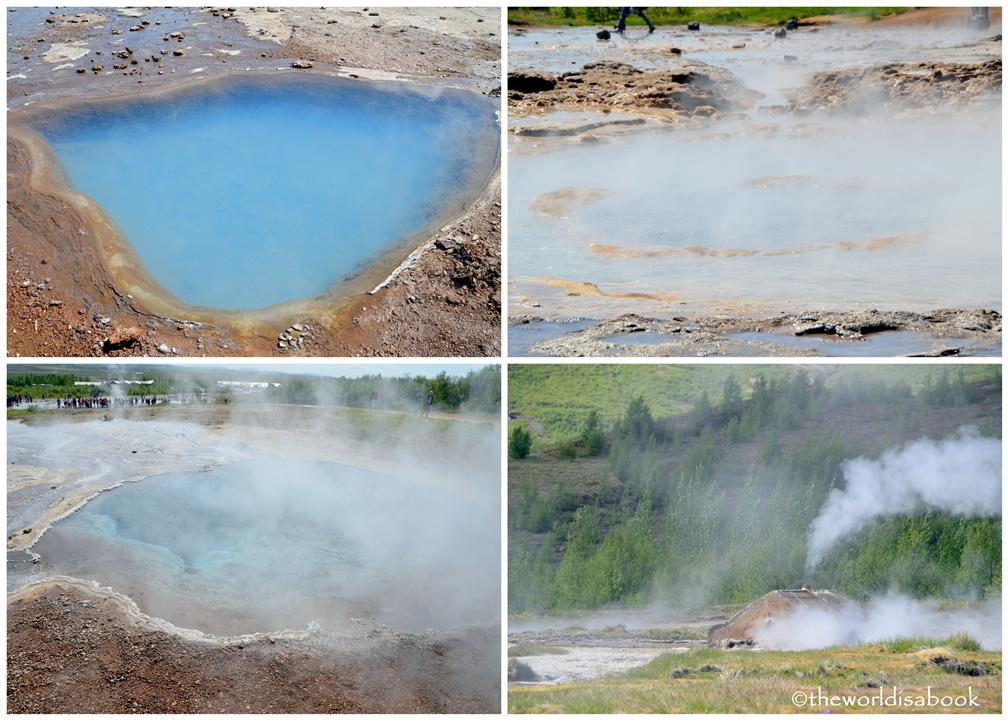 The Great Geysir (with an i) which originated the English word for geyser resides here.  The Geysir was relatively quiet during our visit but when active can spray up to 200 feet in the air.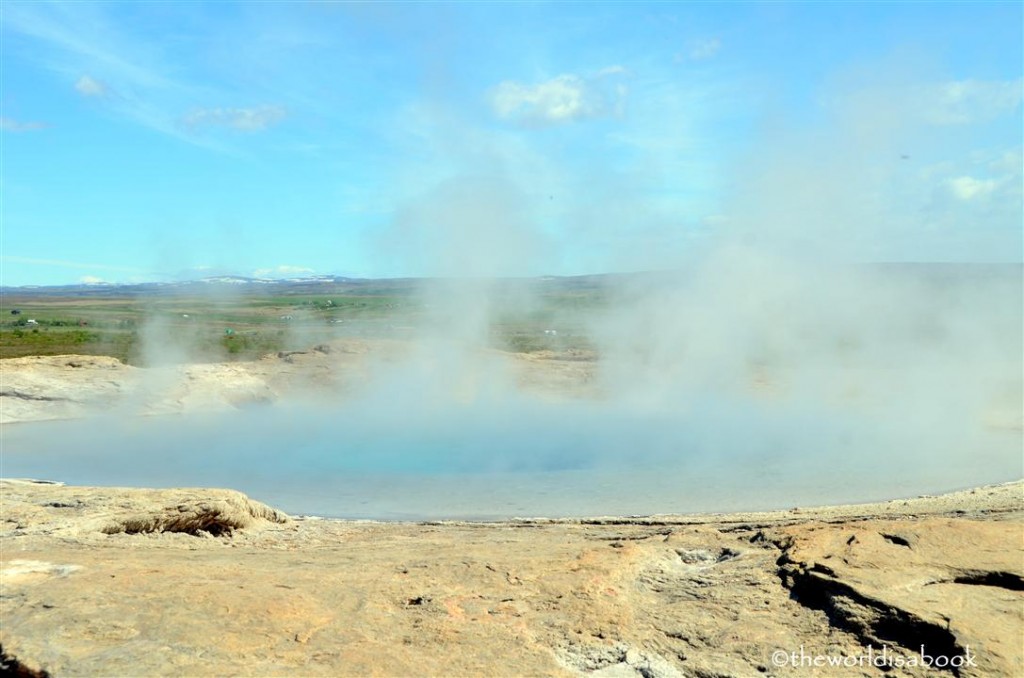 The smaller geyser, Strokkur, meaning "the churn"(pronounced Strau-ker) was the star of the area.  The Strokkur geyser erupts every 5-8 minutes with the hot water rising 60-100 feet high in the air.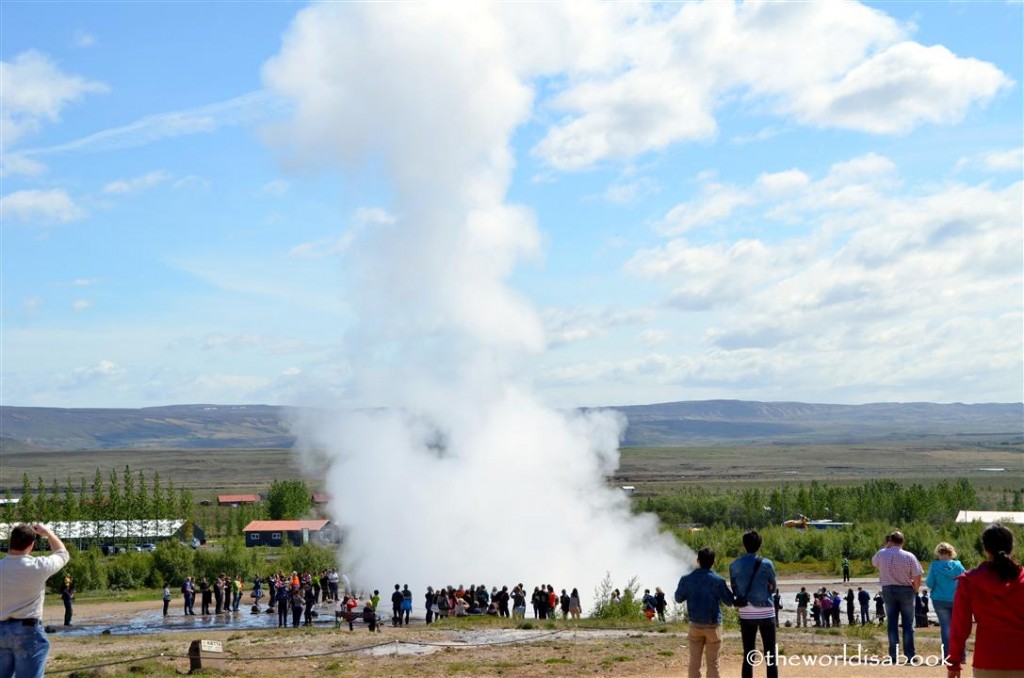 There's no warning since it's constantly boiling and depending where you stand, you will get soaked.  It really was an amazing sight to see up close and witness its eruption several times.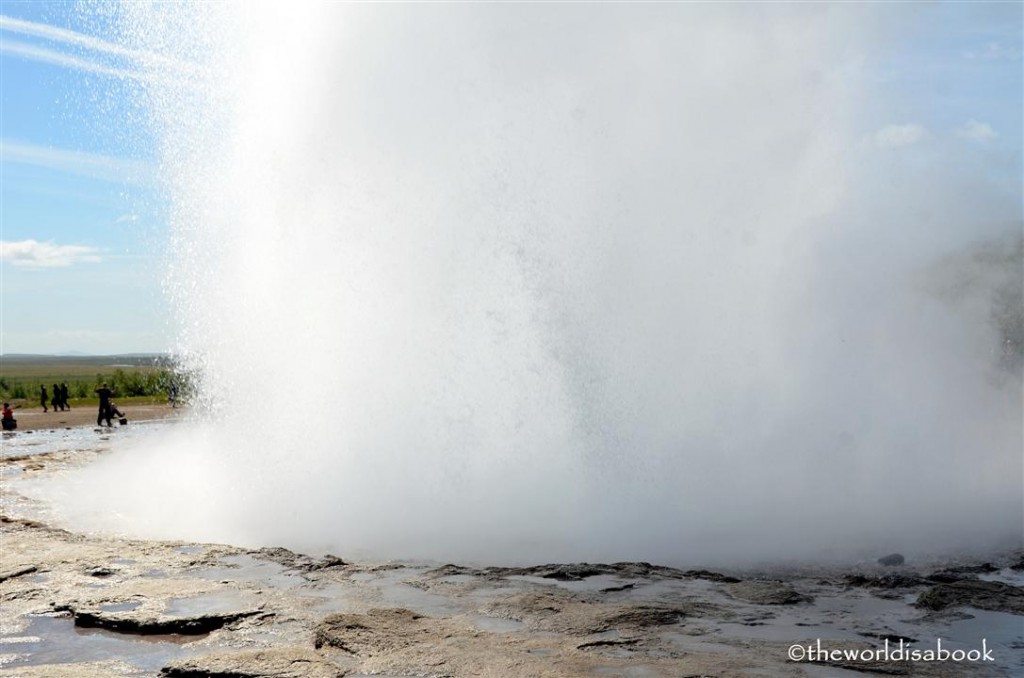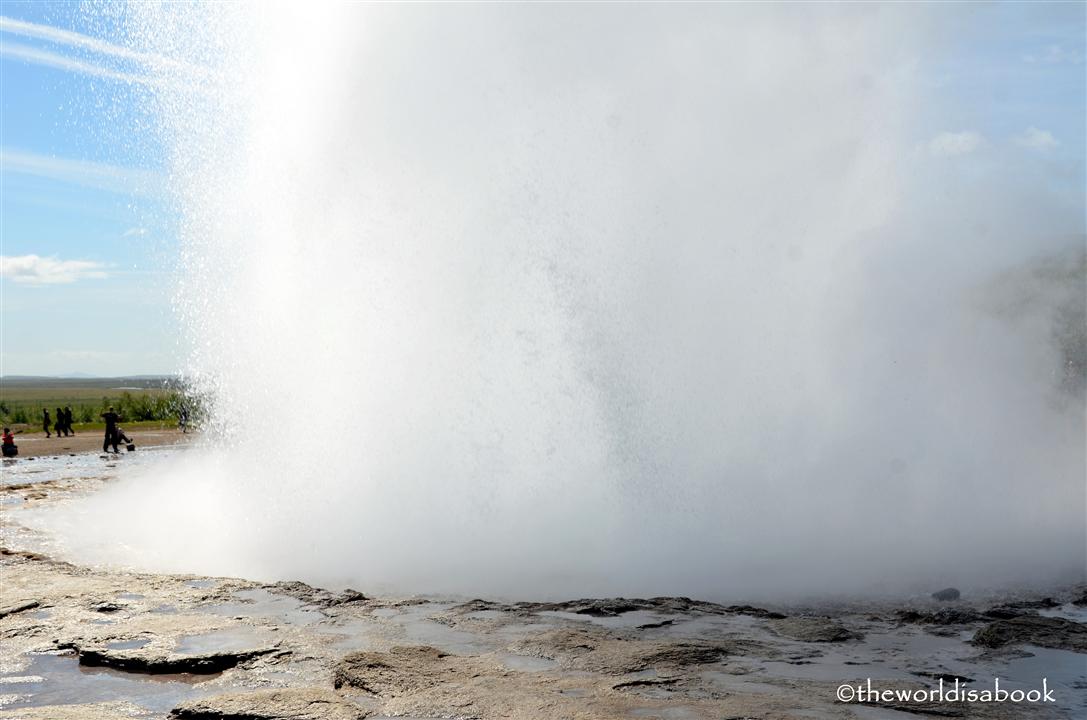 It wasn't only about geology here though.  These purple nootka or Alaska lupine were surprisingly common throughout Iceland's landscape.  The vibrant colors were such contrast to the dark volcanic rocks everywhere.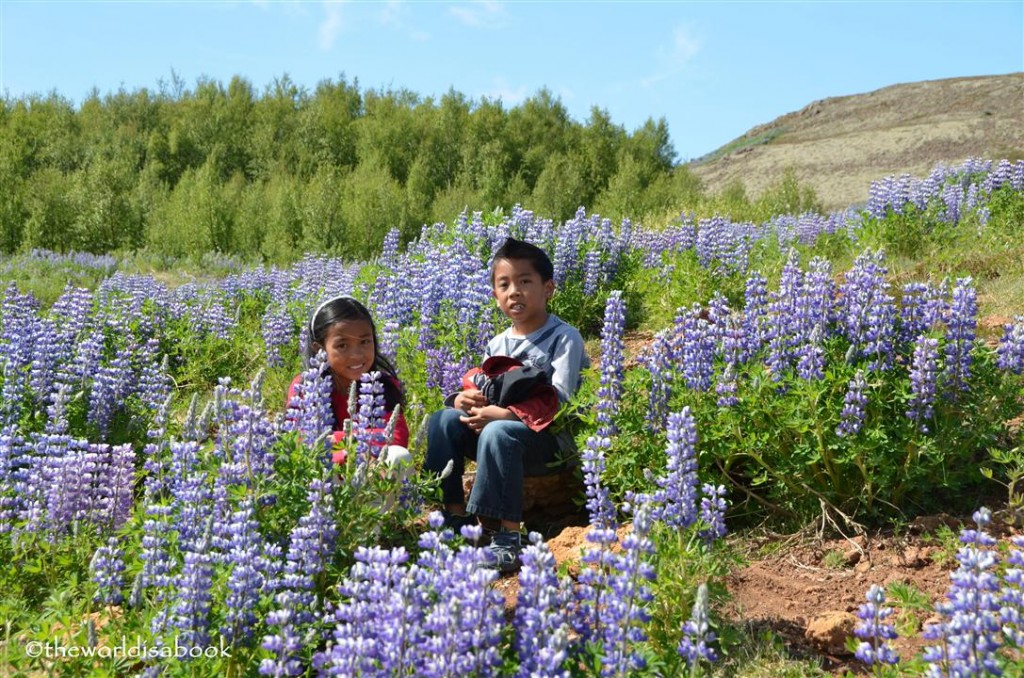 Gulfoss Waterfalls
We've seen some spectacular falls but then there's Gulfoss or "Golden Falls".  This wasn't your typical looking waterfall.  It was a double cascading one – first at 36 and 70 feet (11 and 21 meters) and then falling into a crevice at 105 feet.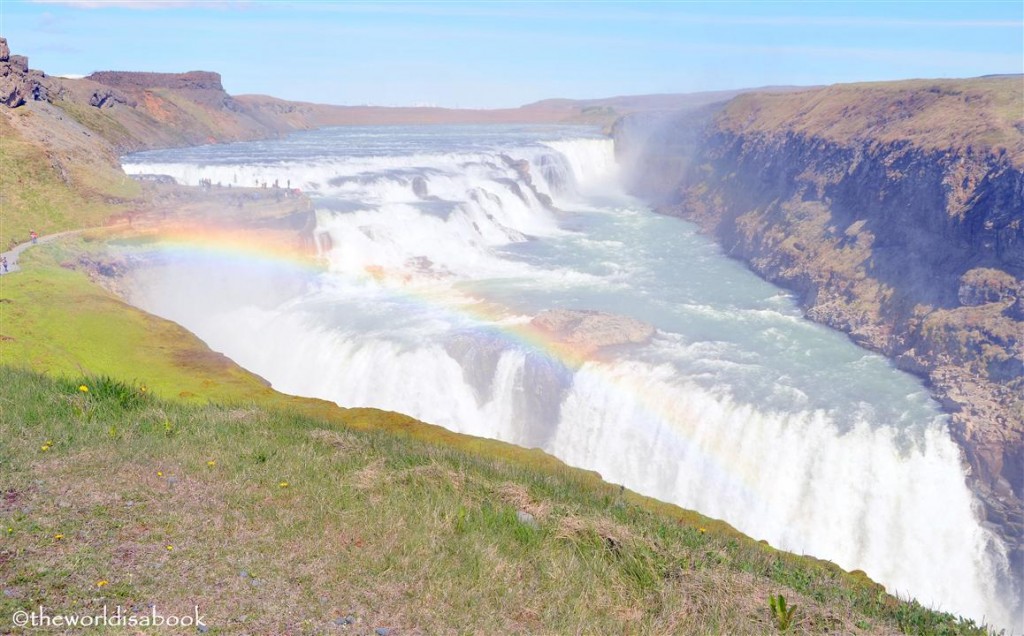 Gulfoss is located in the Hvita river canyon.  The cloud mist and the falls create some stunning rainbows that magically appeared throughout our visit.  The hike down the trail to get closer to the waterfalls was a slippery slope and the powerful mist will get you wet but what a sight.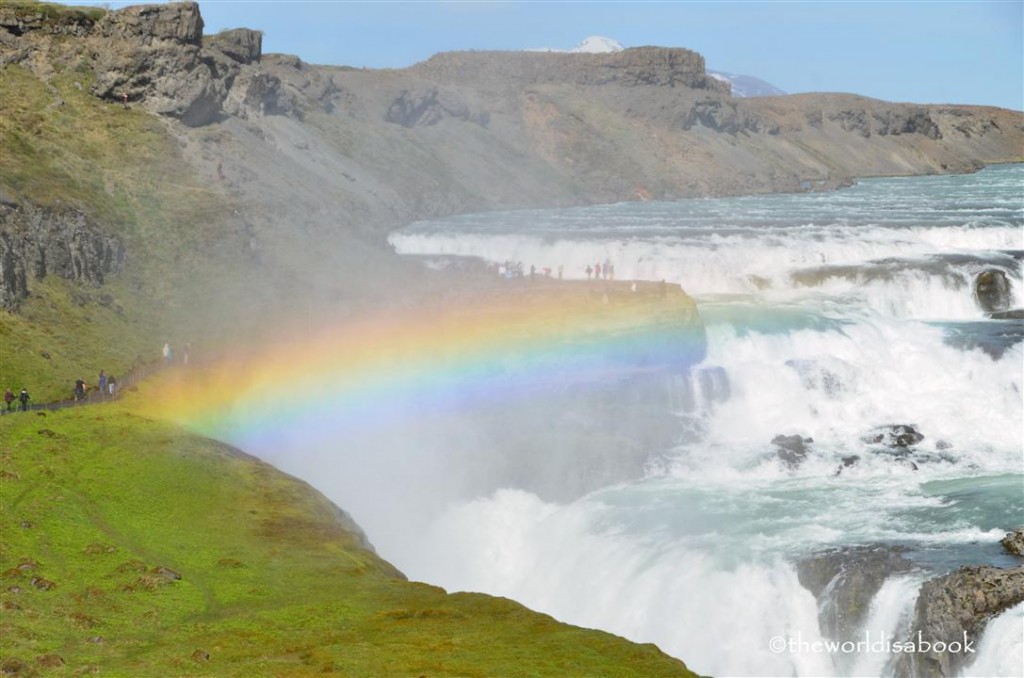 This particular pathway gave us a closer look at the ravine, albeit a bit scary.  Standing here was where we felt, saw and heard the immense power of Gulfoss.  It's no wonder this was considered Europe's most powerful waterfall.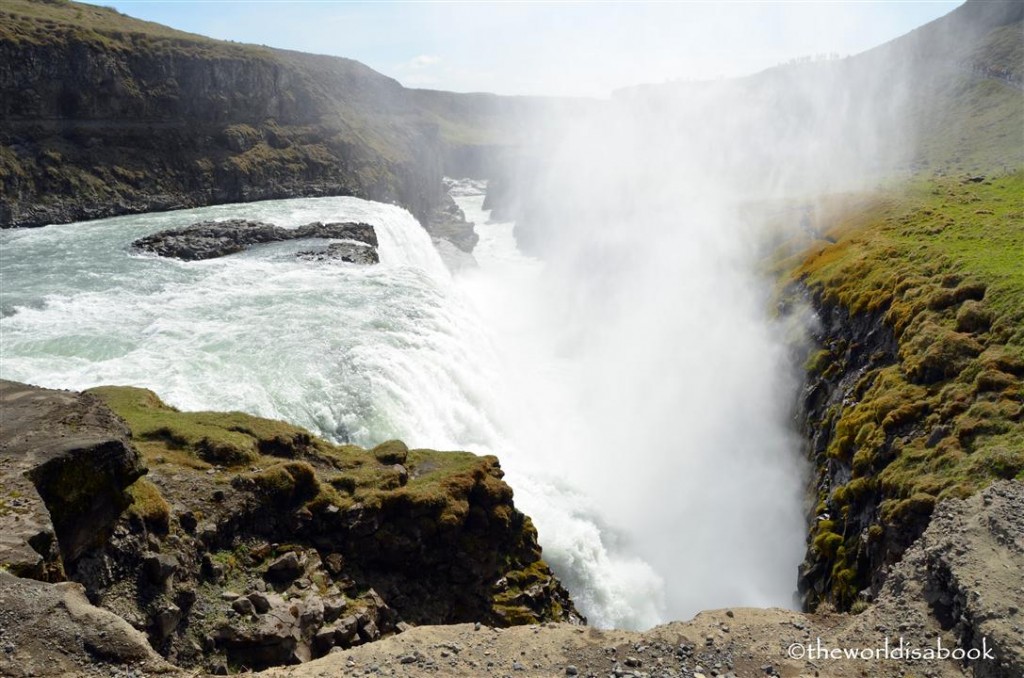 There's even a pseudo cliff for some fun shots of hanging on for dear life.  We couldn't resist.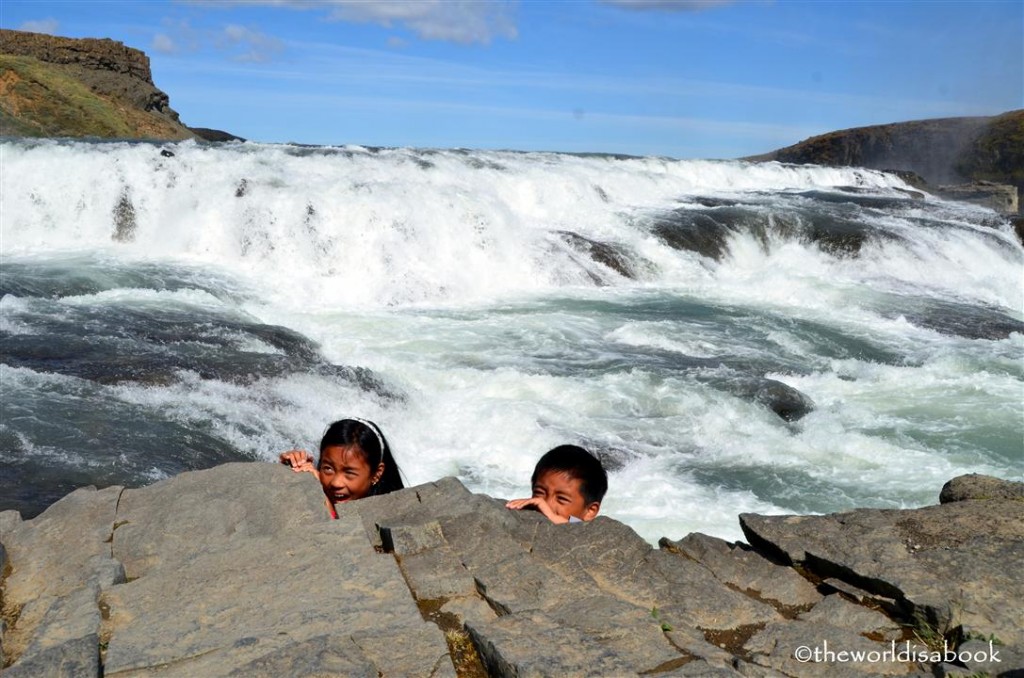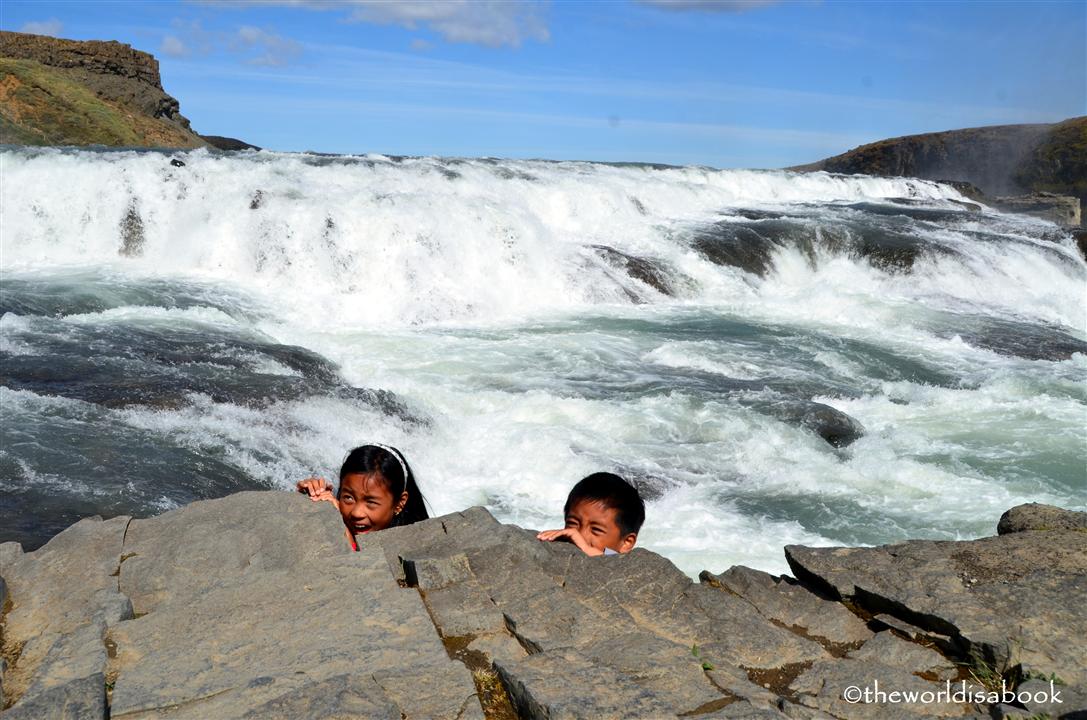 —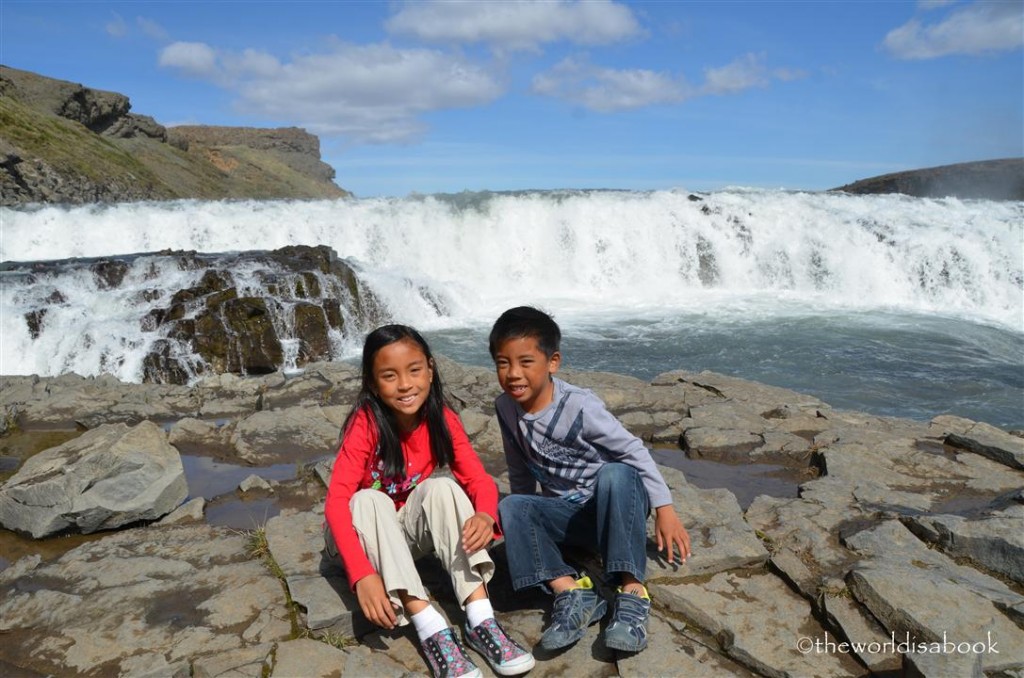 Ten percent of Iceland is still covered by glaciers but we only saw a couple of them on the mountains from afar.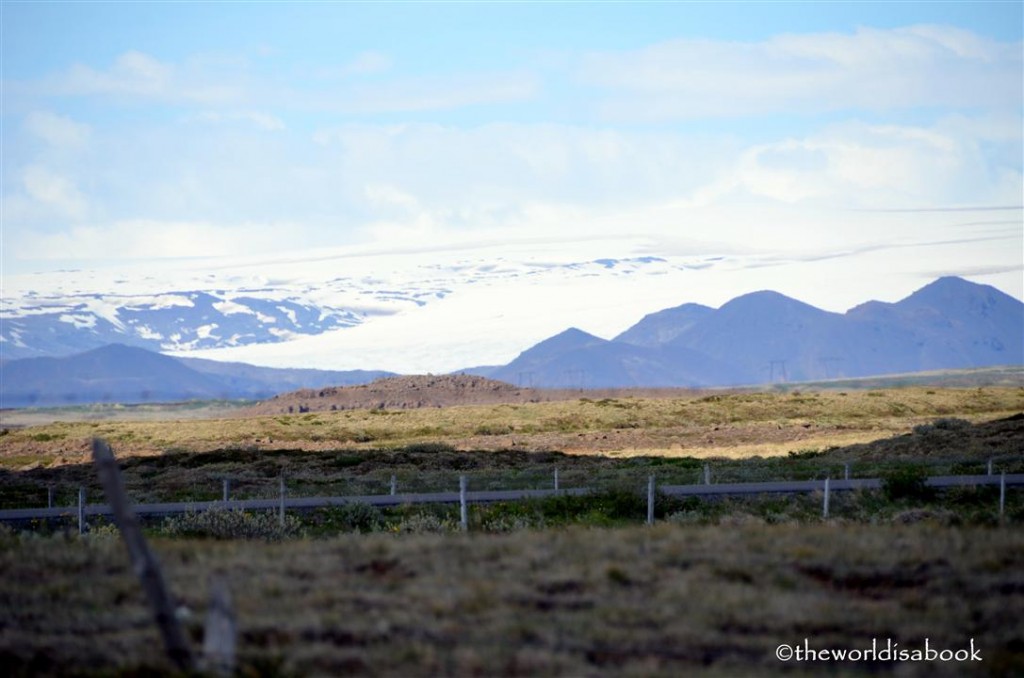 We saw numerous Icelandic horses grazing against some dramatic backdrops.  Icelandic horses are a special breed.  They're typically more muscular, more hairy, multi-colored with short limbs and neck.  These horses also have two extra gaits (leg movements sequence by which the horse moves).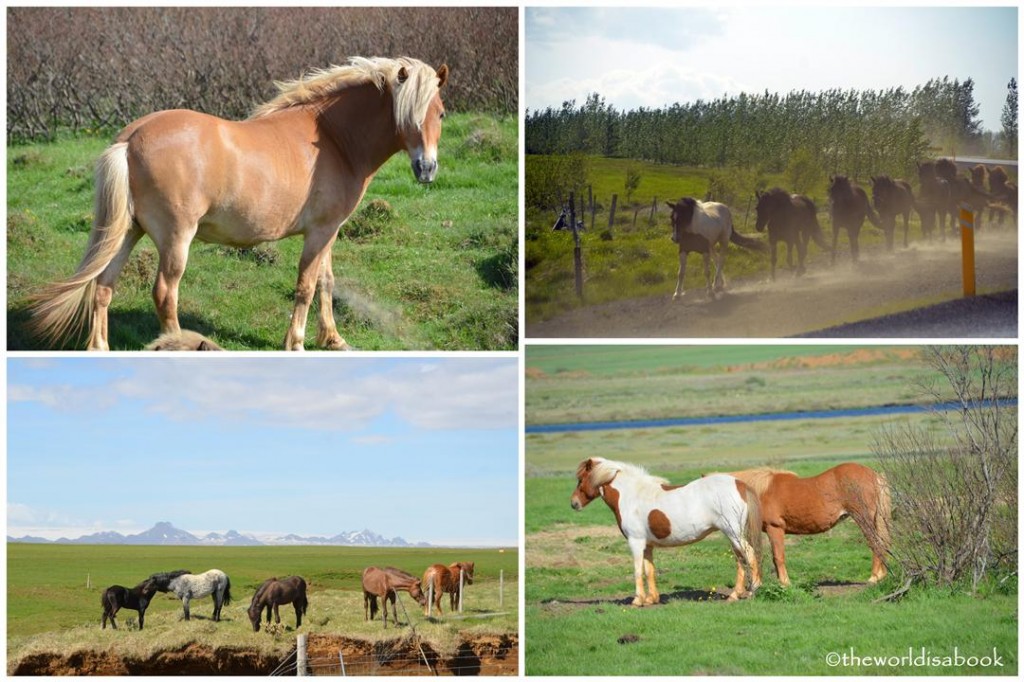 Its purity is kept intact by an Icelandic law preventing a horse from returning once it leaves the country.  These were some of the most beautiful horses we've ever seen and they were everywhere on the countryside.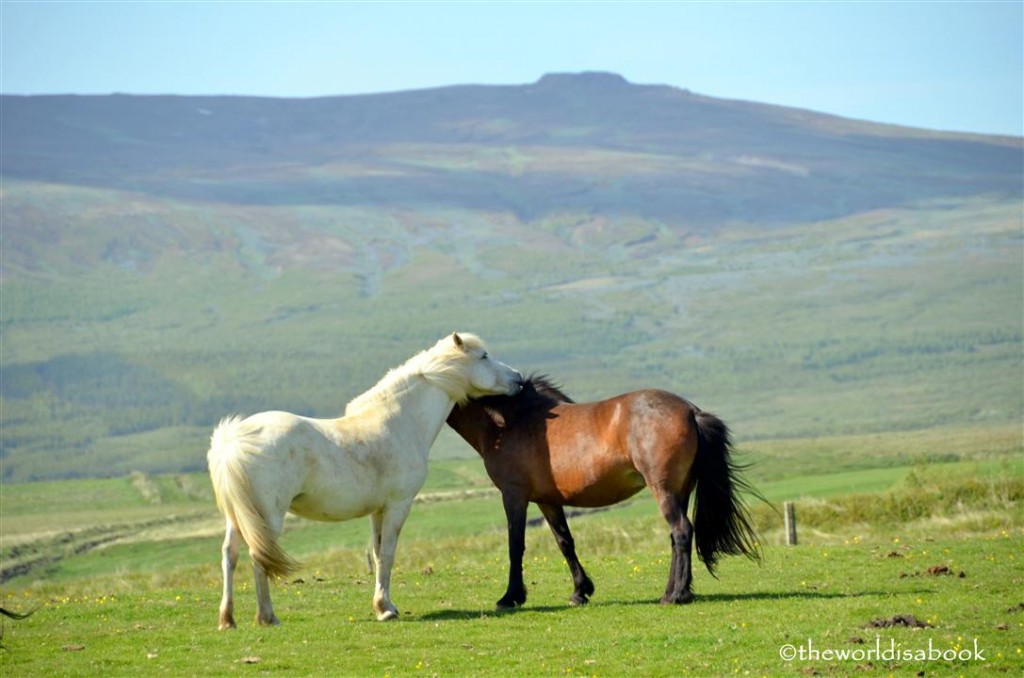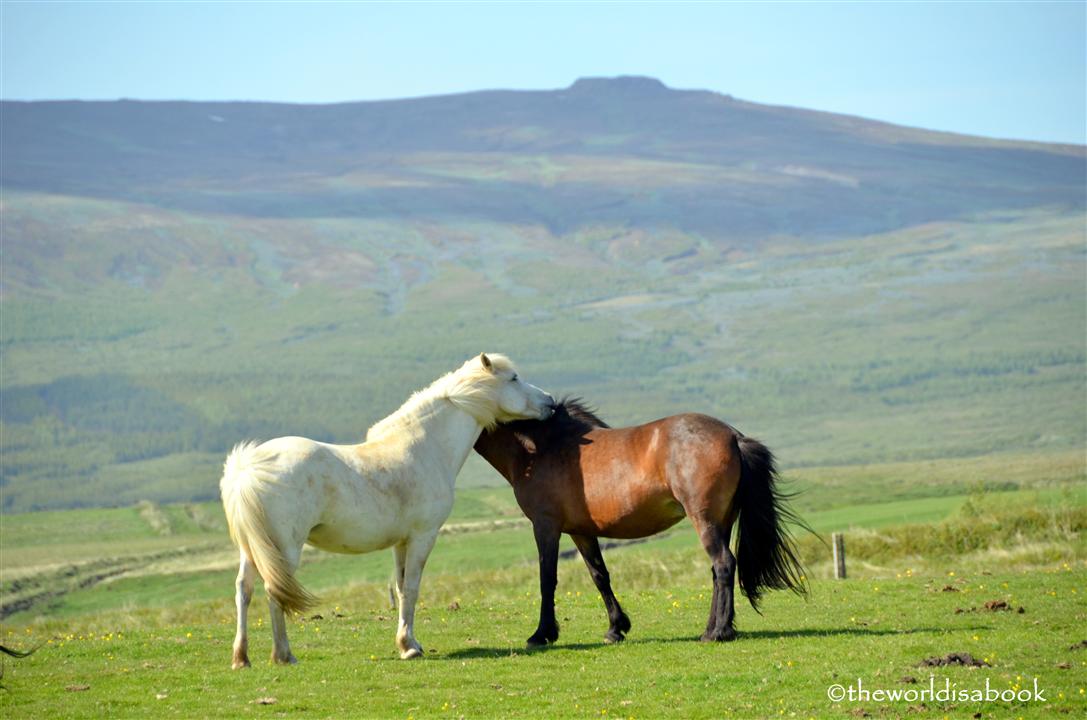 Our last natural attraction stop was Kerið or Kerid – a volcanic crater lake formed 6,500 years ago.  Red volcanic rock and a moss-covered area was much more prevalent here.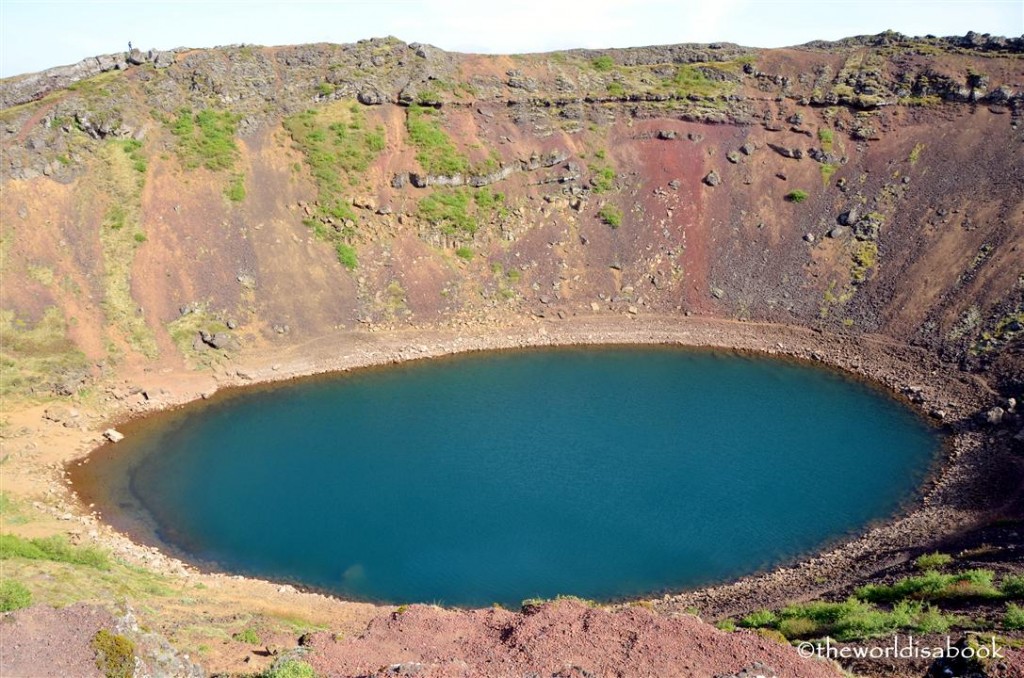 Iceland's varied landscape of raging rivers, geysers, glaciers, waterfalls and farmlands were all ruggedly beautiful.  We barely touched what the rest of this island had to offer but the Golden Circle drive was a great preview.  From what we saw, it was certainly an island like no other and was a memorable visit for us.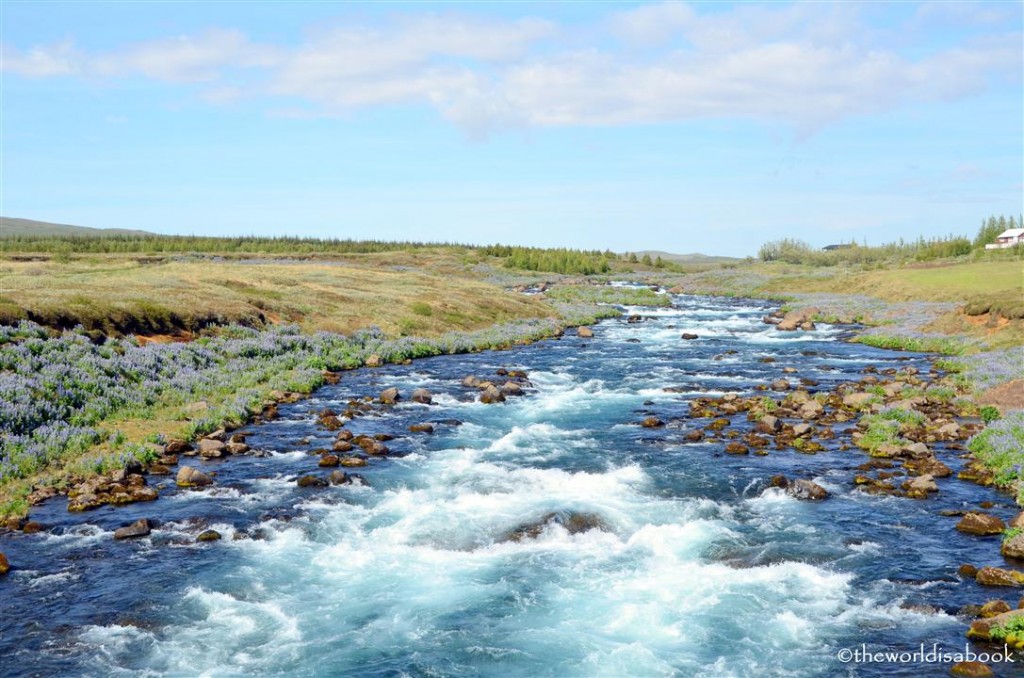 *Have you done the Iceland Golden Circle tour?  Does Iceland's landscape surprise and appeal to you?
Related Posts:
Where to Stay
Car Rntals
Flights/Vacation Packages
Pin it for later!