Copenhagen with Kids: Treasure Gawking at Rosenborg Castle
It's not often you get to see the extravagant rooms of Danish monarchies from 300 years ago.  Rosenborg Castle or Slot showed wealth and luxury at its finest with a treasure trove of artwork, furnishings, artifacts and crown jewels.  Located in the center of Copenhagen, Rosenborg Castle was easily accessible.  At first glance, it wasn't as large as we expected and didn't quite fit our image of a castle.  We visited Frederiksborg Slot the previous day and this was smaller and simpler.  But, Rosenborg Castle was lovely in its own right and well-preserved.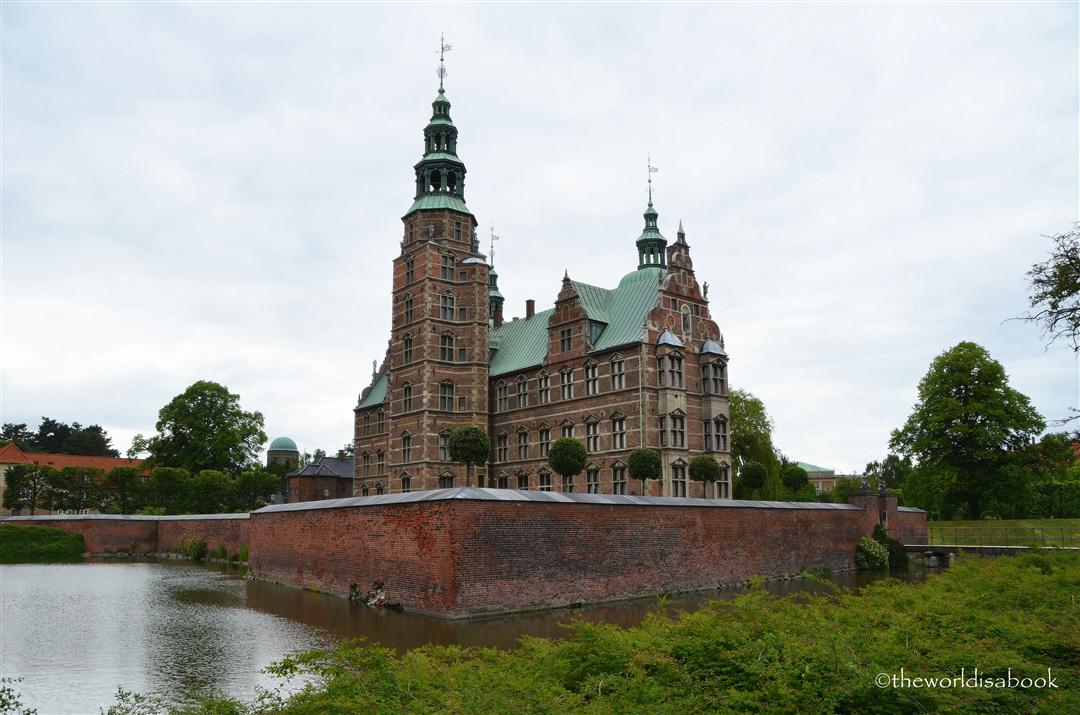 Rosenborg Slot was built and expanded between 1605-1634 by Christian IV as his summerhouse – his "Great House in the Garden".  Its towers and architecture were an example of Dutch Renaissance style found throughout Denmark in the 17th century.  It was a royal residence until 1710 and then became a museum that focused on the monarchs of early modern Denmark.
Kongens Have or King's Garden was a huge and picturesque park that surrounded the castle.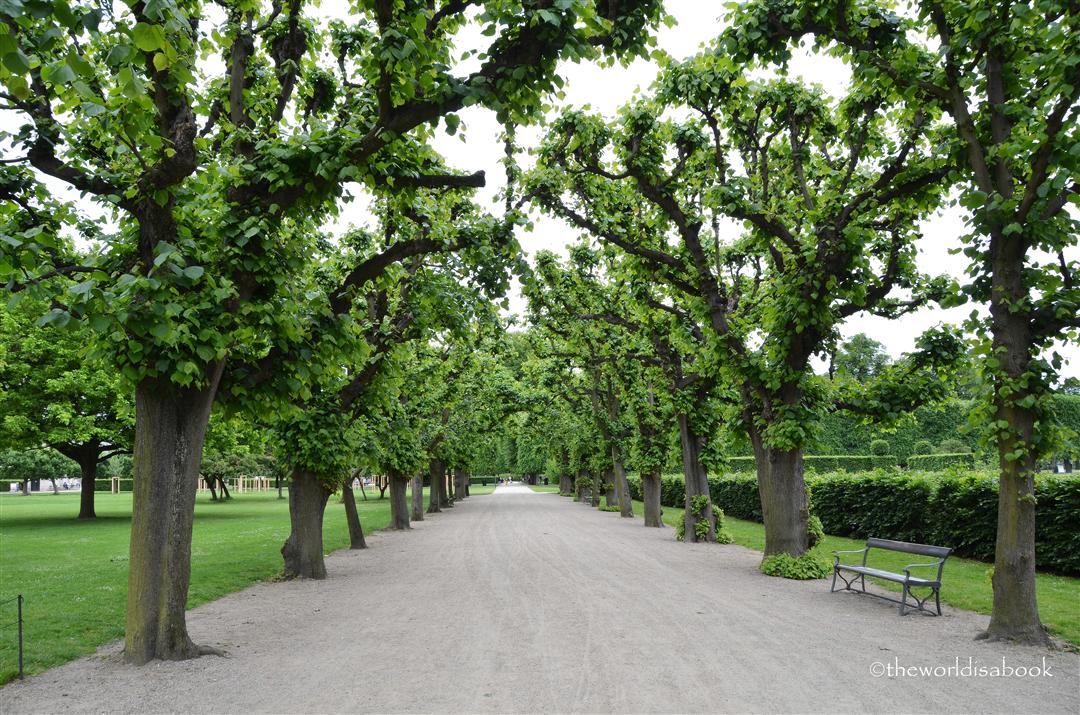 There were three floors and 24 rooms in the main castle for viewing.  It was like walking through time periods of royal opulence.  The rooms and exhibits were laid out in chronological order and grouped by monarch periods.  It provided a cohesive flow to the exhibits and gave us a sense of how the various royal families lived.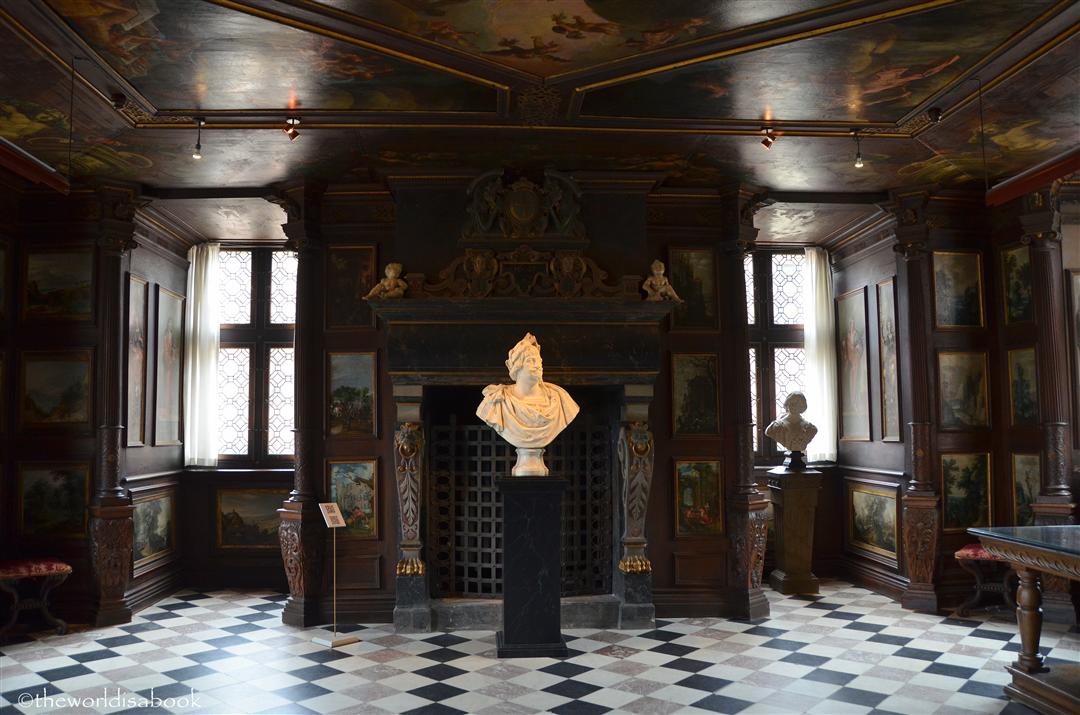 Rooms were named after the various kings and were packed with a lot of art, furniture, accesories and artifacts with no space wasted.  Some rooms felt overwhelming and cluttered.  Many of the items had incredible detailed craftmanship.  We liked how a lot of things were not roped off and the public could examine the details on many of the objects.
In a unique way to preserve the rooms, some of them were enclosed in glass making it a bit hard to take pictures.  They provided very little space to stand and sometimes got very crowded.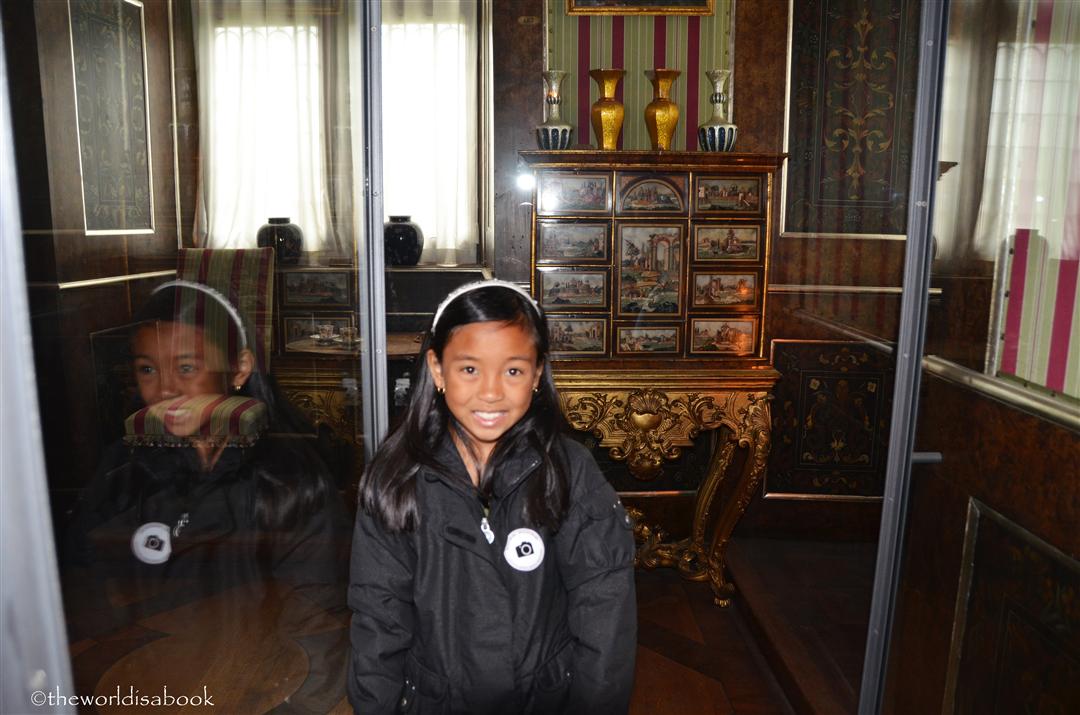 There were a few rooms that were memorable during our visit.  Ever wondered what a royal toilet looked like back then?  Presenting… Christian IV's toilet.  Some of the original Dutch tiles still adorned the walls with the blue and white tiles part of a refurbishment in the 1700s.  It wasn't surprising to find out it drained out to the moat surrounding the castle.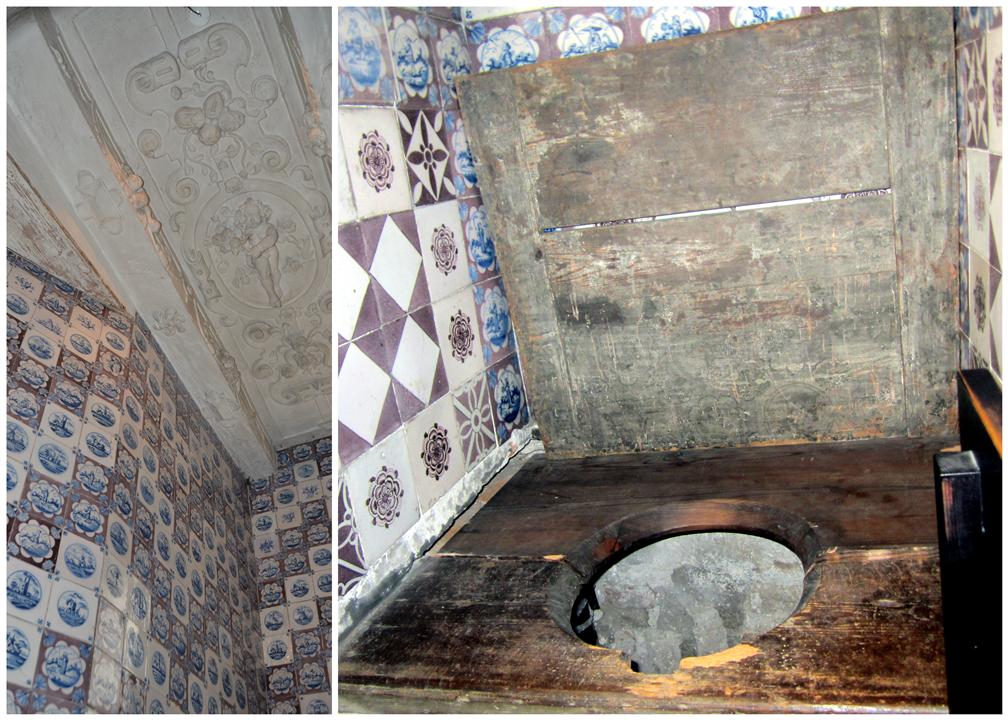 The Porcelain Room contained the Royal Houses' finest collection from the 18th century.  It had a large collection of fine Royal Copenhagen Porcelain Flora Danica set which was supposedly commissioned as a gift to Russia's Catherine the Great but was never completed due to her death.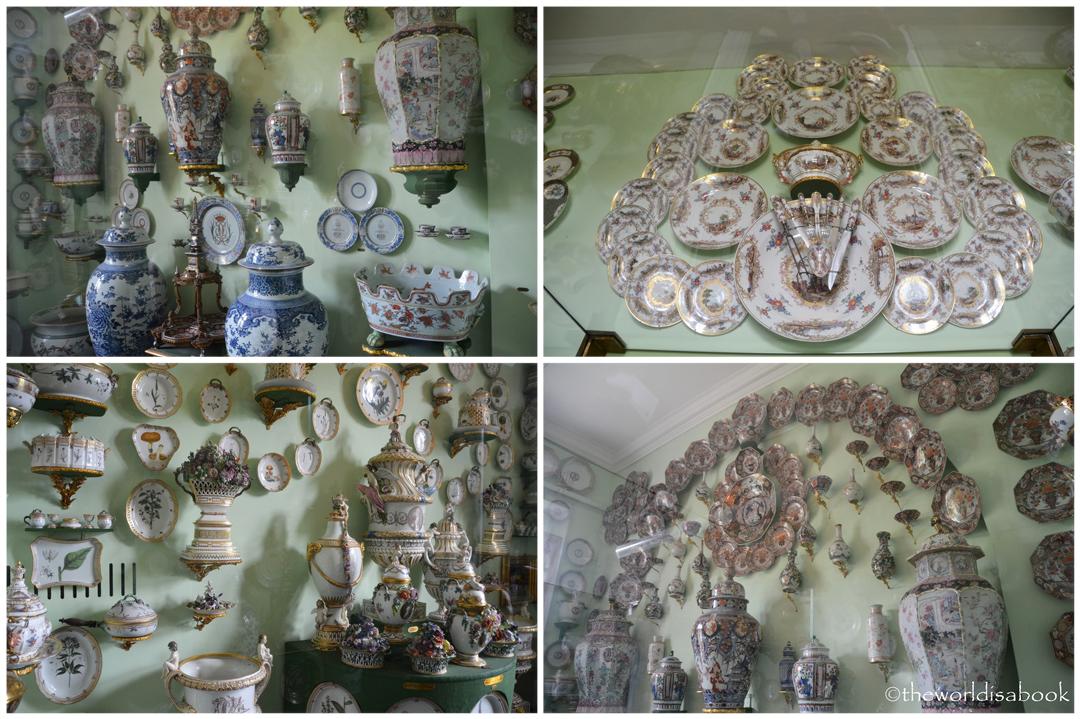 The Glass Cabinet room held a Venetian glass collection that was given to Frederk IV in the 1700s.  The walls were covered with sik and the Roman god of wine, Bacchus, was painted on the ceiling.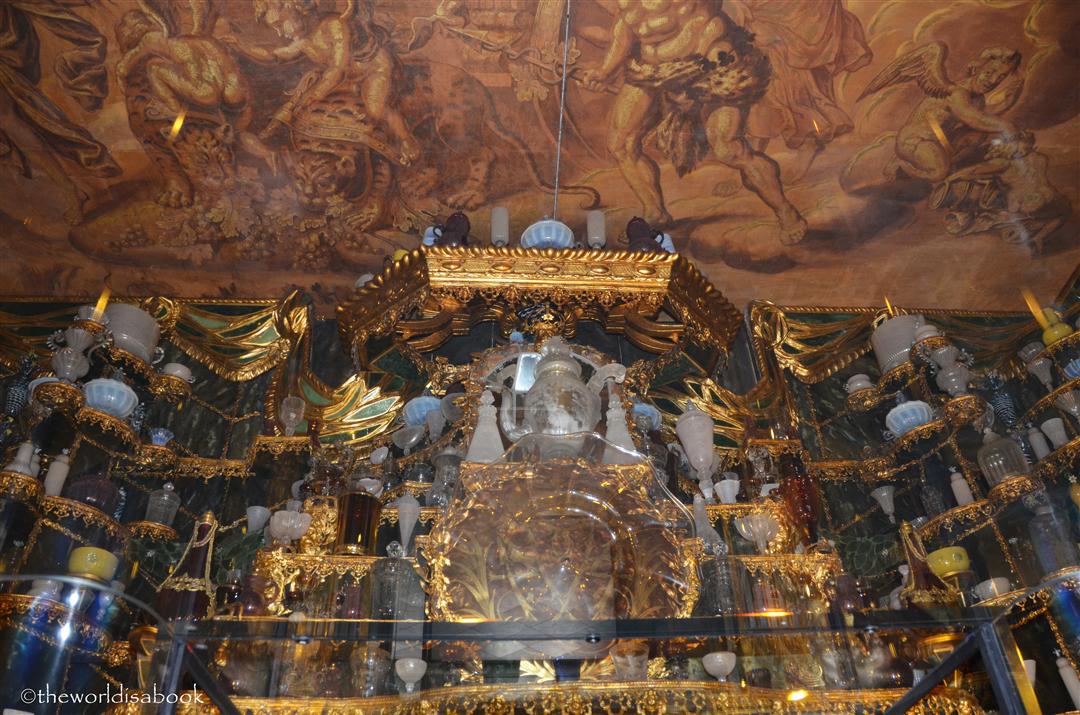 My favorite area was the long hall or Knights' Hall which was originally used for banquets but was now used to showcase the coronation chairs, a silver collection and tapestries.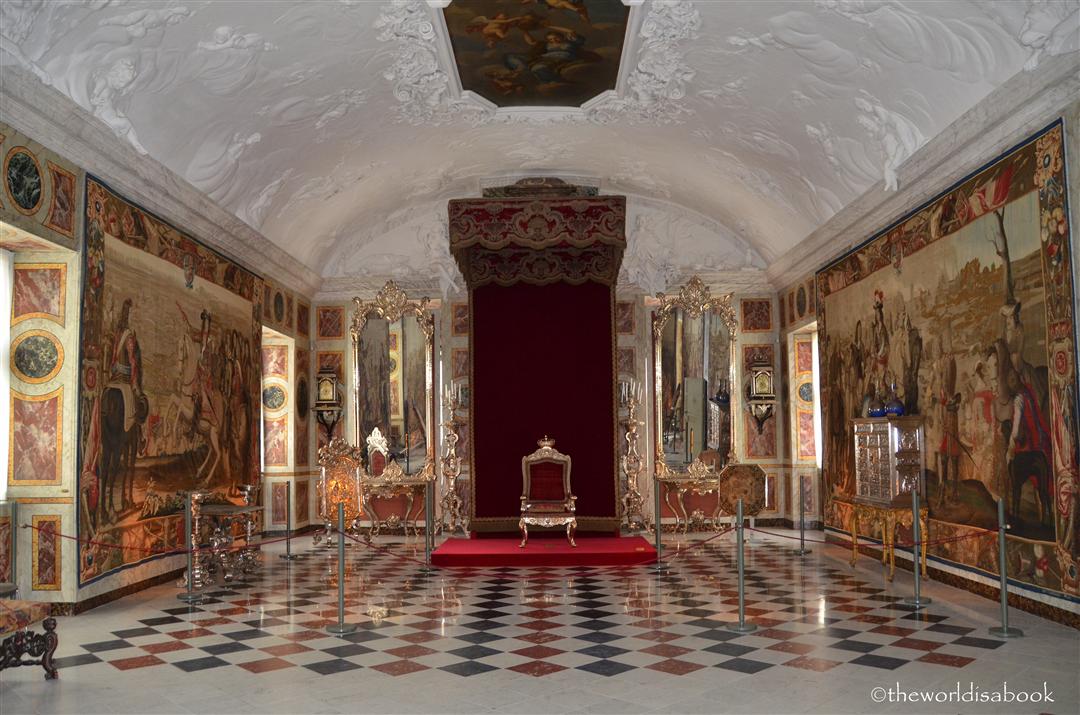 On the other side was the King and Queen's coronation chairs used through the ages guarded by three silver lions.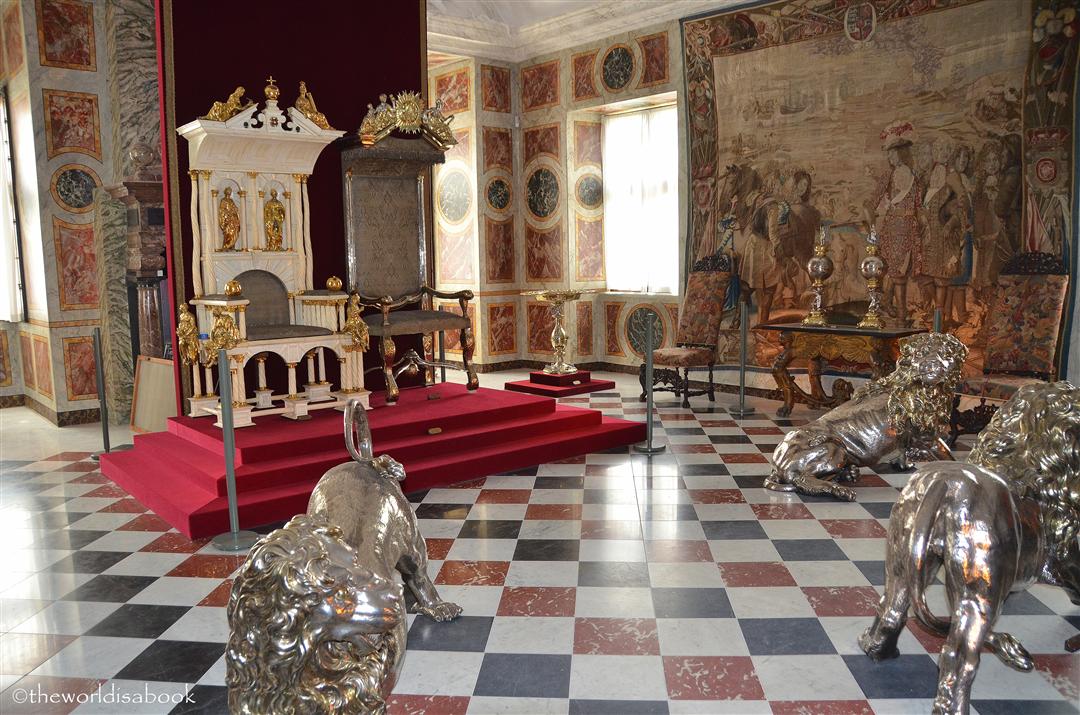 The walls were lined with 12 tapestries to honor Christian V's Scanian War achievements.  Christian V had artists follow him during the battles to record significant events.  These paintings were later translated into these magnificent tapestries with vivid details in the late 1600s.  All of them were still in excellent condition.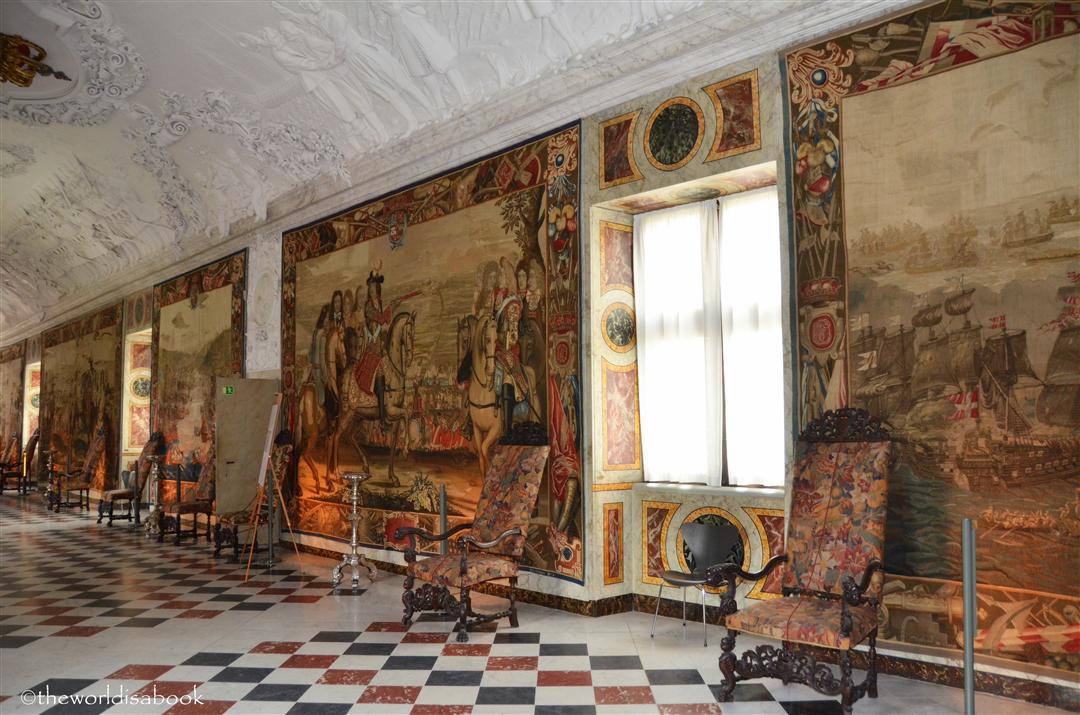 This wouldn't be a Danish castle without the ornate and elaborate ceiling art.  Here are a couple of them.
—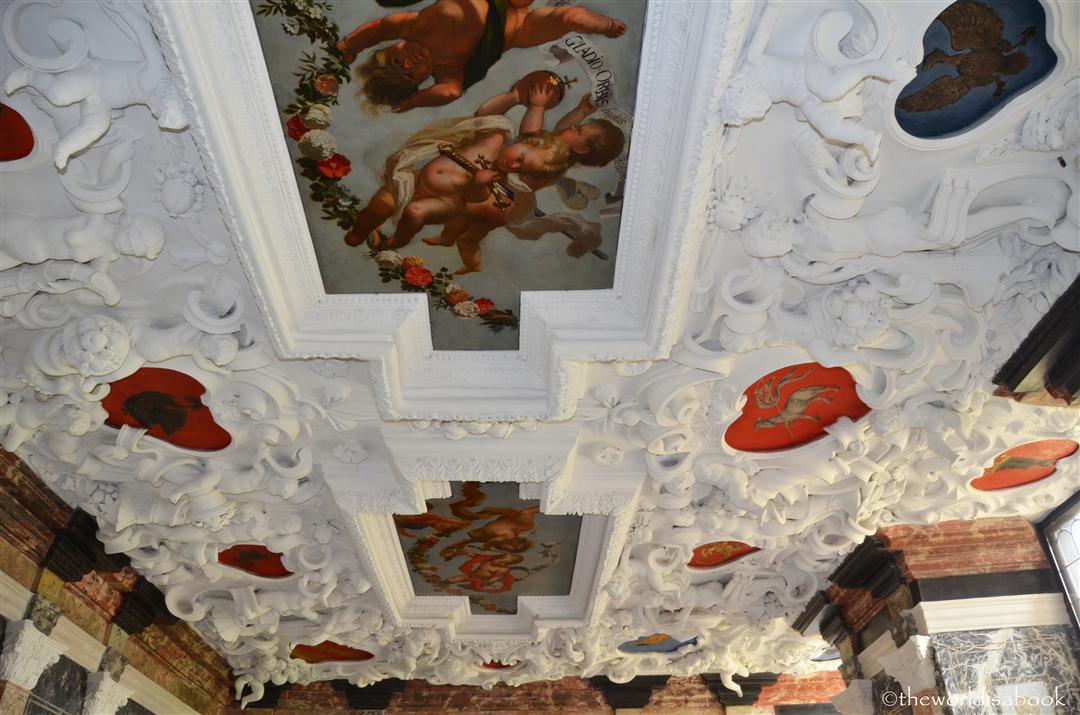 The highlight of Rosenborg though is in its basement which houses the Treasury and many other priceless artifacts.  This had a separate entrance located outside.  We went here last because we promised our kids they'd eventually see crowns, jewels and swords in an attempt to get through the other exhibits.  I actually preferred seeing the Treasury afterwards since it made us anticipate the visit to the crown jewels a bit more.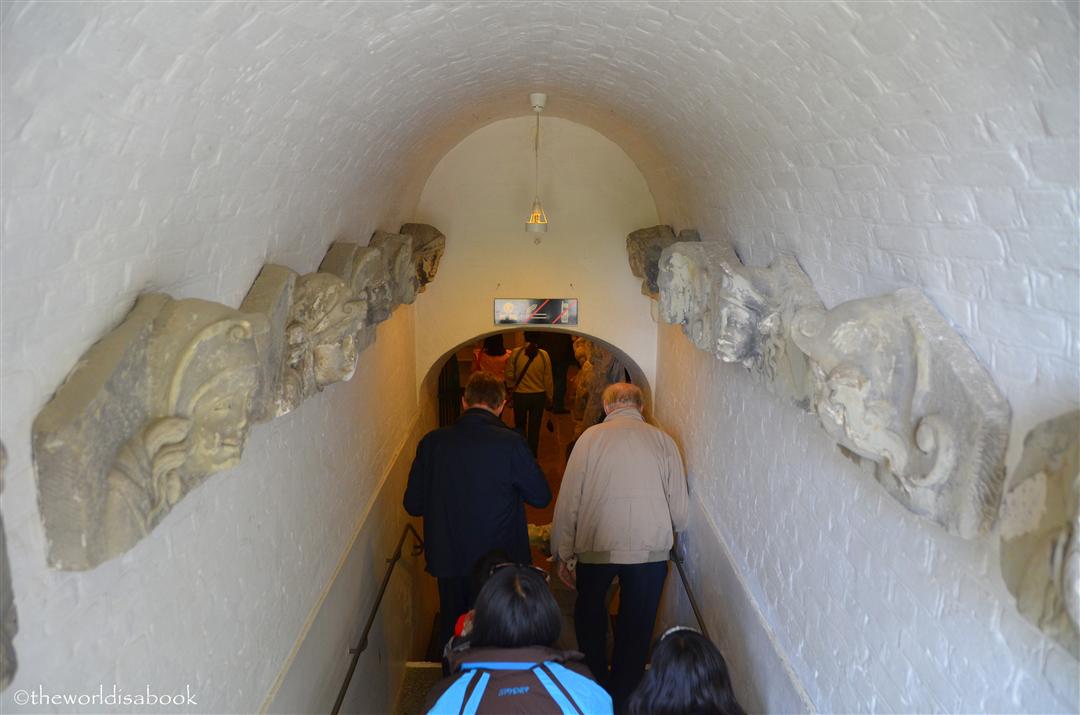 The basement had many wooden wine barrels and numerous bottles of wine dating back to the 1700s. Rosenborg Castle's wine, most of which came from the German rhine region, is used by the royal household for special occasions including the Queen's New Year banquet.  There was supposed to be enough wine here to last another 300 years.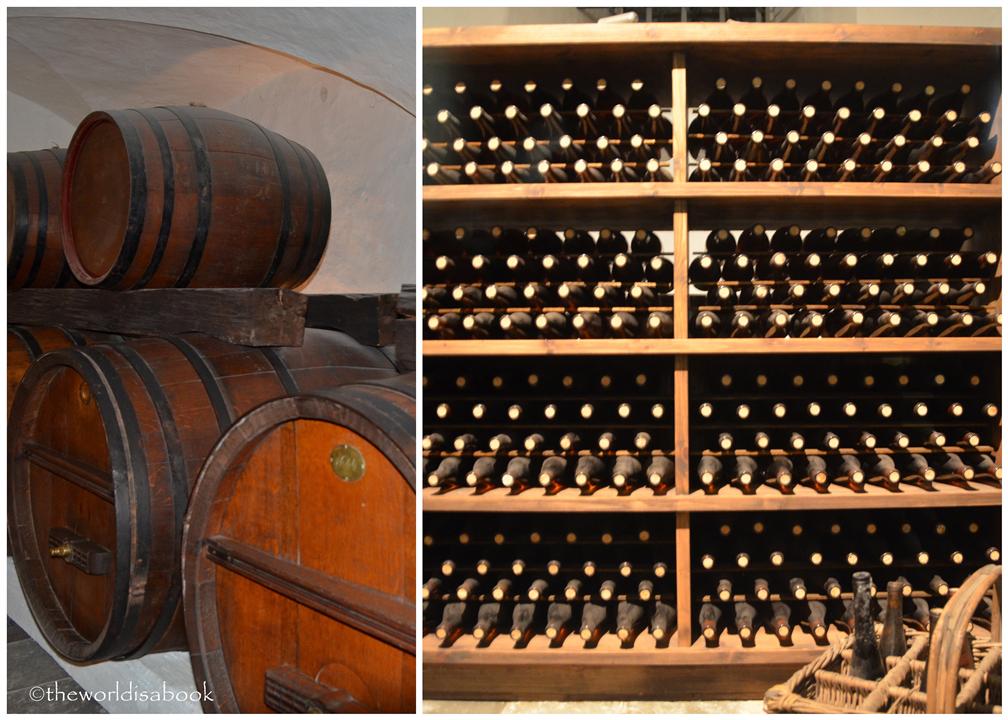 There were several war regalia including gold swords, guns and armory to make any little boy (or man) giddy with excitement plus a gold and pearl saddle used by Christian IV.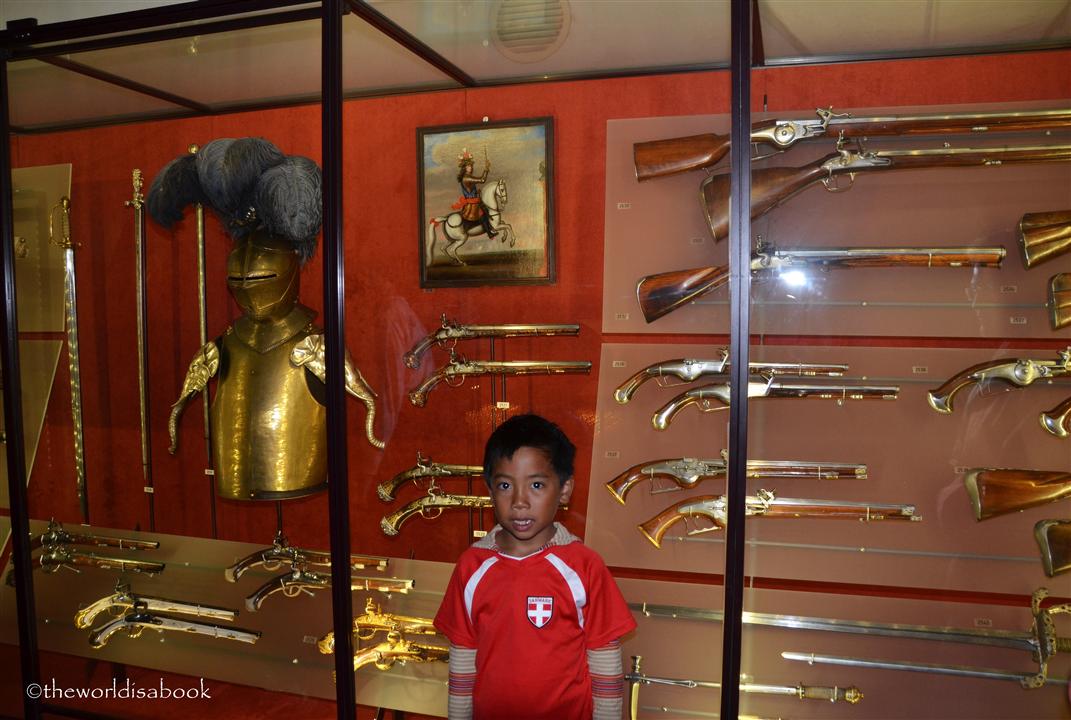 Unique artifacts made of ivory and amber carvings that dated back to the 17th century were also on display.  The details on these pieces were extraordinary.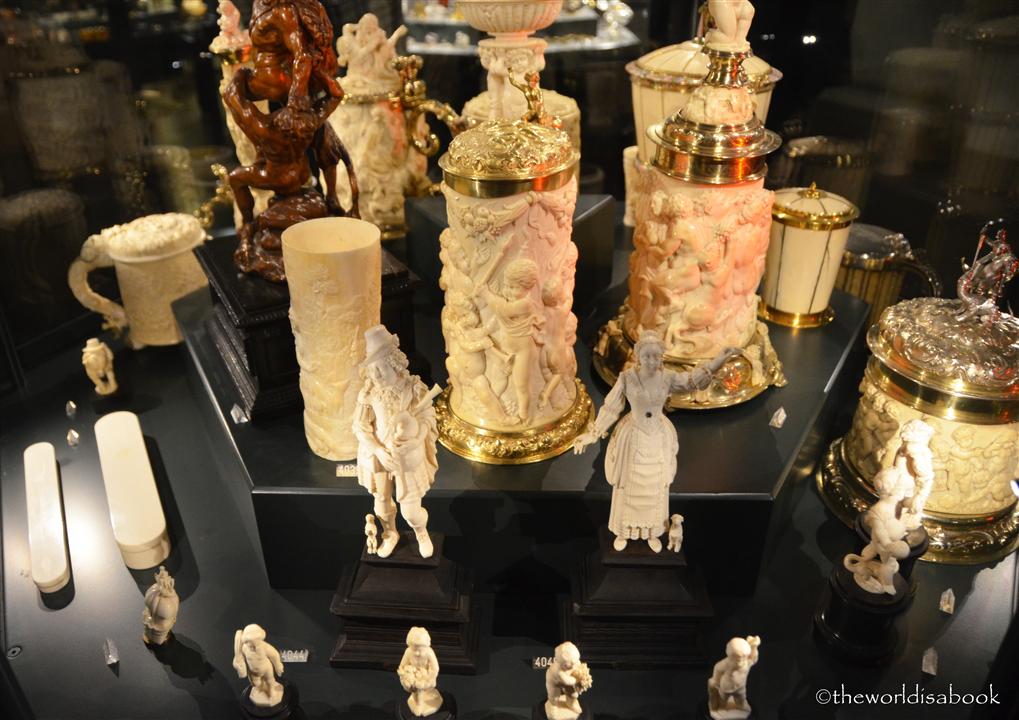 One of the highlights here was Christian IV's spectacular crown that was made for his coronation in 1596.  It was amazing to see the intricate details in how the jewels were arranged.  The solid gold crown weighs 6.6 lbs (3 kg).  I wonder how often he wore it.
The Treasury's last room displayed the crown jewels and regalia.  Seeing all the glistening and exquisite jewels would make any lady's heart flutter with joy.  There were sets of emeralds, gold, diamonds and rubies including the anointing sword and a sceptre.  The number and variety of jewels on display were astounding and impressive.  Some of the state jewelry belonging to the current Queen Margrethe II were also displayed.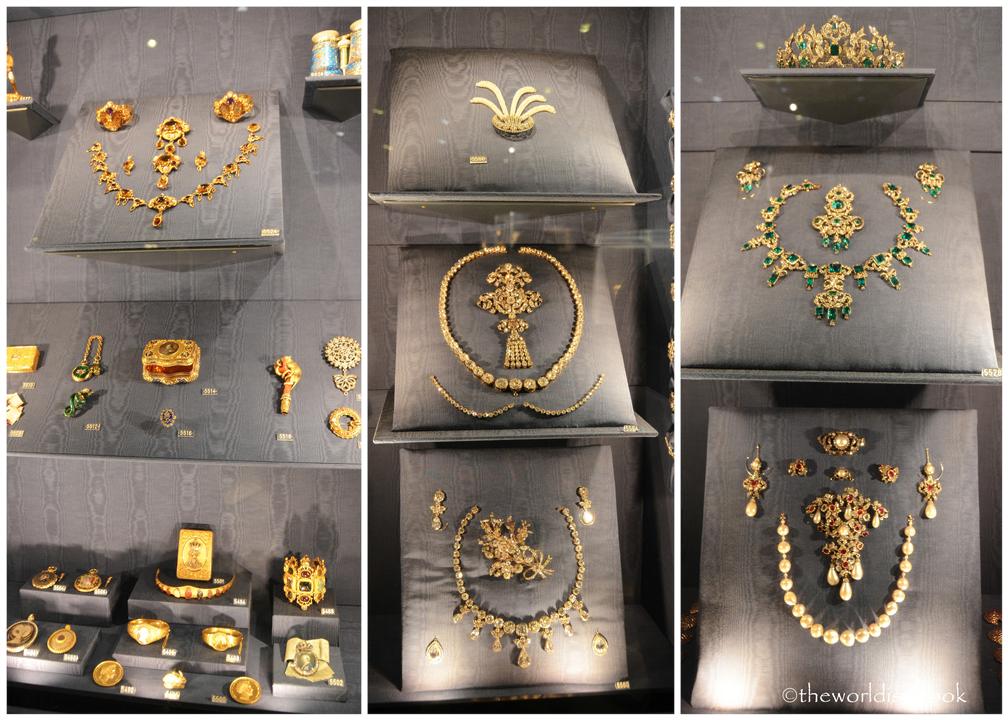 My daughter has a fascination for sparkly items, crowns or anything to do with a princess so she was beyond excited to be here.  It was amusing to watch her take many pictures and gaze in amazement at each exhibit.  I'm not much of a jewelry wearer (which my husband is grateful for) but I can fully appreciate fine jewelry pieces I'll never own or wear.  It was jewelry window shopping at its best.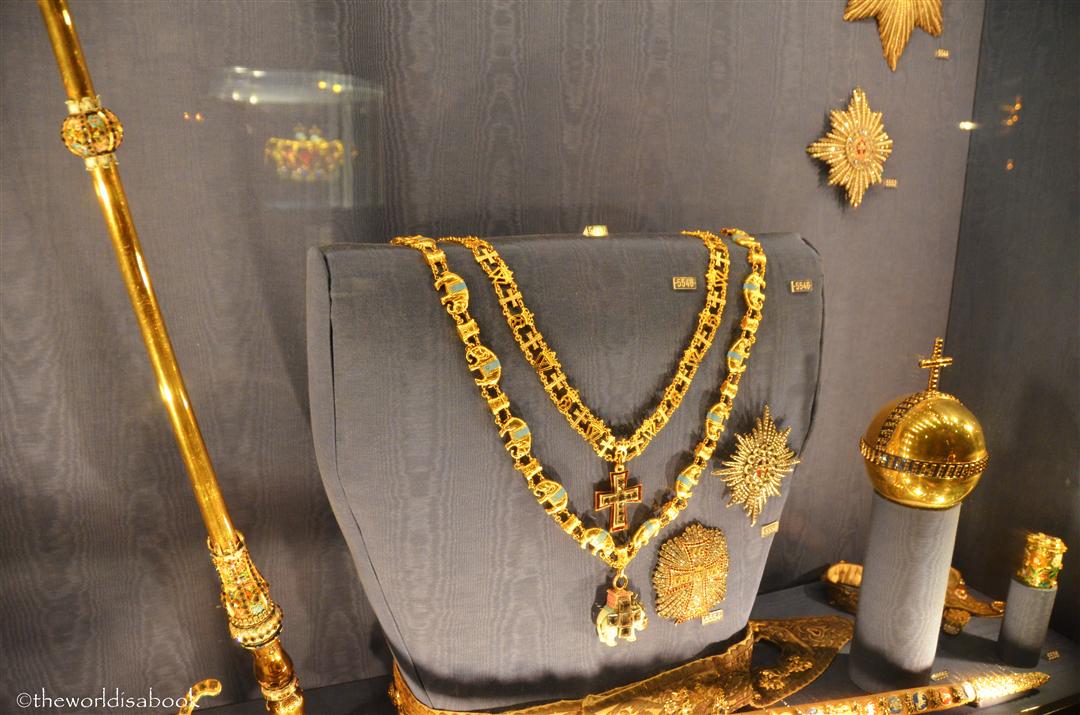 One can't miss the two crowns in their special showcase.  The larger of the two was the Crown of the Absolute Monarchs.  This was a closed crown with a large sapphire that was Christian V's and used subsequently by many kings.  The Queen's crown was made in 1731 – a similar but simpler design.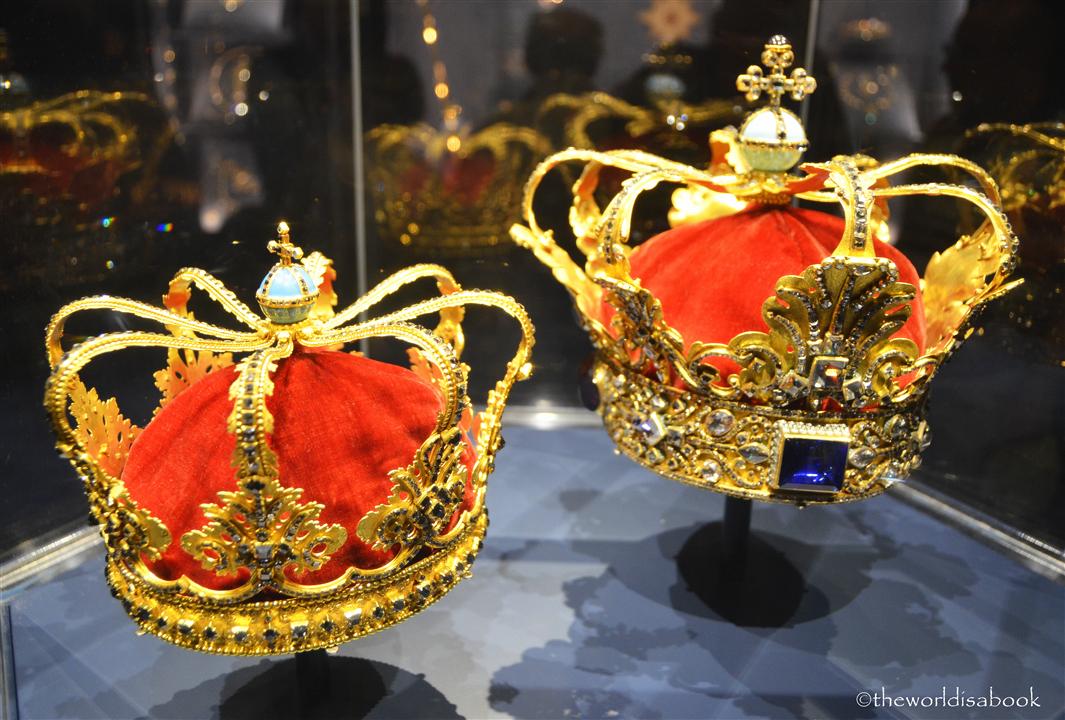 Rosenborg Castle was a beautiful and well-maintained place.  It was remarkable to see how these priceless treasures of art, furniture, artifacts and jewelry were preserved in great condition and have survived several centuries.  The castle's park like setting and central location also make it an appealing attraction in Copenhagen whether you're traveling solo or with kids.
Basics and Tips for visiting Rosenborg Castle/Slot:
Price: Tickets: Adults 80 DKK ($13 US);  Kids 18 and under were Free.  Admission Free with Copenhagen Card which we had and highly recommend.
Locker Fees. Pay 20 DKK ($3 US) to use the locker for bigger bags and backpacks but is returned after its use
Photo Fees. As a first in our castle and palace visits throughout Europe, we paid 20 DKK ($3 US) to take pictures inside.  They gave us a small sticker that must be visible at all times.
Castle connection. Photo sticker was also good for nearby Amalienborg Palace – the royal family's winter home.  We recommend visiting Rosenborg first in the morning and then walking over to Amalienborg Palace for the changing of the guard.  You can also see the guards start marching from Rosenborg at 11:30 AM.  Continuation of exhibits and monarch period at Amalienborg.

Do the smartphone guided tour. Rooms and exhibits have barcodes for scanning that links up to online descriptions (in English or Danish) called King Connect.  Free wi-fi is available throughout the castle.
Old-fashioned guides.  If you don't have a smartphone, guidebooks were available for 25 DKK ($4 US) for more in depth information.  Guards/docents were scattered throughout for questions.  Guided tours were also available (book two weeks ahead) by emailing

[email protected]

Allocate at least a couple of hours to explore the three floors and the Treasury.
Traveling with kids? Give them a camera.  We gave our kids a small point and shoot camera to take pictures which kept them interested and engaged with the exhibits.
*Have you explored Rosenborg Castle's treasures?  Where have you enjoyed a Royal Treasury of jewels? 
Pin it for later!