Copenhagen with Kids: Climbing Church of Our Saviour Spire
The black and gold spiral tower rises prominently above Copenhagen's skyline.  Look closely and you may see people along the exterior golden staircase winding to the top of the spire.  We were among those visitors who shakily and carefully made the climb to the city's most visited church last June.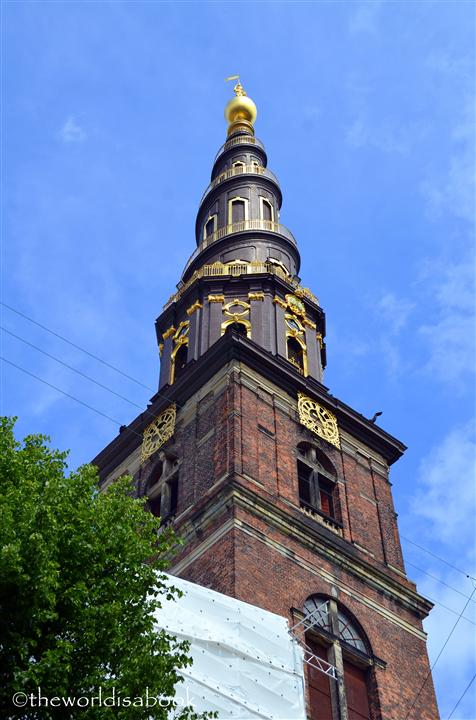 The Dutch Baroque style Vor Frelsers Kirke or Church of Our Saviour was built in 1696 and has been Christianshavn district's parish for over 300 years.  Its highlight was the 312 feet (95 m) high spire completed in 1752. Visitors climb up the 400 steps to the top for a stunning 360 degree panoramic view of  Copenhagen and beyond.  The last 150 steps were outside that wrapped around the spire.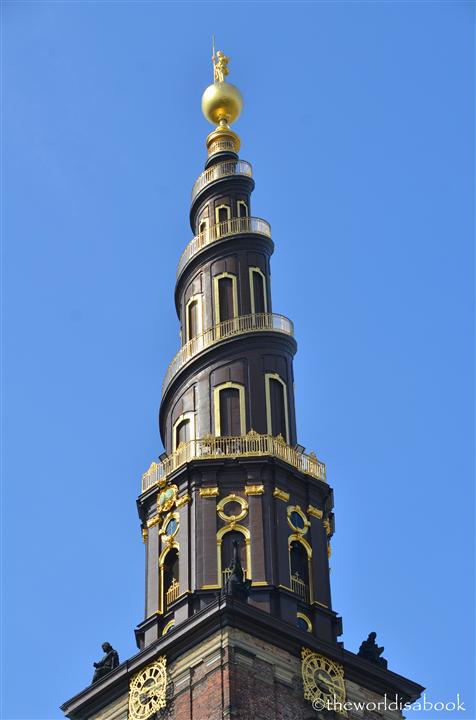 It was topped off with a golden globe and a 9.8 feet (3 m) flag bearing statue of Christ built to look over the city.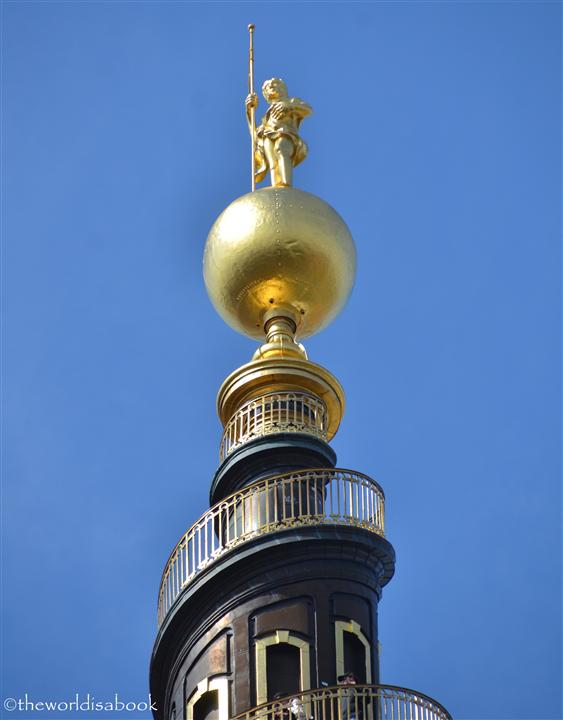 It was quite an experience especially when climbing with kids. My kids questioned our sanity when we told them we were going up there to see some great views.  There were some protests and whining when they found out there were no elevators and the number of steps to get to the top. After reassuring them there would be plenty of rest stops, they reluctantly went (not like they really had a choice).
The interior wooden stairs were narrow and cramped with plenty of low beams.  Some areas were dark with a musty smell and at times, involved climbing down backwards.  I don't know how tall people navigated through these stairways and ceilings.  There were also some seats inside for resting or for letting people pass.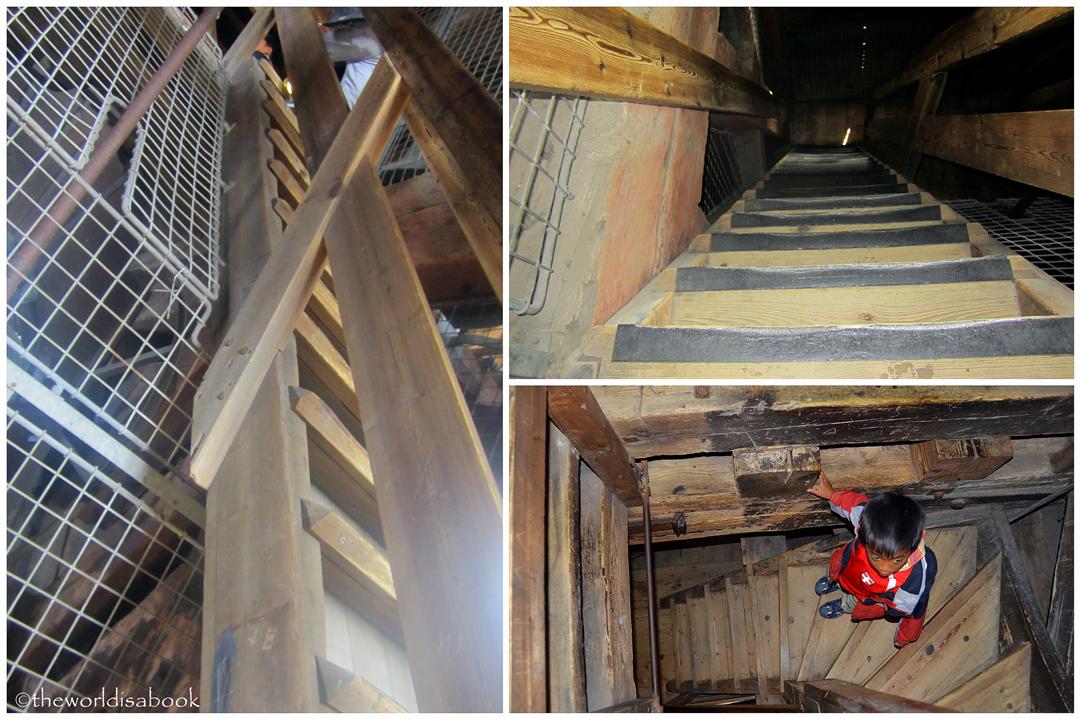 The tower also contained, at one time the world's largest musical instrument, a 48-bell carillon.  It was played every Saturday at 4PM with concerts during the summer.  I'm not sure if this photo below was part of it but looked like it was an important piece of a large mechanism.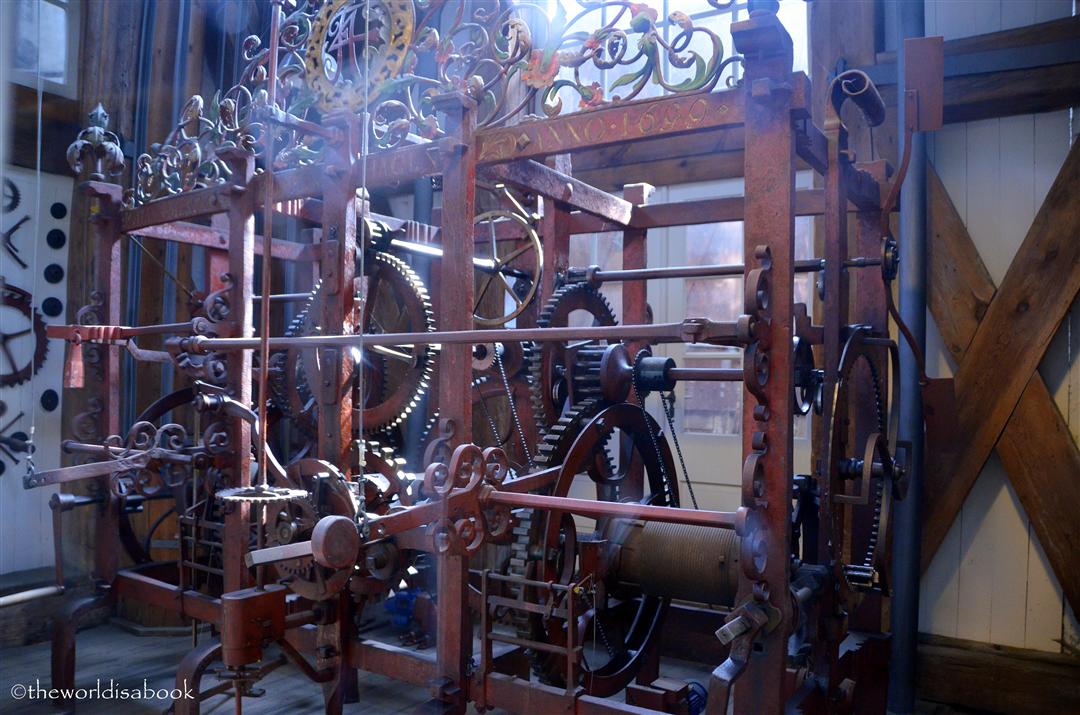 Since this was also a bell tower, we had to hurry as we nervously watched the clock.  The church bells rang on top of the hour.  I'm sure the sound of the bells ringing inside were deafening.  There were lights warning the visitors when the bells were about to ring.  I'm not sure how much time you get but I don't know if it will make much of a difference.  There was really nowhere you can escape to fast.  We luckily didn't get to hear the chimes inside during our visit.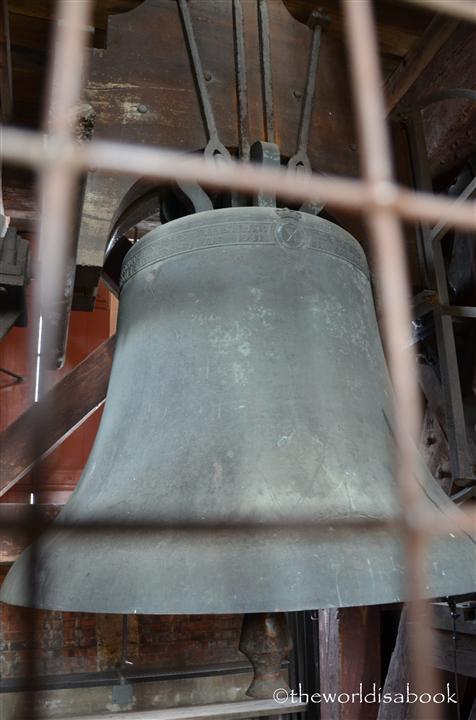 Once we got outside, there was a small platform encircling the tower with signs that pointed to various attractions.  It was a wonderful way to see the sights we already visited and the ones we hoped to explore.  The platform wasn't flat but was sloping downward which took some getting used to walking.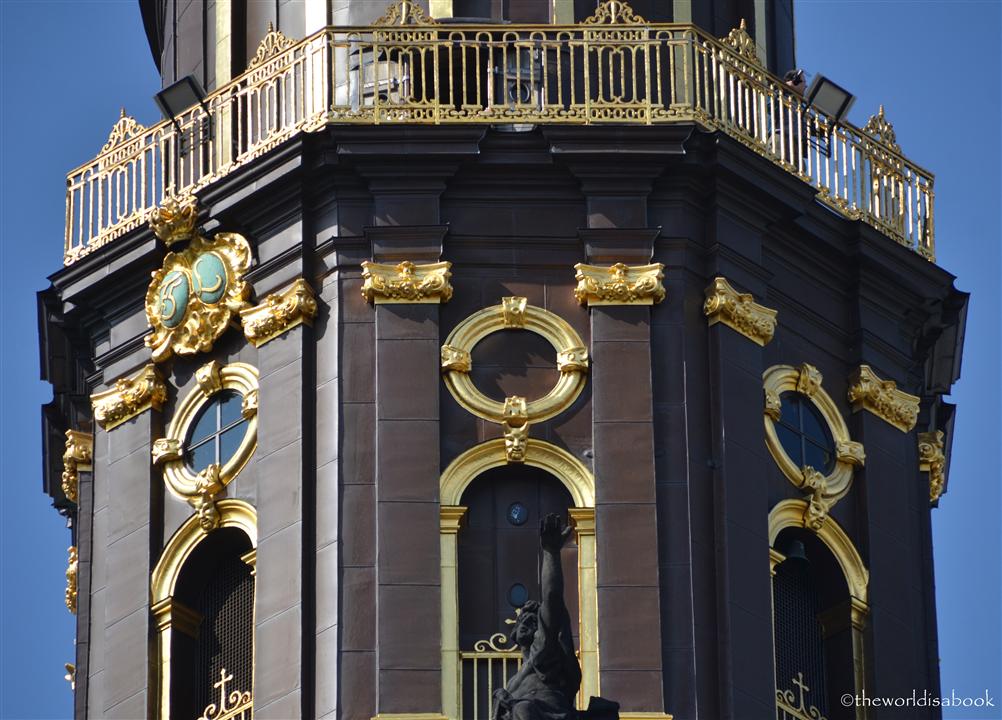 The panoramic views were spectacular.  It was a fantastic way to see Copenhagen from above.  The tower has been proclaimed with having the best views of the city and that was undeniable.  On a clear day, the Oresund bridge connecting Sweden and Denmark could also be seen from  here.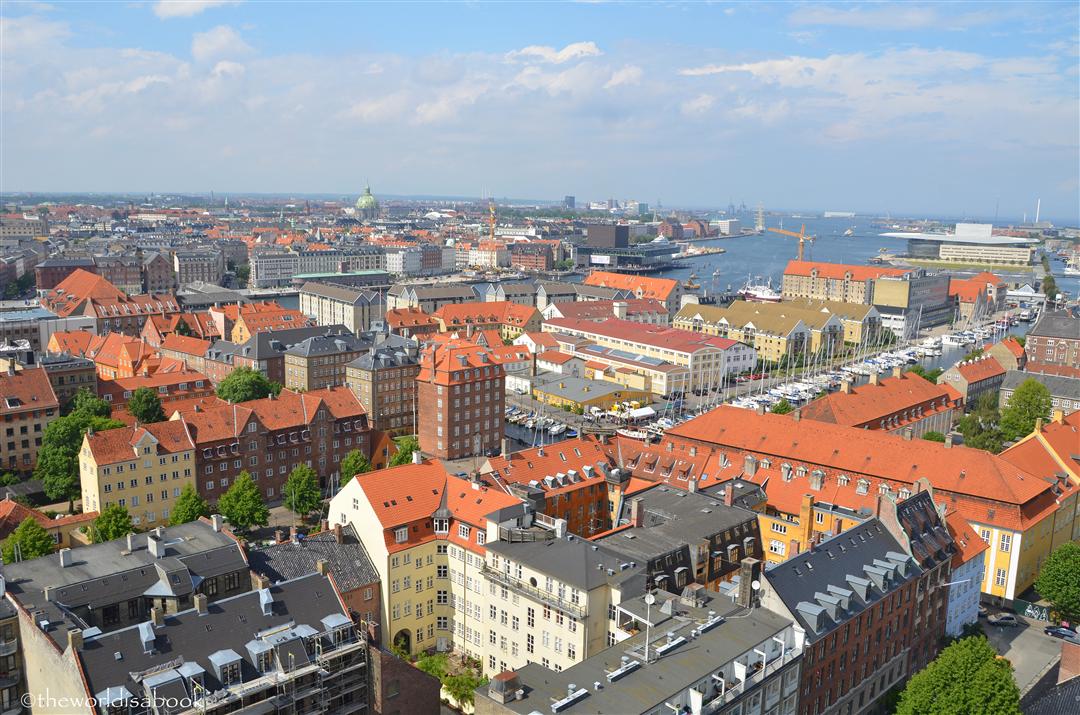 —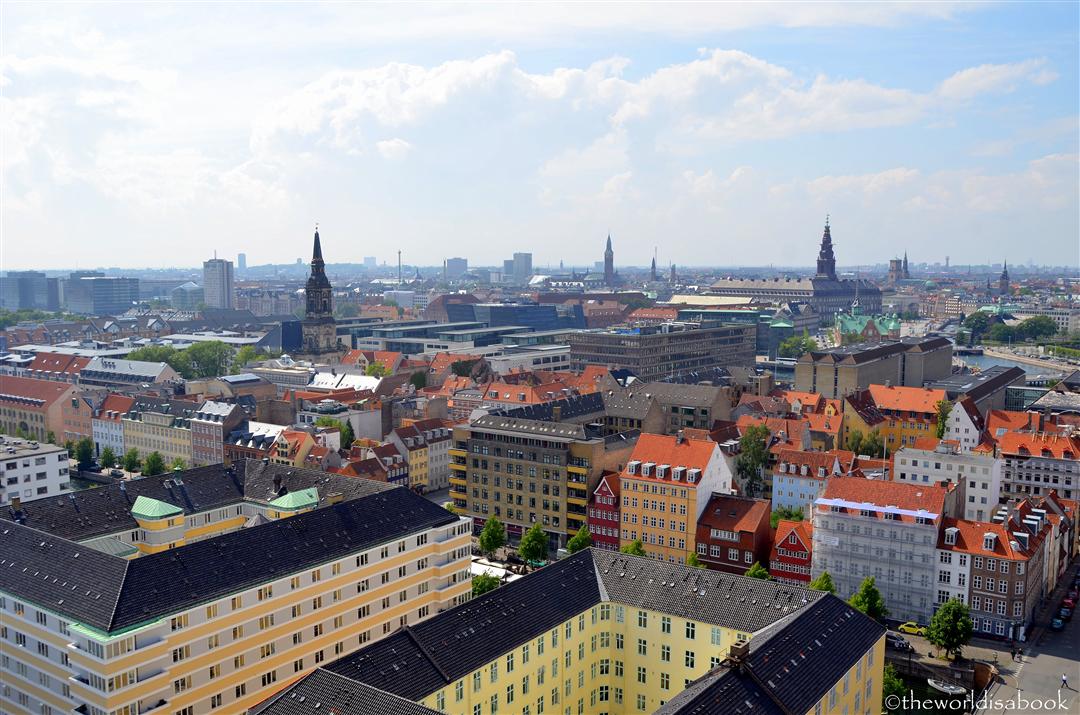 This was one of the canals we cruised on during our Copenhagen Canal Tours.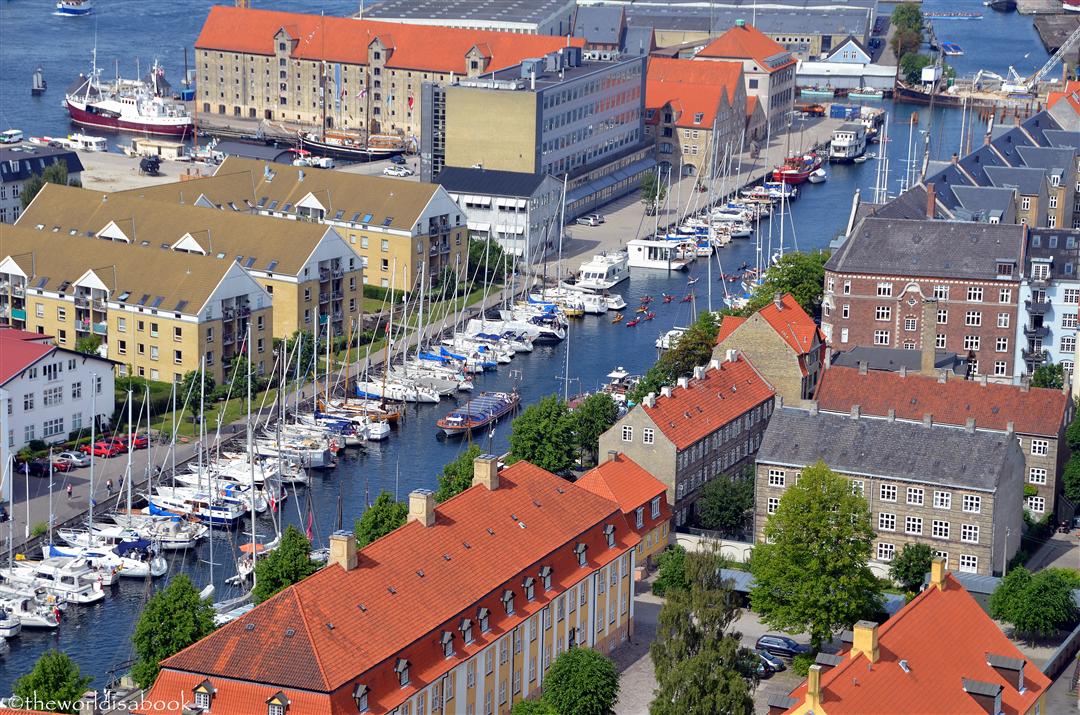 I was content with the views from the platform.  Having made it two-thirds of the way, we decided to climb the 150 steps that wrapped around the spire to make this tower visit even more memorable.
As we climbed the four twists, the steps got narrower, steeper and scarier.  The tower was made of oak so gusts of wind blowing felt like we were rocking.  This was not someplace you'd want to be on a really windy day.  It was good to know they close it off during high winds and rain.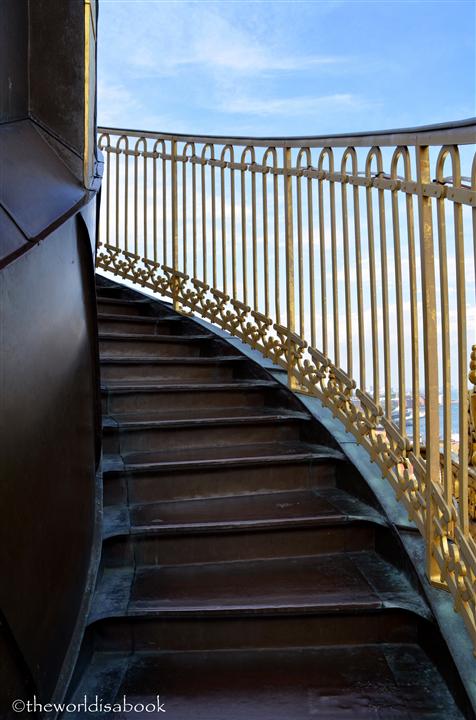 There was no platform at the very top.  The narrow stairs tapered off for one person to stand on.  We were lucky there weren't that many people here on a Thursday afternoon.  The wait could get pretty long climbing and waiting for others to pass.  In some areas, passing each other meant one held on to the tower wall sideways and the other held on to the rail sideways.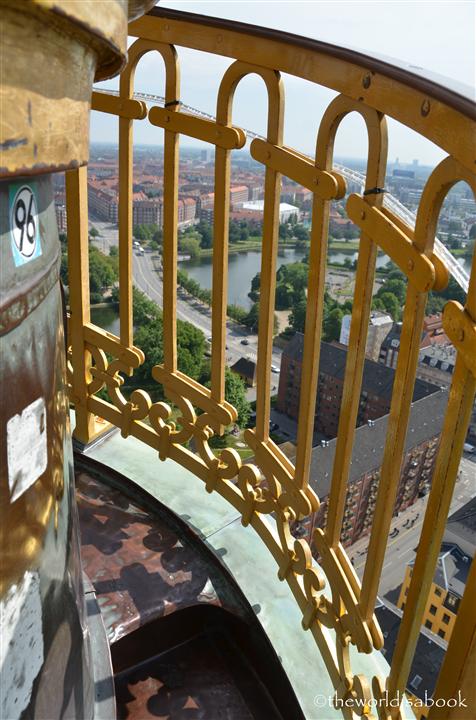 I'm usually not afraid of heights but this one was scary and nerve-wracking.  I was terrifed my kids would get blown away despite the railings being taller than them.  There were plenty of "Hold on tight to the rails!" yelled repeatedly over the wind gust.  They were perfectly fine and loved the feeling of being so high up the city.  They obviously didn't get that daring sense of adventure from me.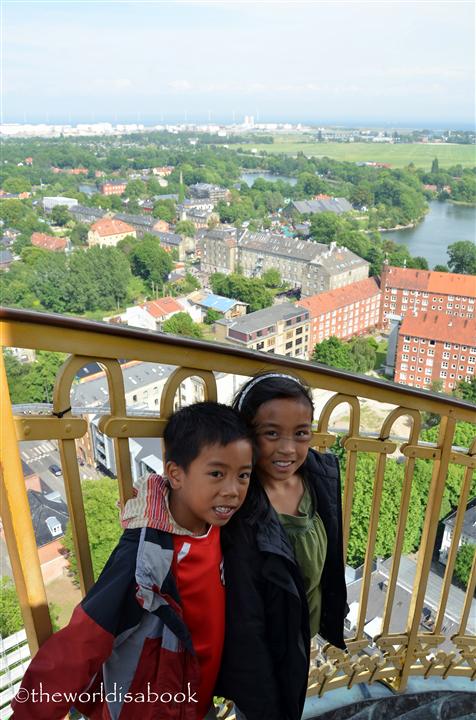 I had to stop, breathe and compose myself a few times to actually enjoy the views.  Fortunately, my husband took all the scenic pictures because my pictures would have mostly been blurry from shaking hands and sweaty palms.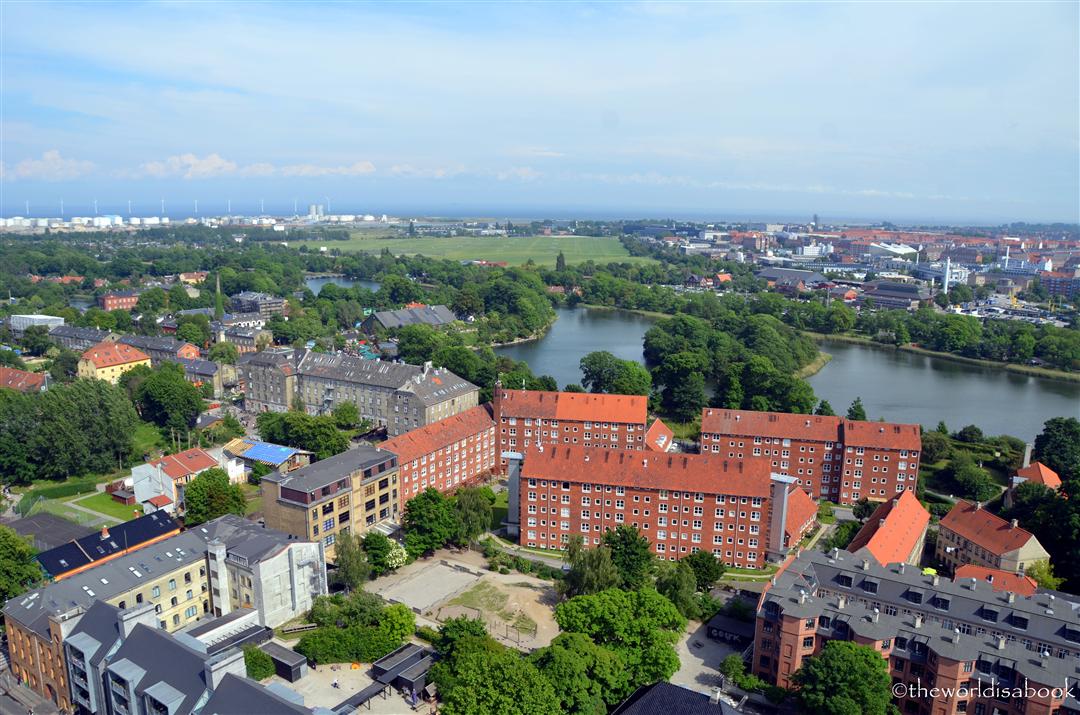 —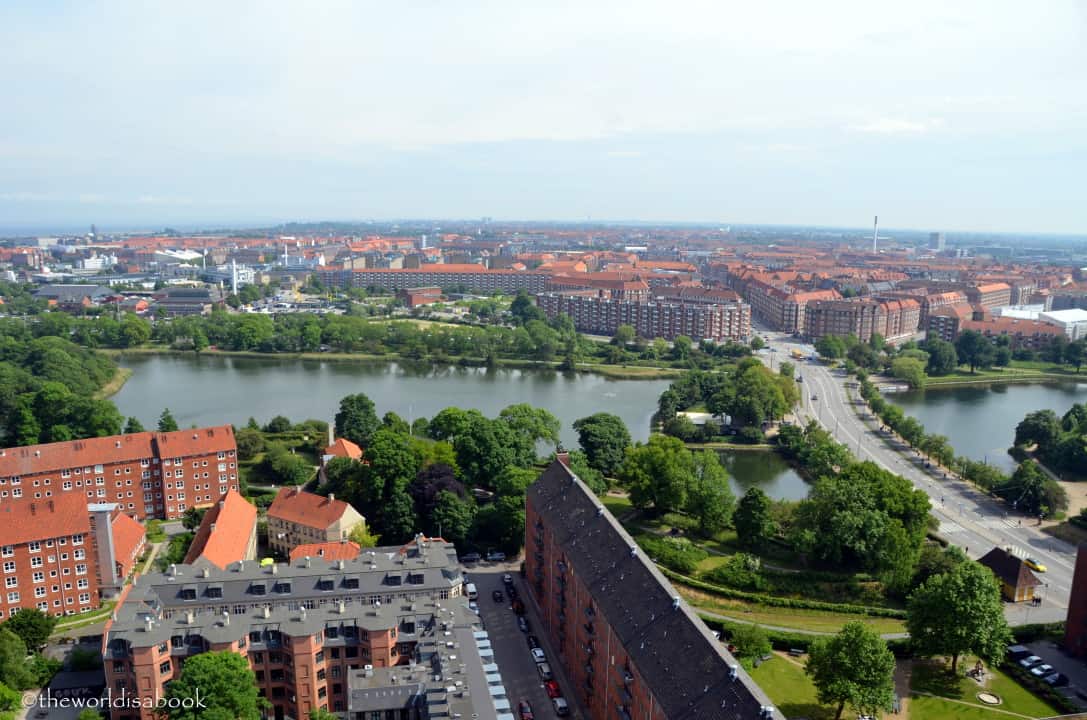 The climb to the spiral tower was a harrowing and challenging experience.  It was also a good exercise to work off all the Danish pastries we had consumed on this trip.  This is one of Copenhagen's famous attractions and definitely not for those with fear of heights, vertigo or limited mobility.  We saw another side of Copenhagen and were rewarded with glorious scenery.  It was well worth the shaky legs and accelerated heart rate (for me, anyway).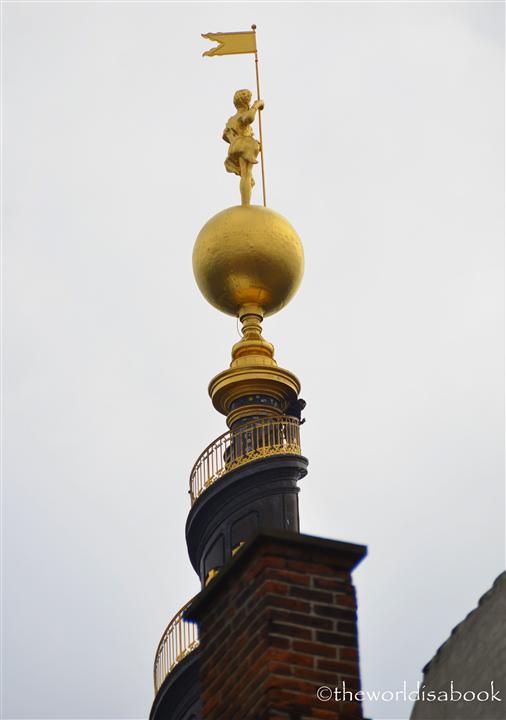 Visiting the Church of Our Saviour Copenhagen with Kids Basics and Tips
Ticket prices: Adults 35 DKK (about $5.90 US); Children 10 DKK ($1.70 US).  Admission is FREE with the Copenhagen Card.
Plan your visit.  Go early or late on weekdays to avoid most of the crowds.  Stairs require lining up in a single file to go up or down.
Visit the church.  The church was under construction and closed during our visit but admission would have been free.  It didn't look very big but contained some important and historical relics.
Check the weather.  Don't plan to go when it's windy or rainy as it will most likely be closed.
Dress appropriately.  No hats or loose clothing since it gets very windy on top.
Bring binoculars for a closer look at some of Copenhagen's attractions.
The spire is closed between November to  March.
*Would you climb the spiral tower?  What challenging climbs have you done during your travels??
PIN IT FOR LATER!