5 Fun and Free Things to do in Las Vegas with Kids (on the Strip)
Don't let its nickname of 'Sin City' deter you from visiting!  Las Vegas is much more than many people's stereotype of gambling and drunken parties. In recent years, it has slowly catered to families as well with plenty of free attractions along Las Vegas Boulevard aka the Strip where a majority of the hotels are located. Here are our recommended and family-tested five free things to do in Las Vegas with kids.
Las Vegas' close proximity to Southern California (4-5 hour drive time) makes it an easy weekend getaway for us.  We usually visit at least twice a year and our kids have grown up enjoying many Vegas attractions.  My husband and his siblings have been going here since they were kids so it has long been considered a kid-friendly destination by the family.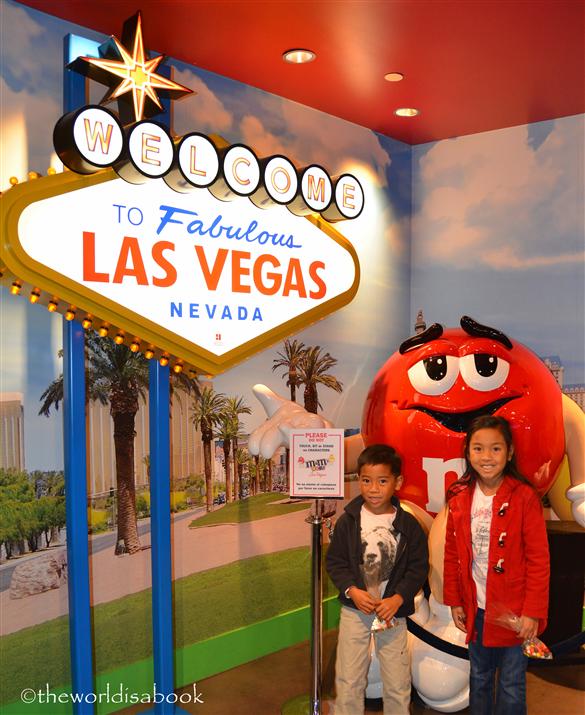 Strolling along the strip is traveling the world in minutes.  Where else can you see the Statue of Liberty, the Sphinx, the Eiffel Tower and Venice all in one place?  We're focusing on five hotels offering family friendly attractions that make visiting Las Vegas with kids fun.  Okay, technically there are more than five attractions here so count them as bonuses.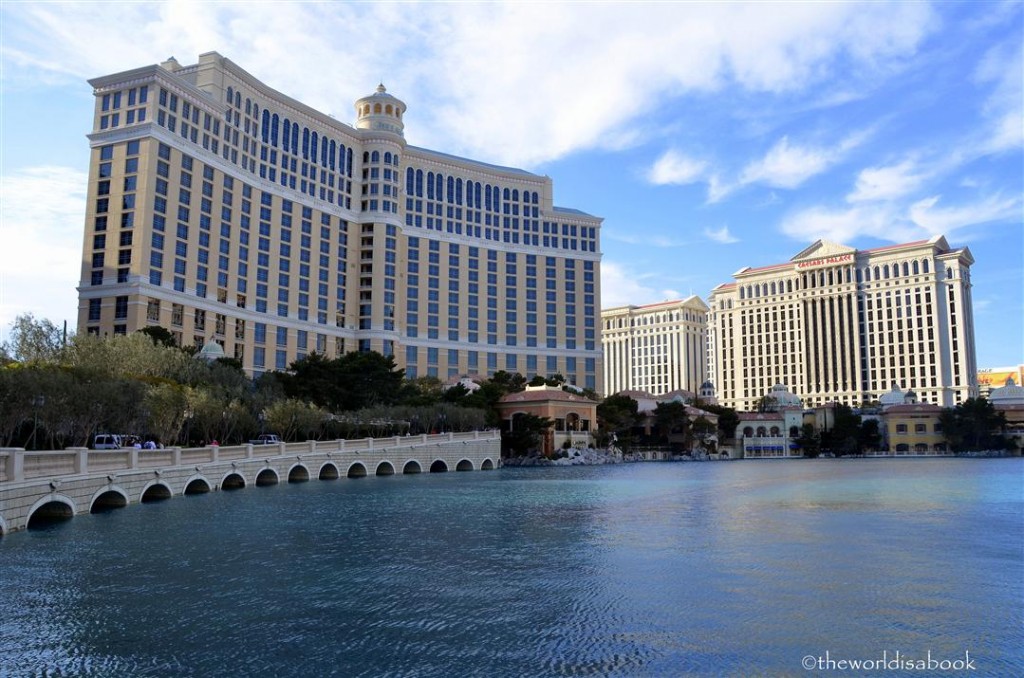 1. Bellagio Hotel's Conservatory and Fountains
One of the first things we love to visit no matter what time of the year is the Bellagio Hotel's Conservatory and Botanical Garden. You never know what they have on display under the glass ceiling atrium. Horticulturists incorporate plants, flowers, trees and props into their thematic displays.  We have never been disappointed with any of the beautiful works of art and always leave in awe of what they have accomplished.  It's a little bit less crowded early in the morning or late at night.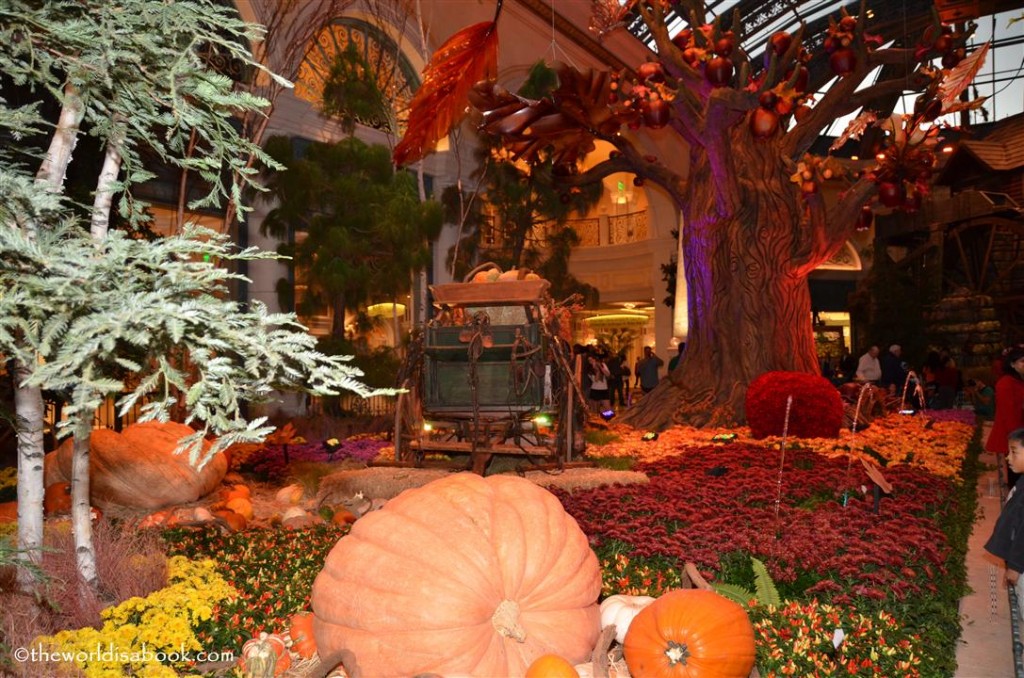 At first glance, the lake in front of Bellagio Hotel looks like a beautiful part of its landscape.  But, stick around and it turns into dancing fountains.  While seeing it during the day is entertaining, the nighttime shows with the fountains lit up are more stunning.  The water show is choreographed to various music genres and is a favorite attraction for many visitors.  The Fountains of Bellagio showtimes vary but are usually in intervals of every half hour during the day and every 15 minutes at night.
2. Caesar's Palace Moving Statues and Aquarium
Caesar's Palace is like entering the world of Roman mythology.  Located at the end of the Forum Shops is the Fall of Atlantis and Festival Fountain.  It is a 10-minute fire and water show featuring moving marble statues with great visual effects.  Kids love the way the animatronic statues move and talk.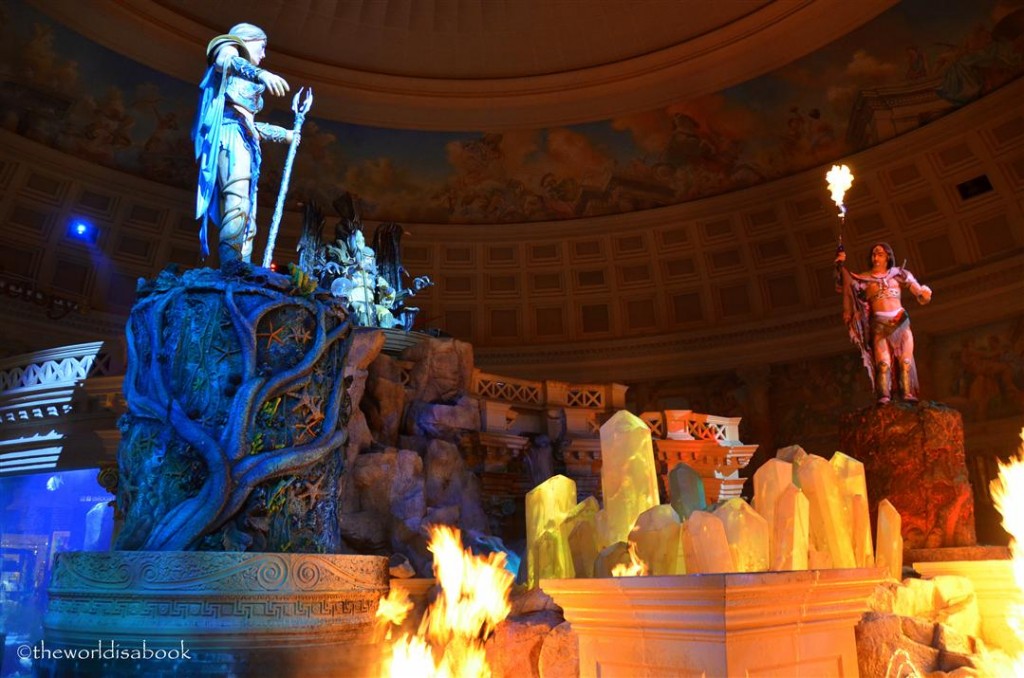 The whole fountain tells a story about sibling rivalry over the kingdom of Atlantis with creatures and talking gods. The fountain comes alive every hour on the hour starting at 10 AM until 11 PM or midnight during the weekends.  Go early to be in a good area for the show.  It can get very loud with many surprises so take note when taking small children to this show.
The fountains are located next to the Cheesecake Factory as well as a 50,000-gallon saltwater Atlantis aquarium with more than 300 fish and other sea life.  It is a wonderful diversion for the kids while waiting for the show to start.  This is a big one with seats all around it.  Divers feed the fish at 1:15 and 5:15 PM.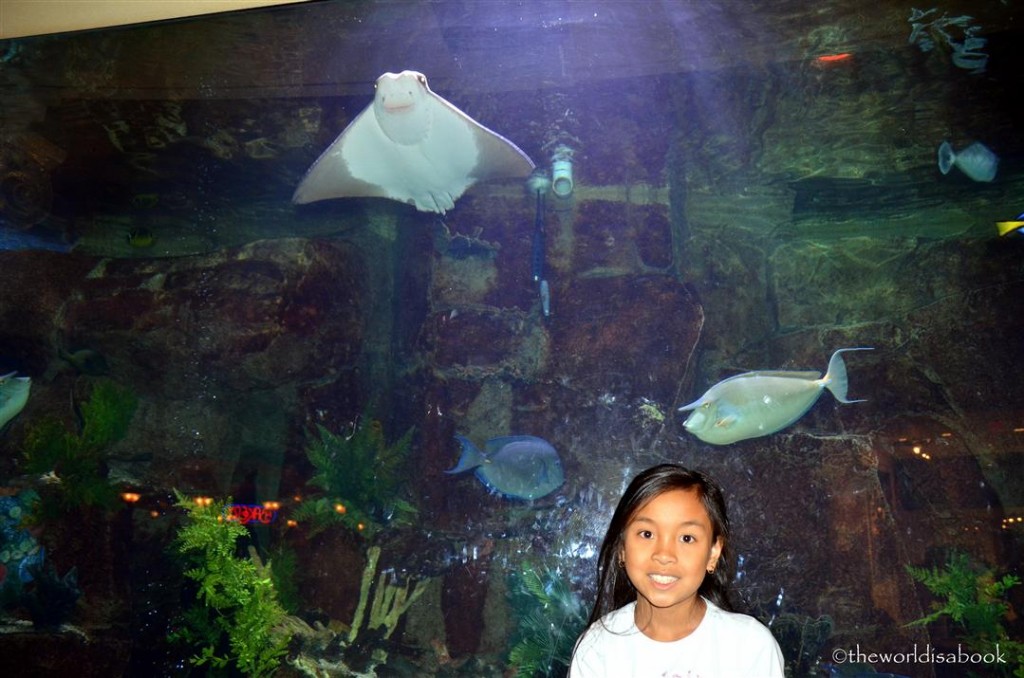 3. The Mirage Volcano and Atrium
The Mirage Hotel's iconic volcano is an amazing "manmade wonder" that erupts and puts on a show every hour from 7 PM until 11 PM.  We recommend watching it up close to really hear its thunderous sounds and feel the eruption and heat. This attraction has been around for many years and still makes everyone walking or driving by it stop and enjoy. Kids can't seem to get enough of watching this volcano in action.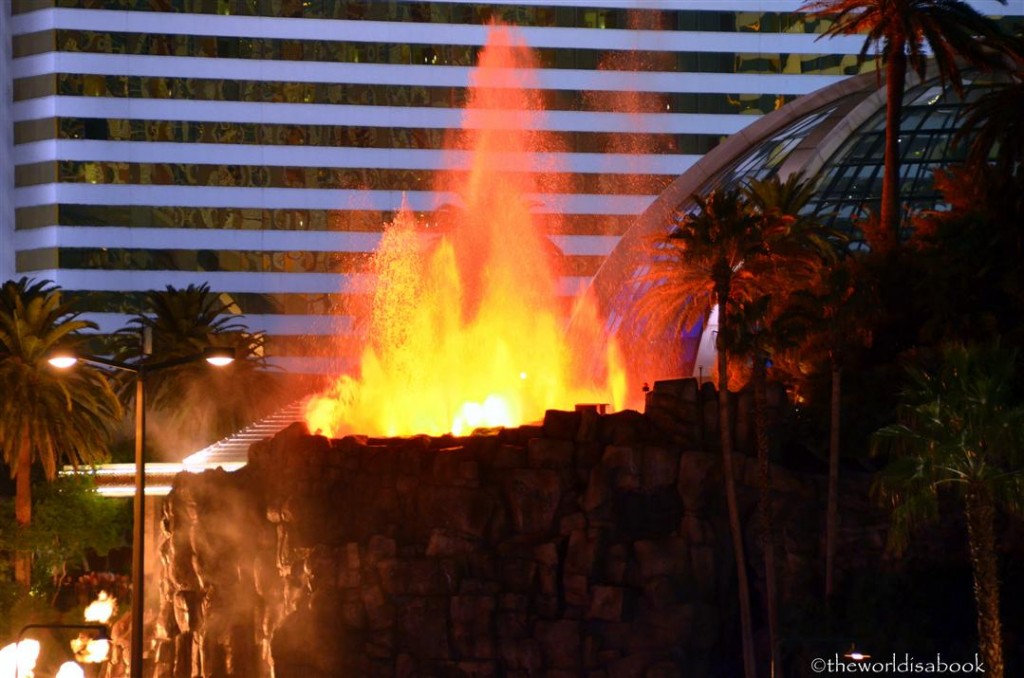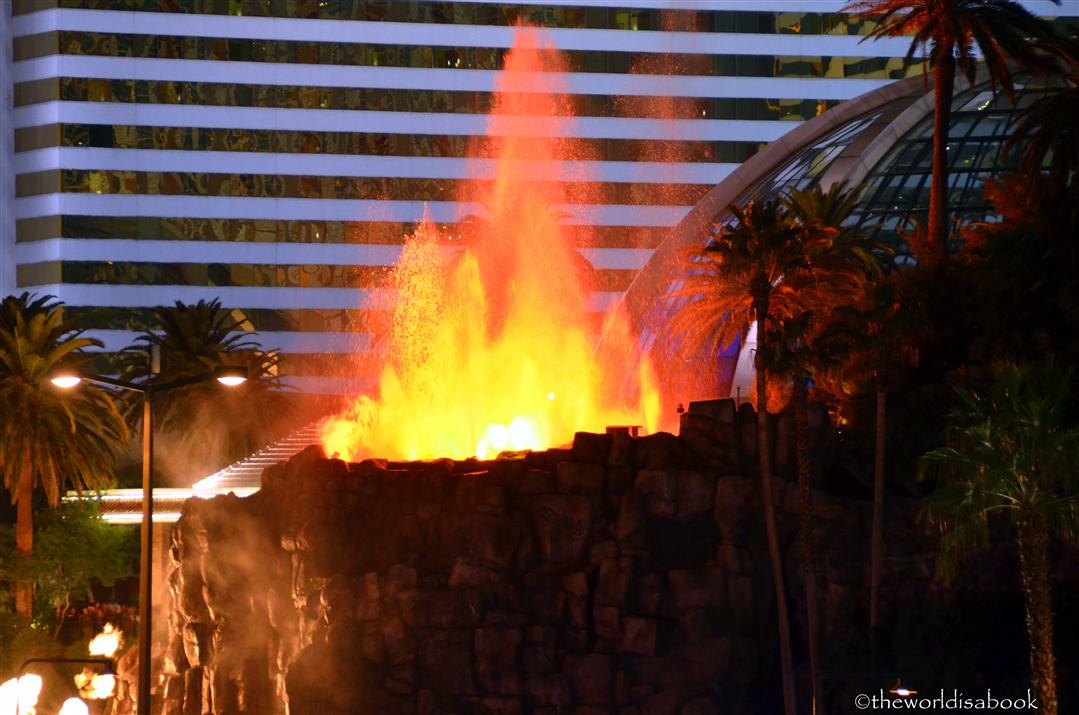 Don't just stay outside though.  Inside the hotel's 100-ft dome is an atrium which is home to more than 100 varied plants including 300 orchids and 1,000 bromeliads.  A walkway cuts through the gardens of exotic plants and palm trees with small waterfalls and lagoons. If you have a nature lover in your family, this is a wonderful escape from Las Vegas' sensory overload.
4.  Circus Circus Hotel's Acts and Carnival
There has been one hotel associated with kids for decades in Las Vegas and that's the pink domed Circus Circus Hotel. Its carnival atmosphere and Adventuredome theme park (rates start at $17) is very popular with kids and families.  There are free circus acts under the big top that range from flying trapeze artists to clowns everyday.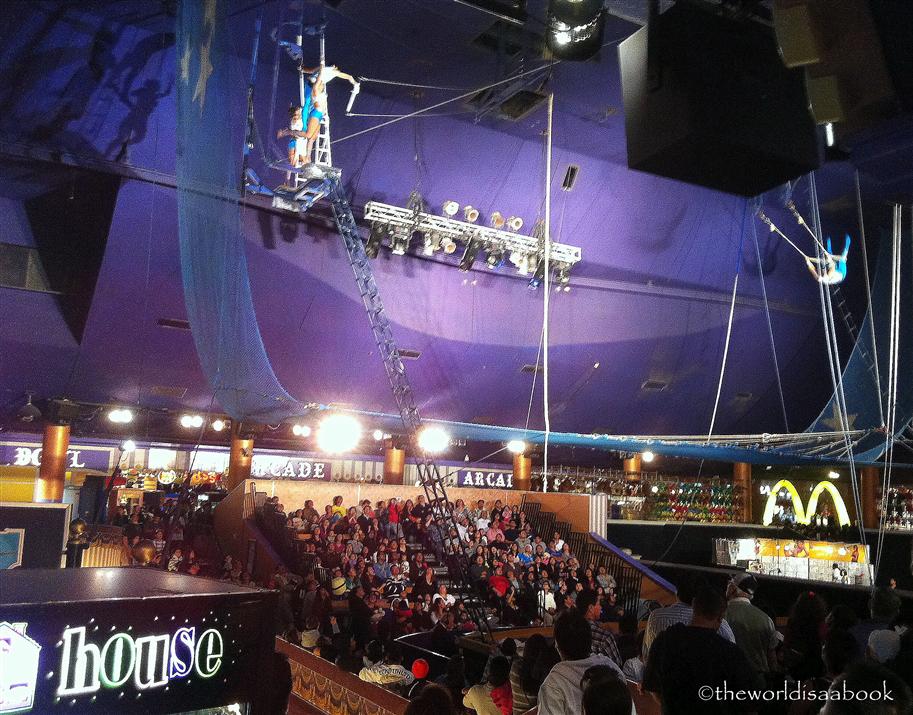 While I can't guarantee your kids won't get the urge to play some of those carnival games and beg you for money, it is entertaining to watch other people play the various games.  When the few dollars they are given to play runs out, my kids are content to walk around and enjoy the atmosphere.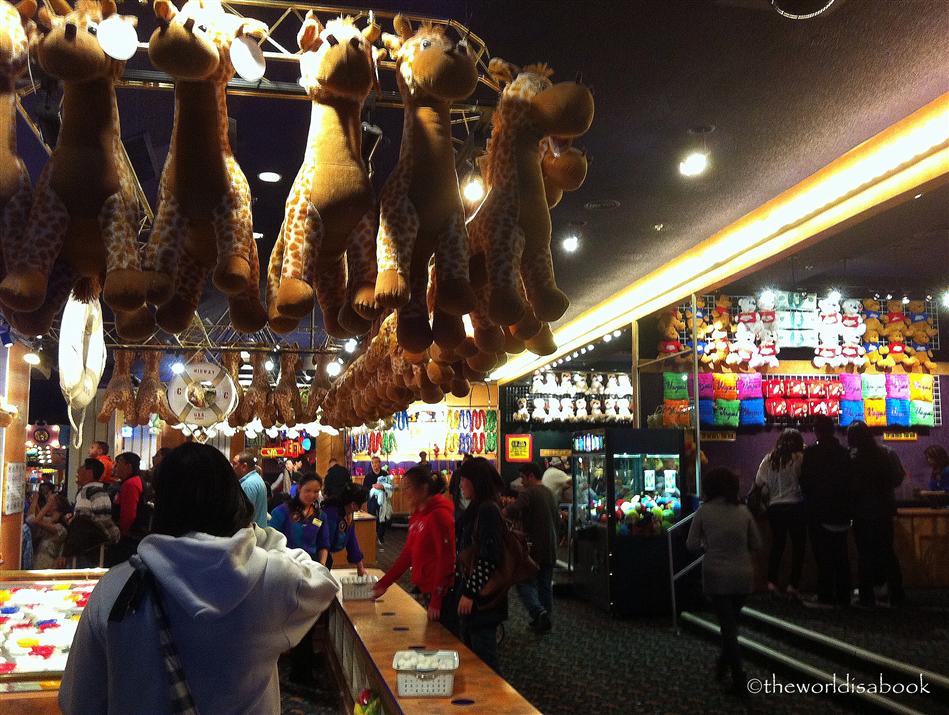 For those sensitive to noise, be warned that it seems a lot louder here than many other hotels with the slot machines in the background combined with the carnival noise, video game soundtracks and the sheer number of kids.
5. Treasure Island's Sirens of TI
For anyone traveling with pirate loving kids, Siren's Cove at the front entrance of the Treasure Island or TI hotel displays buccaneer ships and skull facades.  When it turns dark, the Sirens of TI (a somewhat pirate show) starts in front of the hotel with dancing, music, pyrotechnics and a mini fireworks show in the end.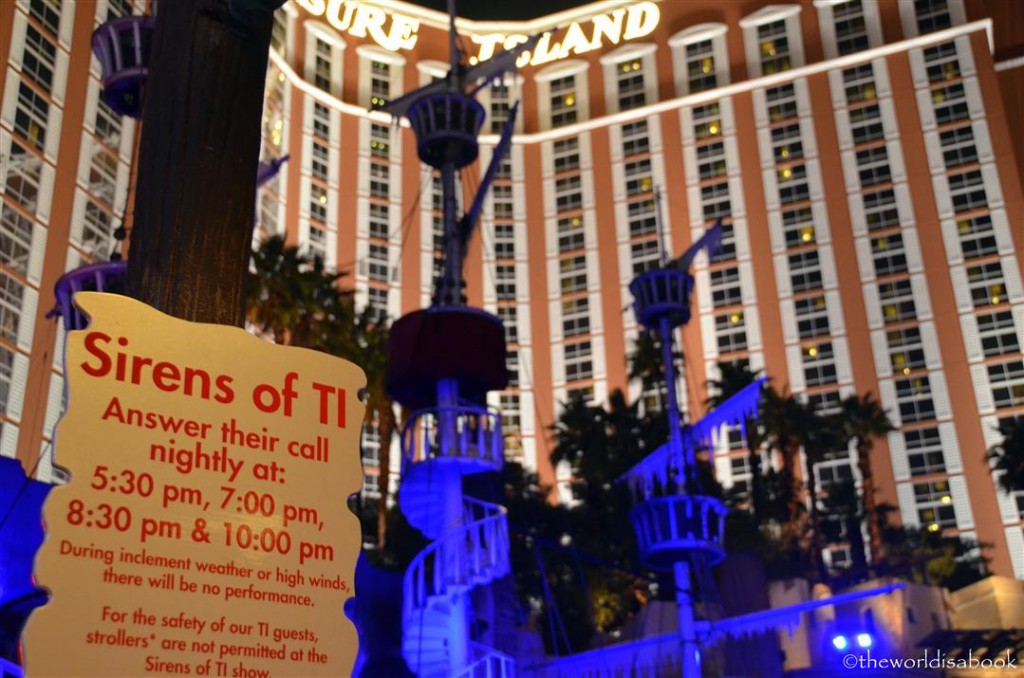 The show involves scantily clad sirens and battles which may be a little much for some young kids but the special effects may be enough to distract them.  I think it is borderline family-friendly but it is entertaining and unlike any Vegas outdoor show.  It's a standing room only viewing area so go early to get the best spots.  If staying at Treasure Island, there's a VIP platform area for hotel guests.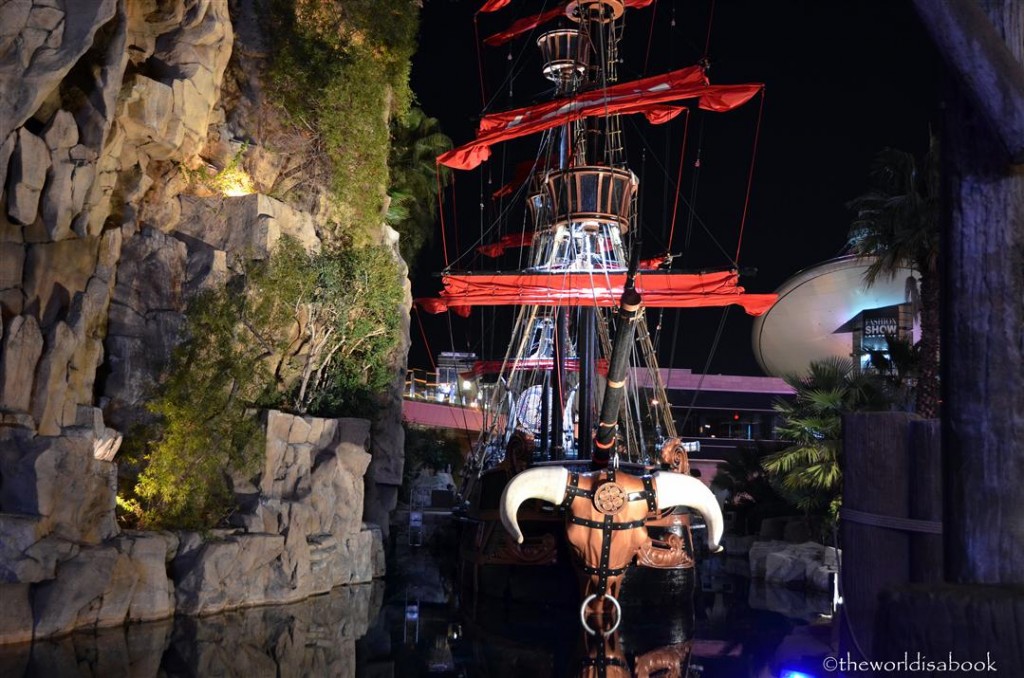 *Have you visited any of these Las Vegas attractions?  Any other Las Vegas attractions on the Strip you'd like to add?
We all know traveling as a family isn't cheap these days and we try to save as much when visiting attractions.  But, why pay when there are many Free attractions everywhere you visit?  This is a new series called Five Free Family Friday.  I hope that this will grow into a collective guide of free family-friendly attractions of cities all over the world.  Last week started with San Diego and it's all about Las Vegas this week.  If you'd like to contribute with the free attractions in your home city, I would love your guest posts.  Please email me.  Thanks.