Things to See and Do in Malmö, Sweden with Kids
As much as we loved Denmark, we couldn't pass up a day trip to its neighbor, Malmo, Sweden, last June.  One of Copenhagen's appeal was its close proximity to Sweden enabling a two-nation vacation.  Our day trip to Malmö with the kids included a wonderful orientation of the city with the Rundan canal tour.  The different perspective from the water was a fantastic way to see the city.  But, walking around also provided opportunities to explore many places of interest in this lovely city.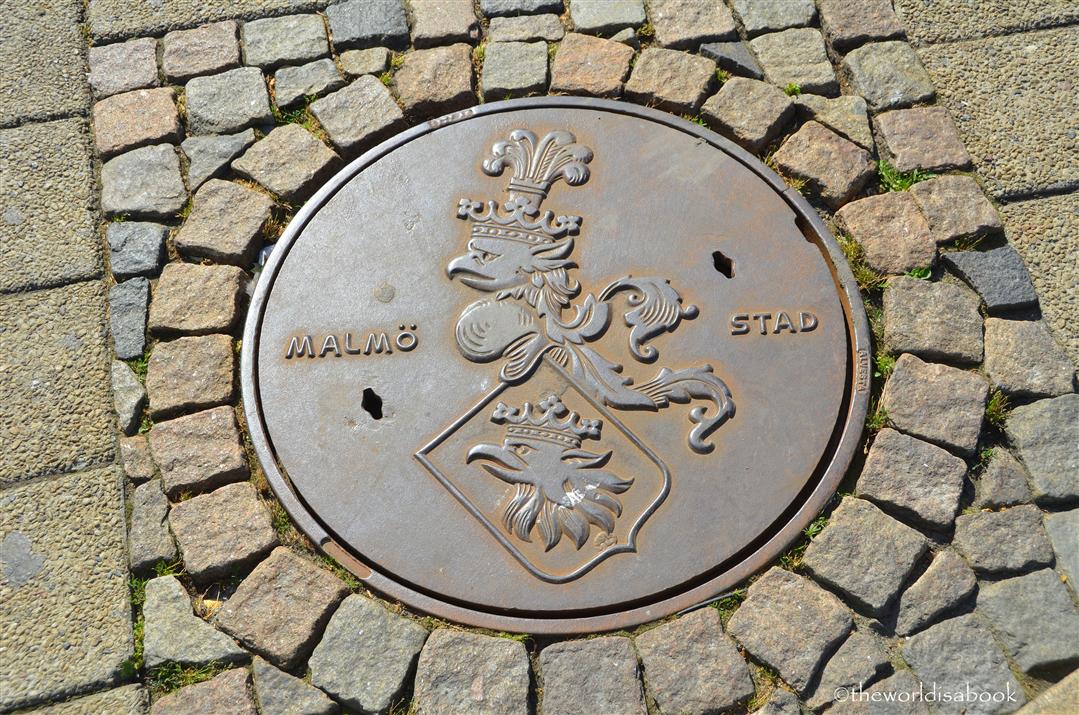 Sweden's third largest city, Malmö, is separated from Denmark by the Oresund Bridge.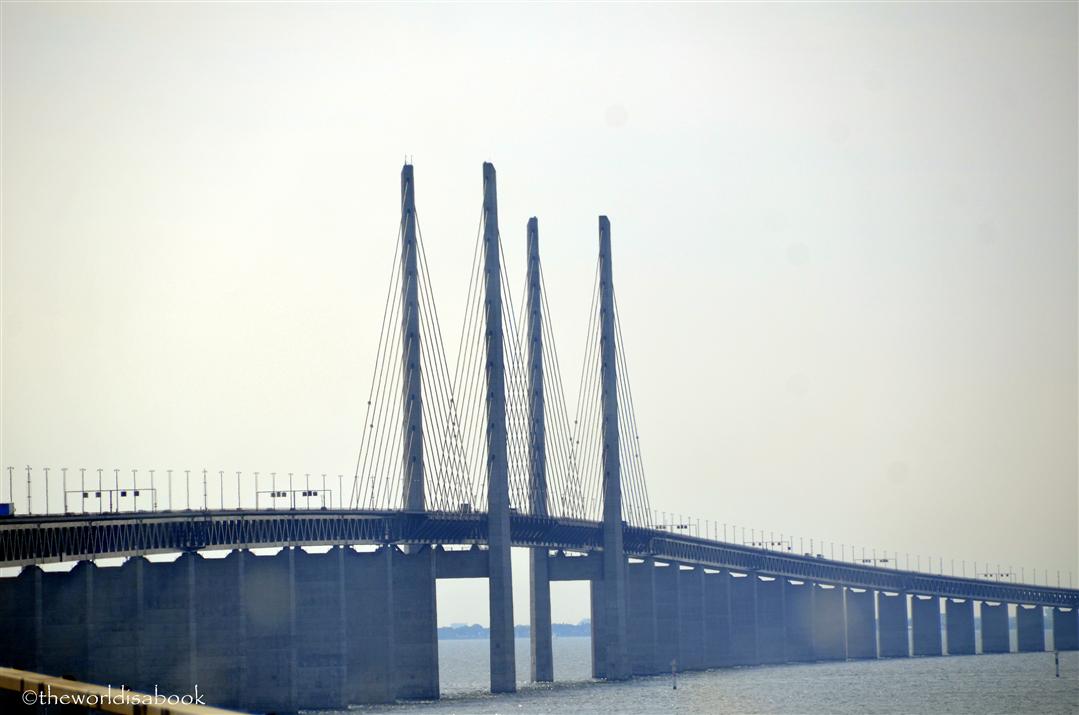 While crossing the bridge on the bus, we passed by huge windmills on the Oresund strait which were quite amazing to see.  They were part of Sweden's largest offshore wind farm, Lillgrund, which provides electricity to more than 60,000 homes.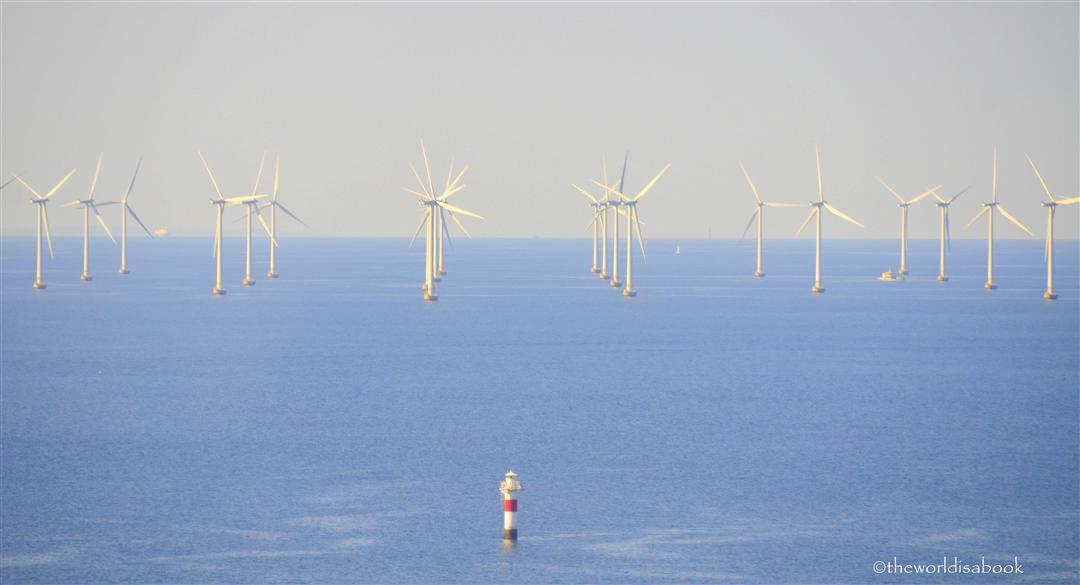 One of the first things we stumbled upon was a whimsical sculpture of a musical group called Optimistic Orchestra (Optimistorkestern) on one of the pedestrian streets.  This public art work was created to represent Malmö – "optimistic, enthusiastic and happy".  It was a nice way to greet the visitors.
Our first destination was the Great Square (Stortorget) which is Malmö's central square.  We arrived in Malmö around 9 AM on a Friday morning and found the square a bit empty. We were either too early for all the tourists or everyone else was at work.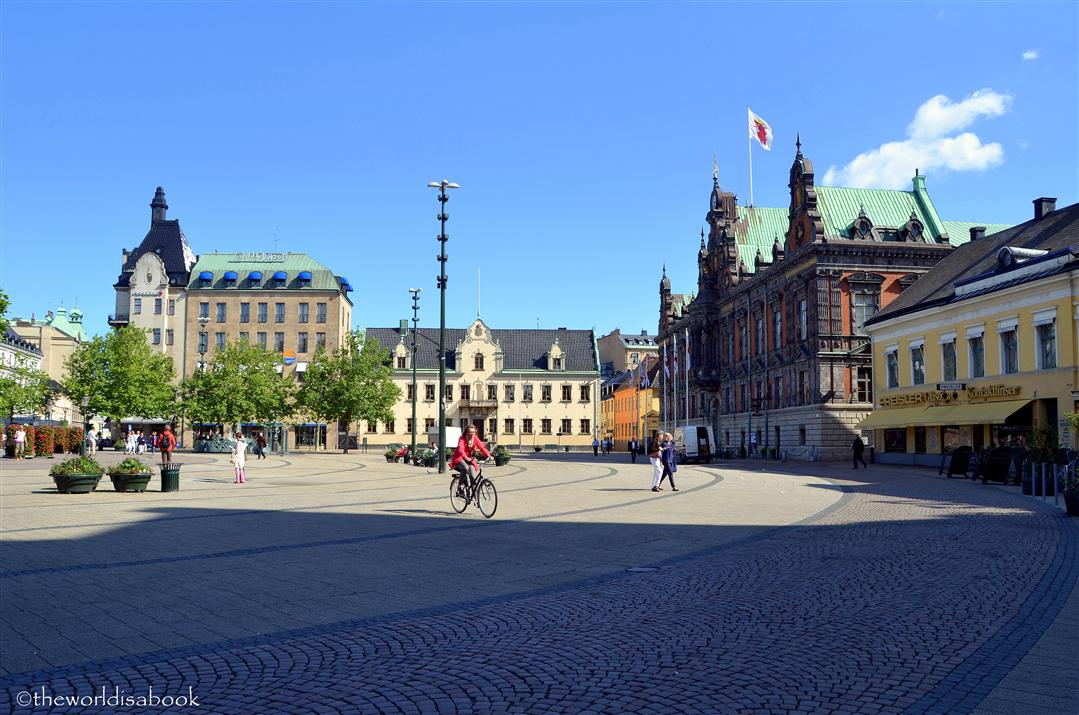 The City Hall(Radhuset) was one of the more impressive structures on the square.  Built in 1546, it was very stately looking in a Dutch Renaissance style.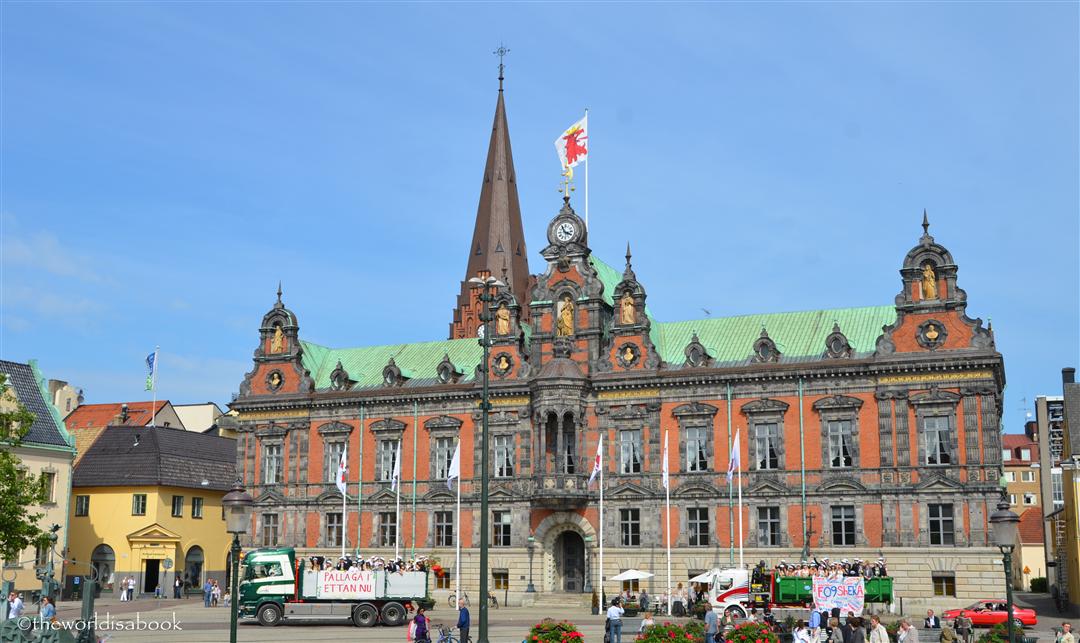 The upper area was filled with statues with the griffin prominently displayed on its flag.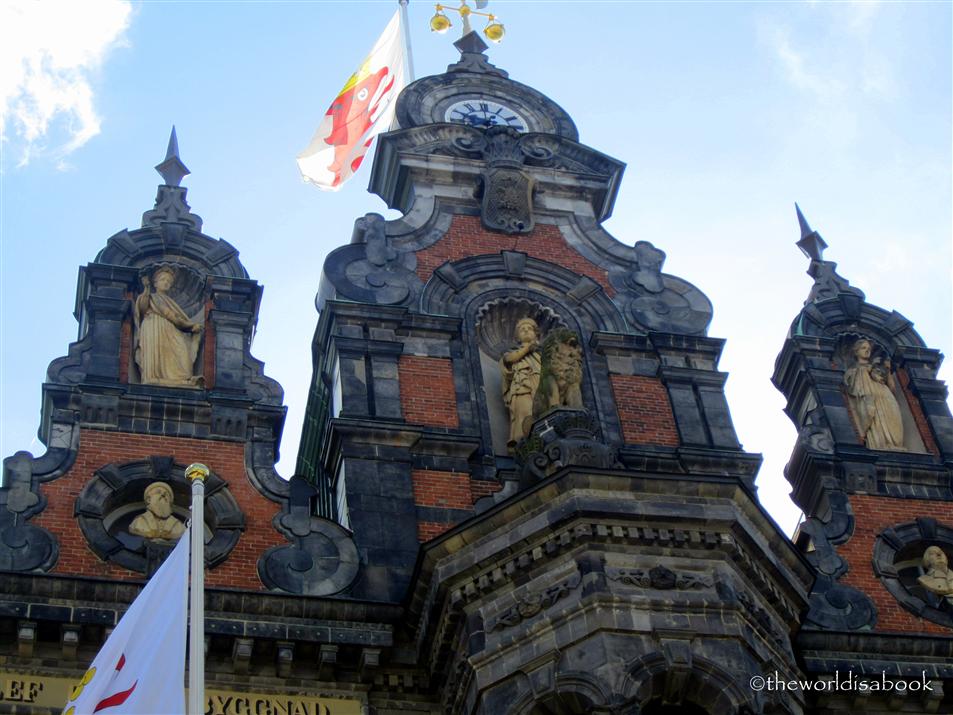 Not too far from Stortorget and behind the City Hall was the St. Peter's Cathedral (Sankt Petri Kyrka). This is Malmö's oldest building. Despite its name, it is actually dedicated to St. Peter and St. Paul.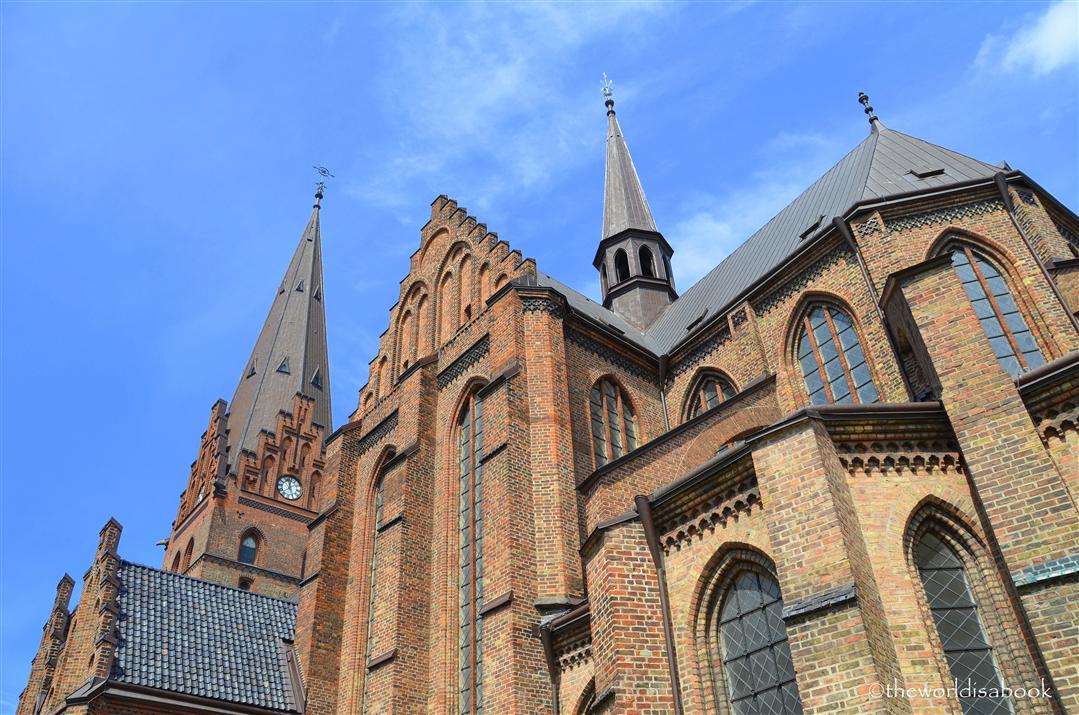 The Gothic-style church was built in the early 14th century and had a commanding presence in the city's skyline.  We didn't expect it to look so white, modern, bright and sparse inside.  It was a contrast to its dark exterior architecture.  The centerpiece was a striking 17th century altar at 49 feet (15 m) tall.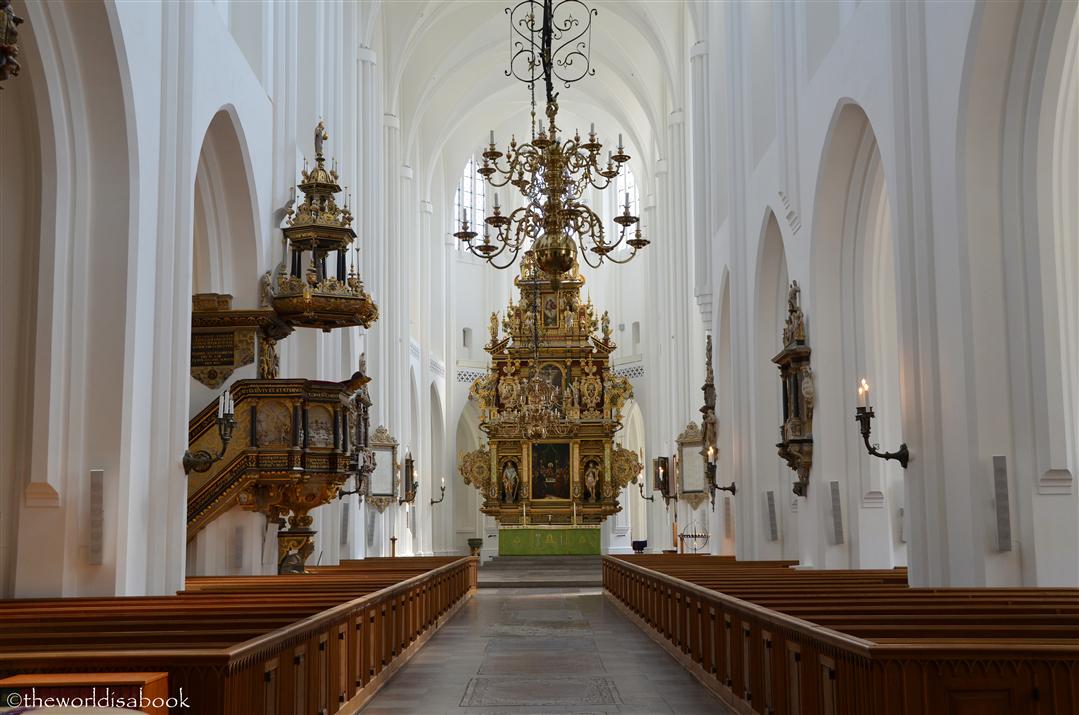 We also found the Tradesmen's Chapel located towards the back of the church.  Its wall and ceiling frescoes from the 15th century were very impressive.  The walls depicted various scenes with greenery surrounding the images.  They were well preserved and were a joy to see.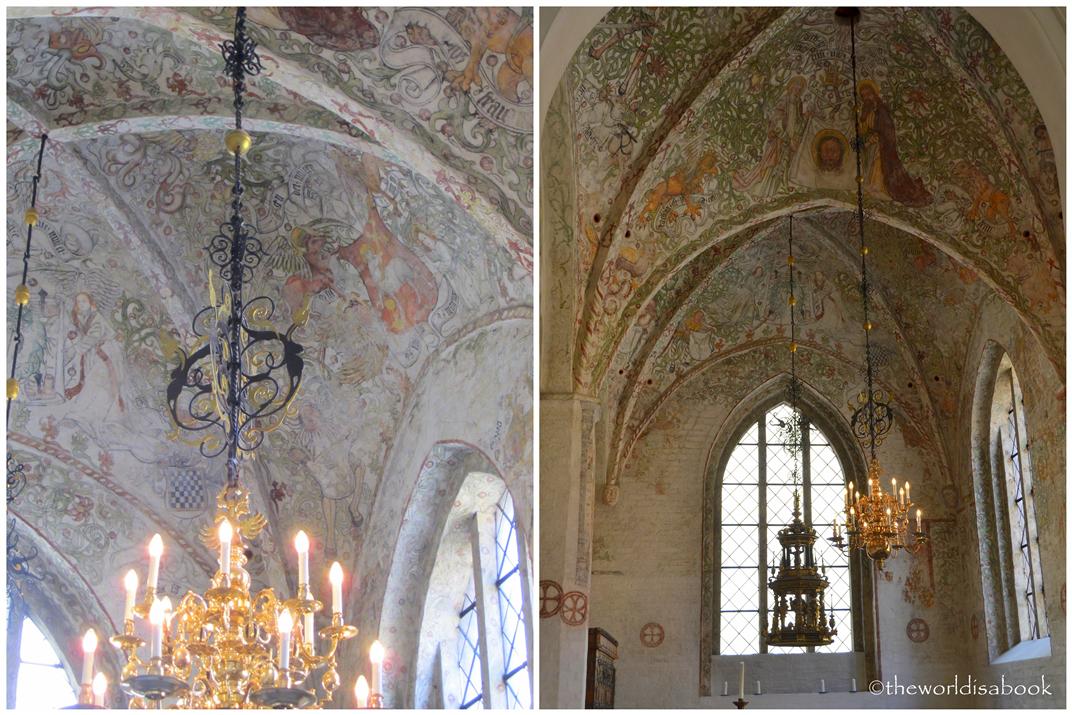 On the other side of Stortorget was Lilla Torg.  This was a small, charming and lively square with many restaurants offering outdoor dining. We were here a little early and caught a glimpse of the flurry of delivery activity but didn't have a chance to eat at the restaurants.  Old timbered houses and historic buildings surrounded the square.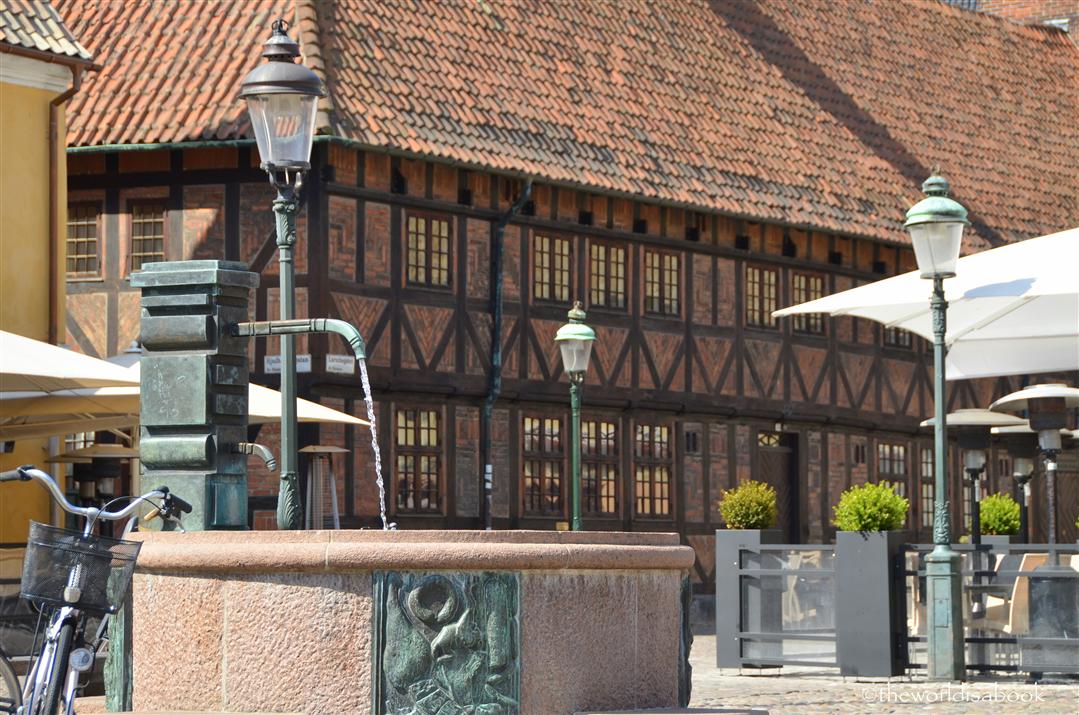 Malmöhus Castle is Scandinavia's oldest Renaissance castle dating back to the 15th century.  It had a varied use as a royal residence, prison and citadel over the years but now houses several museums including the Art Museum, City Museum, Natural History Museum and the Science and Tech/Maritime Museum.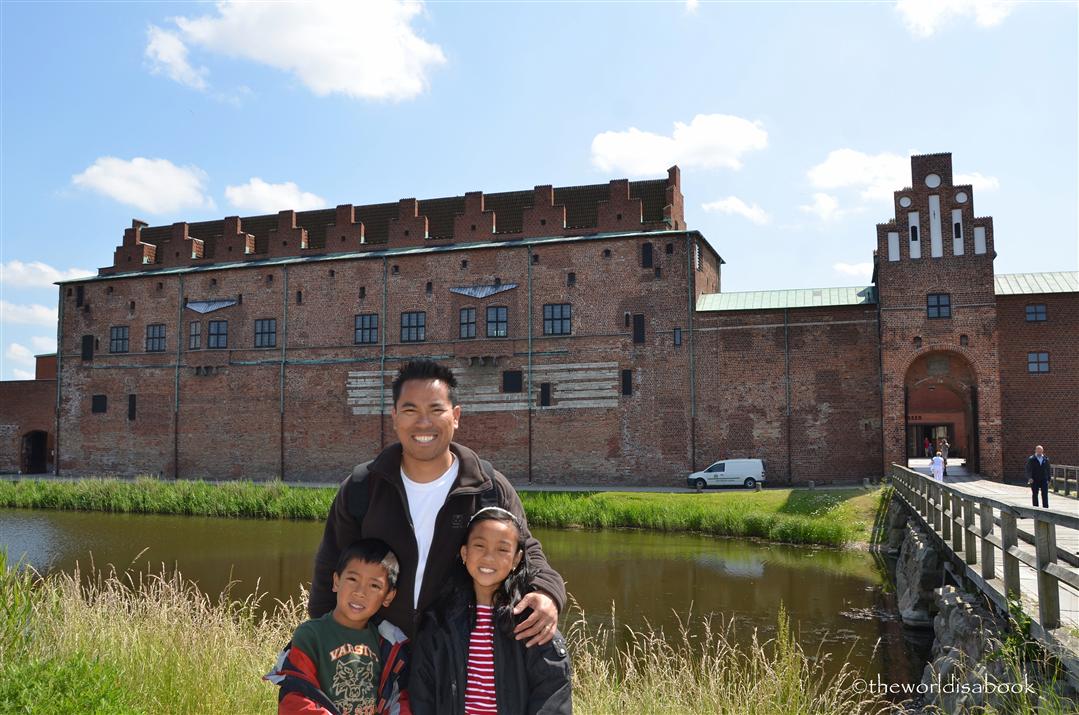 Pressed for time, we decided not to visit the museum. This was our quick glimpse within the castle walls.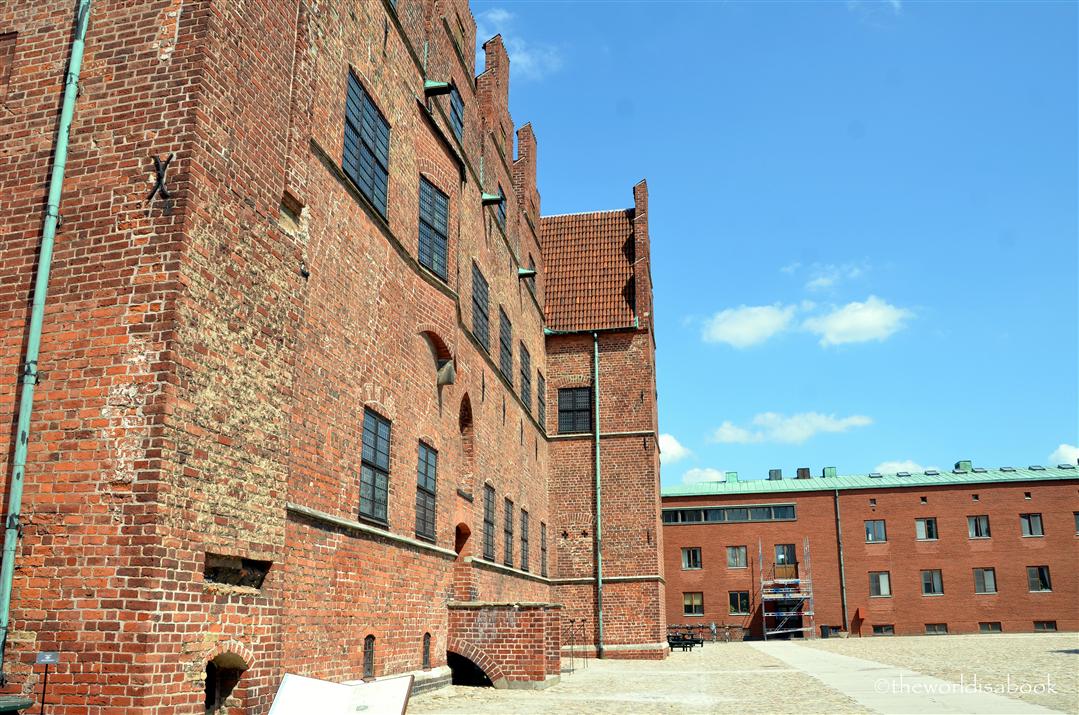 The red castle looked a bit plain on the outside and reminded me more of an old factory plant.  It was surrounded by a moat and accessible by a bridge.  Two huge red drum towers stood guard outside the castle walls that were once used as barracks and a prison.

Behind the castle was the Castle Mill (Slottsmöllan) which was a historic Dutch style windmill from the mid-1850s.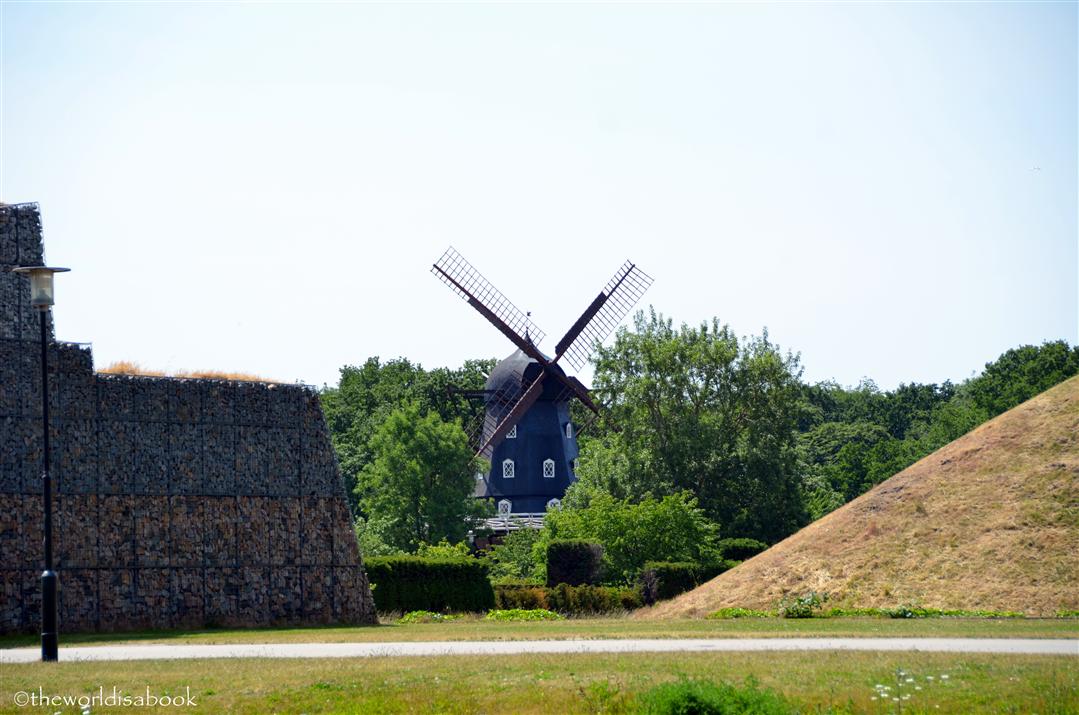 From the castle, this was our view of Malmö's HSB Turning Torso, Scandinavia's tallest building and the city's unofficial symbol.  It was hard not to miss this architectural marvel that looked like cubes twisting in the air.  It is largely a residential building with some spectacular views and generally not open to the public.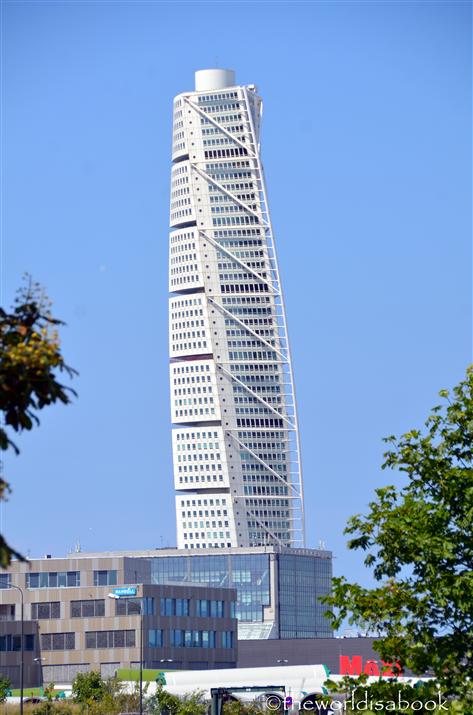 Near the castle and the windmill was the large area known as the King's Park (Kungsparken).  This is Malmö's oldest park and used to be a burial ground until it was turned into a park in 1872.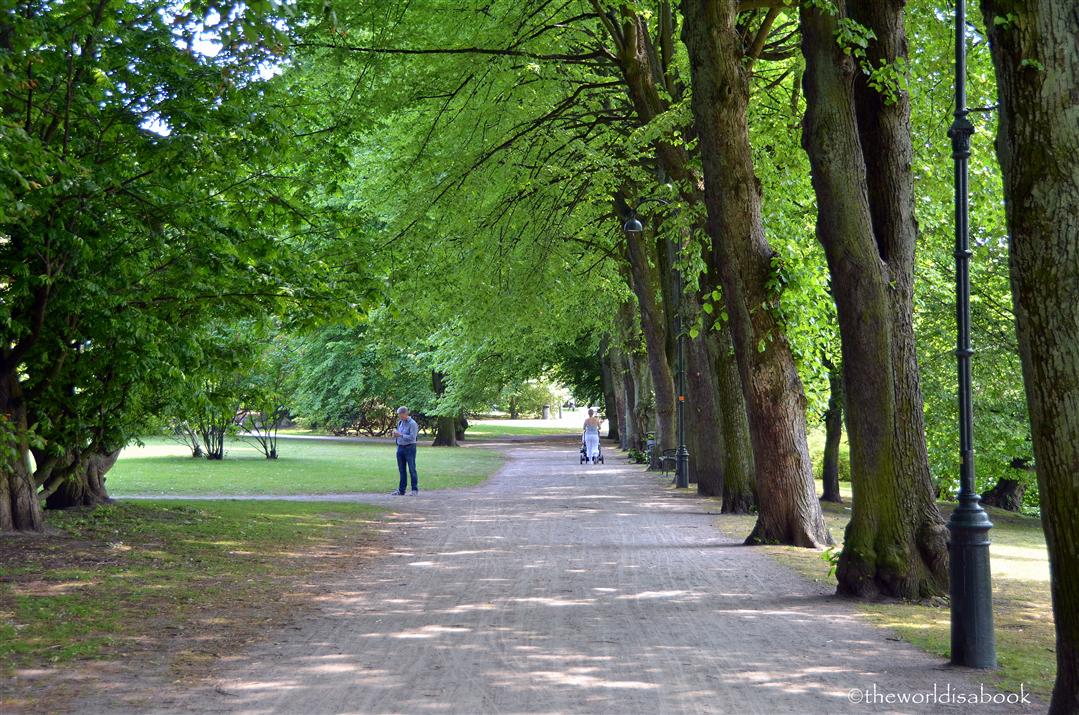 While its origins may sound eerie, it was actually a beautifully maintained and clean park. Malmö is known as the "City of Parks" because of the numerous parks and green spaces that have been around the city for over a century.  Part of it lies along the canal where the kids excitedly fed the ducks.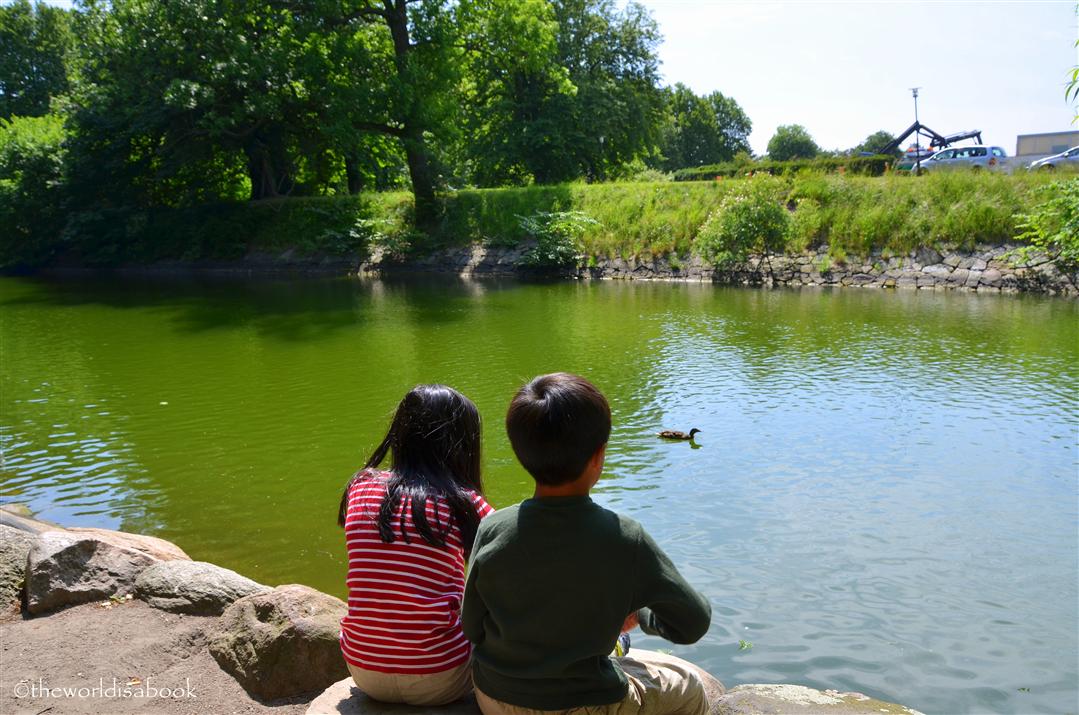 There were plenty of benches to relax and look out into the water where we saw stand up paddle boarders, canoers and these floating barges where people were eating with accompanying musicians.  The floating restaurant in the canal was a wonderful idea especially on a nice summer day.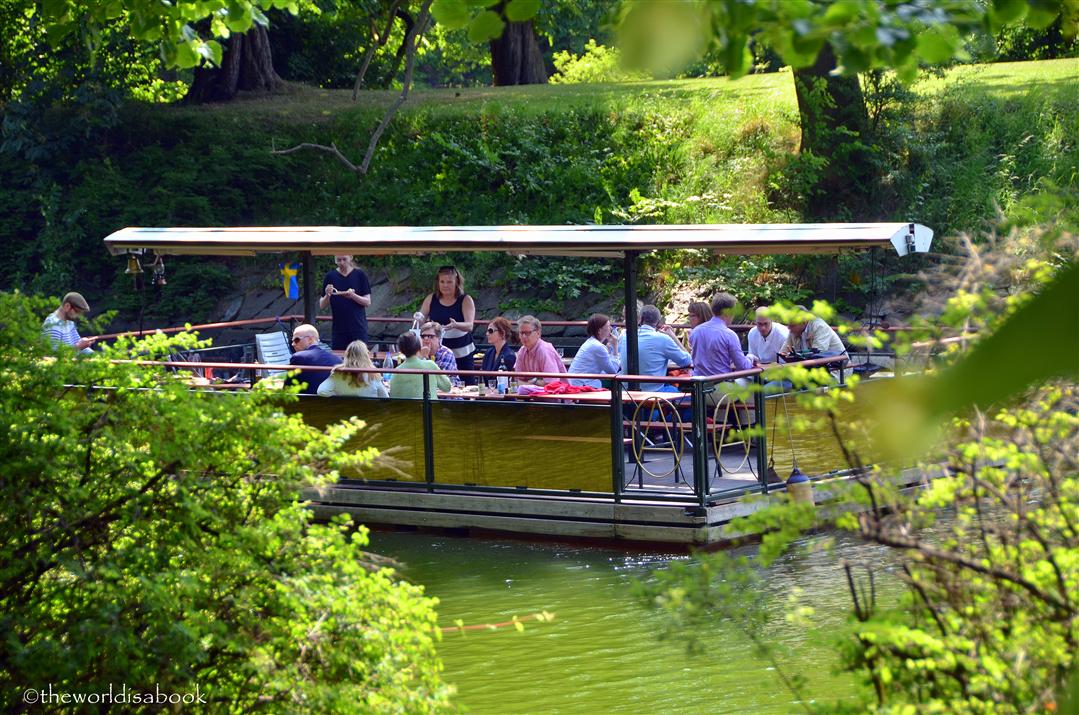 One of the most unforgettable scenes we saw in Malmö was the many open top trucks driving around carrying teenagers. There was loud music blaring, whistles and a lot of loud cheers from the teens who were all wearing white hats (which looked a lot like captains' hats). We found out this was part of their tradition to celebrate high school graduations.  The festive atmosphere was infectious and we found ourselves waving to each passing truck.  It made me wish high school graduations in the US were this much fun.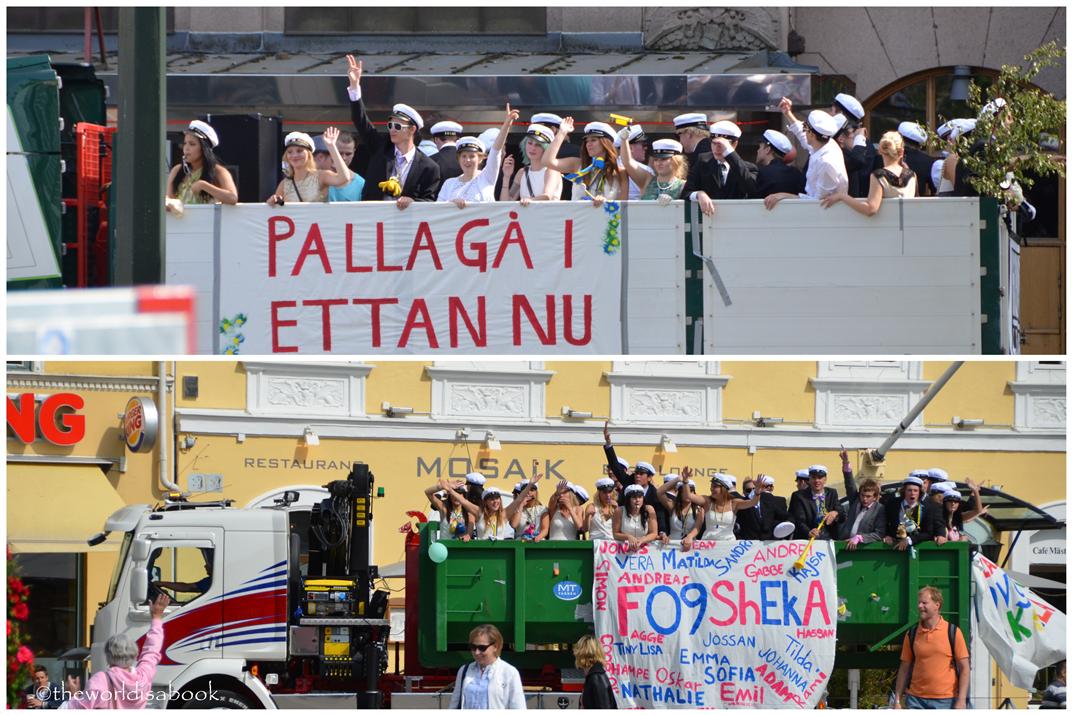 Day trips can be a hit or a miss.  Sometimes, there's so much to see and do you wished you planned for a weekend getaway instead or other times when you were glad you were only at a place for a day.  Malmo had a lot to offer day-trippers – lively squares and streets, numerous parks, great shopping and interesting architecture.  It was certainly a hit with our family and a delightful city to visit.
Malmo with Kids: Getting There
Getting to Malmo from Copenhagen is possible through a car (paying a hefty toll on the Oresund Bridge – about $57 US one way) or  by taking the bus and train.  We rode the bus which was the cheapest option.
By Bus.  Take Bus 999 which starts at Kongens Nyrtov by the royal theater with stops at Norreport Station and the Profil Hotel in  the Tivoli area.  The bus looked like large tourist buses with reclining seats.  Kids 16 and under ride free with each paying  adult.  Roundtrip adult tickets cost 120 DKK ($21 US).  Pay the driver when you board in cash.  The ride was about 45 minutes one  way and was comfortable.  It dropped us off by Gustav Adolfs Torg which was at the city center and  near many attractions. Check the

Copenhagen to Malmo bus website

 for times.
By Train. It takes about 30 minutes one way to get to Malmo from Copenhagen's Central Station with stops at Kastrup  Airport.  The trains run about every 20 minutes.  Adult tickets cost about SEK 105 ($16 US) one way and kids are SEK 53($7 US).  Trains arrive at Malmo's Central Station which was within walking distance to the city center.
*Have you explored Malmo?  Would you make a day trip to visit the City of Parks?