Mission La Purisima: A Step Back in Time
Many of the 21 California Missions we've visited have been beautiful gardens with majestic looking churches.  Sometimes, it's not the most beautiful or well maintained that makes a lasting impression but the most authentic.  We visited Mission La Purisima a few months ago during a trip to Solvang (Danish Capital of America).  Located near the rolling hills and verdant vineyards of Central California, the mission is tucked away in hundreds of acres of isolated ranch land in the city of Lompoc.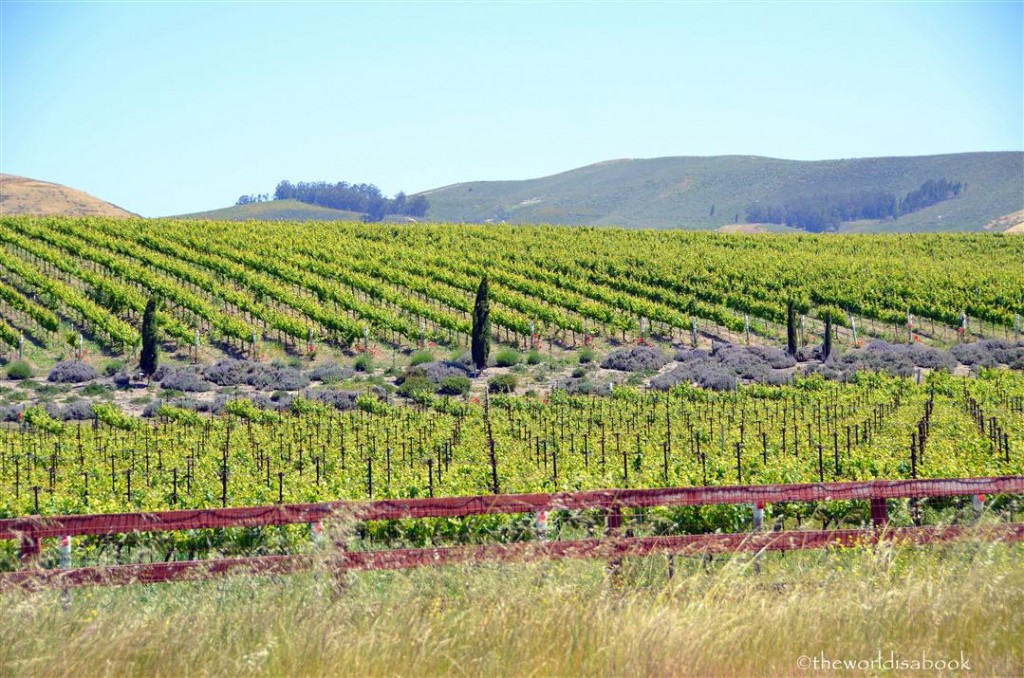 It is considered the most restored of the Spanish Missions throughout California representing life here in 1820.  During the 1930s, ten of the original buildings were restored with authentic furnishings after it fell into disrepair in the early 1900s from neglect, ownership changes and weather elements.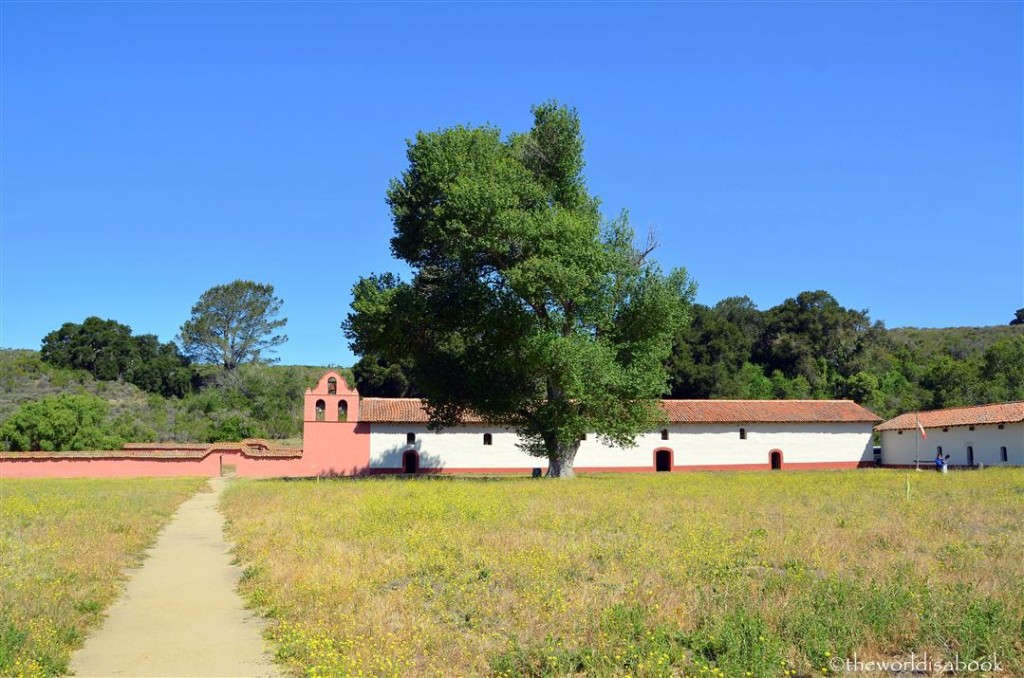 It was eerily quiet and there was hardly anyone here on a Sunday morning during a holiday weekend. The grounds looked deserted and had a rustic, ranch feel to it.  History comes alive here so walk along with us through this living museum into Mission La Purisima's past.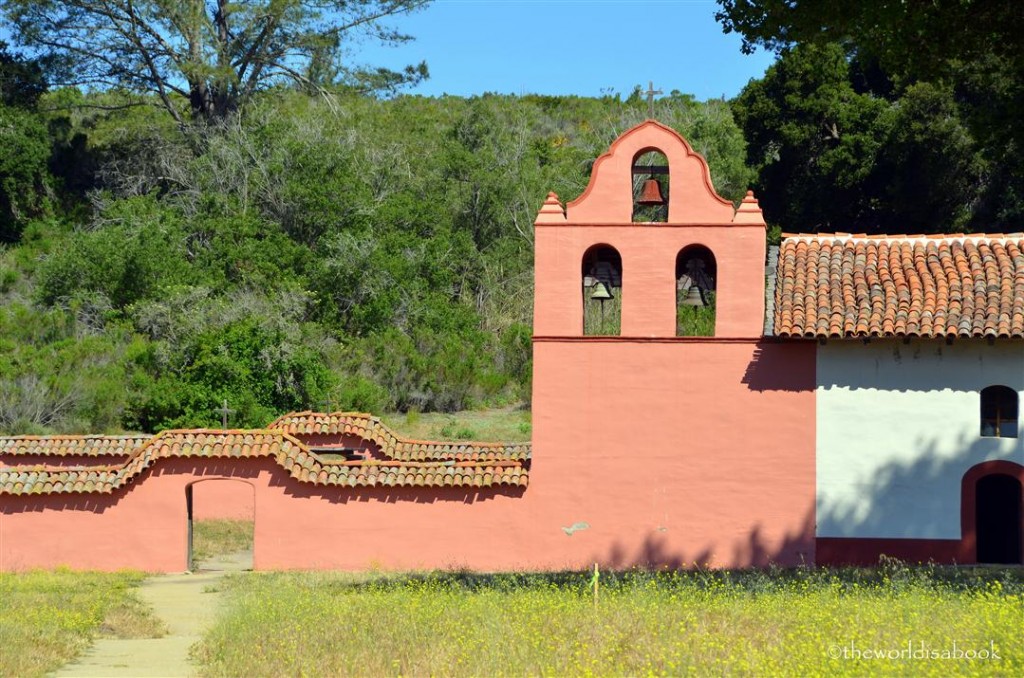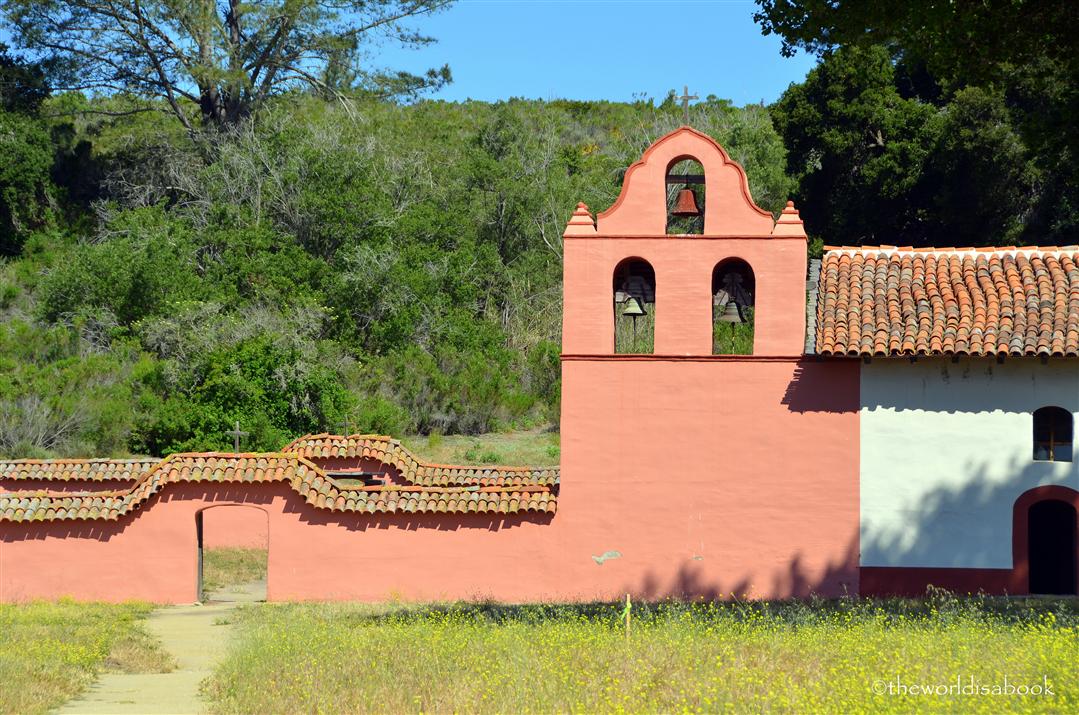 Mission La Purisima Concepcion de Maria Santisima (Mission of the Immaculate Conception of Most Holy Mary) was founded on December 8, 1787 by the Spanish Franciscan priest, Father Fermin Lasuen.  It was the 11th mission of the 21 missions established in what eventually became California.  The Mission flourished and at one time, was home to 1,000 Chumash Indians and over 20,000 cattle and sheep.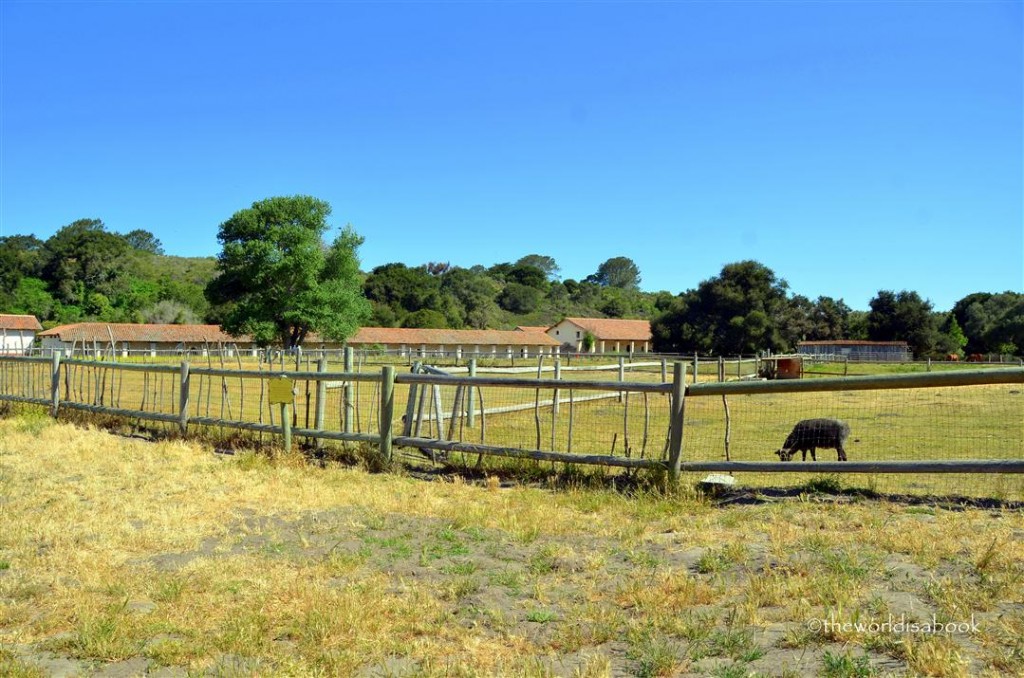 The missions were used as active outposts to baptize the Native Americans and convert them into Catholics.  At La Purisima, it was the Chumash Indians who were used for labor and became full citizens of the Spanish empire with promises of mission wealth and land.  Those promises were never fulfilled and remains a controversial topic in California's history.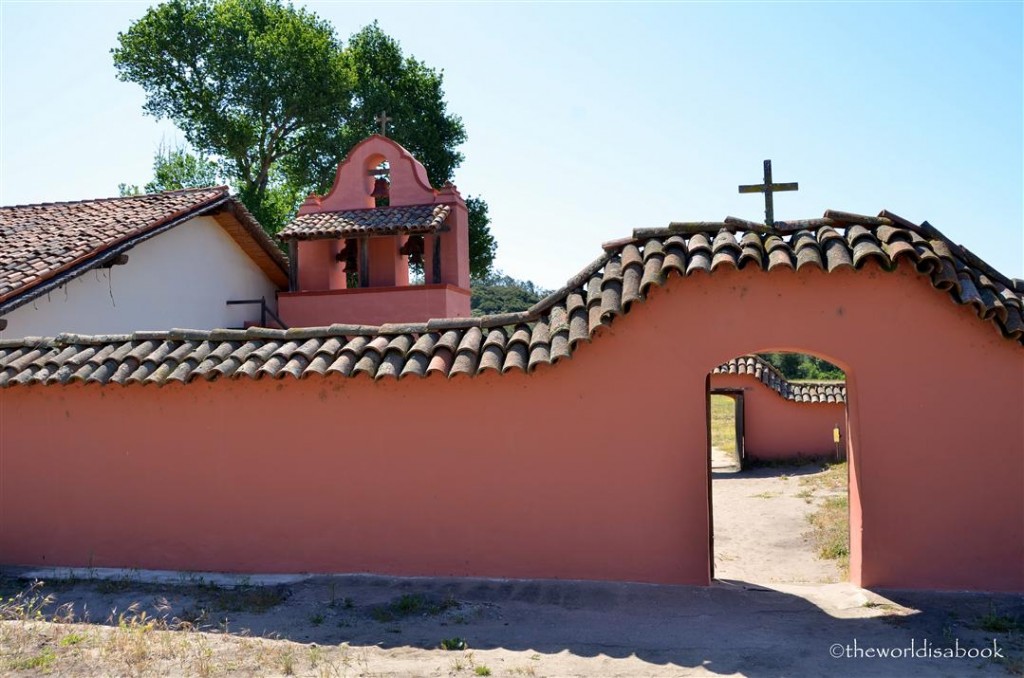 The Mission became the largest historical restoration project in America's Civilian Conservation Corp.  This included building 140,000 new adobe bricks.  The distinctive residence building corredor was the main one that housed many of the restored rooms.  The covered area was used for work, relaxation and social activities.   It was a wonderful example of classic Spanish Mission architecture.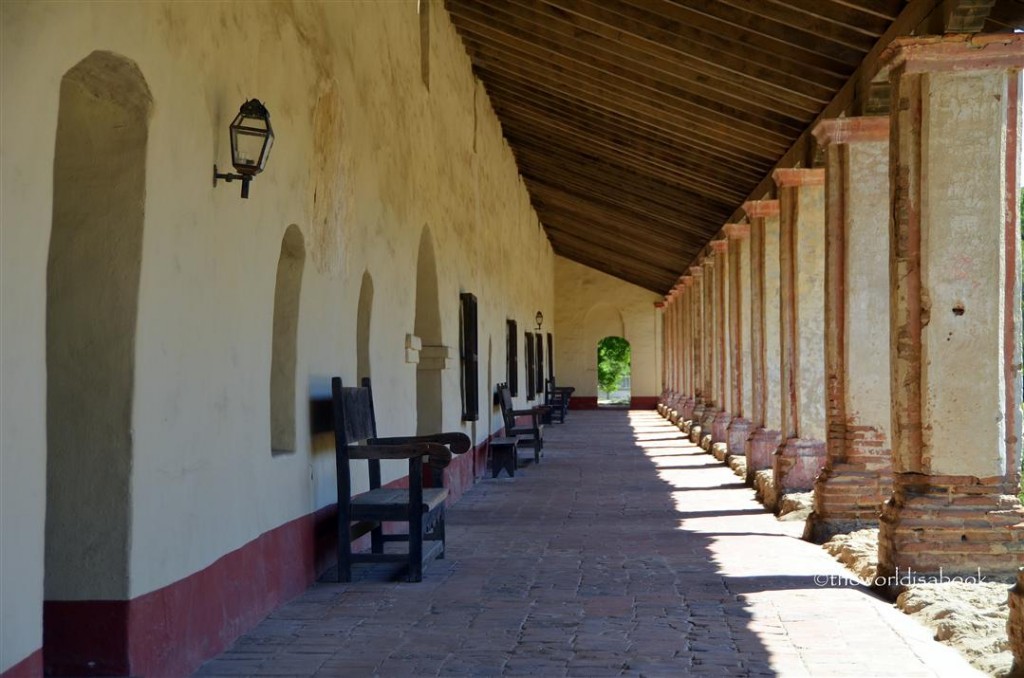 The rooms offered an interesting glimpse into the life at the mission and how it functioned as a thriving community in the early 1800s. We saw the soldier's quarters, the corporal's and master weaver's apartments and priests' rooms.  They were all very sparse with beds that just looked very uncomfortable.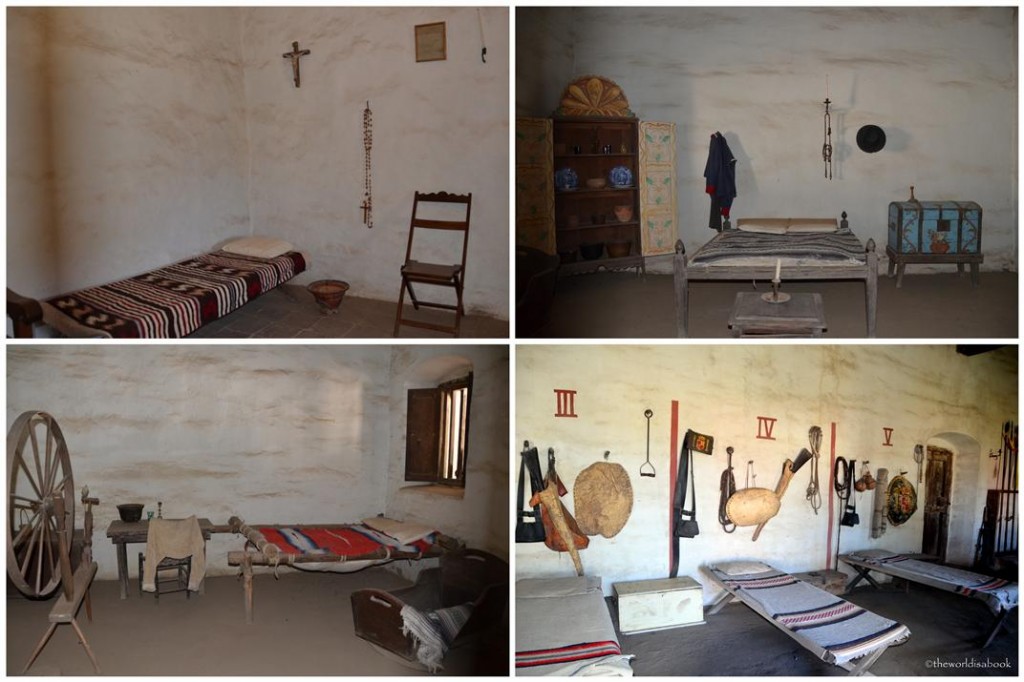 The soldier's rooms or barracks were the quarters for 5-7 Spanish soldiers that protected the Mission.  Weapons such as lances, swords and rawhide shields were prominently displayed above their beds.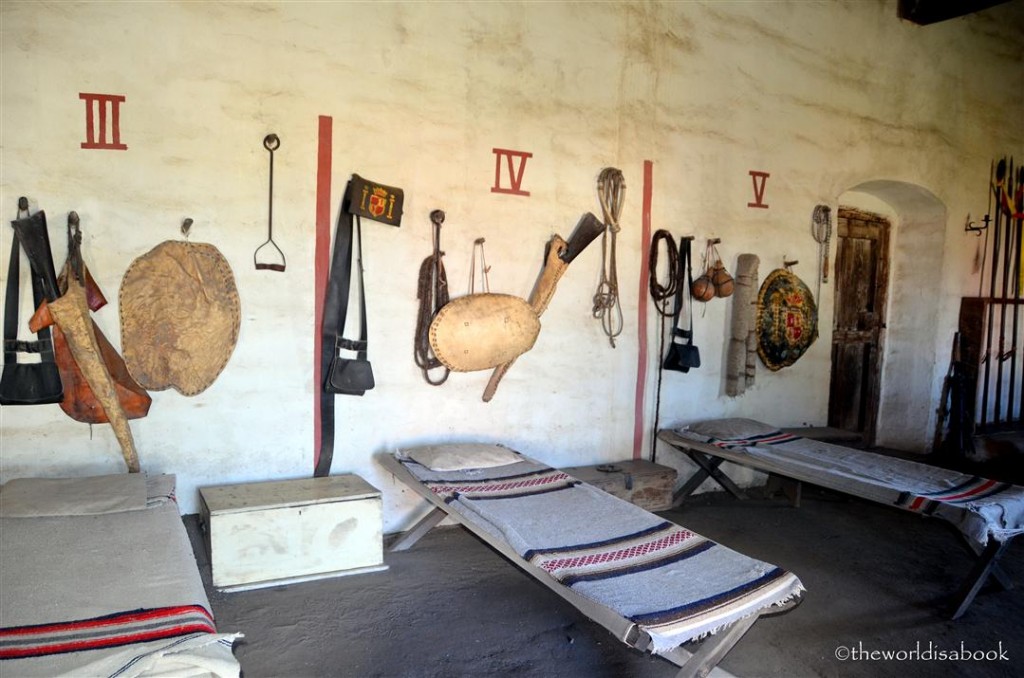 The Mayodormo or Ranch Manager's room was the only one that had a comfortable bed.  It had amazing little details of period items displayed throughout the rooms.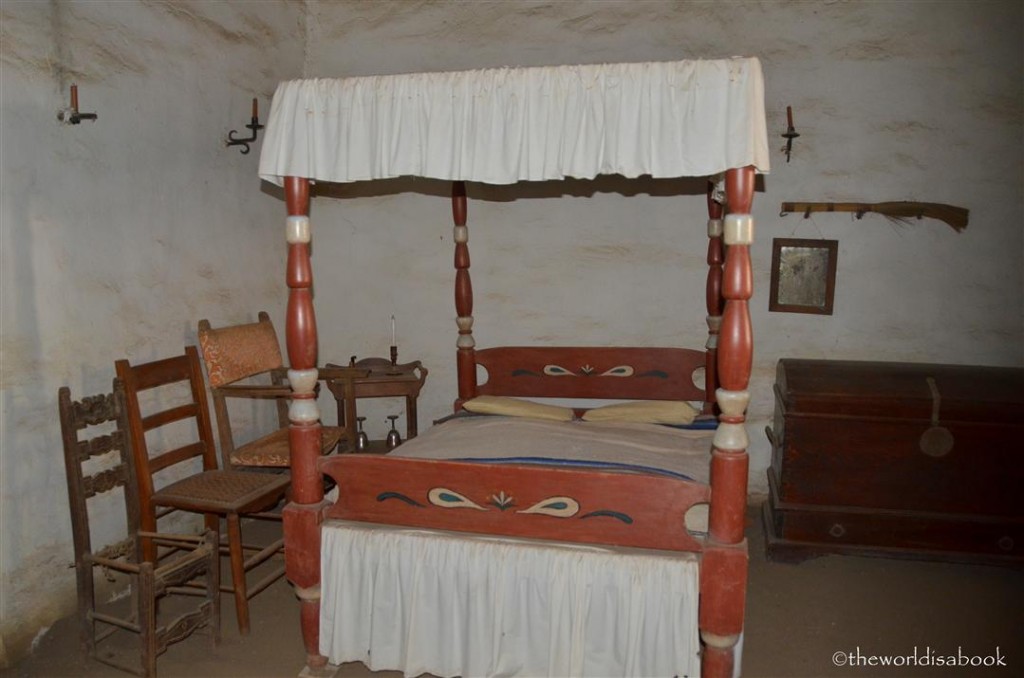 Over 100 people worked in the Mission's weaving industry.  The room below was a reproduction of what the weaving shop looked like back then.  Wool was spun and woven to make 1,000 blankets annually.  These blankets were used within the mission or traded to passing ships for necessities.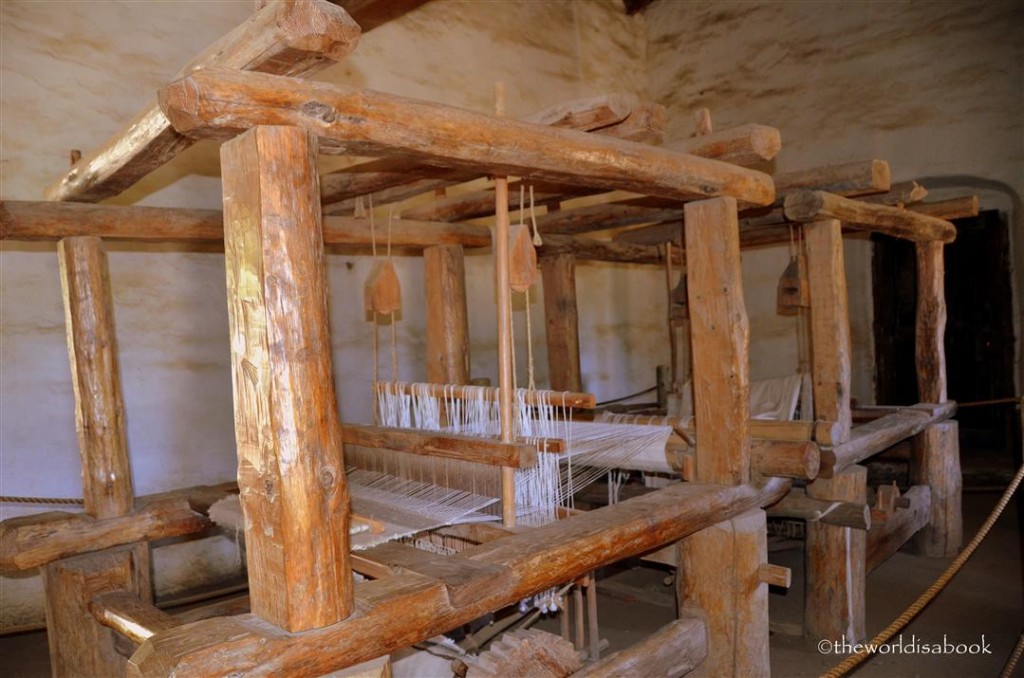 The Candle Making Room showed some racks that were lowered into melted animal fat(tallow).  Layers of "tallow" were built unto the wicks.  Tallow candles were used throughout the mission except at the church's altars. It actually smelled like wax and candles in here.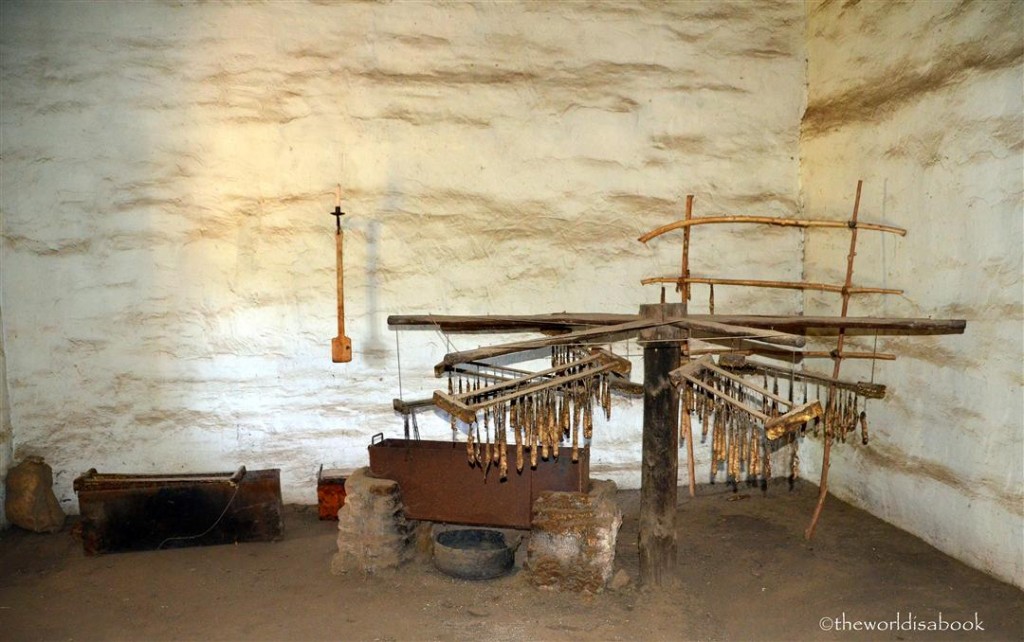 Mission La Purisima was known for its leather and rawhide.  The leather shop room showed how these were produced.  Rawhide ties were used on roof beams and as ropes.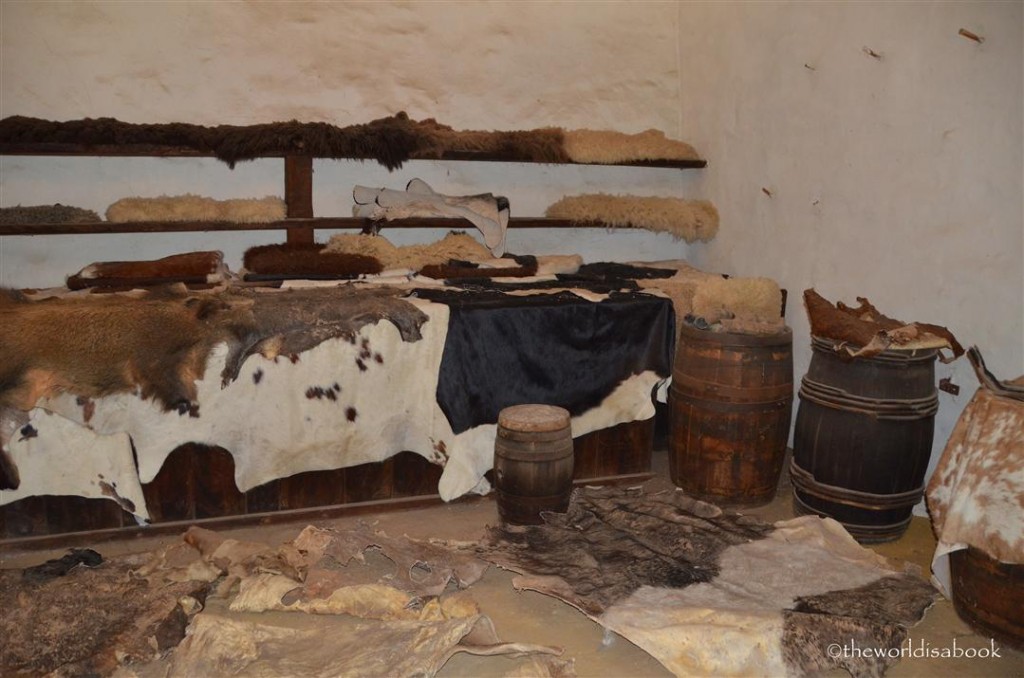 Leather, which was used for shoes and saddles, was produced from tanned rawhide.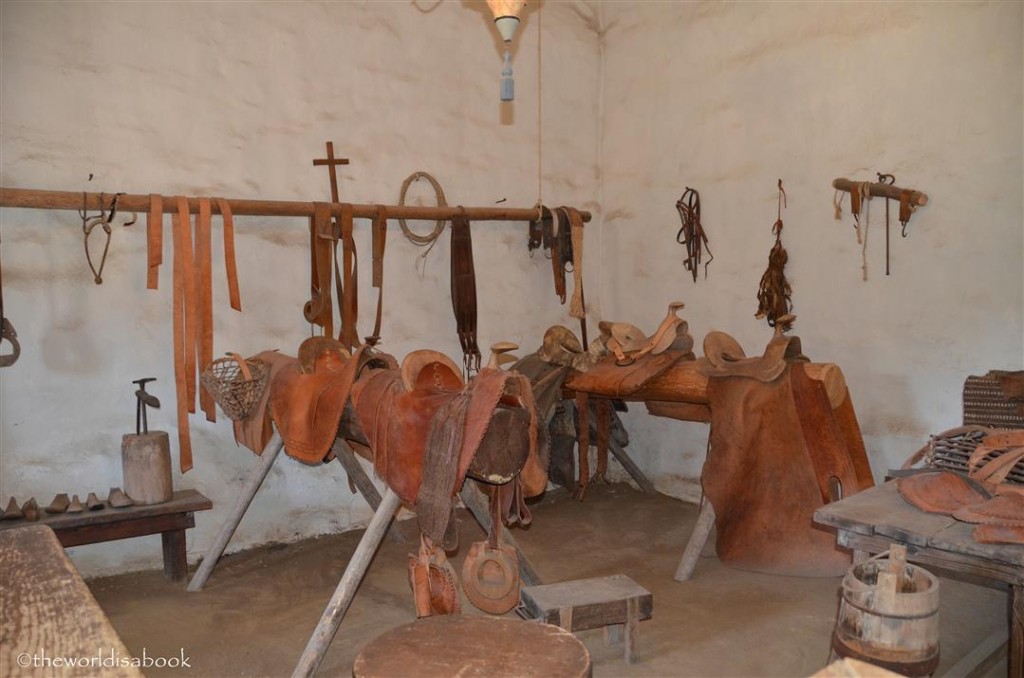 There were two chapels within the Mission.  One of them had a beautiful altar with colorful wall paintings.  This is no longer an active church, unlike the other missions, so the chapels looked bare.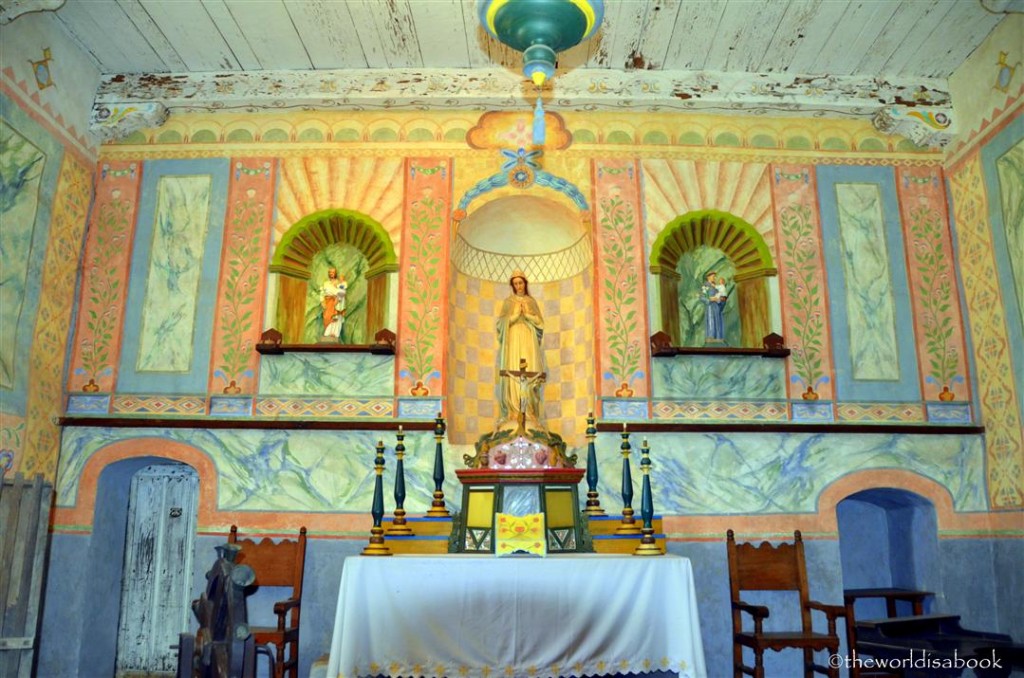 Two missionaries were assigned to the missions and these chapels displayed how religious activities were celebrated here.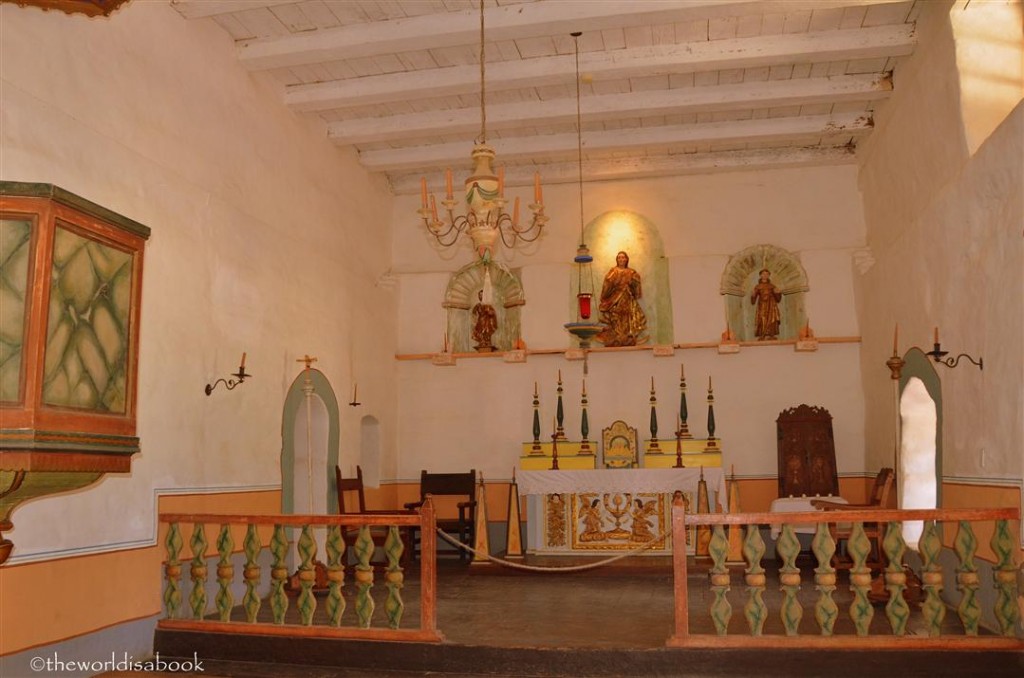 I can almost imagine the delicious Spanish food that was cooked in this kitchen.  One of the great things about this mission was that everything was laid out in the open and not behind glass windows.  Visitors were allowed to walk through the rooms for a better overall experience.  It wasn't hard to imagine how life was like for the Spaniards and the Indians here.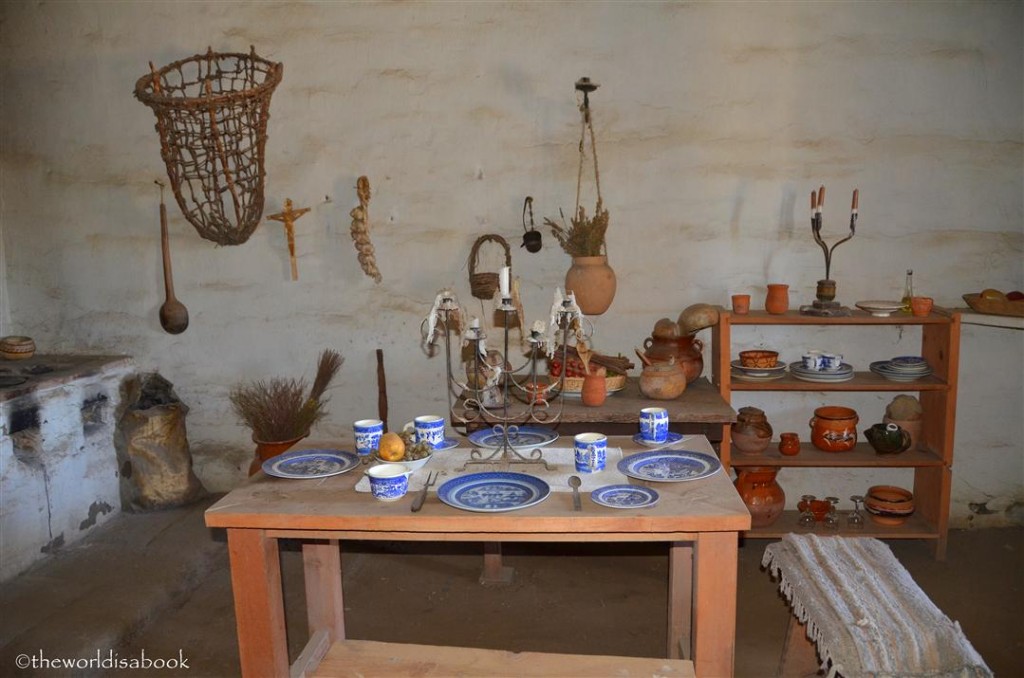 Outside was a five-acre mission garden that showed the native plants and herbs grown here.  The grounds were lovely for a peaceful and leisurely stroll.  Fountains are part of many missions and this one had two beautiful ones.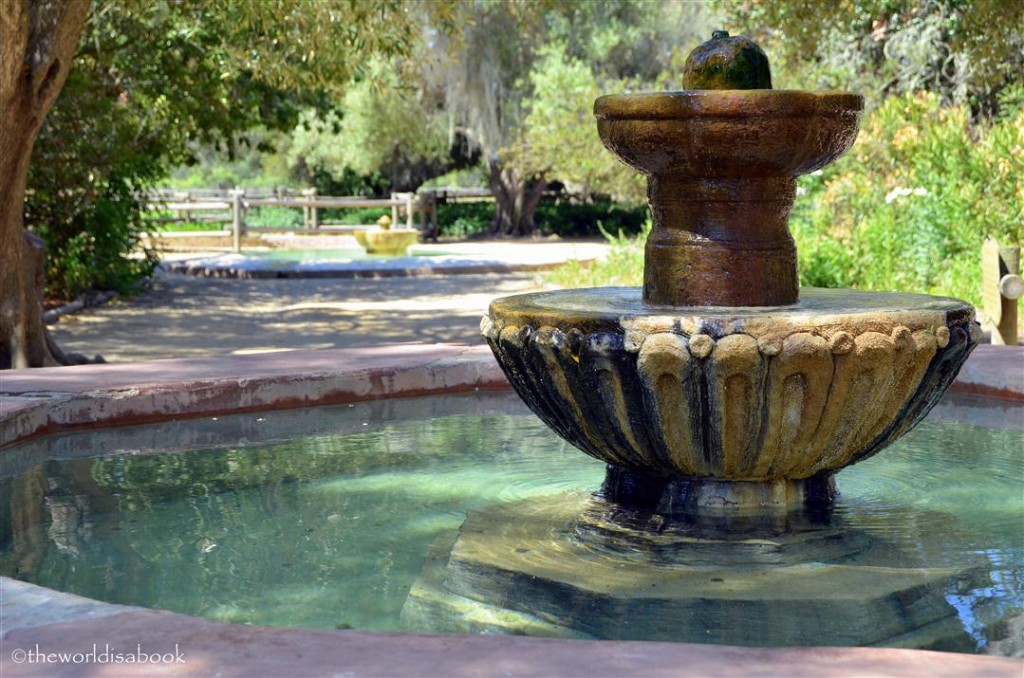 There were also animals which included horses, donkeys, chickens, sheep, goats, pigs and even a bull and turkey in one part of the park.  It was a reminder that this was a working ranch at one time. The kids were able to feed the horses with some hay but we wished we thought to bring carrots too.
We found reproductions of the Chumash Indians' straw huts outside and even got a peek into how it would have looked inside.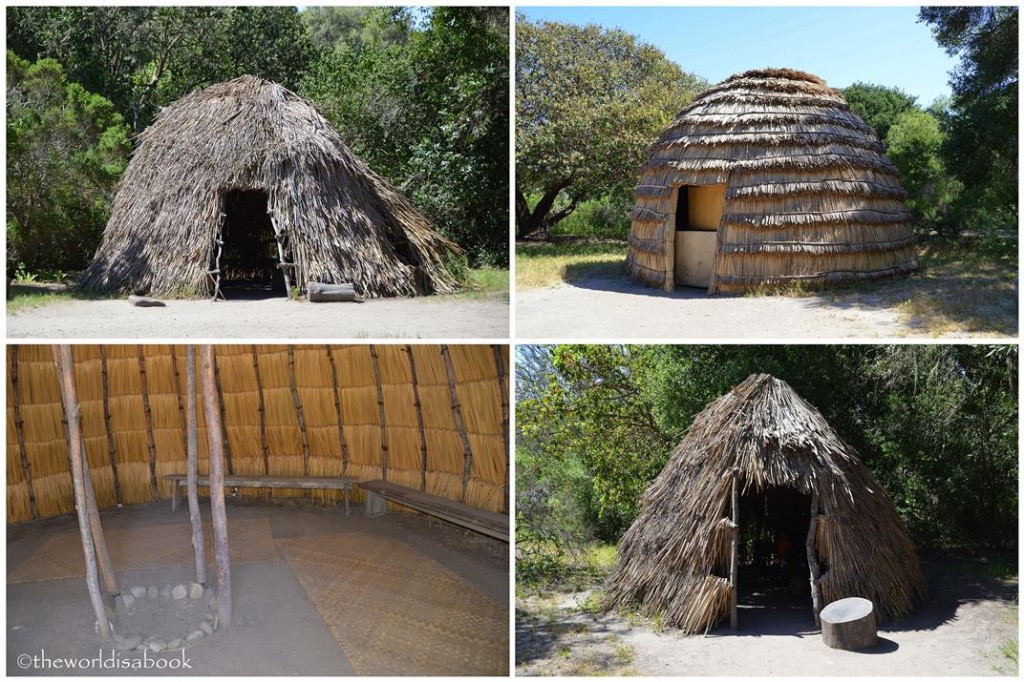 Several times a year, a recreation of life back then is held at the mission.  Docents in costumes demonstrate weaving, candle making, adobe brick building, pottery and shows of their daily lives at the mission.
Its authentic restoration has made this a favorite among visitors, teachers and historians statewide.  Mission La Purisima is a designated state historic park whose grounds and structures are a "monument to California's roots".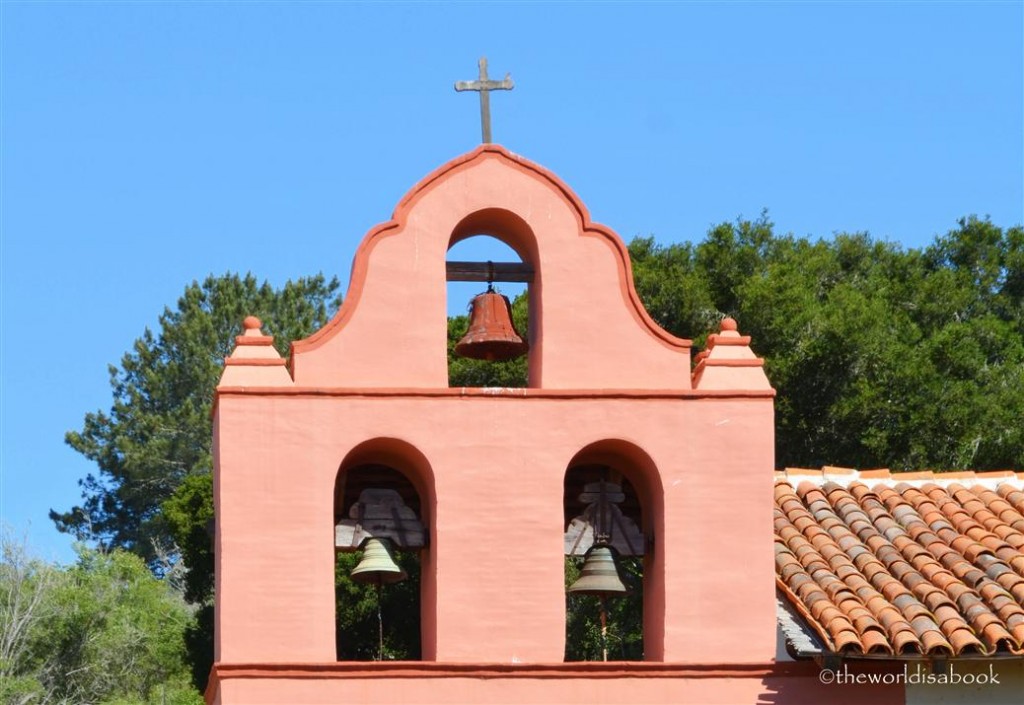 It was a wonderful lesson in history especially for kids.  My kids loved the expansive grounds to explore and the variety of animals to see.  The details in the restored rooms really made us feel like we stepped back in time to mission life in the early 1800s.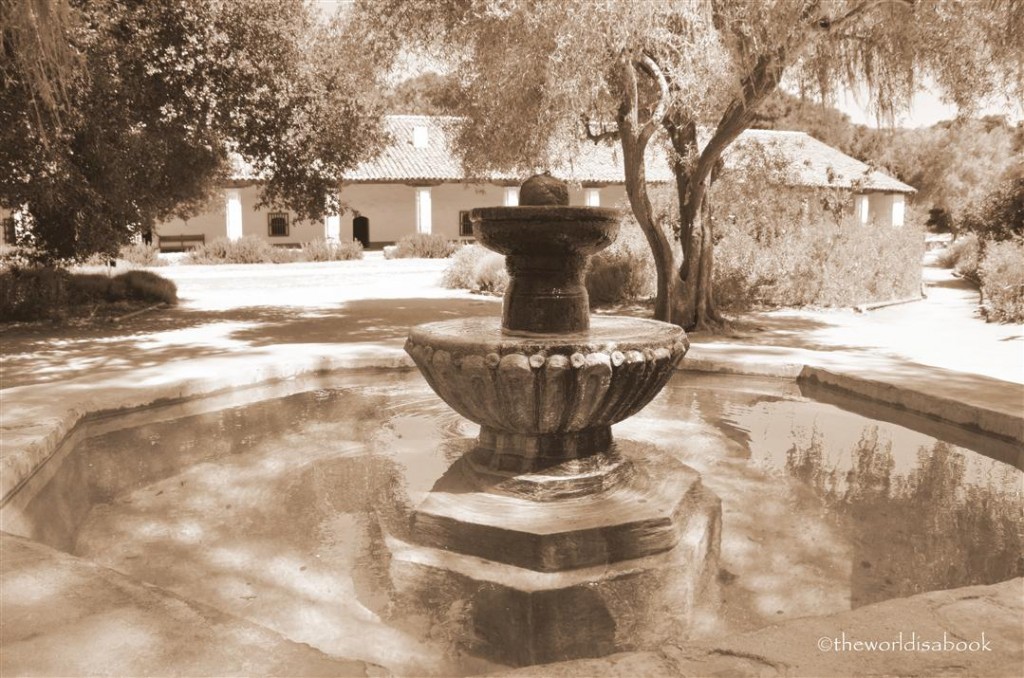 Mission La Purisima Tips and Basics:
Ticket Price: $6 per car good for one day admission
Self-guided tours from 9AM – 5 PM everyday except Thanksgiving, Christmas, New Years Day. There were plenty of signs with room descriptions.
Free 60-90 minute Guided tours offered everyday at 1:00 PM.
Time your visits for the interesting living history events showing Mission life by visiting the Events page.
There's a modern Visitor's Center by the parking lot for restroom breaks and to see how the mission was restored.
Wear comfortable, walking shoes since you'll be walking around a lot.  This place is huge.
Plenty of hiking and running trails with poison oak warnings.  Get a map at the Visitor's Center.
Ghost tours available as this is said to be one of the most haunted places in the state.
Have a picnic on the grounds.  Bring your own food and water since there are no stores on the grounds.
Visit the Mission La Purisima website for more information.
*Have you visited any of the California Missions or Mission La Purisima?  Any impressions of La Purisima?
Related Posts: