Viewing the 2013 Rose Parade Floats Up Close
One of our favorite family traditions during New Year's Day is to wake up and tune in to watch the Rose Parade on TV.  This parade has been around for 124 years and no other compares with its marching bands, equestrian units and the beauty and design of the floats.  The parade rules state that every part of the float has to be covered with organic materials which are usually millions of flowers, plants, seeds, fruits and grass(among other things) following each year's theme.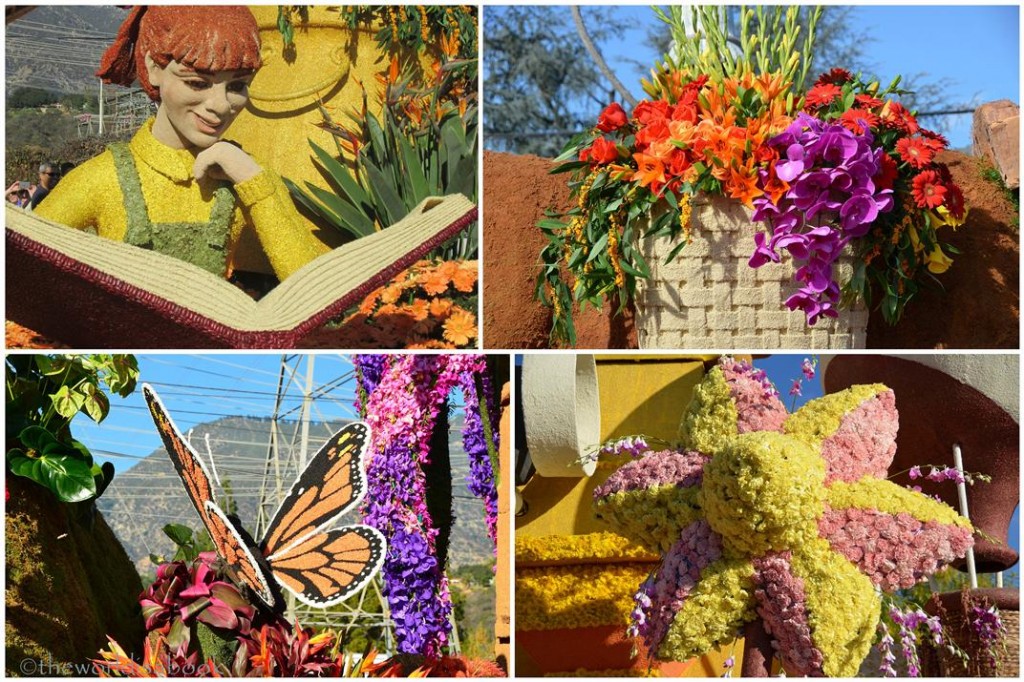 We missed watching last year's parade since we were traveling so we were excited to find this year's theme was based on one of our  favorite Dr. Seuss books, "Oh, The Places You'll Go!"   Despite living a few miles from the parade route in my college years, I've never watched it live.  Attending the parade requires staking out places a day or so before, paying high prices for seats or fighting the massive crowds along the five mile route.  This year, we decided to make the two hour trek north to Pasadena to view the floats up close after the parade where they are out on display for a few days.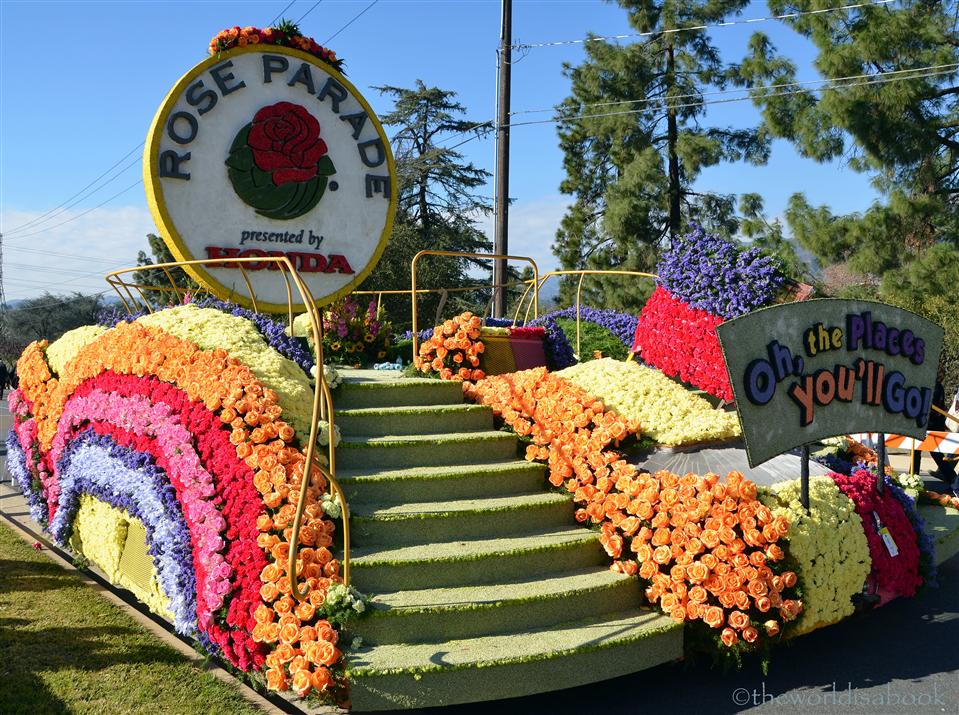 We spent over 3 hours, walked 2.5 miles around the area and saw all the 42 floats on display.  We stopped by and lingered to admire the intricate details, smell the flowers and take plenty of pictures.  These are a few of our favorites from the 2013 Rose Parade floats.
Travel was an apparent take on the theme in many of the colorful floats we saw.  These adorable penguins put travel in a whole new level in a float called "Tuxedo Air" by the California Polytechnic (Cal Poly) Universities.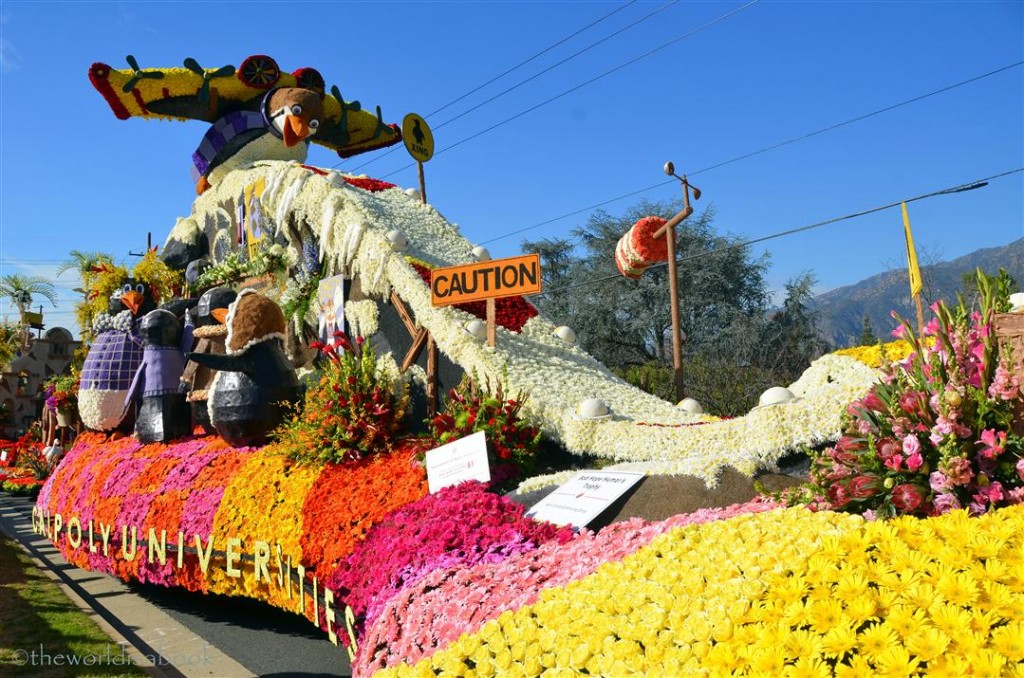 This float won the Bob Hope Humor Award.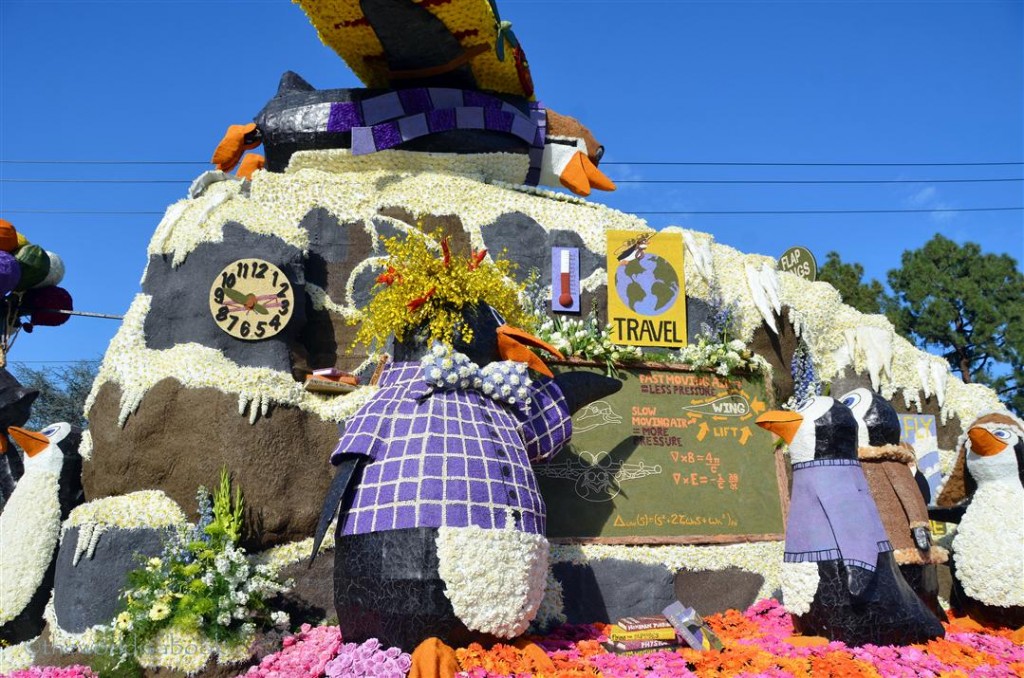 China Airlines' float called "Cycling Through Paradise" won the International Award (most beautiful entry outside of the  USA) and was well-deserved.  Palm trees surrounded a tall and impressive temple mostly made of yellow chrysanthemums.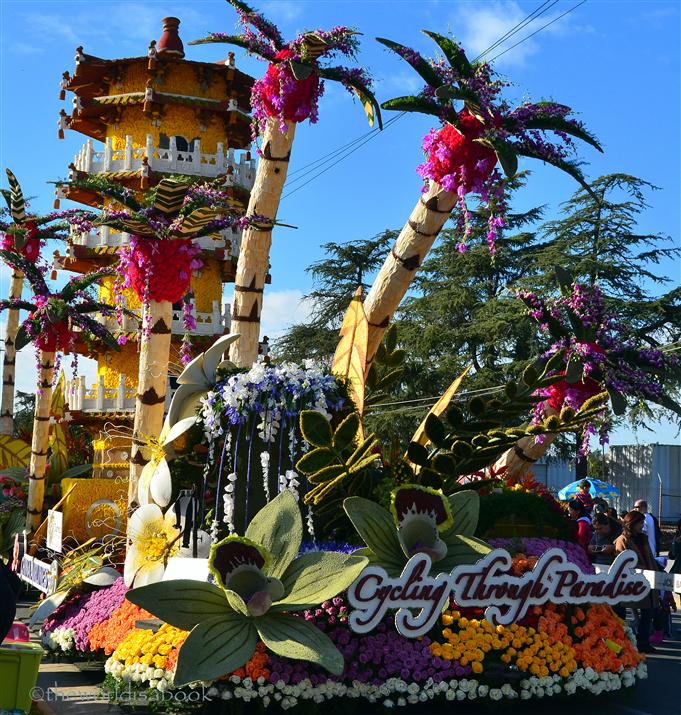 Another international entry was from the Republic Of Indonesia called "Wonderful Indonesia" which won the President's  Award for the most effective floral use and presentation.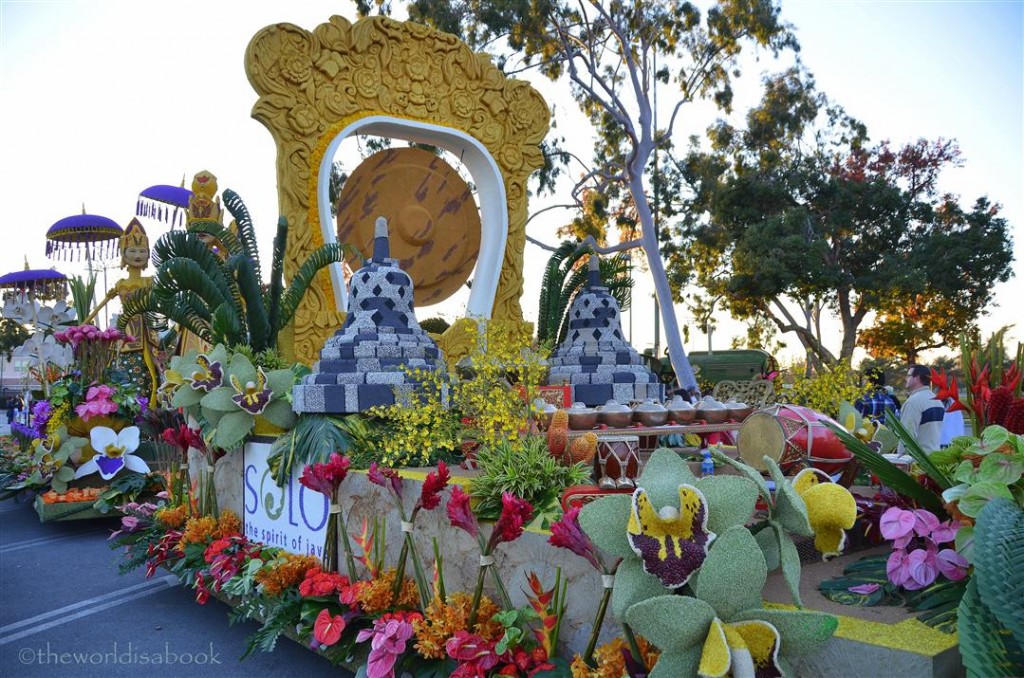 The back of the float featured three large dancers in their native and exquisite costumes.  The details on the costumes, mostly made of ground petals and seeds, were extraordinary.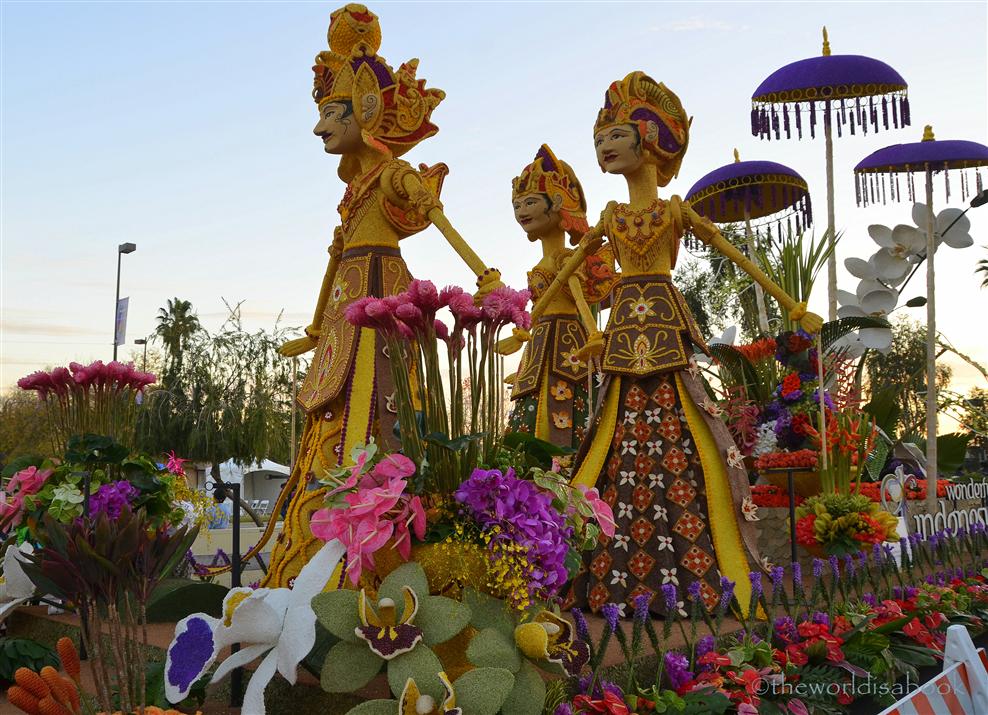 Western Asset's float called "A World United" had London's Tower Bridge connecting tourist icons from around the world including the Statue of Liberty, the Sydney Opera House and Singapore's Merlion.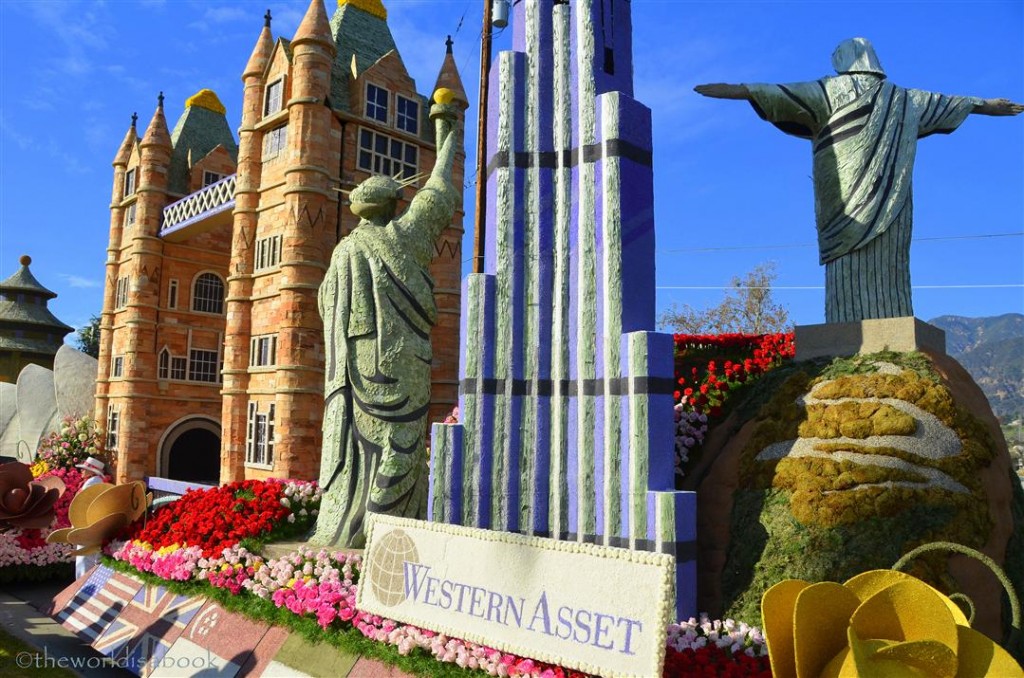 In a similar theme, the Lions Clubs International's float called "Lions Serving The World" also showcased many familiar attractions like the Eiffel Tower, Moscow's St. Basil's Cathedral and Big Ben.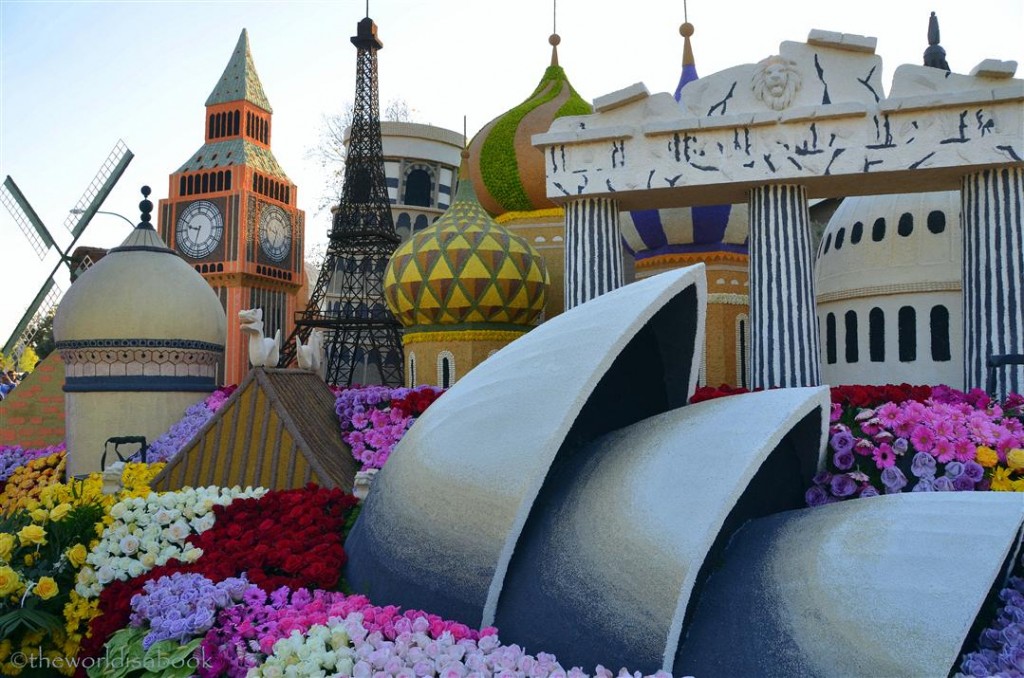 If none of these floats ignited your travel spirit, then one of the most beautiful floats we saw was the one which won the grand prize.  The Sweepstakes Award which was for the most beautiful entry in parade with outstanding floral  presentation and design went to fruit producing company, Dole.  Called "Dreaming of Paradise", it was  filled with many impressive tropical features and creatures.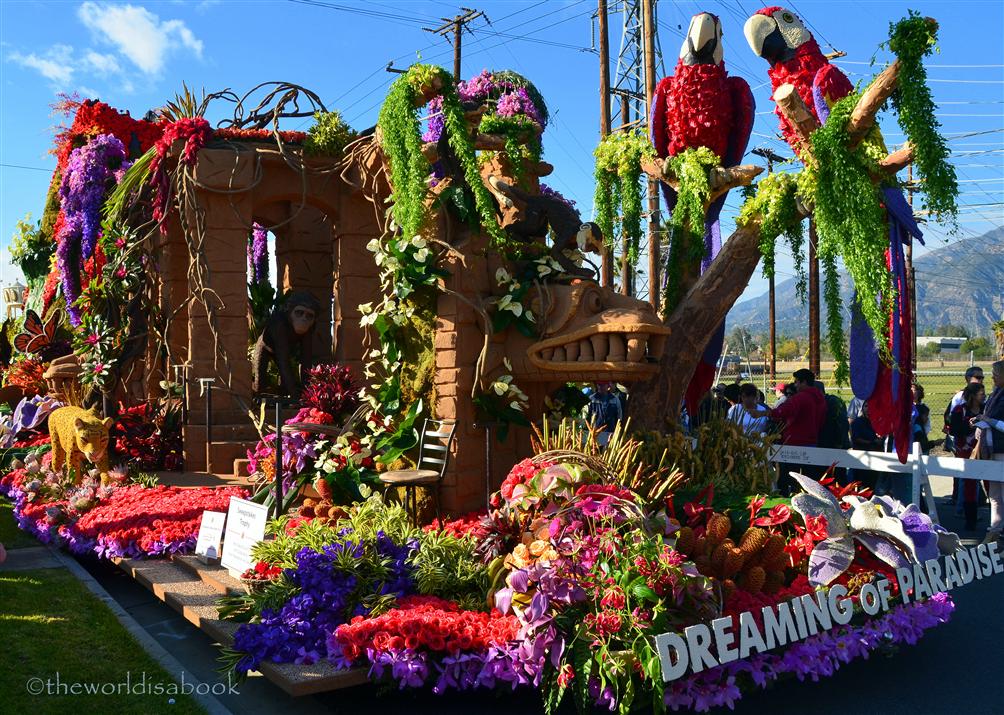 This pair of scarlet macaws made of flower petals were so colorful and attractive.  These floats look amazing on TV but even more spectacular in person.  Seeing the high level of creativity and details on these floats makes one fully appreciate the meticulous and hard work done by the volunteers to put them together.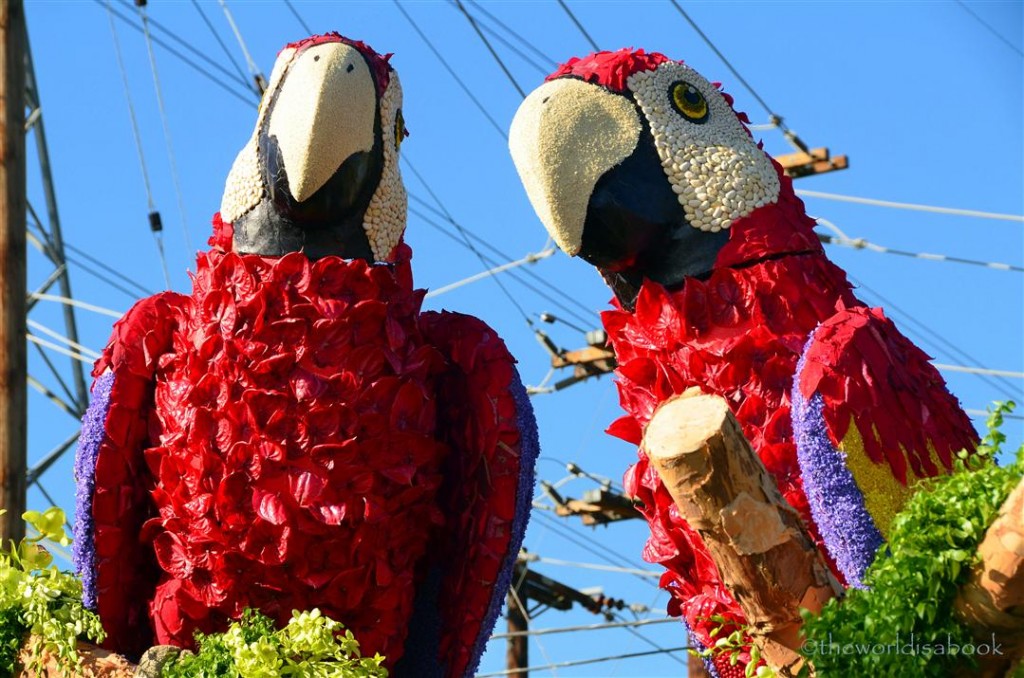 The float was anchored by this volcano with lava roses flowing out of it.  It's not surprising to know that it smelled  like a flower shop when passing by some of these floats.  This one filled with orchids and roses was particularly sweet smelling.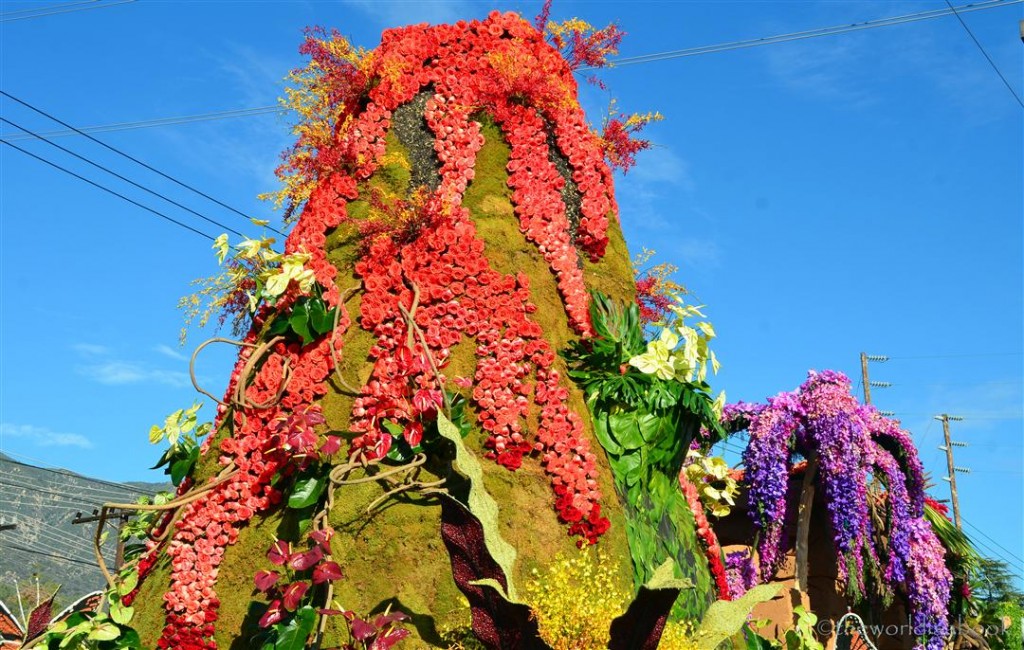 One of the random themed floats we saw was HGTV's "All Paths Lead Home" which showcased various types of houses from log cabins  to castles.  This won the Grand Marshall's Award for excellence in creative concept and design.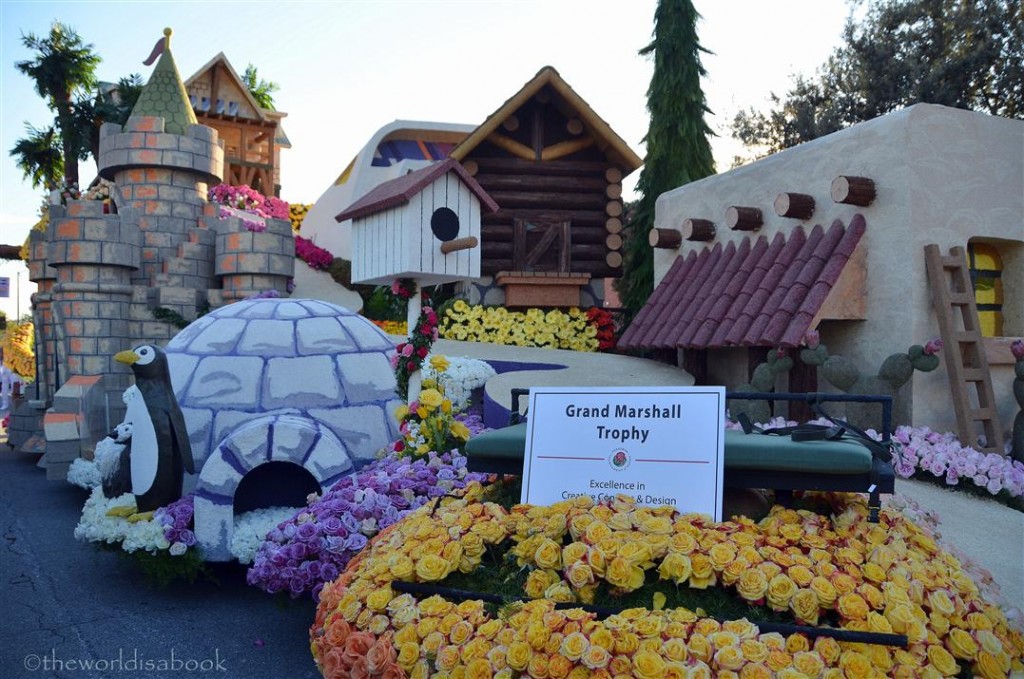 But, the one that caught our eye were these delightful penguins alongside an igloo with ice made of white roses.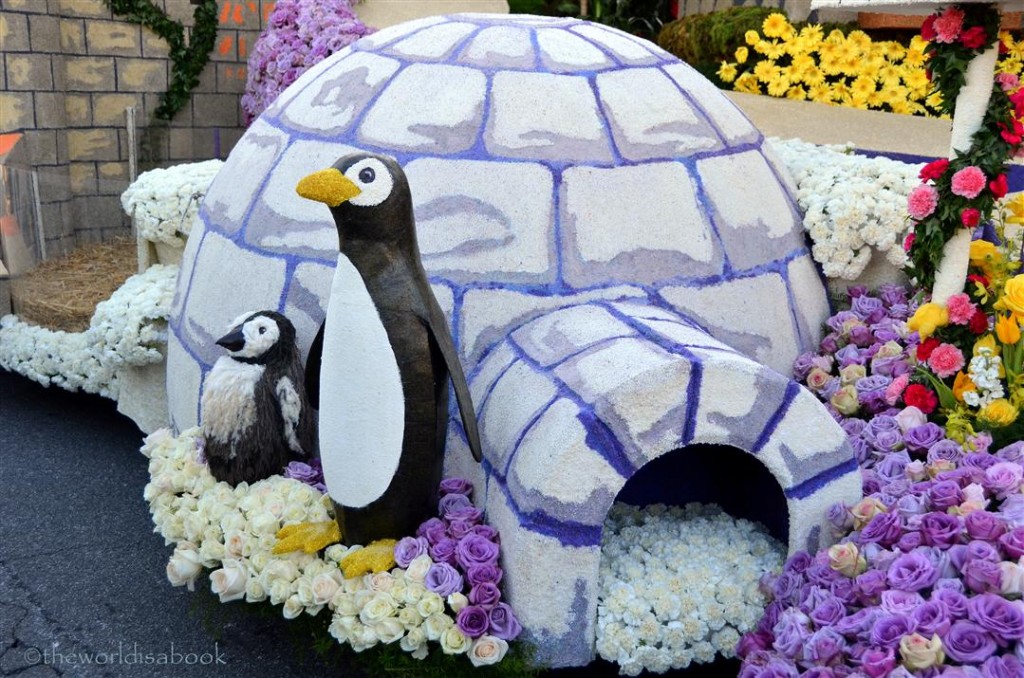 Some floats were built to observe anniversaries, memorials and celebrations.  The most moving float was the Department of Defense's first float entry commemorating the 60th anniversary of the Korean War.  Called "Freedom Is Not  Free",  it was a replica of the Korean War Veterans Memorial in Washington, DC.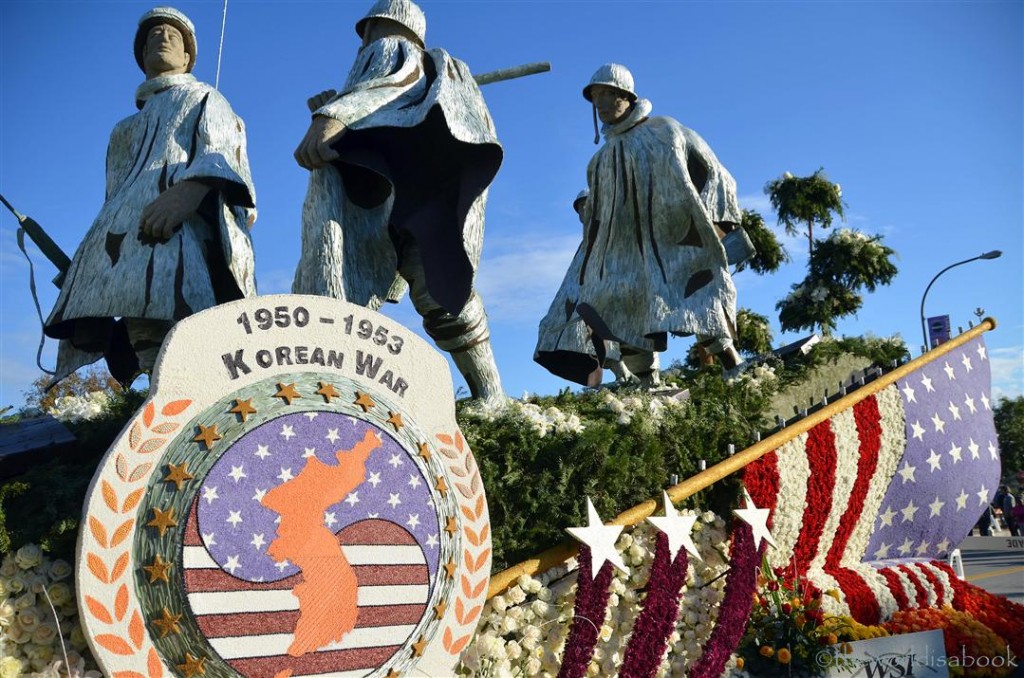 The massive soldiers' uniforms and helmets were made of Eucalyptus leaves and their faces were made of ground flower petals and seeds.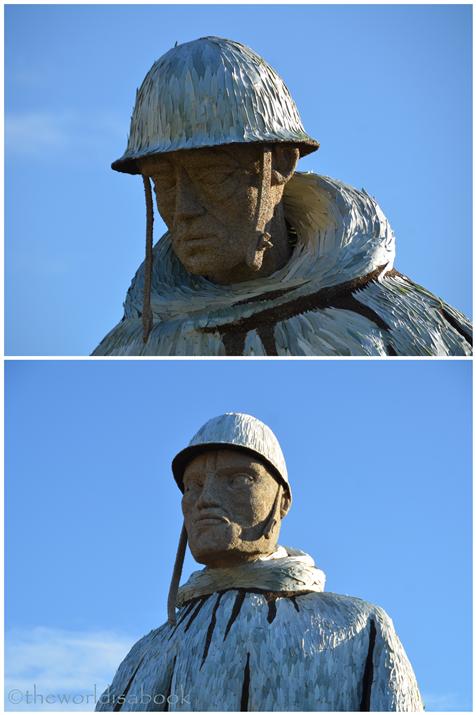 Nursing is a common profession among many of my family members and friends so seeing this magnificent float to celebrate and honor all nurses was wonderful.  The Nurses' Float called "A Healing Place" showed many animals which were metaphors for nursing qualities like "caring,  commitment, compassion, confidence, conscientiousness and intelligence."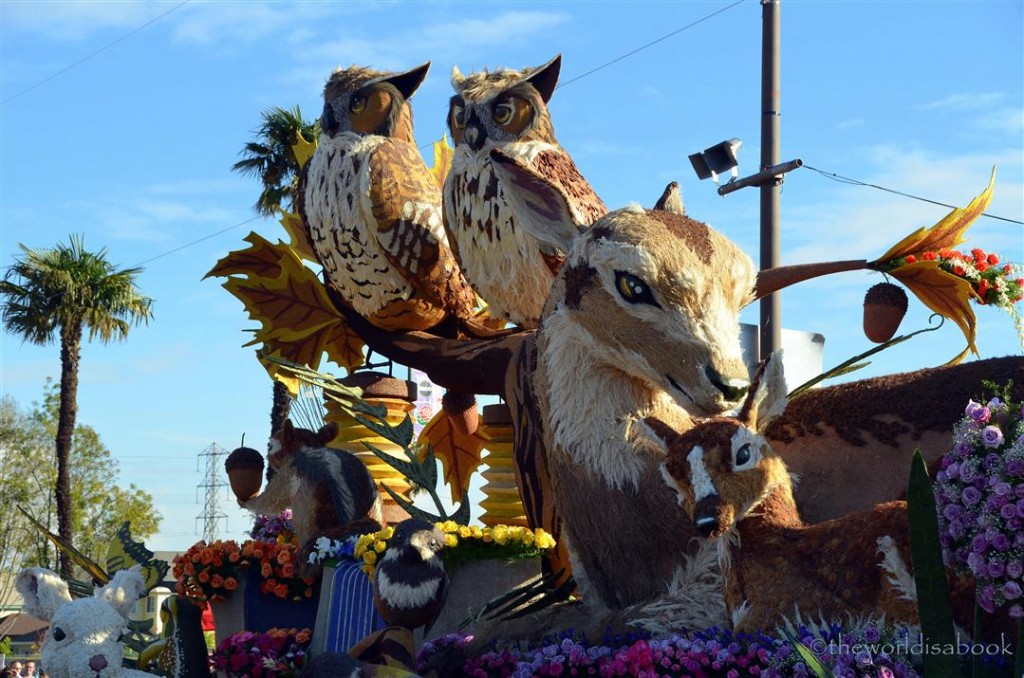 Many of the animals were made of ornamental grasses including uva grass and their eyes were made of seaweed and onion seeds while the rabbit was made of cotton.  This was one of the best floats at the parade and won the Craftsman Award for exceptional achievement in showmanship.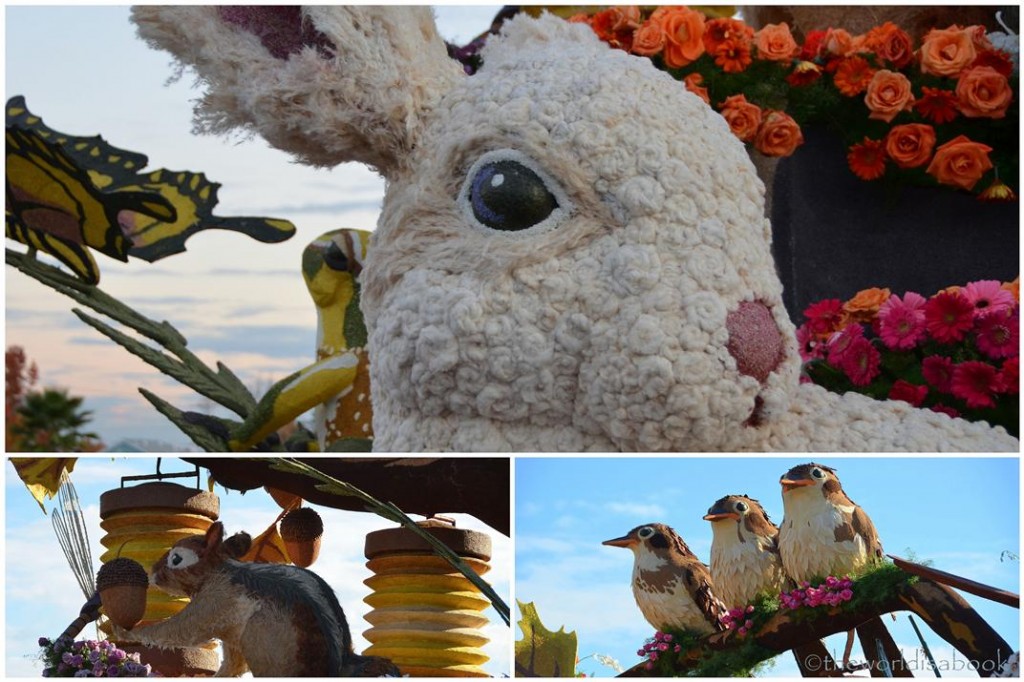 There were also many whimsical and endearing floats that delighted many of the kids and the young at heart.  A big hit with the spectators was medical giant, Kaiser Permanente's, float called "Oh, The Healthy Things You Can Do"  featuring Dr. Seuss' The Cat In The Hat, Thing 1 and 2 and Sally and Nick on swings.
My kids couldn't get enough of this float which won (not surprising) the Theme Award for excellence in presenting the parade theme.  Cat in The Hat was made of coconut and onion seeds for the black part.  Thing 1 and 2's bodies were made of holly  berries.  It was creativity at its finest.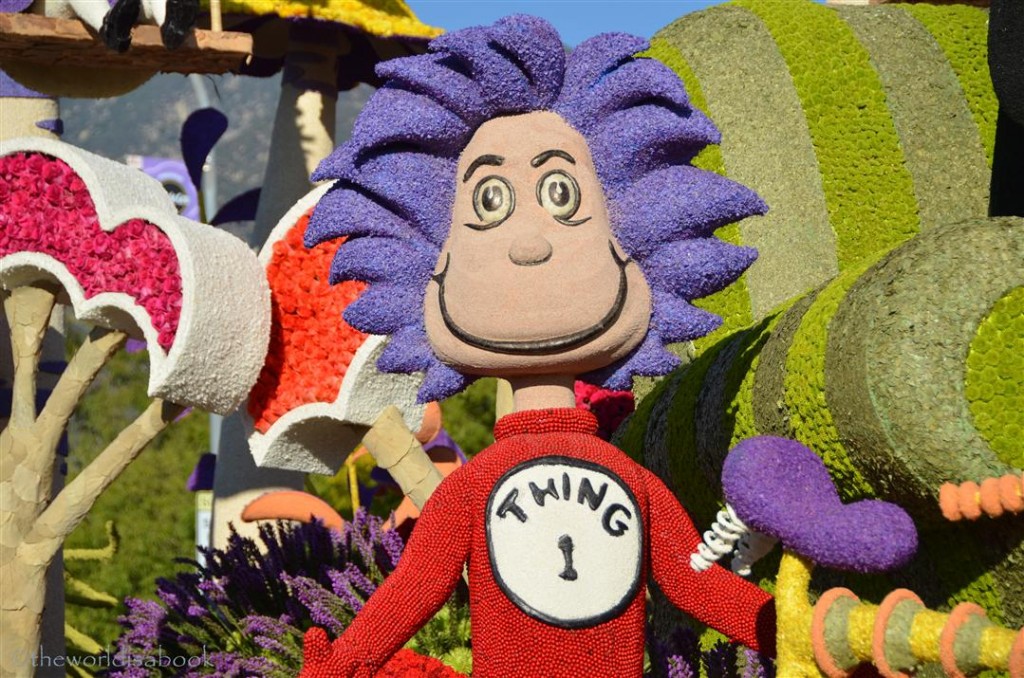 Another crowd favorite and Fantasy Award winner was from the city of Burbank which featured a cute girl on her "Deep Sea Adventure" guided by purple mum seahorses and an octopus in pink chrysanthemums.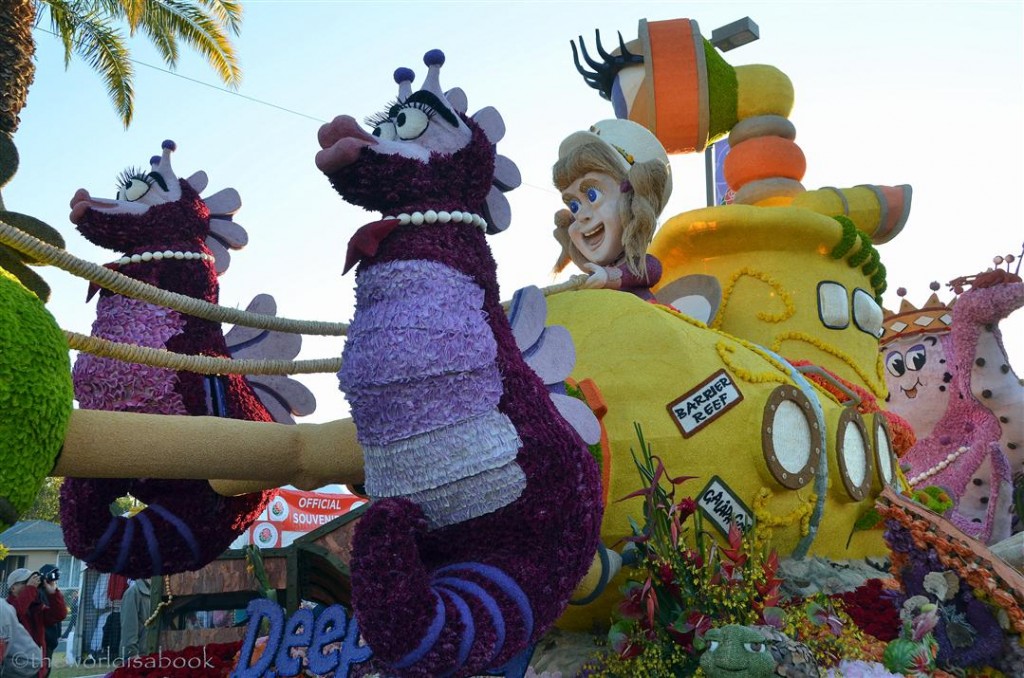 This pair of adorable turtles made of mushrooms and beans caught many people's attention.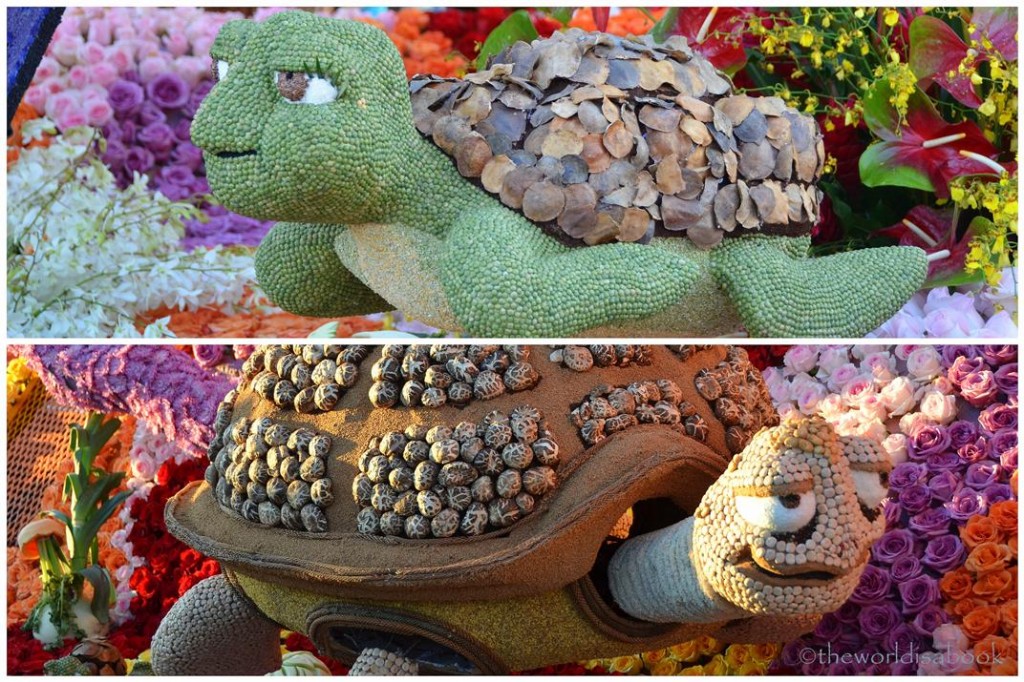 How about some oversized bears made of flowers and seeds to make you smile?  This was a float from the Shriners Hospitals  For Children called "Helping Children Live Their Dreams".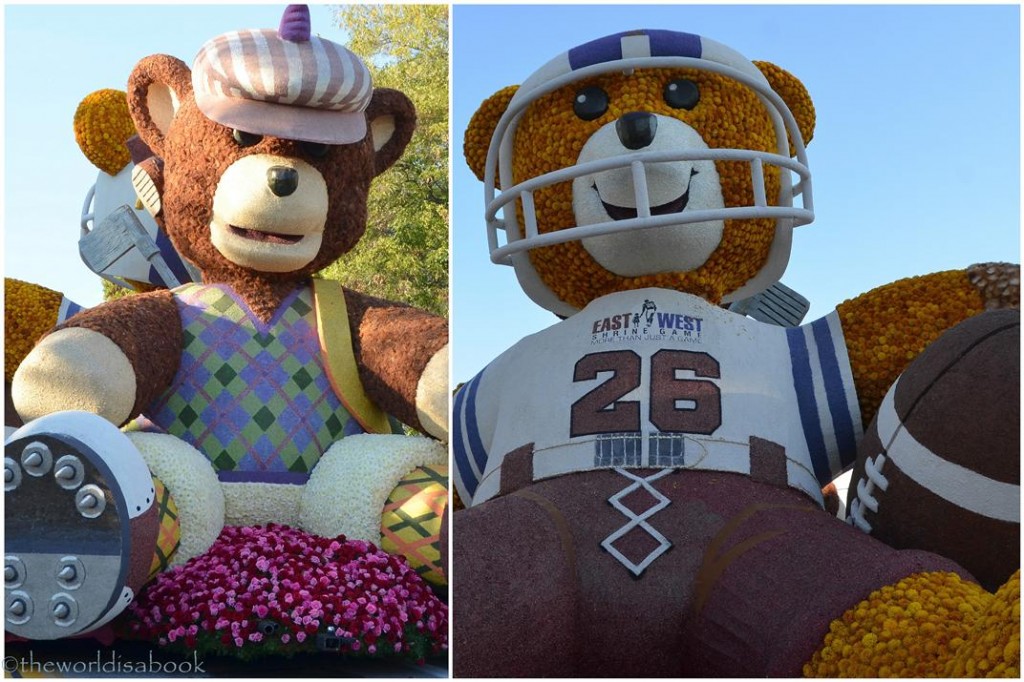 The Animation Award went to the city of La Canada Flintridge for this sweet dinosaur hard at work on a float called  "Dino-Soar".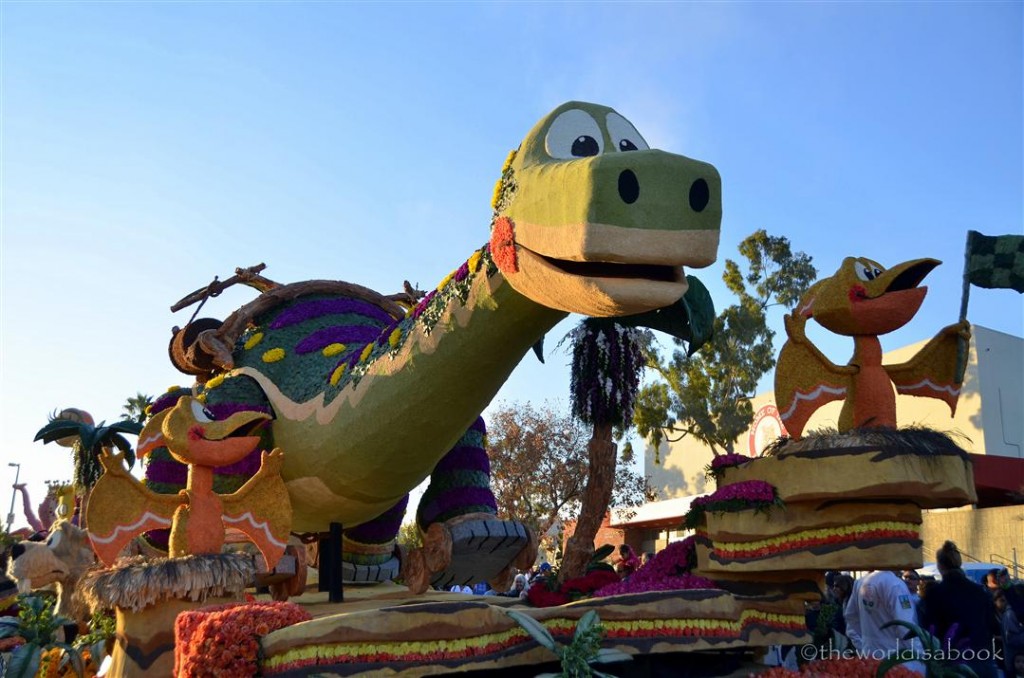 Disneyland entered this year to advertise their recently opened Cars Land at California Adventure with its floral replica.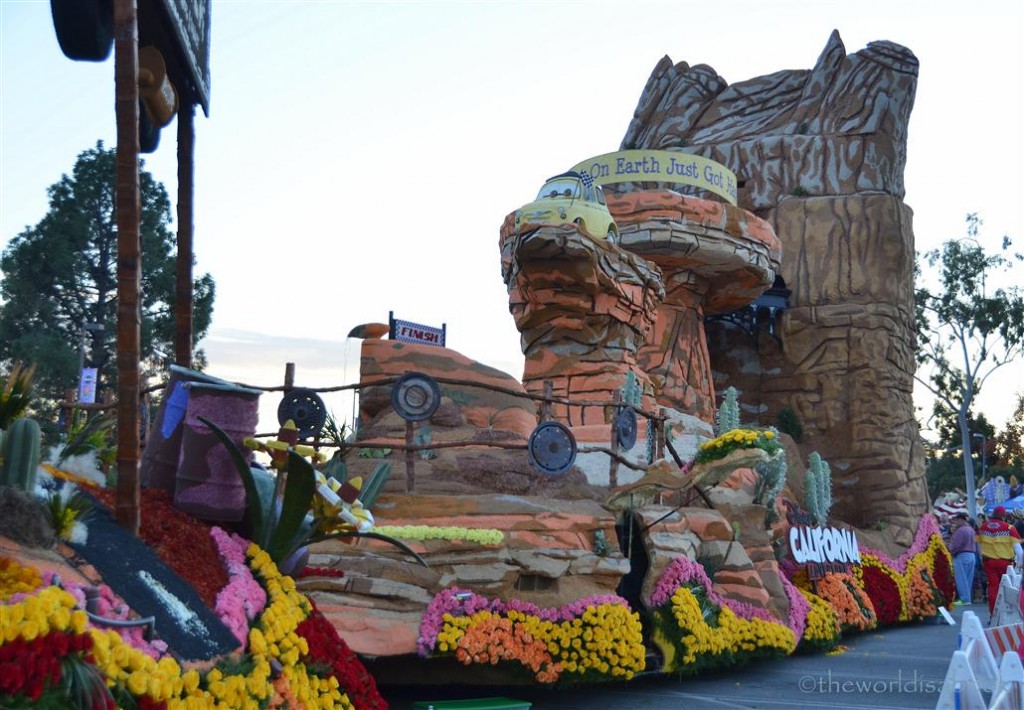 The popular characters' mini version in flowers were on the float to greet the kids.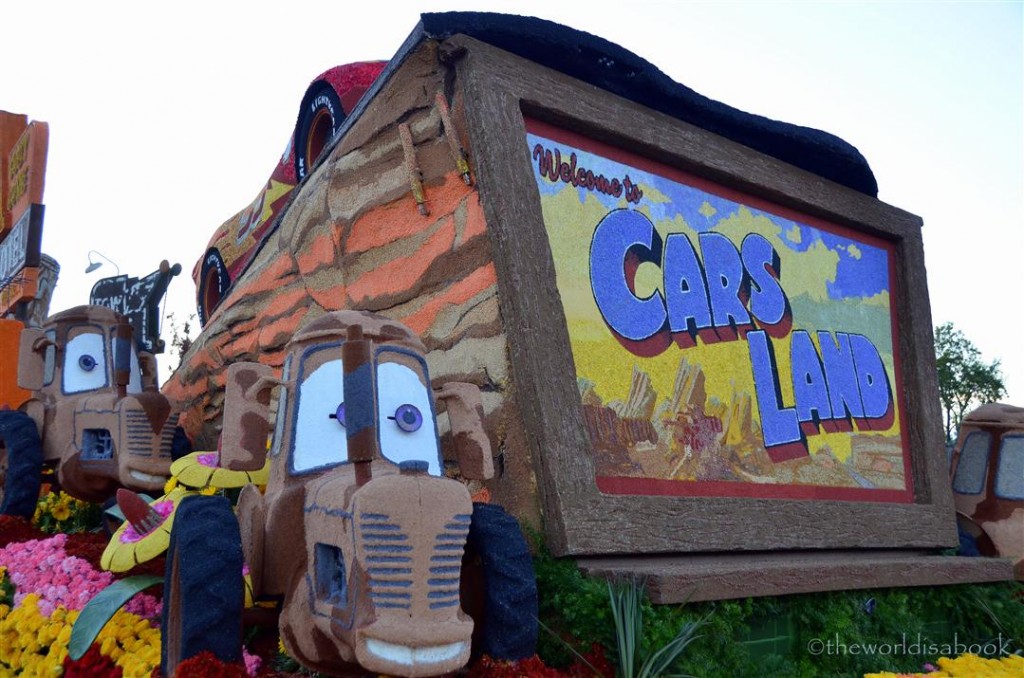 One of the last floats we saw was this deligtful set of animals from Beverly Hills Pet Care Foundation called "Follow The  Stars…Adopt A Pet!" and was awarded the most beautiful non-commercial float.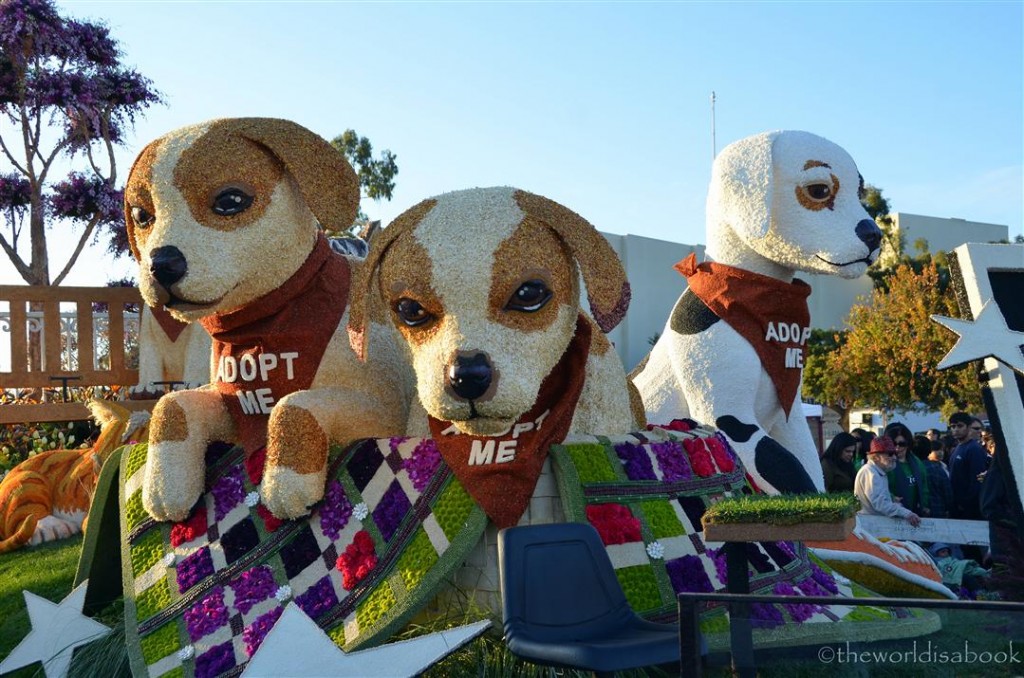 These adorable cats (made of grass and ground flowers) and dogs (made of coconut) were enough to make some of us consider a trip to the nearest animal shelter.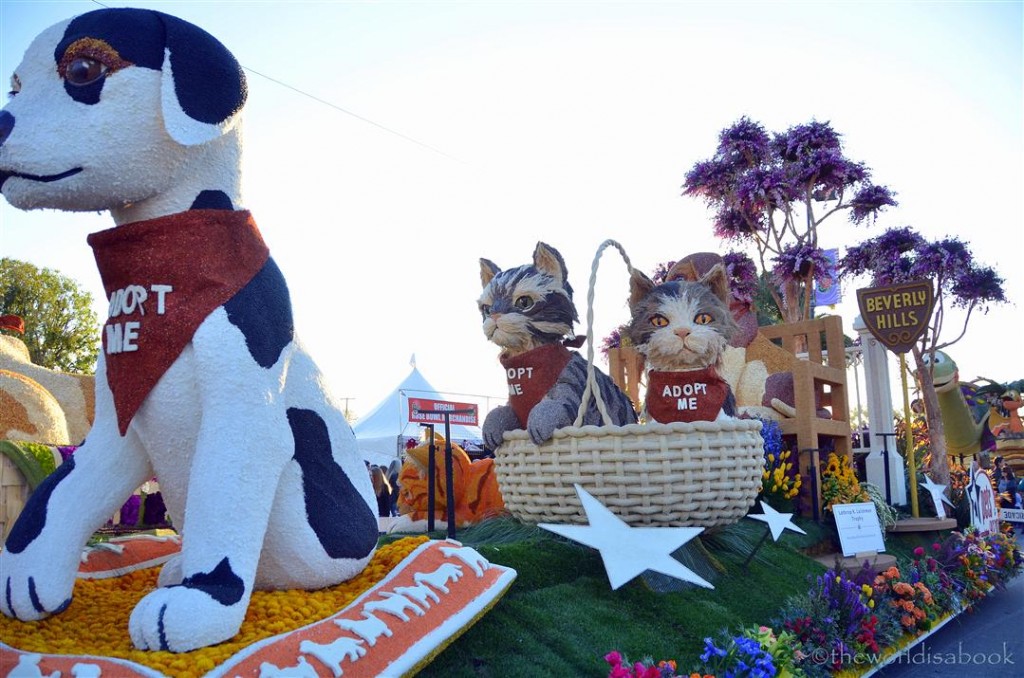 This is a very popular event that draws huge crowds.  We're not usually fans of large crowds but viewing the floats is well worth the visit.  I've noticed that many people are usually in a happy mood and more considerate.  This may be due to the new year or one can't help but smile and be cheerful surrounded by all these colors.  If you've watched the Rose Parade for years,  seeing these floats up close is a memorable and incomparable experience.

This year's grand marshal was famed primatologist(for her studies on chimpanzees), Jane Goodall.  Ms. Goodall's message is quite fitting for many of us who love to travel and one to take heart in the new year.
"My dream for this New Year's Day is for everyone to think of the places we can all go if we work together to make our world a better place." – Jane Goodall, 2013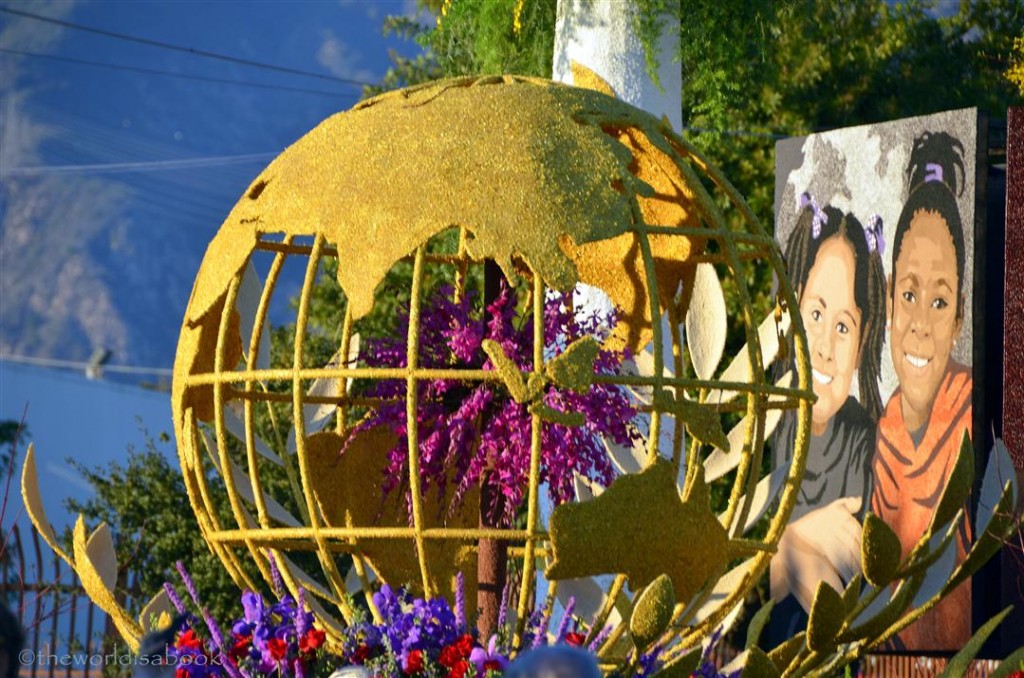 Viewing the Rose Parade Floats Tips and Basics
Floats can be viewed at the end of the parade route near Pasadena High School every year on Jan. 1 (1-5 PM) and Jan. 2 (9 AM – 5 PM)
Admission (as of 2013) is $10; Kids 5 and under are Free.
Many streets are closed off so it is best to check for designated places to take the shuttle to the site. Cost is $3 round trip .
Wear walking and comfortable shoes.  It's a long walk for little kids so bring a stroller or wagons to minimize their walking and prevent kids getting lost in the crowd.
Ask the volunteers dressed in white to get the yellow bracelets to write names and contact information in case kids get separated from you. It is very crowded and kids are easily lost (shamefully speaking from experience).
Bring snacks and water for everyone. Food and beverage kiosks are plentiful with premium prices – $5 for pretzel or  hotdogs.  There were also a couple of water stations for refills.
Activities for kids are available from planting and coloring to dressing up like royalty.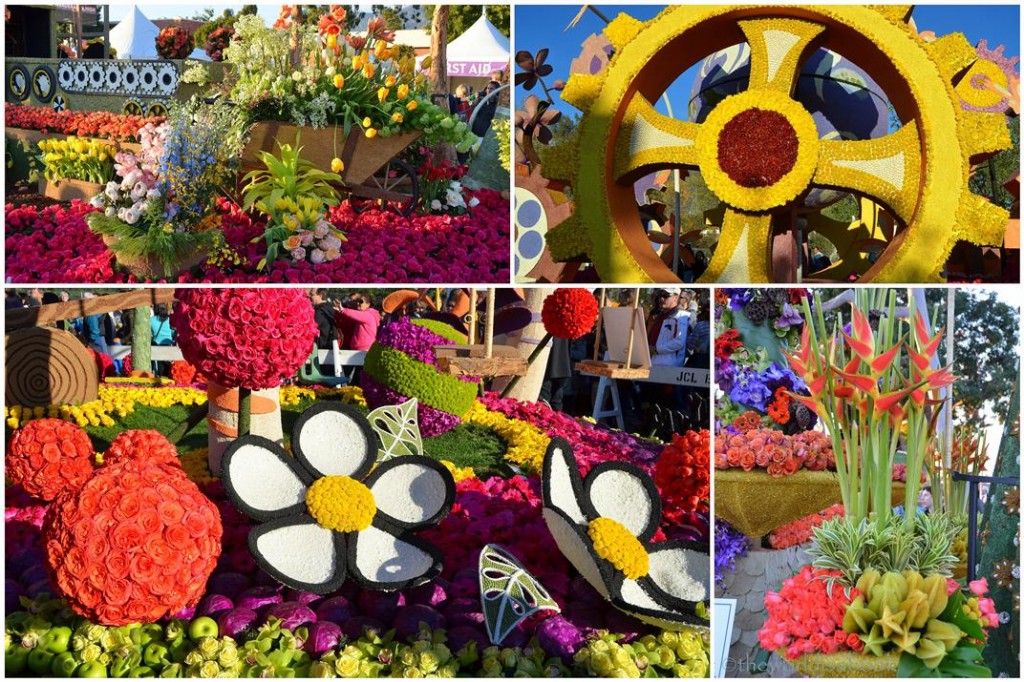 *Do you watch the Rose Parade on TV?  Have you seen these stunning floats in person?